Eighty-four-year-old Elsie Eiler pays taxes to herself, grants her own alcohol licence and is the only remaining resident in Monowi, Nebraska.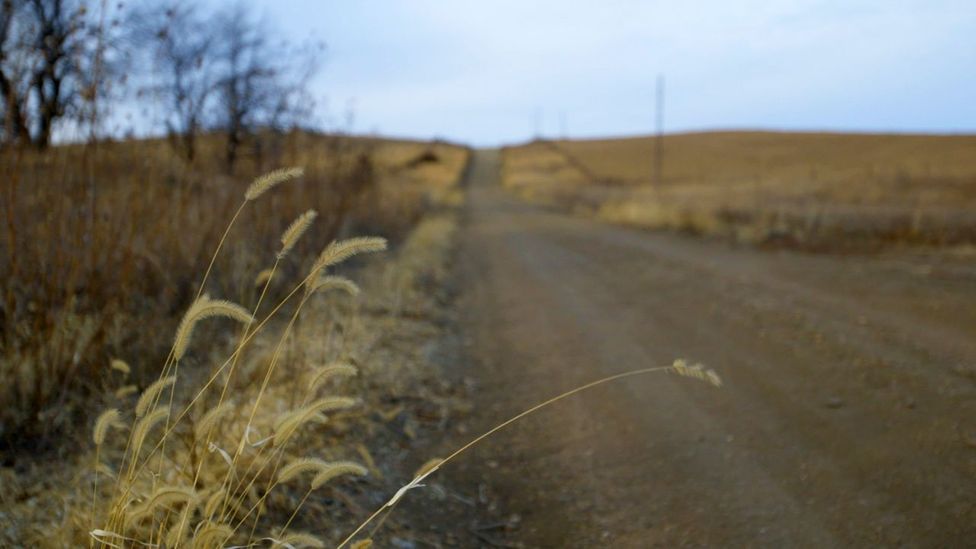 The middle of nowhere, and like nowhere else (Credit: Will Francome)
As people around the world are socially distancing, it's nice to remember that remarkable things can happen when you're all alone. To help remind us that life doesn't stop when you're not surrounded by others, BBC Travel is updating some of our most popular stories of inspiring individuals who have made the most of their solo time and created, cultivated or cared for something beautiful. 
Five miles from the South Dakota border in the remote northern reaches of the US state of Nebraska, a long dirt road cuts through rolling prairie grasslands and golden wheat fields towards downtown Monowi, a place you can see in its entirety by climbing any of its hay bales.
An abandoned church, whose empty pews are now filled with tractor tyres, stands opposite the decaying skeleton of a grain elevator. Weeds and brome grass twist around the rotting remnants of homes that are collapsing in on themselves. And inside a white, squat building with paint peeling off its frame, 84-year-old Elsie Eiler is flipping pork fritters and cracking open beer bottles for a pair of regulars under a sign that reads: "Welcome To The World Famous Monowi Tavern. Coldest Beer In Town!"
When Eiler's husband, Rudy, passed away in 2004, he didn't just leave her to run the tavern, but the whole town. Today, according to the US Census, Monowi is the only incorporated place in the US with just one resident, and Eiler is the mayor, clerk, treasurer, librarian, bartender and only person left in the US' tiniest town.
Population of one: the smallest town in the US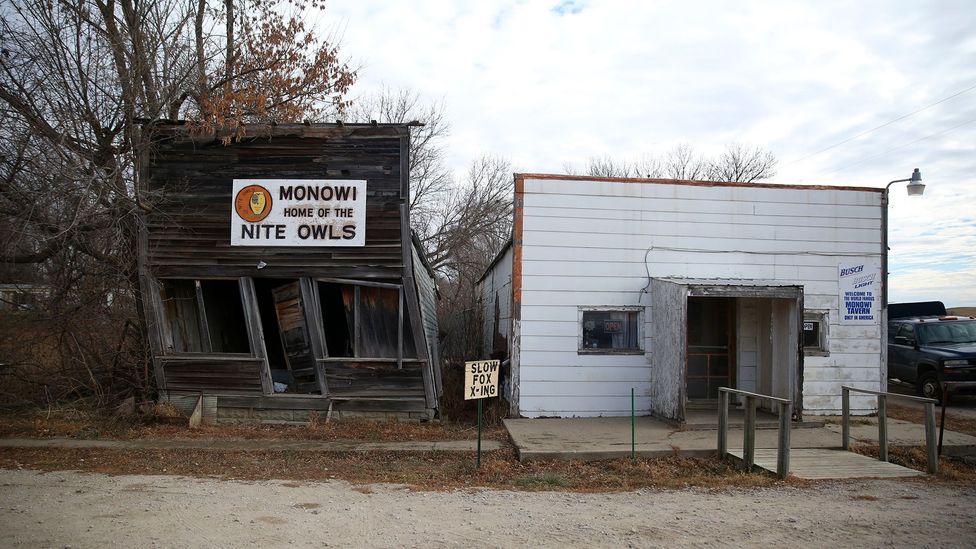 Mayor of a ghost town (Credit: Will Francome)
Eiler's life as the only resident of a ghost town is truly singular. Each year, she hangs up a notice in Monowi's only business (her bar) advertising mayoral elections, and then votes for herself. She's required to produce a municipal road plan every year to secure state funding, and then raises about $500 worth of taxes from herself annually to keep the town's three lampposts flickering and its water flowing.
"When I apply to the state for my liquor and tobacco licenses each year, they send them to the secretary of the village, which is me," she explained. "So, I get them as the secretary, sign them as the clerk and give them to myself as the bar owner."
She also keeps track of the list of nearby vacant residential lots, in case anybody wants to move into one of the decaying buildings and double the town's population.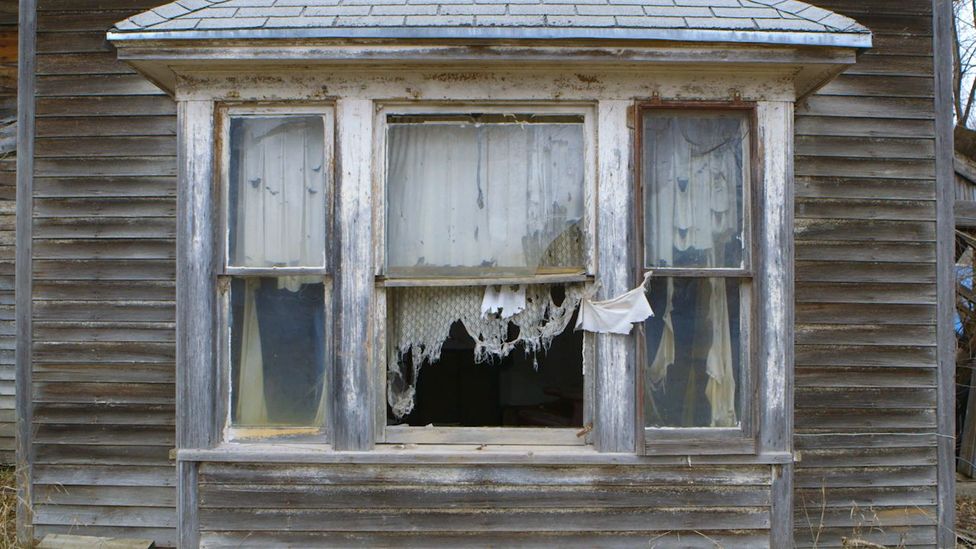 "I'm happy here. I grew up here" (Credit: Will Francome)
I'm happy here. I grew up here, I'm used to this and I know what I want. It's just hard to change after so many years," Eiler said.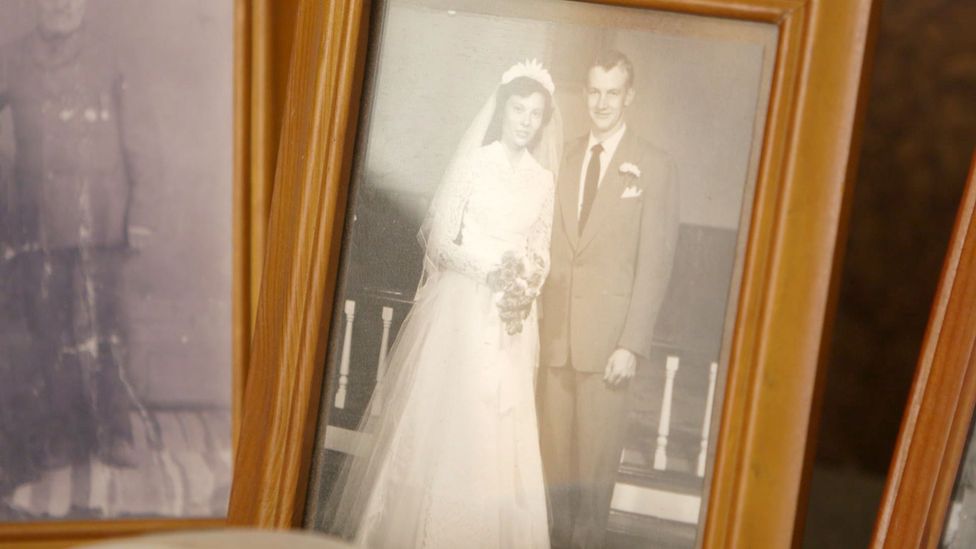 Monowi's heydey (Credit: Will Francome)
In the 1930s, Monowi was a bustling stop on the Elkhorn Railroad and home to 150 people, grocery shops, restaurants and even a prison. Eiler grew up on a farm a quarter of a mile from town and met Rudy in Monowi's one-room schoolhouse when she was in primary school.
The two took the bus together to the nearest secondary school seven miles away until Rudy enlisted in the US Air Force. While Rudy served in France during the Korean War, Eiler went off to Kansas City to have an adventure of her own. "I went to work for an airline with the dream of becoming a stewardess," she remembered. "I didn't much care for the city; Monowi had always been home."
She returned home to marry Rudy at 19 and raise two children. When Rudy, who had been working at the grain elevator and delivering fuel to petrol stations, had the idea of fixing up the old tavern that had once belonged to Eiler's father, she said, "Okay by me," and the couple opened its doors in 1971.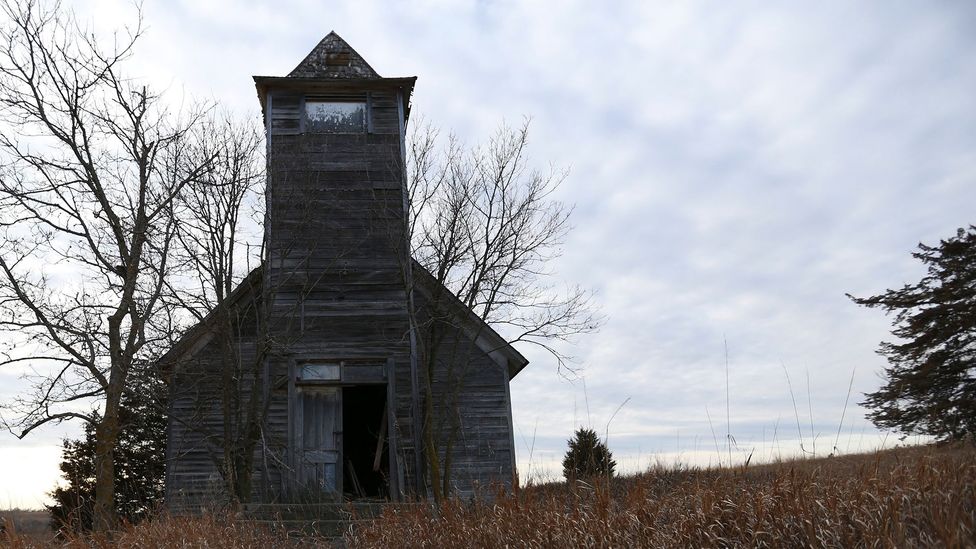 The great exodus (Credit: Will Francome)
By the time the Monowi Tavern reopened, however, Monowi itself had already begun to shutter. As farming conditions worsened and rural economies collapsed throughout the Great Plains after World War II, entire communities in the US heartland started to disappear.
The final funeral held in Monowi's wooden church was for Eiler's father in 1960. Then the post office and last of the three grocery shops closed between 1967 and 1970, followed by the school in 1974. Both of Eiler's children moved away in search of work in the mid-1970s, and by 1980, the town's population was down to 18. Twenty years later, Monowi's only two inhabitants – Rudy and Eiler – were both working at the tavern. Today, Monowi is one of three incorporated towns in Boyd County, Nebraska, that has fewer than 10 residents.
The smallest town: a walk around town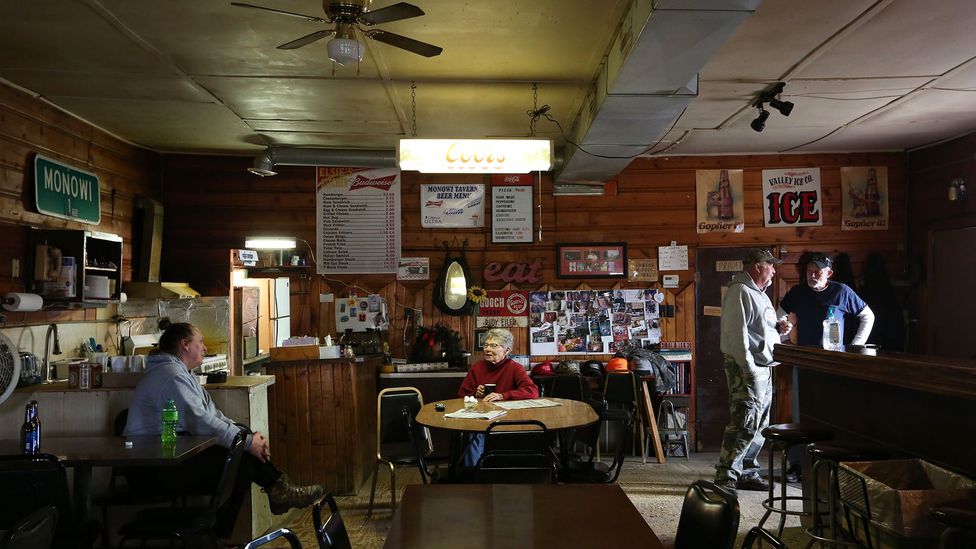 A sense of community (Credit: Will Francome)
Eiler may live alone, but she's far from lonely. She walks a few feet from her trailer to the tavern each morning at 9:00 (except Mondays, when she gives herself the day off) to open the bar. Most of her 'regulars' live within 20 to 30 miles and are people she's known much of her life, but others drive 200 miles away from Lincoln and Omaha to check up on her.
"It's like one big family," Eiler said, as she sat with a friend and worked through the crossword puzzle in the newspaper. "There are fourth- and fifth-generation customers coming in. It's pretty neat when the people you remember as babies are now bringing their babies in to show me."
Like so many restaurants and bars in rural America, the Monowi Tavern essentially serves as a community living room. While Eiler cooks up hamburgers ($3.50), hot dogs ($1.25) and gizzards ($4) in the kitchen, families tack graduation notices, baptism invitations and holiday cards to the bar's white bulletin board. People come from up to an hour away for the Sunday night Euchre card game, and Eiler doesn't usually close up until after 21:30 when things quieten down.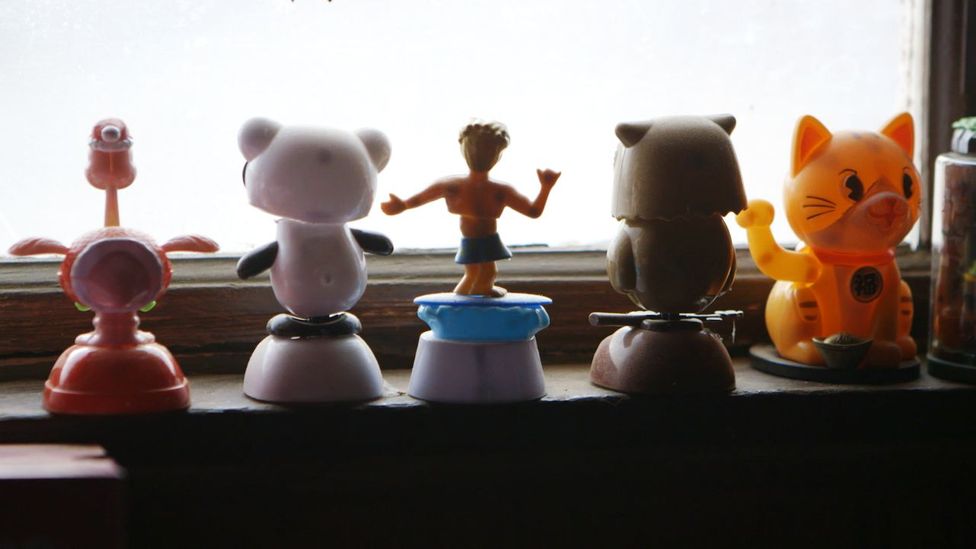 "There's always somebody coming and going" (Credit: Will Francome)
I get asked a lot if I'm lonely, and I say, 'Well, there's always somebody coming and going.' I'm visiting with you right now!" Eiler said.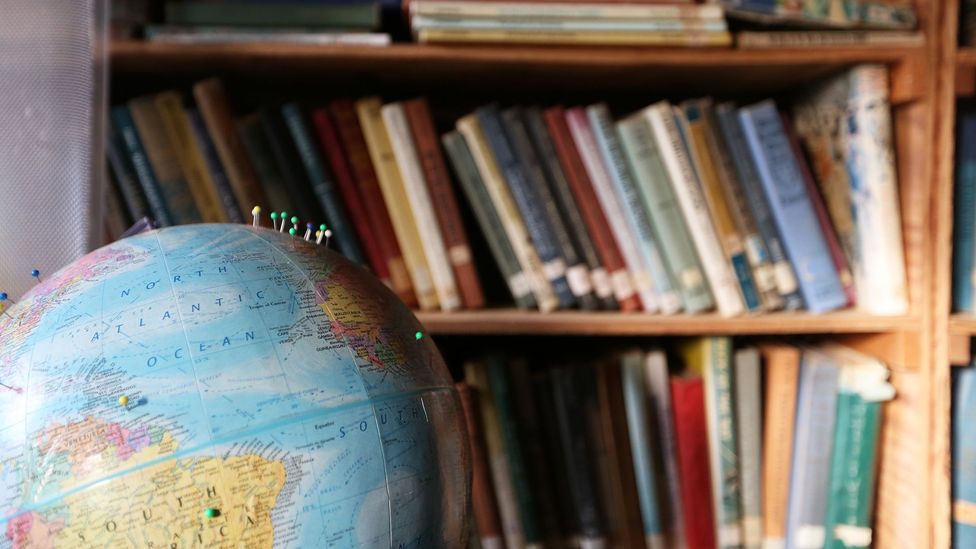 Rudy's Library sits a few steps from Eiler's home (Credit: Will Francome)
There is actually one other public building in Monowi besides the tavern, and it sits a few steps from Eiler's home and the bar: Rudy's Library.
When he wasn't ploughing fields or pouring drinks, Eiler's husband was a prolific reader. Just before he passed away in 2004, Rudy confided that his dying wish was to turn his private book collection into a public library. Rudy ordered a 320 sq ft shed and boxed up his 5,000 books and magazines, but died before he could complete the project. A few months later, the Eilers' children wired the shed's lights, their nephews built floor-to-ceiling shelves and their grandchildren painted a handmade sign on the side of an old fridge that reads 'Rudy's Library'.
Today, a key to the shed hangs inside the tavern, and anyone who wants to check out everything from Goethe to 1950s issues of National Geographic is welcome to do so on the honour system.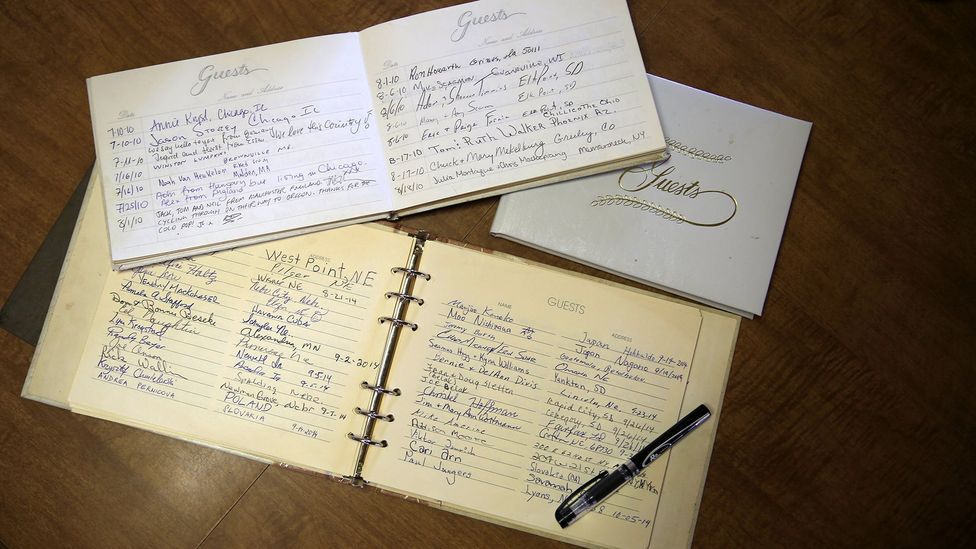 Unexpected fame (Credit: Will Francome)
According to the United States Census, when Rudy died, Monowi surpassed nearby Gross, Nebraska, (population: 2) to become the only incorporated town in the US with just one resident. Ever since, Eiler – and the town she runs – has become the subject of a lot of attention.
Today, 14 years later, Eiler has four guest books in the tavern filled with signatures from visitors who have come from all over the world.
"To be honest," she shrugged, "I never gave it a thought one way or another, but it makes me feel good that I brought some attention to this part of the world."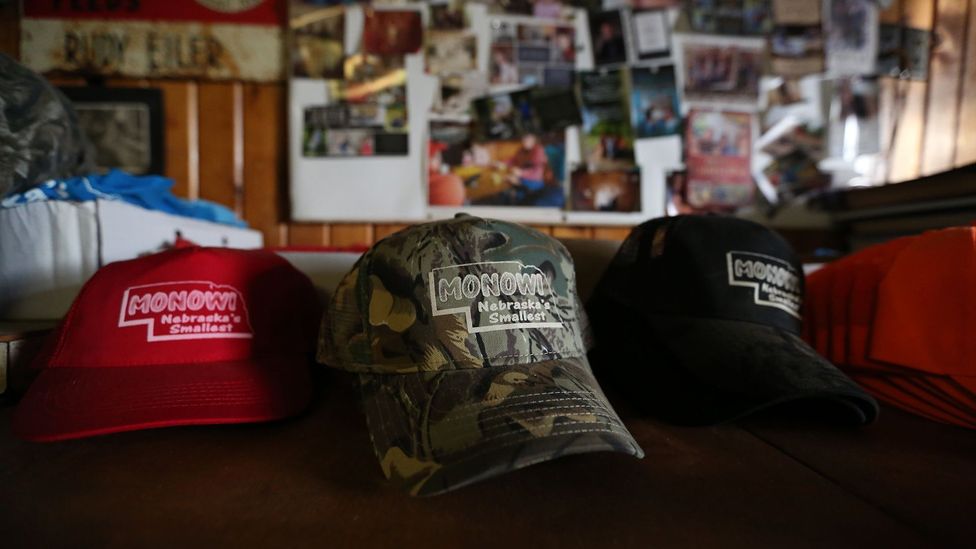 Home is where the heartland is (Credit: Will Francome)
Home is where the heartland is
In addition to her two children, Eiler also has five grandchildren and two great-grandchildren. The closest lives 90 miles away in Ponca, Nebraska, while others are spread as far as Arizona and the Netherlands.
"I know I could always move closer to my children or stay with them whenever I want, but then I'd have to make all new friends again," Eiler said. "As long as I'm able to be here, this is where I really want to be. I guess it's harder to change your habits when you get older."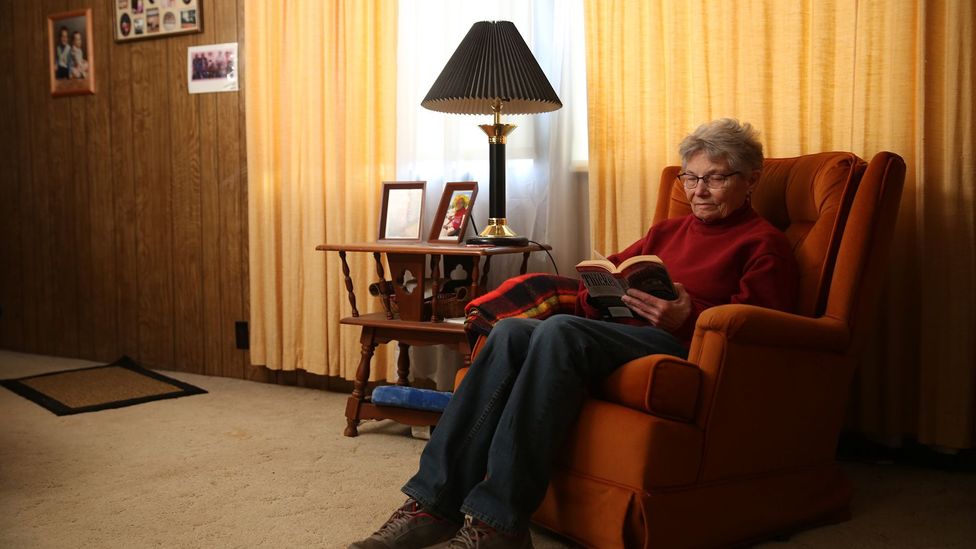 Closing time (Credit: Will Francome)

Twelve hours after the tavern opened, the number of people in Monowi has returned to one. Eiler locks up the bar, shuffles back to her trailer and opens one of Rudy's books as wind rustles through the prairie grasses outside. By 23:00, she's ready for bed, and any friends who may blow in from faraway tomorrow.

;