French refugees brought a version of this bread to Ireland centuries ago – and in one Irish city it's become such a staple, residents are referred to by its name.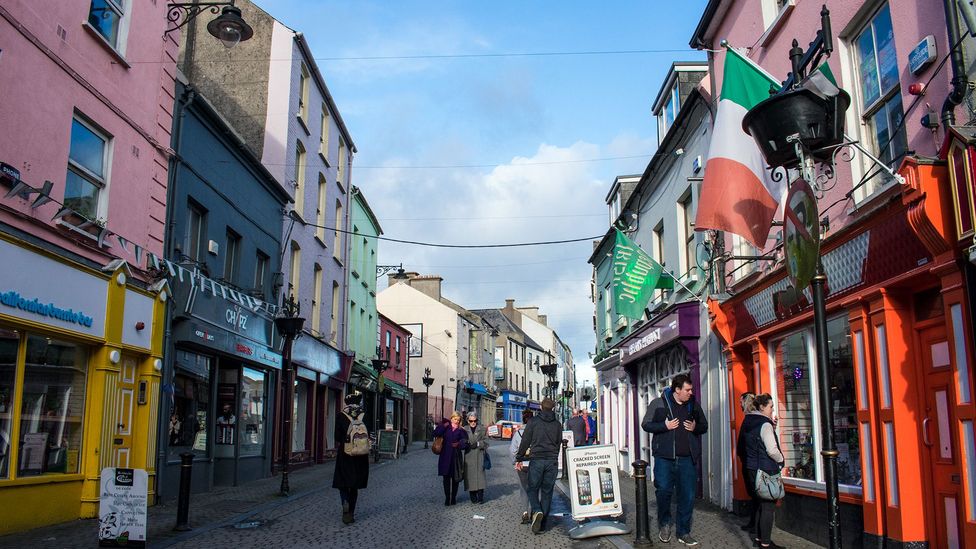 A street in Waterford, Ireland, where blaas are made (Credit: Amanda Ruggeri)
The small city of Waterford, Ireland, has a couple of claims to fame. The most internationally recognised is its crystal, which dates to 1783 and still ships all over the world today.
The second is a product you're less likely to find abroad. It's humbler. It's cheaper. It's something that people across Ireland immediately identify with the town. Many Waterford residents consume it on a daily basis, and it inspires the kind of loyalty (and competitiveness) seen elsewhere only at hurling or rugby matches.
This is the blaa: a soft white bun that has been a Waterford staple for centuries. "It's so synonymous with the city that other counties often refer to Waterford city people as 'the blaas'," said Jack Burtchaell, a Waterford historian and tour guide. "At sport events, Kilkenny are the cats and Wexford are the yellow bellies. And Waterford? They're the blaas."
Blaas fresh from the oven in Waterford, Ireland (Credit: Amanda Ruggeri)
If the blaa is a key part of Waterford identity, then Waterford – and its people and products – are integral to the blaa. That, at least, was the decision of the European Union, which awarded the Waterford blaa with Protected Geographical Indication (PGI) status in 2013 – meaning that, like Champagne or Parmigiano-Reggiano cheese, the origins and local production of the blaa are so important, it can't be called blaa unless it's made in the vicinity.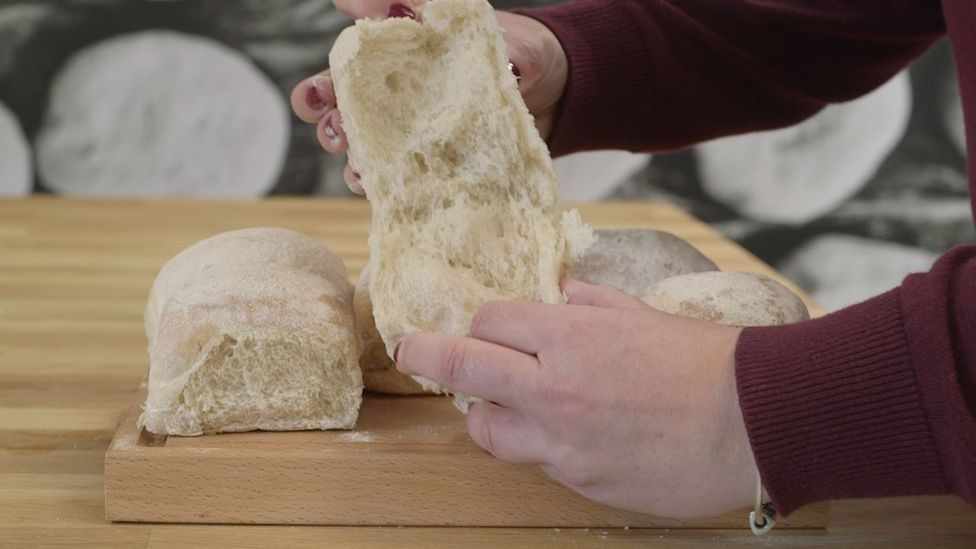 One of blaa's most important features is its soft insides (Credit: Amanda Ruggeri)
One of blaa's most important features is its soft, doughy insides.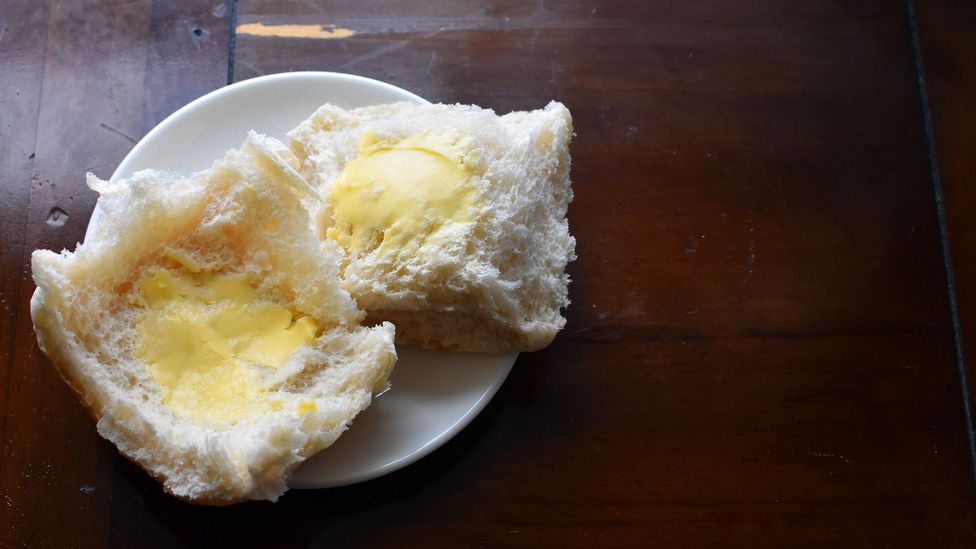 A blaa with butter in Waterford (Credit: Amanda Ruggeri)
The blaa requires only salt, yeast, flour and water to make. The result – a bun with enough flavour to make it interesting but not so much that it's overpowering – makes it the perfect vehicle for practically any ingredient: egg and bacon, ham and cheese, jam, pulled pork. One chef in Galway even used miniature versions as sliders for mackerel and salt cod.
But that doesn't mean that traditionalists will fill a blaa with just anything. "One real Waterford man said to me, 'If I got my burger in a blaa at a restaurant, I'd hand it back.' He sees blaa as a breakfast thing," said Avril Bowe of Walsh's Bakehouse, one of the two main blaa producers in town. "You don't eat your blaas in Waterford, really, after 12."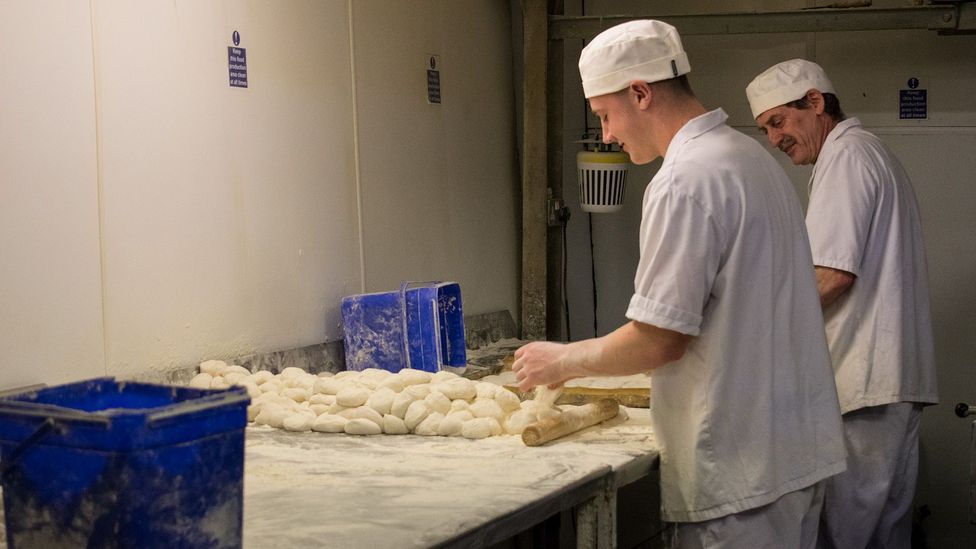 Bakers with the blaa in Waterford, Ireland (Credit: Amanda Ruggeri)
That's partly because blaas are best eaten within a few hours of being baked. Fresh, they can last two or three days, if they must. But then they start to lose their flavour and texture, the bakers say. (Walsh's, which exports blaas around the world, freezes them first to extend their shelf life).
As a result, the most devoted purists have blaas at breakfast with just one item: Irish butter. What about toasting it, I asked. "I do it, I admit," said head baker Michael Walsh, one of the two brothers who run the bakery. "I wouldn't be a toast-your-blaa fan at all," Bowe disagreed.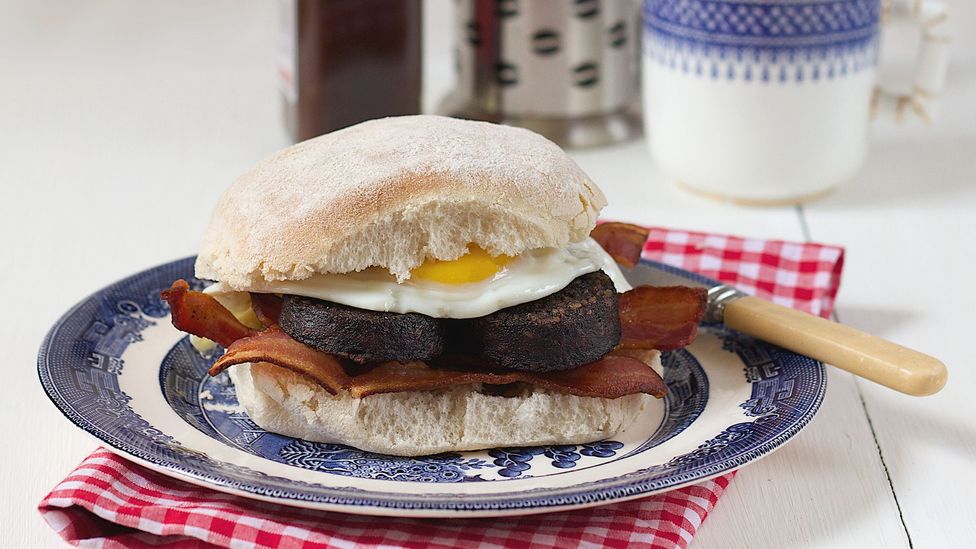 Blaa breakfast (Credit: Walsh's Bakehouse)
Still, it's getting increasingly common to see a blaa filled with breakfast combinations, like bacon, black pudding and egg. But it can also be eaten as a mid-morning snack or early lunch. At the height of the crystal factory's boom, workers often brought blaas smeared with butter and luncheon meat – a bright pink spiced-pork mixture nicknamed 'red lead', a reference to the lead used in Waterford crystal.
Another tradition is to load the blaa with butter… and crisps. "It's an acquired taste, but that's what the purists love," Bowe said with a laugh.
Whatever you do, though, just don't make the mistake of calling a blaa a bap, the word used across the British Isles for a similarly shaped bread roll. For one, a blaa is doughier and softer than its better-known counterpart.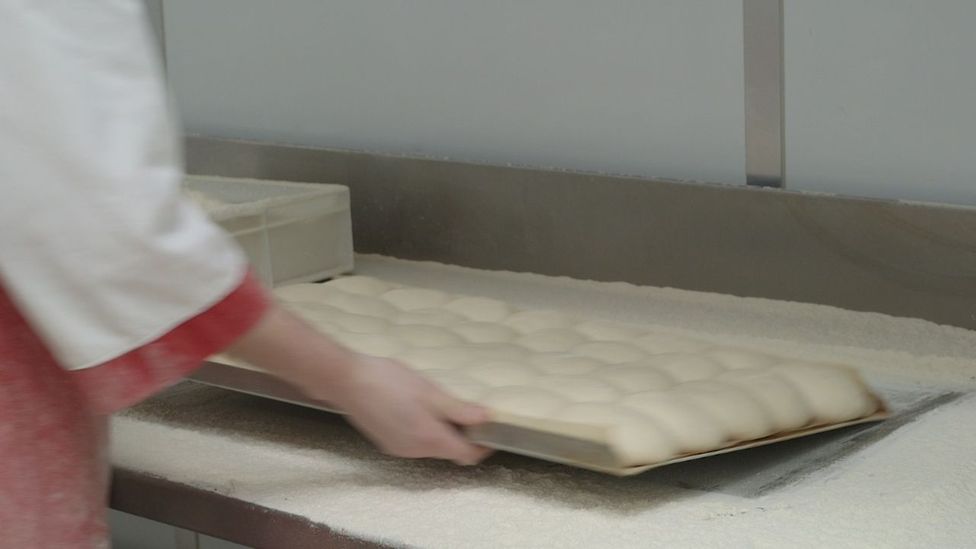 Blaas get a heavy dusting of flour just before baking (Credit: Amanda Ruggeri)
But what really sets the blaa apart is the amount of flour used – including a heavy dusting just before baking.
Blaas being sold at Hickey's Bakery in Waterford, Ireland (Credit: Amanda Ruggeri)
Despite its importance to Waterford, the blaa didn't start out as an Irish invention. In the 17th Century, wheat was rare. It was difficult to grow in Ireland's damp, chilly climate; most bread was made from other grains, like oats. White bread, which is made from wheat, was a luxury.
But toward the end of the century, French Protestants, persecuted and even killed under King Louis XIV's Catholic-only regime, began to flee. Some of the refugees – called Huguenots – came to Waterford, at the time a bustling commercial port. Unlike the Irish, they were used to baking with wheat. They also were committed to continuing the practice abroad. "They brought with them the French tradition of bread," Burtchaell said. "That was the pain blanc [white bread]. The Waterford accent could never manage pain blanc, and it became the blaa."
In particular, blaa described the small balls of dough cast aside from making the main loaf of bread. "They would be left over, and then they realised these things taste nicer than the actual pain," said Brian Hickey, owner of Walsh's main competitor in Waterford, Hickey's Bakery, with a chuckle. The beloved blaa was born.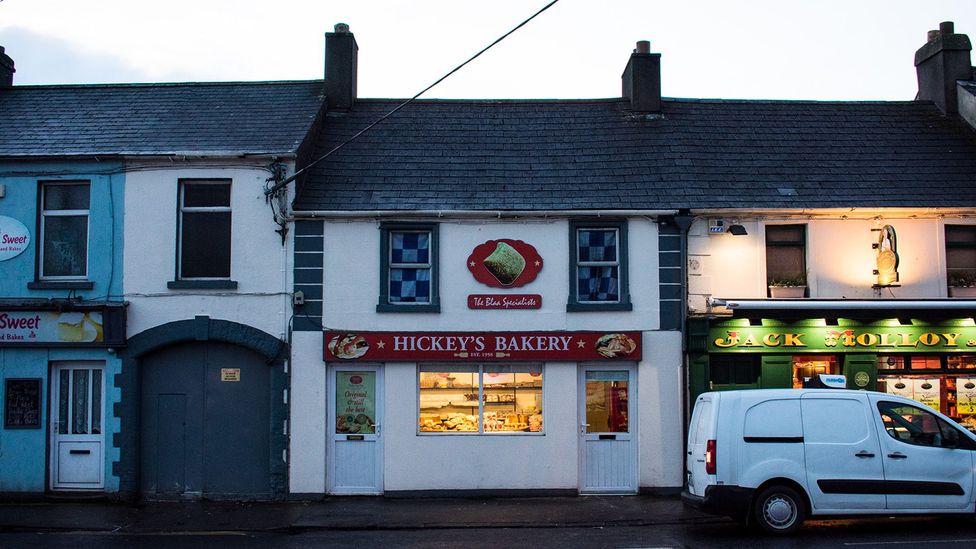 Hickey's Bakery in Waterford, Ireland (Credit: Amanda Ruggeri)
As late as the 1950s and 1960s, there was a blaa bakery boom in Waterford, with about 15 bakeries making blaas in the city at the time. Today, there are only a couple in Waterford proper. (Two others in the Waterford Blaa Bakers Association, Barron's and Kilmacow, are outside the city).
One is Hickey's, which opened in 1958 and is now run by the third generation of the Hickey family. "Small bakeries now are very few and far between," said Hickey, who chalks the change up to the industrialisation of Irish food and growth of big factories. "Put it this way: if the blaas weren't here, there'd be no bakeries in Waterford. The blaas are what's keeping us open."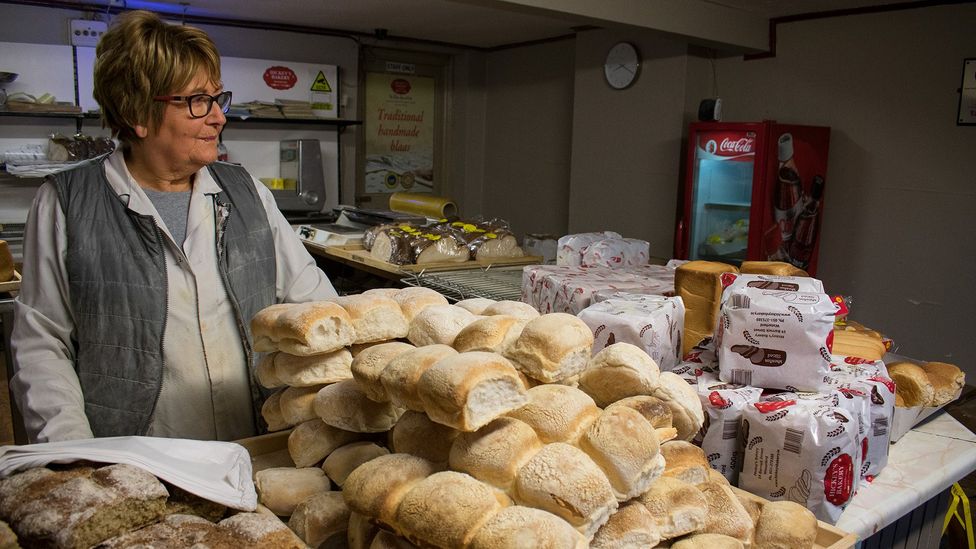 Selling blaas at the shop at Hickey's in Waterford (Credit: Amanda Ruggeri)
Much of that is down to customer loyalty: Waterford residents tend to frequent one bakery or the other. At about 08:00 on a recent weekday I popped into Hickey's, where the shopfront has been manned by Mary for nearly 30 years. I followed in a 10-year-old boy and his father on their school run.
When they left, blaas in hand, Mary turned to me. "Poor little lad has a problem with his kidney," she said. "He's not feeling too well." It was clear this was more likely the thousandth time the father and son had been here than the first.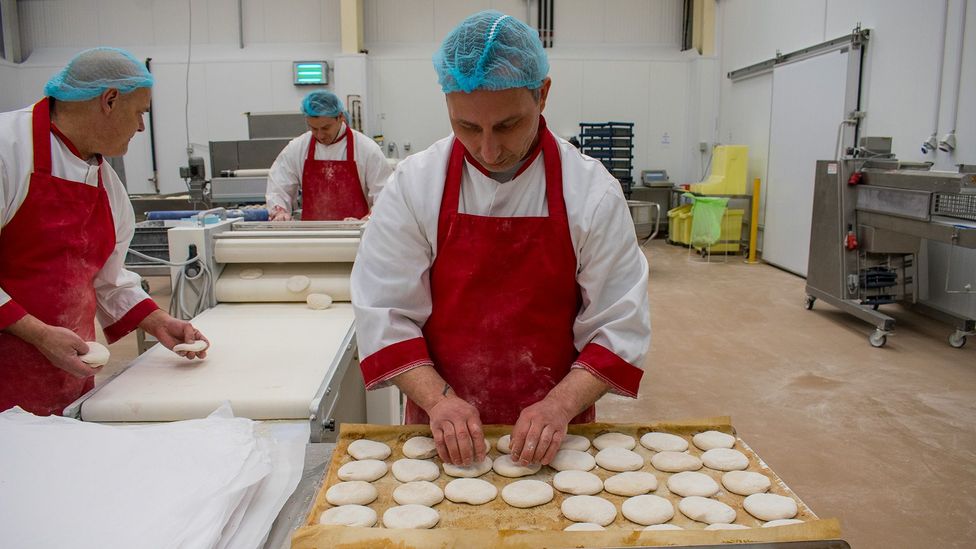 A machine flattens blaas at Walsh's Bakehouse in Waterford, while bakers finish them by hand (Credit: Amanda Ruggeri)
Waterford's two remaining blaa bakeries share a great deal in terms of their heritage and process. Both bakeries are historical, family-run and rely on only three or four bakers at a shift. But there are key differences. Walsh's, which opened in 1921, still uses their original location – just down the street from Hickey's – for baking at night. By day, though, they use a new factory on the outskirts of town, where their bakers show off top-end machinery and where a space is being set up specifically to exhibit the blaa's history and heritage to visitors.
At Hickey's, meanwhile, the bakery remains in its original location in a room behind the shopfront. Technology is at a minimum, with a mixer and a rudimentary machine that helps shape the dough into balls. The slower process means the dough gets more time to sit. "It's a bit like sourdough, you see. It's all about leaving it to rest, knocking it back and letting it rise again," Hickey said.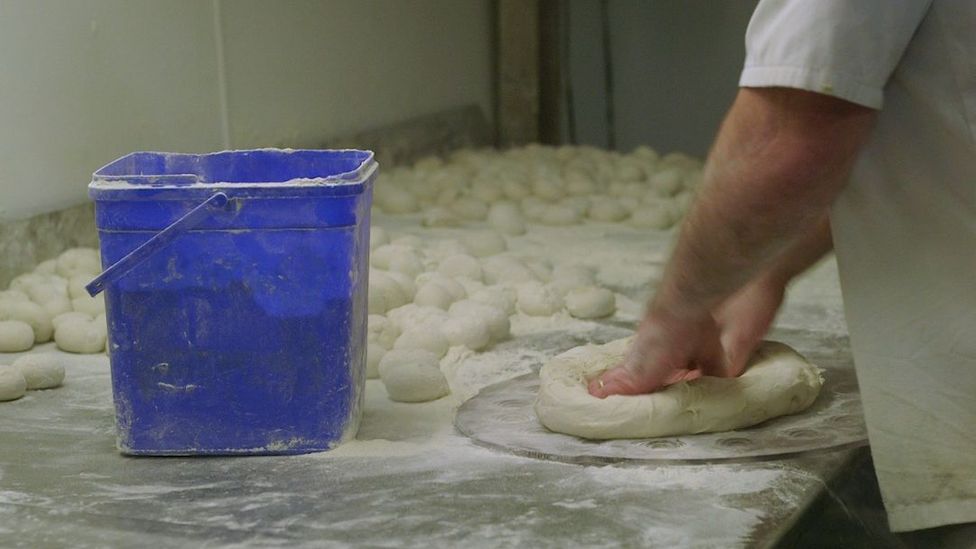 At Hickey's, nearly every step of the process is done by hand.
At Hickey's, nearly every step of the process is done by hand.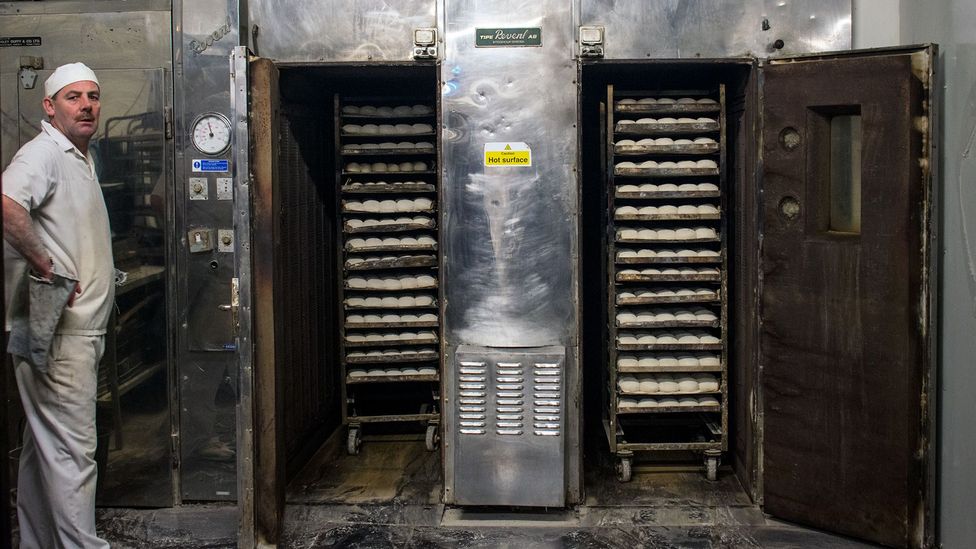 Blaas going into the oven at Walsh's Bakehouse in Waterford (Credit: Amanda Ruggeri)
But customer loyalty doesn't just extend to the particular bakery and its process. It also includes the type of blaa. Although all of a bakery's blaas use the same recipe, some will be baked for longer, giving them crusty tops; others are soft and delicate all the way through.
As with everything else blaa-related, customers always have a firm preference.
"Some say, 'Oh, don't give me any of those soft jobs, give me six of the crusty ones, and crustier the better' – meaning blacker the better," Hickey said. "Then other people come in and say the complete opposite: 'Give me the softest ones you have'."