"It's not about the money – it's our duty as Thai people to preserve the original pad Thai and share it with the world."
I
It was 16:00 on Maha Chai Road in Bangkok's Old City. And although Thipsamai Pad Thai didn't open for another hour, the queue for it was already snaking down the street. Sixty minutes in the stifling heat of Thailand's capital, it seems, is a small price to pay for the chance to taste an original version of Thailand's most famous dish: a sweet and spicy egg-wrapped combination of noodles, prawns and prawn-oil sauce.
Narrowly avoiding being hit by a tuk tuk full of tourists as I stepped out of my taxi, I guiltily negotiated my way to the front of the line to see if the owner, Sikarachat Baisamut, had arrived. In hindsight, given the almost military levels of precision with which he runs his restaurant, I shouldn't have been surprised that he was right on time and ready to launch straight into his tale.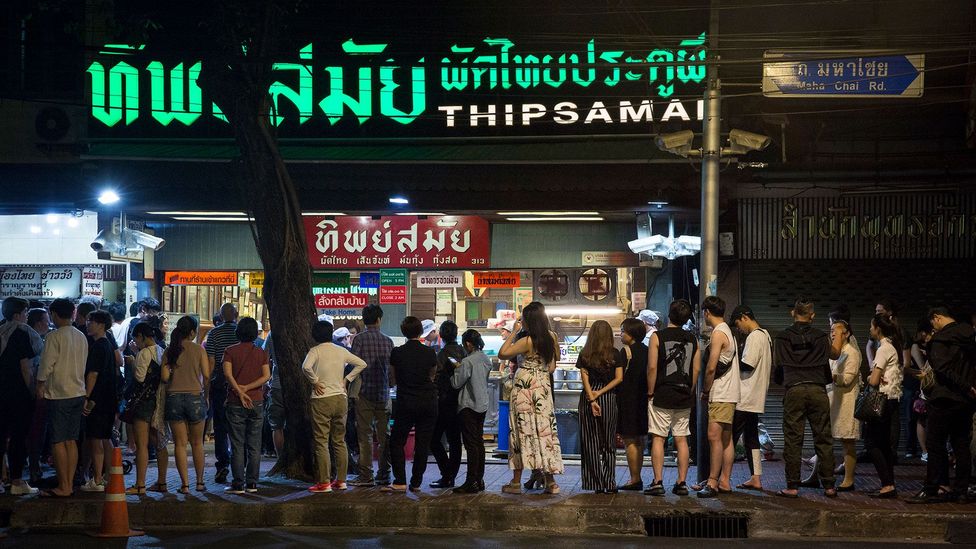 People queue at Thipsamai Pad Thai well before the restaurant opens (Credit: Alisa Suwanrumpha)
It all started during World War II, he began, as we took our seats inside. Due to the high cost of rice production, Prime Minister Phibunsongkhram decided to encourage the Thai people to eat noodles and other local ingredients by creating not only a national dish, kway teow pad Thai (Thai-style stir-fried rice noodles) but even the noodles that went into it (sen Chan, named after Thailand's Chanthaburi province). The dish's exact contents depended on regional availability of ingredients, but generally included some combination of radish, beansprouts, peanuts, dried shrimp and egg, seasoned with palm sugar and chillies.
You may also be interested in: 
• How colours are saving Thai street food
• Bangkok's disappearing street food
• The quest for the perfect pad Thai
Over time, the dish's name was shortened to 'pad Thai', and Baisamut's grandmother started selling her version of it from a boat on Phasi Charoen Canal in Samut Sakhon Province, just west of Bangkok, with help from her daughter – Baisamut's mother – Samai.
The recipe was passed down from mother to daughter, and when Samai later moved to Bangkok, she opened one of the capital's first pad Thai stalls with one small charcoal stove and a handful of old tables, which, according to Samai, was declared by Phibunsongkhram himself to sell the authentic version of his beloved national dish. Sales soared, the stall became a bricks-and-mortar restaurant, and today under Baisamut's leadership (he took over in 2012), Thipsamai Pad Thai is unrecognisable from the simple road-side operation of the 1950s – apart from one very important element.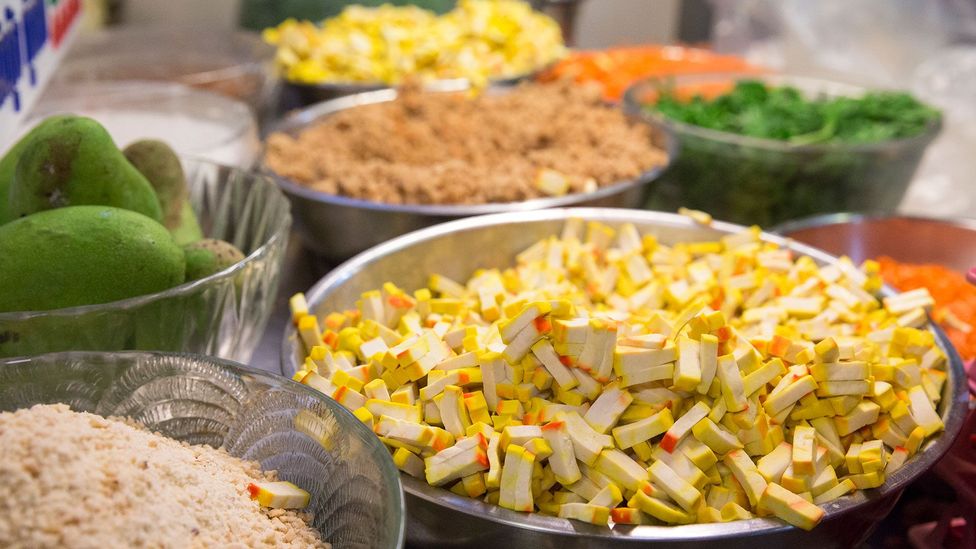 Pad Thai's exact contents depended on regional availability of ingredients (Credit: Alisa Suwanrumpha)
"Our mission is to preserve the original pad Thai recipe that my mother and grandmother cooked, using only the highest quality ingredients and the original cooking technique," Baisamut told me, pressing a paper cup of iced coconut – a cool complement to the pad Thai's tang, I was later to discover – into my hand.
Nowadays, pad Thais tend to be a stir-fried mixture of rice noodles, prawns, tofu, garlic and egg, flavoured with fish sauce, chillies and palm sugar and served with lime, coriander, beansprouts and peanuts. Thipsamai's original or 'superb' version as it's called on the menu, though, has three special, signature ingredients: sen Chan noodles, the longer, softer and more tender the better; the family's secret prawn-oil recipe, made from fat from the heads of river and deep-sea prawns combined with Thai spices and organic herbs; and an egg-wrap so thin that customers get a sneak peek of the unique concoction inside.
Nothing is allowed into the dish until Baisamut has verified its quality, a process that usually involves several visits to the supplier, as well as switching suppliers on a seasonal basis. It was the prawns – pink, plump and juicy – that caught my eye; they're delivered fresh daily from fishing ports in a range of coastal provinces, I was assured.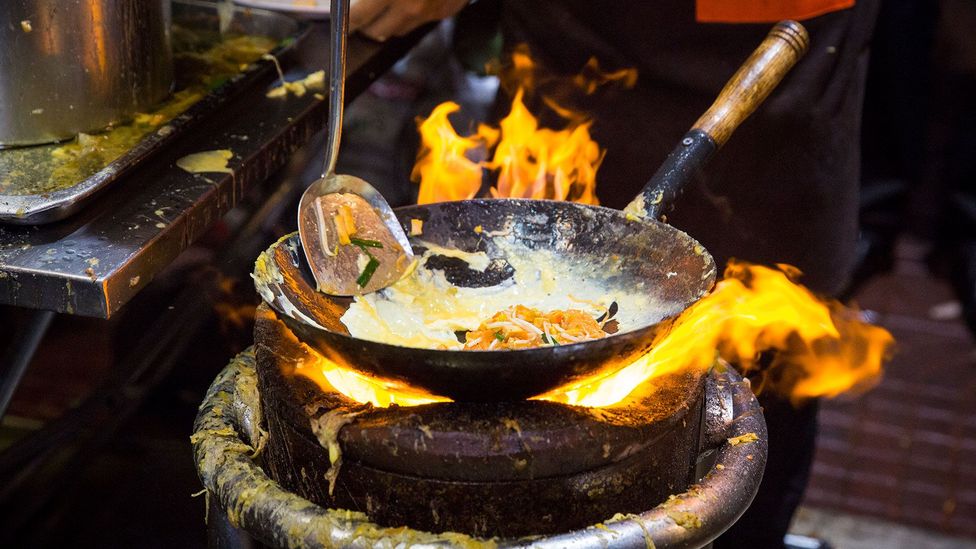 Thipsamai's 'original' pad Thai must be cooked on a searing hot charcoal stove, fired with wood from mangrove trees (Credit: Alisa Suwanrumpha)
Leading me out to the kitchen, which remains on the roadside, a nod to Thipsamai's street-food roots, Baisamut informed me that the family's original pad Thai must be cooked on a searing hot charcoal stove, fired with wood from mangrove trees sourced from a distant province that can't be harvested until they're at least 12 years old. The size of the wood chunks is equally important (they must be of arm's length) – and the fact that the high-quality iron woks need to be replaced every two weeks due to the intense heat of the charcoal-fired flames is a necessary sacrifice to preserve his grandmother's original cooking technique.
Baisamut has also maintained the rigorous training regime he remembers from his childhood.
"When I was a little boy, my mother asked me if I wanted to be the owner of the restaurant one day, and I said 'yes, of course!'. She told me that I needed to know how to do everything from scratch. First I had to clean the toilets, then I could step up to be a waiter and eventually I was allowed to cook pad Thai with our original prawn-oil recipe."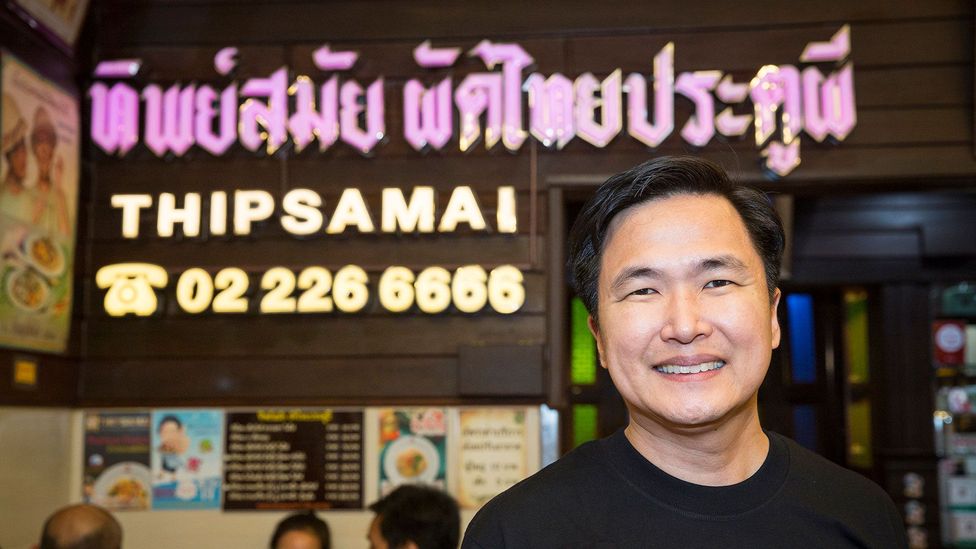 Sikarachat Baisamut has maintained the rigorous training regime he remembers from his childhood (Credit: Alisa Suwanrumpha)
Thipsamai's five-strong team of chefs have been spared loo-cleaning duties, but they did have to undertake a seven-step training programme before they were let loose on the restaurant's signature dish.
Step one – cleaning and waiting tables – is followed by preparing the noodles, both getting used to the heat in front of the charcoal stove and understanding the correct noodle texture. The third phase consists of transferring the pad Thai from the pan to the plate, before it's time to learn about all the other ingredients that go into the dish – from bean sprouts to chives to tofu – and how to prepare them.
Step five – the egg-wrapping – is the trickiest. Chefs must practise for more than three months to reach the point where they can wrap four pad Thais with one layer of egg in the space of 30 seconds. Only after that do they progress to cooking the basic version of pad Thai, which Thipsamai also serves, and finally the 'superb' prawn oil recipe that goes inside the egg wrap.
The secret to perfect pad Thai?
Bravely, Baisamut asked me if I'd like to have a go on the egg-wrapping station. I agreed; at the very least it would provide a bit of entertainment for the queue, which by this time was moving quickly, a testament to the speed of the pad Thai production line. I'm pretty sure though that the sloppy globules of scrambled egg I managed to produce would have had me immediately kicked off the course. I certainly couldn't imagine being able to keep up with the eight-a-minute pace of that evening's veteran egg-wrapper, who was creating perfect transparent parcels of pad Thai with just a few expert flicks of the spatula.
Watching the bright orange, prawn oil-flavoured noodles being flung into the wok, flames licking at its sides, before swiftly being transferred, now egg-wrapped, to a spotlessly clean plate and whisked off to the next hungry customer was both a feast for the senses and a lesson in how to efficiently run a restaurant.
The Michelin inspectors clearly agree. When the guide launched in Thailand in late 2017, Thipsamai Pad Thai might not have earned a star like Raan Jay Fai a few shophouses down the road, which is known for its crab omelette and drunken noodles, but it was awarded a Bib Gourmand for offering exceptionally good food at a moderate price. When my pad Thai was placed in front of me, I understood why.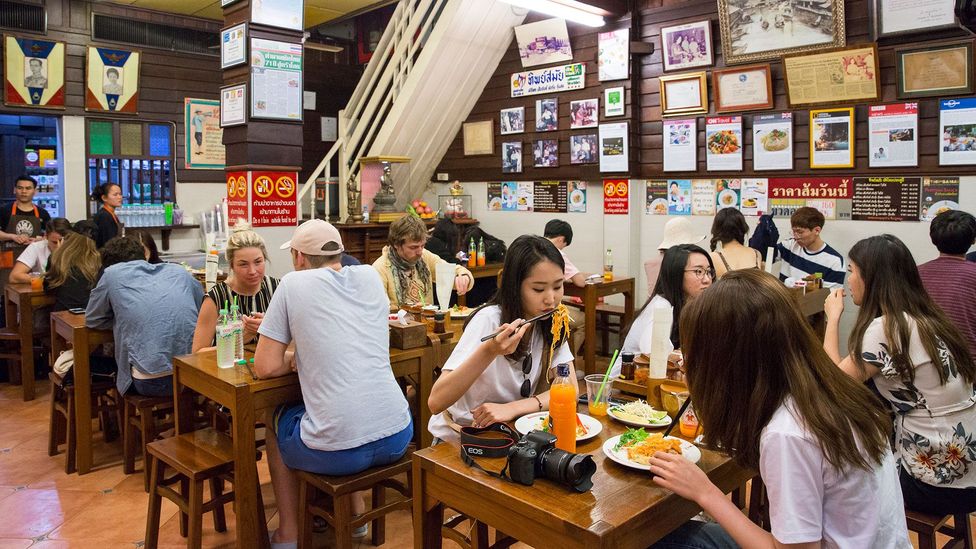 Thipsamai Padthai was awarded a Bib Gourmand for offering exceptionally good food at a moderate price (Credit: Alisa Suwanrumpha)
After spearing one of the two enormous deep-sea prawns that accompanied the dish, my fork slid smoothly through the impossibly thin egg wrap, before picking up – in one go – a mouthful of tofu, chives, dried shrimp, beansprouts, coriander and those signature long, soft, tender prawn-oil flavoured noodles. Having been instructed not to add any of the condiments that typically flavour pad Thai (except a squeeze of lime, which I insisted on), I was able to appreciate the rich flavour of the prawn oil; part sweet, part spicy, part sour. Combined with the smooth tofu, the juicy prawns and the crunchy beansprouts, and washed down with what remained of my refreshing iced coconut, this truly was pad Thai at its best.
And although Baisamut had two PhDs under his belt before taking the reins of the family restaurant, it's invoking that delight in his customers, rather than the business side of things, that gets him out of bed every morning.
"My mother built up and established this restaurant for her whole life, and before she passed away she asked me to take care of it and continue the business instead of her," he told me, his eyes gleaming. "It's not about the money – it's our duty as Thai people to preserve the original pad Thai and share it with the world."
"It's our duty as Thai people to preserve the original pad Thai and share it with the world" (Credit: Alisa Suwanrumpha)
Dusk had fallen by the time I'd cleared my plate and reluctantly headed back out to the street to hail a taxi home. The coloured lights of the Thipsamai sign flashed and the queue continued to move. There were several hours of pad Thai making still to come that night.
As my taxi weaved its way across the city, I racked my brain as to how I could improve my egg-wrapping technique, finally admitting to myself as I was dozing off that I simply wasn't prepared to put the hours in. I decided to leave it to the professionals, and come back for another taste next week.
Join over three million BBC Travel fans by liking us on Facebook, or follow us on Twitter and Instagram.
If you liked this story, sign up for the weekly bbc.com features newsletter called "If You Only Read 6 Things This Week". A handpicked selection of stories from BBC Travel, Capital, Culture, Earth and Future, delivered to your inbox every Friday.