With its unique mix of cultures, languages and religions, Kuala Lumpur often gets described by locals as a 'big melting pot', where different traditions are openly celebrated.
W
With its unique mix of cultures, languages and religions, Kuala Lumpur often gets described by locals as a 'big melting pot', where different traditions are openly celebrated and enjoyed.
The melting pot is also often more literal than metaphorical in Malaysia's biggest city and capital. "Food is always the quickest way to get acquainted with a culture, and what food in Malaysia tells us is that an ethnic mix of Chinese, Indian and Malay can work, really well," said Jeff Ramsey, a Michelin star chef from Babe restaurant based in Kuala Lumpur. But the food here takes on its very own distinct flavour that can't be found anywhere else. "For example, when eating a large spread of Chinese food here, you won't taste much that you can find in China, if at all," he said.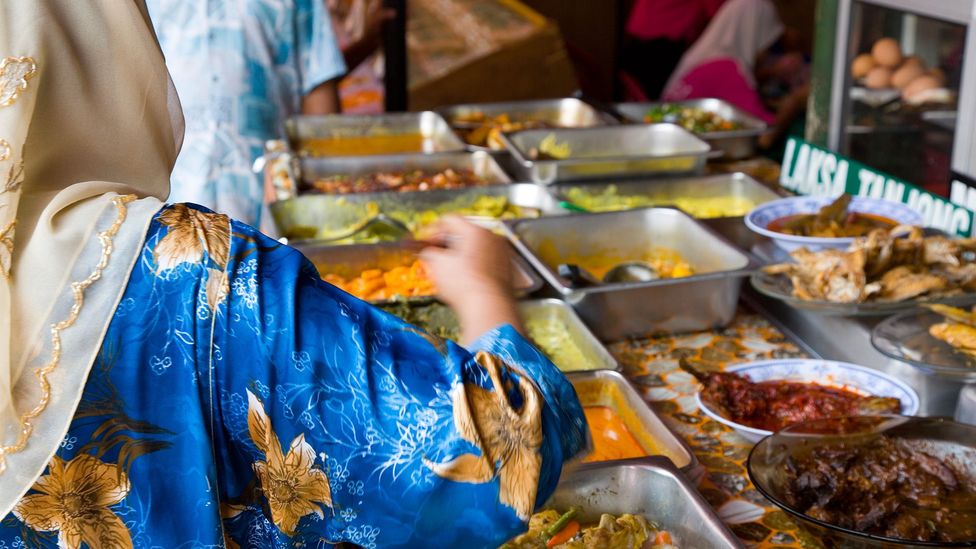 Kuala Lumpur's unique mix of cultures is evident in its diverse culinary scene (Credit: Peter Adams/Getty Images)
You may also be interested in:
• Asia's most misunderstood city?
• A 3,000-year-old city that runs on AI
• Asia's most multicultural city?
Along with the diversity of food, locals enjoy the mix of modern icons like the skyline-defining 452m-tall Petronas Twin Towers and the older, Moorish-inspired colonial architecture of places like the Kuala Lumpur Railway Station. "I love that it offers an interesting blend of the old and new, which makes it fun to explore," said Emily Yeap, who is originally from Kuala Lumpur and now lives in the US. "The city is definitely lively. There's always something going on and something to do."
Why do people love it?
Kuala Lumpur's food culture is a huge draw, and is one that's fully experienced after dark, from around 19:00, when people meet their friends and jalan jalan cari makan (go out and look for food). "Vendors set up stalls at pasar malams (night markets), which happen once a week in every area or district," said Zuzanna Chmielewska, who moved from Poland to Malaysia in 2012 and writes about the country at her blog Zu in Asia. "Street food options include various kinds of curries, dumplings and fried rice, as well as trendy imported items, like rainbow toasts or unicorn desserts." This kind of socialising can go well into the night, according to Chmielewska, and 24-hour canteens known as mamaks stay bustling until the early morning.
The eating doesn't stop then though. "For breakfast after a night out, a really good bak kut teh will hit the spot," Ramsey said. The pork dish is braised in a broth with cinnamon, clove, star anise and fennel and served alongside a dipping sauce made from chopped garlic, soy sauce and sliced green bird's eye chilli. "Beer is the choice [of] drink to have in this scenario, so make sure you don't have too much to do later in the day."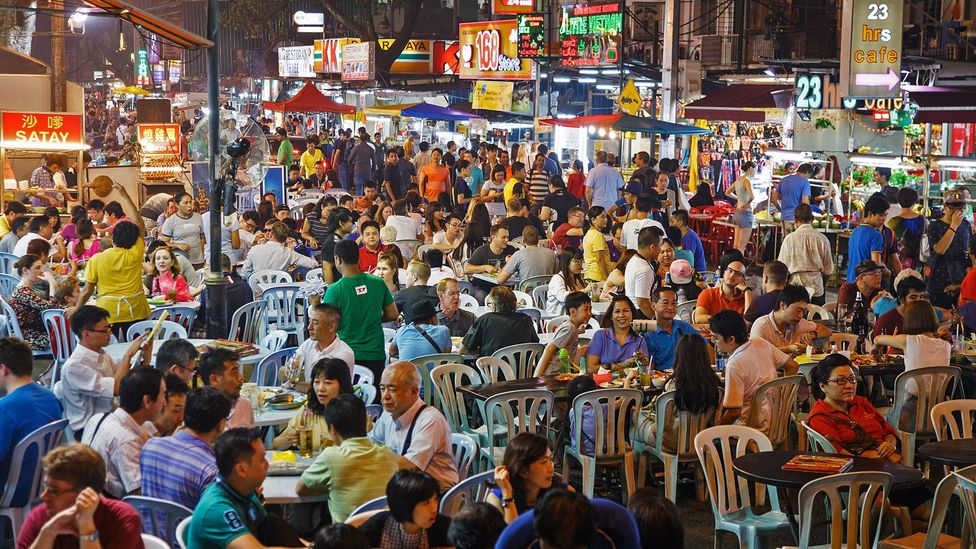 Kuala Lumpur's food culture is perhaps best experienced after dark at the <I>pasar malams</I>, or night markets (Credit: Maciej Dakowicz/Getty Images)
With so many cultures converging here, newcomers enjoy a constant sense of discovery. "I love to walk around KL and discover its hidden secrets, from a small stall selling curry made of monitor lizard meat, to street art performances during the Chinese Hungry Ghost Month," Chmielewska said. In fact, the different religious calendars mean there's a celebration at least a couple of times a month.
I love to walk around KL and discover its hidden secrets
Those celebrations are often open to quite literally anyone. "There's a tradition of an 'Open House', in which on a chosen special occasion, a family prepares tons of food and decorations and then lets anyone join," Chmielewska said. "It's mostly their friends and relatives, but the gate to the house is literally open, so anyone can just walk in and enjoy the celebration."
Newcomers feel like it's easy to quickly become part of the local community, with Chmielewska explaining that "people are quite used to expats from all over the world so it's not a problem to blend in."
What's it like living here?
The city is hot, rainy and frequently stormy, which causes a lot of traffic jams. "KL's roads are so complicated that everyone drives with their GPS on, even people who have lived in the city since they were born," Chmielewska said.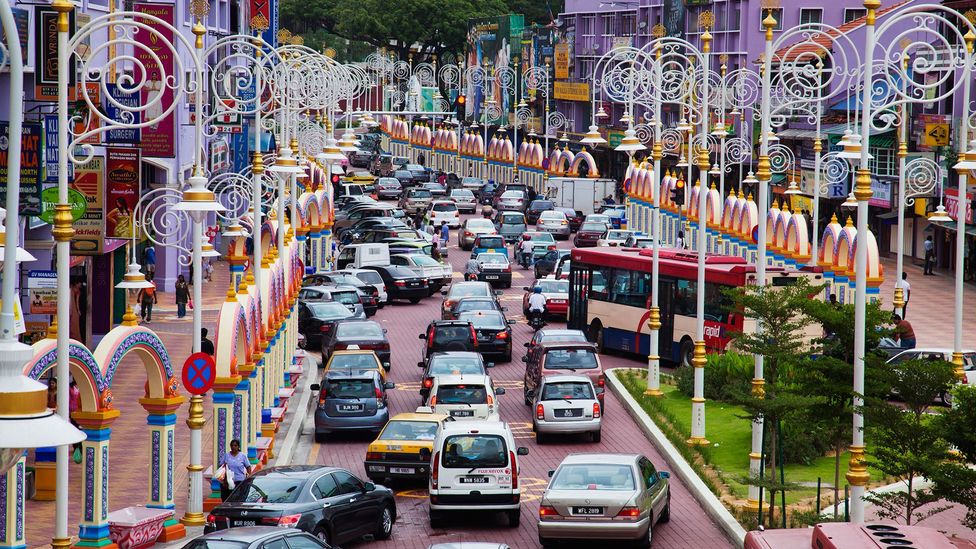 Because of the city's complicated roads and heavy traffic, many Kuala Lumpur residents choose to travel by public transit (Credit: Christer Fredriksson/Getty Images)
The traffic also means that many people choose to use the effective, mostly train-based, public transportation system. When that's not an option, expats suggest using fixed-rate ride-hailing apps, such as Grab, over taxis, which sometimes charge foreigners differing rates.
Most expats live in Mont Kiara (around 11km north-west of the city centre) for its easy access to international schools and shopping malls, but expats looking for a more immersive experience can settle in one of the more culturally distinct districts, which include Cheras (Chinese), Kampung Baru (Malay) or Brickfields (Indian). Though some areas of the city are more ethnically segregated than others, expats can live in any area of the city.
What else do I need to know? 
Minor street crime is a daily reality here – muggings at ATMs and handbag thefts near street food stalls are unfortunately common – so residents advise carrying as little cash as possible and avoiding walking alone at night.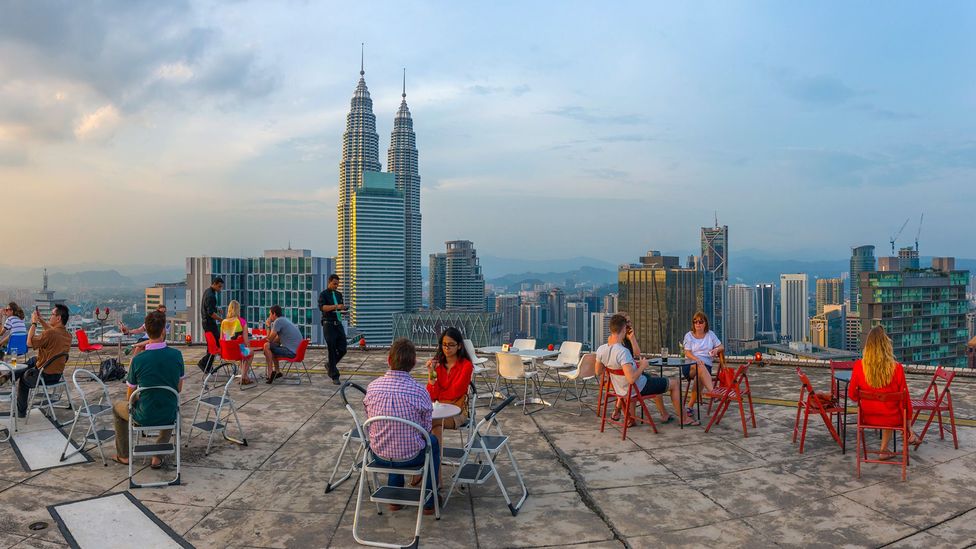 With so many cultures converging in Kuala Lumpur, newcomers enjoy a constant sense of discovery (Credit: Alan Copson/Getty Images)
While the city is still more affordable than Western big cities and Asian countries like Japan and Singapore, the cost of living is rising. "Things like accommodation, transportation and eating out are becoming more expensive," said Yeap. "Newcomers should be aware that the ringgit (local currency) doesn't go as far as it did in the past."
Just go with the flow and be open to new experiences
Because of the city's diversity, newcomers also shouldn't assume other expat experiences will mirror theirs. "Just because your friend already works in KL, doesn't mean you will have a similar experience," Chmielewska said. "You might end up working with mostly Malaysian-Chinese team, while he works with Malaysian-Malay team. There would be huge differences in working culture, lengths of breaks, etc. Just go with the flow and be open to new experiences. Respect the cultures and others will do the same."
Join more than three million BBC Travel fans by liking us on Facebook, or follow us on Twitter and Instagram.
If you liked this story, sign up for the weekly bbc.com features newsletter called "If You Only Read 6 Things This Week". A handpicked selection of stories from BBC Travel, Capital, Culture, Earth and Future, delivered to your inbox every Friday.