For more than 1,000 years, a rare reddish-purple seaweed known as dulse has fed coastal communities in Northern Ireland. Now, it's making waves as a trendy superfood.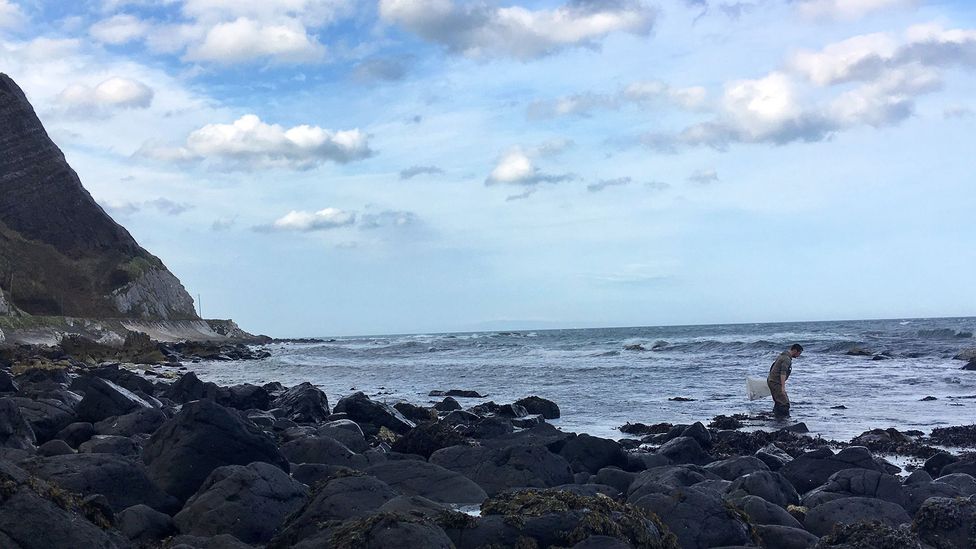 At 04:00 every morning between May and September, Stephen McAllister peers out the window of his bungalow along Northern Ireland's craggy Antrim Coast, looks at the sky and decides if he should walk into the ocean. If it's clear, he'll slide on his waterproof overalls, grab a plastic bag and follow a boulder-strewn path into the frigid waters at Garron Point that four generations of McAllisters have used before him.
For the next three hours, McAllister plucks fistfuls of wild reddish-purple algae clinging to the rocks that reveal themselves as the sea draws back at low tide. He then stores his harvest deep in a hidden karst cave to keep it moist, before spreading the leathery fronds on a limestone bluff by the beach to dry in the Irish sun the following morning.
Known as dulse, this edible seaweed has been a secret staple of the Irish diet for more than 1,000 years, and helped entire coastal communities survive during the Great Famine.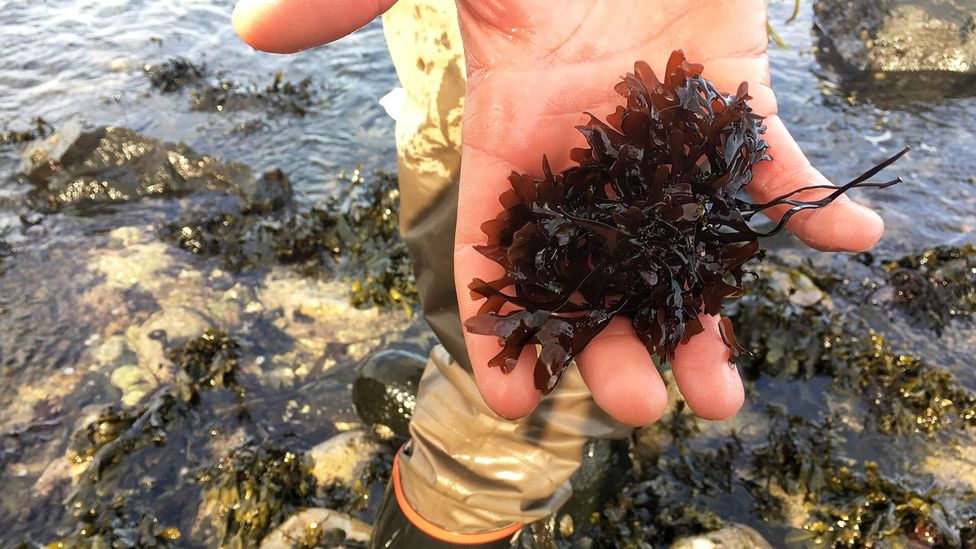 My father picks it. My great-uncle picked it. Even my great-grandmother – a one-eyed widow with an eye-patch – used to pick it. Back then, there was nothing else to eat," McAllister said.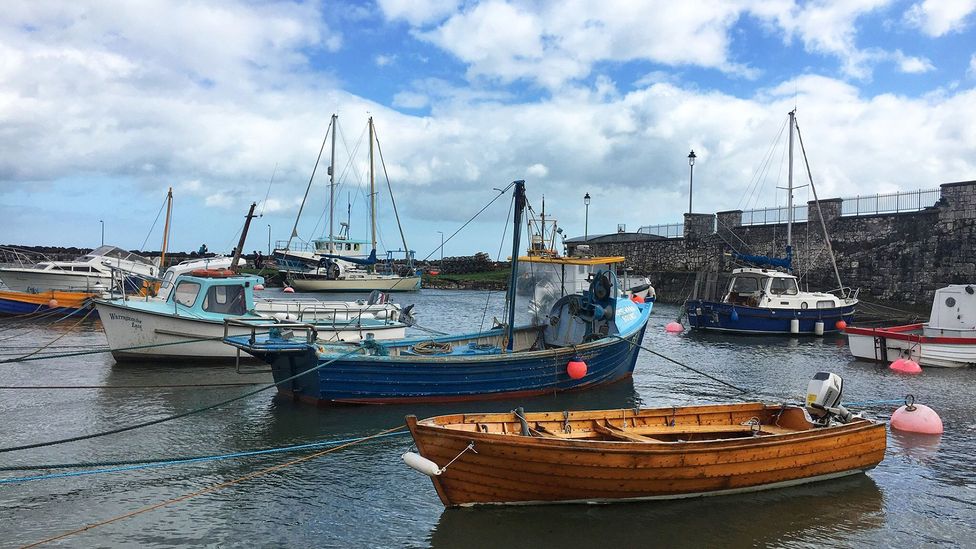 dulse, Northern Ireland, boats
While dulse (which comes from the Gaelic duileasg) grows in cold-water pockets of the North Atlantic and Pacific from Canada to Scotland, "it's as Irish as potatoes," according to chef, writer and director of Slow Food Northern Ireland, Paula McIntyre.
In fact, harvesting Irish dulse (a process known as 'dulsing') goes back more than 1,400 years to the monks of Saint Columba – one of Ireland's most important saints. In the 7th and 8th Centuries, local law in the Irish text Críth Gablach stated that any traveller calling at one's door should be offered a serving of dulse, and that a crop of dulse on a rock was as valuable as three cows. Since then, fishermen from Cork to Carnlough have traditionally supplemented their incomes and diets with the mineral- and protein-rich dried sea vegetable.
When Ireland's potato crop failed in the 1840s, many inland residents migrated to the shores to forage for seaweed. Coastal communities survived by boiling the algae into a porridge-like pulp or drying it in the sun to turn into salty crisps. However, as times improved, many Irish turned their backs on seaweed-spiked puddings and snacks throughout the 20th Century, and this rare bounty was listed as one of UK's 'Forgotten Foods' by Slow Food's Ark of Taste programme.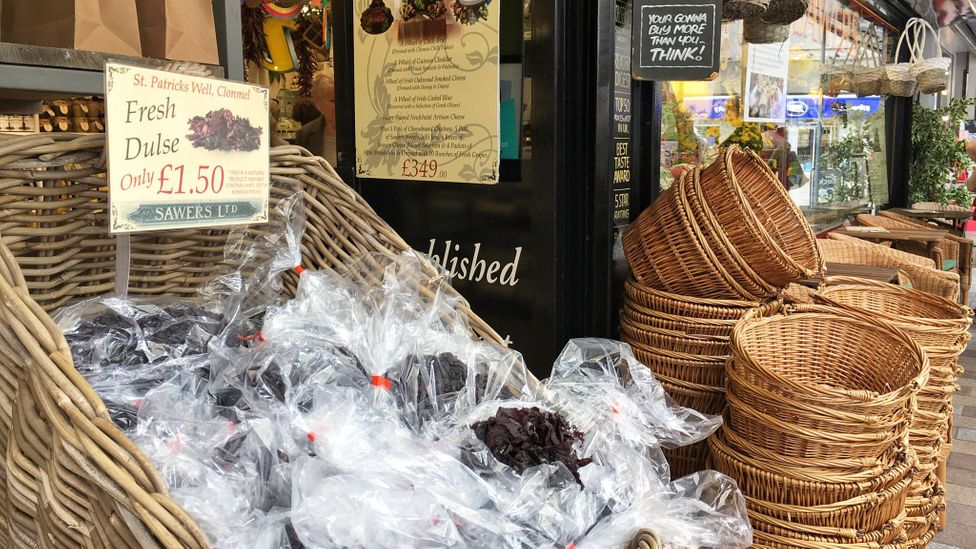 In the last few years, a wave of chefs and artisans has caused something of a seaweed renaissance throughout Ireland. Today, you'll find bags of dulse for sale at Belfast's iconic St George's Market; some of the UK's finest restaurants have started serving it; and supermarkets, sweet shops, post offices and pubs from County Clare to County Antrim stock raw dulse leaves that fly off the shelves each summer.
"Dulse is the epitome of Irish food. It's seeped into our history and sustained us during times of extreme poverty, but we've traditionally shunned it because it was a peasant food," McIntyre said. "It's also one of the most nutritious things you can eat, and in the last five years as people have awoken to that, it's started appearing on menus and local entrepreneurs have started incorporating it into dishes."
The world has taken notice, too. ABC News called dulse 'the holy grail of seafood', The New Yorker claimed 'seaweed could be a miracle food' and Jamie Oliver said it was 'the most nutritious vegetable in the world' after eating it helped him lose two stone.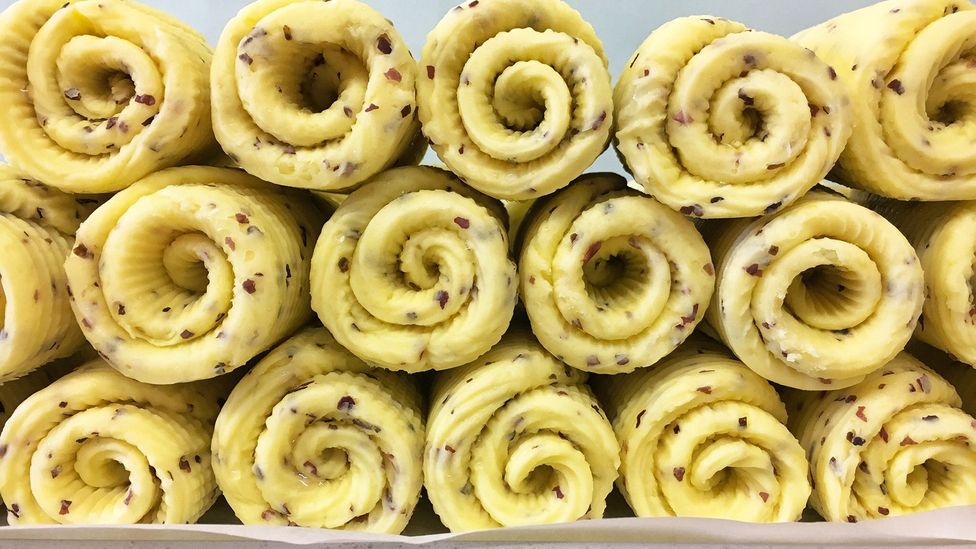 Abernethy Butter, Northern Ireland, dulse
Allison and Will Abernethy are two such entrepreneurs. Five years ago in the rolling patchwork sheep farms of Dromara, the husband-and-wife team started making dulse- and sea salt-flavoured butter on a 100-year-old hand-cranked churn.
Today, Abernethy Butter is Northern Ireland's only DEFRA Food Star. The couple supplies butter to Heston Blumenthal's three-Michelin-starred restaurant The Fat Duck, and they've been invited to 10 Downing Street to meet Prince Charles, Camilla and the Duchess of Gloucester.
"By itself, raw dulse can overpower you, but milled and mixed, it gives butter a lovely, natural saltiness," Allison said. "It's just something we tried that took off for us," Will added, spreading dulse butter on a warm scone. "I never got to meet royalty when I was just herding sheep."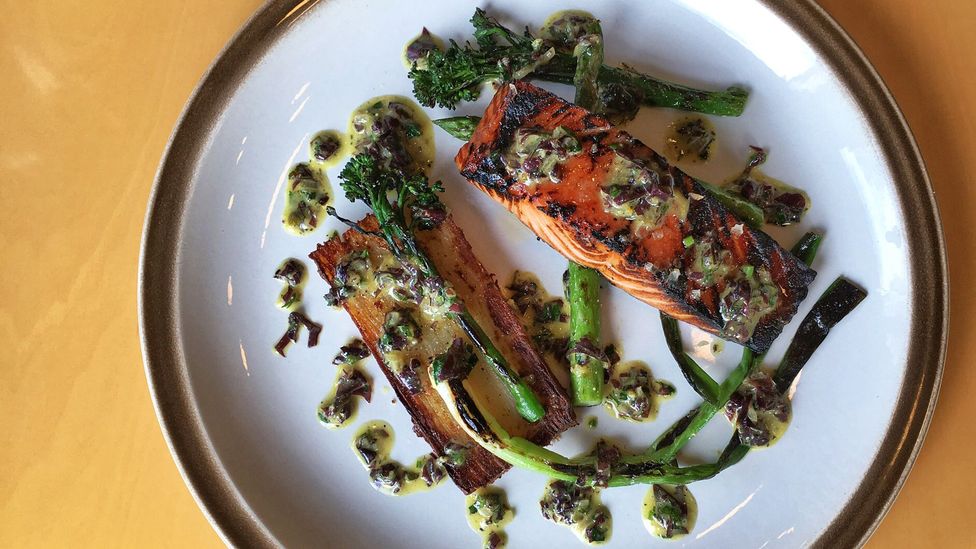 Deanes at Queens, Belfast, maple-cured salmon with Bushmills whiskey
According to Chris Fearon, a winner of BBC's Great British Menu and head chef at Deanes at Queens in Belfast, part of what makes dulse such a unique ingredient is its versatility.
"When you eat it raw, it can taste like you're chewing the ocean," he said. "Fresh dulse is actually quite sweet, but the longer you age it, the saltier it gets. Yet, when you pan-fry it, it has a really interesting, nutty, smoky flavour – almost like bacon."
Fearon has recently started incorporating dulse into a dish of maple-cured salmon with Bushmills whiskey, and he says it's one of the most popular items on the menu. "Ever since the idea of [New] Nordic cuisine began emerging where you use everything from the sea, dulse has really made a comeback here." Fearon said. "People associate it with their childhood."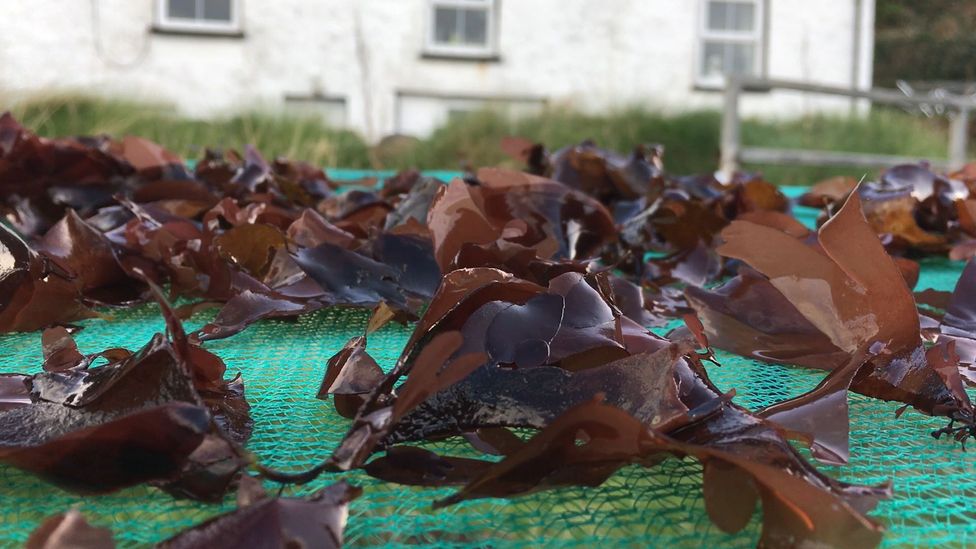 When there was no money about, our mothers would just give us a wee bag of dulse to chew on. Now, it's become a hip, health thing, and we sell six stone of it a week," said Kieran Sloan, owner of Sawers deli in Belfast.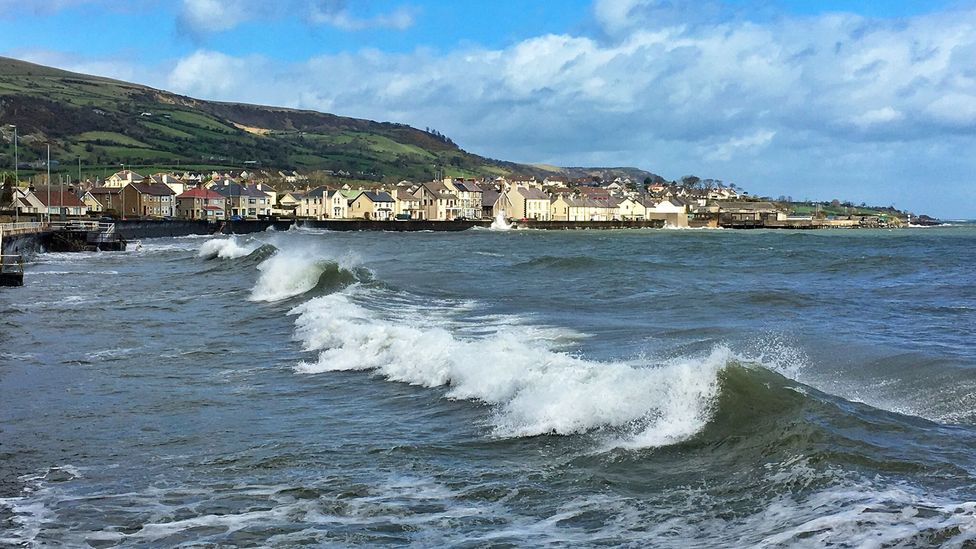 Carnlough, Northern Ireland
Like many children in Ireland, Gillian Thompson grew up eating dulse and toffee together at the seashore and knew men who would collect it each summer for beer money, but she never associated it as a 'health food'.
Then in 2005, she moved into a seaside cottage outside Carnlough and quickly discovered that the Emerald Isle's 3,171km coastline is home to some 501 types of algae – many of which are not only edible, but packed with nutrients. A year later, she launched The Irish Seaweed Company.
Now, when the tide draws back each clear day from late April to September, she scrambles over the rocks with a mesh bag to supply local post offices and supermarkets in nearby Cushendall and Waterfoot with dulse, while shipping other algae like sea spaghetti, kombu royale and carrageen moss as far away as Germany and Holland.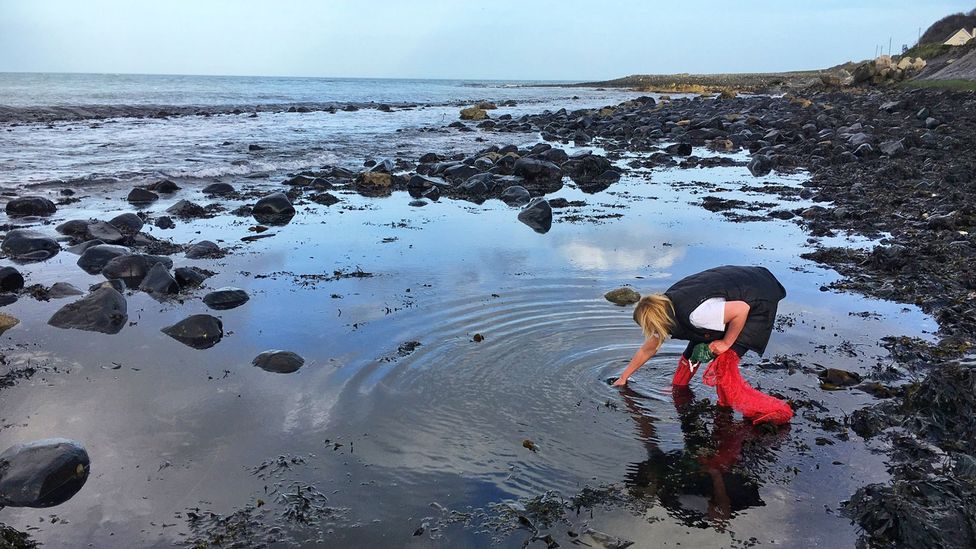 Gillian Thompson, Carnlough, Northern Ireland
People think of seaweed and think of washed up, stinking stuff on the beach. But these sea vegetables often have more iron, magnesium, potassium and minerals [that] your body needs than land vegetables like carrots and potatoes," Thompson said.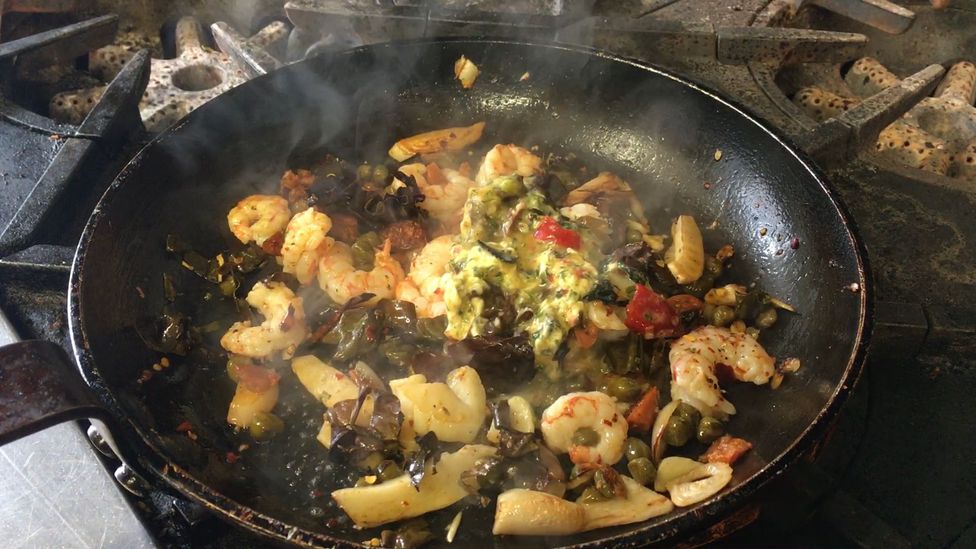 dulse, peri peri-style prawn dish, Upstairs at Joe, Cushendall, Northern Ireland
Not all of Thompson's hand-picked harvest gets shipped abroad or placed in local shops. This year, she started supplying Stevie Fagan, head chef at Upstairs at Joe's in Cushendall, with a buffet of underwater edibles, including pepper dulse – which she delicately removes from the rocks with a scalpel and is nicknamed the 'truffle of the sea'.
Ironically, Fagan's great-grandfather was one of the first people in Northern Ireland to import fruits and vegetables back in the 1800s, and while Fagan is a third-generation dulse harvester himself, he'd never heard of many of the local seaweed varieties that showed up in his kitchen last month.
"I'm mixing the dulse with chilli and coriander to make a peri peri-style prawn dish with chorizo," Fagan said, flipping a frying pan full of steaming seafood and turning towards small bags labelled 'Wakame' and 'Sea spaghetti'. "But I can't wait to experiment with those things."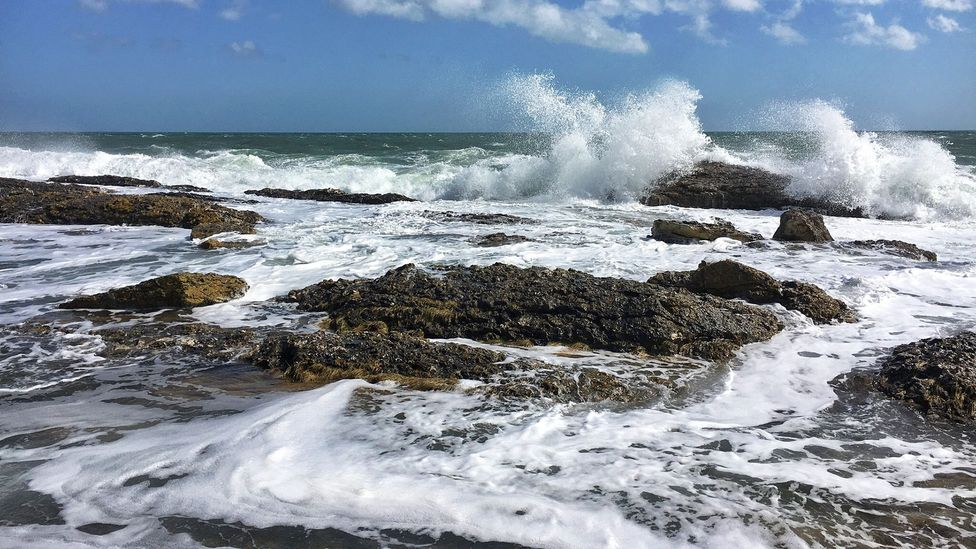 Perhaps nowhere is dulse more famous than the town of Ballycastle, which faces Scotland from across the Sea of Moyle on Northern Ireland's northern tip. Every August since 1606, the town has hosted the Auld Lammas Fair to mark the end of summer, and families from all over Ireland come to sell dulse with 'Yellow Man', a toffee-textured honeycomb whose sweet, uneven shards pair well with dulse's salty tang.
Like other Ballycastle children, Liam McBride grew up eating and harvesting dulse with his father. But when he was unwell, his mother used to boil dulse, carrageen moss and other seaweeds into teas and draw him seaweed baths to cure everything from colds to skin rashes.
"The natural healing properties of seaweed is something that families here have passed down for generations," McBride said. In fact, at the beginning of the 20th Century, there were as many as 300 seaweed bathhouses scattered throughout Ireland. In 2016, McBride opened Sea Haven Therapy, Northern Ireland's second seaweed bath, down the street from where he grew up. "As a culture, we'd forgotten about the nutritional benefits of seaweed for a long time," McBride said. "Now, we're starting to tap back into the holistic benefits, too."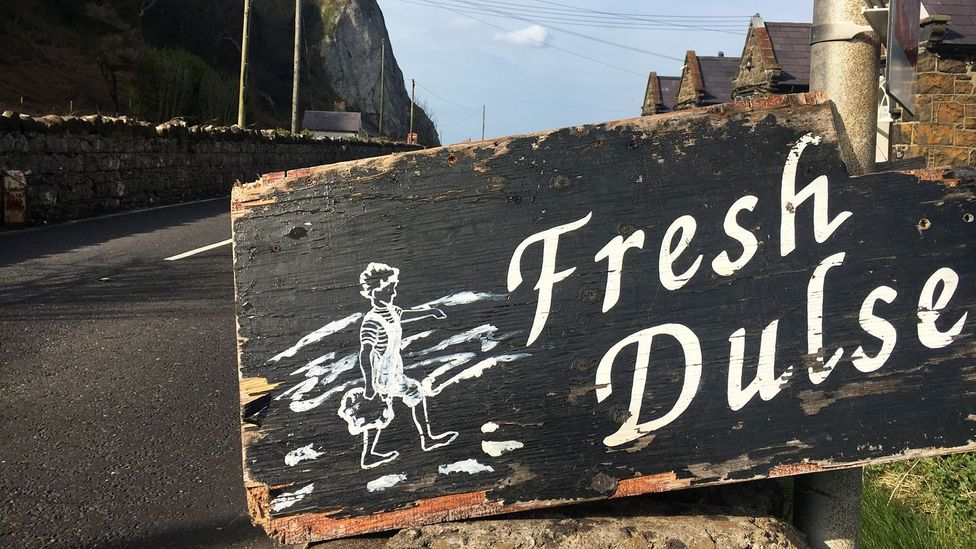 fresh dulse, Stephen McAllister, Northern Ireland
Back at Garron Point, McAllister finishes hiding his harvest in the karst cave, strips out of his overalls and walks out to the road to hang a hand-painted sign reading 'Fresh Dulse' outside his bungalow. It's the start of the season, and soon inland Irish families will migrate to the coasts to find fresh dulse, just as they always have.
"There are a lot more people harvesting and selling it these days, that's for sure" McAllister said, nodding up the coast to Thompson's cottage. "But there's enough dulse out here for all of us. No-one's going hungry."