The Nightingale Olympic department store stands as a monument both to its own history and to that of the woman who has kept it alive.
S
Skirting the edge of Bangkok's restless Chinatown district, barely noticeable among the sagging electrical wires that drape over the city like bunting and the flurry of street hawkers offering colourful fabrics and sparkling baubles, the Nightingale Olympic department store has been both a retail and a psychological anchor of the neighbourhood for almost nine decades.  
All but forgotten, the multi-level cabinet of curiosities stands as a monument both to its own history and to that of the woman who has kept it alive.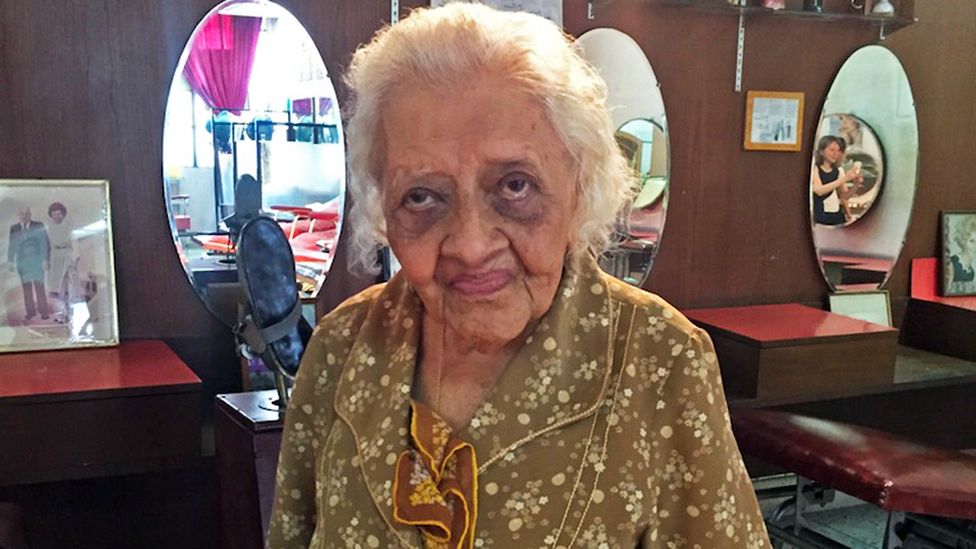 Aroon Niyomvanich has worked at Nightingale Olympic for 86 years, having started her career at the age of 10 (Credit: Courtney Lichterman)
You may also be interested in:
• Where Tokyo's grandmas go to shop
• How colours are saving Thai street food
• Buenos Aires' mysterious secret tunnels
Now 96 years old, Aroon Niyomvanich started her career at Nightingale Olympic, the city's first major department store, when she was just 10 years old. "I was born into the store," she told me from behind her desk in a corner of the main selling floor.
Inside, the Nightingale Olympic feels more like a living museum diorama than a department store – a Wes Anderson movie come to life. Shelves full of 1950s hosiery in original boxes sit across from stiff-stringed tennis racquets from the '70s. In the lingerie section, large, lacy bras hang precariously on rusty tenterhooks, seemingly kept upright by the makeshift counterweight of a 1960s Nightingale promotional bag. Display cases jaundiced with age hold bottles of rare, evaporating Schiaparelli and Christian Dior perfumes. There are deep, progressing fissures in the necks of the store mannequins, and much of the stock looks as if it might turn to dust if handled.
A glass case behind Niyomvanich's desk holds a mélange of disparate items, ranging from family photos to sports trophies to a small collection of action figures. A calendar open to a page of King Maha Vajiralongkorn, one of many images of the Thai royals around the store, hangs prominently on the wall. "Everything here has meaning," she said.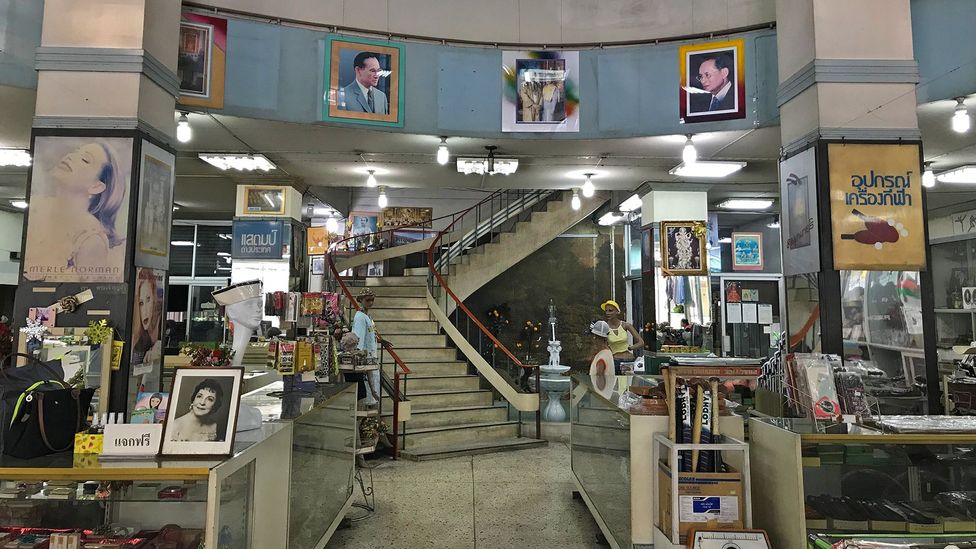 Today the Nightingale Olympic feels more like a living museum diorama than a department store (Credit: Napittha Tiya)
Opened in 1930 just across the road from where it is now, Nightingale Olympic was the passion project of Niyomvanich's older brother Nat, who started the business just after their parents died. Following a deathbed order from their mother to keep the family together, the entrepreneur employed all six siblings and three of his then-young nieces and nephews to help get the store on its feet. One of the many millions of Chinese families living in Thailand, theirs was a "typical Chinese family," Niyomvanich explained, which meant "no arguments and no fights", a dynamic she feels was directly responsible for the store's staying power.  
The store originally sold bargain cosmetics and clothing, until customers appealed to the family to start selling more upscale brands. That recommendation led to buying trips to Europe to purchase expensive perfume, sports equipment and musical instruments. (The name of the store itself is a reminder of those early trips: 'Nightingale' was one of the musical instrument brands; 'Olympic' came from some of the sports equipment.) Despite her young age, Niyomvanich was included in all of it; she travelled the world with her brother to scout out the merchandise that would secure the store's eventual reputation as a utopian arcade of exotic goods.  
Everything here has meaning
Several years later in the late 1930s or early 1940s (she can't remember exactly when), Niyomvanich and her brother were chosen by Merle Norman, a then-burgeoning cosmetics brand, to represent the product in Thailand. The gig ended up being a big deal, leading to television segments for her brother and to her own shift from representative to sales trainer.
Forced to relocate after a bomb decimated the area in World War II, the store finally settled in to its current location – a sprawling seven storey structure where Niyomvanich not only works, but also lives. Only the first and second floors are open to the public, with the remaining five floors dedicated to her office, home, stockroom and rooftop kitchen.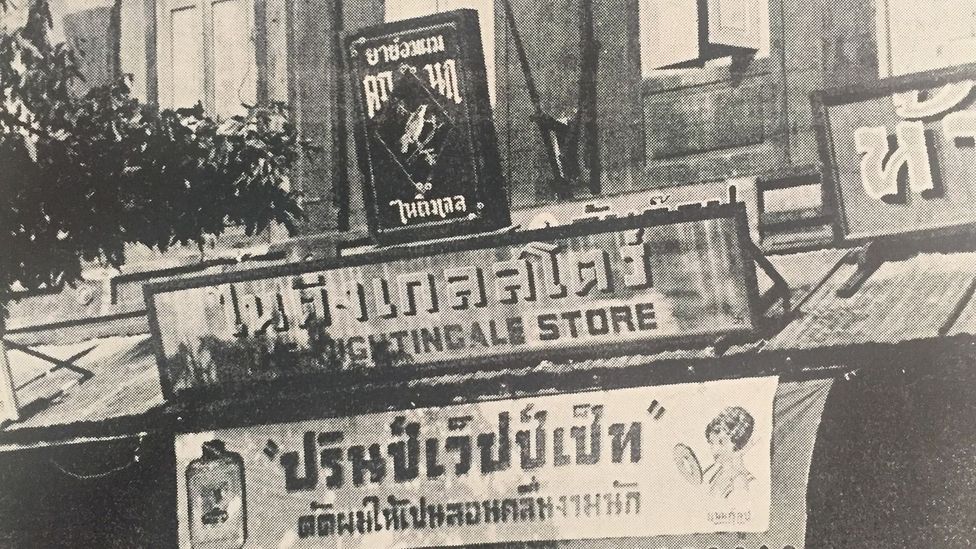 The Nightingale Olympic has been a fixture of Bangkok's shopping scene since 1930 (Credit: The Nightingale Olympic)
There is still a small cosmetics section on the first floor, but Niyomvanich explains that it was the third-floor beauty salon dedicated to the Merle Norman brand that really put Nightingale Olympic on the map. It has been closed to the public for more than 30 years, so I was thrilled when she offered to show me around.
Moments later, we were exiting the lift on the darkened third floor. Niyomvanich flipped a switch to reveal a perfectly preserved, over-the-top tribute to 1950s femininity and glamour, awash in Schiaparelli pink. Plastic rollers, still sprouting a few ghostly strands of hair, were piled on a slowly rusting trolley, while atomizers sat undisturbed in sales cases, their spraying mechanisms long deflated. Countertops were lined with jars and tubes of creams and potions that were undoubtedly past their sell-by date. An appointments calendar lay open on a mid-century reception desk, as if waiting for a phantom receptionist to start making bookings.
It feels like a Wes Anderson movie come to life
"They all still work," Niyomvanich said, gesturing to the fleet of antiquated exercise machines that once kneaded and nudged Bangkok's elite towards fitness. Watching her demonstrate how each one worked, it was not hard to envision the room as it once was: jiggling tummies tightening with each movement while fellow customers reclined against the pink porcelain sinks, attendants working shampoo through their hair in preparation for new 'dos.
"Why keep the salon in working order?" I asked.
"Because," Niyomvanich diplomatically replied, "it has meaning."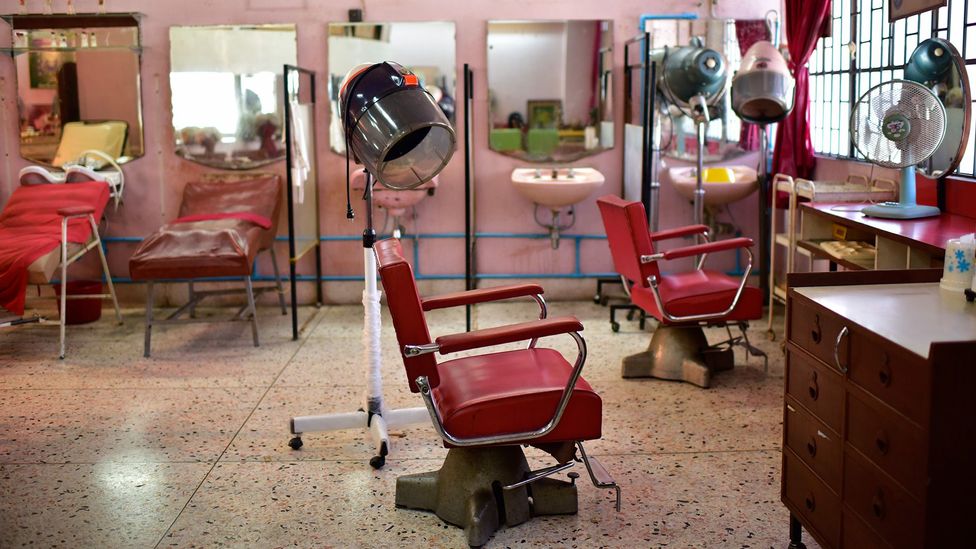 The Nightingale Olympic's now-defunct beauty salon once catered to Bangkok's elite (Credit: Barcroft Media/Getty Images)
Today, a small, devoted staff, most of whom have been there a few decades, service the selling counters. Dressed in surprisingly pristine hot-pink golf shirts, they look like a dainty, off-duty ladies' polo team. Although the store is often completely devoid of customers, it does a consistent business with loyal patrons who purchase goods to re-sell in the country's rural provinces. Niyomvanich says that Merle Norman cosmetics are still Nightingale Olympic's biggest sellers.
Her preference is to keep the Nightingale Olympic as is, but notes that if the younger generations of her family want to modernise, she's OK with that, too. The bigger issue is who is going to take over the store when it's time. Niyomvanich is the last surviving sibling, and has even outlived many of the subsequent generations who might have taken over. She's lost track of how many great-grandchildren there are, and says that most of her nieces and nephews are already pursuing other careers. Her brother's children might be good candidates, but they are already in their 60s and 70s.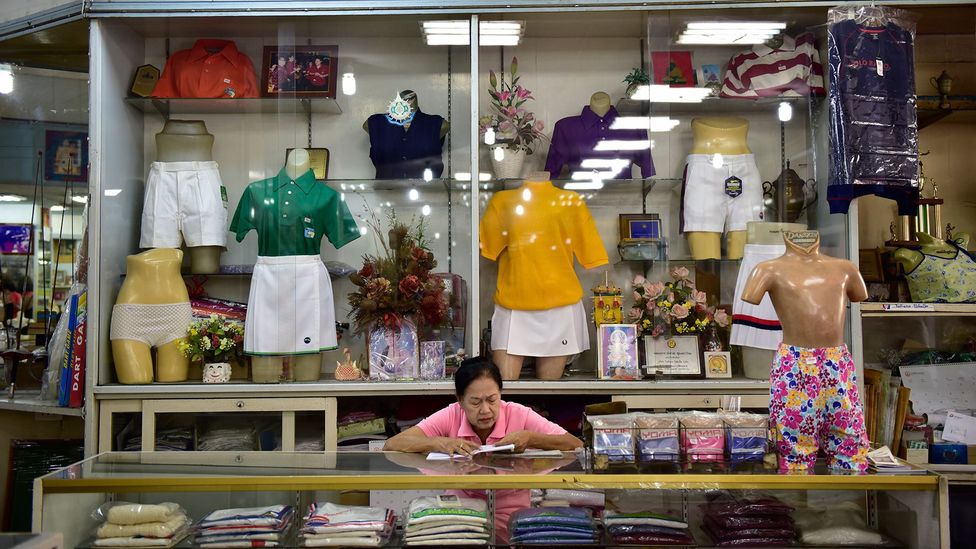 One of Niyomvanich's greatest concerns is who will take over the store when she can no longer run it (Credit: Barcroft Media/Getty Images)
Given that this neighbourhood is showing the telltale signs of redevelopment (a hipster barbershop has just opened across the street), I asked her if anyone has ever offered to buy the Nightingale Olympic, a question that prompted a wry smile.
"No-one would dare ask," she said.
Join more than three million BBC Travel fans by liking us on Facebook, or follow us on Twitter and Instagram.
If you liked this story, sign up for the weekly bbc.com features newsletter called "If You Only Read 6 Things This Week". A handpicked selection of stories from BBC Travel, Capital, Culture, Earth and Future, delivered to your inbox every Friday.