When the Chief Rabbinate of Israel declared Jewish-style artichokes non-kosher, hundreds of Romans inundated social media with solidarity messages for the centuries-old dish.
T
Think of Rome and chances are that the image of St Peter's Basilica, one of Christianity most universally known symbols, will cross your mind.
Yet, the bustling streets of LaCittà Eterna are home to another religious group that has left a profound mark on the city's history. Roman Jews have inhabited the Italian capital since the 2nd Century BC – well before the start of Christianity.
A few minutes' walk from the imposing Piazza Venezia, close to the Tiber riverbank lies Via del Portico d'Ottavia, the heart of the former Jewish Ghetto that was created by order of Pope Paul IV in 1555 and dismantled when Italian troops seized Rome from Papal rule in 1870.
During springtime, when artichoke season begins, many of the tavernas that populate the narrow, cobbled streets of 'Il Ghetto' (as locals call it) try to lure in customers through the proud display of mammole, a local version of the globe artichoke which is mostly found in Rome's surrounding regions.
Restaurants in Rome's Il Ghetto neighbourhood proudly display fresh artichokes during the spring (Credit: Irene Pirca)
You may also be interested in:
• Why is hummus controversial?
• India's biryani wars
• The pasta Sardinians refuse to share
Mammole are the core ingredient in the most iconic dish of Roma-Jewish cuisine, carciofi alla giudia, literally Jewish-style artichokes, a deep-fried artichoke with a tender heart and crispy golden crust that has been a local favourite since at least the 16th Century.
Nearly every diner orders the crispy carciofi during spring. "It would be extreme to say that a restaurant depends on a single dish," said Amit Dabush, owner of the popular kosher restaurant chain Ba'Ghetto, which counts three venues in Rome and one in Milan. "But it's for sure the most demanded item on our menu."
But this spring, things did not run as smoothly for the restaurants of Via del Portico d'Ottavia. A few weeks before the start of Passover – a festival that celebrates the Israelites' liberation from slavery in Egypt – in late March, Rabbi Yitzhak Arazi, head of imports of the Chief Rabbinate of Israel, declared that Jewish-style artichokes – a staple feature of the local Passover menu – should be considered trayf, or non-kosher.
As explained by Piero Stefani, professor of Jewish culture at the University of Ferrara, Jewish Kashrut, a system of rules about food, does not prohibit any vegetable – including artichokes. The problem, he said, is that artichokes may contain worms or other small insects, which are listed among forbidden foods in the Torah.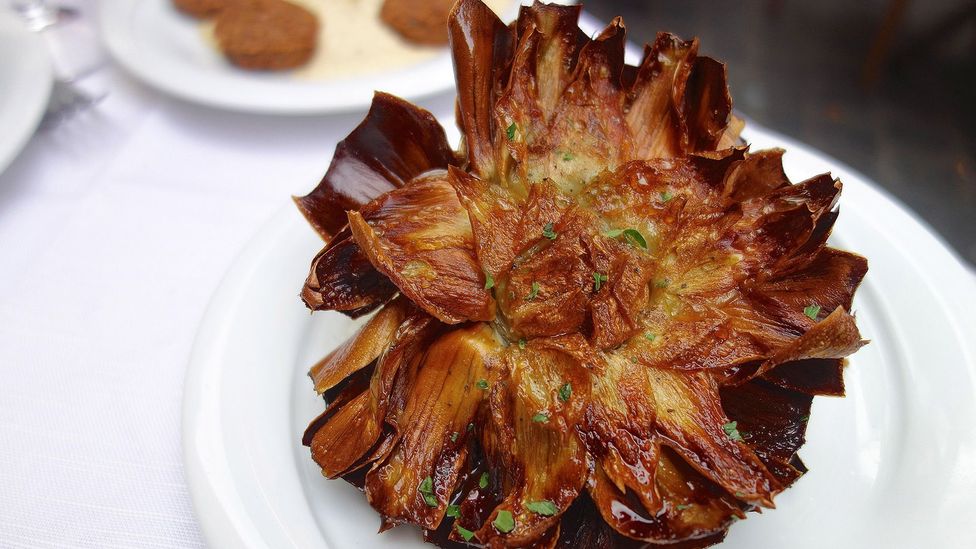 <I>Carciofi alla giudia</I>, or Jewish-style artichokes, is the most iconic dish of Roma-Jewish cuisine (Credit: Emma Lapperruque/Alamy)
And, indeed, that's what concerns Rabbi Arazi, who turned his attention to the matter after a canned version of Jewish-style artichokes started to become popular in Israel. "The heart of the artichoke is full of worms, and there is no way you can clean it," Arazi told Israeli newspaper Haaretz, explaining that the ban should not be considered as a local policy but as an application of Jewish religious law.
Roman Jews did not take it well. Hundreds of people inundated social media with messages of solidarity for the hundreds-year-old dish, from angry posts to love poems and revisitations of popular mottos – the 'Je suis Charlie' meme that went viral after the attacks on French satirical magazine, Charlie Hebdo, in 2015 was turned into 'Je suis carciofo'.
This is not a war about artichokes – It's about preserving the identity and traditions of local Jews
A beloved dish
Where to eat carciofi alla giudia in Rome:
Nonna Betta: Named after the current owner's grandmother, Nonna Betta is one Il Ghetto's most popular establishments. Its Facebook page features many creative advertisements of carciofi alla giudia, including a photo of Hollywood actor Jake Gyllenhaal who allegedly dined at Nonna Betta in October 2017.
Ba'Ghetto Milky: Part of the kosher chain Ba'Ghetto, this restaurant specialises in dairy and vegetable dishes (its sister venue, Ba'Ghetto Meat, offers meat dishes). Owned by the Dabush family, who founded the dining chain in the 1980s after moving to Rome from Libya, Ba'Ghetto Milky offers a mix of Arab and Jewish dishes that reflect the Dabush's family roots. 
La Taverna del Ghetto: Featuring paintings of traditional Jewish life and pictures of the old Ghetto, this venue is run by Italia Tagliacozzo, a long-standing connoisseur of Roman Jewish cuisine. After hearing about the artichoke ban, 80-year old Tagliacozzo told Italian daily newspaper Il Corriere della Sera that she has never found a worm in a local artichoke in her entire life.
Much of the defence of Jewish-style artichokes is based on a physiological argument: local Roman artichokes have a different structure than other varieties, which makes them worm-proof. "The leaves of local artichokes are very compact," said Umberto Pavoncello, manager of one of the most popular kosher restaurants of Via Portico d'Ottavia. "That makes them impenetrable to insects." Besides, no local rabbi has ever raised the issue, something that makes Pavoncello confident about the kosherness of local carciofi.
Simone Somekh, a writer who published an artichoke defence in the online Jewish magazine Tablet says that the current worm dispute is part of a wider debate about bugs and vegetables. "There are kosher manuals that provide detailed instructions on how to best clean salad, broccoli or cauliflower to prevent insects," he said, "but sometimes the most orthodox fringes of the community prefer to ban a food item just to be safe."
But according to Somekh, Arazi's preventative ban does not take into account what Jewish-style artichokes mean for the local community. "This is not a war about artichokes," he said. "It's about preserving the identity and traditions of local Jews."
Indeed, the origins of carciofi alla giudia are deeply intertwined with the turbulent history of local Jews. When Pope Paul IV confined Jews inside the Ghetto, he issued a ban over the kind of professions they could practice. Food preparation was one of the few permitted activities, so many Jewish people, mostly women, started to run 'friggitorie', food stalls selling fritti (deep-fried foods). Even if friggitorie are not around anymore, their recipes can still be tasted in many kosher restaurants of Il Ghetto which feature them on their menus.
Unlike other local fried foods that were often prepared with pork fat, Jewish fritti were cooked with olive oil both due to kosher rules (pork should not be eaten) and to the Mediterranean influences of Spanish and Sicilian Jews who flocked to the city after they were expelled from the Kingdom of Castile and Aragon in 1492.
This made foods cooked at friggitorie easily identifiable as 'Jewish', which is why the contentious artichoke dish is called 'Jewish-style' rather than just deep-fried. And indeed, getting the frying process right is key to making a good carciofo alla giudia.
"First you need to remove the harder external leaves and trim the stem with a paring knife," said Pavoncello, who learned the technique from the women of his family. The trimming, he explained, should be done from the base up in a spiral-like motion to give mammole their distinctive rosebud look. "Then you dip it in medium-heat oil for about 15 minutes." The artichokes are then drained, dried and fried again, this time for no more than a couple of minutes, in higher heat oil that turns the outer leaves golden and crispy – a distinctive sign of a well-cooked carciofo.
But it was not just artichokes. Jewish friggitorie were able to turn other cheap but nutritious ingredients like courgettes, offal and codfish (the Ghetto was right by Rome's fish market at the time) into recipes that have become staple items of Roman cuisine, such as fiori di zucca fritti (stuffed courgette flowers), baccalà fritto (fried codfish) and abbacchio fritto (fried lamb).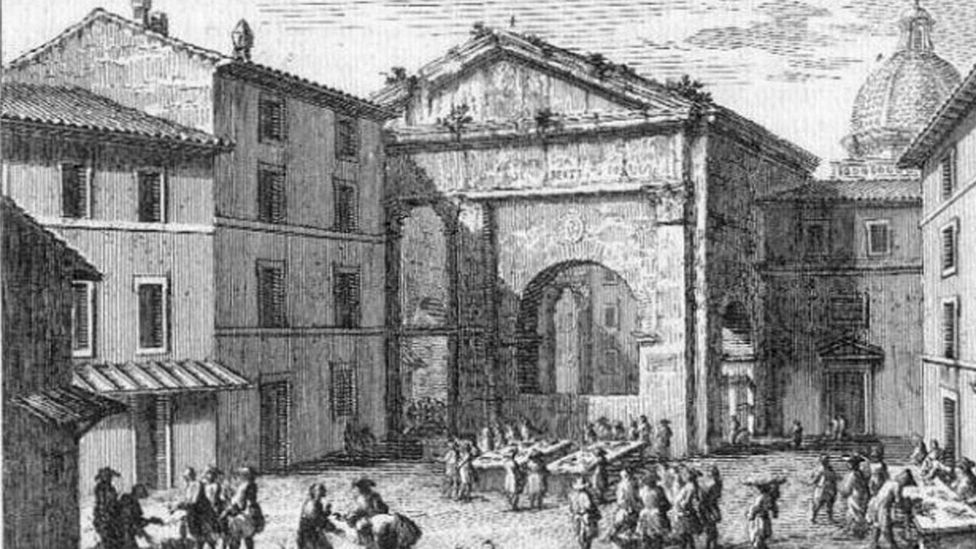 Carciofi alla giudia were created several hundred years ago by women operating friggitorie, or food stalls, in Il Ghetto (Credit: Nonna Betta)
Considering that Jews were prevented from taking part in almost any cultural activity, from art to music to theatre, their gastronomic legacy is incredibly valuable. Much like the landscape of Il Ghetto, where Jewish monuments like the Great Synagogue stand side by side Renaissance gems such as the 16th-Century Turtle Fountain, Jewish and Roman food cultures have merged with one another, giving rise to a distinctive local food culture.
Ba'Ghetto's owner, Dabush, said that since Rabbi Arazi's ban, he has stopped serving carciofi alla giudia in his Milan restaurant, but not in the ones in Rome. "People complain about the lack of Jewish-style artichoke in Milan," he said, "but they eventually settled for it. In Rome, we would never dare take it off the menu."
He explained that a few years ago, another kosher dispute, this time about ciambellette (sweet doughnuts eaten during Passover) managed to reach a resolution. The problem in that case was that ciambellette are made using flour, which if not handled properly could leaven – something that is not permitted during Passover.
But the dish was not banned. Rome's rabbinate ruled that its preparation could still take place during Passover, albeit under the supervision of a mashgiach, a person instructed on Kashrut rules.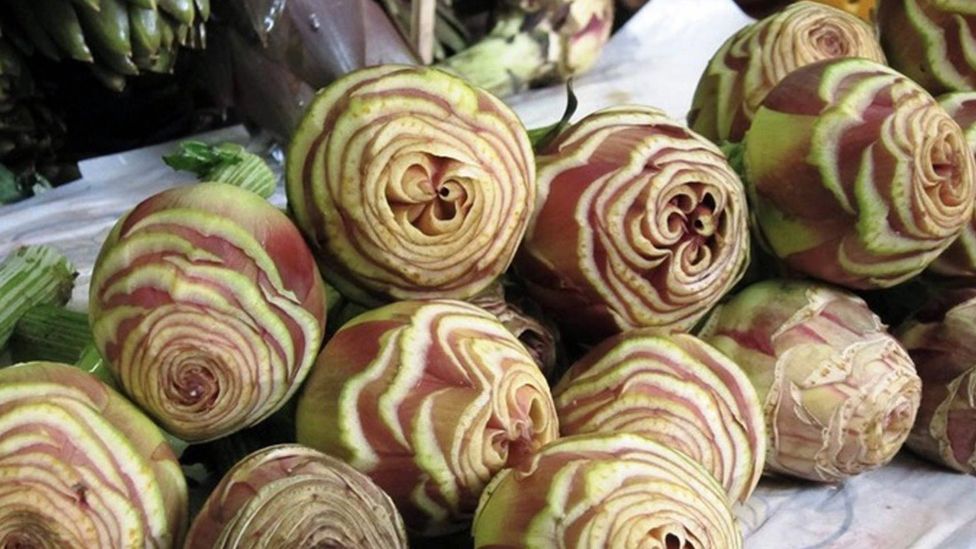 This past spring, the Chief Rabbinate of Israel declared artichokes to be non-kosher, sparking a backlash from Rome's Jewish community (Credit: Nonna Betta)
Dabush now hopes that something similar can happen with the beloved artichoke dish. "Carciofi alla giudia have been standing as the ultimate symbol of Roman-Jewish cuisine for centuries," he said, adding that it would be unthinkable to run an artichoke-free menu in his venues. "Jewish culture does like compromises, but in this case, I really hope we can find a solution."
Food Wars is a series from BBC Travel that invites you to feel the heat when passions flare around beloved dishes that shape a culture's identity.
Join more than three million BBC Travel fans by liking us on Facebook, or follow us on Twitter and Instagram.
If you liked this story, sign up for the weekly bbc.com features newsletter called "If You Only Read 6 Things This Week". A handpicked selection of stories from BBC Future, Earth, Culture, Capital and Travel, delivered to your inbox every Friday.