Although scientists dispute its legend, the minuscule Carcross Desert in Canada is a world wonder by any measure.
I
It had snowed overnight, but there were already tracks on the ground. The fine powder had covered the perimeter of spruce and willow and was already starting to melt on the topmost branches when I set out on my expedition. Ahead was a denuded and frozen basin of snowy ridges and gently rising slopes.
The noise of the village had faded, and as I took my first steps onto the plateau, following the contour of the land, an intense squeak escaped from under my boots. It was all I could hear for the next 10 minutes. A muffled, metronomic marriage of snow groaning on sand. After that, I had reached my destination. I had crossed what many believe is the world's smallest desert.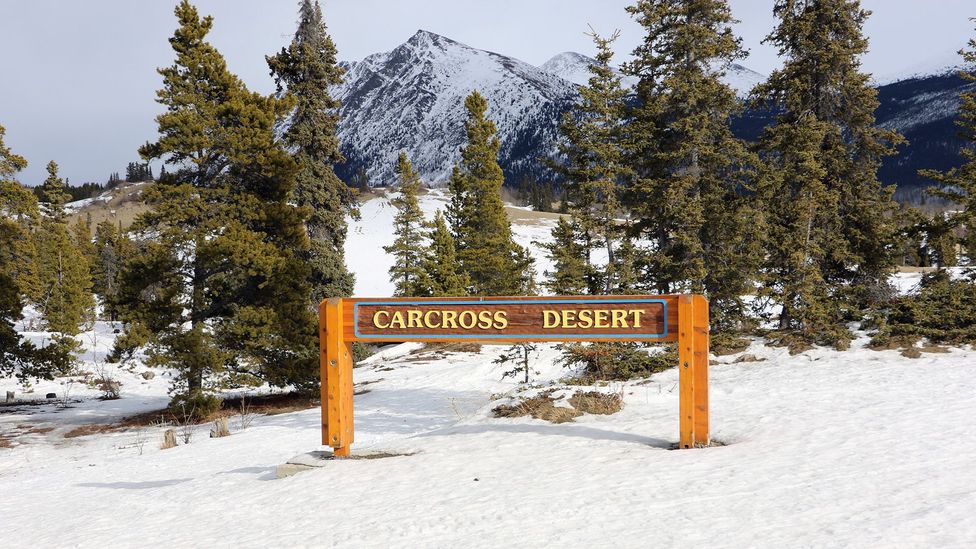 At only 600m wide, Canada's Carcross Desert is said to be the world's smallest desert (Credit: Mike MacEacheran)
You may also be interested in:
• The drawbridge you can cross in two seconds
• The world's smallest kingdom
• The protectors of Canada's sacred islands
This was my introduction to one of North America's most bizarre geological phenomena, the Carcross Desert in Canada's Yukon). At first glance, it admittedly didn't look like much. Hardly recognisable as a desert and only 600m wide, best measured end to end by bootprints, it was blanketed in snow, the sand only apparent between cracks in the melted crust. But the details sharpened over time. Closer inspection revealed a miniature kingdom of fine-grain sands, a rare habitat for plants, ungulates and insect species that may be new to science.
Arriving at its roadside gateway, marked by an abrupt 'Carcross Desert' signpost, the words seemed jarring and out of place in Canada. I'd seen dunes in Oman, Morocco, Namibia, Chile, Saudi Arabia, India, Mongolia and Egypt, but there are few places at 60° North where you'll see the word 'desert' writ large. Deserts take up one third of the Earth's land surface, but the one outside the village of Carcross doesn't offer the philosophical mindset of the Sahara or the Rub' Al Khali. It is a pipsqueak. A Lilliputian sandpit, by comparison. And measuring just 1 sq mile (2.59 sq km) it is one of only a few such dune systems in North America.
"The desert has long been an enigma to us locals," said Keith Wolfe Smarch, a member of the Tlingit First Nation who lives in Carcross, population 301. The wood carver, who can see the dunes from his workshop, has long used the surrounding landscape as inspiration for his work. "There's plenty of rare vegetation that lives down by the beach on the Carcross River and one day the desert will swallow it up. It shapes our town."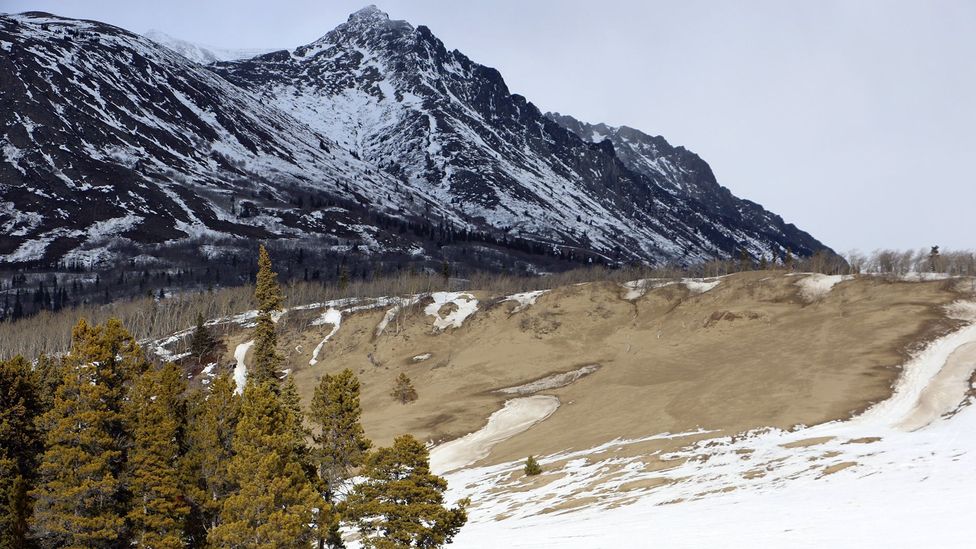 The Carcross Desert is a rare habitat for plants and insect species that may be new to science (Credit: Mike MacEacheran)
According to Wolfe Smarch, the village of Carcross was founded some 4,500 years ago at a crossing point where Bennett Lake and Nares Lake meet. Such good fortune created a natural land bridge, which in turn became a makeshift trap for migrating game. "Massive herds of woodland caribou would cross here," Wolfe Smarch told me. "As nomadic people, both the Tlingit and Tagish tribes camped beside the nearby Natasaheen River to hunt – so the town's name comes from a portmanteau of caribou and crossing."
As Carcross has grown, so has the number of visitors to the Yukon's one-of-a-kind desert. Originally called Naataase Heen (meaning 'water running through the narrows'), Carcross was the kind of village most would pass through. There is a scattering of white-painted churches, a general store, and cabins adorned with moose antlers and rusted axes, leftovers from the Klondike era when paddle-steamer traffic ferried miners to the territory's goldfields near Dawson City and Atlin. But today, the story is changing.
Sport lovers now descend on the sands every weekend, creating a multi-purpose adventure playground. In summer, exposed dunes are used by quad bikers, hikers and sand-boarders, and become a shelter for dall sheep, mountain goats and deer. As soon as enough snow falls, the desert turns into something else entirely, the dunes reclaimed by ski-tourers, tobogganers, snowshoers and snowboarders.
"I bring my kids tobogganing and they love it," said Whitehorse-born Jennifer Glyka, who I met at the village's Bistro on Bennett, one block from Wolfe Smarch's studio. "I grew up in the Yukon, but it's still pretty weird for me to slide down an ice-covered sand dune. I'd never heard of this place when I was a kid."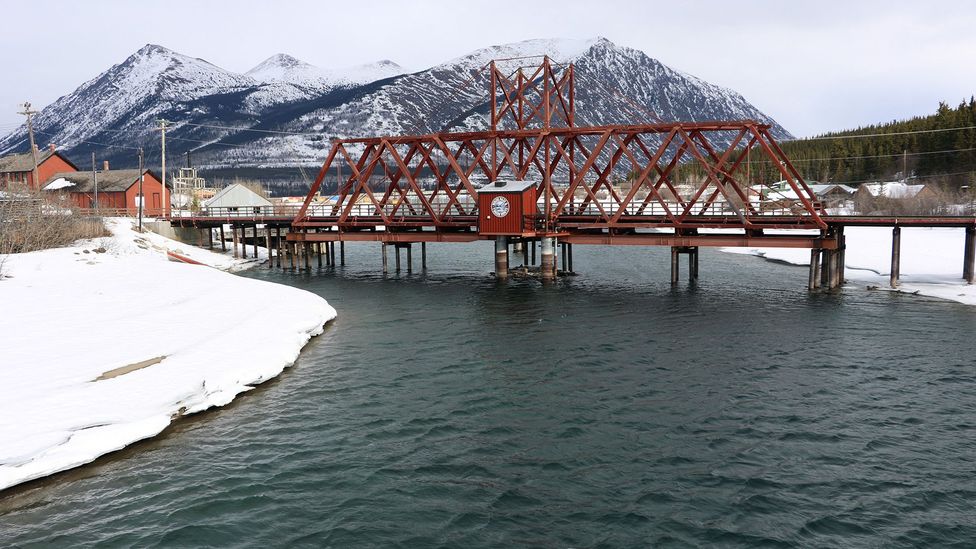 The village of Carcross was founded more than 4,000 years ago at the point where the Bennett and Nares lakes meet (Credit: Mike MacEacheran)
For all the feel-good spectacle, the Carcross Desert leads a double life. It is also the territory of Canadian scientists and geologists at pains to unravel its secrets, to work out just exactly how this nanoscale oddity came to be.
One such expert is surficial geologist Panya Lipovsky from the Yukon Geological Survey. She has made it her mission to research the scaled-down desert's backstory, and she understands its contradictions better than most. "I study dirt," she said, matter-of-factly, when we met at the Yukon government building in Whitehorse. "I also study landslides and surface deposits. And that encompasses deserts."
The ice bulldozed everything
According to Lipovsky, the Carcross Desert's unique genesis is the result of 10,000 years of natural labour. The Yukon was last glaciated during the Wisconsinan McConnell glaciation, she explained, some 11,000 to 24,000 years ago. "Carcross would have had 1km of ice sitting on top of it," she told me, while hunched over research papers and geological fieldwork studies. "You just can't picture it."
As the ice started to melt, lobes of ice began to retreat south, leaving the southern Yukon with heavily scarred valleys. Lipovsky likens this to a vast construction site, as "the ice bulldozed everything". Over time, massive lakes formed at the snout of the lobes, then when the ice retreated, water levels dropped, leaving beaches and strand lines socked in between the valleys. To finish, sand was hoovered up by fierce winds and blown north-west, giving birth to one of the world's most unlikely deserts.
"There's a misconception it's the result of a dried-up lake, but that's not the case," Lipovsky told me. "Strong prevailing winds continue to whip along Bennett Lake today, blowing exposed fine-grain sands into the dunes. So the combination of the wind, the water and the Ice Age created a distinctive set of circumstances."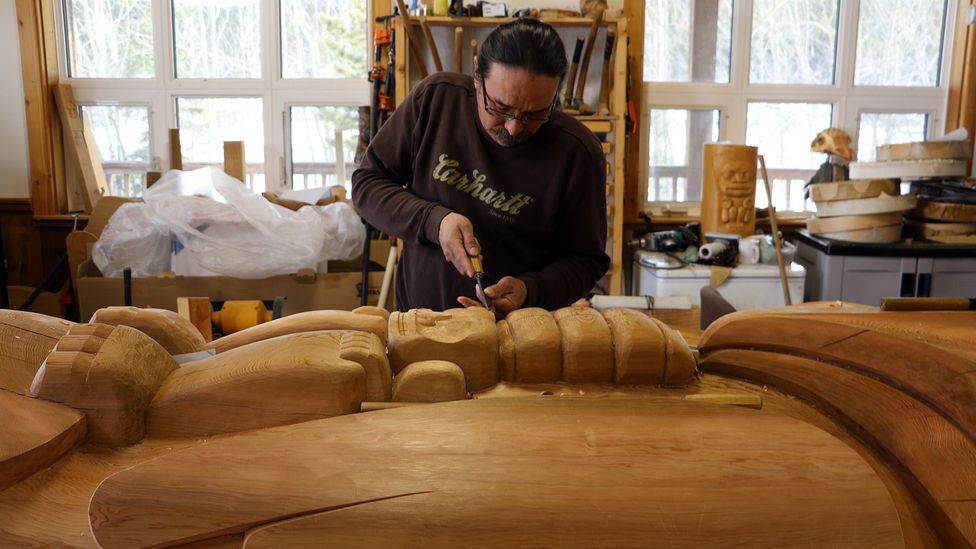 Artist Keith Wolfe Smarch of the Tlingit First Nation has long used the unique landscape of the Carcross Desert as inspiration (Credit: Mike MacEacheran)
Another inconsistency is the issue of classification. To be categorised as an arid desert for scientific purposes, one needs to receive less than 250mm of annual precipitation, while semi-arid deserts receive between 250mm and 500mm. This is the category that Carcross falls into, despite sitting in the rain shadow of the surrounding mountains.
"You can certainly call it a wet desert," Lipovsky said. "But with so much sand and sediment blown in, there's no chance for the vegetation to regenerate. It's a truly dynamic system."
Despite such contradictions, what's not debated is the sense of awe and sheer amazement the desert inspires. As you enter, its mystery deepens, the tall willow and spruce appearing in ghostly silhouette. Beyond this, surprises wait. Yukon lupine and Baikal sedge flower in summer. Rarely seen coast dart moths and dune tachinidae hover in the skies. Five new species of gnorimoschema, a genus of the moth family, have been discovered. The likelihood is there are more.
The Carcross Desert is home to a variety of wildlife, including dall sheep and mountain goats (Credit: Mike MacEacheran)
All this beauty in one of the Earth's most unforgiving and complex environments is hard to fathom. This isn't the Sahara, the Gobi or the Kalahari. But each step across its diminutive dunes makes you realise: this desert is a whole world of wonder unto itself.
Join more than three million BBC Travel fans by liking us on Facebook, or follow us on Twitter and Instagram.
If you liked this story, sign up for the weekly bbc.com features newsletter called "If You Only Read 6 Things This Week". A handpicked selection of stories from BBC Future, Earth, Culture, Capital and Travel, delivered to your inbox every Friday.