Milpa Alta – which maintains traditions from its pre-Columbian past – feels like a tiny mountain village, making it hard to believe that it's part of Mexico City.
I
In the 1970s, before workers laid the asphalt that became a two-lane highway connecting Mexico City with Milpa Alta, the southernmost of the city's 16 delegations, Javier Galicia-Silva's grandmother would hike down the hills to Xochimilco each day at 04:00. From here she would take a chalupa (a large water taxi) along the ancient canals that lead towards downtown, where she'd spend the day selling fresh produce in the La Merced district near the grand Zócalo (historic centre). With a bit of money and some supplies loaded on her back, she'd return to the village around 20:00 in time to sleep and do the six-hour round trip all over again the next day.
Although farmers from Milpa Alta now make the trip by road, bringing nopal (an edible cactus), mole (a traditional Mexican sauce), honey and tortillas fresh from their homes and gardens to sell in markets and on street corners across the city, not much else has changed.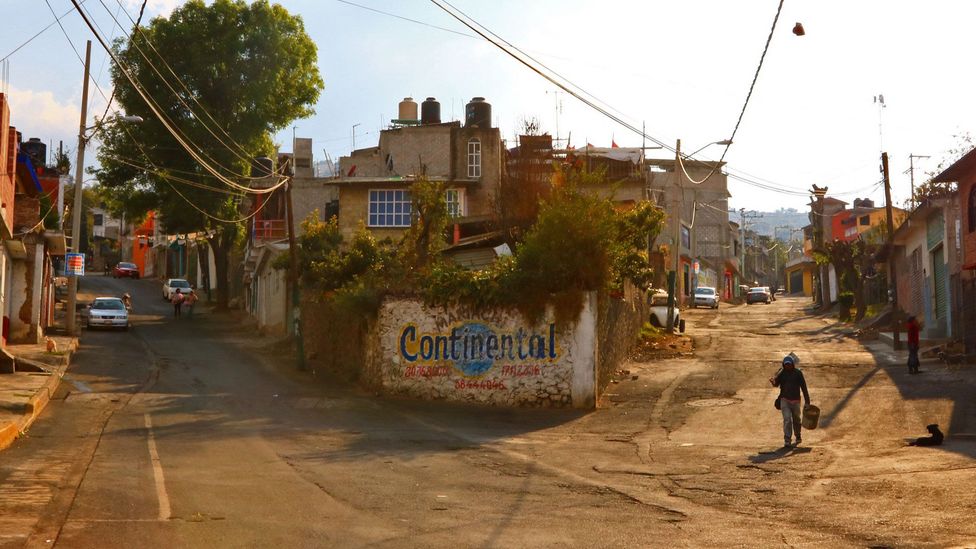 Milpa Alta is the southernmost of Mexico City's 16 delegations (Credit: Megan Frye)
You may also be interested in:
• A linguistic enigma at world's end
• A language only three women can speak
• An ancient word no-one can translate
Milpa Alta ('high cornfield' in Spanish) couldn't be more different from the smog-laden city to which it formally belongs and that it overlooks from its mountainside location. What used to be known as distant farmland and Nahua villages has slowly been ceded into the city. Although literally part of Mexico City, it's rarely visited by other Mexico City residents. Foreign tourists are even more unusual. And although it's officially within the city limits, the people of Milpa Alta in many ways live as they have done for hundreds of years.
Milpa Alta couldn't be more different from the smog-laden city to which it formally belongs
Many people here speak Nahuatl, the language of the Aztec empire, and they still use the pre-Columbian milpa system of crop rotation. The delegation is approximately 50% forest, and the fields are mostly pesticide free, watered by the rain and ploughed by horses. Insects and various heirloom corns (including blue and red varieties) are still very much part of the diet in this municipality that produces a huge quantity of food for the city, just as it did for the inhabitants of Tenochtitlán (the ancient city of the Aztecs, now known as central Mexico City) more than 500 years ago. Of Mexico City's delegations, Milpa Alta is the greenest and least populated. It's a land of forests and fields, not of concrete shantytowns common among the city's sprawl.
Despite the relatively new road, getting to Milpa Alta still requires an effort. The congestion of Xochimilco, its neighbouring delegation, makes for a long bus ride from either the train station in Xochimilco or from Tasqueña, the city's southernmost subway station and transportation hub. When I visited, it was two hours of stop-and-go along one-way roads. The traffic out of Mexico City slowly lightened, the road began to switchback and the air cleared. The bus slowly emptied and the mountains that are often invisible from within the central city suddenly loomed above me. It was clear that I was headed somewhere else, a place somehow distant. When the complex, sweet scent of mole began to waft into the bus, the driver announced the stop for San Pedro Atocpan: the first of the 12 pueblos in Milpa Alta, and a world away from the urbanity of Mexico City.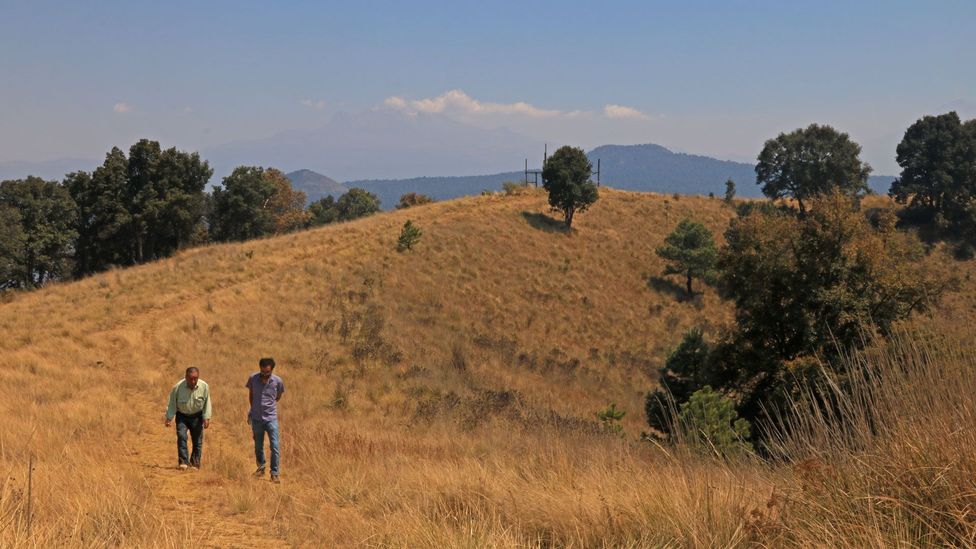 Milpa Alta feels worlds away from Mexico City, with forests covering approximately 50% of the delegation (Credit: Megan Frye)
Mornings are chilly in Milpa Alta, and Galicia-Silva, a Mesoamerican historian and professor, was wearing a red sweater and black beret when he opened the door to me and the silent street. He had just finished giving a free Nahuatl class to community members, which he hopes will help maintain the language of his ancestors. He spoke fast Spanish, smiled often and moved slowly, inviting me into his garden. When he talked of his grandparents and his hometown of Santa Ana Tlacotenco in Milpa Alta, it was with pride.
"I don't feel like I'm part of the city," he said as we ate fresh starfruit, guava and grapes from his land, moving our plastic chairs around to escape the gruelling summer sun. "The city begins in Xochimilco and goes northward. I am from Milpa Alta. If I come across someone else from Milpa Alta while I'm in the city, we ask each other when we're going back home. There is a brotherhood here."
Milpa Alta, with its ancient language and customs, has been self-sufficient for millennia. The forests are home to deer, rabbits and even hallucinogenic mushrooms that Galicia-Silva says can make you "go crazy" if not cooked properly. Many of Milpa Alta's inhabitants are in the business of making mole, and the region produces 90% of the mole consumed in Mexico City.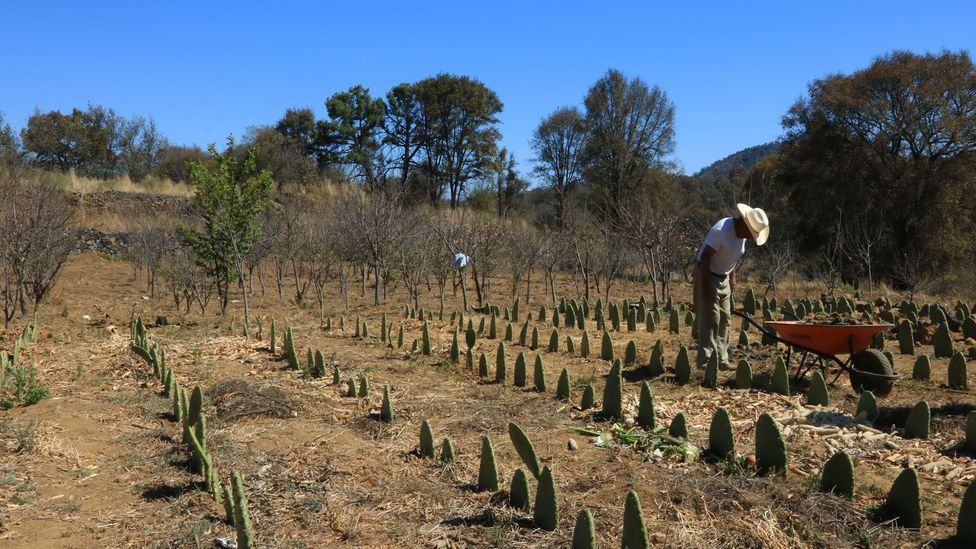 The people of Milpa Alta live as they have done for centuries, employing traditional farming techniques to cultivate their crops (Credit: Megan Frye)
Mesoamerican traditions are still in practice, such as shaman-led temascals (an indigenous sweat bath held in an adobe hut, purported to have curative and spiritual properties), and locals boast that there are festivities in the delegation 365 days a year, including a summer festival in each of its 12 pueblos (villages). Most of these involve traditional dances, religious pilgrimages and mayordomías, the guarding of a religious icon in one's house and hosting a feast for the community.
Day of the Dead (1-2 November), a syncretised holiday blending both indigenous and Catholic traditions, is celebrated differently here from other parts of Mexico: villagers go to the cemetery on 29 September to formally invite the deceased to the homes of the living to feast, starting on 31 October. Without the invitation, they say the spirits won't join their families. When the holiday arrives, bonfires are set outside each home, around which the entire family gathers to eat tamales (a pre-Hispanic dish, made with corn masa and usually meat, then steamed in a corn husk).
As you walk the snaking, steep streets of the villages, you'll likely be invited in for a chat, some tangy pulque (fermented agave nectar), or a fresh tlacoyo (a corn masa tortilla filled with cheese, beans or meat and topped with nopal, cheese and salsa). The people here depend on each other, and everyone knows everyone's name. You'll hear Nahuatl words often, though the language's future has been uncertain for years.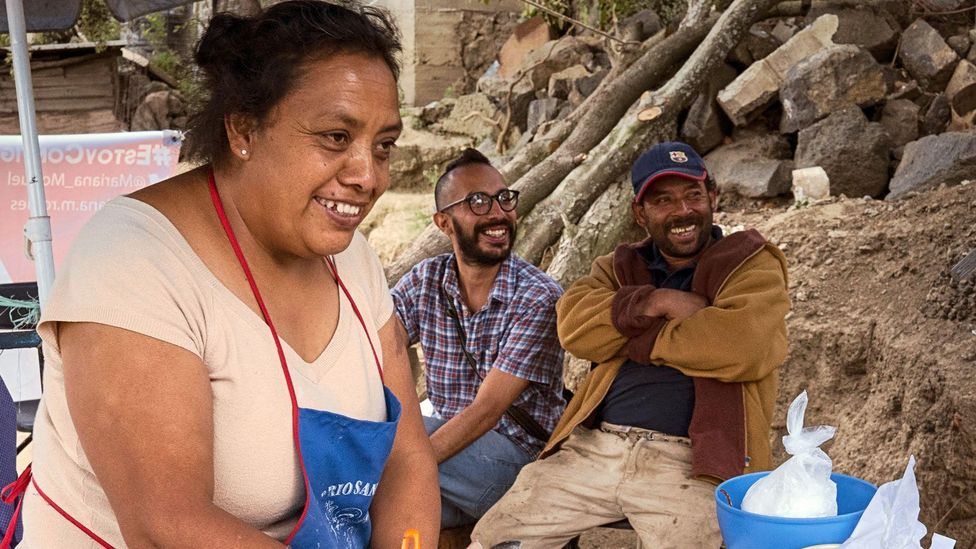 Many Milpa Alta residents speak Nahuatl, the language of the Aztec empire (Credit: Megan Frye)
"My grandmother was born in the 1920s and was monolingual in Nahuatl," Galicia-Silva said. "Her mother told her that she needed to teach her children to speak Spanish, not Nahuatl. My father was the last generation that learned Nahuatl in school. Nowadays, it is no longer the language of communication. 
According to Galicia-Silva, groups of teachers and community members from Milpa Alta approached the city government in the 1980s, hoping to mandate teaching of Nahuatl in public schools. Officials responded that students should be learning Spanish as their native tongue, and English, French or German as a second language, to increase future job and education prospects. Throughout Mexico's colonised history, to speak an indigenous language has resulted in discrimination, still present to this day. Galicia-Silva remembers being asked at his university if he was an Indian. His father had always told him they were a family of farmers: the word 'Indian' never came up. Today he proudly identifies as indigenous; specifically, as Nahua.
I feel like it's an obligation; to rescue my identity and belonging in this community
And there are more stirrings of identity revival. Up the hill from Galicia-Silva's home is the house of artist José Ortiz Rivera, where he and Oswaldo Galicia Calderón, both Nahuatl professors, are giving another free Saturday class in Nahuatl to family members and neighbours. Their hope is to keep the language alive among the younger generations.
"My parents spoke Nahuatl and now they are gone," said Victor Ortiz, José's younger brother and a Milpa Alta native currently studying Nahuatl. His brother had spent more time with their Nahuatl-speaking parents and grandparents, and now he wants to learn it, too. "I feel like it's an obligation; to rescue my identity and belonging in this community," he told me.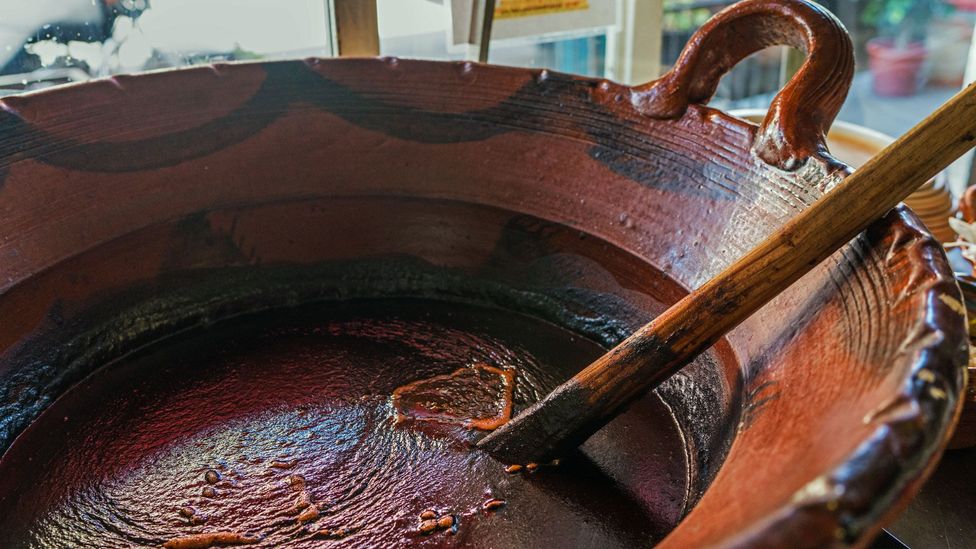 Milpa Alta produces 90% of the mole consumed in Mexico City (Credit: Simon Glogiewicz/Alamy)
Meanwhile, the delegation's population is growing quickly with people from outside the Nahua community, something that concerns Galicia-Silva when it comes to maintaining Milpa Alta's green spaces and ways of life.
"Whether we like it or not, we are in a globalised world and that's not going to change," he said, adding that rejuvenating indigenous language and culture can help to dismantle five centuries of oppression and exploitation. "This means that we have to do deep studies of our language and our history. When we talk about a decolonisation of our thinking, we are still far from that, but we are on the way there."
Whether we like it or not, we are in a globalised world and that's not going to change
I left Milpa Alta with my belly filled and my heart warmed by the hospitality of strangers. As the bus clanked back to the city, I thought of the great strides Milpa Altans are making towards the reclaiming their identity; and how, despite being part of this bustling megalopolis, it still feels a world away.

Secret Worlds is a series from BBC Travel that invites you to explore the various ways destinations offer a sense of surprise by heading off the beaten path or uncovering hidden spaces.

Join more than three million BBC Travel fans by liking us on Facebook, or follow us on Twitter and Instagram.

If you liked this story, sign up for the weekly bbc.com features newsletter called "If You Only Read 6 Things This Week". A handpicked selection of stories from BBC Future, Earth, Culture, Capital and Travel, delivered to your inbox every Friday.

;