From huts in remote villages to internet cafes in the capital city, coffee ceremonies are the centre of social life and hospitality in Ethiopia, the birthplace of coffee.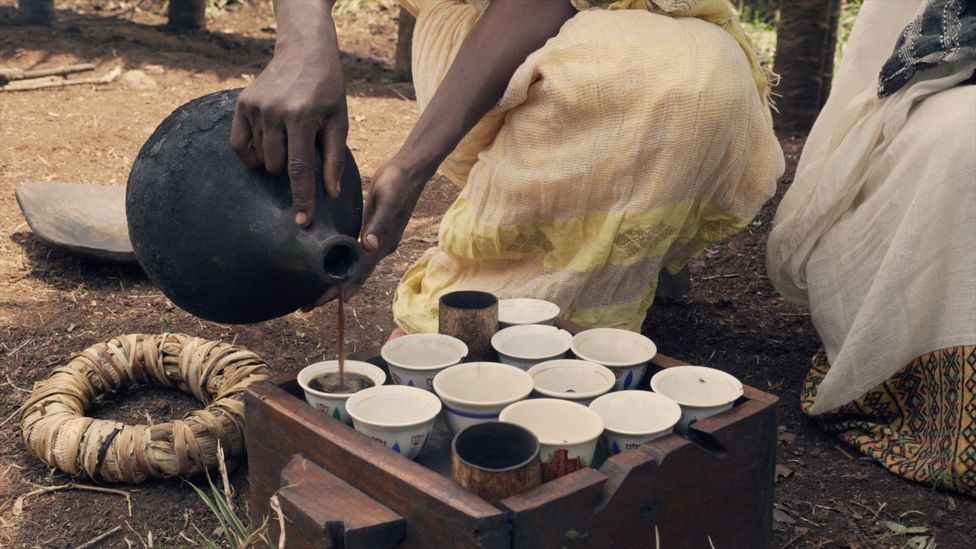 The heart of Ethiopian society (Credit: Thomas Lewton)
"Give them coffee in the bamboo cups," instructed Annaz Haile, the family matriarch, as my companion Thomas and I sat among guests at a coffee ceremony she was holding outside her house. We were in rural Bonga, in the southern highlands of Ethiopia's Kafa region, and the mid-morning sun was quickly burning through the clouds.
Guests chatted in the local language of Kafi Noonoo, while Annaz and her daughter Asayech – whom she supervised closely – prepared the coffee. Her husband, Gebremariam, broke a huge slab of homemade bread into small pieces and instructed younger family members to share it among the visitors.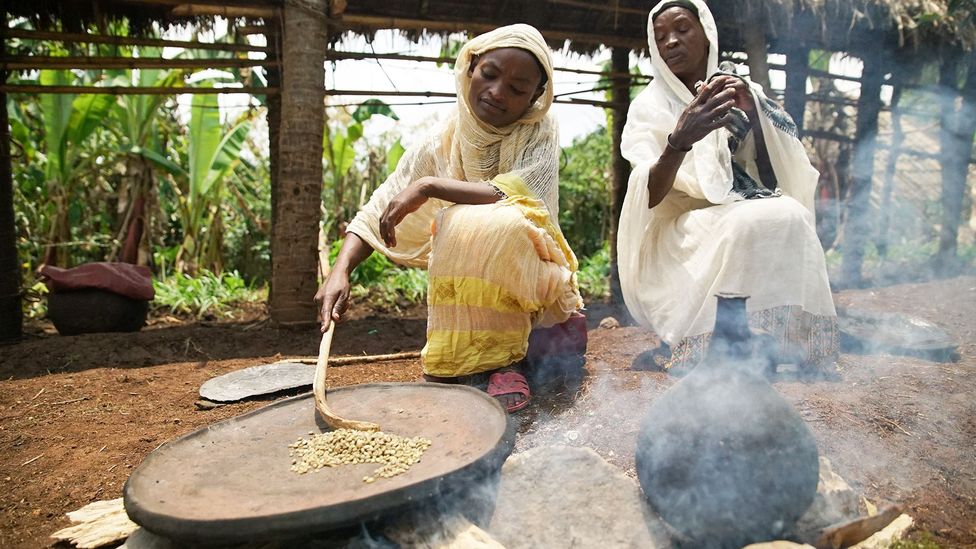 Inhale the aroma (Credit: Thomas Lewton)
To make the coffee, the women had placed raw coffee beans on a clay plate to dry in the sun before they were washed and roasted on a flat iron pan on an open fire. Each guest was then encouraged to inhale the heavenly aroma of the roasting beans, before they were ground using a pestle and mortar and put into a jebena, the traditional Ethiopian coffee pot.
Alongside the smell of the roasting beans, in many Ethiopian coffee ceremonies, guests are also treated to the smell of burning frankincense. In ceremonies held away from nature in towns and cities, grass or straw is laid on the floor – bringing back memories of village life for many.
"We start learning how to prepare coffee when we are seven years old" (Credit: Thomas Lewton)
We start learning how to prepare coffee when we are seven years old. Our mothers guide our hands to roast, grind and wash the coffee," Annaz said.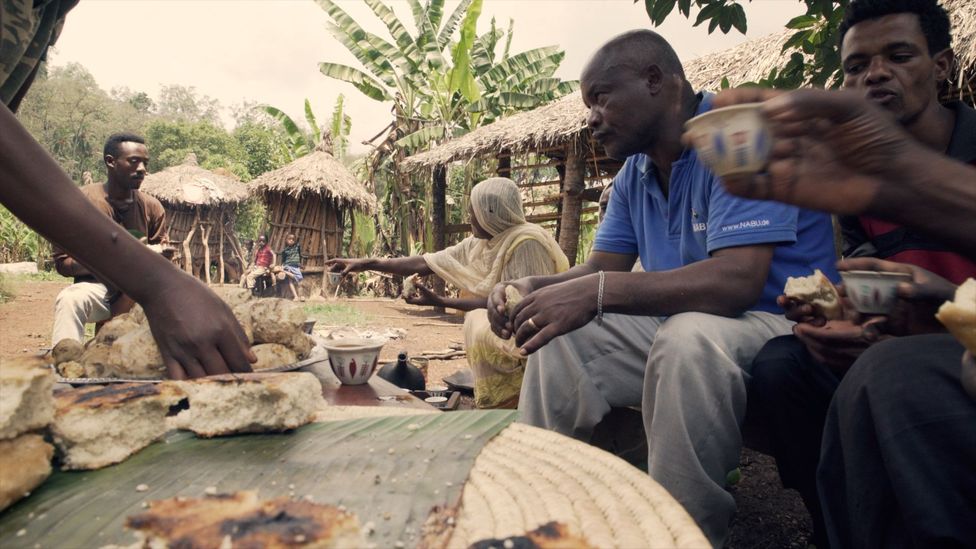 Coffee always comes first (Credit: Thomas Lewton)
Although this ritual is time-consuming and laborious, it is common for Annaz to hold coffee ceremonies three times a day. "We learnt from our ancestors that coffee must be the first thing to be served to guests. It's a sign of respect," she explained.
"It's not a chore, it's our culture," Annaz said proudly, highlighting the tradition's social importance in Ethiopia's communal society. "Our guests feel good because of the smell of the coffee smoke, and because they are here chatting together."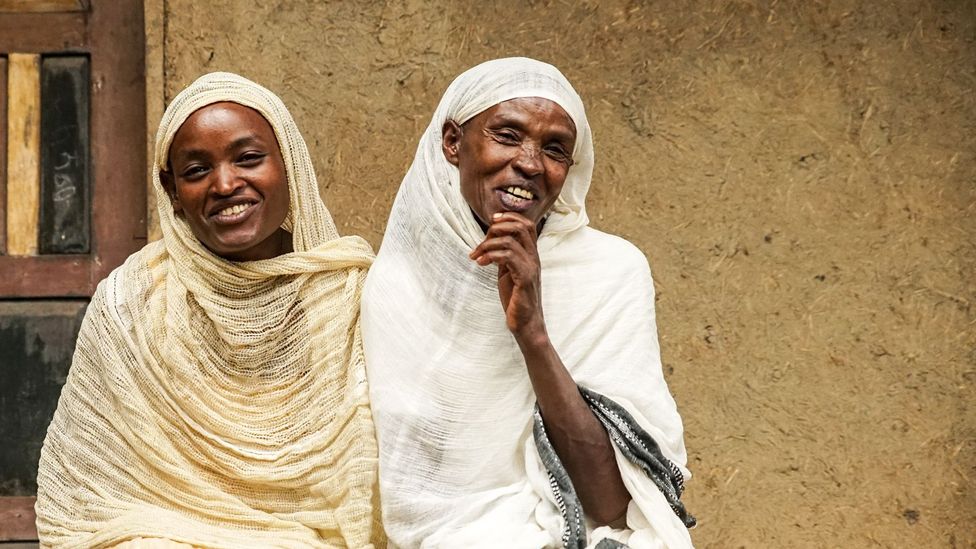 Catching up on the latest gossip (Credit: Thomas Lewton)
During a coffee ceremony, issues of the day are discussed by hosts and guests alike. "If assistance is needed on the farm the following day, at the coffee ceremony, a neighbour will be asked if they can help," Annaz explained.
Her daughter Asayech laughed, reminding her mother that, "not only good things are discussed at coffee ceremonies." The two went on to explain that local gossip is often shared, such as stories about which girl is going out with which boy, and unwanted pregnancies.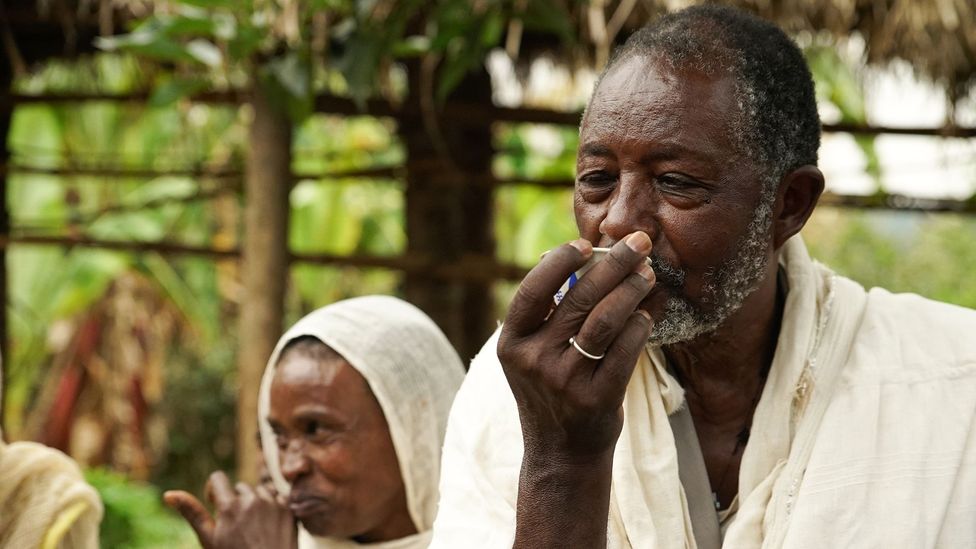 Coffee is our home (Credit: Thomas Lewton)
Coffee ceremonies like this can be found on virtually every street in Ethiopia. But in the Kafa region, Annaz's home, coffee has even more significance. Her family members are coffee farmers, and Kafa (the clue is in the name) is the birthplace – and spiritual home – of wild Arabica coffee.
"Coffee is our home. Our land is known for it. We plant coffee, we pick the cherries, we sell the coffee and benefit from it," Annaz said.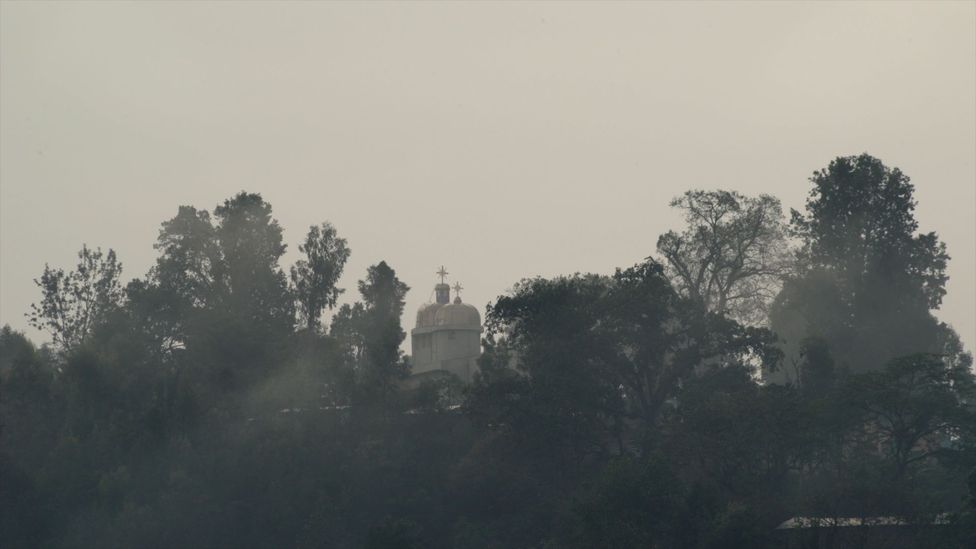 Kaldi and the dancing goats (Credit: Thomas Lewton)
According to legend, a young goat herder named Kaldi was leading his animals through Kafa's dense rainforest when he noticed that they had become excitable – almost dancing. Investigating further, he saw how they fed on red cherries from the trees, and so tried some himself, joining the dancing goats.
Thrilled with his discovery, Kaldi brought the coffee cherries to a nearby monastery where his uncle practiced as a monk. "The monks threw the cherries into the fire because of spiritual fear," explained Kafa resident Mesfin Tekle who remembers being told the story by his grandparents.
But when the monks inhaled the smell of the roasting coffee, they had the same feeling as Kaldi and changed their minds, thinking of the stamina this newfound energy would bring to their religious practice.
"This was the start of our journey of coffee-drinking and coffee ceremonies" (Credit: Thomas Lewton)
After they smelt the aroma of the coffee beans in the fire, Kaldi's mother removed the beans and put them in water to cool. This gave off a new aroma and they started tasting the beans. This was the start of our journey of coffee-drinking and coffee ceremonies," Mesfin said.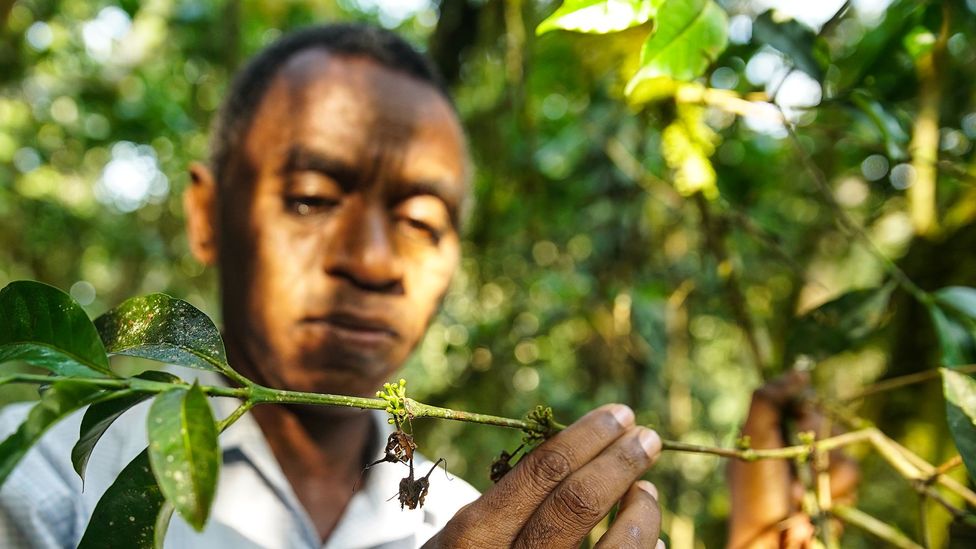 The birthplace of coffee (Credit: Thomas Lewton)
Today, Mesfin works for the Kafa Coffee Biosphere Reserve to protect Ethiopia's indigenous coffee forests, where the plants grow naturally. "The forest is my home and my life and my everything," he said, welcoming us into one of the strikingly green, mossy, overgrown forests he has dedicated his life to conserving.

"Our coffee forests are a gift to the world, as the global community is consuming and enjoying coffee," he smiled, adding that on a busy day he drinks up to 14 cups.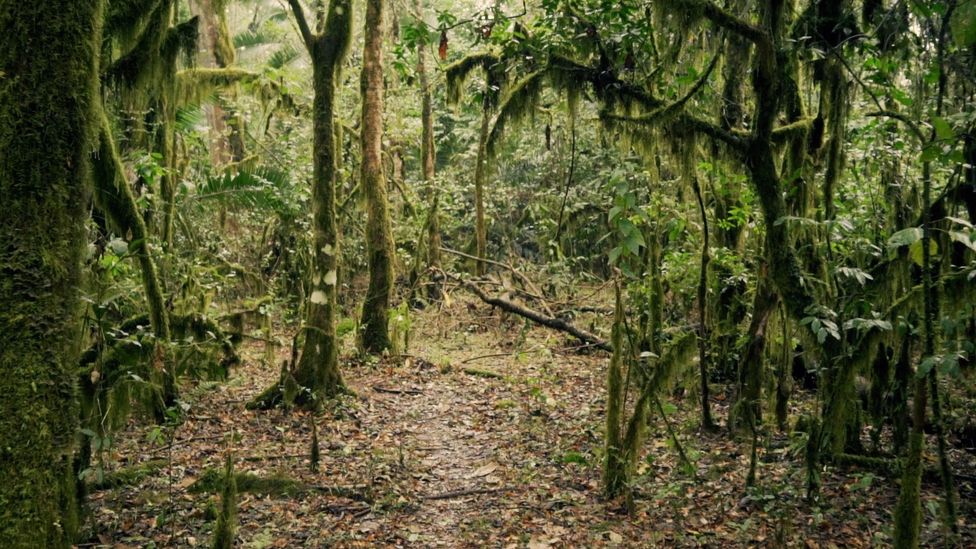 A Garden of Eden (Credit: Thomas Lewton)
In this high-altitude 'Garden of Eden' for coffee-growers, coffee cherries from the wild plants fall to the ground, sprout and grow upwards, all of their own accord – an extremely rare phenomenon.
More than 5,000 varieties of coffee have been found in Kafa's rainforest. But like many of the world's indigenous forests, Mankira forest is at risk of extinction. According to Unesco, 40 years ago forest covered around 40% of the Ethiopian land surface – today it is just 3%.
"Coffee is my identity," Mesfin said. "It is my job to protect the coffee forests."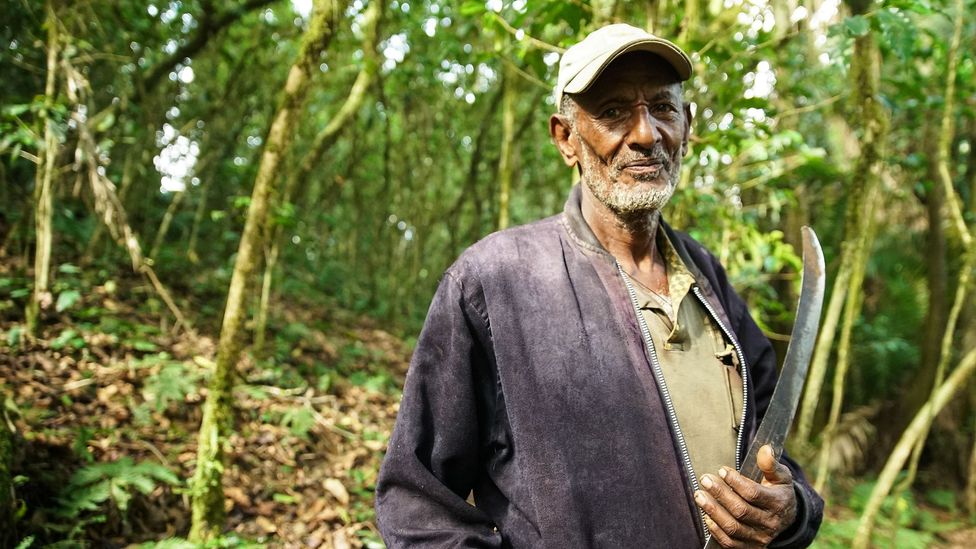 Father of the coffee forest (Credit: Thomas Lewton)
Under the leaves of a towering tree we found Woldegiorgis Shawo, a local elder. "This tree is the father of the coffee plants because it gives them shade," he told us, adding that he too uses the forest to shade himself and his animals. "I inherited the right to look after and harvest the coffee plants in this forest from my forefathers."
"If the largest tree is the father tree, then which is the mother?" I wondered. Mesfin proudly led us over to what locals have dubbed the 'mother coffee tree' – the oldest in Mankira forest – because they believe it gave birth to all other coffee trees in the forest and is thus the so-called birthplace of the coffee bean.
Just as Annaz and her family welcome guests into their home with a cup of coffee, we were welcomed into the ancient forest by the father and mother trees.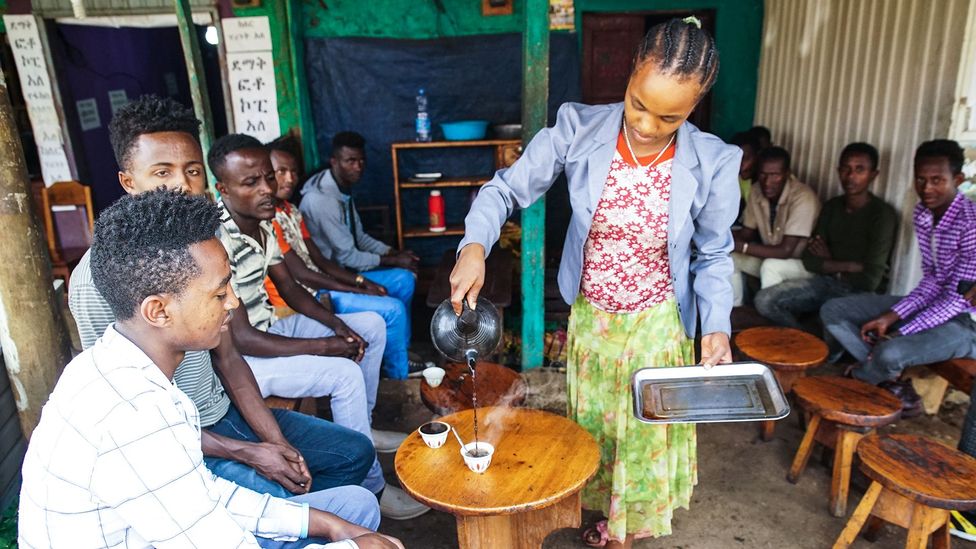 An unwavering tradition (Credit: Thomas Lewton)
The Ethiopian tradition of coffee ceremonies shows no signs of fading away. Back in the village, Asayech told us that: "I will do the same when I have my own house. We should follow the culture of our ancestors – I don't need to create a new culture."
While there are new coffee cultures developing in Ethiopia – branches of a Starbucks imitation coffee shop called Kaldi's Coffee are dotted around Addis Ababa, for example – roadside cafes (pictured) and traditional ceremonies remain far more common, even in the fast developing capital.
And with conservationists like Mesfin determined to protect Ethiopia's indigenous coffee forests, the hope is that coffee will continue to grow for centuries to come – supplying drinkers in and outside the country.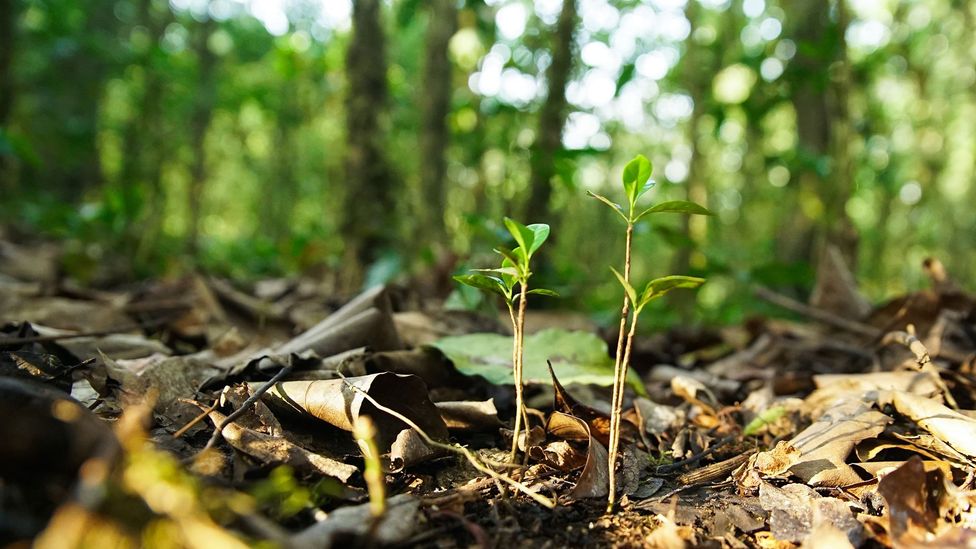 "When I see a new coffee plant, I see a new generation" (Credit: Thomas Lewton)
When I see a new coffee plant, I see a new generation. It's a gift from nature that connects us from the past and leads us to the future," Mesfin said.