New Jersey is the spiritual home of the American diner, with more diners than in any other state. But what does the future hold for these calorific local institutions?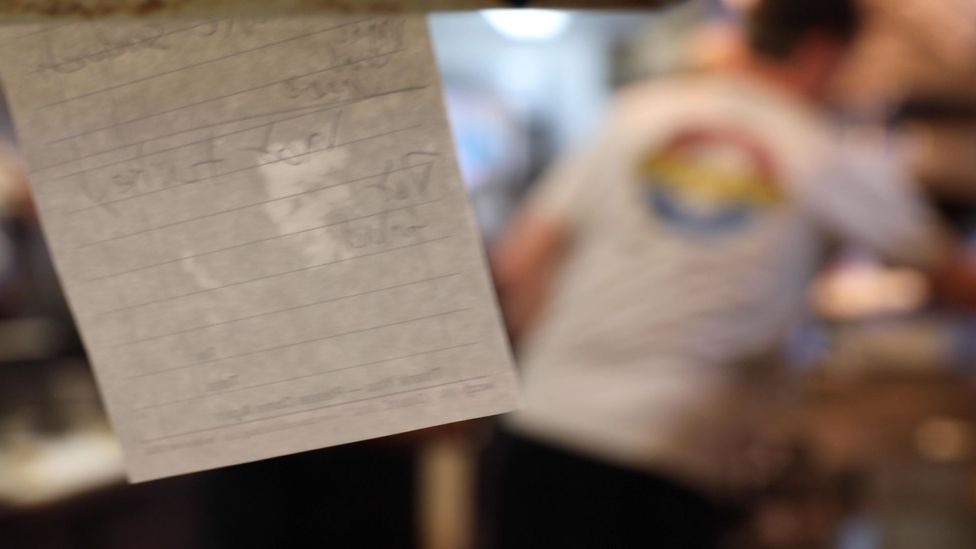 (Credit: Myles Pritchard)
Diners are part of our mythology; everyone from New Jersey grows up with the culture of diners ingrained as part of life," said Michael C Gabriele, author of The History of Diners in New Jersey.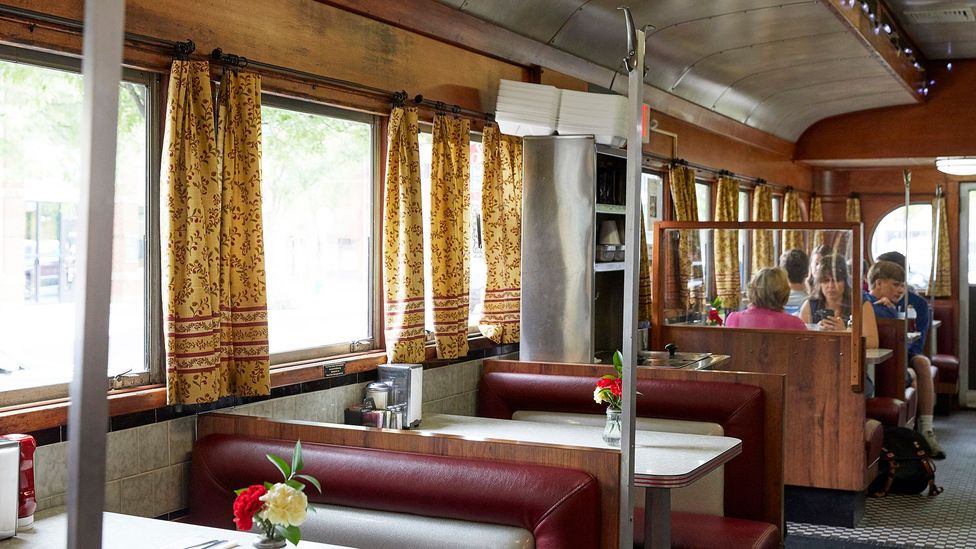 (Credit: Myles Pritchard)
Sitting in the Summit Diner, a train carriage-inspired diner in the suburban town of Summit, Gabriele explained how New Jersey became the world capital of the diner. The relatively small but populous state, which lies south and west of New York City, built the majority of the US' prefabricated diners in the 20th Century, and there are still more than 500 of them dotted across New Jersey.
If you're after chrome decor, comfort food, infinite coffee refills and cheery service, you've come to the right part of the US. Many New Jersey diners are still open 24 hours a day, and tend to be family-owned, often by the members of the state's Greek community. Around these parts, they are considered almost like community centres.
"As a teenager, we used to go to the Tick Tock Diner in Clifton, New Jersey, at 01:00," Gabriele said. "It wasn't just about getting something to eat. It was about seeing this amazing collection of people: you'd see policemen, businessmen, college students, bikers, just this bizarre cross-section of society."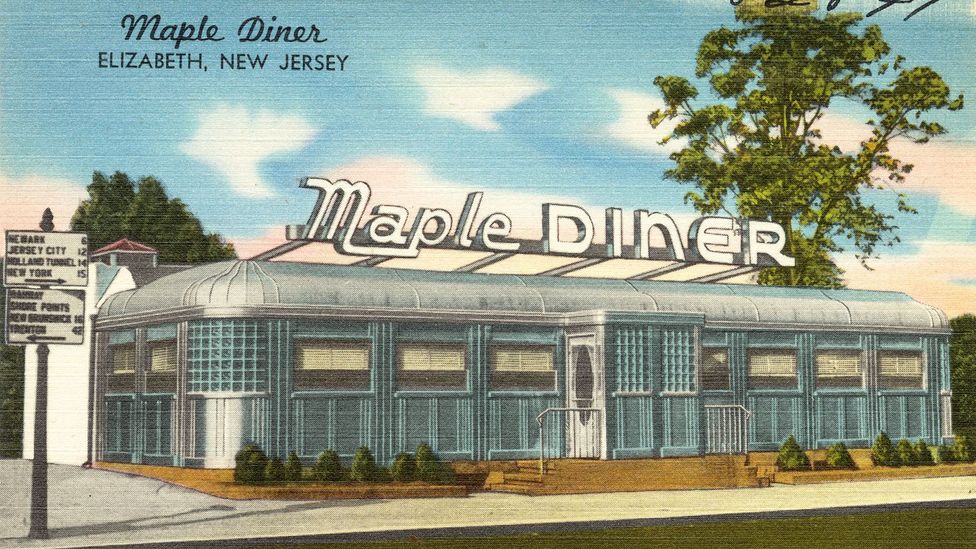 (Credit: Boston Public Library/Flickr - CC BY 2.0)
The precursor to the diner was invented in 1872 in Providence, Rhode Island, when a man called Walter Scott began selling food from a horse-pulled wagon, later referred to as a 'lunch wagon'. Until then, said Gabriele, "working people didn't eat out; that was something reserved for the wealthy."
But the diner as we know it was invented by Jerry O'Mahony of Bayonne, New Jersey, who built the first stationary lunch wagon around 1913. O'Mahony formed a prefabricated diner company that would go on to build more than 2,000 diners between 1917 and 1956. As many as 20 New Jersey diner manufacturers sprung up in its wake, from the Paterson Vehicle Company to Swingle, Paramount and the Kullman Diner Car Company.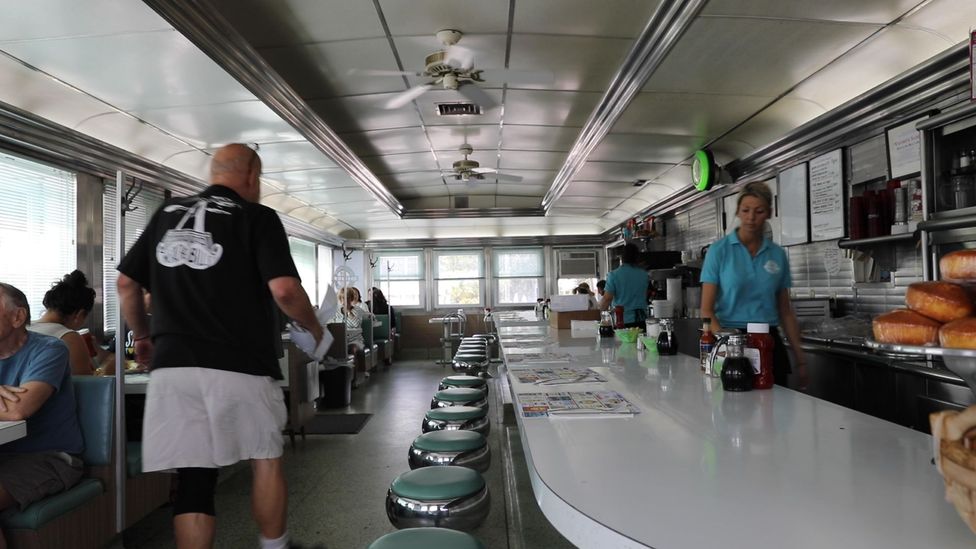 (Credit: Myles Pritchard)
According to Gabriele, there are lots of reasons why New Jersey became the focal point of the American diner industry. "It was partly because New Jersey had the best road infrastructure in the country, and a dense, working-class population," he said. "You had a lot of people travelling through who wanted a quick, cheap place to eat. And New Jersey saw a big influx of Greek immigrants, many of whom opened diners."
Given the large potential market, it made sense that diners were made here, and it helped that they could be transported easily. The early diners were built, usually in chrome, in the Streamline Moderne style, borrowing heavily from railroad carriages. They were made in factories and transported by truck to sites across the US, or shipped further afield.
At their peak in the 1950s, there were 6,000 New Jersey-built diners across the US (though concentrated in the north-east), a number that is closer to 2,000 today. Although the structures were simple enough to load onto trucks, they were often adorned with fancy signs and shimmering neon to attract drivers passing by.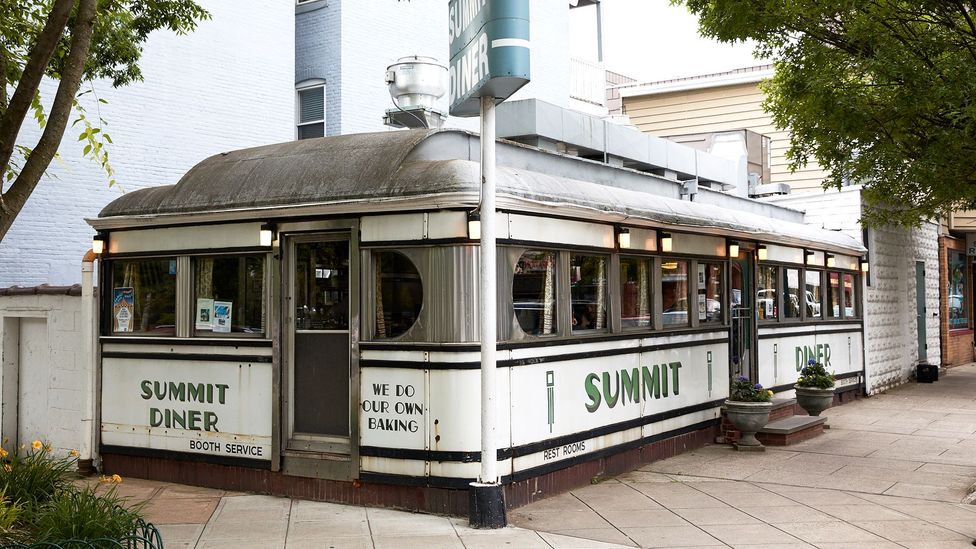 (Credit: Myles Pritchard)
A business is about people
The O'Mahony-made Summit Diner first opened on its current site in 1939, just across the road from the town's train station. It is widely said to be the oldest working diner in the state.
According to Jim Greberis, who has owned the diner since 1985 (his uncle had owned it since 1964), the secrets of its longevity are service and community. "We bend over backwards for our customers," he said. "If they've been a few times, I try to have their first name, how they take their coffee and what they like to eat. It's about making people feel acknowledged."
Sitting at the Summit Diner, it is notable how many locals Greberis greets like old friends, asking about grandchildren or vacationing mothers-in-law. "The prices here are the same as you'll get at a fast-food chain, but you don't get the history at those places, and you don't get welcomed like a member of the family."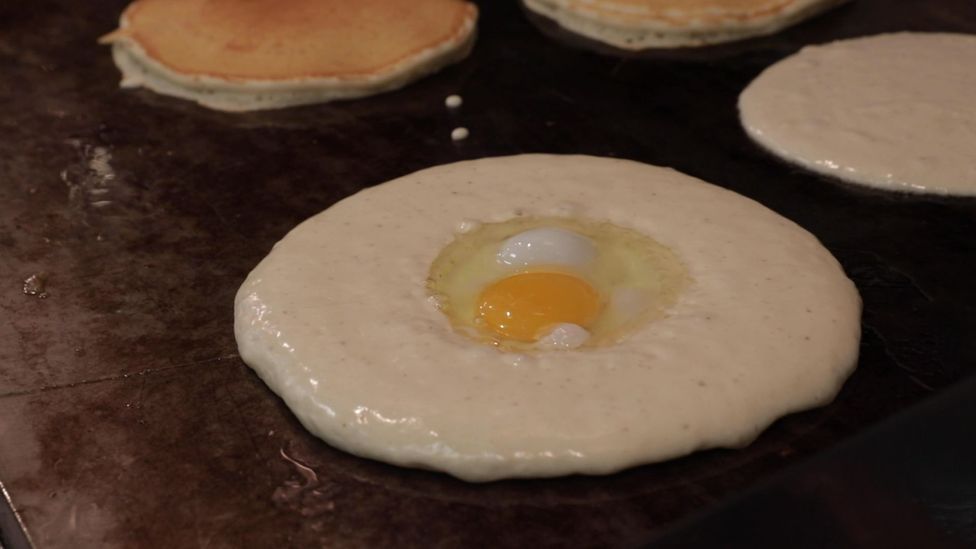 (Credit: Myles Pritchard)
I want to treat people like members of the family, not customers. That's a big part of the diner experience," Greberis said.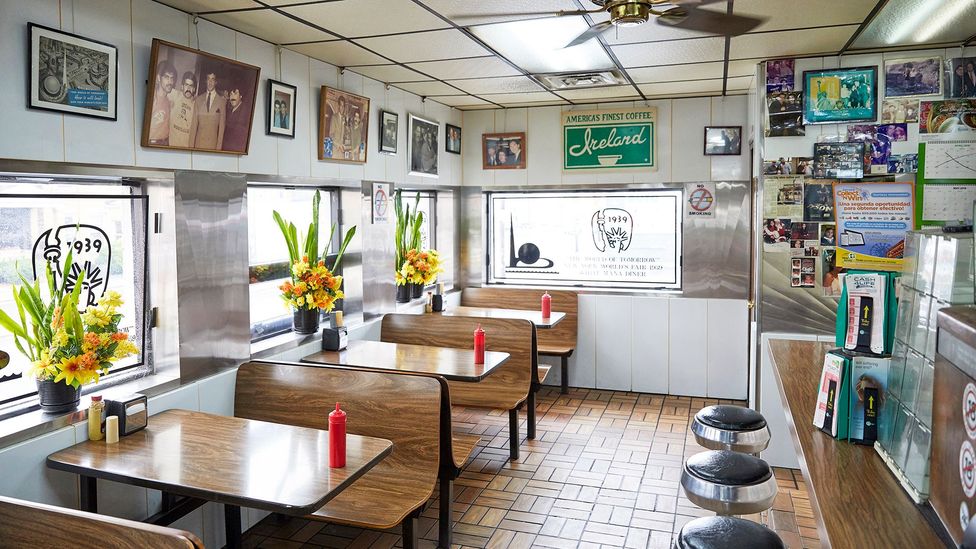 (Credit: Myles Pritchard)
Over the years, the designs of the New Jersey-built diners evolved, even if they kept the basic structure of booths around a service counter. In their first golden age in the 1930s, diners tended to be sleek, reflecting the Modernism of the early 20th Century. But, after World War Two, when diners boomed in popularity again, the look was homelier, more suburban: think Formica table tops, leather booths, wood panelling and terrazzo floors.
On a busy intersection in Jersey City, in what feels like Sopranos territory, you can see the White Mana Diner, a circular, UFO-like building that was once the future of the diner – and fast food. The structure first appeared at the 1939 World's Fair in New York, as part of a demonstration on how fast food could be served.
The then-futuristic design was centred around a large grill and circular counter, which meant that the server could cook a burger and hand it to the customer in just three steps. It wasn't just one of the earliest examples of fast food, but also – according to White Mana's current owner, Mario Costa – of the slider, so named because the cooks would slide the burgers across the large grill.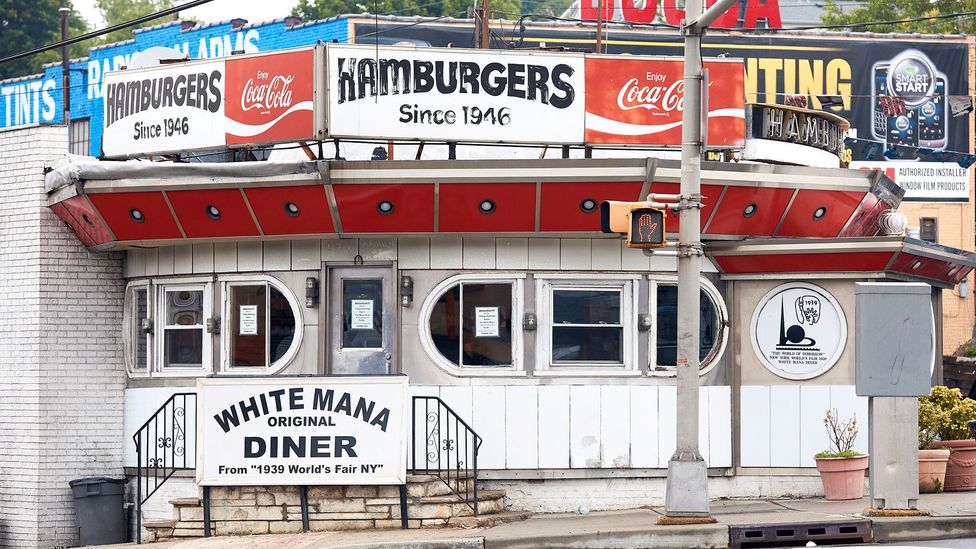 (Credit: Myles Pritchard)
The diner had been bought at the World's Fair by a man named Louis Bridges, who opened it in 1946. Bridges owned five diners named White Manna, but this one was called the White 'Mana', because the sign makers mistakenly forgot one 'n'.
Costa, who is of Portuguese descent, bought the diner in 1979 from Bridges' brother with money he had saved up for law school. He's been here ever since, even buying the diner back after he sold it in 1996 upon hearing that the new owners planned to turn it into a Dunkin' Donuts. "People are attracted to this place for the same reason I was," he said. "It's got history – it's a real landmark." 
Costa – who also owns a boxing gym and bar across the road, and has mentored boxers from Mike Tyson to lightweight champion Arturo Gatti – is almost as much of a local institution as the diner he owns. If you look up as you drive out of the diner carpark, you can see that a little stretch of Manhattan Avenue has been renamed Mario Costa Way.  
(Credit: Myles Pritchard)
This place is like a museum for the beginning of fast food. It all started on this grill," Costa said.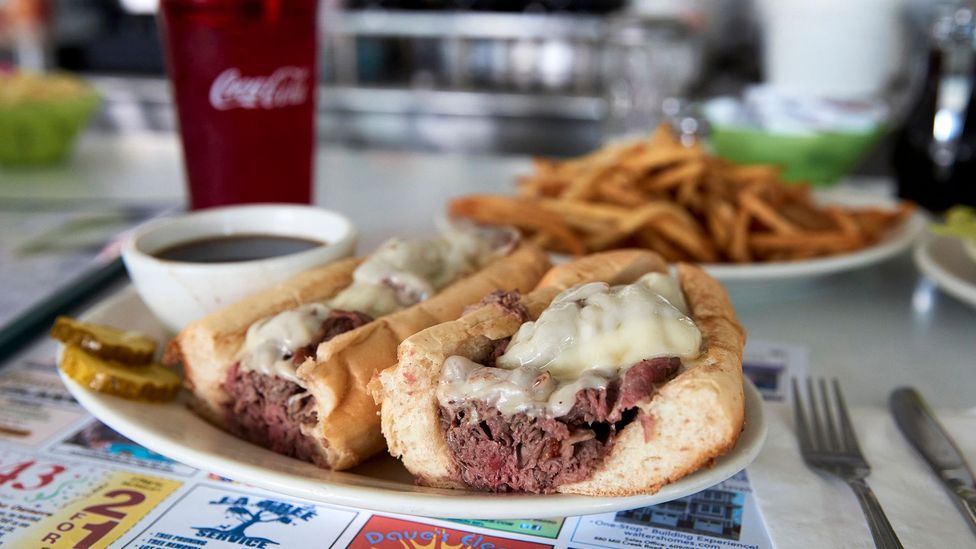 (Credit: Myles Pritchard)
While not gourmet per se, some diners are known for their food, such as Mustache Bill's in Barnegat Light, a well-to-do oceanfront borough on Long Beach Island. The classically chrome building opened as Joe's Barnegat Light Diner in May 1959, with original owner Joe Sprague offering free coffee and burgers. In 2009, it became the first diner to win a James Beard Classics award.
Local boy Bill Smith was nine when Joe's opened, and by the age of 14, he was washing dishes here, earning a dollar an hour. He ended up buying the place in 1972, aged 21, after dropping out of college. In the late 1970s, when the New York Times did a story on the diner and quoted a local patron who referred to the moustached Smith as Mustache Bill, New Yorkers started coming and asking for 'Mustache Bill's place', prompting Smith to change the name of the restaurant.
The diner gets packed with older locals eating specials like Bill's French Dip beef sandwich with Swiss cheese and served with a jus that recalls French onion soup. The staff (known here as 'waitrons') are cheery and professional, including Bill's sister Dotty and her son Dylan. And when asked why Mustache Bill's gets awards and glowing reviews, Smith has a simple answer: "Standards," he said, pointing to a clause on the menu that says diners won't pay if they're not satisfied with the food or service. "We cook everything here from scratch, and we're fastidious about quality and consistency."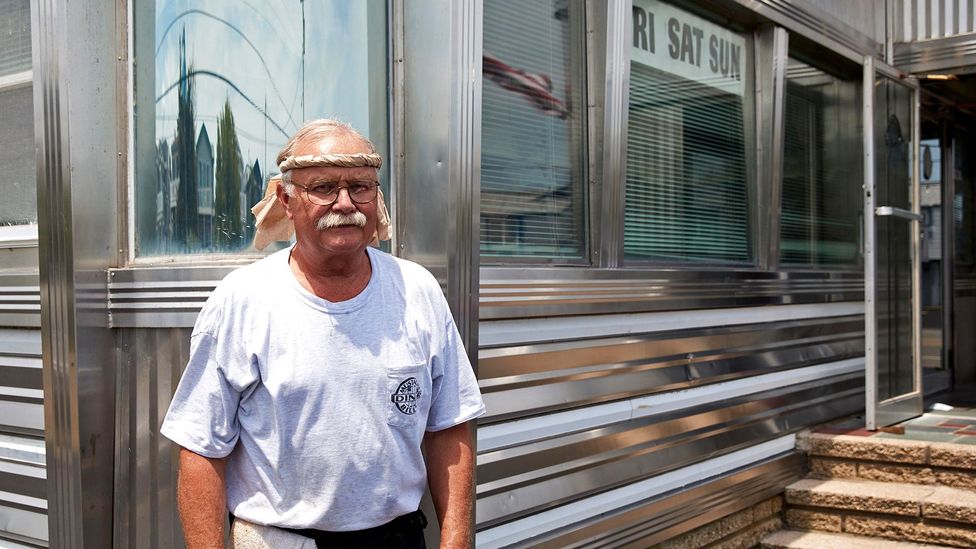 (Credit: Myles Pritchard)
If there's anything wrong with a dish at all, we won't serve it," Smith said.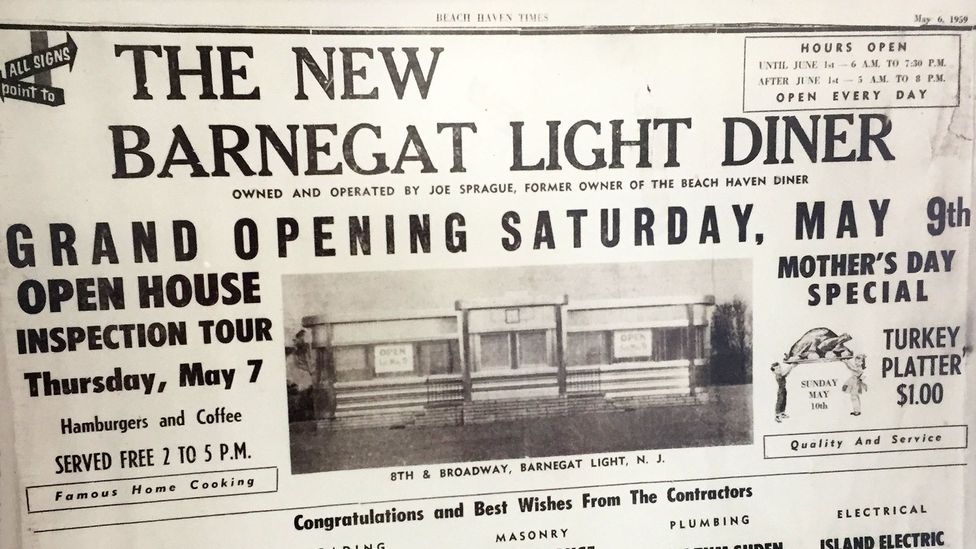 Mustache Bill's was built by Fodero, a prefab diner manufacturer in Bloomfield, New Jersey. But Fodero, like all the New Jersey diner manufacturers, is no more, having closed in 1981. The beginning of the end came in the mid-1950s, according to Gabriele, when McDonald's was turning into a franchise business. "People suddenly wanted bigger premises and McDonald's-style fast food," he said. "The small, prefabricated diners made here no longer fit the business model people wanted."
One by one, the big diner manufacturers folded. The Jerry O'Mahony Diner Company produced its last diner in 1956, four years after Jerry O'Mahony had sold the business, while Silk City Diners, originally the Paterson Vehicle Company, produced the last of its 1,500 or so diners in the mid-1960s. According to Gabriele, the last of the old-style diners made in New Jersey was the Silver Moon Diner, which was built in New Jersey in 2006 by the Kullman Building Corporation (formerly the Kullman Diner Car Company) and transported to Middle River, Maryland.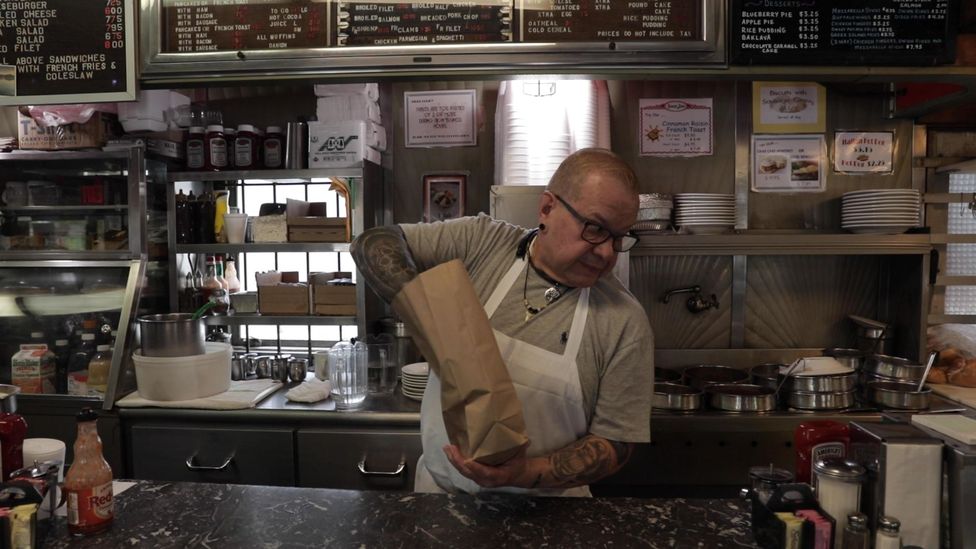 (Credit: Myles Pritchard)
But while the industry has gone, diner culture lives on, especially in New Jersey. "People here are proud of the legacy of the diners, and so many of them grew up, and continue to grow up, going to diners," Gabriele said.
The diners that were made popular in New Jersey have also become staples of wider American pop culture, from Twin Peaks to Pulp Fiction (via Edward Hopper's Nighthawks painting and Suzanne Vega's song, Tom's Diner). And in the final episode of The Sopranos, main character Tony eats his last family meal at the Holsten's diner in Bloomfield as Journey's Don't Stop Believing crackles from the jukebox.
As Greberis from the Summit Diner says: "I'm now sometimes serving the grandchildren of people who were locals when I first started. You just see the culture of going to diners getting passed through the generations."
(Text by Toby Skinner, filmed and photographed by Myles Pritchard, unless otherwise noted)