Munich's gastronomic scene has turned to its elders. Since 2014, a social start-up has been enlisting the help of retired residents to boost the city's cake game.
G
Germans are renowned for their love of beer, sausages and potato salad. But they also love Kaffee und Kuchen (coffee and cake), a national afternoon ritual that can be traced back to the 17th Century when coffee beans were first imported to Europe.
These days, coffee and cake tends to be reserved for weekends, particularly on Sundays when shops are closed but bakeries and cafes are open. And while the tradition is no longer practised as diligently as it once was, it remains a key part of Germany's gastronomic identity. Just like the British afternoon tea, it provides the opportunity to catch up with friends over an indulgent in-between-meal treat.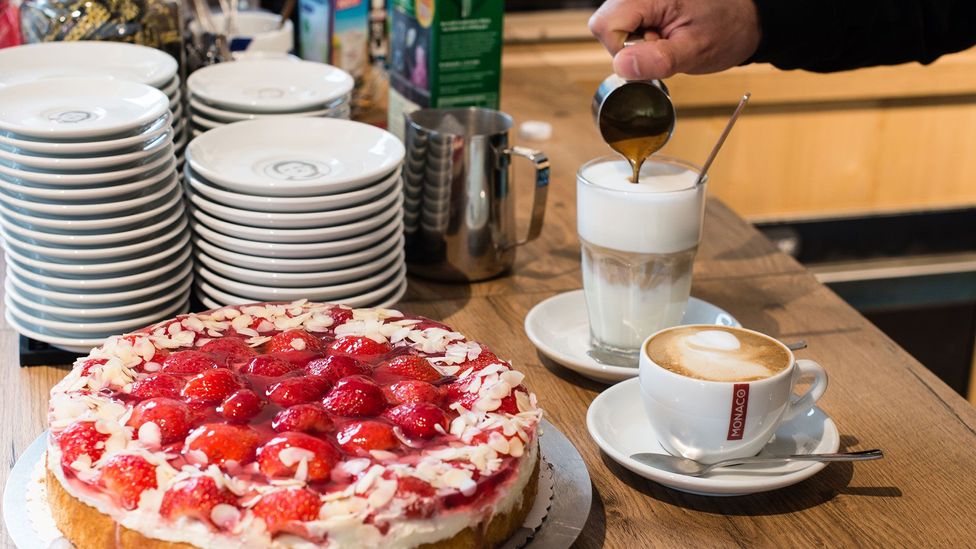 Kaffee und Kuchen (coffee and cake) is a German ritual that can be traced back to the 17th Century (Credit: Kate Mann)
The baking repertoire in Germany is extensive, with a seasonal and regional focus and a strong appreciation for butter and cream. Classics include versunkener Apfelkuchen (sunken apple cake), Mohnkuchen (poppy seed cake), Streuselkuchen (similar to a crumb cake) and Russischer Zupfkuchen (a combination of chocolate cake and cheesecake). You can find good cake across the country – but an excellent starting point is most certainly Munich.
You may also be interested in:
• Denmark's sweet answer to prohibition
• France's outrage over a pastry
• The European sweet few people know
That's because since 2014, a social start-up known as Kuchentratsch (cake and gossip) has been providing local cafes with sweet treats made by the best in the baking business: grandmothers. The idea was developed by business management graduate Katharina Mayer after she realised she couldn't buy cakes as good as those made by her own 'Oma'. She wanted a taste of home, something so delicious and comforting that calories simply didn't matter. With this in mind, she came up with a business plan that combined many different ingredients: expert knowledge, local demand and support for potentially vulnerable people.
Alongside cakes, Kuchentratsch provides an extra source of income and a novel meeting place for pensioners. It promotes intergenerational interaction and a sense of community, using flour, sugar and eggs as the glue. A younger team takes care of logistics, marketing, human resources and accounting, leaving the bakers free to sift, mix and whisk.
"The conversations we have here are very different to those you tend to have with people your own age," explained communications manager Theresa Offenbeck. "It makes you consider things from a different angle."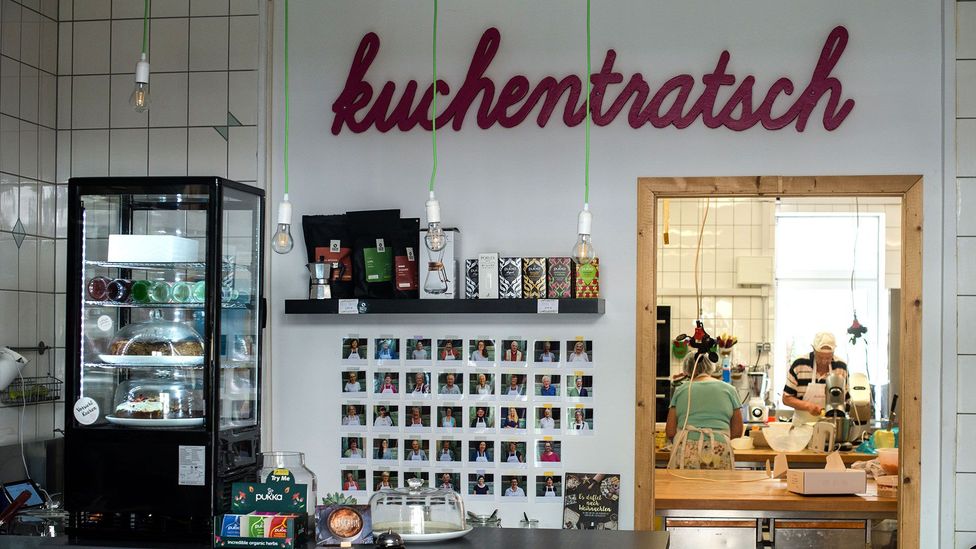 Since 2014, Kuchentratsch has been supplying Munich's cafes with cakes baked by local senior citizens (Credit: Kate Mann)
The benefits for the older participants are also clear. Offenbeck described how one woman sees the kitchen as a form of therapy having worked in a factory her whole life, while another said it reconnects her to life and people.
All the baking takes place in a large workshop in the Munich district of Westend. Located on Landsberger Straße, a major road not far from the site of the city's annual Oktoberfest, the creative space is an oasis among the trams, bikes and cars. In the entrance is a small cafe where passers-by can try a piece of cake along with a cup of tea or coffee. Offenbeck recommends visiting on a Monday, Wednesday or Friday morning, when the team will be in full swing, the hum of whirring machines and the smell of fresh baking filling the air.
Bakers have their own workspaces, and ahead of each shift they are given a list of cakes that need to be made that day, based on incoming orders. They make each one from start to finish. "We don't want to create a production line," Offenbeck said. "We want everyone to be in charge of their own work and time." A typical shift involves five to six grandmothers, who bake an average of 50 cakes in total, Offenbeck explained. This is an impressive number, particularly as some prefer to do everything by hand.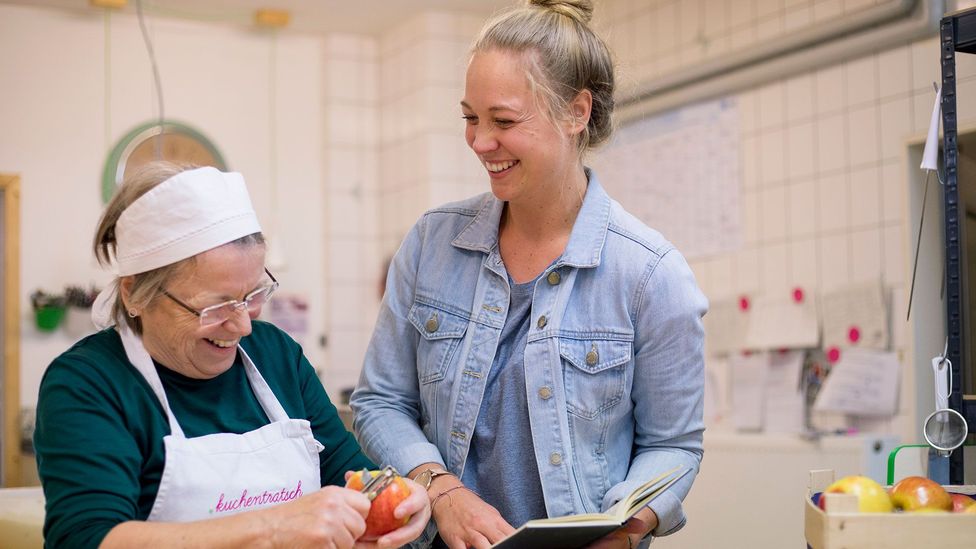 Katharina Mayer (right) founded Kuchentratsch after she realised she couldn't buy cakes as good as those made by her own grandmother (Credit: Kuchentratsch)
The cakes are based on the grandmothers' own recipes, many of them handed down from the handwritten, sometimes tattered, recipe books of their own mothers or grandmothers. The most popular with customers is currently Oma Irmgard's carrot cake, which is made with large amounts of freshly grated carrot (piles of which can be spotted across the kitchen) and topped with some of the best cream-cheese icing you'll ever try.
"We make it so often, I can't really eat it anymore!" Oma Irmgard joked. "I prefer a slice of sour cherry tart."
It's clear to see Oma Irmgard was a professional: having run cooking courses for many years, she works quickly and confidently, keeping an eye on the rest of the kitchen at the same time.
Another popular order is Oma Milena's Marmorkuchen (marble cake). This timeless German favourite is made by swirling layers of chocolate and vanilla sponge mix in a round Kugelhopf (Bundt) tin before baking. Getting the perfect swirl is no easy feat, however, with the Kuchentratsch bakers offering diverse techniques and tips for getting it just right.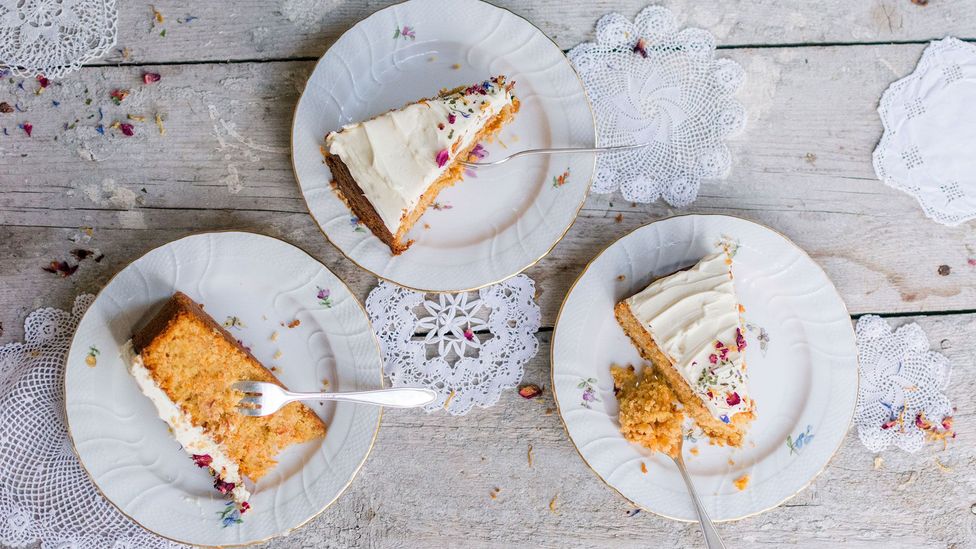 Oma Irmgard's carrot cake is particularly popular with Kuchentratsch's customers (Credit: Kuchentratsch)
Once cooled, decorated and packaged, the sweet parcels are delivered to cafes, offices and events by a number of drivers, many of whom are also retired local residents. The oldest is 87-year-old Opa Richard (everyone is referred to as Oma or Opa at Kuchentratsch). "Opa Richard likes to arrive at work ahead of his shift," Offenbeck explained. "That way he can have a piece of cake and a chat before hitting the road. We hear him coming thanks to the swing music blasting from his car!"
On Opa Richard's drop-off list are a number of regular cafes. These include renovated baroque villa Bamberger Haus in Schwabing and Café Mon in Bogenhausen. Another is Monaco Café, located in a large department store on the corner of Marienplatz. With views over the city's central square, Monaco Café is a great spot to refuel, get your bearings and watch people gather in front of the famous town hall below.
A particular highlight is Café Schreibwaren am Schloss. Located in a lovingly restored historical building close to the Nymphenburg Palace, this place continues the generational theme: the small cafe is a converted Schreibwaren (stationery) store that belonged to the grandfather and great grandfather of the current managers. Look out for a yellow building with blue and white shutters.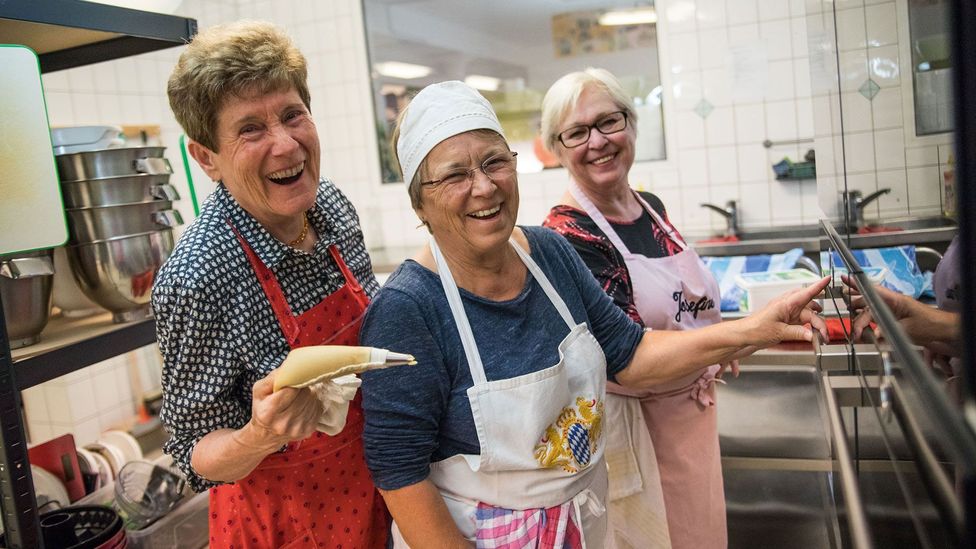 Kuchentratsch provides an extra source of income for pensioners, as well as a sense of community (Credit: Kuchentratsch)
Opa Richard isn't the only grandfather involved in Kuchentratsch. Two more help with the deliveries, while a few others have turned their hand to baking. After the death of his wife, Opa Günter decided to teach himself to cook so he could continue making much-loved family recipes for his grandchildren. His rhubarb and coconut cake is now a big hit. "I used to just eat cake, now I make it, too!" he said, wearing his Kuchentratsch cap backwards.
Just like Opa Günter, Kuchentratsch wants to keep old recipes alive. To ensure precious knowledge and skill are not lost, the team has produced two cookbooks and documented every recipe they work with – preserving them for generations to come. With more than 30 senior citizens currently involved, and the cakes in high demand, business is most certainly (excuse the pun) on the rise.
Join more than three million BBC Travel fans by liking us on Facebook, or follow us on Twitter and Instagram.
If you liked this story, sign up for the weekly bbc.com features newsletter called "If You Only Read 6 Things This Week". A handpicked selection of stories from BBC Future, Earth, Culture, Capital and Travel, delivered to your inbox every Friday.