Istanbul's Haci Bekir sweet shop has been selling Turkish delight for two centuries, largely thanks to the business savvy of generations of women.
O
On a cloudy summer afternoon in Istanbul, my ferry was slowly approaching the port of Eminonu. The view from the deck is something I can never get used to, no matter how many times I do the same trip over the Bosporus. As the sun started to set, the old city was showered in a golden-red colour and the silhouettes of the grand mosques took me back to the Ottoman era.
Among the many remnants of the Ottoman times scattered around this huge city, maybe the smallest – but for sure the tastiest – sits just a short walk from the port, on a small street behind the Yeni Cami (New Mosque) in Istanbul's Bahçekapı district. It is the Haci Bekir shop, which has sold Turkish delights to sweet-toothed residents and visitors for more than two centuries.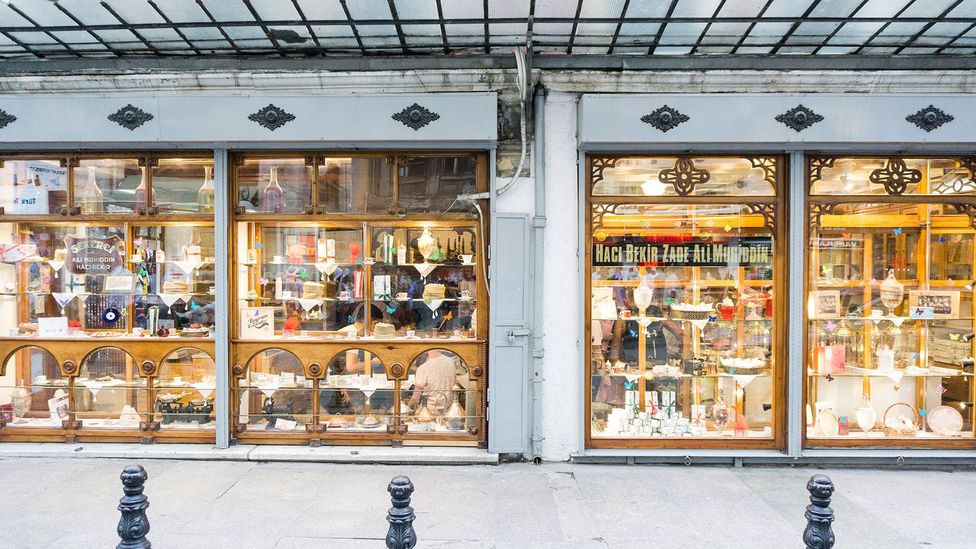 The Haci Bekir shop in Istanbul has been selling Turkish delights and other sweet treats for more than 200 years (Credit: Demetrios Ioannou)
You may also be interested in:
• The German city investing in grandmas' cakes
• A pasta made only by single ladies
• The dessert that's blocked at borders
Haci Bekir's storefront is elegant yet discreet. Inside Hande Celalyan was waiting for me. She, along with her sister, Nazlı İmre, are the ones in charge today. "Now we are two girls who run this place. We are the fifth generation in the family business," Celalyan proudly told me, gesturing to a glorious buffet stocked with dozens of flavours of Turkish delight, among other sweets.
Running the country's oldest company – and one of the 100 oldest companies in the world – is not an easy task, especially as a woman in a country where men are still the predominant breadwinners. According to recent research by the World Business Culture, only 24% of Turkish women are actively employed, despite the fact that the Turkish constitution offers equal rights for men and women in the workplace. This, however, has never been a problem in the Haci Bekir company. "Women were always appreciated [in our family]. A prejudice against women in charge was never an issue," Celalyan told me.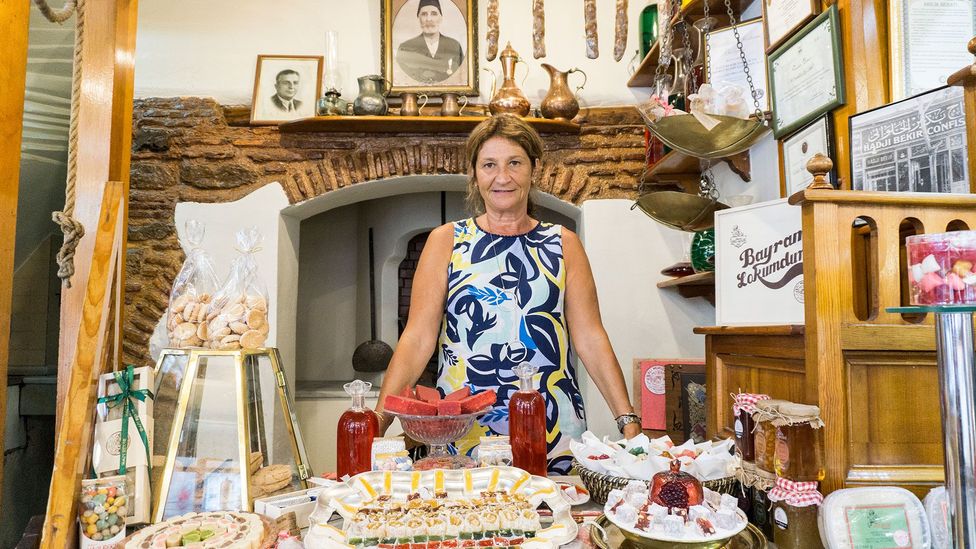 Along with her sister, Hande Celalyan is the fifth generation of her family to run Haci Bekir (Credit: Demetrios Ioannou)
Opened in 1777 by Celalyan's great-great-grandfather, confectioner Haci Bekir Effendi, the shop is responsible for creating the Turkish delight we know today. Known in Turkey as lokum, these small, jellied cubes are Turkey's most beloved sweet.
Born and raised in Araç, a town in northern Turkey's Kastamonu province, Bekir Effendi decided to relocate to present-day Istanbul, the capital and business centre of the Ottoman Empire, to open his lokum business. When cornstarch was first created in the mid-19th Century, Bekir Effendi altered his original recipe, replacing flour with cornstarch as a binding ingredient, which gave the sweet the distinct chewiness for which it is now known. His unique creation – which is the same recipe the family uses today, and one they have kept secret for generations – gained notoriety throughout the city, with word of the delicious sweet eventually reaching the Ottoman Palace. Sultan Mahmud II, who was ruling at the time, appointed him chief confectioner to the palace, a great honour that his family held until the end of the Ottoman Empire in 1920.
Despite the fact that a man began the business, women have been at the wheel of the company for the past century. "There is no difference between being a man or a woman as long as you're good at what you're doing," Celalyan said.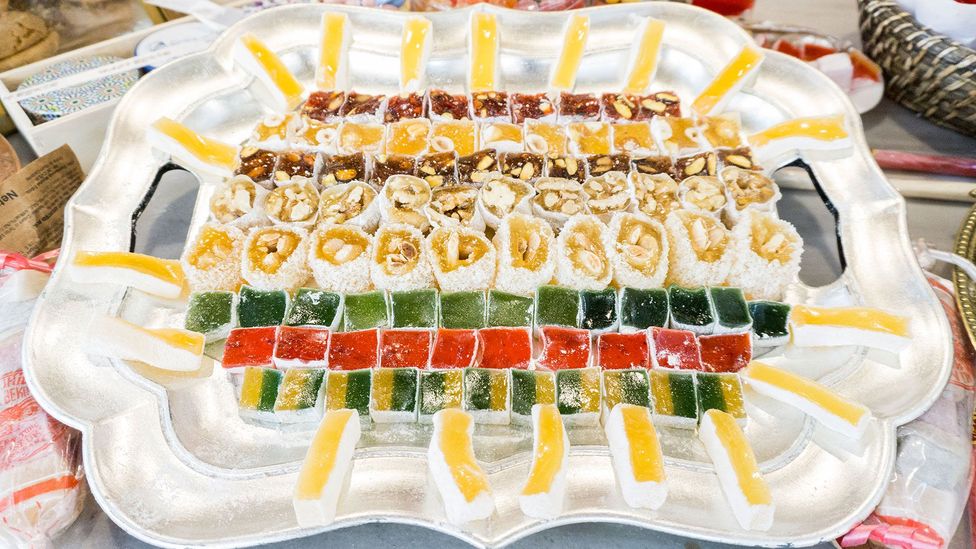 Haci Bekir Effendi's signature recipe for Turkish delight earned him the role of chief confectioner to the Ottoman Palace (Credit: Demetrios Ioannou)
Celalyan was only 25 years old when she took on a leadership role in the Haci Bekir company in 1986. Although she had graduated with a Master's degree in business from the University of Zürich, she was still new and inexperienced in the business world. But she had a strong female role model: her great-grandmother Reşide. Celalyan's grandfather Ali Muhiddin was very young when he was entrusted with running the Haci Bekir shop after his father passed away. He depended heavily on his mother Reşide, who supported him as his most trusted and beloved advisor.
There is no difference between being a man or a woman as long as you're good at what you're doing
Under Reşide's watchful eye, Haci Bekir grew into an internationally known business. Like his ancestor, Muhiddin held the position of chief confectioner to the Ottoman Palace in the final years of the empire, and in 1911, he was granted the title of chief confectioner by the palace of Egypt as well. Over the next few decades, Haci Bekir's confections were praised by food critics in New York City and Paris. "During their time it was the golden era of the company," Celalyan explained.
While Muhiddin was the face of Haci Bekir, Reşide stood with her son as an equal business partner, while at the same time raising her three other children. She also helped her son conduct business internationally, which was uncommon for women to do at the time (she was one of the first women to hold a passport from the newly established Republic of Turkey). Additionally, Reşide took part in charity work for which she was awarded a medal from the Ottoman Red Crescent Association, which has evolved into the Turkish Red Crescent Society, the largest humanitarian organisation in the country. "She was a real avant-garde woman ahead of her time," Celalyan said.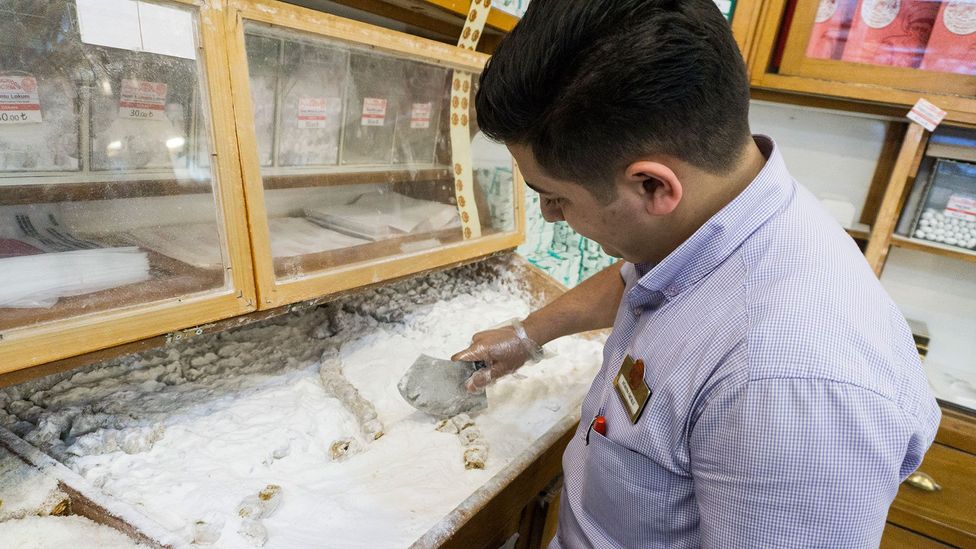 In the 19th Century, confectioner Haci Bekir Effendi began using cornstarch instead of flour to make Turkish delight (Credit: Demetrios Ioannou)
(Credit: Demetrios Ioannou)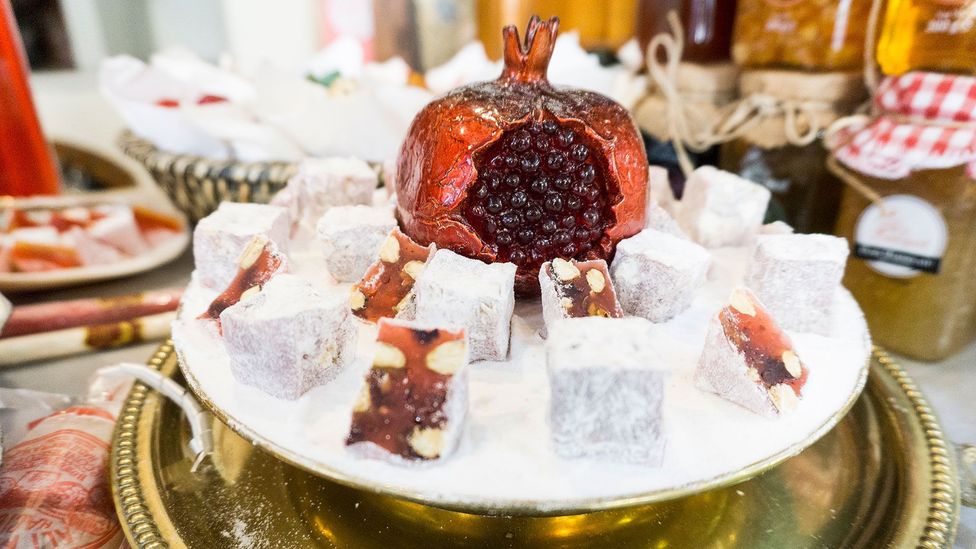 Cornstarch gave the Turkish delight its distinct chewiness (Credit: Demetrios Ioannou)
(Credit: Demetrios Ioannou)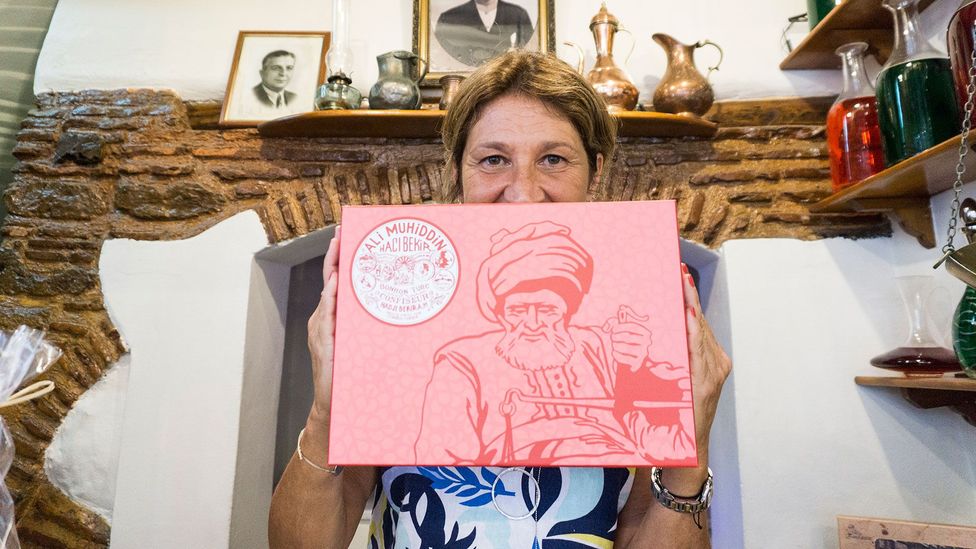 Although the business was started by a man, women have been at the helm of Haci Bekir for the past century (Credit: Demetrios Ioannou)
(Credit: Demetrios Ioannou)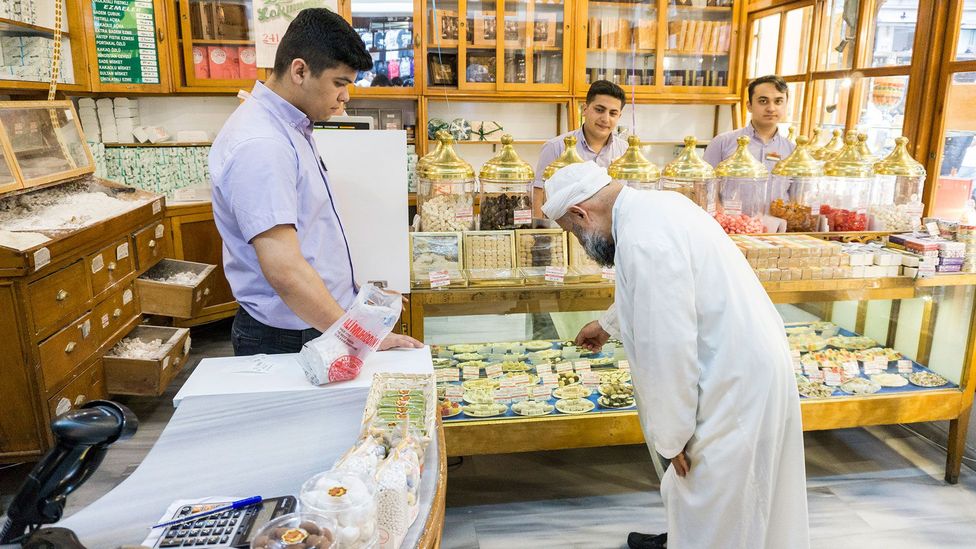 Today, Haci Bekir operates five stores in Istanbul, and they ship their Turkish delight to customers around the world (Credit: Demetrios Ioannou)
(Credit: Demetrios Ioannou)
Similar to the Ottoman sultanate, the Haci Bekir lokum shop has been passed from one generation to the other. As Muhiddin's only child, Aliye Şahin (Celalyan's mother), became the first woman to officially run the business in 1974. She then passed the shop on to Celalyan and her sister.
"We were all born in this business and we have it in our blood. Nobody forced us," Celalyan told me. "We feel it as a cultural heritage more than a business." Celalyan's 29-year-old daughter, Leyla, is already working in the shop and will likely take on a leadership role alongside her brother Sahan.
Many of the shop's employees can also claim generational ties to Haci Bekir. Most of them are the descendants of the very first employees. "We are a big family," Celalyan said with a smile. "Not only the owner's family, but our employers and customers, too. We have a lot of customers who know the product from their grandparents. Everything is changing so quickly in the world, so if you see something familiar from your childhood it makes you feel comfortable."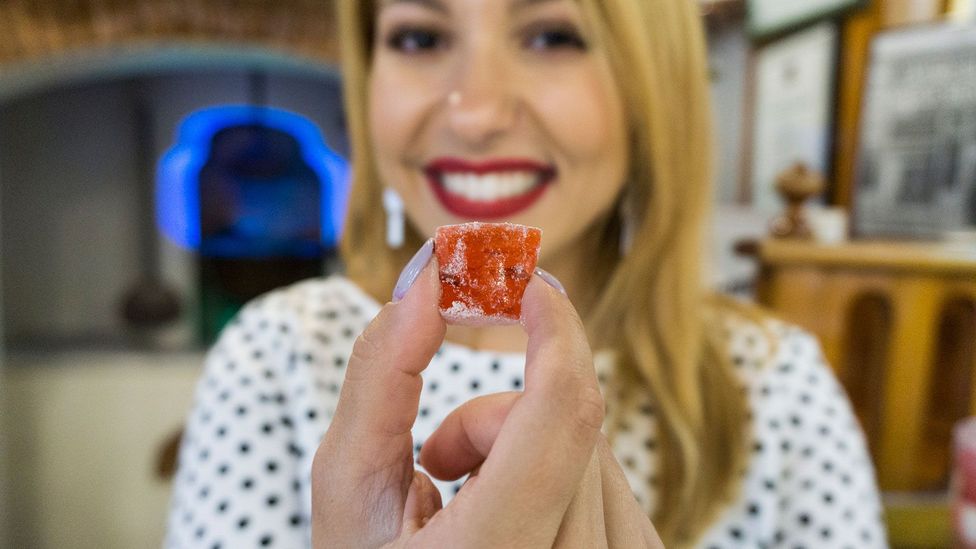 Although Haci Bekir also sells hard candies, halva, pastries and other sweets, Turkish delight is still the shop's most popular product (Credit: Demetrios Ioannou)
Today, the Haci Bekir business includes five stores within Istanbul, and they ship their famous Turkish delight to customers all over the world. While Turkish delight is Haci Bekir's most popular product, the shops also sell hard candies, nut pastes and halva, as well as biscuits, cakes and pastries.
The secret of their success is innovation. "We have to keep up with the trends and not stay only with the traditional tastes. Otherwise both you and the customers will get bored," Celalyan told me as I chewed on a ginger-flavoured Turkish delight, savouring its warm, slightly sharp taste. Although the pistachio and rose flavours are the bestsellers, the shop also sells mint, cinnamon, orange, lemon, pomegranate, jam and even chocolate Turkish delight.
"We have hundreds of different tastes," Celalyan beamed.
Join more than three million BBC Travel fans by liking us on Facebook, or follow us on Twitter and Instagram.
If you liked this story, sign up for the weekly bbc.com features newsletter called "If You Only Read 6 Things This Week". A handpicked selection of stories from BBC Future, Earth, Culture, Capital and Travel, delivered to your inbox every Friday.