The sea imbues the town of St-Malo with what locals describe as 'a salty side' that's not only present in its culture and regional dishes, but also its wine.
E
Europe's highest tides sneak up on tourists in St-Malo, France, lapping against medieval granite ramparts and onto salty pavements. But Malouins, as locals are called, embrace the raging tide with a graceful kinship.
When I'm in St-Malo, even if I can't see the sea, I can feel her
The Malouin community has always been tied to the ebb and flow of the sea. Founded on Brittany's northern coast by Gauls in the 1st Century BC, the port city stands where the mouth of the Rance river meets the English Channel. Because water flows in and out of the bay in both directions, its rising tides are legendary.
In summer, sunscreen-doused English tourists wander off ferries from Portsmouth, while the French flock here for summer breezes and Breton savoir-faire. But St-Malo and her tides belong to locals, who welcome the constant salt spray with a chuckle of gratitude.
"When I'm in St-Malo, even if I can't see the sea, I can feel her," said Yannick Heude, a local sommelier and wine merchant. "I know she's right here, that she's always nearby. And if I'm too far away, then she is, too."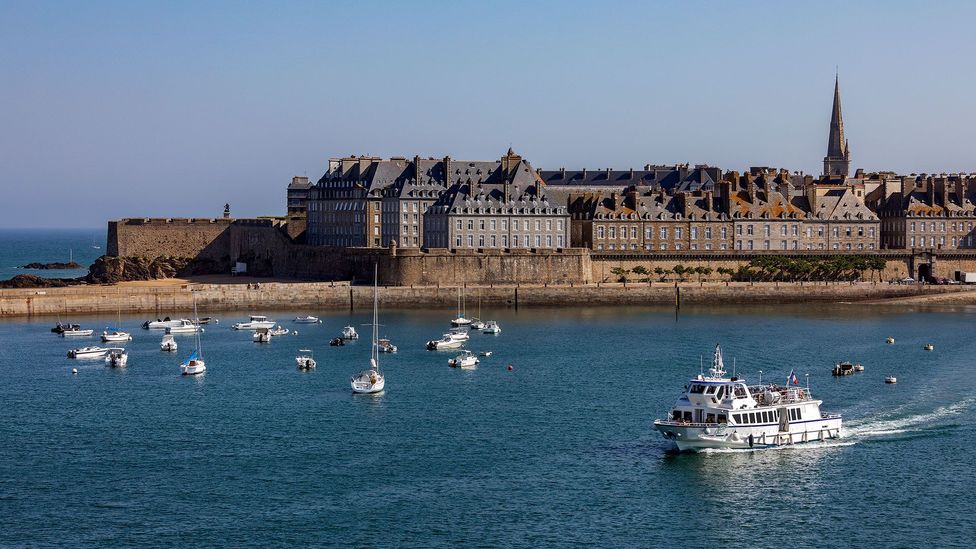 St-Malo's community has always been tied to the ebb and flow of the sea, where the rising tides are legendary (Credit: SteveAllenPhoto/Getty Images)
You may also be interested in:
• The man who makes wine below Paris
• The world's first blue wine
• A rare cake that's cooked on a spit
As proprietor of the local wine shop Cave de l'Abbaye St-Jean and a partner at local cooking school L'École du Goût, Heude keeps one foot in local gastronomy and the other in the bay. The sea imbues the local culture with what Heude describes as 'a salty side' that's equally present in local dishes as it is in Malouin identity.
"We've got la terre et la mer [the land and the sea] that blend to help our chefs create extraordinary cuisine. It's simple, precise and invigorating," he said.
During a boating trip 15 years ago with friends, Heude found himself pondering a seaborne idea. "There was a fisherman, a sailor, a restaurateur and myself – a sommelier," he explained. "One of us was expecting a child, and said 'Listen, I should put some wine underwater to celebrate my son's birth.' And I said, 'Well, I can organise that if you like'." While setting aside a bottle of wine to age in celebration of a child's birth is a common practice among oenophiles, Heude explained that this suggestion to age the wine in the sea was unprecedented. But what started as a small feat – bringing 12 bottles of Fiefs Vendéens wine from the Loire Valley to the bottom of St-Malo's harbour – became l'Immersion, an annual tradition that has evolved into a national phenomenon.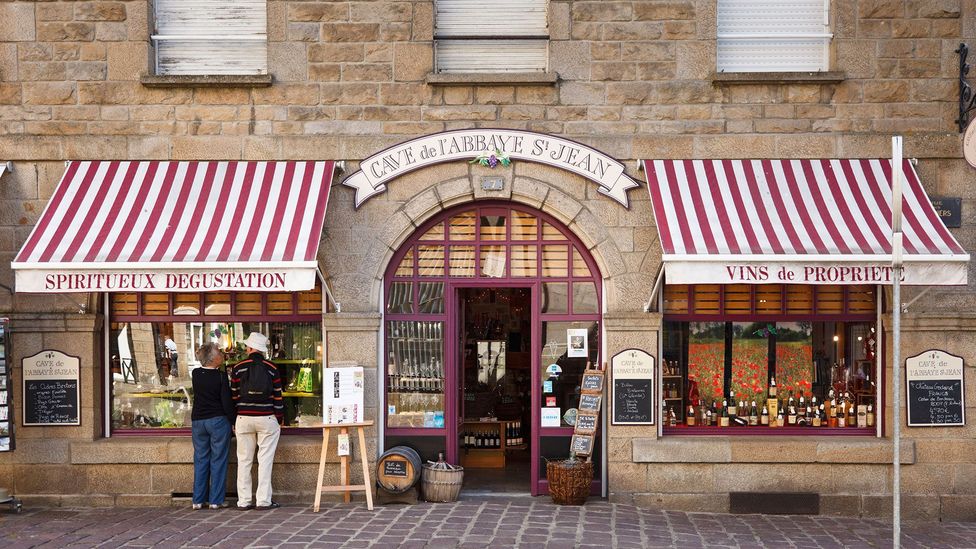 Yannick Heude, proprietor of the St-Malo wine shop Cave de l'Abbaye St-Jean, has been aging wine in the sea for 15 years (Credit: incamerastock/Alamy)
There's an undeniable poetry to the emergence of sea-aged wine in a town that's so proud of its maritime heritage. St-Malo and its harbour first rose to prominence as one of the primary ports of call for the French spice trade. Malouins voyaged as far as Québec (the voyages of Jacques Cartier – a Malouin – led to France laying claim to Canada) and the Falkland Islands (originally named Îles Malouines in honour of early Malouin settlers). In 1590, St-Malo declared independence from France in an effort to protect its maritime economy from the Wars of Religion, adopting the motto, 'Not French, not Breton, but Malouin'. Although the autonomous Republic of St-Malo only lasted for three years, the Malouin identity continued in a spirit of unbridled self-determination, inextricably anchored to the sea.
We've got 'la terre et la mer' that blend to help our chefs create extraordinary cuisine. It's simple, precise and invigorating
Heude continued to place wine on the sea floor every year, gathering his friends to taste the previous year's bounty. Beyond the initial resonance of the idea of sea-aging wine, there's also a science to the process that Heude and his friends pegged with sheer intuition. Off the coast of Brittany, the temperature of the ocean floor hovers at 9-10C – the equivalent temperature of a deep wine cellar – while the water shields the wine from damaging UV rays. Plus, the twice-daily ebb and flow of some of the biggest tides in Europe mirror a technique used to age wine, particularly Champagne, known as remuage. The process of slowly tilting wine as it ages keeps the sediment from settling on the sides and bottom of the bottle and maintains the visual clarity of the wine.
The wines Heude selects change every year, though he is sure to include bottles of both regular and sparkling, and the differences in flavour of sea-aged wines varies by cuvée (the type, blend and batch of wine), which is the fun of it all. As a rule of thumb, Heude says, wines that have only been lightly filtered are poised for the most remarkable transformations underwater. As the tides move the natural sediment in the bottle, the flavour notes of the wine deepen. The effect is particularly enthralling with sparkling wine, as the changing tides refine the carbon dioxide bubbles to a crisp finish.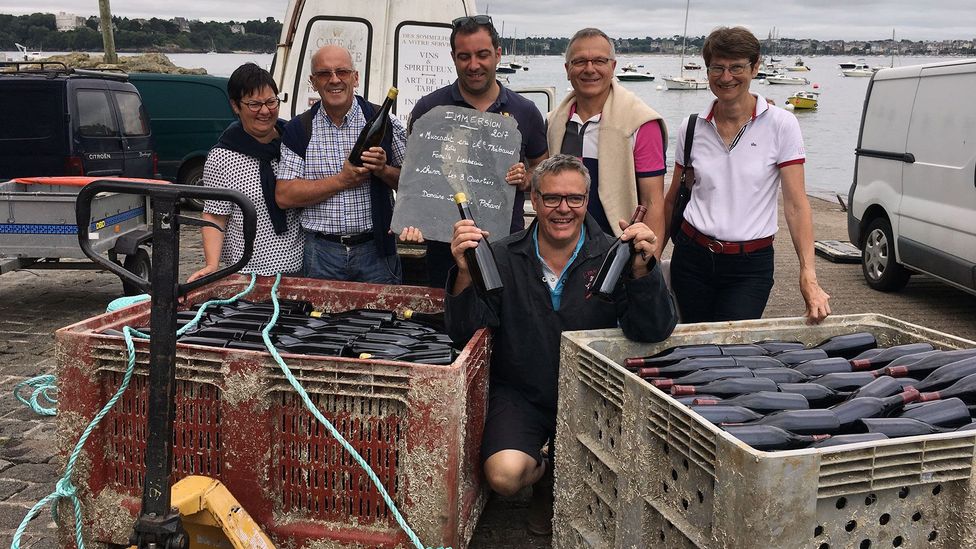 Heude (centre) came up with the idea to age wine in the St-Malo harbour while on a boating trip with friends (Credit: Yannick Heude)
After discovering the effects of sea-aging, Heude decided to make annual wine deposits to the harbour floor. Every year, on the first weekend of June, 100 gourmands and sommeliers from across France purchase tickets to experience the phenomenon in person.
The day-long affair begins with l'Immersion itself. Curious tourists watch as Heude and his team load up a fishing boat with nearly 700 wine bottles in the shadow of Tour Solidor, a 14th-Century tower originally built to control the entrance to the Rance river. Wine bottles are stacked in pallet boxes built for shellfish producers – fitting for a ritual so intimately tied to the local food culture. Extra holes in each box ensure water and seaweed can flow around the bottles during their year-long sojourn at the bottom of the bay. "We saddle them up, and then they're ready to go," Heude said.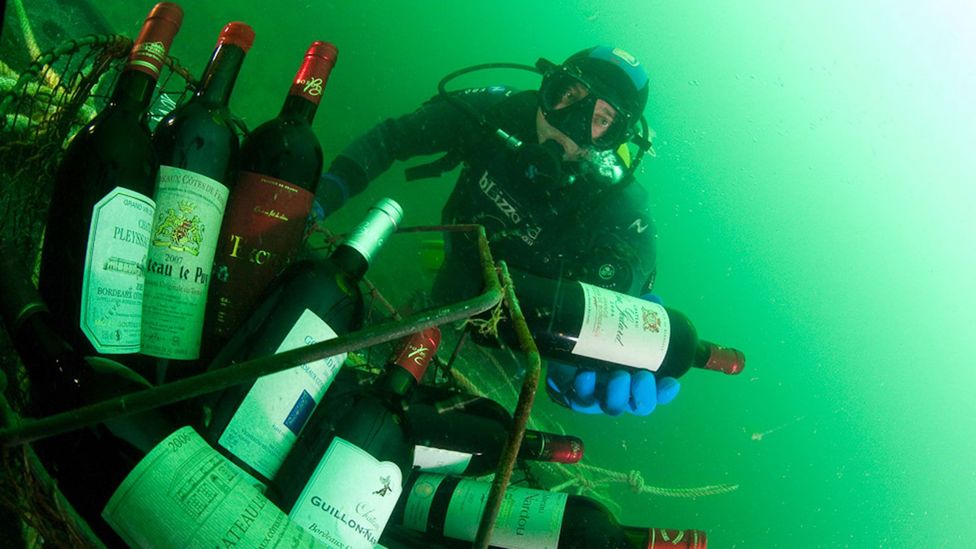 Off the coast of Brittany, the temperature of the ocean floor hovers at 9-10C, the equivalent temperature of a deep wine cellar (Credit: Emmanuel Donfut/Balao)
Once they've been brought out into the harbour, the boxes are lowered 15m to the sea floor with a trawler. A diver loosely anchors the boxes with enough leeway for each one to move in harmony with the tides. Then they pick up last year's drop off (this year's haul) in preparation for a boisterous unveiling. After 12 months of anticipation, Heude and his team push each box to the centre of the crowd. Extra treasures – shellfish, handfuls of seaweed – swirl around the barnacle-laden bottles, giving everyone a glimpse of what the bottles witness during a year on the sea floor.
A frenzy ensues as Heude invites onlookers to dive into a free degustation of the region's gastronomic riches. Sourdough bread from Philippe Renault's bakery in Dinard, Jean-Yves Bordier's award-winning butter, oysters from Cancale and tripe from nearby Normandy round out the abundant spread. Amid the joyful flurry, expert sommeliers crack open the bottles to compare sea-aged wines with their cellar-aged counterparts. These tastings unfurl meticulous analyses by expert palates – but this is just the beginning.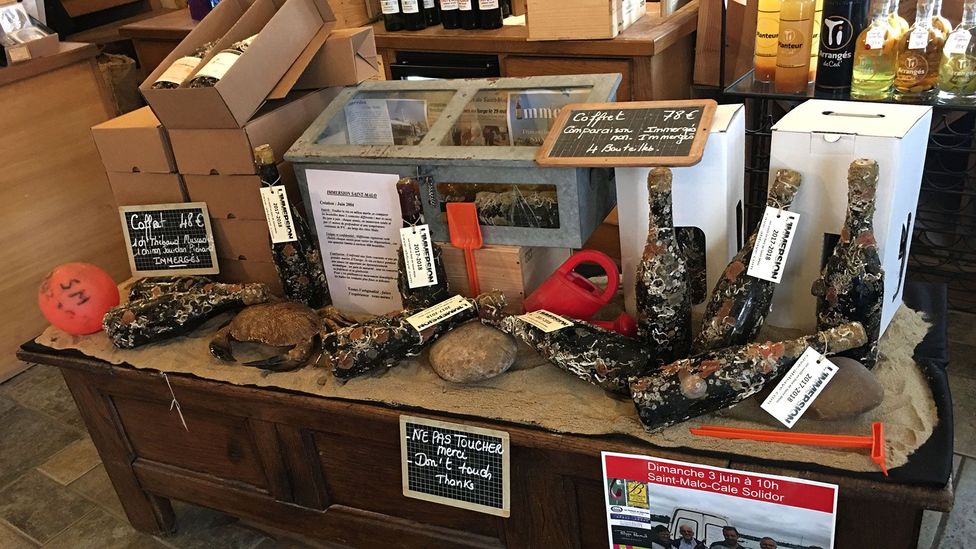 During l'Immersion, attendees are invited to taste the sea-aged wines, along with other local specialties, including bread and oysters (Credit: Yannick Heude)
After the wine tasting, participants who purchased tickets for l'Immersion in advance of the festival accompany the coastguard organisation Société Nationale de Sauvetage en Mer (SNSM) on a short journey to Cézembre, a small, uninhabited blip of sand off the coast of St-Malo that served as a German naval battery in World War Two. Most of its sweeping landscape remains enclosed by barbed wire because the island's innermost areas haven't been cleared of land mines, but the shore provides a safe and scenic venue for a riotous Malouin feast. Plates of fried seafood and salt-marsh lamb pile up next to more butter, freshly baked bread and bottles of sea-aged wine, still dripping with salty water. "That's a little more rock'n'roll. It's a big party and everyone loves that, too," Heude said.
At its heart, l'Immersion is much more than a wine tasting. It's a celebration of Malouins' unceasing connection to the sea.
"That's what has cradled us since our infancy, and at the end of the day, we can't do without it," Heude said. "Whether it's in the arts or in food, it's in everything: it's there in wine tastings, in the shrimp, in the scallops, in the fish we catch, in the spring vegetables, in new potatoes. We've got it all here. We've truly got it all."
Join more than three million BBC Travel fans by liking us on Facebook, or follow us on Twitter and Instagram.
If you liked this story, sign up for the weekly bbc.com features newsletter called "If You Only Read 6 Things This Week". A handpicked selection of stories from BBC Future, Earth, Culture, Capital and Travel, delivered to your inbox every Friday.