Getting 'screeched in', which turns a visitor into an honorary Newfoundlander, involves doing jigs with an ugly stick, kissing a codfish and a shot or two of rum.
S
Suddenly, I'd become the post-dinner entertainment. I felt myself turning red as seven pairs of eyes stared at me – the girl from the US, now partially hidden inside an oversized fisherman's jacket, dark green rubber boots and a yellow, broad-brimmed fisherman's hat that's known in these parts as a sou'wester'.
I was in Seal Cove, a village of about 300 people on the Baie Verte peninsula of the north-eastern coast of Newfoundland and Labrador, Canada. I'd been brought here by my friend Sam, from nearby Middle Arm (population 474) and her fiancé Mark, who'd invited me to the cosy home of their friend's grandmother, Lorraine Burton. I stood in the centre of the kitchen, in front of the dining table where we had just devoured a feast of freshly caught lobster and snow crab accompanied by juicy corn on the cob and crusty garlic bread.
Even though I was getting stage fright for my upcoming performance, I had also secretly been waiting for this moment since my arrival to Newfoundland three weeks ago. I'd been picking up bits and pieces about this 'screech-in' ceremony, a welcome ritual of sorts that transforms an outsider into an honorary Newfoundlander. It's not a compulsory ritual for visitors to the province, but if your host or friend thinks you might enjoy it, they will likely take you to one. I'd been brought to Burton, a screech-in expert who has been performing the ritual for the past 15 years here in her native Seal Cove. I only knew that there was a possibility of kissing a fish and a good chance I'd be downing shots of rum. I much preferred the latter.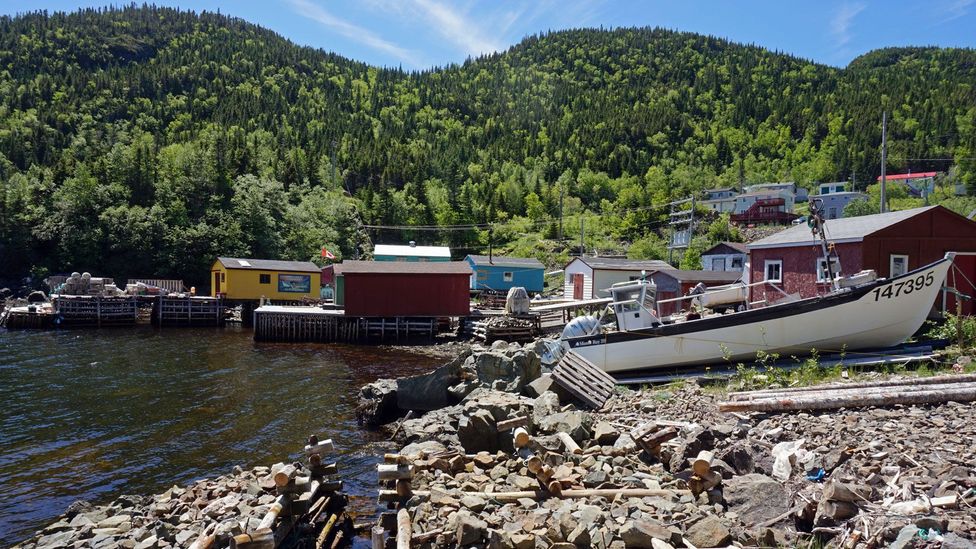 Writer Suchi Rudra was welcomed to Newfoundland, Canada's Baie Verte peninsula in a rather peculiar way (Credit: Suchi Rudra)
You may also be interested in:
• The roving ear cleaners of China
• Iran's fascinating way to tell fortunes
• Canada's tiny disputed island
An article on screech-ins by native Newfoundlander and veteran journalist Roger Bill dates this 'invented tradition' back to the late 1960s or early 1970s. Although it's often attributed to a teacher, no-one has ever definitively been proven to be its inventor.
According to Joan Sullivan, a native of the province's capital city of St John's and managing editor of arts and culture journal the Newfoundland Quarterly, the screech-in likely evolved from the bar scene of George Street in St John's, where visitors to the province would be taken for a night of lively music and entertainment, Newfoundland style. However, the tradition soon faded away, in part, she explained, due to "the government under Clyde Wells, a strong critic of screech-ins, in the late 1980s, which kind of discouraged it." She continued, "But in the '90s, the screech-in became a promotional tool of the Newfoundland liquor board. So the screech-in came back, and now it's very much a force of its own."
Although Sullivan is one of the generation of Newfoundlanders who considers screech-ins to be 'something not of Newfoundland', she admits that "Many people seem to really enjoy the screech-in, and lots of people make a living doing it." She continued, "Maybe someone made it up, but now the screech-in is a tradition, and it's changing into its own thing."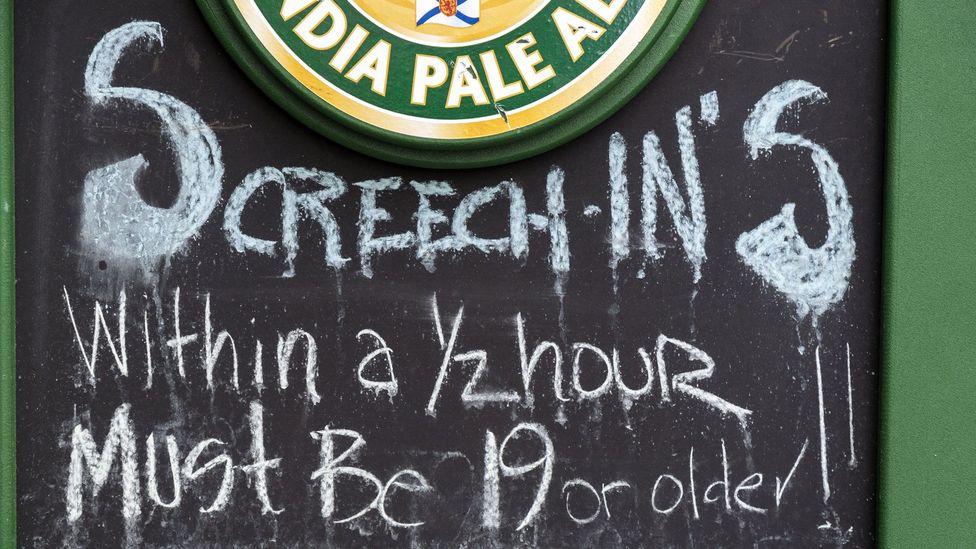 A 'screech-in' is a welcome ceremony that transforms an outsider into an honorary Newfoundlander (Credit: Sunpix Travel/Alamy)
Standing beside me in a red plaid shirt, also sporting rubber boots and a sou'wester', Burton handed me an 'ugly stick', a mop handle-turned-traditional Newfoundland musical instrument. She began: "You're becoming an honorary Newfoundlander. In Newfoundland, we have traditions. First, you got to have a piece of this bologna," she said, holding out a little plate with a half slice of the meat product.
Burton explained that while it had become more expensive, bologna used to be cheap to buy and therefore was commonly eaten in the province.
Maybe someone made it up, but now the screech-in is a tradition, and it's changing into its own thing
"And then you got to have a piece of this hard bread." My host held out a plate with a piece of what is known here as Purity Hard Bread. This was a food of fishermen away at sea for weeks, who would soak the hard bread in water and mix it with pieces of cod. As I gnawed on the tough bread, my audience laughed in approval. Burton intervened, catching me mid-chew: "You've got to say something now."
"Repeat after me: 'Deed I is me old cock, and long may yer big jib draw'."
The tumbling words crashed into me, the strong Newfoundlander accent sounding rather Irish; not surprisingly, of course, since Irish emigration to Newfoundland occurred in waves from the late 1600s, reaching its peak in the early 1800s. I laughed at the idea of pronouncing this tongue-twisting phrase. Burton told me that the first part simply meant 'Indeed I am, my old friend'.
"Jib. What's that?" I grabbed onto the strange word in an attempt to stall. Everyone started to discuss its meaning until I heard someone claim that a jib is a sail. Later, I learned from Jackie Hillier, a librarian at the Centre for Newfoundland Studies, that if your jib draws wind, sailing will be good. "Usually this was used as a good wish for the future," she explained.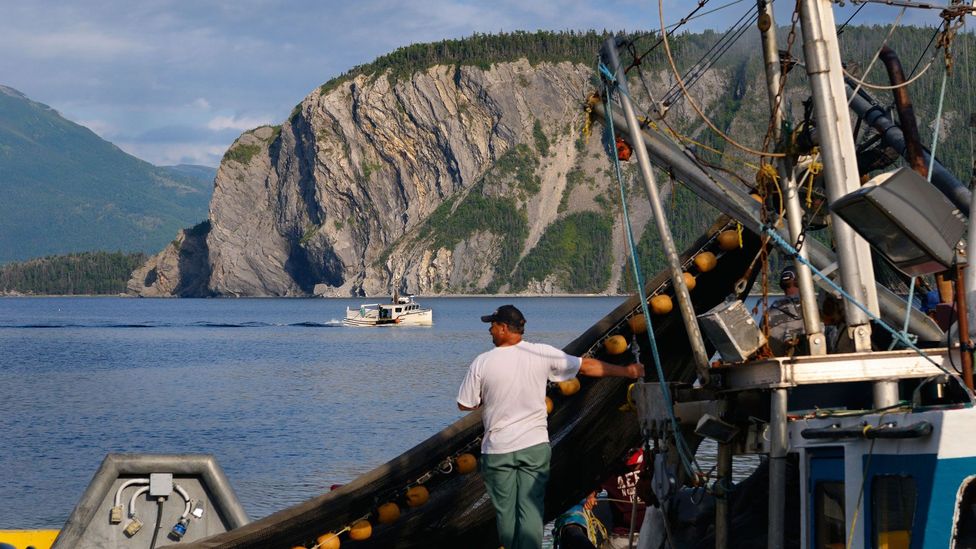 The screech-in ceremony is closely tied to Newfoundland's fishing history and traditions (Credit: Reimar/Alamy)
Sam subsequently told me that the phrases used in the screech-in represent a dialect that is quickly disappearing, especially in St John's. "These phrases are wishing the outsider good luck in their travels. How nice is that? It's a lovely message that embodies what most people leave Newfoundland thinking about us, that we're the nicest people in the world."
I took a deep breath, repeating the phrase to uproarious laughter. I laughed too, simply with relief that I'd tried.
"Now have this dried squid," Burton said.
I chose the smallest piece, just in case.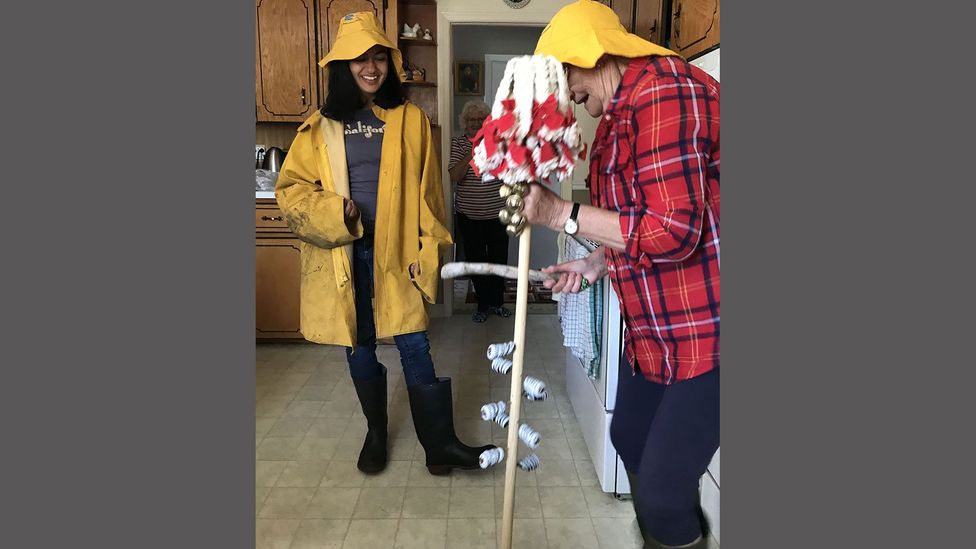 Part of the screech-in ceremony involves a mop handle-turned-traditional Newfoundland musical instrument known as an 'ugly stick' (Credit: Suchi Rudra)
I thought I might be done, until Burton sidled up to me and said, "How can you do ar-thing when you got nar-thing to do ar-thing wit?" There was that impossible accent again.
The audience burst into peals of laughter again, and I tried not choke on my squid, shaking my head and smiling until my cheeks hurt.
"Wait, slow down," I told a sparkly-eyed Burton. I moved closer to try and lip-read.
Burton repeated it slowly, and I followed in my mangled Newfoundlander accent as my very kind audience giggled and guffawed.
I translated the phrase as 'How can you do anything if you've got nothing to do anything with?'. Burton confirmed my translation. The phrase was tinged with melancholy, yet it also sounded very practical. Somehow, this made me feel like I understood the people of Newfoundland a little better. In such an isolated and remote place, the people did what they could with the resources provided by Mother Nature, living off the land and sea, hunting moose, fishing for cod and squid. But this also meant having to survive when resources were less than abundant.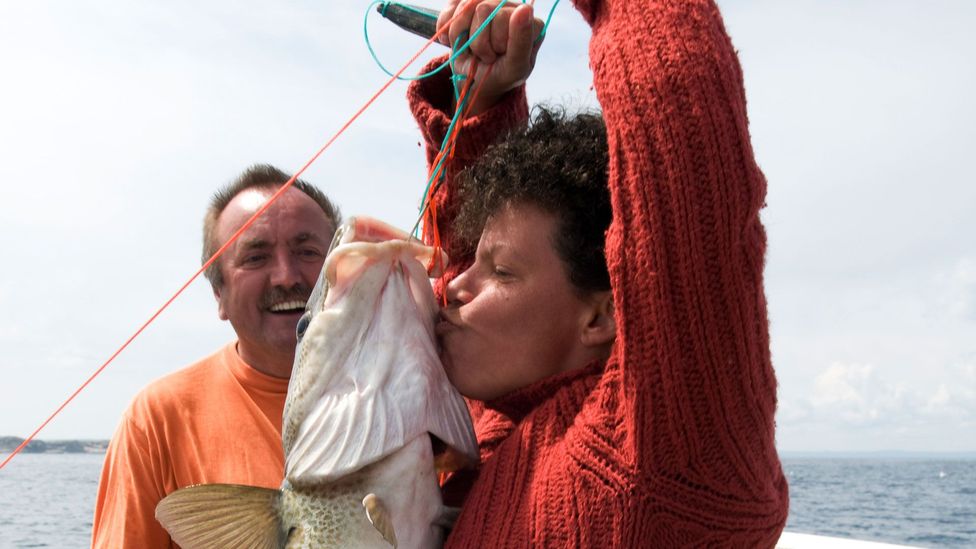 The centrepiece of the screech-in ceremony involves kissing a codfish (Credit: Ned White, Inc./Getty Images)
Finally came the words everyone had been waiting for: "Now you kiss the cod!"
My audience shrieked with excitement as Burton approached, pointing a large, frozen codfish directly at me, mouth first. Cod fishing was the province's life-giving industry for several centuries until the early 1990s, when the government placed a moratorium on the practice due to depleted stock. Today, the fish is making a slow, tentative comeback and is still intrinsically linked to the local culture.
I pecked the very cold, barely thawed fish on what I decided were its lips. The crowd went wild, and I felt relieved that the weirdest part of this ceremony was over.
Finally, Burton led me to the table where I was instructed to pour myself a shot from a plastic bottle of spiced rum labelled 'Newfoundland Screech' and shoot it down.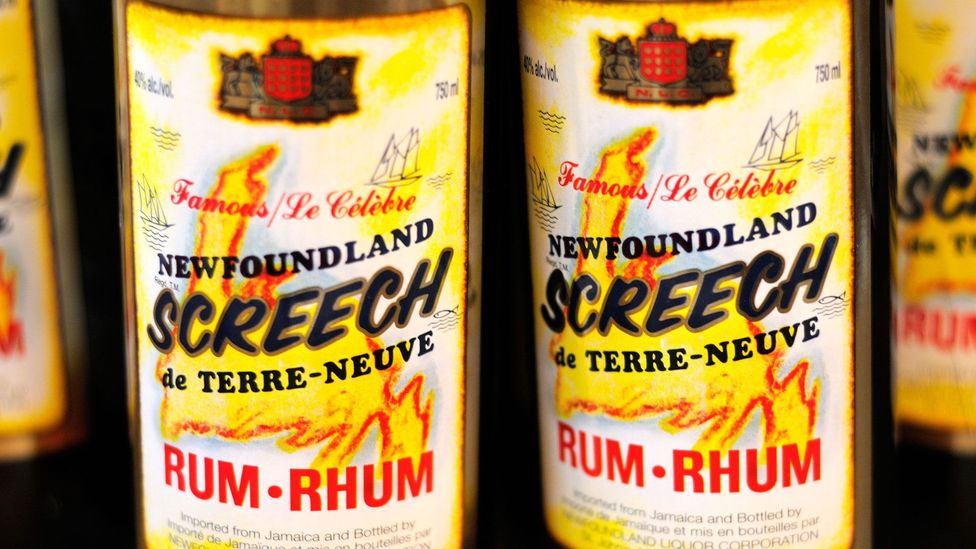 Lastly, screech-in participants must drink Newfoundland Screech, a spiced rum that evolved from Newfoundland's trade relationships in the Caribbean (Credit: Norman Pogson/Alamy)
Originally, this Caribbean-origin rum had no name. Thousands of litres of rum were brought by sailors from the British West Indies or Jamaica in exchange for salted cod, a trade practice dating back about 250 years. The Newfoundland government eventually began to bottle the rum in the early 20th Century, selling it sans label until the time when, as legend has it, an American sailor in Newfoundland downed a shot of the rum and gave out a 'screech'. Hence, the name of the liquor, and consequently, the screech-in ceremony.
This entire time, I'd kept the ugly stick upright with one hand, but now Burton instructed me to start banging it on the ground. Without warning, she began to circle around me, skipping and high-stepping, dancing some kind of traditional jig. Suddenly she hooked her arm around mine and pulled me into the dance.
When the song ended and we'd wiped our sweaty foreheads, Burton presented me with my screech-in certificate, sponsored by none other than Captain Morgan of rum fame. Burton told me you could now purchase packs of these certificates at the dollar store. The original certificate from the Newfoundland liquor board, however, had looked slightly different and included the signature of Premier Wells. But that version disappeared in 1989 when Wells ordered all certificates with his signature to be shredded due to widespread debate about how the ritual was a debasement of Newfoundland's culture. That same year, Newfoundland's Heritage Coalition sponsored a contest to create a tradition that would replace the screech-in, but nothing came of it.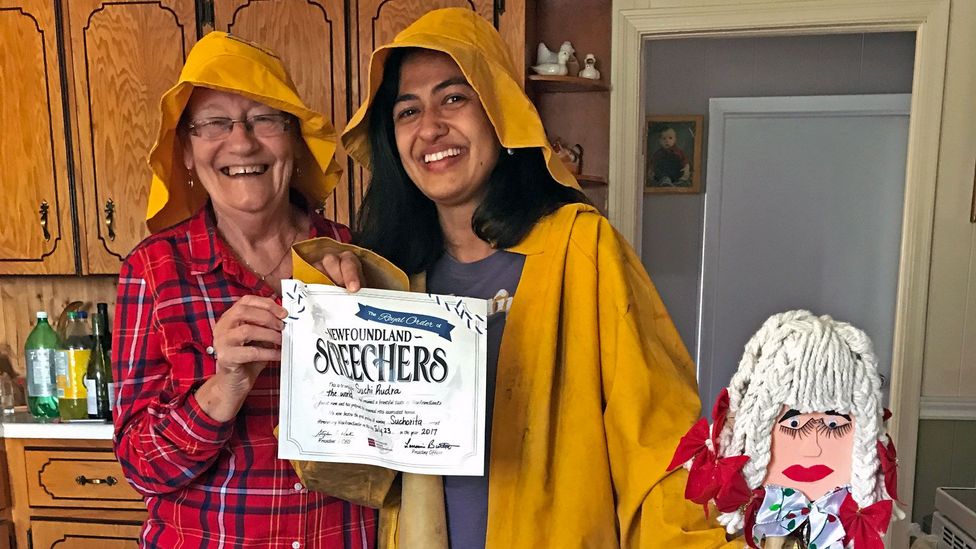 Those who complete the screech-in are awarded a certificate and officially welcomed to the Newfoundland community (Credit: Suchi Rudra)
Who wouldn't want to be an honorary Newfoundlander?
When I asked Sam what she thought about the screech-in controversy, she immediately responded, "But aren't all traditions invented?" She continued, "I consider the screech-in a staple of the Newfoundland culture because of how well it reflects our province and its history. The cod embodies the success and the hardships of what it truly means to be a Newfoundlander. We're resilient. Our economy has been a rocky, uphill climb with many trenches in between, but regardless, we still celebrate how blessed we are. We all metaphorically kiss the cod and are so thankful to live on this weird, quirky island that exists because of the cod fishery. And at the end of the day, who wouldn't want to be an honorary Newfoundlander?"
My sentiments exactly.
The Customs That Bind Us is a series from BBC Travel that celebrates cultures around the world through the exploration of their distinctive traditions.
Join more than three million BBC Travel fans by liking us on Facebook, or follow us on Twitter and Instagram.
If you liked this story, sign up for the weekly bbc.com features newsletter called "If You Only Read 6 Things This Week". A handpicked selection of stories from BBC Future, Earth, Culture, Capital and Travel, delivered to your inbox every Friday.