Ninety-one-year-old Alzina Toups has been quietly cooking some of the world's greatest Cajun cuisine inside a windowless welding shop for 40 years – and she has no plans of stopping.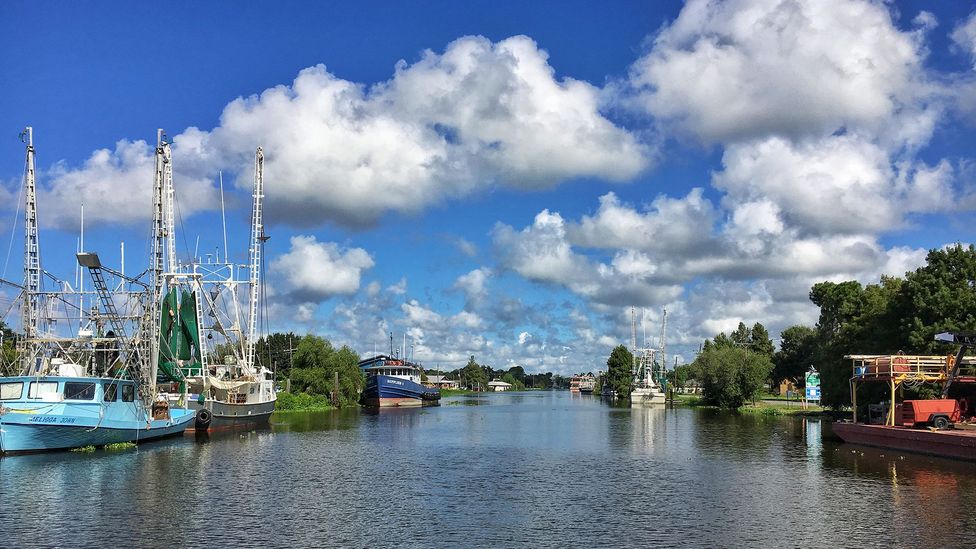 It's easy to get lost deep in Louisiana's swampy south-eastern corner (Credit: Eliot Stein)
Hard to find, harder to reserve
It's easy to get lost deep in Louisiana's swampy south-eastern corner. Mist hangs in the cypress trees, sugar cane fields melt into a maze of marshes and the land and water blend together in the liquid summer heat.
But if you follow the bending banks of Bayou Lafourche 72 miles south of New Orleans, past the ancient oaks dripping with Spanish moss and the slow glide of shrimp boats, you'll find an unmarked shed in the tiny town of Galliano. Inside, a 91-year-old great-great-grandmother named Alzina Toups is quietly singing a prayer in French while she prepares a six-course meal for 22 people.
For the last 40 years, Toups has been using tightly guarded techniques passed down through a long line of Cajun cooks in her family at Alzina's Kitchen, a windowless restaurant that she runs by herself in her son's former welding shop. There's no menu, no set hours and no website. The blue letters spelling 'Alzina's' fell off the metal siding years ago. She doesn't take walk-ins, only entertains one or two parties per week and is booked up until June 2019. But if you're lucky enough to snag a reservation (and can find the place), you're in for what celebrity chefs and culinary pilgrims from all over the world swear is one of the most memorable meals they've ever had.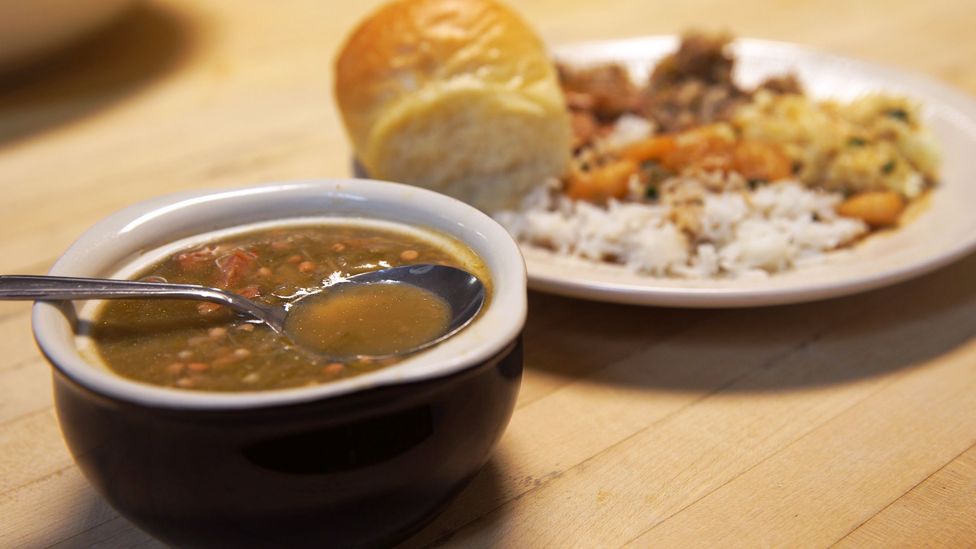 Alzina Toups' Cajun comfort food is impeccably fresh and layered with sophistication (Credit: Sebastian Diaz)
Eating at Alzina's Kitchen blurs the boundaries between an informal family gathering and a fine dining experience. Toups only accepts one group of six to 22 diners at a time, and after patrons park on her lawn and swat away the mosquitoes, they shuffle into the fluorescent-lit shed where ceiling fans and portable air conditioners wheeze against the heat.
There are no walls separating the dining room from Toups' open kitchen, and guests sit at two communal tables under a picture of Pope Benedict XVI and several crucifixes tacked to the wall. After being welcomed by the white-haired lady in the apron, diners help themselves to her home-made dishes – which change each week but may include feathery light potato rolls, black-eyed pea jambalaya, shrimp fricassee and roux-less gumbo – and wash them down with pitchers of sweet iced tea and jugs of water. When those run dry, Toups will kindly point guests towards the tap. There's no dishwasher, but after the last spoonful of bread pudding or walnut tart, guests often feel compelled to scrub their plates in the sink.
While Alzina's Kitchen may be simple, Toups' Cajun comfort food is impeccably fresh and layered with sophistication. Unlike most commercial Cajun cooking, nothing is fried, blackened or covered in heavy spices. Instead, she subtly seasons her dishes so as not to overpower them, creating a refreshingly light take on comfort food. She'll spend hours smothering onions down to create the base of each dish. She catches her own soft-shell crabs and her son-in-law pulls shrimp and oysters from the bayou 100ft away. Her meat and vegetables come from local farms; herbs are grown in her garden; and she chops, stirs, peels and prepares every dish patiently by hand from scratch – just like her ancestors did.
The best-kept secret in Louisiana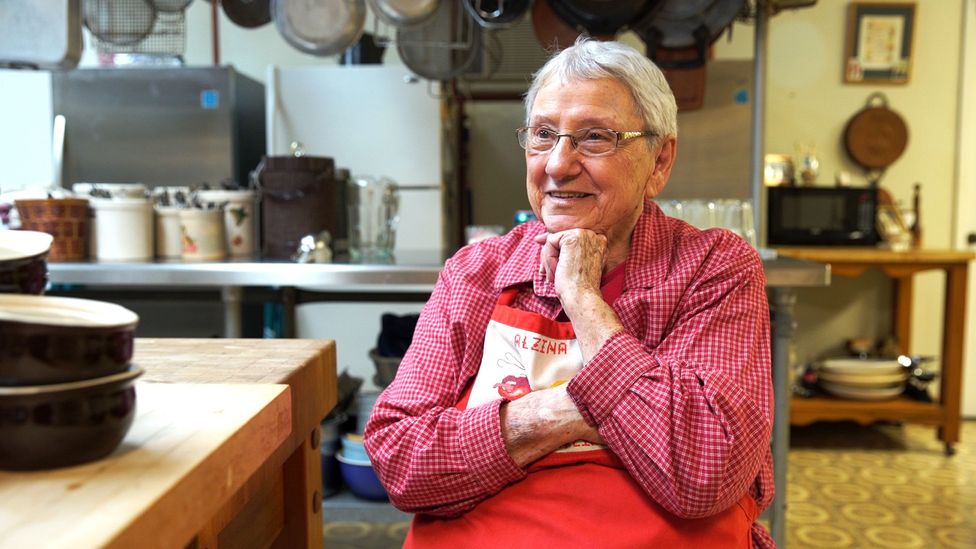 Alzina Toups: "My generation, we the real Cajun" (Credit: Sebastian Diaz)
My generation, we the real Cajun. We cook with very simple, natural ingredients – but you have to know how to use them," Toups said.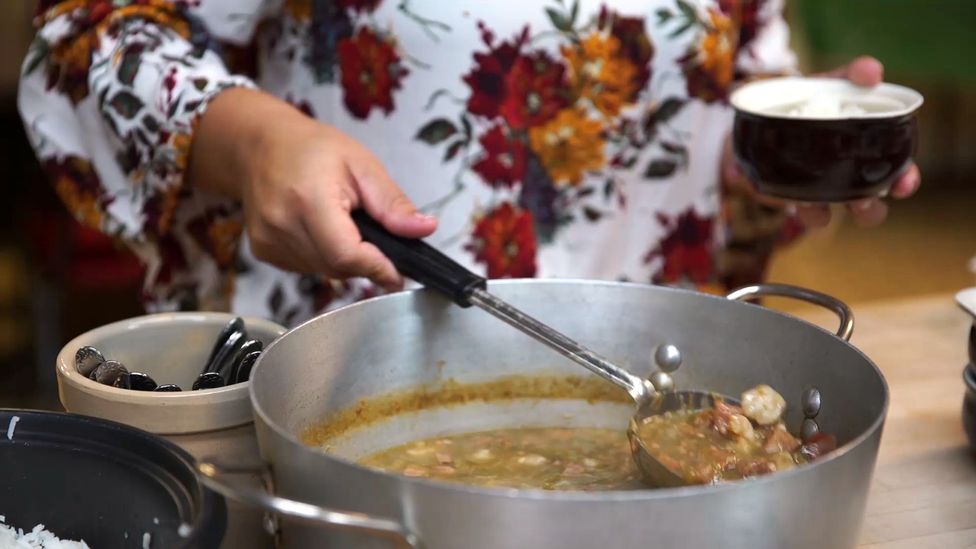 Cajun cuisine is marked by its simplicity and reliance on local ingredients (Credit: Sebastian Diaz)
Understanding Cajun cuisine
Cajuns are the descendants of the Acadians, French colonists who were exiled from Canada's Maritime provinces by the English in the 1700s. Unlike Louisiana's Creole population – a term encompassing the descendants of French, Spanish and African people born in colonial cities, like New Orleans – the Acadians settled in the swampy southern reaches of Louisiana surrounding Bayou Lafourche now known as Acadiana. The two groups developed some 70 miles apart, and Creoles have historically been known as the sophisticated city slickers while Cajuns were the rustic country folk.
This difference is still evident in Cajun cuisine. While Creoles incorporated European ingredients like aubergine and cayenne pepper into their food and turned out elaborate 13-ingredient concoctions like remoulade sauce, Cajun cuisine is marked by its simplicity and reliance on local ingredients. Without access to refrigerators, Cajuns learned to make use of every part of an animal – often tossing various cuts into a cast iron pot, mixing the meat with rice, beans and herbs and hoping to feed as many people as possible.
This is the likely origin of Louisiana's official state dish: gumbo a piquant stew that's usually thickened with dark-brown stock, piled with meat or shellfish and flavoured with celery, bell peppers and onions. According to the Southern Foodways Alliance, Cajuns and Creoles have been serving gumbo since the early 1800s. Creole gumbo has always incorporated imported ingredients, like tomatoes, while the Cajun variety relied on locally raised meats like chicken. Yet, over the last 50 years, Cajun culture has rapidly washed away in Louisiana. The land and local language have eroded, families have migrated to cities, and it's become much harder to find people like Toups who are still carrying on the bayou-to-table traditions of true Cajun cooking.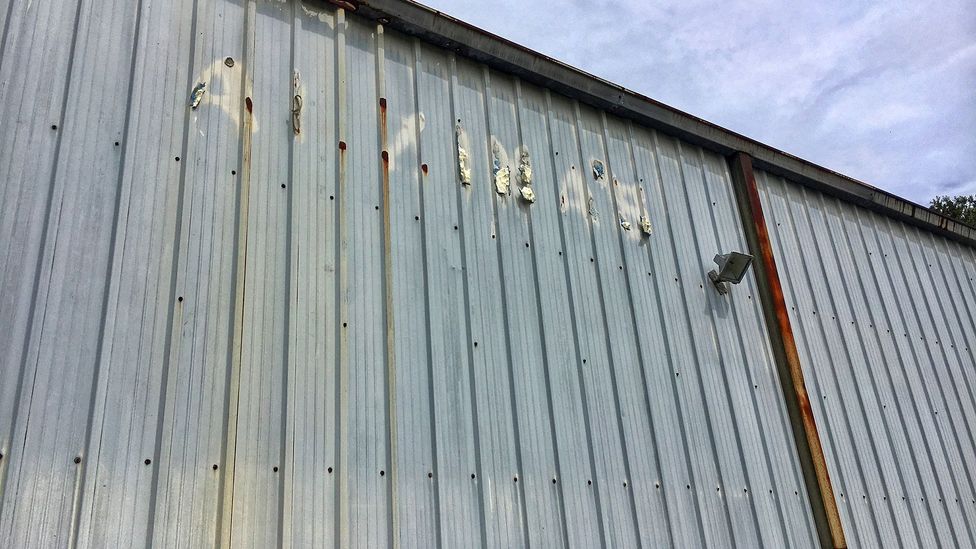 Alzina Toups' kitchen has no menu, no set hours and no website (Credit: Eliot Stein)
She cooks the original Cajun food – the way people did when they started living down here. Not many people [of] my generation know how to cook that way anymore," said Jenny Stevens, Toups' granddaughter.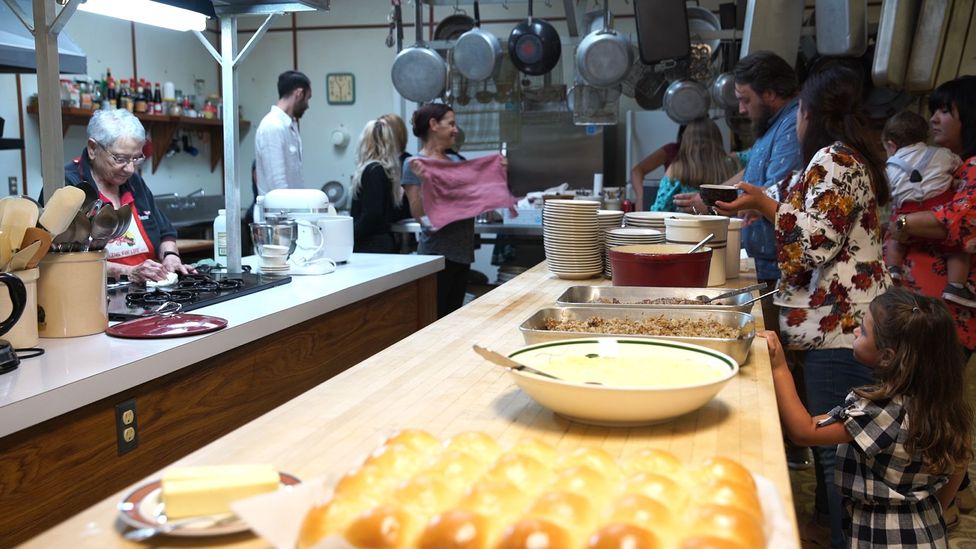 Alzina Toups has hosted guests from three dozen countries (Credit: Sebastian Diaz)
In the last decade, Toups' word-of-mouth reputation has spread far beyond Lafourche Parish, where her chocolate layer cake once fetched $2,300 at a church auction. Last year, TV host Andrew Zimmern stopped by and she taught him how to peel shrimp while keeping the meat on the tips of the tail and debone a fish without breaking the skin. Soon after, a businessman from Houston asked her to sign a first-edition copy of her self-published cookbook that he purchased for $5,000.
She's hosted guests from three dozen countries – most recently a private party of 20 from Nigeria who had heard about her okra. In addition to Louisiana governor John Bel Edwards, some of her most loyal customers are chefs from high-end New Orleans restaurants. "They know presentation, but they want to taste the real McCoy," she said matter-of-factly. Not bad for a woman who has never had any formal training or worked in another restaurant.
"Alzina is the Cajun queen and one of the last bastions of really old-school Louisiana cooking done right," said four-time James Beard nominee and returning customer Isaac Toups (no relation). "A lot of the 'Cajun' food you get up here in New Orleans is fusion Creole and not authentic, but Alzina cooks very from-the-earth dishes. It's whatever she feels like, and it's all incredible."
Alzine Toups has hosted guests from three dozen countries (Credit: Eliot Stein)
Sweet, soft-spoken and honest to a fault, Toups has the grace of a Southern grandmother and the finesse of a French chef. She attends mass every morning across the bayou at St Joseph Catholic Church and spends her nights off crocheting hats for children with cancer. After Hurricane Katrina, she closed her kitchen for two weeks to cook with relief groups. If her gourmand diners leave any leftovers, she'll box them up, hop in her car and drive from her humble home on cinderblocks that's located 20 steps from the restaurant to give it to the poor.
In the four decades since opening her unmarked eatery, Toups has never advertised, saying simply: "I don't want all that business. I could work every day, but then I may hurt another restaurant." And in 40 years of cooking six-course luncheons for the priests and nuns from her parish, she's never once charged them.
"She's a legend down here and the kindest person you'll ever meet," said Stevens, as she helped cut smoked sausage for her 'Ma's' gumbo. "She don't ever have anything bad to say about anyone. That's just how she was raised."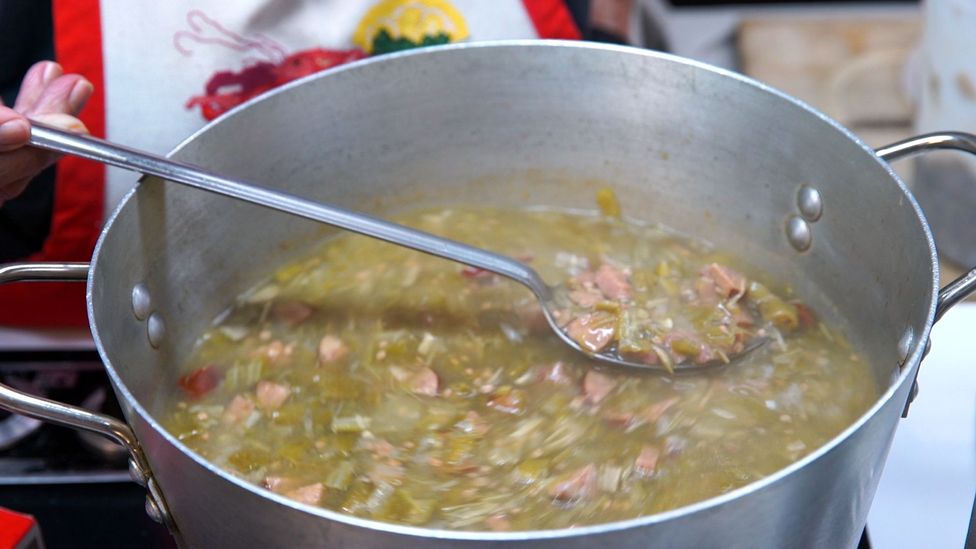 Alzina Toups was born to a family of 'great cooks' (Credit: Sebastian Diaz)
Toups was born to a family of 'great cooks' in a small white house that's slowly collapsing outside her restaurant. They taught her how to live off the bayou's bounty, and she grew up raising chickens and pigs where she now serves them, and used to help her brothers hunt alligators in the swamp. Her parents were descended from Nova Scotian fur trappers and French still slides off her tongue in a Cajun lilt that rises and falls like the tides.
Toups' father earned $1 a day as a fisherman and saved enough money over the years to buy a 20-acre plot where Toups and five generations of her family still live. At age 11, her mother survived a hurricane that killed 2,000 people only because her grandmother tied her to a tree before she blew away and died. She taught Toups how to debone a chicken in four minutes, needle-stitch a fishing net and bake bread in a mixture of mud and Spanish moss called a bousillage.
"In Cajun country, we self-sufficient," Toups said, stirring a mess of celery, onions and peppers in her mother's gumbo pot while Stevens looked on. "Most of the food that I serve is from my parents, and I want to pass on their history, because if you don't pass it on while you're living, that's it."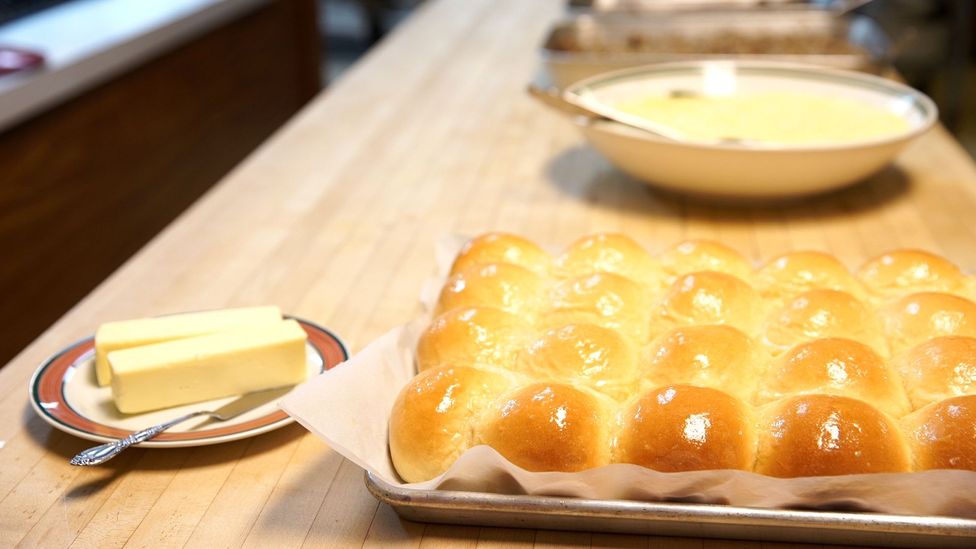 Alzina Toups has been patiently passing down her family's traditions (Credit: Sebastian Diaz)
Over the years, Toups has been patiently passing down her family's traditions and techniques to Stevens, who will one day take over her kitchen. Now 41, Stevens remembers standing on a wooden stool that still sits below the sink to help her grandmother wash dishes. Once a week, she'd sneak into the metal shed and watch Toups host a local TV cooking programme in French. And every Saturday night, she'd sleep over at 'Ma's' house, where she learned the age-old Cajun adage of patience and passion poured into every pot.
"Real Cajun cooking is slow and takes time," Stevens said, buttering her yeast rolls for the night's supper. "It's going to die off unless someone continues it, so it's an honour to learn from her. No-one will ever be as good, though."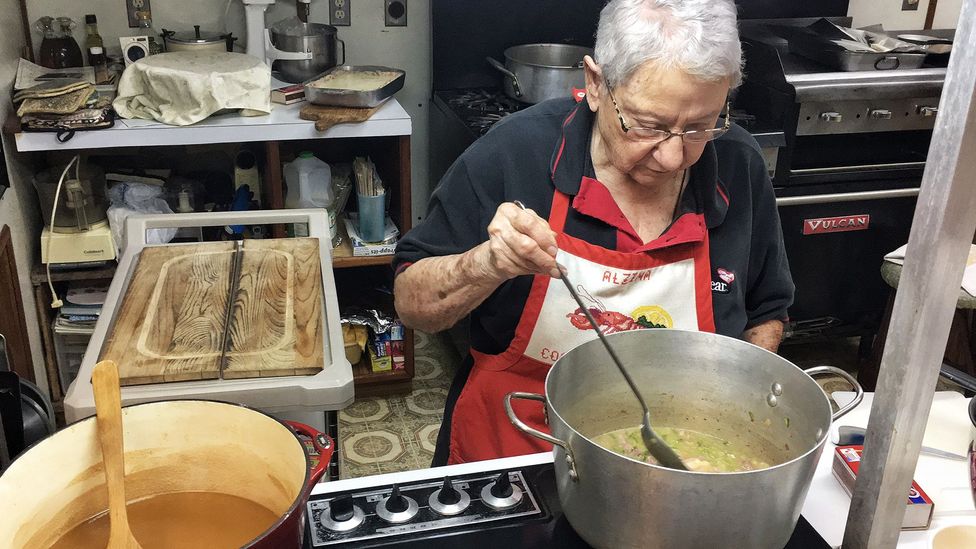 Alzine Toups: "We don't use measuring spoon and measuring cups at all" (Credit: Eliot Stein)
Recently, Stevens has stepped up to serve as Toups' sous chef, using the same wooden spoons, cast-iron skillets and mixing bowls that have been passed down by generations of Toups. Yet, while the family's tools are stacked everywhere in Alzina's Kitchen, the family's techniques are much harder to grasp.
"We don't use measuring spoons and measuring cups at all," Toups said. "We just dump in the pot." While she'll occasionally write down recipes, many of her most intimate tricks have either been passed down orally or are based on good old-fashioned experience – which means the only way for Stevens to actually learn from her grandmother is to be in Alzina's Kitchen.
Take bread, for instance: "The dough, it's living," Toups instructs. "When it's ready, you touch it and it'll let you know." Seasoning: "More pepper flakes than ground cayenne." Meat: "Don't use salt, use stock instead." And sides: "A bit of brown sugar to balance it out."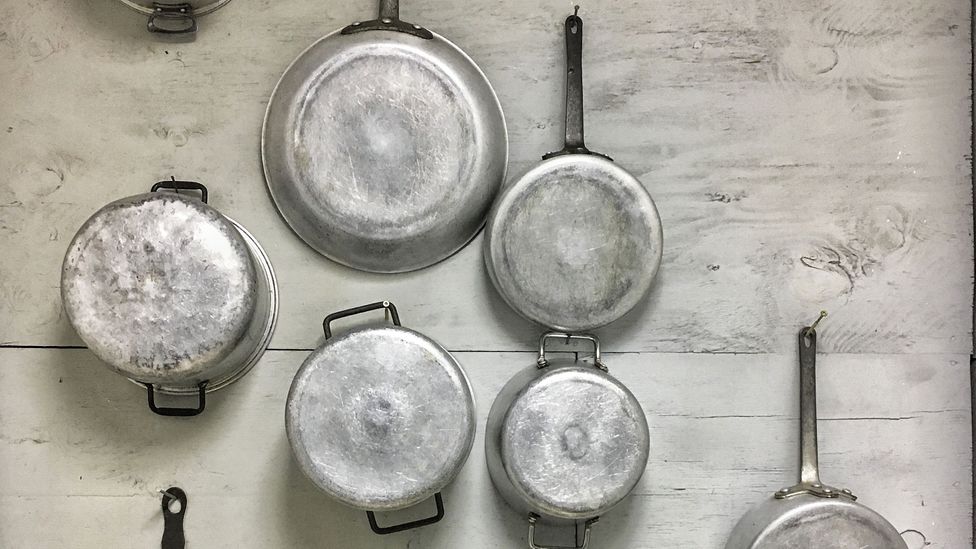 This 'soul food' has been cooked inside a windowless welding shop for 40 years (Credit: Eliot Stein)
My 'Ma' will share recipes and invite friends in her kitchen, but there are some family secrets that nobody will ever know," Stevens said.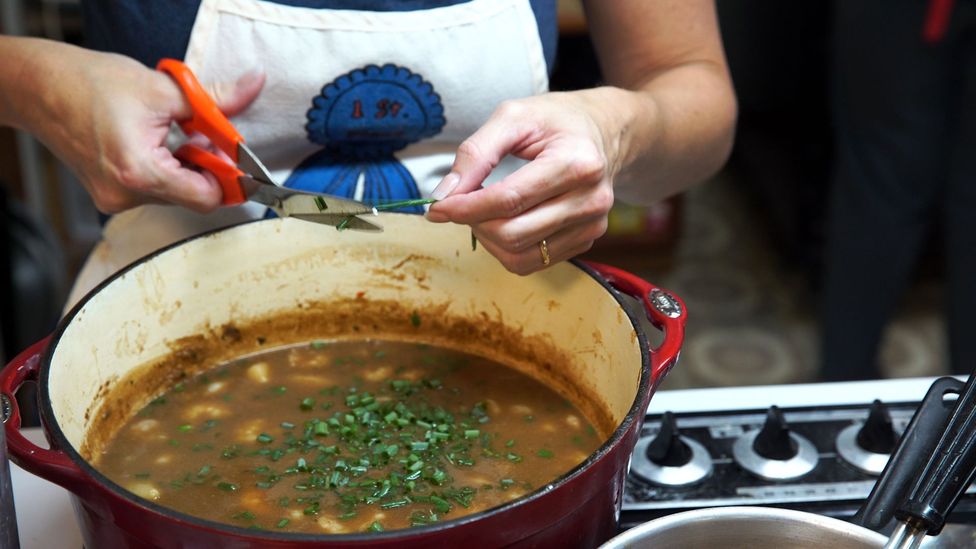 Alzina Toups makes Cajun gumbo without a roux (Credit: Sebastian Diaz)
Of all the dishes in Toups' vast culinary canon, perhaps none is more well-known than her take on Cajun country's most classic soul food: gumbo. Around here, if you ask 10 different Cajuns how to make the savoury stew, you'll get 10 different answers. But there is one guiding principle: "You can't make gumbo without a roux," Isaac Toups said. "That is, unless your name is Alzina Toups."
For as long as Toups can remember, no-one in her family ever used the rich, peanut butter-coloured base made of flour and fat to thicken their shrimp and okra gumbo, for one simple reason: "You want to taste the gumbo, not the sauce," Toups said, stirring the pot. "It's lighter, too, which means you can eat more."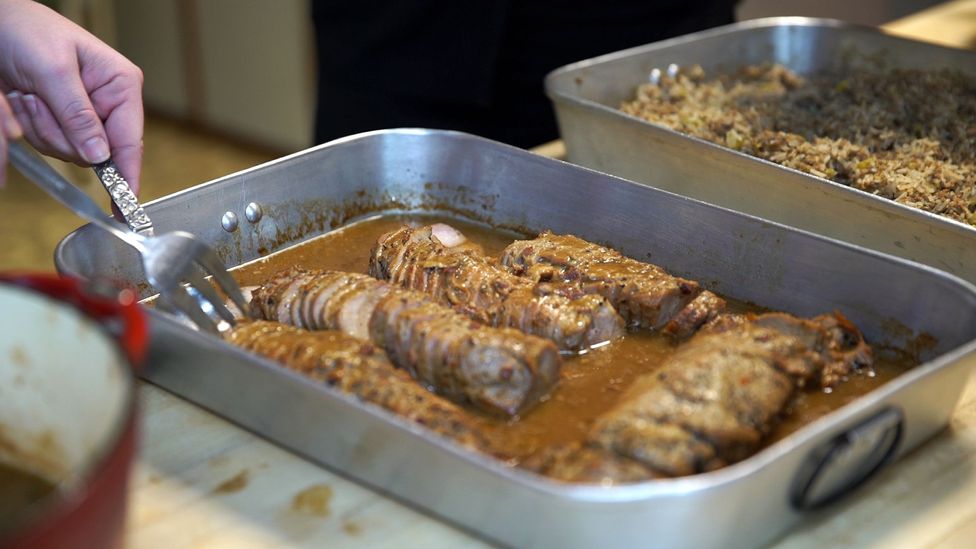 Traditions die hard in Alzina's Kitchen (Credit: Sebastian Diaz)
Traditions die hard in Alzina's Kitchen, and today, the three generations below Toups that have families of their own make her roux-less shrimp-and-okra gumbo the same way she taught them: Smother your okra for three or four hours in the oven the morning before serving 'until it's not slimy'; sauté your celery, peppers, onions, garlic and smoked sausage, and cook them in salt pork 'until it's good and tasty'; and add your shrimp last – 'otherwise, it'll get chewy'.
"And before the guests arrive, I sometimes like to take the salt pork out and eat it," Toups smiled as she sliced her pork tenderloin.
"I remember when your dad was alive you'd always put chicken feet in his gumbo, too, wouldn't you, 'Ma?'," Stevens laughed. "I used to look down the table at Sunday meals and there'd be claws coming out [his] bowl."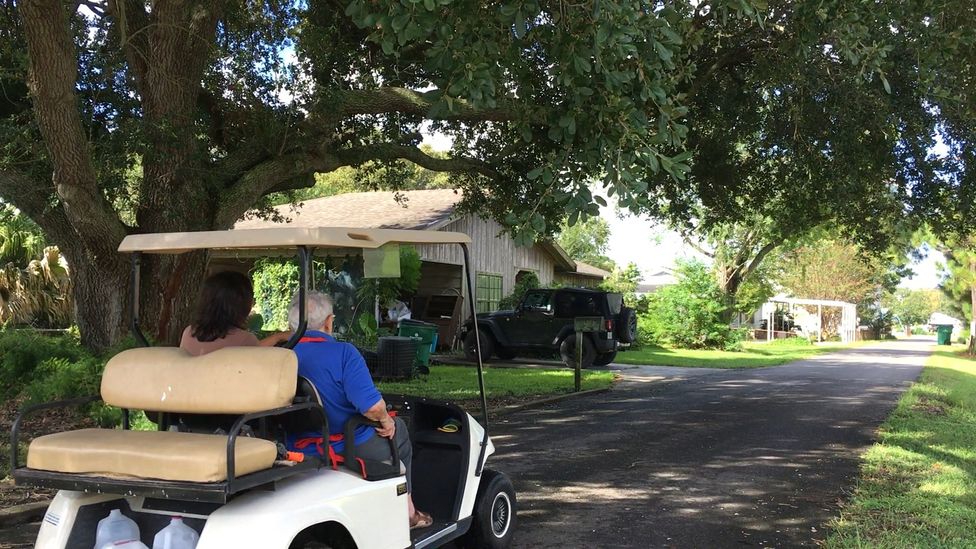 Not much has changed at Alzina's Kitchen over the years (Credit: Sebastian Diaz)

Not much has changed at Alzina's over the years, and that's just fine with her. The bed of her father's broken-down Ford pickup truck where she used to grow her herbs finally rotted through a few years ago, and a scar from her recent heart-valve replacement now pokes out from the top of her apron.

But she still wakes up every morning at 05:00 to go to mass, she still scribbles reservations down on a church calendar and she still won't cook for you if you don't call back two weeks ahead of time to confirm.

"God gives everyone a gift, and my gift is cooking," Toups said. "When the Good Lord want me to quit, he gonna let me know. But I'm not ready right now."

Stevens has talked about changing things up a bit once 'Ma's' gone. Maybe cleaning out her great-grandparents' old shrimping receipts and stitched fishing nets from the back, or adding in a walk-up takeaway window to serve gumbo, or installing air conditioning. But she'd never change the name.

"It'll always be Alzina's," she said.

(Text by Eliot Stein; video by Sebastian Diaz; video editing by Elle Luan)

Soul Food is a BBC Travel series that connects you with cherished memories through comfort foods from around the world.

;