'People have not come to this world to be on their own, nor to make desserts on their own'
W
Winters are dear to 53-year-old Azemina Ahmedbegović. Not because she is a big fan of snow or the cold, but because when she was growing up in the central Bosnian city of Visoko, this is when important social events would take place. These were special occasions, where friends and family would come together for ćetenija, a traditional Bosnian dessert made of sugar, flour and lemon.
Ćetenija is simple in ingredients but complicated in making. It requires multiple pairs of hands to pull the sugar dough through roasted flour, turning it into a wool-like paste. Coordinated teamwork is crucial; one wrong move and the paste can easily snap.
That is why at traditional Bosnian 'sitting parties', called sijelo, like the ones hosted by Ahmedbegović's parents, guests would participate in the making of ćetenija. Some made the paste and pulled it; or played traditional music, sang or danced. Others cheered for ćetenija-makers or teased them,or did nothing but eat it once it was made. But they all would have a lot of fun. "It was easier to get through winters that way," Ahmedbegović recalled.
Bosnia's unusual candy-making ritual
You may also be interested in:
• The secret story behind Turkish delight
• The Palestinian dessert few can enjoy
• The sweet name despised by a president
Many winters have now passed, and Ahmedbegović now lives in the city of Gračanica in north-eastern Bosnia, where she has started her own family. In the meantime, sijelos and group ćetenija-making activities have been replaced by TV and the internet in most Bosnian households. People who still organise sijelos, like Ahmedbegović's sister in Visoko, live far from her. Her new friends and colleagues in Gračanica didn't know much about ćetenija as it's not a common practice in that part of the country. So Ahmedbegović decided to teach them how to do it.
First, she explained, the flour is roasted until lightly browned. Then, sugar and lemon juice are heated together, and, when caramelised, shaped into a ring by hands greased with oil. There should be just enough lemon to give the paste the right consistency, but not so much as to make it break. While the sugar paste is still elastic, it is placed onto the roasted flour and shaped it into a thinner ring that's repeatedly pulled until it becomes a fine floss. It is usually done by three to six people, mostly women, who sit around a sofra, a round, low table. The room must be cold so that the paste can be 'flossed' without breaking.
We took it from our homes out to the streets
The process can take hours, so team members who get tired are often replaced by others. Meanwhile, other guests drink Bosnian coffee and sing traditional Bosnian songs. Once it has cooled down, ćetenija, which tastes like starchy candy floss, is cut in small pieces and served on small plates to the guests.
The fun ritual easily made its way to Ahmedbegović's friends' hearts, which convinced her to organise public performances of ćetenija-making through the 'Gračaničko keranje' women's association she runs in Gračanica. "We took it from our homes out to the streets," said Ahmedbegović, happy to keep the tradition alive.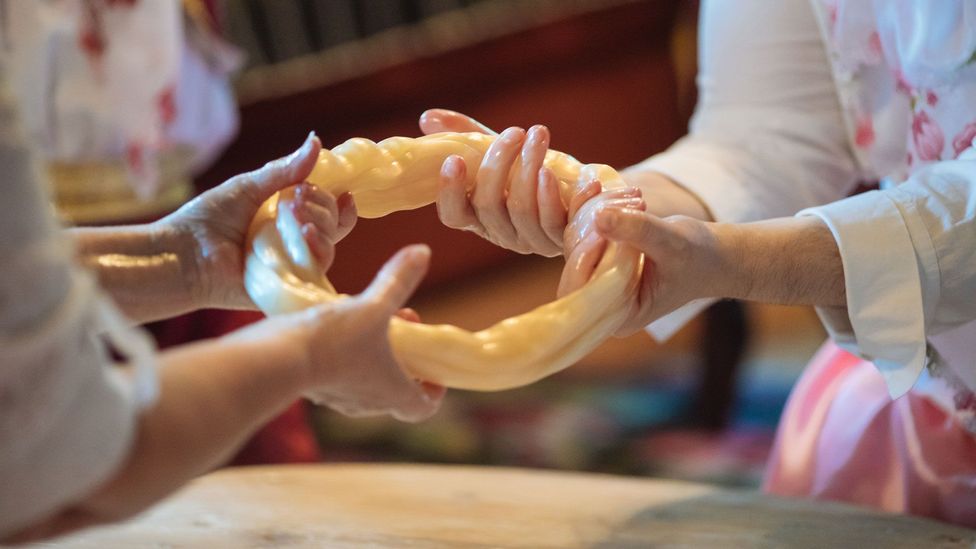 Ćetenija is a traditional Bosnian dessert made of sugar, flour and lemon (Credit: Haris Calkic)
Along with Ahmedbegović's association, more and more organisations across the country run public events to showcase the beauty of this plain yet tasty 'Bosnian candy'. Performers usually wear traditional clothes and play sevdah (traditional folk music) during the shows in order to preserve the ceremony of ćetenija-making as part of Bosnian heritage.
Cultural association '4T' from Tarevci in Bosnia's north-east is one such organisation. Mustafa Mustajbegović, the association president, is proud to have learned the skill of pulling sugar when he was a young man at sijelo parties in his home town of Tarevci. Now 63, Mustajbegović is passing on the tradition to younger generations through public ćetenija-making performances as well as team competitions, which brings a supplementary element of fun. His association has so far hosted 15 'Ćetenijada' competitions in Tarevci and organised three of them in the capital of Sarajevo.
The winners are those whose ćetenija has the thinnest thread. But it's not so much about winning as it is about socialising. "It's about how it's made," Mustajbegović said, explaining that his competitions include a 'Maxi ćetenijas' version, which must be made by 10 to 12 people. In theory, ćetenija can be pulled by a single person, but "people have not come to this world to be on their own, nor to make desserts on their own," Mustajbegović added.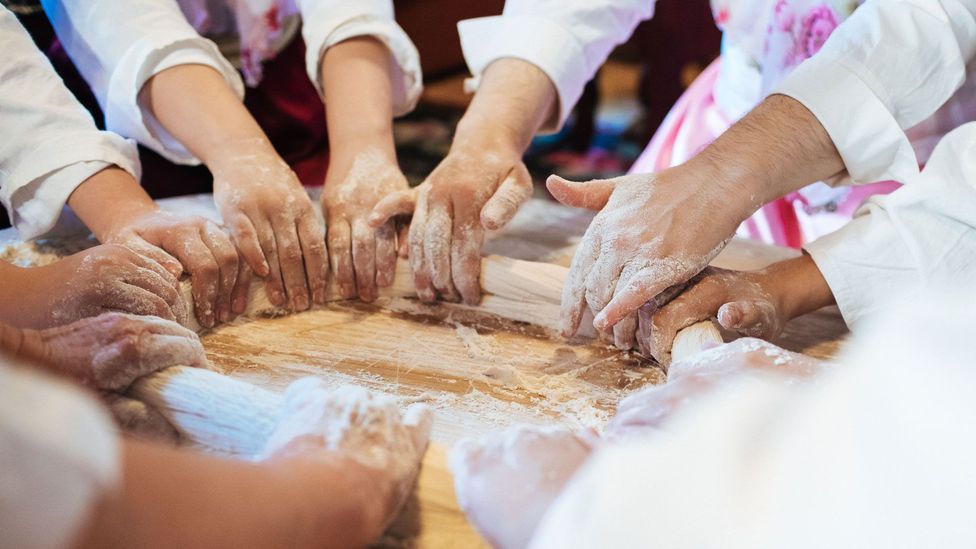 Making ćetenija requires multiple pairs of hands, and coordinated teamwork is crucial (Credit: Haris Calkic)
In his book The Bosnian Cook: Traditional Cuisine in Bosnia and Herzegovina, author Alija Lakišić put ćetenija in the 'jela za sijela' ('meals for social gatherings') section. And when you watch how it's made, ćetenija's thread-like appearance being pulled by multiple hands is reminiscent of a wire carrying connections among people. Journalist Pavle Pavlović even wrote that 'ćetenija was the first example of a social network, connecting people before Facebook'.
"Ćetenija makes people connected to each other," agreed Amna Sofić, president of Bosniak Cultural Community Preporod Zenica, another organisation that manages occasional ćetenija-making events. Friendship, and even romance, is at its core.
In the past, when the tradition was widely popular, young men and women would often flirt during ćetenija-making evenings. Young men would play pranks, such as putting a pinch of salt in the pot of sugar (which was usually cooling down in a separate room), to attract the attention of a girl they liked. In more advanced love cases, couples would guard the pot of sugar together, taking the opportunity to be alone. "You are made by beautiful girls so they could gather their dear boys. Naughty boys have salted the sugar, and treated themselves," says one of the traditional Bosnian songs usually sung during ćetenija evenings. ("Tebe su pravile lijepe djevojke da bi okupile svoje drage momke. Momci alčak bili - šećer posolili, posolili pa se sami počastili.")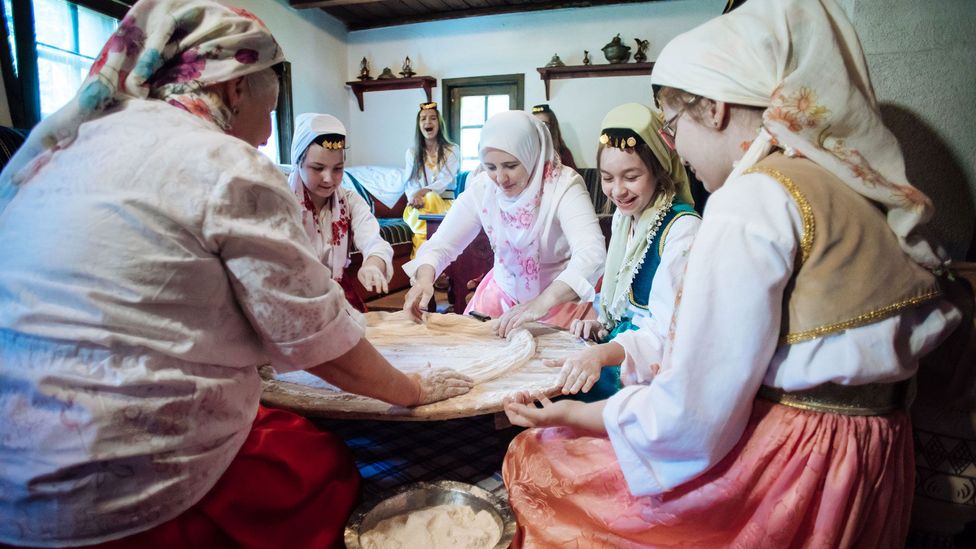 Ćetenija is traditionally made during 'sijelo', or sitting parties, while other guests play traditional music and cheer for the ćetenija-makers (Credit: Haris Calkic)
Although ćetenija is a beloved dessert in Bosnia, most of the rest of the world has not yet heard of it. That's because, despite its undeniable charm, Bosnian authorities don't do much to promote the country's cultural heritage, according to a 2018 Al Jazeera report. The national preliminary list of intangible cultural heritage, which is a prerequisite for Unesco nomination, doesn't contain any traditional cuisine. Some associations, such as Bosniak Cultural Community Preporod Zenica, are proposing that the Bosnian government puts ćetenija on the preliminary list.
But for it to happen "a lot of effort, knowledge and awareness of one's own cultural identity is needed," according to retired university professor Enes Kujundžić, author of the book Sofra: Traditional Bosnian cuisine from cultural perspective.
"The role of cultural institutions, such as museums, libraries, institutes for the protection of heritage, and others, is particularly important," Kujundžić said. "That is, however, missing in Bosnia and that is a problem."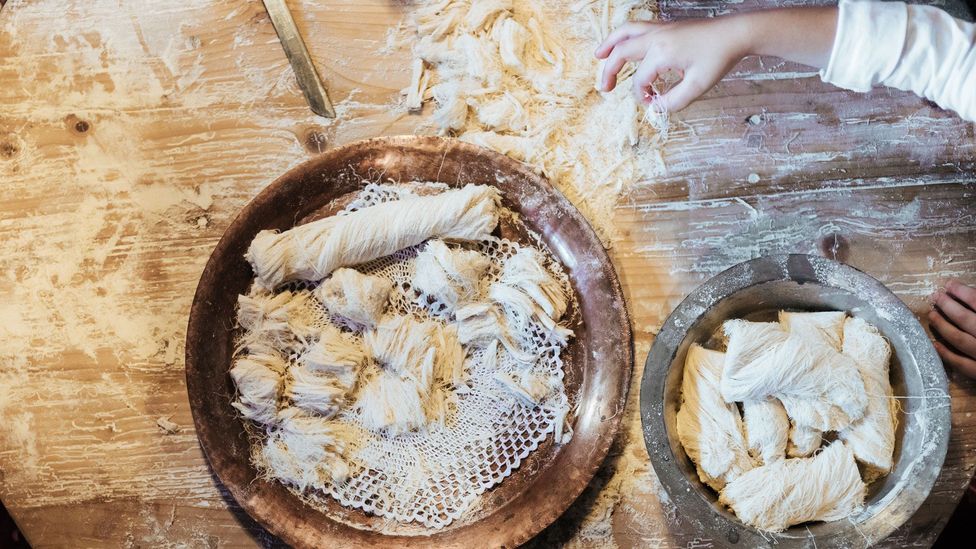 Once it has cooled down, the ćetenija tastes like starchy candy floss (Credit: Haris Calkic)
A governmental lack of interest might stand in the way of ćetenija's international glory. But as long as there are memories of old times, the tradition will be carried on by individuals and local associations. And ćetenija will keep connecting people.
The Ritual of Eating is a BBC Travel series that explores interesting culinary rituals and food etiquette around the world.
Join more than three million BBC Travel fans by liking us on Facebook, or follow us on Twitter and Instagram.
If you liked this story, sign up for the weekly bbc.com features newsletter called "If You Only Read 6 Things This Week". A handpicked selection of stories from BBC Future, Culture, Capital and Travel, delivered to your inbox every Friday.