Soy sauce is one of the most important ingredients in Japanese cooking, but chances are you've never tasted the real thing.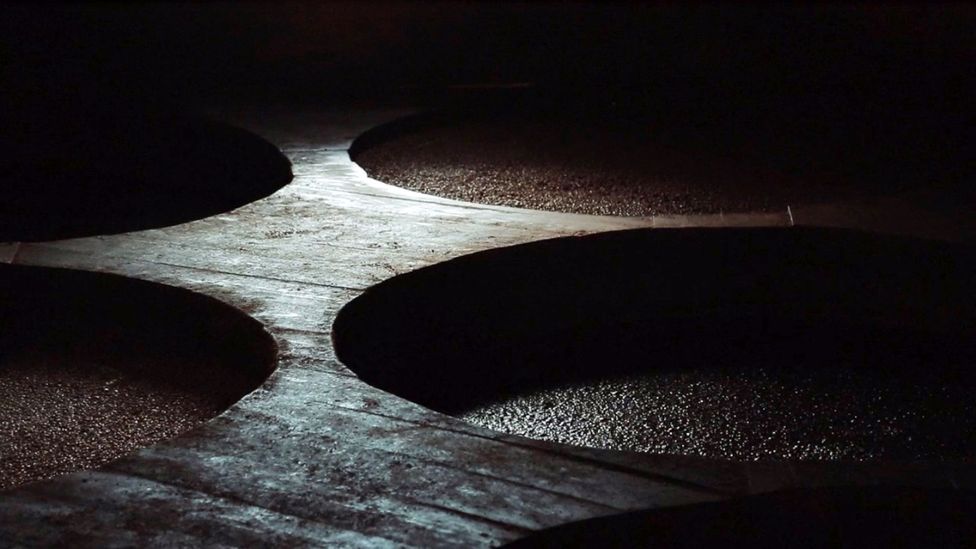 Yasuo Yamamoto has a secret – or more precisely, 68 of them. On a recent morning on the Japanese island of Shodoshima, the fifth-generation soy sauce brewer slid open the door to his family's wooden storehouse to reveal 68 massive cedar barrels caked in a fungus-filled crust. As he climbed up a creaky staircase into his dark, cobwebbed loft, every inch of the planked walkway, beams and ceiling was covered in centuries' worth of black bacteria, causing the thick brown goo inside the barrels to bubble. The entire building was alive.
"This is what gives our soy sauce its unique taste," Yamamoto said, pointing to a 150-year-old wooden barrel. "Today, less than 1% of soy sauce in Japan is still made this way."
Until 70 years ago, all Japanese soy sauce was made this way, and it tasted completely different to what the world knows today. But despite a government ordinance to modernise production after World War Two, a few traditional brewers continue to make soy sauce the old-fashioned way, and Yamamoto is the most important of them all. Not only has he made it his mission to show the world how real soy sauce is supposed to taste, but he's leading a nationwide effort to preserve the secret ingredient in a 750-year-old recipe before it disappears.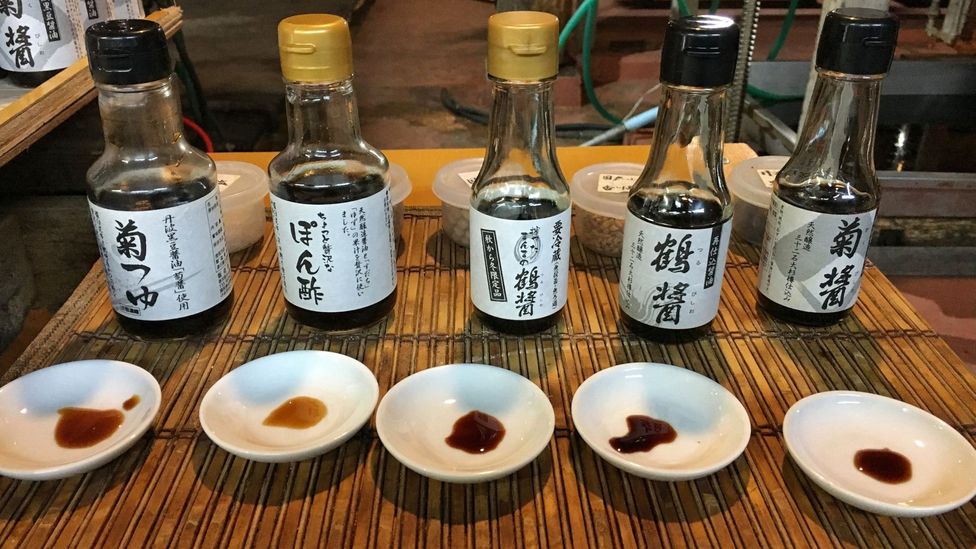 Soy sauce (shoyu) is arguably the single most important seasoning in Japan's Unesco-inscribed Washoku cuisine. It's found in every kitchen, used in nearly every meal and placed on every table in Japanese restaurants from Tokyo to Texas. More than just a flavour, its signature umami savouriness is an entirely different dimension of taste – so much so that umami was added as one of the five basic human tastes alongside sweet, sour, salty and bitter in 1908.
When it's aged and fermented in a wooden barrel, soy sauce can be as sophisticated as a fine wine, but today, most of the world dips its sushi in the equivalent of a cheap cask rosé. That's because in order to keep up with demand and increase production in the late 1940s, the Japanese government encouraged brewers to ditch the traditional wooden barrels used to ferment food, known as kioke, adapt stainless steel vats and cut the multi-year fermenting process to just three months.
According to Yamamoto, a kioke isn't just a vessel, it's the essential ingredient needed to make soy sauce, as the grain of the wood is home to millions of microbes that deepen and enrich the umami flavour. Because this bacteria can't survive in steel tanks, many commercial companies pump their soy sauces full of additives. So unless you've visited an ancient craft brewer or artisanal store in Japan, you've likely only tasted a thin, salty imitation of a complex, nuanced brew.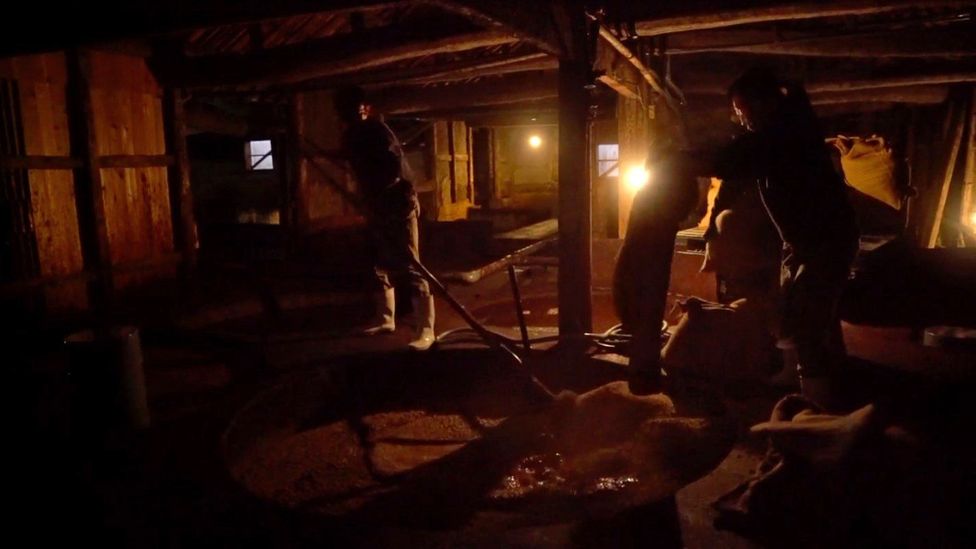 For the past 150 years, the Yamamotos and their millions of microbes have been making the family's Yamaroku soy sauce by mixing soybeans with wheat, salt and water, and letting it ferment in a four-year process. But as more and more of Japan's soy brewers have swapped their wooden barrels for steel tanks, a big problem has occurred: the country is running out of kioke, and almost no-one knows how to build them. In the last seven years, Yamamoto has set out to learn this ancient craft and teach it to others to try to ensure its survival.
What's at stake is something much bigger than soy sauce. Until a century ago, Japan's five main fermented seasonings (soy sauce, miso, vinegar, mirin and sake) were all made in kioke. Today, only 3,000 kioke are used in Japan to make soy sauce, and far fewer are used to ferment the country's other seasoning staples. When these natural fermentation chambers are replaced with steel vats, you lose the authentic taste of traditional Japanese cuisine. And if they were to vanish completely, so would part of Japan's cultural and culinary soul.
"Base seasoning is mostly mass produced. Hardly any real products left," Yamamoto said. "When the ability to produce kioke barrels disappears … the main ingredients will also disappear. There is a need to preserve the real thing and pass it on to my children and grandchildren's generations. That's our mission."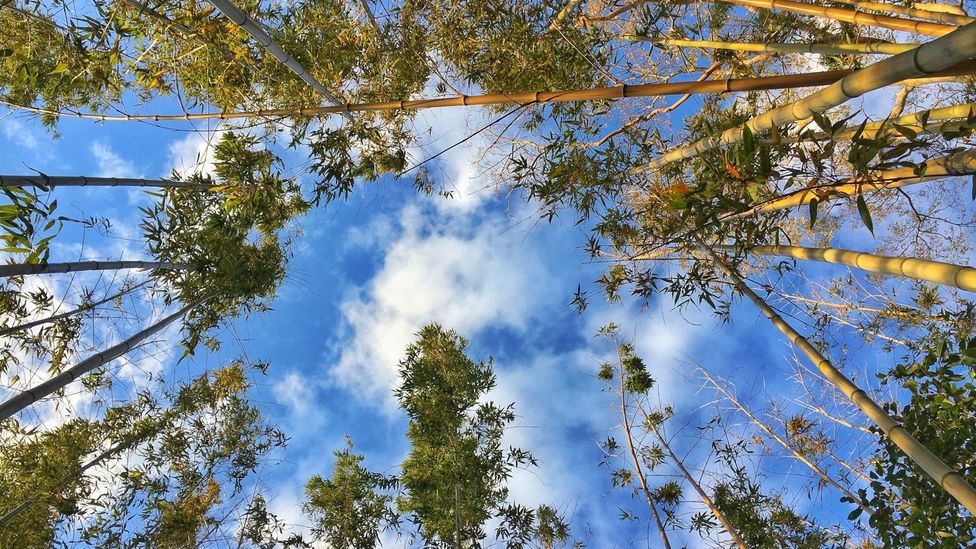 For us, soy sauce is part of the landscape – it's such an incredibly everyday thing for us. If you took it away, Washoku's characteristic nuanced deliciousness could not be attained," said Yasuyaki Mawatari, owner of Shodoshima's Ryokan Mari inn and restaurant.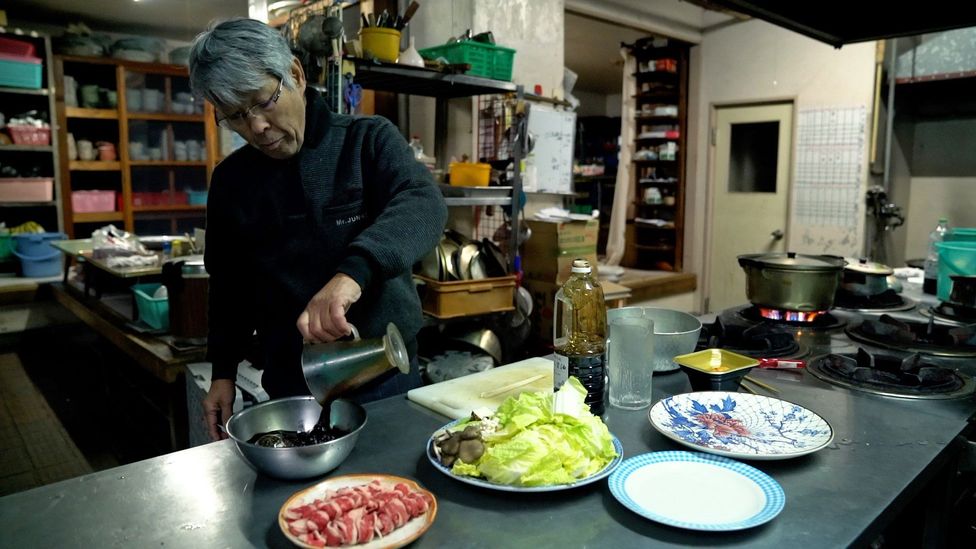 Soy sauce is one of the world's oldest condiments. It originated in China roughly 2,200 years ago and is believed to have been introduced to Japan by a Buddhist monk in the mid-13th Century. Unlike Chinese jiang, which is typically fermented in clay jars, Japanese shoyu has traditionally used wooden barrels, giving it a smoother, more aromatic taste. As a cheap and handy all-purpose seasoning, shoyu quickly became an indispensable staple in Japanese kitchens – and its role in shaping the country's cuisine has been immense. 
"There are many Japanese foods that would not exist today without shoyu; for example sushi, sukiyaki (a meat and vegetable hot pot-style dish) and tempura," said celebrity chef and restaurant owner Masaharu Morimoto. "It's an essential ingredient."
According to Yamamoto, since shoyu can either be used as a topping or to enhance a food's natural flavour, many of Japan's regional dishes trace their roots back to how shoyu – and the bacteria that flavours it – evolved across Japan. From Tokyo's traditionally deep and intense shoyu came the briny unagi eel and salty yaki onigiri (grilled rice balls). Kagawa's sanuki udon noodles are textured by Shodoshima's creamy shoyu in its dashi broth. In Kyoto and Osaka, where the shoyu is lighter and thinner, there's more of a focus on vegetables and fish. And in southern Japan, shoyu, like much of the local cuisine, is sweeter.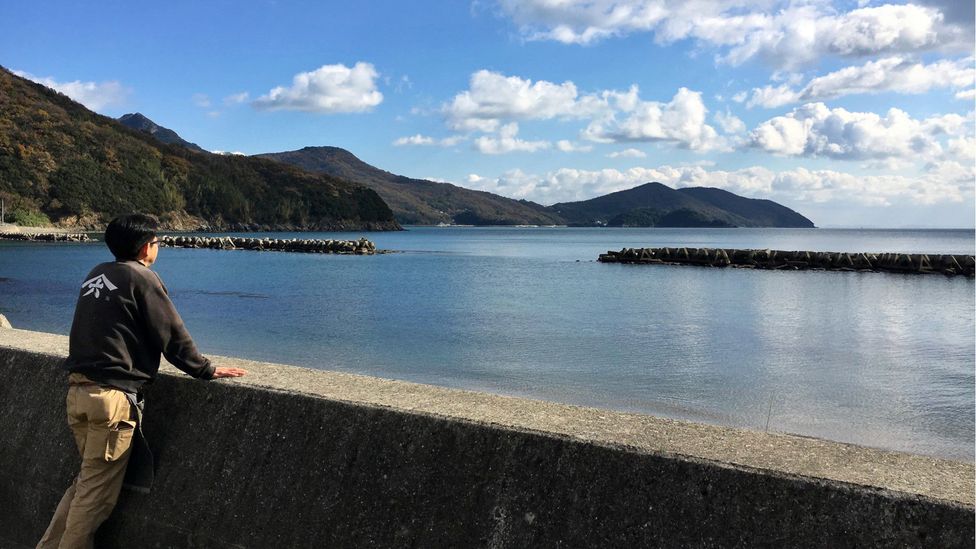 Shodoshima (fittingly: 'small bean island') has been a hub of soybean production for more than 400 years. In the early 1900s, there were some 400 soy sauce companies here. Today, 21 remain and, according to the Shodoshima Shoyu Association, more than 1,000 of the 3,000 kioke still used to make soy sauce in Japan are found on this 30,000-person island.
Growing up, Yamamoto's family never ate at restaurants, and it was only when he left Shodoshima for the first time after high school that he first tasted shoyu that hadn't been brewed for four years by his father. "I thought, 'what on Earth is this salty soy sauce?'," he said. When he graduated, Yamamoto's father told him that after four generations, he couldn't inherit the family business. Times had changed, the market had shifted and there was no more money.
Dejected, Yamamoto got a job selling soy sauce in Osaka and Japan. "When I went to supermarkets, I saw rows of soy sauce made from artificial flavours," he said. "I thought, 'I don't want to sell any of this'. So I quit that job and came home." Two years later, Yamamoto's father suddenly became ill, leaving the future of the family business to fall to Yamamoto.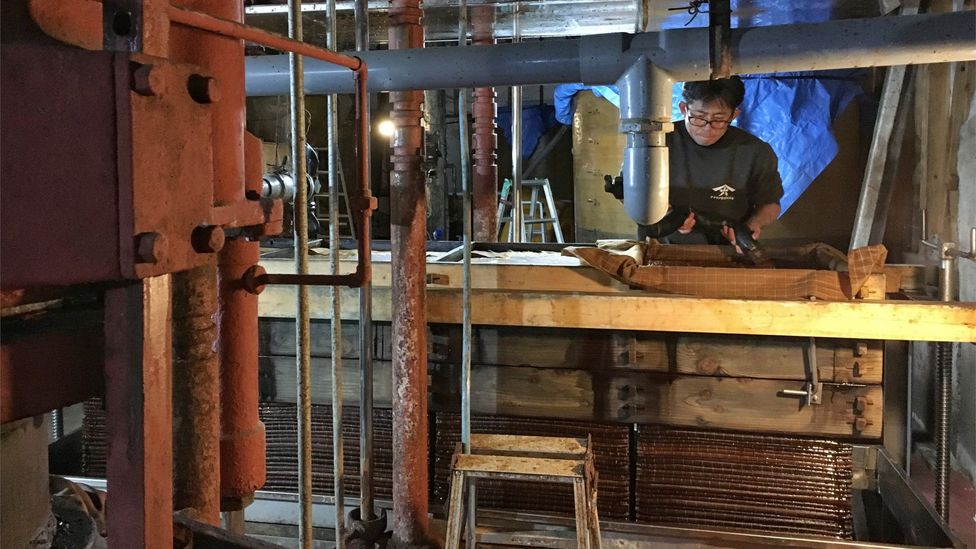 Instead of adapting steel vats during Japan's post-war industrial push, Yamamoto's father had used some of his kioke to produce the cheaper, salt-paste shoyu the government had mandated alongside his traditional soy sauce. The first thing Yamamoto did after taking over the business in 2003 was to dump out the modern stuff and double down on his family's ancient four-year method.
He starts by placing steamed soybeans and roasted wheat into newer kioke filled with water and sea salt. This mixture, known as moromi, ages for 24 months as the microbes in the barrels, the bacteria in the storehouse and the enzymes in the moromi all work together as secret fermenting agents. In spring, the shed becomes infused with a fruity citrus aroma. In the summer, yeast causes the mash to vigorously bubble. And in autumn and winter, the spores fill the air with an intoxicating liquored fume.
After two years, Yamamoto removes the mash from his newer kioke barrels and uses an antique press to squeeze out every drop of flavour. What trickles out is pure liquid umami. But instead of bottling it right away, Yamamoto pours this robust shoyu into an older kioke barrel to ferment and intensify for two more years. No two barrels taste exactly the same, and by the time Yamamoto eventually bottles them, larger brands will have cranked out 16 steel vats' worth of the mass-produced stuff.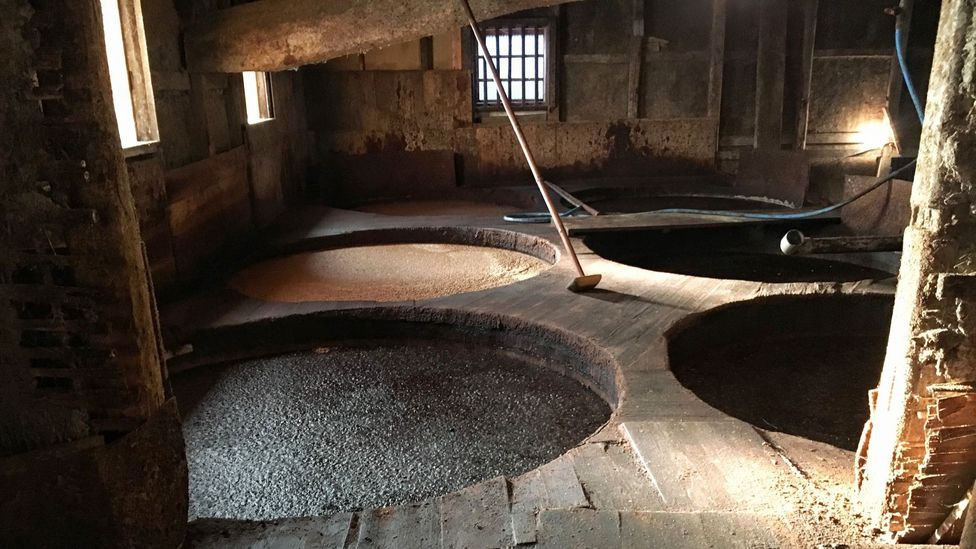 The soy sauce is not made by me, but by the bacteria. I only help out. My job is to maintain this ecosystem," Yamamoto said.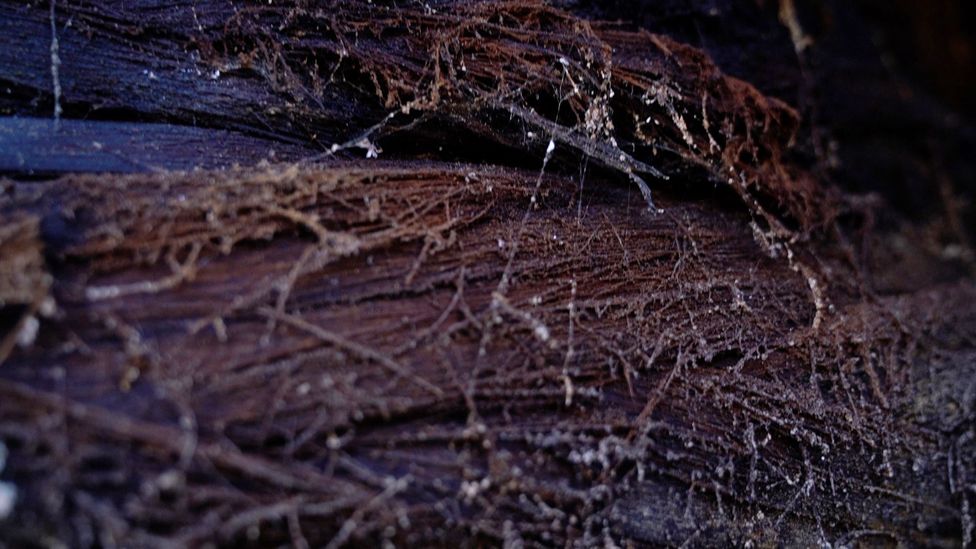 Yamamoto may be the only brewer at his company, but he's not working alone. The way he sees it, his role is to care for the millions of microbes that are hard at work. So twice a day, he clambers into his loft and gingerly walks across the narrow planks to smell the moromi, mix the mash when it's active and "talk to the bacteria from deep inside my soul". And according to Yamamoto, the bacteria talks back by bubbling louder. "I think it shows that they're happy," he said. "[When] the bacteria is happy and works hard, it creates fantastic soy sauce."
Yamamoto speaks of his shoyu as though it were a loved one, and in many ways, it is the past and future of his family. In addition to passing down the knowledge of shoyu brewing, the most important thing Yamamoto's ancestors did was to pass down the actual bacteria needed to brew it. Yamamoto's century-old storehouse was built using bacteria-filled beams that have been in his family for 300 years. This, together with the family's 150-year-old kioke, is how the Yamamotos have created and maintained their two distinct shoyu varieties over generations: the robust, creamy and intensely rich Tsuru and the lighter and more delicate Kikuza.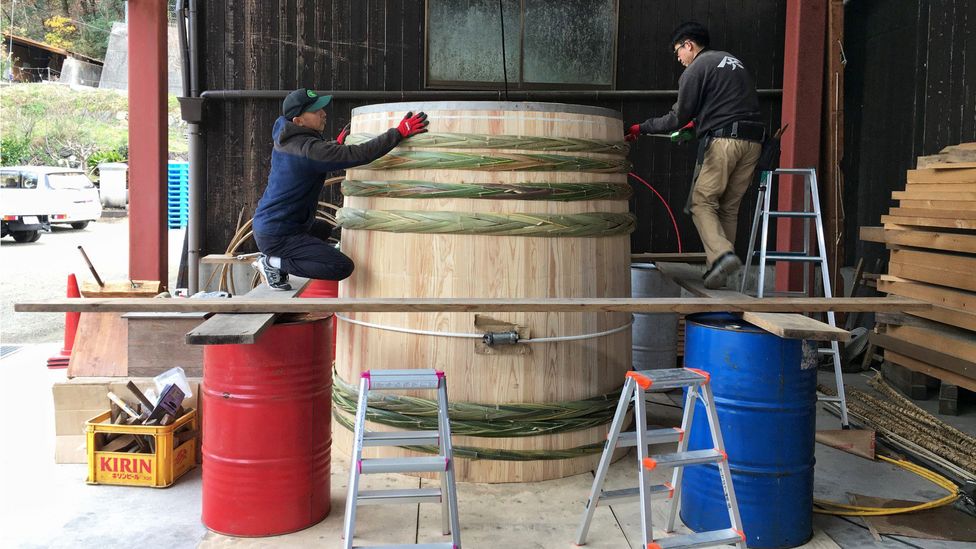 Today, there are more than 1,400 soy sauce companies in Japan, and Yamaroku is one of the last to only use kioke. While this distinction has helped Yamamoto revive the family business in a more craft brew-friendly era, it also means that his family's fragile ecosystem faces an uncertain future. Because kioke can only last about 150 years, Yamamoto's ancestors never had to make them. Now, many of his barrels are on the brink of becoming unusable.
Before World War Two, hundreds of companies across Japan built kioke for shoyu, sake, mirin and other seasonings. Today, there's only one: Fujii Seiokesho. When Yamamoto contacted them in 2009, he discovered that they hadn't received an order for a new kioke in 70 years, and had spent the past seven decades repairing the ageing barrels still used around Japan. What's more, he learned the youngest cooper at the three-person company was 68 years old, had no successors and was retiring in 2020. So, while Yamamoto could buy his barrel, soon no-one would be available to fix it.
Recognising that the future of his company and all authentically fermented Japanese foods depended on the continuation of this craft, Yamamoto and two carpenters travelled to Fujii Seiokesho's workshop outside Osaka in 2012 to learn the ancient art for themselves. After three days of instruction and a year of practice, they made their first barrel in 2013.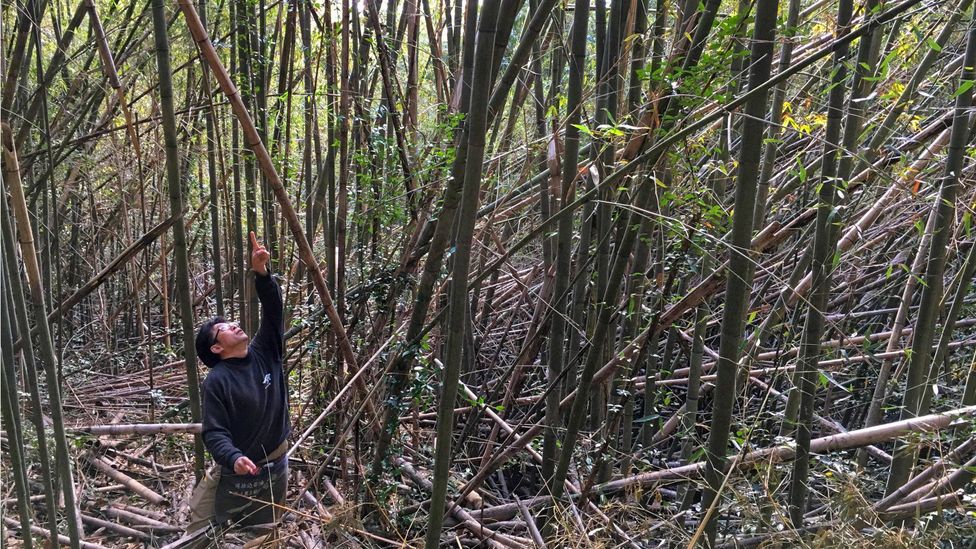 Making these mammoth 4,000-litre barrels requires a team effort. More than 40 planks of 100-year-old Yoshino cedar are rounded and laid vertically to form a cylinder. To lock the planks into place, Fujii Seiokesho's craftsmen told Yamamoto not to use glue, but bamboo. After talking to a neighbour, Yamamoto learned that his grandfather had planted a bamboo grove decades earlier for exactly that reason, knowing that someone in the family would one day need to build more barrels.
For each kioke, Yamamoto searches in the grove for just the right shoot, cuts it and shaves it down to make elastic strips that he slowly weaves into braided bamboo hoops. These cylindrical hoops are then hoisted atop the barrel and carefully hammered into place to prevent any liquid from seeping out.
Since 2013, Yamamoto and his colleagues have constructed 23 barrels, but he hasn't kept most of them. As word of his quest to revive kioke craftsmanship spread, Yamamoto has started receiving orders from other fermented food producers across the country. "When these three people [at Fujii Seiokesho] retire, they won't be making barrels anymore, which means I'll be the only person left who can make them," he said.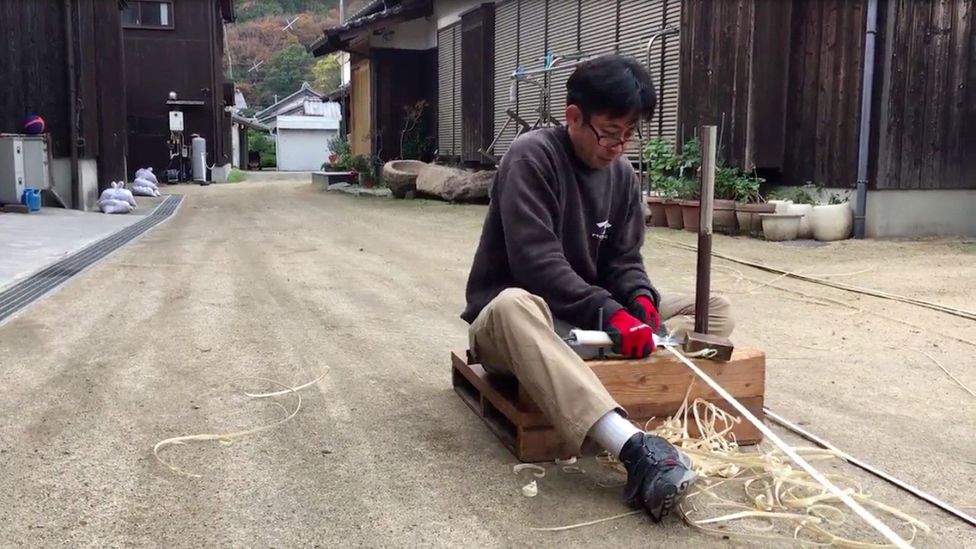 Yamamoto knows that if he doesn't find a viable successor, the skill behind soy sauce's secret ingredient will die with him. So every January, Yamamoto has hosted a 10-day kioke-making workshop at his family's home and brewery where he teaches fellow craftsmen the essentials of kioke construction. Since 2014, more than 100 shoyu brewers, carpenters and other fermented food makers from all over Japan have attended, and more and more students are coming every year.
The group typically makes nine new barrels together in each workshop, and while Yamamoto keeps some of these kioke, he gives most to other companies. As he sees it, the only way authentic shoyu can survive is to build more kioke, reacquaint the world with how it's supposed to taste and drive up demand. To do this, he's proposed an ambitious goal to other brewers: to increase the Japanese market from 1% to 2% – a leap that would require the construction of 3,000 additional kioke.
"Yamamoto is very respected among other soy sauce producers in Japan," said Takahiro Hiramatsu, an aspiring shoyu brewer in Shodoshima. "He is a hero of soy sauce."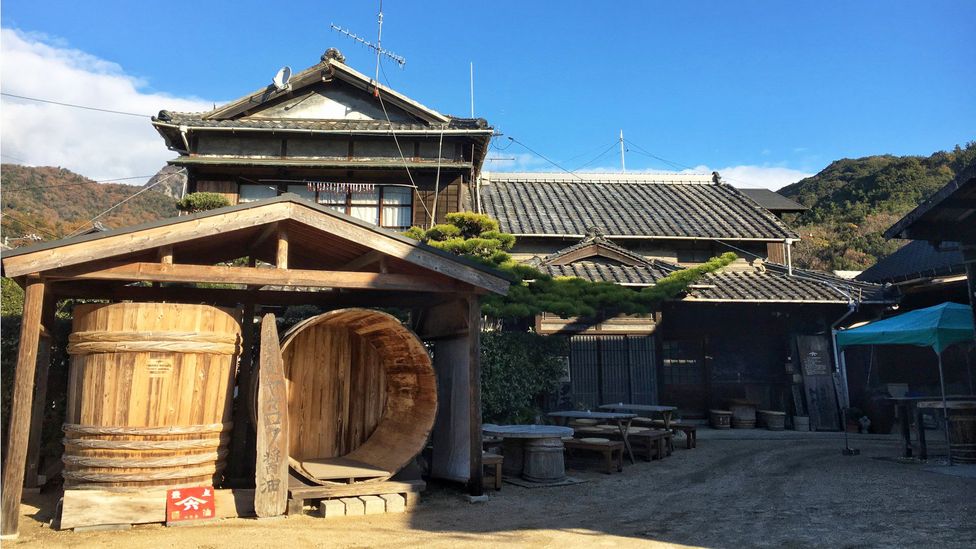 At one of these January workshops several years ago, Yamamoto remembers that a man attended who worked for Kikkoman – the world's largest soy sauce producer. The gentleman was especially keen on learning the basics of kioke repair, and said he was not sent by his employer. The man later shared what he learned from Yamamoto's workshop with his associates at the company's factory in Noda, where it maintains several old kioke to supply authentic soy sauce to the Japanese emperor and imperial family.
Later, a few more employees from Kikkoman's Noda factory became interested in repairing kioke, and Yamamoto kindly invited them to his next barrel-making workshop. Ever since, Kikkoman employees have invited Yamamoto to come to their Noda factory several times to advise them on how to maintain the barrels for their rare, royal blend.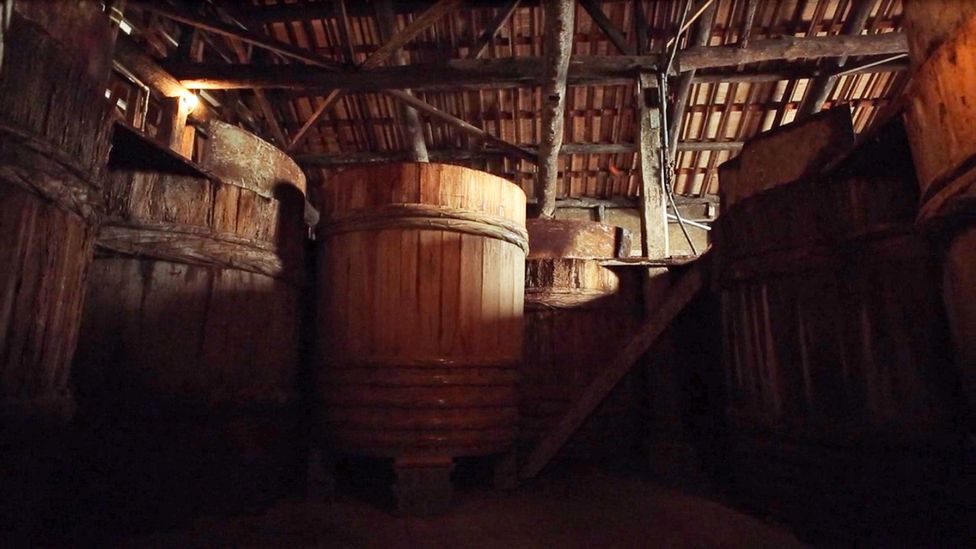 To date, none of the more than 100 craftsmen who have attended Yamamoto's workshops have been able to master kioke construction. Like brewing authentic shoyu itself, it's a slow and strenuous process. That's what led so many brewers to give up long ago. And while Yamamoto will likely never be able to make enough kioke to save traditional soy sauce and Washoku cuisine in his lifetime, there are three main reasons why he presses on.
With every new kioke that Yamamoto makes, he writes his name and the names of his three young children on an inside panel of the cedar wood before sealing it shut. They, in turn, leave their handprints on the underside of each barrel. Yamamoto's daughter has started running into the family storehouse to ask if she can taste her father's shoyu. His oldest son, who Yamamoto hopes will one day take over the family craft, now eagerly leads him into his great-grandfather's bamboo grove to search for shoots.
By the time Yamamoto's newest kioke are fully caked in the family's centuries-old bacteria, he may be gone. By the time they finally split apart to reveal the family names written inside, his children and grandchildren may be, too. But Yamamoto hopes that whoever discovers them in the future realises something he learned long ago: "The reason I can consume this soy sauce today is because somebody I didn't know hundreds of years ago made it."
(Text by Eliot Stein; video by Mari Shibata)
Custom Made is a BBC Travel series that introduces you to custodians of cultural traditions all around the world.