Forced rhubarb – a vegetable deprived of sunlight for extra sweetness – has been eaten in Yorkshire since the 19th Century. Now the culinary treasure is having a renaissance.
A
At first there was a pop, then a mesmerising sound that drifted through the air like crackling wildfire. An unfamiliar snap and fizz echoed from the inky blackness, followed by another wonderfully alien noise and a phantom whisper of gently rustling leaves. "Listen," Janet Oldroyd Hulme murmured excitedly. "This is the moment of reckoning."
This is the moment of reckoning
It was a Friday lunchtime, and Oldroyd Hulme was peering through a dark, cavernous doorway into what she calls her 'unearthly world' – a hangar-sized shed alive with the sound of several types of rhubarb in varying stages of accelerated growth. The vegetable was growing so fast, the air seemed to ripple with applause as it matured. The green-leaved, pink-stalked plant was familiar to me, but the situation was not.
Every detail inside the out-of-time barn carried hidden meaning. There were flickering candles elevated on spikes, all thinly spread out to help workers navigate the blackness without fear of treading on the prized crop. There were shadowy hoes propped against the brick walls to help mulch the earth. There was the outline of gas propane heaters, and a sprinkler system to intensify the heat and humidity in the dark. There were around half a million buds – all cultivated in rows and all making groaning sounds as they germinated at an unnatural speed. It was a riveting exhibition of Mother Nature at work, yet a display teetering on the edge of the surreal. And one all-the-more glorious for rarely being seen by outsiders.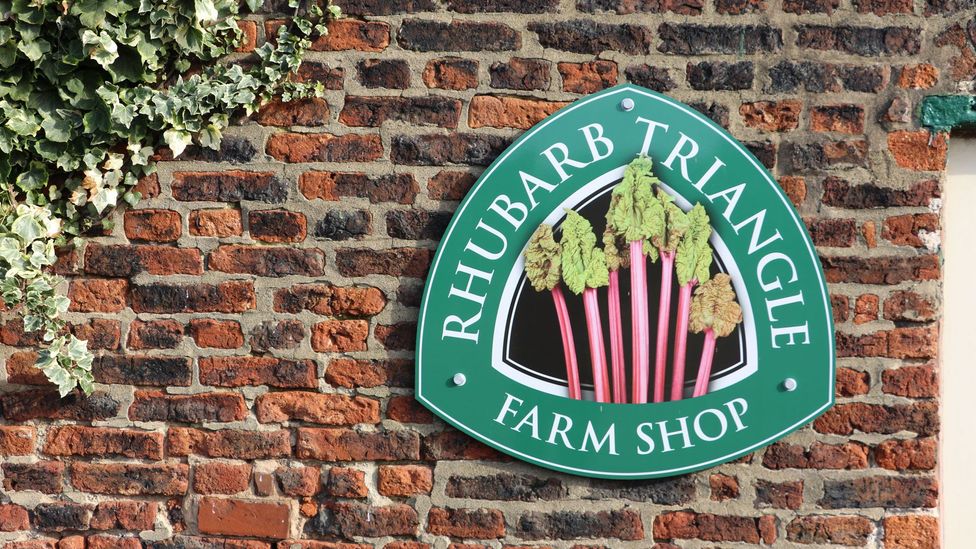 West Yorkshire, England, is home to the 'Rhubarb Triangle', a 23-sq-km area where farmers employ a unique growing technique (Credit: Mike MacEacheran)
You may also be interested in:
• Northern Ireland's forgotten superfood
• The foraged green that can kill
• The surprising origin of the apple
Come to West Yorkshire during the rhubarb harvest in mid-winter and you can expect to hear tales of this strange agricultural ritual. Here, land gathers into a swathe of greenbelt that points to the cities of Bradford, Leeds and Wakefield. Some 23 sq km in area, the realm is punctuated by the odd cathedral and castle and framed by plunging dales to the north and the gently sloping foothills of the Pennines to the west. But it is also a pocket of frozen, flinty soil with high rainfall where one of the world's most complex vegetables grows in abundance. And it would be a peculiar place even without the name 'the Rhubarb Triangle'.
Oldroyd Hulme and her family business E Oldroyd & Sons have made their name producing this one-of-a-kind Yorkshire rhubarb on Ashfield Farm in the village of Carlton for five generations. But speak to her about the county that she calls home and it's clear her values are aligned with the area's expression of good food that has remained unchanged for centuries.
"Rhubarb has been called 'God's great gift'," said Oldroyd Hulme, who is also known as the 'high priestess of rhubarb' for her knowledge on the subject. "Watch and you can see the plants shooting towards the light – just as we would warm our hands on a fire."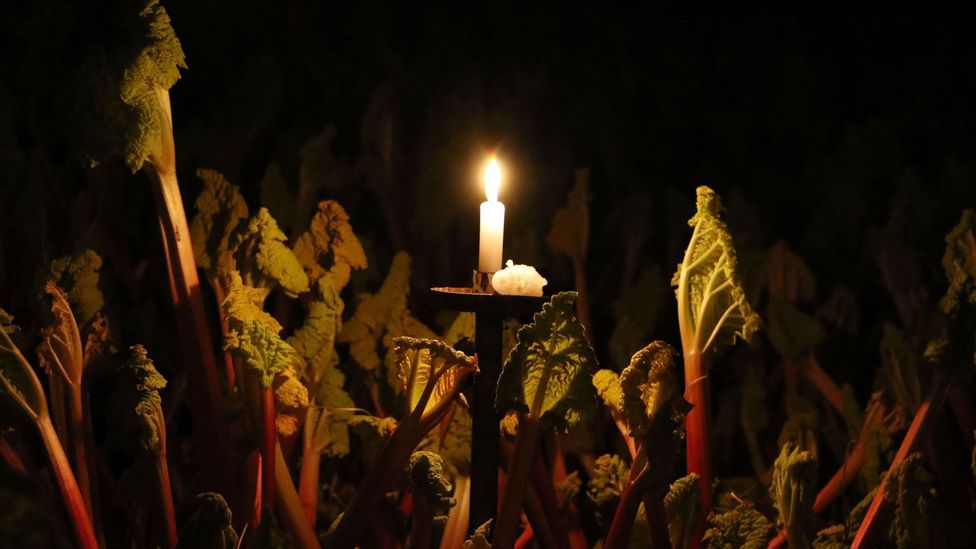 Yorkshire forced rhubarb is grown by candlelight, which limits photosynthesis and forces the vegetable to use energy stored in its roots (Credit: Mike MacEacheran)
A notoriously fickle vegetable to harvest, Yorkshire forced rhubarb is anything but easy to grow. It thrives in the county's cold winters, but if the soil is too wet, it can't be planted. If the temperature is too hot, it won't grow; and 10 or more frosts are needed before a farmer can even think about forcing it. Only then can horticulturalists remove the heavy roots from the field, then clean and replant them inside the forcing sheds where photosynthesis is limited, encouraging glucose stored in the roots to stimulate growth. It demands patience, expertise and good fortune, and, ultimately, it is engineered for maximum taste: once deprived of light, the vegetable is forced to use the energy stored in its roots, making it far sweeter than the normal variety.
To learn more, I visited Vicky Whiteley of Whiteley's Farm, which produces around 12 acres of forced rhubarb annually in the nearby town of Pudsey. Using her 'rhubarb map' to work out which crop grows in which field, she introduced me to numerous varieties – Stockbridge Arrow, Harbinger, Timperley, Dawes, Canada Red, Strawberry, Cawood Delight, Red Champagne, and Victoria and Albert. "Rhubarb is in our blood and there's no doubt Yorkshire is the rhubarb capital of the world," she said. "But whatever price you get, remember it took three years to get these precious few weeks of growth."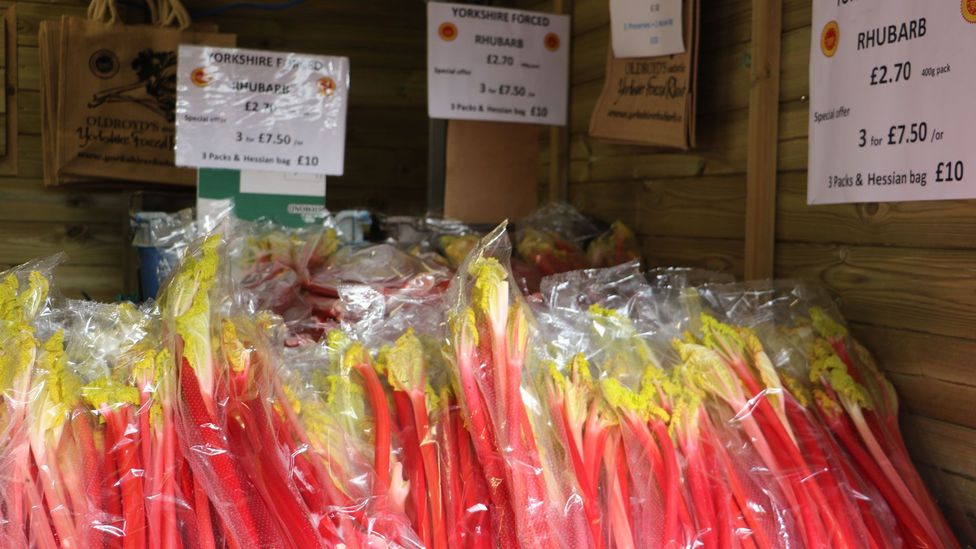 Forced rhubarb is far sweeter than the normal variety (Credit: Mike MacEacheran)
For a simple vegetable, rhubarb has come a long way since it was discovered growing wild on the banks of the River Volga. Cultivated from Siberia to China as far back as 2700 BC, where it was used for its healing properties, it was transported along the Silk Road to Italy in the 13th Century by Marco Polo. It once commanded three times the price of opium and saffron, and was weighed against gold.
It took another three centuries – up to around the 1620s – before it was brought to England by Sir Matthew Lister, royal physician to James I and Charles I, and used as a cathartic food to purge the body of illness. That would have been the end of the story if it wasn't for scientists at London's Chelsea Physic Garden, who discovered the forcing process by chance. Covering up leftover rhubarb crowns – the underground part of the plant – with soil in 1817, the gardeners were stunned weeks later when the robust plant produced a shock of sweet pink stems and frilly leaves.
Over time, and thanks to West Yorkshire's dependably wet weather, forced rhubarb came north. The late 19th Century was a time of dramatic change in England due to the Industrial Revolution, and the vegetable was first forced in 1877, principally to fill a gap in the area's market-garden economy. Yet what followed was an explosion in its popularity. Soon after, daily 'Rhubarb Express' trains transported the valuable cargo from Leeds to London's Covent Garden Market by the tonne. Today's disappointment is where once there was 200 producers, now there are just 11 left. Problems with post-World War Two logistics saw production falter, and changing tastes meant the local industry never fully recovered. But thanks to local artisans, a renaissance is being sparked.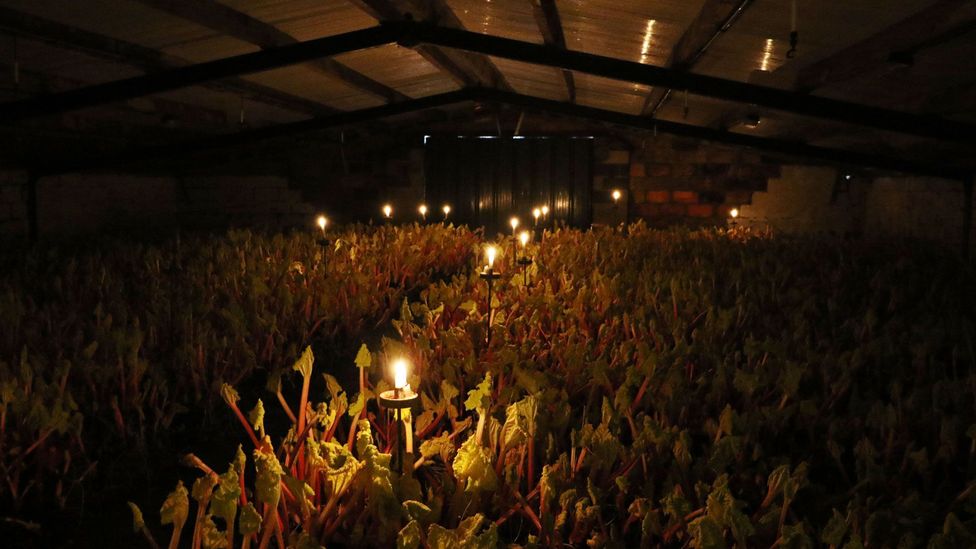 Inside the forcing sheds, the rhubarb grows so quickly that you can hear it (Credit: Mike MacEacheran)
As might be expected, much of the Yorkshire Rhubarb Triangle remains oriented towards eating rhubarb in all its many forms. It is in an alliance with everyday life, and is added to everything, from soups, salads and gravies to elevated interpretations of jams, gins, beers, ice creams and pies. It is hard to tell what the future holds, but it is a comforting reminder of home for locals, and talk is always animated when discussing a rhubarb renaissance.
"In this area, it represents innovation and opportunity and it's an economic lifeline," said Richard Holmes of Cryer and Stott, a cheesemonger with a line in forced rhubarb-flavoured Wensleydale among its 600 other cheeses. Needless to say, the 'Rhu Crumble' is the cornerstone of his business. "It has a subtle flavour, so it gives an opportunity to go either sweet or savoury. It's a great vehicle to carry other flavours."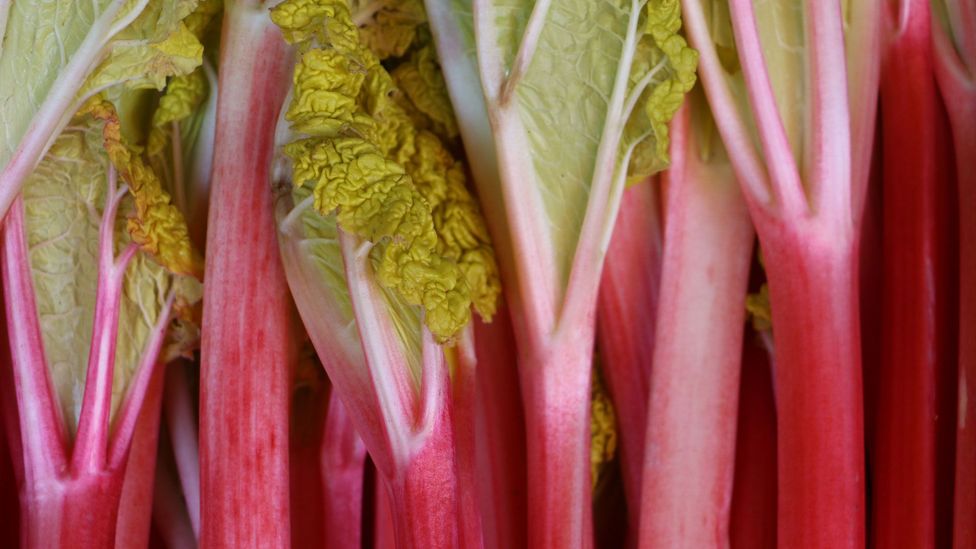 Rhubarb once commanded three times the price of opium and saffron (Credit: Mike MacEacheran)
No conversation about a major comeback is complete without some mention of Slingsby Gin, a contemporary spirits brand produced in the spa town of Harrogate, which uses rhubarb from E Oldroyd & Sons. The distiller steeps the plant in alcohol for six weeks before it is distilled, creating a sweet gin that is beginning to rival the traditional juniper-based version in the wider county.
Slingsby's growing dependency on the vegetable reflects an uncanny respect for the rhubarb's heritage, while influencing other up-and-coming spirit producers with what is becoming a new tradition. In the past few years, the county has seen the debut of around 15 new gin distilleries, and the provenance of Yorkshire rhubarb is crucial.
"We use more than three tonnes each year," said Ben Carthy, son of co-owner Mike, while showing me around the city-centre micro-distillery and gin-tasting bar, The Spirit of Harrogate. "We stockpile it in case there's a bad harvest, and this year we're forecasting a production of around 500,000 bottles. That's close to double 2018, so it's going to be a big year for rhubarb."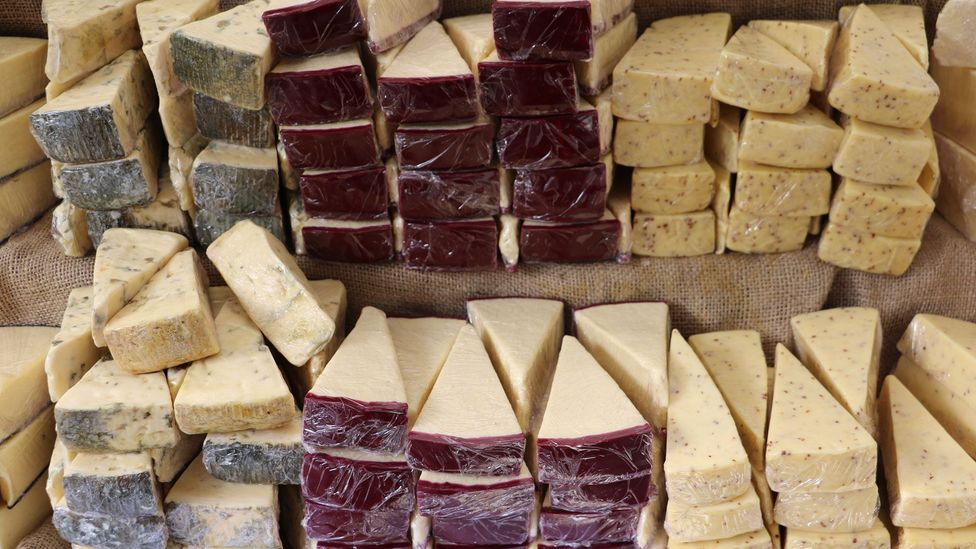 In Yorkshire, rhubarb is incorporated into all types of sweet and savoury dishes, from pies to cheese (Credit: Mike MacEacheran)
Our conversation returned to eating, as it so often does in Yorkshire. Carthy reminisced about the dishes his family used to eat while he was growing up: rhubarb crumble, rhubarb pie, straight-from-the-fridge spears dipped in the sugar bowl.
But as we chatted, my mind wandered back to the sacred space of that forcing shed in the heart of the Rhubarb Triangle. The sense of improbability it provoked was unforgettable – just like the green and pink colours of the rhubarb itself, captured in all their end-of-day, candle-lit dreaminess.
Join more than three million BBC Travel fans by liking us on Facebook, or follow us on Twitter and Instagram.
If you liked this story, sign up for the weekly bbc.com features newsletter called "If You Only Read 6 Things This Week". A handpicked selection of stories from BBC Future, Culture, Capital and Travel, delivered to your inbox every Friday.