Fifty years after the first Moon landing, a small Icelandic town celebrates its pivotal role in propelling humankind into space.
On 20 July 1969, as 600 million people around the world sat glued to their televisions, American astronaut Neil Armstrong slowly descended from Apollo 11's lunar module Eagle and became the first person to step foot on the Moon, famously proclaiming, "That's one small step for man, one giant leap for mankind". Fifty years after Armstrong planted the Stars and Stripes on the Moon's barren surface, this singular event is still considered one of the defining moments of American greatness.
Yet few people realise that this triumphant leap for mankind was propelled in part from an unlikely place: Iceland. In the years preceding the Apollo 11 mission, Nasa believed it was essential for its astronauts to prepare for their intragalactic journey by training in the most otherworldly terrain on Earth. After scouring the globe, officials determined that the Moon's lunar landscape was strikingly similar to that just outside Húsavík, a quiet 2,300-person fishing community on Iceland's northern coast. Nasa sent 32 astronauts to train in its crater-filled terrain in 1965 and 1967. Incredibly, of the 12 humans who have ever walked on the Moon, nine first touched down in Húsavík – including Armstrong himself.
Now, in honour of the 50th anniversary of the lunar landing, this small settlement is preparing to celebrate its role in this cosmic achievement in a big way.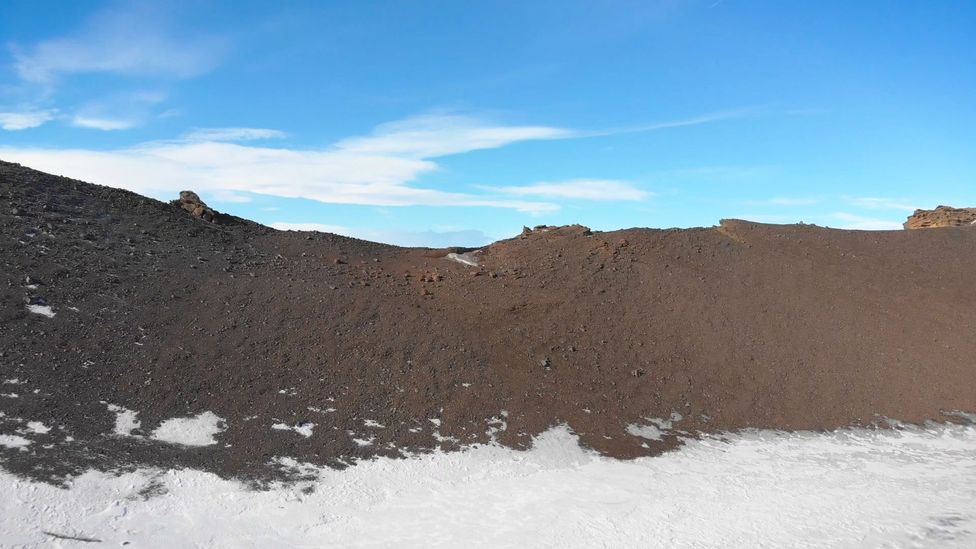 (Credit: Werner Hoffmann)
Twenty minutes after Armstrong stepped onto the Moon, fellow Apollo 11 astronaut Buzz Aldrin joined him. Upon gazing out at the vast, empty horizon, Aldrin famously described it as "magnificent desolation" – an apt description for Iceland itself.
Marooned near the Arctic Circle and set atop some of the world's most volatile tectonic plates, Iceland is a rumbling, bubbling natural laboratory whose gushing geysers, crashing waterfalls and dancing northern lights can't help but remind humans of their insignificance in the universe. Add in that 80% of the country is uninhabited and that more than 60% of its rocky, rugged landscape is covered by lava deserts and glaciers, and this Kentucky-sized island could easily be another planet.
"Iceland really looks like the Moon. It has this otherworldly landscape, especially in summer when there is less snow and ice on the northern Arctic desert," said Örlygur Hnefill Örlygsson, director of The Exploration Museum in Húsavík, while posing in a replica Nasa spacesuit at Hverarönd, an expanse of hot springs, fumaroles and mud pools near Iceland's Krafla volcanic mountain. "But that's not the reason why the Apollo astronauts were sent here. It was because of the geology. Nasa wanted them to pick the best rock samples to bring back to Earth. Their exposure to the geology of Iceland and its varied rock assemblages found in glacial outwash channels resembled the complexities of the lunar surface and contributed greatly to their experience as they prepared for lunar exploration."
In Neil Armstrong's footsteps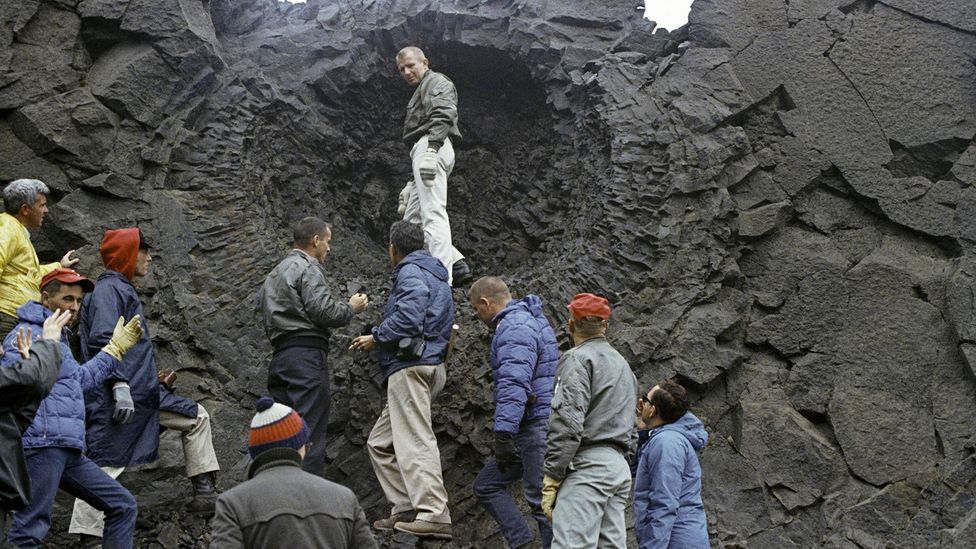 (Credit: The Exploration Museum )
In order for astronauts to test their equipment and practice the procedures they'll execute in outer space, Nasa routinely conducts planetary 'analog missions' in extreme environments on Earth. For the Apollo missions, Nasa had sent astronauts to places like Hawaii and Meteor Crater, Arizona, but the basalt rocks and volcanic geology of Iceland's barren highlands was believed to be the most Moon-like of any training area.
So, for a week in July 1965 and 10 days in July 1967, the 32 astronauts bounded across northern Iceland's lunar landscape, learning which geological samples they should bring back from the Moon and collecting a variety of rocks from places like the Askja volcano, the 10,000-year-old Hrossaborg Crater and the lava fields at Drekagil – or 'Dragons Gully'.
"I spent around 10 days exploring the volcanically active regions of Iceland, a place so stark and barren I felt as if I were already on the Moon," remembered Al Worden, the command module pilot for the Apollo 15 mission that went to the Moon in 1971. "We were there in the summertime, and it seemed like the sun never set. You could be out at 03:00 and see people strolling the city streets, the stores still open."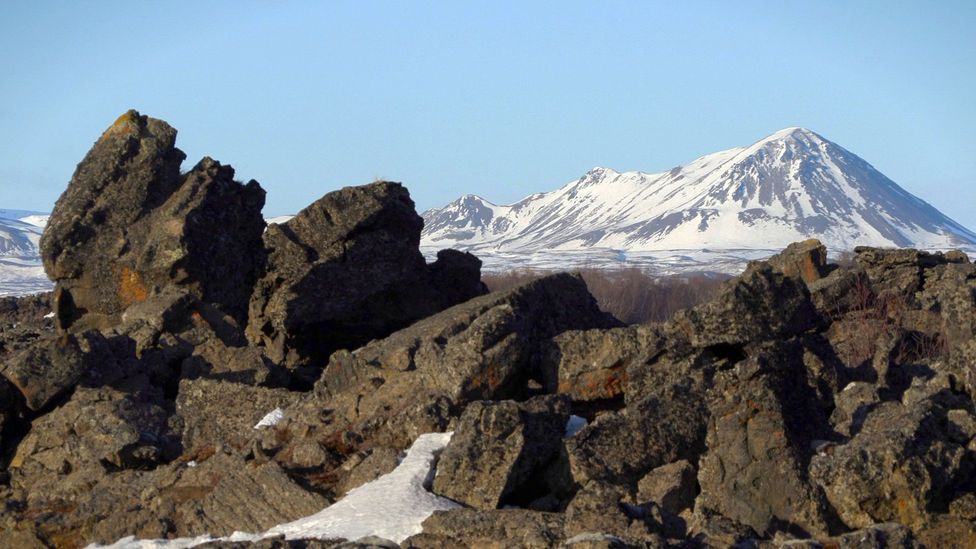 (Credit: Werner Hoffmann)
"We went to Hawaii, to Iceland – great places to focus on volcanic rocks. ... I was very tempted to sneak a piece of limestone up there with us on Apollo 11 and bring it back as a sample," Armstrong told author James Hansen, decades later.
In 1967, local sheep farmer Ingólfur Jónasson was 19 years old when an Icelandic geologist involved in the Apollo training let him know that two of the astronauts – Neil Armstrong and Bill Anders – were interested in going fishing, and asked if he'd be willing to take them.
"The astronauts had a day off before leaving for training at Askja," said Jónasson from his farm on the bank of the Laxá river, where he still lives. "They came to the house and I took them to the river. Armstrong was a very kind man and had, like we say here, a good aura about him." He was, however, not that good a fisherman, Jónasson recalled. "The fish were nibbling on his lure, but he did not manage to catch any."
That evening, the astronauts went to a local dance at the Skjólbrekka community centre. Jónasson joined them. "I remember the commotion when they came in," he said. "Everyone was interested because they were astronauts coming to Iceland to study and train here. They really stood out and everyone took more notice of them. Some of them even danced with the local girls."
Two years later when Jónasson listened to a live radio broadcast of Neil Armstrong's first steps on the Moon, he was filled with pride. "This is the kind of moment you never forget," he said. "It was very special for me. It was remarkable, especially because I had got to know this man."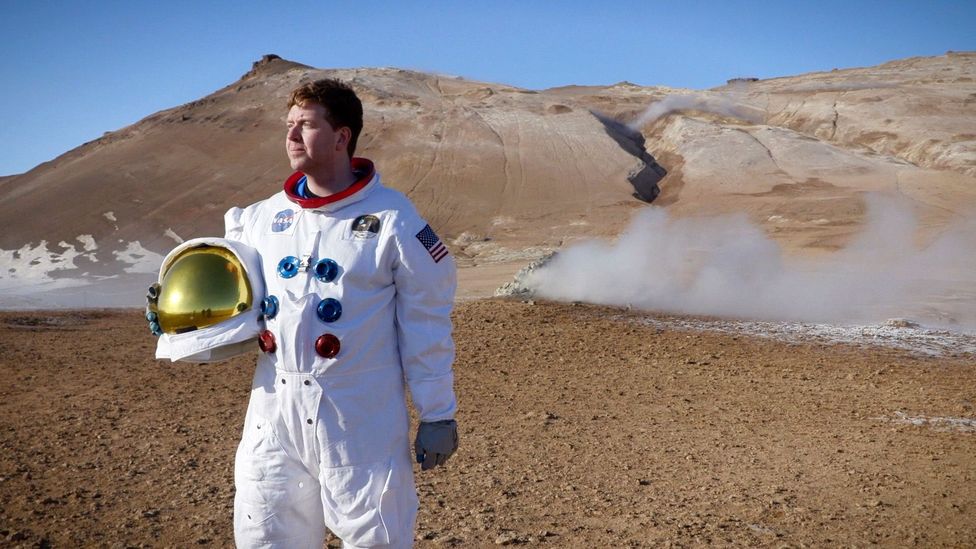 (Credit: Werner Hoffmann)
I was proud to learn that Iceland played a role in the Apollo programme, but I was also surprised that this story was not being told. So, I started to look at various ways to tell this amazing story," said Örlygsson.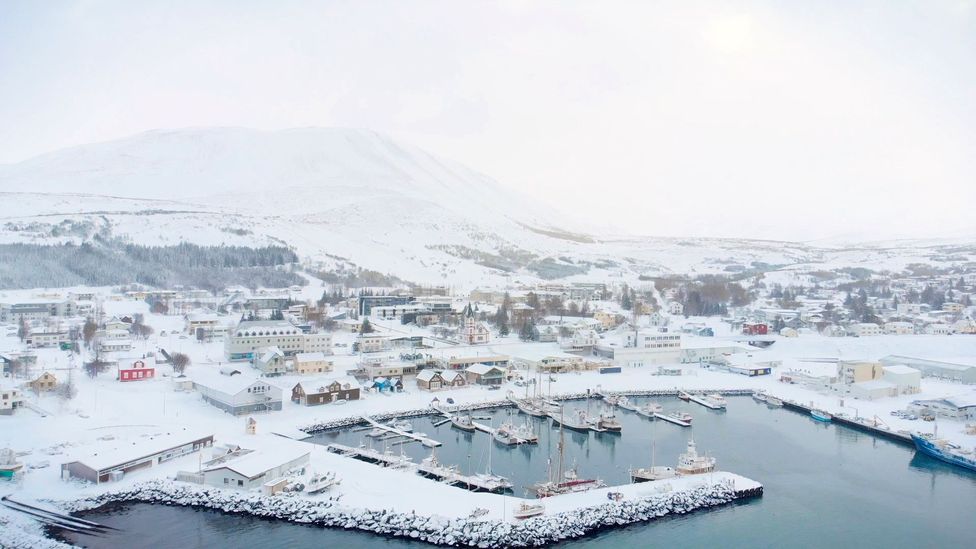 (Credit: Werner Hoffmann)
In recent years, Húsavík has established itself as Iceland's whale-watching capital, with tourists piling onto sailboats in the town's picturesque harbour each summer in hopes of spotting blue, humpback and minke whales. Yet, until recently, almost no-one – including most Icelanders themselves – had any idea of the fishing town's lunar legacy.
"This is not the kind of thing you learn in school," said Örlygsson, who grew up in Húsavík. As a child, Örlygsson used to dream about space exploration, and decades later in 2009, he walked into a bookshop and happened to discover an old Icelandic newspaper from 1965 with the headline, 'Apollo astronauts training for Moon arrive in Iceland today'.
Shocked and "extremely proud" to learn of his town's pivotal past, Örlygsson was inspired to open The Exploration Museum in 2014. The museum features a collection of historical photographs and artefacts, such as rocks from the Moon donated to the museum by former astronauts, a replica of a Nasa spacesuit and even the fishing lures used by Armstrong in Iceland. The Armstrong family also recently donated Neil Armstrong's crew patch from the Apollo 11 mission.
While the Apollo section is extremely popular, the museum is also dedicated to the history of human exploration and the role that this small island has played in encouraging mankind to go beyond its physical and psychological limits – "from the Vikings that first discovered Iceland to the role Iceland might [someday] play in sending humans to Mars," said Örlygsson.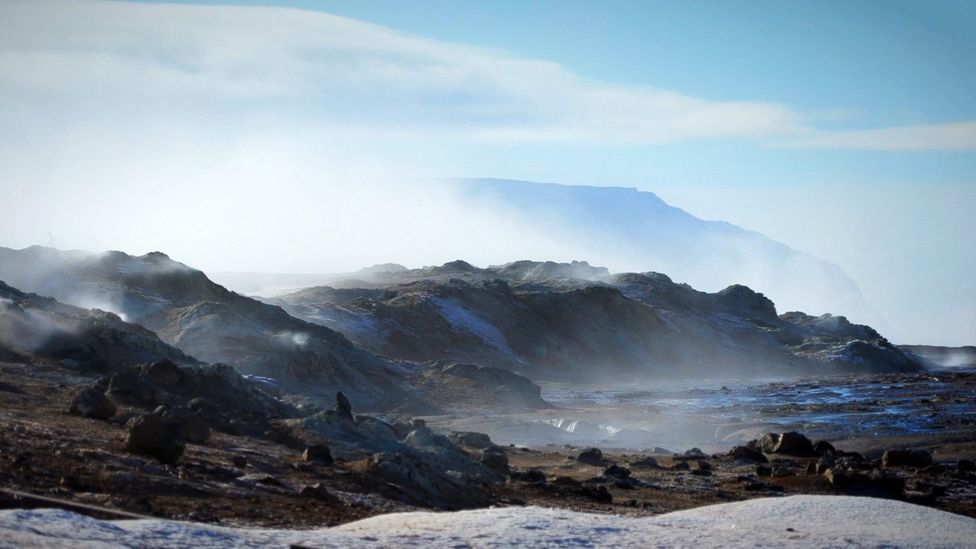 (Credit: Werner Hoffmann)
To mark the 50th anniversary of the first Moon landing, from July to September this year, visitors to Iceland will have the opportunity to visit the remote corners of the Icelandic highlands where Apollo astronauts conducted field trips – such as the craters at Askja and Hrossaborg, as well as Hverarönd – through a collaboration with The Exploration Museum. In addition, earthlings can try their hand at the 'Moon Game' – a competition developed by local geologists Sigurður Þórarinsson and Guðmundur Sigvaldason to sharpen the Apollo astronauts' geological examination skills in 1965 and 1967.
Because Nasa officials had decided that the astronauts should walk on the Moon in pairs, the Moon Game required trainees in Iceland to work quickly in twos to select rock samples from a designated area. They then had to record their reasons for selecting certain rocks on handheld tape recorders. Nasa geologists would analyse the rocks and the astronauts' reasons for selecting them, awarding points to each team based on which collected the greatest variety of samples.
According to Harrison 'Jack' Schmitt, who walked on the Moon in 1972 as part of the Apollo 17 mission five years after playing the Moon Game, "It really brought out the competitive nature of the Apollo candidates," Örlygsson said, recalling what Schmitt had said to him years later when he returned to Húsavík.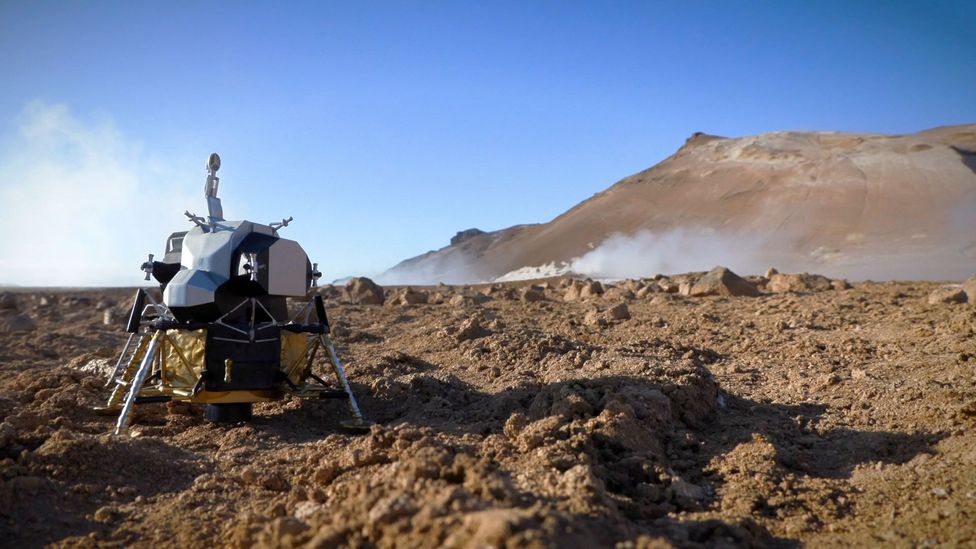 (Credit: Werner Hoffmann)
In addition to the 'Moon Game', The Exploration Museum has started constructing a full-sized replica of the Apollo 11 lunar module Eagle. The first part of the module will be unveiled this year during the museum's annual Explorers Festival from 17 to 20 October.
Unlike the miniature model of the Eagle currently on display at The Exploration Museum (pictured here), the full-sized replica will be huge: 7.04m high, 9.4m wide and 9.4m deep. In fact, it will be so large that the museum is currently building a new wing to hold it. "This will be a big exhibit. It will be the crown jewel of The Exploration Museum in Húsavík," Örlygsson said. "It will show visitors what type and size of spacecraft was used to get Neil Armstrong and Buzz Aldrin onto the Moon."
Beyond Húsavík, one of the highlights of Iceland's 50th anniversary celebration of the Apollo 11 mission will be a Moon Concert held in a lava tube near Reykjavík on Sunday, 20 October. The event will take place in the glacier-capped Snæfellsjökull stratovolcano that inspired Jules Verne's classic science-fiction novel, The Journey to the Centre of the Earth. It will feature Icelandic musicians playing alongside Neil Armstrong's two sons – each accomplished pianists and guitarists – to perform some of the music the astronauts took to listen to on their way to the Moon, such as Frank Sinatra's Fly Me to the Moon, the soundtrack to 2001: A Space Odyssey and much more.
While only 24 guests will attend the concert (the total number of astronauts who have orbited or landed on the Moon), it will be filmed with the aim of broadcasting it around the world later this year. According to Icelandic musician Rafnar Orri Gunnarsson, who is curating the songs to be performed, "Flying to the Moon is like a road trip. It takes three and a half days to get there. The astronauts were listening to their favourite music while they were on their way. We have been going through Nasa transcripts to pick out some of the songs they were listening to."
For several years, Nasa has been studying geothermal sites in Iceland as a way to prepare for its ambitious plans to send a rover to Mars in 2020. According to planetary scientists, Iceland's glaciers, volcanoes and hot springs are eerily similar to how Mars looked billions of years ago, and by studying subtle marks in Iceland's iron-rich rocks, scientists are able to detect clues indicating where water once flowed.
"The Apollo astronauts I have met have told me that Iceland [is] an even better place to train astronauts to visit Mars than it was for the Moon," Örlygsson said. "We know a lot about the geology of Mars because rovers have been studying the surface of Mars for some time. What they have discovered is that there are many more similarities between the geology here in Iceland and the geology of Mars."
According to Örlygsson, this is the reason that Nasa and other space agencies have already started to test equipment for future space exploration in Iceland. "The main things Iceland can contribute to future missions to Mars are the lava tubes and caves here. If we go to Mars, the important thing for our spacecraft will be to minimise weight. If we can use the existing lava tube and cave structures there to live in, we will not have to take heavy equipment with us. That's why agencies are testing inflatable equipment in Iceland to learn how to make caves inhabitable for humans destined to live on Mars."
(Credit: Gunnhildur Fríða Hallgrímsdóttir)
Last September, Gunnhildur Fríða Hallgrímsdóttir (pictured), a student at the Technical College of Reykjavík studying science and technology, became the first Icelandic woman to undergo the geological training that the Apollo astronauts underwent in 1965 and 1967. She was joined by Alyssa Carson, an American teenager who is training to become one of the first astronauts to set foot on Mars.
"We visited the most Mars-like areas found on Earth and it was important for me to learn how Iceland played a role in getting a man on the Moon. It ignited my passion for space exploration," Hallgrímsdóttir said.
Hallgrímsdóttir says she now realises that Nasa "missed a great opportunity" when they did not include women on the Apollo missions. "This has all changed now. I believe that for the first mission to Mars, the most qualified [person] will be on board – and in all likelihood, [it] will be a woman," she said. "In fact, it is my dream to go to Mars and now that the government of Iceland decided to join the European Space Agency, the message to the youth, and especially girls, is simple: 'If you want to become an astronaut, it is possible'."
(Text by Piet van Niekerk; video and photos – unless otherwise noted – by Werner Hoffmann)