Buried deep below Mexico, a vast underwater world may reveal clues that unlock the secrets of the ancient Maya.
A
Around 66 million years ago, a 15km-wide asteroid smashed into Mexico's Yucatan Peninsula and is believed to have wiped out almost all the dinosaurs. The impact caused a megatsunami, liquified billions of tonnes of rock and created a 200km-wide crater in the Earth's surface into which water seeped, creating thousands of sinkholes. Over millennia, some of these limestone sinkholes collapsed while others in the region eroded, forming vast networks of flooded cave systems.
Known as cenotes, these underground water reservoirs were more than just life-sustaining water sources for the Maya civilisation's settlements; they were also believed to be sacred portals through which they could communicate with the gods of rain and creation. As such, the Maya routinely cast human sacrifices, gold plaques and bowls brimming with jade beads into the wells' cavernous depths as offerings. Through these deep sinkholes, the deceased were thought to pass into the dark and treacherous underworld of Xibalba, where humans and deities were reborn.
 You may also be interested in:
• The buried secrets of the deadliest location on Earth
• A hidden world 30m below Budapest
• The Mexican art of double entendre
Today, while cenotes still provide 95% of the drinking water for much of the local population, visitors from around the world flock to the Yucatan Peninsula's Riviera Maya to bathe, snorkel and scuba dive in their aquamarine pools. Their cathedral-like roofs and mineral-rich waters have become some of the most popular natural attractions in the region. Yet, thousands of cenotes still lay hidden many metres below the region's lush jungle, and researchers believe these submerged labyrinths may contain valuable clues that help connect the Maya's mysterious past to the present.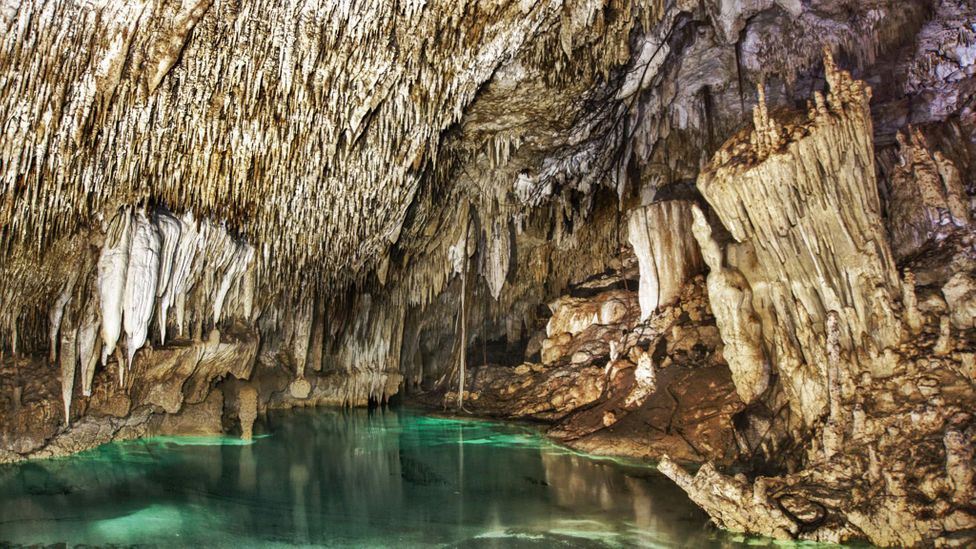 Cenotes were more than just water sources for the Maya; they were believed to be sacred portals through which they could communicate with gods (Credit: Wonderland Project)
In fact, several years ago divers discovered one of the oldest human skeletons ever found in the New World, which revealed insights into the origin of the Americas. And just last year, the cavern where this skeleton was discovered was found to be a small part of one of the world's longest cave networks: the 348km-long Sistema Sac Atun.
Now, a team of scuba divers, photographers, archaeologists and computer graphics experts is venturing into dozens of unexplored cenotes in the Riviera Maya. The goal is to capture images of their interiors and transform them into immersive 3D visuals so that people can virtually "explore" the caves from their homes.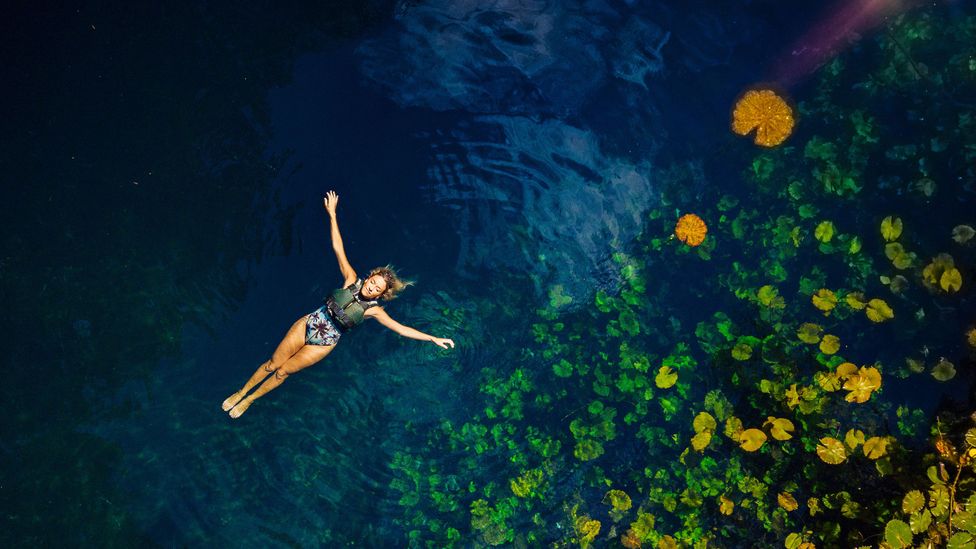 Today, visitors from around the world flock to the Riviera Maya to bathe in cenotes' aquamarine pools (Credit: Xenotes)
Known as the Wonderland Project, the effort involves diving with head torches to access and document some of the deepest and most remote cenotes that have never been open to the public. Eventually, this footage will be published online and anyone around the world with a 3D-enabled computer, VR headset or VR mobile adaptation will be able to virtually explore the caves and discover whatever ancient mysteries they may hold – from ancient fossils to bones to precious Maya artefacts. 
The Wonderland Project is something that nobody else in the world is doing on this scale
Mexican photographer Pamela Ocampo is one of the team's founding members. She shot high-resolution digital images of the cenotes' interiors and has been teaching the team techniques for photographing and editing images in the challenging light conditions. The images are then rendered using specialty software to recreate the cenotes in seamless 3D.
The initiative began as a passion project for founder Kent Stone, who has been the driving force behind obtaining grants and equipment and recruiting experts to propel the project. A diving instructor from a landlocked Texas town, Stone says he always felt like a fish out of water. After serving in Iraq with the US military, he set off around the world in search of adventure.
"The Wonderland Project is something that nobody else in the world is doing on this scale," Stone told me, as he sat barefoot at a beachfront restaurant on the Riviera Maya's Cozumel island. "We're going to be recruiting interns who can learn scuba diving right up to PADI professional divemaster level; along with caving, camera systems, lighting techniques and photogrammetry [the stitching together of multiple photos to create 3D images]; as well as volunteers with expertise in archaeology, geology and diving who are as passionate about this exploration as we are."
Stone explained that the cenotes they're focusing on have historically been off-limits to the public because they're either located on private land, hidden in the far reaches of the jungle or require technical cave diving to access them. For the past 12 months, he's been consulting with local experts to locate far-flung jungle cenotes and meeting with landowners to explain his mission and secure access.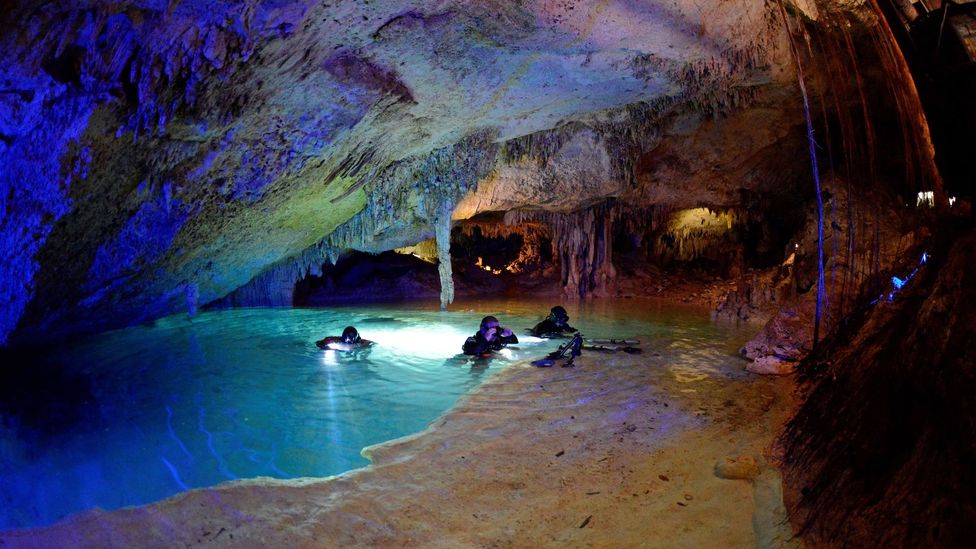 Thousands of submerged limestone labyrinths lay hidden below the Yucatan Peninsula (Credit: Wonderland Project)
Since disturbing an ancient and sacred site is a sensitive issue, the Wonderland Project is only capturing the artefacts, fossils and bones its divers encounter through images, and leaving the sites themselves untouched. And in order to prevent people from plundering any artefacts that are inside the sinkholes, once the project is completed, the caves' interiors will be revealed in vibrant detail on a website, but their GPS locations won't be published.
These are the highest resolution 3D scans ever taken above or below the water
As a PADI Advanced diver with more than 100 dives under my belt, I was invited to take the plunge with him so I could see some of the Wonderland Project's findings for myself. While we squeezed into our 3mm wetsuits at the dive centre in Cozumel, Stone explained that they can also create 3D images of the fossils, artefacts and bones that they've already found inside the cenotes. Some of the bones belong to creatures that died inside the caves, but the team is prepared to find remains of young human males the Mayas were believed to offer as sacrifices to the gods.
"Some of the specimens are so fragile that any movement could destroy them completely," explained Stone, as we hauled our heavy scuba gear through the tangled roots and branches of the mangrove forest en route to the first cenote. "These are the highest resolution 3D scans ever taken above or below the water. By photographing all visible sections, it allows us to recreate 3D prints, while allowing the original specimens to remain undisturbed. This database will also help explorers or archaeologists with fossil identification in the field."
As I followed Stone through a narrow opening into a cenote and descended 10m into the azure water, I understood why these sites have been revered for so many generations. The soaring roofs are adorned with otherworldly stalactites, vines and roots, which are occasionally illuminated by narrow shafts of sunlight piercing downwards into the subterranean world.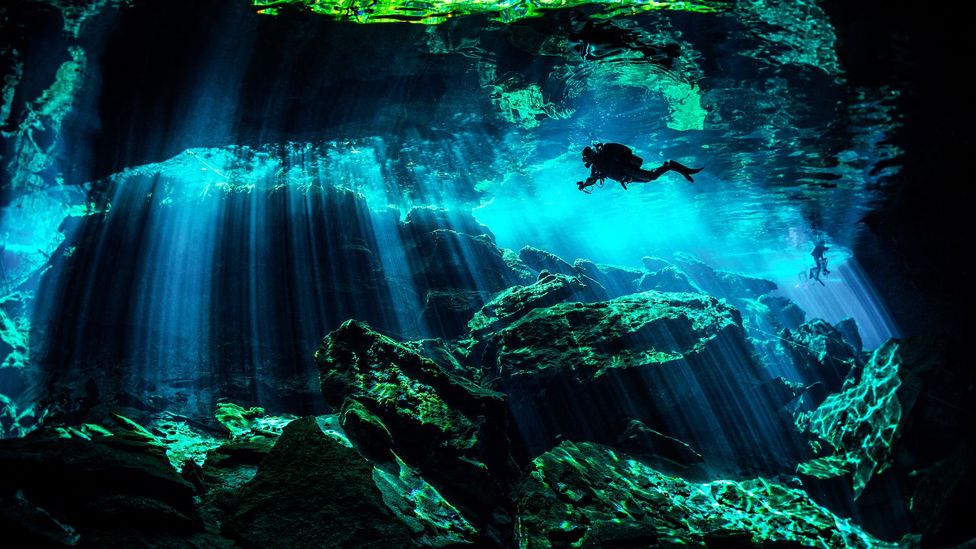 A team of explorers is mapping the caves where Mayas sacrificed people (Credit: Getty Images/Extreme-Photographer)
Stone is acutely aware of just how fortunate he is to be able to explore these sites. Seven years ago, he was medically discharged from the US Army when a doctor detected a malformation of his L1 vertebra. The doctor told him he should expect to be in a wheelchair within 10 years, but he has defied this diagnosis, which is one of the driving forces behind his desire to share his discoveries with everyone via virtual reality.
"I wanted to be able to dive in these caves but knew taking photos wouldn't be enough. I was thinking about how many people will never see the inside of these caves due to limited mobility or other impairments or limitations. I wanted to be able to recreate them in 3D so that other people can see them, too."
I've seen other cenotes before but nothing like these"
Yet, it wasn't until the unexpected loss of his friend Brian Bugge, a Navy officer who died while photographing an underwater cave in Hawaii in 2018, that Stone –  already a certified diving instructor – turned his focus towards caves. "After Brian died, I started diving caves and had this nagging feeling to pick up a camera," Stone said. "I travelled to Tulum and started shooting in the caves and during this process I had a long discussion with my friend about doing something that nobody else is doing here."
After receiving a grant from National Geographic and donations from camera and software manufacturers, he launched the Wonderland Project in early 2019.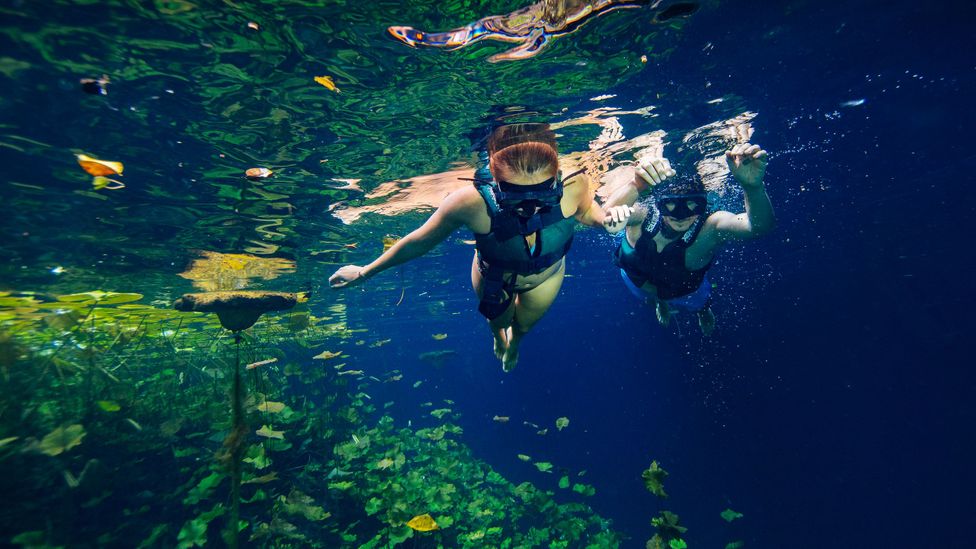 The goal of the Wonderland Project is to allow anyone with a 3D-enabled device to virtually explore the caves and discover what mysteries they may hold (Credit: Xenotes)
"When I was inside the caverns, I was so amazed," said Ocampo, who is originally from Queretaro in central Mexico but lived on the Caribbean coast for two years. "These places have kind of a cool but kind of a heavy vibe for me, because Mayas used to say those cenotes were like portals to the inframundo [underworld]. I've seen other cenotes before but nothing like these – and I feel so grateful to have been inside them."  
Ocampo has been showing the team how to counter low light and reduce shadows in the darkest reaches using a low ISO to reduce graininess, a 30-second shutter speed to illuminate the shot and customising the aperture for each location.
"This way, it gives you time to start painting with the light, and to illuminate all the parts the shadows have taken away," she explained. "Being inside the caves is just magical. This project opens up a whole new world to us."
Stone knows they've barely scratched the surface of the team's cenote exploration, but he's already received requests from international museums and embassies to help render their buildings in virtual reality. He also hopes to also bring virtual reality tours of temples and other landmarks right into people's living rooms; enabling everyone to become an explorer, no matter their mobility.
Sunken Civilisation is a BBC Travel series that explore mythical underwater worlds that seem too fantastical to exist today but are astonishingly real.
Join more than three million BBC Travel fans by liking us on Facebook, or follow us on Twitter and Instagram.
If you liked this story, sign up for the weekly bbc.com features newsletter called "The Essential List". A handpicked selection of stories from BBC Future, Culture, Worklife and Travel, delivered to your inbox every Friday.