Lured by a food from her childhood, a woman returns to a country that no longer exists to confront her family's secret past.
I
I was only three years old when my parents, sister and I emigrated from Leningrad in the USSR to the United States in 1980 as "traitors", losing our Soviet citizenship and turning our backs on Communism for the "evil capitalist West".
I was the catalyst for my family fleeing from a city and country that no longer exist. My sister had a rare kidney problem and Soviet doctors thought she was going to die, so I was born to "replace" her. Most Soviet families only had one child, as it was too expensive to support any more. Fortunately, she survived, but due to rampant anti-Semitism in the USSR, my Jewish father could only find a job that forced him to travel a lot and my mother couldn't handle taking care of two children alone. My parents didn't want us to suffer any longer, and when they chose to flee, they thought we'd never return.
 You may also be interested in:
• Is this the world's most dangerous sea route?
• In search of Russia's lost gold
• 'I'm from a country that no longer exists'
After arriving in the US and taking a series of Greyhound busses, we settled in San Jose, California. My sister and I learned about life in the former Soviet Union through bedtime stories, infrequent letters and middle-of-the-night phone calls.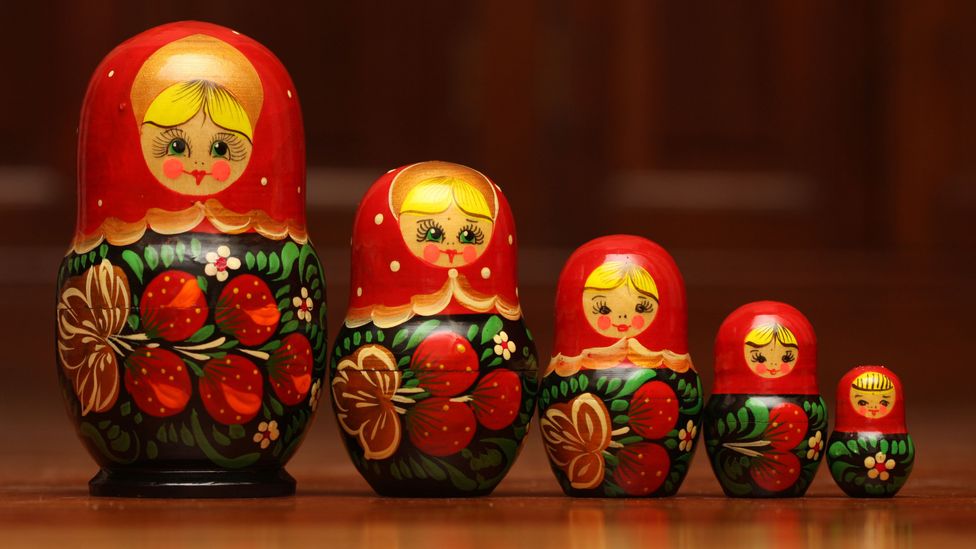 Twice a year, the author received packages with Russian dolls from her family in the USSR (Credit: Getty Images/KevinDyer)
Twice a year, our Leningrad relatives mailed us packages with black-and-white family photos, vinyl records from the state-owned Melodiya label, children's books, stacks of Russian matryoshka nesting dolls, dark chocolates and wooden toys with stencilled Cyrillic writing on the boxes. The smell of the dark chocolates and shaved wood from the toys permeated the parcels. Mom read my sister and I the birthday cards and letters because we couldn't decipher the cursive writing.
Instead of bridging the distance between us during the Cold War, phone calls from our Russian relatives were a loud interruption. Many Soviets didn't have a home phone, and family members who did thought that the Soviet spy agency, the KGB, was tapping their line. Our relatives had to travel an hour to the central post office in Leningrad to make a five-minute call to the US. Due to the 10-hour time difference between us, we received calls in the middle of the night and had to yell loudly into the receiver to hear each other over the static. In fact, as a child, my main memories of my aunts and paternal grandmother were of being woken up so we could scream at one another on the phone in my parents' bedroom. Both physically and emotionally, Russia felt a world away.
When I returned to Russia at age 18 for the first time since our emigration, Leningrad had been renamed St Petersburg, the Soviet Union had fallen and Russia was now a sovereign country. I stayed with my maternal and paternal aunts whom I hadn't seen in 15 years. We only really knew of each other's existences through old photographs, letters and strained calls. And though I could communicate with them in fluent Russian, I found it uncomfortable to do so all day.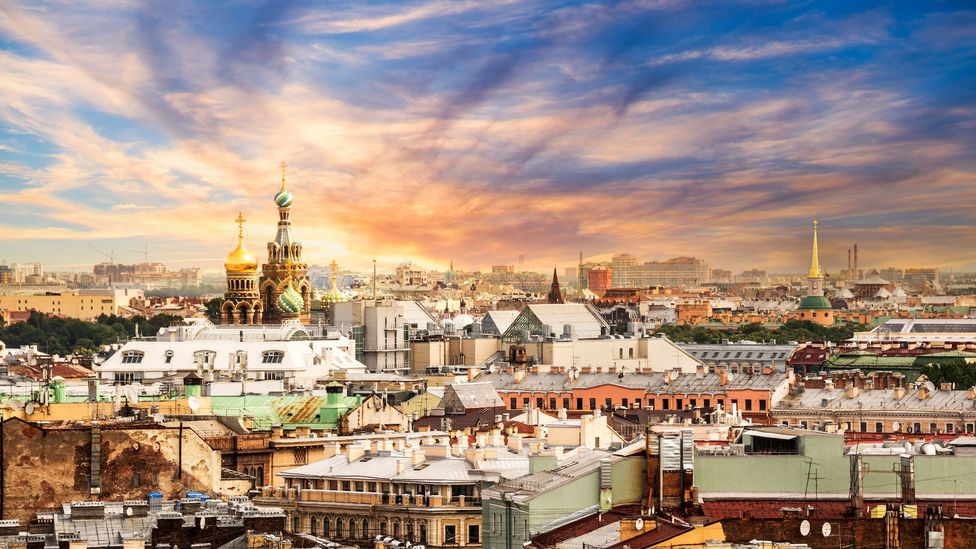 St Petersburg is known as the 'City of White Nights' and is one of the world's most northerly metropolises (Credit: Getty Images/Delpixart)
Adding to my feeling of emotional distance, I arrived in St Petersburg in June. The 'City of White Nights' is one of the world's most northerly metropolises, and seeing both the sun and the moon in the middle of the night not only made it hard for me to fall asleep, but also hard to get my bearings in such a foreign place.
Unexpectedly, I first felt a connection to my childhood when my mom and I visited her friend's small dacha (summer home and garden) outside St Petersburg. As my mom and her friend chatted, I wandered towards small patches of unfamiliar berries growing in the garden. Without knowing if they were edible, I plucked some unusually small, wild strawberries from their stems and slowly bit little morsels. Sweet and succulent in my mouth, its juice dribbled down my tongue to my throat.
"How do I know this flavour?" I instantly thought to myself. "These aren't like California strawberries."
Unknown to her, when the author was a young child she used to devour wild berries in the former USSR (Credit: Getty Images/Svetlana Kondrashova)
Eating the garden's strawberries and red and black currants was like gastronomic déjà vu. I chewed the skin and licked the round seeds off my teeth, delighting in the familiar taste of the sour juice that popped from fruits. But how did I know their taste and texture?
Eating the garden's strawberries and red and black currants was like gastronomic déjà vu"
With red-stained lips and a palm full of berries, I slowly approached my mother to ask about these curious currants and small strawberries. My mom smiled, and she told me that I used to devour zemlyanika (wild strawberries), smarodina (currants), kruzhovnik (gooseberries) and chernika (wild blueberries) as an infant and toddler in the summer – especially when we went to our dacha in the countryside in Pabradė, Lithuania, on holiday with our extended family.
I returned to California two months later, but the distinct taste of these foreign-yet-familiar berries stayed with me long afterwards and has led me to search for an explanation for this unexplained food memory.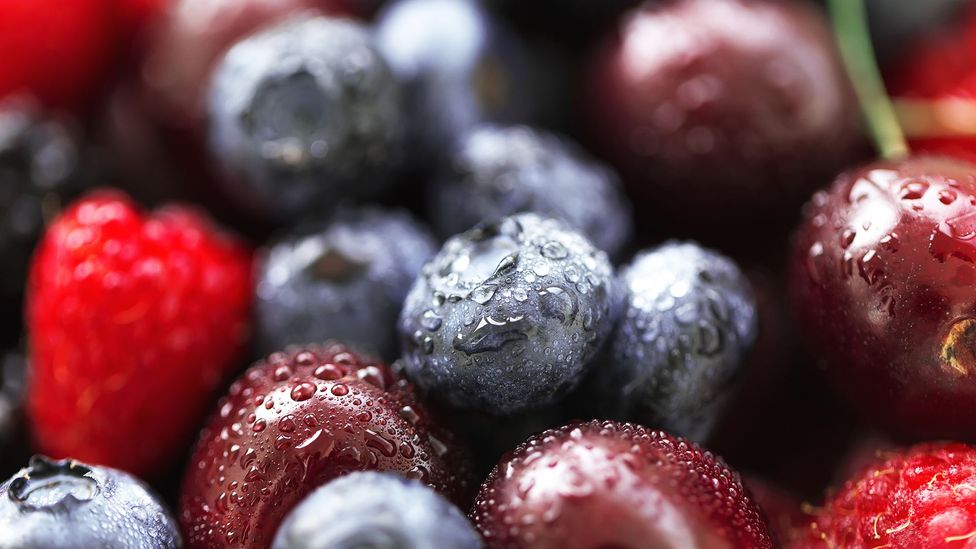 Eating foods may evoke powerful emotional memories that may live deep within your subconscious (Credit: Getty Images/lucky_spark)
According to Susan Krauss Whitbourne, Professor Emerita of Psychology at the University of Massachusetts Amherst, my brain knew I loved these berries although I had no recollection of having ever eaten them.
"Food memories involve very basic, nonverbal, areas of the brain that can bypass your conscious awareness," she told me. "This is why you can have strong emotional reactions when you eat a food that arouses those deep unconscious memories. You can't put those memories into words, but you know there is 'something' that the food triggers deep within your past. The memory goes beyond the food itself to the associations you have to that long-ago memory, whether with a place or a person."
You can have strong emotional reactions when you eat a food that arouses those deep unconscious memories"
The subconscious, scientific reason why I remember loving strawberries so much as a child in California was connected to what I couldn't remember about zemlyanika as an infant in Lithuania. Zemlyanika, it turns out, was what led my mother to place fresh strawberries by my bedside each morning on my birthday, and likely steered me towards a job of planning strawberry and raspberry plantations in Bosnia in my early 20s. 
Still, I wanted to taste the berries where I'd first discovered them. So in 2005, 10 years after my first trip back to the former USSR, I travelled to Pabradė in eastern Lithuania on a dual mission: to find my beloved berries and track down the man who had helped my family and so many others escape the Soviet Union.
Sasha Shapiro was a local barber in Pabradė who spent roughly 20 years secretly helping other Soviet Jews flee the USSR by sending mail abroad so that they could find relatives willing to sponsor their emigration. Soviet citizens who were caught communicating with the West by the KGB could have been arrested and were often sent to Soviet Gulags in harsh places like Siberia. Since KGB censorship was less strict in Lithuania than it was in Leningrad, and because Shapiro was a small-town barber who never caused problems with authorities, he wasn't afraid of the KGB intercepting his mail.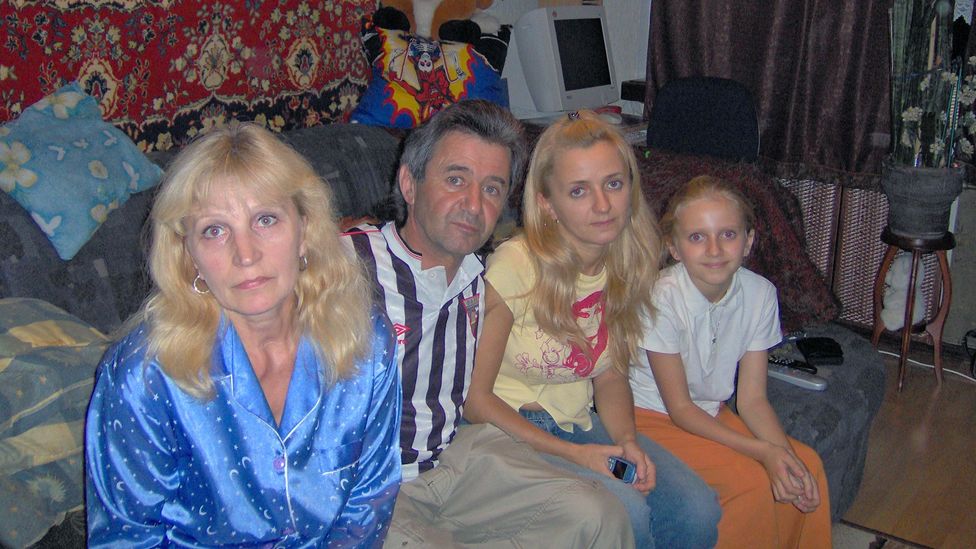 For nearly 20 years, the father of Misha Shapiro (centre) secretly helped Soviet Jews flee the USSR (Credit: Susanna Zaraysky)
My mother knew that she had a long-lost uncle who had settled in St Louis, Missouri in the 1920s, but since Stalin had banned communication with the West in 1937, my mother's family had lost contact with him and didn't have his address. In the late 1970s, my mother secretly approached Shapiro to ask if he would be willing to mail a letter from his address to the St Louis City Hall requesting their help locating him in hopes that he would sponsor our immigration to the US.
Shapiro agreed, and were it not for his heroism (and the fact that the mailroom clerk at the St Louis City Hall happened to be a stamp collector, took particular interest in the envelope's Soviet stamps and gave the letter to an assistant in the mayor's office), we may never have made it to the US.
I arrived in Pabradė without knowing Sasha's surname or how to find him or his family. Located on the banks of the Žeimena river just 14km from the Belarussian border, Pabradė is a quiet town where the Polish population outnumbers Lithuanians and Russians. I bought a bag of brusnika (loganberries) from a lady by the bus station and asked her if she knew of a barber named Sasha. She informed me that Sasha's real name was Zisko Shapiro and that he had died, but that I could find his son, Moisej ("Misha") Shapiro, who was also a barber, at the same barbershop where his father had worked. By the time I had located Misha, several people in the small town had already told him that a foreigner walking around with a bag of red berries was looking for him.
"You came all this way just to meet our family and to find berries?" Misha asked. 
Misha invited me to his house to have dinner with his family, and while Misha's wife prepared the table with black bread with eggs and sprats (little salted fish), white bread with cheese, local apples and tea, I did my small part to return Sasha's generosity. I taught Misha's daughter and granddaughter how to use translation software on their new computer so that they could correspond with the descendants of other Soviet families Sasha had helped who now lived all around the world. Some of whom had written the Shapiros to learn more about their family history.
As an infant, the author's extended family used to gather at this summer garden in present-day Lithuania (Credit: Susanna Zaraysky)
My trip to Pabradė wouldn't have been complete without finding the berries and the dacha my family used to rent, but I had no idea what the house looked like and I didn't have any photos of it. All I knew was that my parents rented one room in a single-story home from a Polish woman named Pane Regina. Each summer, our extended family used to take trains nearly 700km south from Leningrad to spend time wandering in the forest, playing in the idyllic countryside and tasting foods we couldn't eat during Russia's many ration shortages.
My aunt had made me a map of Pabradė with Soviet street names to find the dacha. However, after the fall of the Soviet Union, the street names had changed, so I asked many people on the street if they knew Pane Regina's house. Finally, someone told me that she had died but that her son still lived in the house, number 48, across the forest. Crunching through the woods, I spotted a single-story home with a triangular roof, a big garden and Regina's son, Alik.
Alik invited me in, and I spent an hour picking currants and wild blueberries from the dacha garden and nibbling gooseberries and wild blueberries from the surrounding forest. I felt like a child again. The old photographs and stories of my extended family having picnics in Pabradė came back to life in vivid colour.
Even though I was too young to remember life in Pabradė, I thought about what it was like to be there eating berries with my cousins, singing songs in Russian and eating boiled potatoes with melted butter and dill while sitting in a field. I imagined how my mother quietly approached Sasha to ask a secret favour. And I wondered what it was like when she later received news in Pabradė that my father had been hit by a car in Leningrad after submitting our exit visa application. He eventually recovered, though he still thinks the KGB punished him for applying to leave the USSR.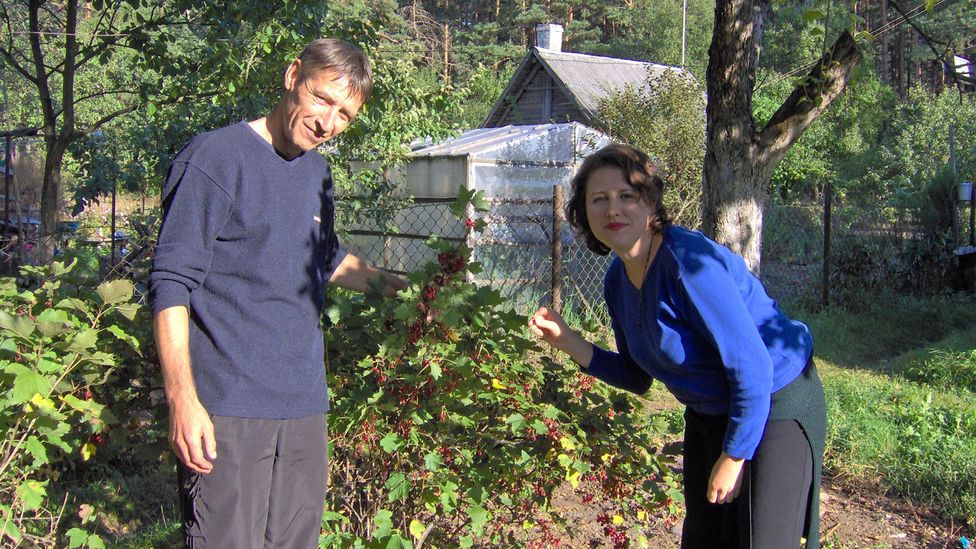 After crunching through the woods, the author (right) found the son of the dacha owner and her beloved berries (Credit: Susanna Zaraysky)
"Because food memories form without any conscious editing, they take on all the attributes of the situations in which they were acquired," Whitbourne told me. "They also can become associated with the activities involved in the act of cooking the food: the chocolate cupcakes a close family member taught you to make when you were young become part of a larger experience with that person. Your recollection of family meals, similarly, take on additional emotional meaning that then become associated with those smells and tastes."
Biting into these wild berries wasn't just a single Proustian moment, but an entire chapter of my family's past that I had to reassemble"
In French writer Marcel Proust's seminal novel, In Search Of Lost Time, he recounted how eating a madeleine cake as an adult instantly evoked memories from his childhood of seeing his aunt dip her madeleine cake in tea. Ever since, any involuntary memory that evokes your past has been known as a "Proustian moment".

For me, biting into these wild berries wasn't just a single Proustian moment, but an entire chapter of my family's past that I had to reassemble.

Today, these wild berries remain my personal connection to my early years in the former USSR and I am thrilled to eat them on the rare occasions when I find them. Since feeling like I came full circle with my family's debt to the Shapiros, I've returned to Eastern Europe many times, and have even tried to bring my beloved berries back with me to California – much to the displeasure of US Customs. But when I'm home, I know that come January, I can still expect fresh strawberries from my mom on my birthday.

Travel Journeys is a BBC Travel series exploring travellers' inner journeys of transformation and growth as they experience the world.

Join more than three million BBC Travel fans by liking us on Facebook, or follow us on Twitter and Instagram.

If you liked this story, sign up for the weekly bbc.com features newsletter called "The Essential List". A handpicked selection of stories from BBC Future, Culture, Worklife and Travel, delivered to your inbox every Friday.

;