One of only a few women to ever receive three stars since the Michelin Guide began giving them out to restaurants in 1926, Anne-Sophie Pic has become the queen of French cuisine.
F
French chef Anne-Sophie Pic begins each service with a certain rhythm. Behind the scenes, tucked away from Maison Pic's comfortably chic, three Michelin-star dining room in Valence, France, Pic works meticulously yet assertively in her stunning "dream" kitchen, which is elegantly dressed in all white and looks out to a courtyard garden through floor-to-ceiling windows.
Ideal for a design magazine or Instagram shoot, the airy, open room feels more like an outdoor stage set for a matinee or evening performance than a back-of-the-house workspace.
For Pic, it seems, prepping for the day's lunch and dinner services is like conducting the opening movement of a quiet, powerful symphony that builds delicately, layer by layer. Tablecloths are steam-ironed and dishes are plated with white gloves. Vegetables are julienned and then chopped into small dice and even tinier brunoise cuts. The sommelier and sous chefs are consulted about the day's best flavour pairings based on what's in season in the surrounding Auvergne-Rhône-Alpes region and even beyond (Provence and Corsica are favourites).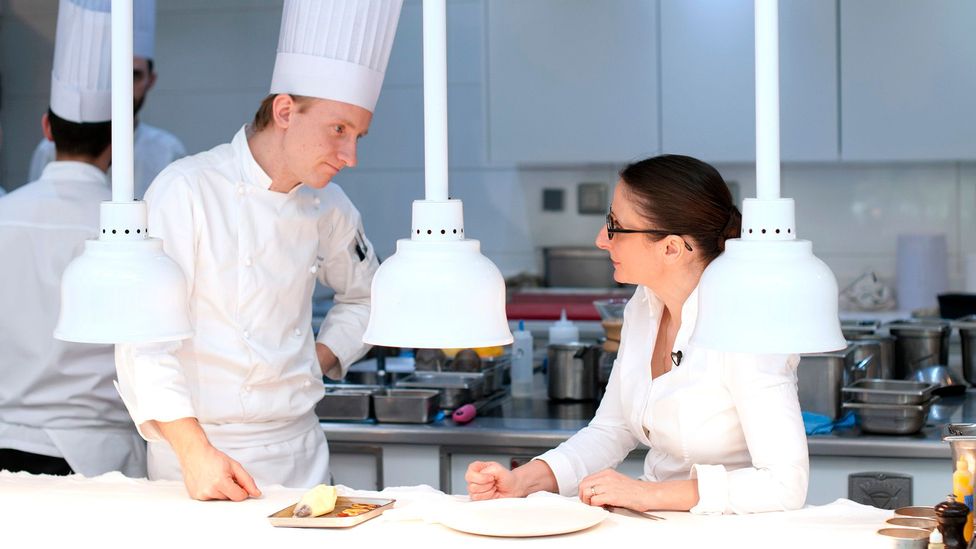 Anne-Sophie Pic consults with her team about the day's best food pairings (Credit: Andrea Savorani Neri)
Each element has a part to play and does so with exceptional precision and grace. There is no shouting, slamming of pots and pans or flaring fires. Pic's kitchen embodies the approach she brings to her cuisine: harmony over brutality.
You may also be interested in:
• The future of food according to Massimo Bottura
• The ingenious story behind Michelin stars
• The Nordic woman with the right to roam
"That's actually the challenge: being bold in the kitchen, but always preserving harmony…" said Pic. "It's not about being daring to end up with something too brutal." In other musical terms, she said, "It's all about the subtlety of the tempo."
Widely considered one of the world's greatest chefs and one of just a few women to ever earn three Michelin stars since the organisation began ranking the globe's finest restaurants more than 90 years ago, Pic has become one of the most influential forces behind modern French cuisine.
In addition to her flagship Maison Pic restaurant, she also runs André (also in Valence), a casual bistro named after her grandfather; restaurants in Paris (one star), London (just promoted from one to two stars), Lausanne (two stars) and now Singapore (opened in July 2019); a cookery school; an épicerie; and two quick-service establishments called Daily Pic. As she continues to expand, she is quickly ascending the ranks as one of the world's most prolific and decorated chefs.
To me, what really matters is that a cuisine must be emotional. Taste has a beginning and an end, and I want to make it last as long as possible
Although Pic is effectively a maestra in her kitchen, she's also very much the essence of a queen. After all, her restaurants in both Paris and London are named La Dame de Pic, which playfully translates into "the Queen of Spades". But more importantly, her food is regal and dynamic, with a sublime feminine ethos, which she elevates through an ever-evolving canon of unexpected botanical touches and surprising flavour combinations meant to reach one's emotional core.
Pic's signature dish, les berlingots, harkens back to her childhood, with their triangular pasta shapes mimicking the berlingot hard candies she used to indulge in as little girl growing up in the same family "maison" (house) where she cooks now. Lightly smoked with Provençal Banon cheese made from goats' milk, the savoury ravioli-like parcels float in a watercress consommé that's been layered with ginger and bergamot (on other occasions, asparagus and mint). Their tangy yet creamy centres, which burst upon a first bite, can bring tears to one's eyes (this writer's included).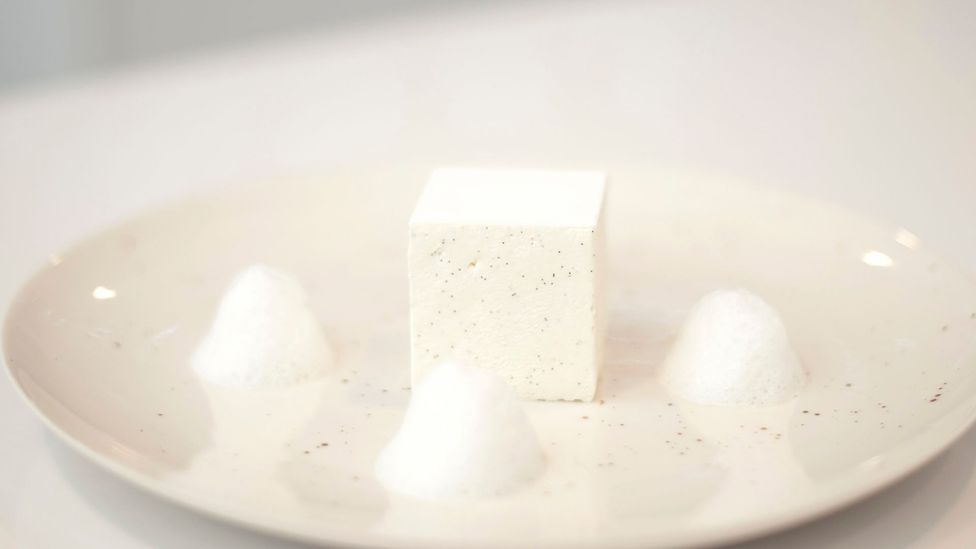 Le mille-feuille blanc (Credit: Andrea Savorani Neri)
(Credit: Andrea Savorani Neri)
Le homard bleu (blue lobster) (Credit: Ilya Shnitser)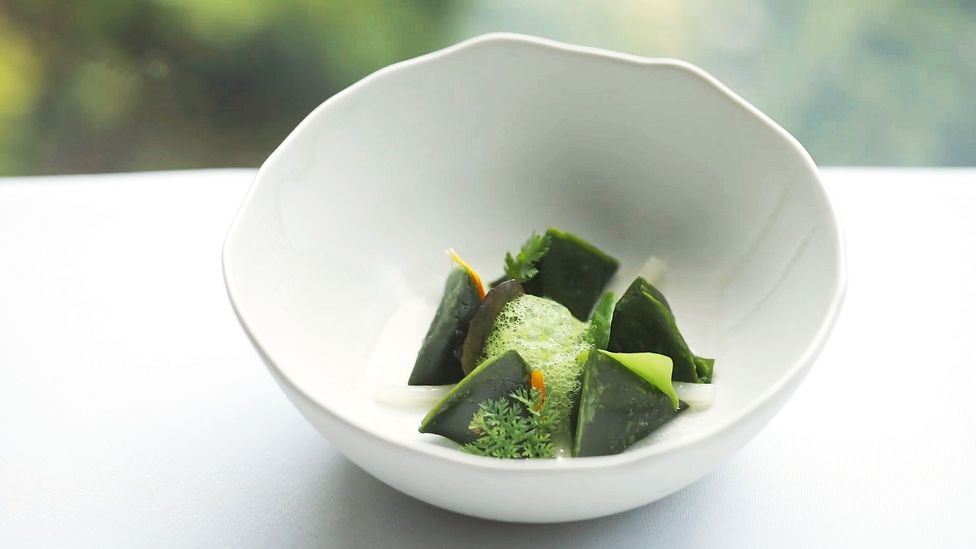 Les berlingots (Credit: Ilya Shnitser)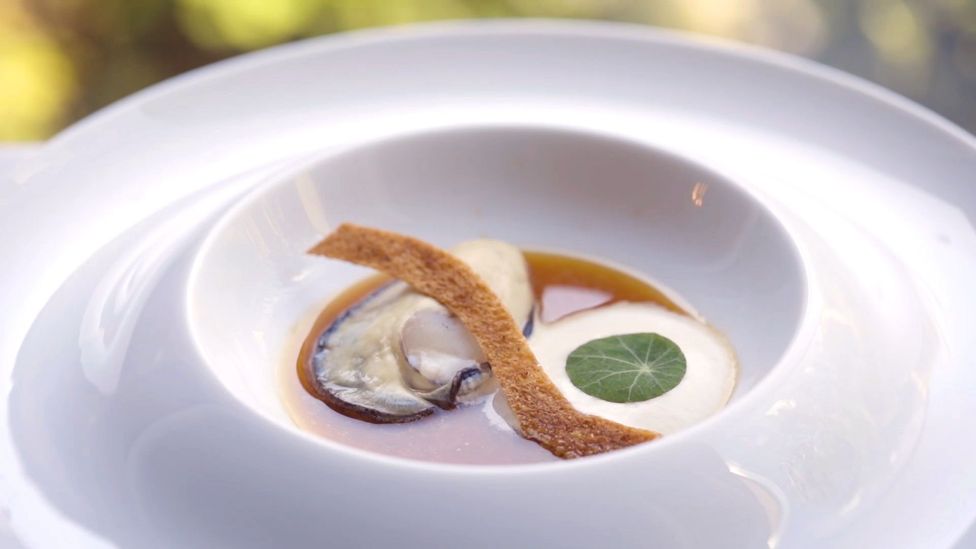 L'huitre Tarbouriech (Credit: Ilya Shnitser)
Other dishes pair langoustines with white heather honey, wild turbot with sorrel and cinnamon leaf, and beef with gin and sobacha (roasted buckwheat tea).
However, despite her sensitive use of herbs and florals, Pic isn't afraid to be daring, adding a "tame bitterness" to her flavour profiles, with ingredients like bitter orange (paired with blue lobster, carrot and a touch of curry) and other unlikely combinations of sweet, sour, savoury and spicy – so long as they are perfectly balanced.
Le mille-feuille blanc, a dessert that's nearly always on Pic's menu in some form, is a monochromic vision in white, its layered pastry cube covered neatly with Tahitian vanilla cream and accented with kumquat confit and Timut pepper foam. Of her l'huitre Tarbouriech dish composed of a curious merger of oysters, coffee and whiskey, she said, "We need to find the thread that makes things actually match, and for me, the thread between coffee and oysters is whiskey. What's interesting about this dish is how improbable the marriage is."
Overall, Pic favours cooking techniques that are crucial to classic French cuisine, but she takes her flavours to another plane, which she refers to as "a new lightness and complexity".
There is a culinary tradition in my family – it's part of our DNA
Pic's approach to flavours mirrors an inner duality that comes from a desire to honour her family's culinary tradition but also define herself as a chef. Maison Pic was initially run by her father, Jacques Pic, and grandfather, André Pic, before him – a legacy that ultimately began with her great-grandmother, Sophie, who opened the family's original restaurant in 1889.
Anne-Sophie Pic: The chef who rules France
However, Pic was not the restaurant's intended successor (her older brother Alain was). And while her father still taught her the nuances of French cuisine as a child, her mother encouraged her to pave her own path, which meant leaving home to study business management. "My mother influenced me a lot, telling me that I need to be an independent woman," Pic said.
Although she completed her studies and had the opportunity to travel to places like Japan and the US, her love of family and cooking ultimately drew her back home, where she planned to train more formally with her father. "[Cooking is] in all of us. Even me. Even if I wasn't the chosen one," she said.
Sadly, Pic's father passed suddenly within months of her return. After her brother had cooked in the restaurant for several years (and Pic worked in the front of the house), she took over the reins in the kitchen in 1997, depite a lack of training. With a sense of duty, she worked hard over the next 10 years to re-establish the restaurant's three stars (it lost its third star in 1995) and honour her father. "The death of my father, which was a real drama, gave me the strength and courage to fight," she said.
And then, in 2007, it happened: Maison Pic was again awarded the coveted three-Michelin star designation, this time under Pic's lead.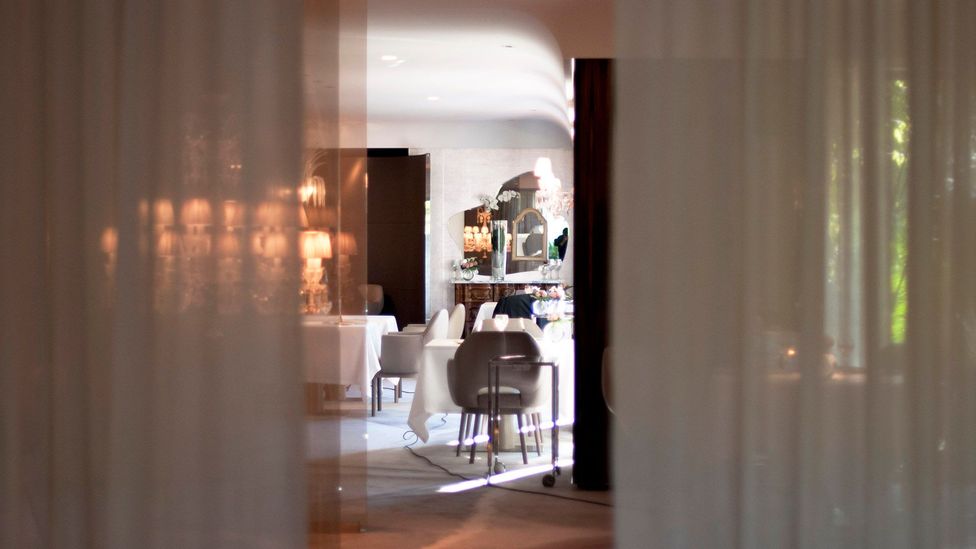 Maison Pic is a three-Michelin-star restaurant in Valence, France (Credit: Andrea Savorani Neri)
Her achievement was especially significant as she was one of only a few women to ever receive three stars since the Michelin Guide began giving them out in 1926. A tiny percentage of Michelin-starred restaurants are run by women, who do the lion's share of cooking around the world, and the lack of female representation among top chef lists such as the Michelin Guide and The World's 50 Best Restaurants has increasingly become a hotly debated issue.
Eugénie Brazier, considered the "mother of French cuisine", of Lyon restaurant La Mère Brazier was the first woman to receive the designation in 1933 and is also part of Pic's culinary legacy. Legendary chef and close family friend, the late Paul Bocuse (who was trained by Brazier), kept "a kind eye" on Pic after her father passed. And after eating at Maison Pic one day, he sent her a note saying, "Anne-Sophie, you are the Mère Brazier of the 21st Century – it's wonderful."
While Pic followed the lead of her chef father and grandfather, who also received three stars, becoming successful wasn't ever easy, despite her family's reputation. As she asserted, "I regained my stars – I didn't inherit them." But she also knew that she was facing an uphill battle, due to her gender: "Deep inside, I thought for a long time that, as a woman, it was impossible to have three stars."
Anne-Sophie Pic has a a sublime feminine ethos (Credit: Andrea Savorani Neri)
So now that Pic has defied convention, and has continued to keep – and earn more – stars, what advice does she have for others who want to follow in her footsteps? She said, echoing, yet again, a strong but harmonious approach: "Be able to listen to others, learn from other people's experiences, never rush and follow your instincts."
While Brazier might be considered the "mother" of modern French cuisine, Pic has most certainly proven herself to be the queen.
Why We Rule is a BBC Travel series that follows powerful women who have pioneered the path to female sovereignty and are truly rulers of their worlds.
Video credits:
Anna Bressanin (director)
Anne Banas & Simon Frantz (executive producers)
Ilya Shnitser (director of photography)
Andrea Savorani Neri (second camera & producer)
Elisabetta Abrami (editing)
Sebastian Diaz (colorist & assistant editing)
Carlo Purpura (original music & sound mixing)
Bernard Bursill-Hall (second sound mixing)
Join more than three million BBC Travel fans by liking us on Facebook, or follow us on Twitter and Instagram.
If you liked this story, sign up for the weekly bbc.com features newsletter called "The Essential List". A handpicked selection of stories from BBC Future, Culture, Worklife and Travel, delivered to your inbox every Friday.