Marker Wadden, a man-made, Robinson Crusoe-worthy archipelago in the Netherlands, is the latest addition to the world map – and it's an ingenious model for wildlife conservation.
F
From the Lelystad dock, the Markermeer could hardly seem less remarkable. Reinforced by unlovable concrete slipways, the shallow lake, also considered an inland sea, stretches for some 40km, flooding a 700sq-km expanse of the central Netherlands. At its most southerly point, it just about reaches Amsterdam, and to the north, west and east it continues to the towns of Enkhuizen, Hoorn and Lelystad, places most people wouldn't ever think about visiting.
Yet for all the brutalism on display, there is a tremendous amount of beauty beyond what can be seen from the shore. For away from the lakefront, the Markermeer's glassy-calm interior is home to an ambitious land reclamation project that is now one of Europe's most exciting conservation stories. And to think, three years ago, it only existed as an idea on paper.
This is the Marker Wadden, a man-made archipelago of five islands in the province of Flevoland. On the day I visited in September, I was joined by project director Roel Posthoorn, whose vision has turned the deepest part of the lake into a spectacular wildlife pocket of thriving marshlands, reed beds and bird breeding grounds.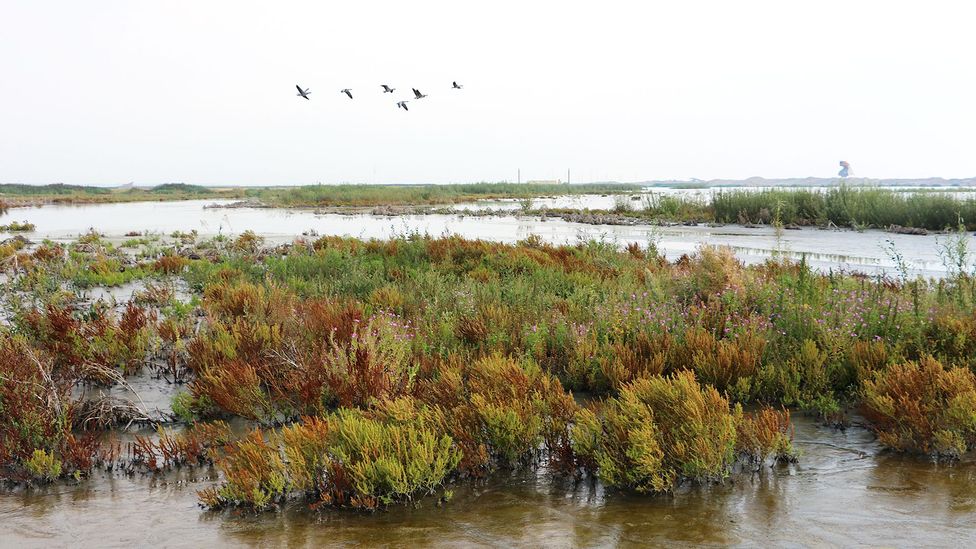 At the latest count, some 120 species of birds have arrived at Marker Wadden (Credit: Mike MacEacheran)
At the latest count, some 120 species of birds have arrived. There are geese, gulls, eider ducks, cormorants, waders, spoonbills and more than 2,200 nesting common terns. Its colony of pink-tinged avocets is now the biggest of its kind in the Netherlands. An audible hum from resident sand martins descends when mooring at the rudimentary boardwalk harbour. You can count bats (four different types) and insects, plus 170 different species of plants, too. It's an unprecedented feat of rewilding in a turbid, neglected landscape that until now has been written off.
You may also be interested in:
• The Netherlands' war against water
• The Dutch windmill making artisanal bread
• Where Dutch directness comes from
Bird tracks in the sand – hopping to the beach on the southern side – led us to the islands' rawest part: an uncultivated, waterlogged basin created days before our arrival by a fleet of sand dredgers (industrial cranes on pontoons) harvesting silt, clay and sugar-grain shells from the bed of the 4m-deep sea to build the island with. Hard to fathom, it was the newest piece of land on Earth.
"Welcome to Europe's new coastline," said Posthoorn, as we stood ankle-deep on a mudflat, gazing at the Eden-in-the-making. "By the end of next week, this will look completely different. Then, when our involvement draws to a close next year, nature will completely take over."
Nowadays, loss of biodiversity is such an incomprehensible challenge that the solutions need to be extraordinary. For Posthoorn, who is also the project director of Natuurmonumenten, a Netherlands' not-for-profit nature conservation movement, the idea was born out of frustration.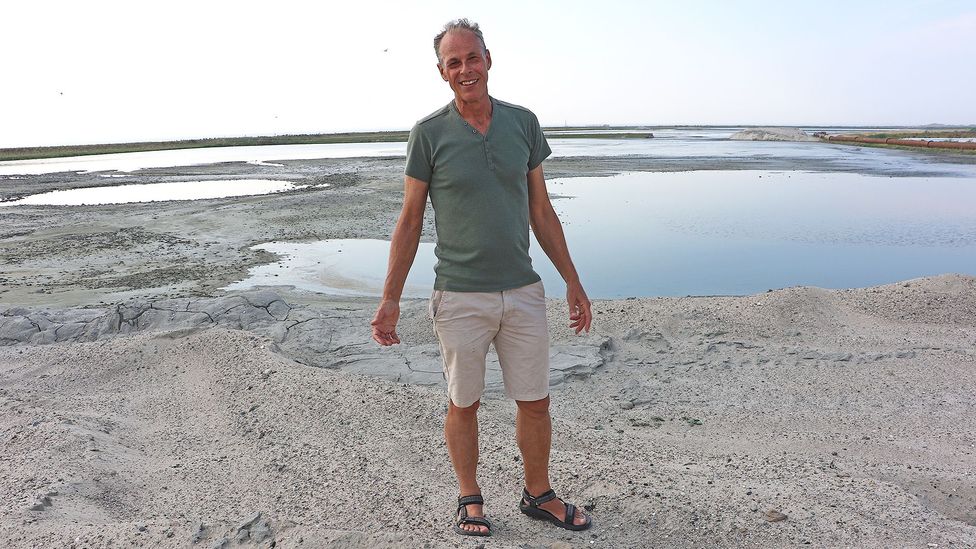 Roel Posthoorn's vision has turned the Markermeer into a spectacular wildlife pocket (Credit: Mike MacEacheran)
More than 40 years ago, the Dutch government planned to reclaim land from the Markermeer through this dredging process to increase Flevoland's habitable area and ease pressure on the population-dense cities nearby. But as the lake was reinforced and hydrologically split from its larger lake sibling, the Ijsselmeer (itself dammed-off from the saltwater Zuiderzee in 1932), bureaucracy and escalating costs stymied the project. Political infighting and finger pointing followed. Meanwhile, the Markermeer's water quality deteriorated rapidly because of the disappearance of the natural shoreline, a muddied basin was born, and the fish population fell into sharp decline.
"As an outsider, I had a bold idea to rescue it – to boost biodiversity," said Posthoorn, whose background is in environmental science and nature management. Flevoland, a man-made province that was almost entirely constructed out of reclaimed land in the 1950s and 1960s, had inspired Posthoorn because, as he put it, its unusual history of transforming water into land meant anything was possible.
Here, he understood, people had always lived by the water, or effectively on top of it. So, what came next was a master plan for five beautifully formed, lottery-funded (from the Dutch Postcode Lottery) islands: one to be opened for visitors, the other four to be left wild, free and untamed. The project has seen strong cooperation between local and national governments, but this wasn't always the case.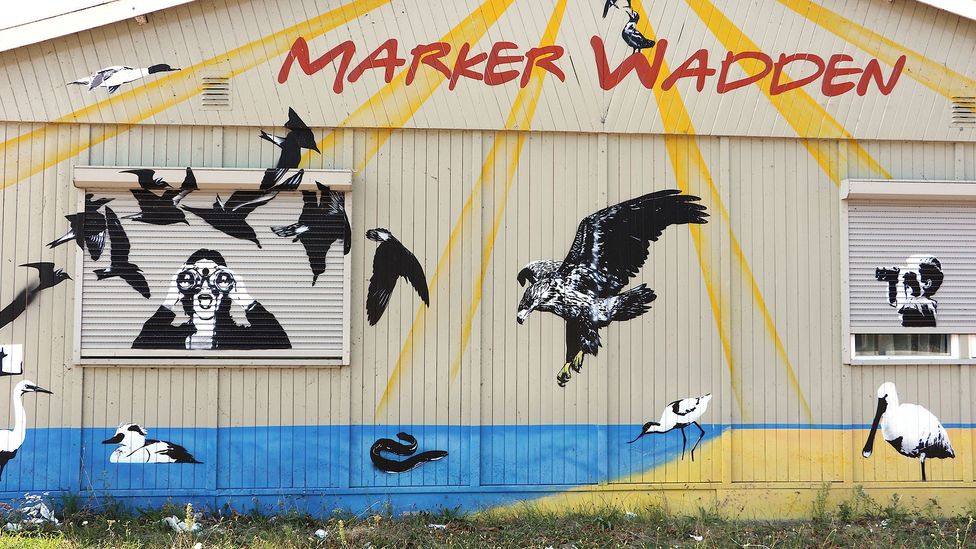 Visitors to Marker Wadden can have an experience they can't have anywhere else in Europe (Credit: Mike MacEacheran)
"It was a simple equation of water, islands and nature, and yet I had difficulty explaining to people what I had in mind," said Posthoorn, leading me onto a diadem of crisp white sand that felt a world apart from the rest of the Netherlands. "I brought people here in a boat to explain how we would begin by reclaiming the land from the lake floor, but they still couldn't see what I was seeing."
It wasn't hard for me to understand why: no-one else had conceived the idea that a parallel universe of pristine islands and densely packed cities could exist simultaneously.
Now the seemingly impossible has become the actual before Posthoorn's eyes. A matter of months ago, the stagnated water was opaque, deprived of movement and phosphate needed to support natural productivity. Since then, the new shoreline has stimulated tidal ebb and flow and the fertile soil, from the lake's sediment, has fuelled an explosion of plant life and algae. It's too soon to determine any permanent effect, but water purity is improving and signs for the future are promising. And the new ecosystems are helping bring about recovery.
Part of this wider eco-narrative is in motion in nearby Nieuw Land National Park, established in 2018. A sweep of polders, dykes and coastal habitats on the mainland, just 25km from the overtourism of Amsterdam, it forms the world's largest man-made nature reserve. Marker Wadden has recently been absorbed into its perimeter and there is a safari-quality to exploring the park's marshlands. On a 4WD jeep, it's possible to see wild horses, cattle, deer, foxes and wildfowl.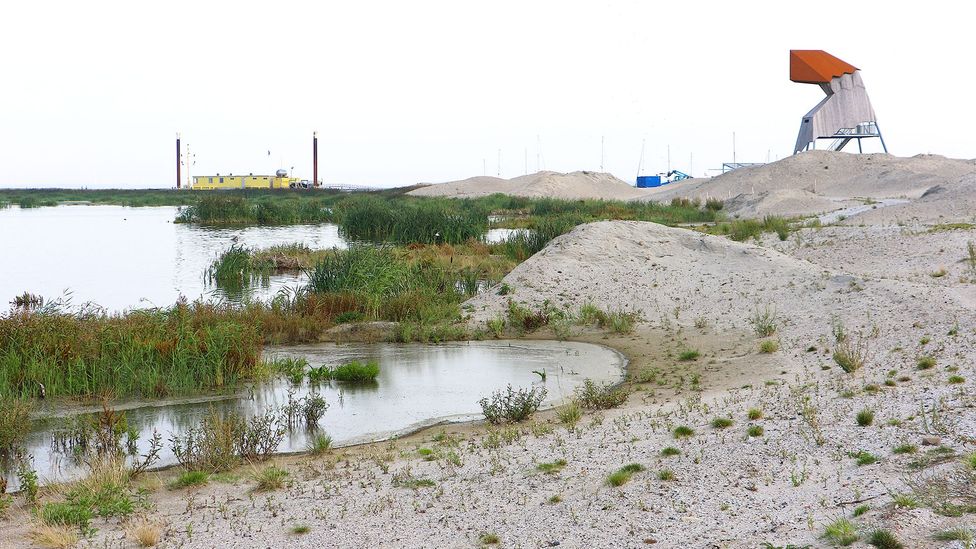 A periscope-shaped observation tower is accessible to the public (Credit: Mike MacEacheran)
Such is Natuurmonumenten's level of confidence in the new-look Markermeer that more is to come. The next decade will see ground broken on Toekomstbeeld 2030, a project that includes the creation of a second archipelago on Marker Wadden's leeward side and an artificial peninsula near Lelystad, Flevoland's provincial capital. "If I'm allowed to build another island after that," said Posthoorn, smiling, "I'll leave it entirely to nature to see what happens next."
After discovering the island's bird-watching hides and following the boardwalks to its publicly-accessible, periscope-shaped observation tower, we met Ina Adema, the mayor of Lelystad, who had arrived to see the islands' progress. She described the project as a steppingstone for change in the Netherlands – and elsewhere.
"Lelystad was made by people, and you can see these islands are the next step," Adema said, the late afternoon sun casting a hazy golden light onto the beach. "They're made by people, yet this time not for us, but for nature."
Is Posthoorn proud of this achievement? Only when prompted. The Dutchman considers himself the islands' guardian rather than their mastermind and much of what he has strived to achieve is already apparent on our walk around – the lack of any human footprint, from buildings and roads to signage and overhead wires.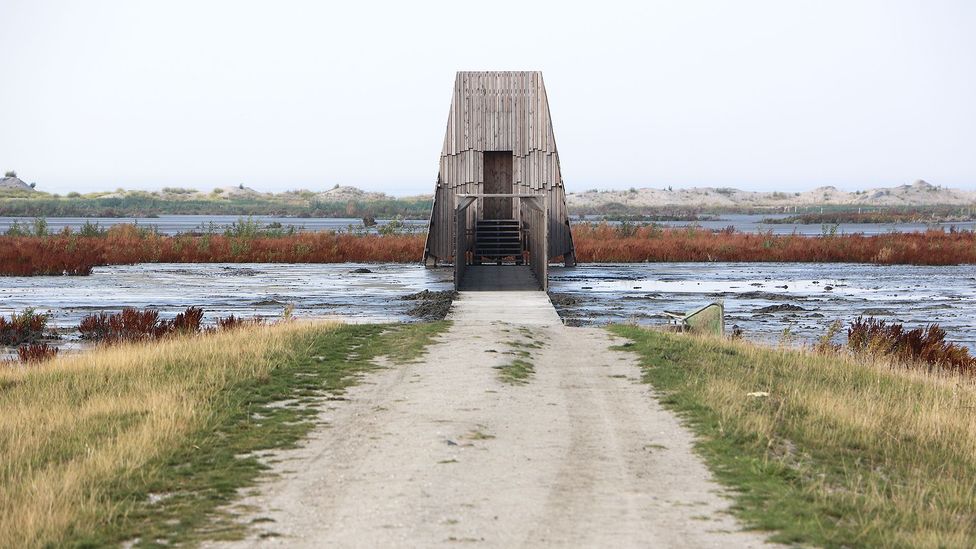 Marker Wadden was built with reclaimed land from the Markermeer (Credit: Mike MacEacheran)
Once completed next year, the publicly accessible island's four, frontier-style cabins for overnight volunteers and visitors (to help with ongoing costs) and an off-grid laboratory and research centre (for monitoring how the land is moving) will run on solar power and desalinated sea water. The only concession is a ferry, which will ply the Markermeer starting next spring, offering day-trippers the chance to visit and locals an opportunity to reconnect with the nature they almost lost.
Hope, spirit, salvation – it is all here. These geographically pure islands are a symbol of how environmental decline can be reversed and how creativity can bring a community together, not only though a volunteer programme, but also by encouraging people to come to the islands for a shared experience they can't have anywhere else in Europe.
The islands are as incongruous as they are striking, as if some mad god has relocated an Indian Ocean paradise to the middle of the Netherlands. And yet that is not the point. You don't just arrive on the Marker Wadden. You travel towards an idea, into a much brighter, bolder future.
Islands of Imagination is a BBC Travel series that journeys to some of the world's most unique, extreme and beautiful places that have been inimitably fashioned by their geographic isolation.
Join more than three million BBC Travel fans by liking us on Facebook, or follow us on Twitter and Instagram.
If you liked this story, sign up for the weekly bbc.com features newsletter called "The Essential List". A handpicked selection of stories from BBC Future, Culture, Worklife and Travel, delivered to your inbox every Friday.