Legend has it that author Robert Louis Stevenson's 1869 visit to the Scottish island inspired his classic tale of adventure, Treasure Island.
F
From the northern tip of Unst, Shetland – the UK's most northerly inhabited island – a dramatic view comes into sight. Encircled by gannets, the tiny isle of Muckle Flugga rises sheer out of the North Sea. Perched atop its serrated rocks, pointing upwards like a single candle stuck into a birthday cake and marking the end of the UK like an exclamation mark, is the most northerly of Scotland's lighthouses. It wears the colours – creamy white with a ring of pale yellow – that identifies it as a Stevenson lighthouse. 
The Scottish author Robert Louis Stevenson would have been familiar with this view. As a young man in 1869, he accompanied his father, the pioneering lighthouse engineer Thomas Stevenson, on a visit to Unst and Muckle Flugga to inspect the lighthouse that Thomas and his brother David had started building in 1854. The brothers each designed more than 30 lighthouses around Scotland's coasts; Robert Louis was expected to follow his family into lighthouse engineering, and this trip was part of his preliminary education.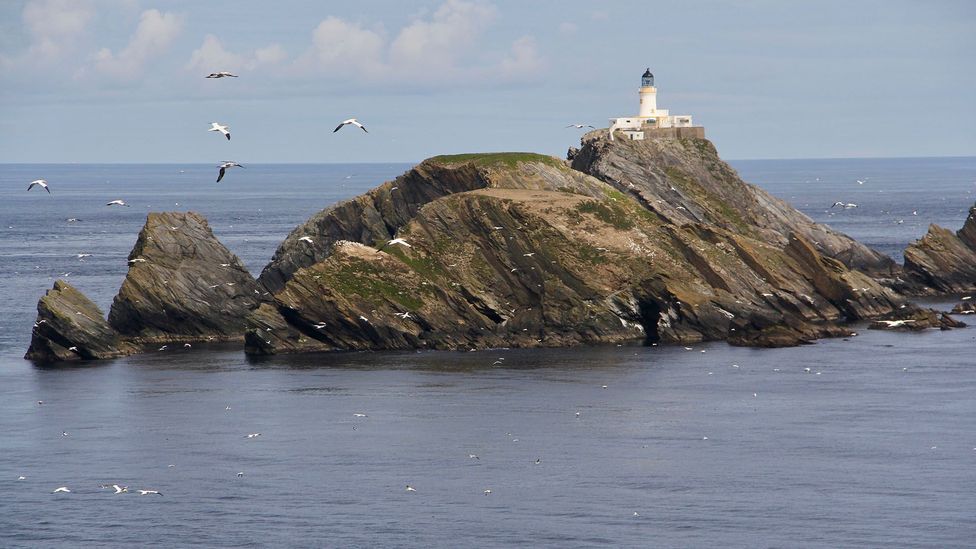 Located off the northern tip of Unst in the Shetland Islands, the lighthouse on Muckle Flugga is the UK's most northerly beacon (Credit: Karen Gardiner)
"They sailed around the east coast lights," writes Bella Bathurst in The Lighthouse Stevensons, her biography of three generations of the Stevenson family, who all built beacons, "up to Scapa Flow and then to Muckle Flugga." She continued, "But [Robert] Louis seemed far more interested in the scenery than he was in the lights."
Robert Louis never did become a lighthouse engineer, but legend has it that his visit to the area inspired his classic tale of adventure, Treasure Island, published in 1883.
You may also be interested in:
• The British island that's not in the UK
• What unicorns mean to Scottish identity
• The renaissance of Northern Ireland's forgotten 'seafood'
Few records remain of Stevenson's visit, besides his brief entry in the visitor's book for North Unst Lighthouse (as it was then known), which states simply: "R L Stevenson, Edinburgh, 19 June 1869". But the association is a plausible story: look at the fictional map of Treasure Island – described in the book as "like a fat dragon standing up" – and you'd be unable to miss its resemblance to that of Unst, an outline Stevenson would have seen on the maps used by the lighthouse engineers while sailing around Unst's coast to the rocks of Muckle Flugga. 
[Robert] Louis seemed far more interested in the scenery than he was in the lights
I'd heard of the Treasure Island association before I came to Unst, and sitting there at what felt like the wind-battered edge of the world, it was easy to understand how Unst could so inspire the imagination. It's a place that lies at the furthest edge of the UK, closer to Tórshavn, Oslo, and the Arctic Circle than to London. Unst's association with the book wasn't why I'd come – I've long been drawn to far northern islands – but it intrigued me enough to pick up a copy of Treasure Island before I set out. Re-reading the book, I wondered if, when I'd first read it as a young girl, it was where I had found my love of the remote edges of the world.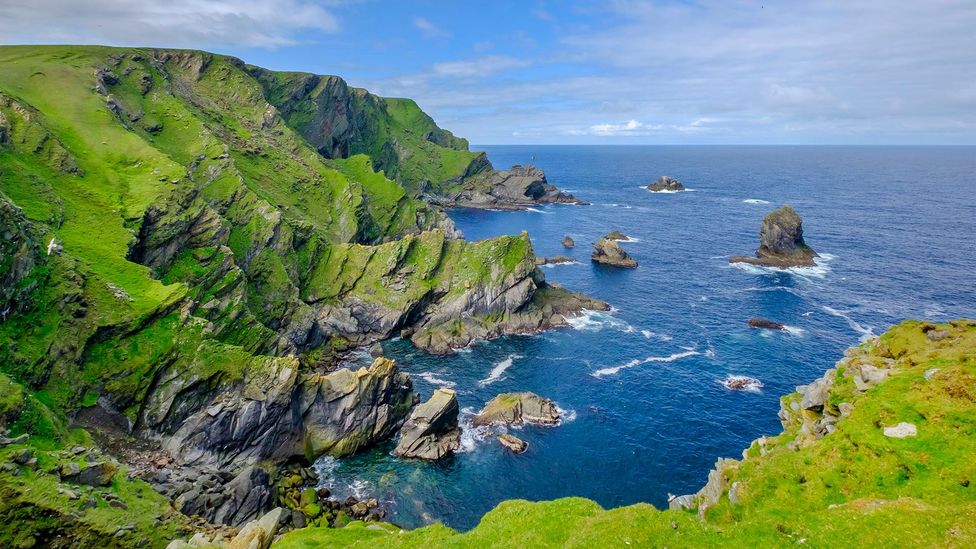 Unst lies at the furthest edge of the UK, closer to the Arctic Circle than to London (Credit: argalis/Getty Images)
Early on, waiting to begin his voyage to Treasure Island, Stevenson's protagonist tells of "brooding" over the map he'd discovered in an old sea captain's chest, "full of sea dreams and the most charming anticipations of strange islands and adventures". These are words that could surely inspire even a committed landlubber to set sail for far-flung shores. 
My own journey to Unst was easy. In the Shetlandic capital of Lerwick, where I'd disembarked after an overnight ferry from Aberdeen, I boarded a bus and was delivered to my destination two and a half hours later. Shetland may be sparsely populated, but it has an extensive bus network that efficiently links up with its ferries. After leaving my bag at a youth hostel that occupies an old Royal Air Force station, I set out on foot for Hermaness National Nature Reserve.  Scottish Natural Heritage, the public body that manages the reserve, describes Hermaness in summer as "the New York of the seabird world: a noisy, bustling and often smelly metropolis that is home to more than 100,000 breeding seabirds".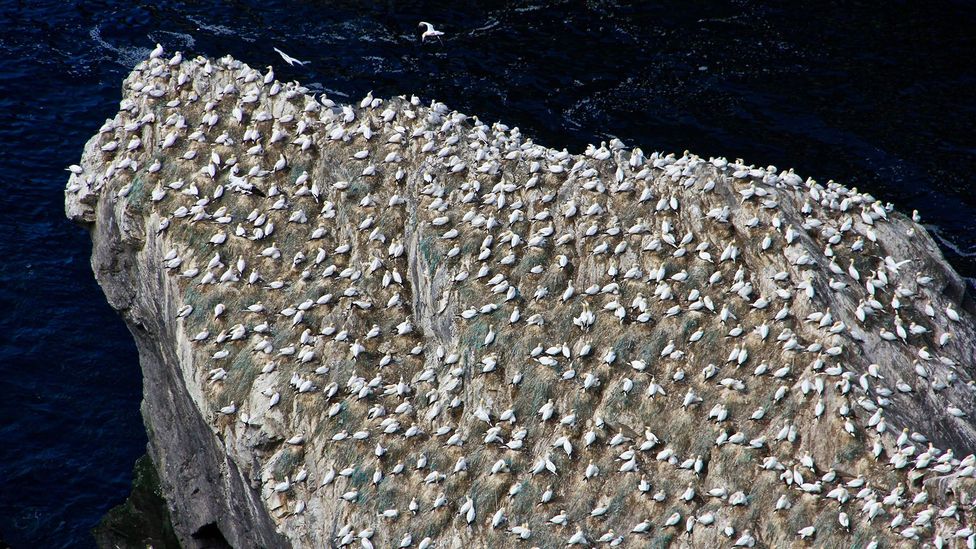 More than 100,000 breeding seabirds flock to Unst each summer (Credit: Karen Gardiner)
Past the visitors centre inside the old Muckle Flugga Lighthouse Shore Station – where lighthouse keepers slept when not on duty – I walked through steep, grassy and boggy terrain, along a path clearly marked so as not to disturb nesting great skuas, the aggressive seabirds known in Shetland as "bonxies". I reached the cliff edges around an hour later, turned south and could smell the guano before I arrived at the high gannetry on the cliffs, below woolly sheep clinging absurdly to the unprotected edges. Thousands of gannets, known in Shetland as "solans", occupied each and every surface of the cliffs, while others, coming into land from a day spent fishing, glided above them, looking for a vacant patch of rock. On top of the cliffs, puffins (or, "tammie norries") waddled in and out of their burrows. It was a place utterly humming with life, the noise, smell, sound and sight of it. 
A treasure of an island, then, but is Unst really Treasure Island?
I turned and headed north along the cliffs, down emerald-green grassy slopes. More gannets occupied the rocks and sea arch offshore. Their racket competed with the din of the wind-whipped sea. Rounding a bend, a small chain of skerries, like stones skimmed across the water, came into view: Vesta Skerry, Rumblings, Tipta Skerry, Muckle Flugga and finally Out Stack, which officially marks the very end of the UK. 
The fantastic names added to my delight in being there; a feeling that seemed to be shared by the other few visitors I came across. "It's glorious!" one woman sang, near giddy with joy, as I passed her returning along the cliffs. Another who had leaned on her walker all the way to the cliffs told me that she just wanted to sit there and wait for the sun to set – never mind that the Shetlandic high summer is the time of "simmer dim", as it is known locally, when the sun only dips briefly below the horizon.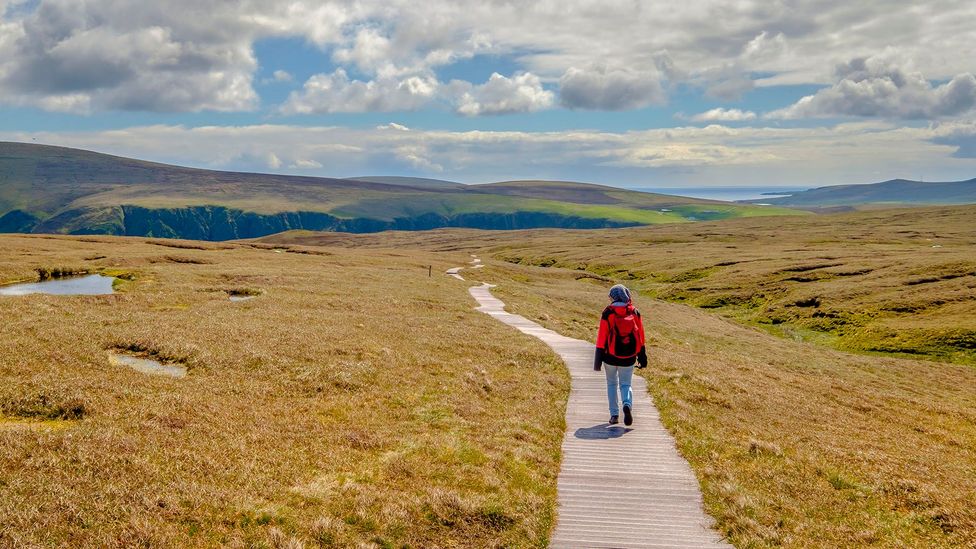 Unst measures just 12 miles long and five miles wide but feels like a world unto itself (Credit: argalis/Getty Images)
If its coastline is the setting for high drama, Unst's interior is captivating in a different way. The following day, I visited the large expanse of serpentine rock that is the Keen of Hamar Nature Reserve, east of the island's largest settlement of Baltasound. A rocky, almost lunar-like landscape, the Keen of Hamar may appear barren but is home to an extraordinary array of plant life. On the cliffs, the elements had been a force that surrounded me, but here I had to crouch forward, leaning into the rocks to identify the area's often minuscule plants: the bubblegum-pink flowers of moss campion; delicate Norwegian sandwort; and the mouse-eared Edmonston's chickweed, Britain's rarest plant, which flowers here (and nowhere else) in June and July.
Some of the most idiosyncratic attractions I have ever visited revealed themselves in similarly subtle ways. I stopped into the Unst Boat Haven for a quick look and wound up staying well over an hour in the small museum, admiring its extensive collection of lovingly cared for small wooden fishing boats and learning about the resilient fishermen who went out in them, sometimes as far as 30 miles offshore. The reputation of the elaborately furnished Bobby's Bus Shelter – a bus stop-turned-tourist attraction, which locals decorate every year to reflect a different theme – precedes it, but it was even more cosy and charming in real life. Wandering around small settlements, I'd see Shetland ponies grazing in gardens.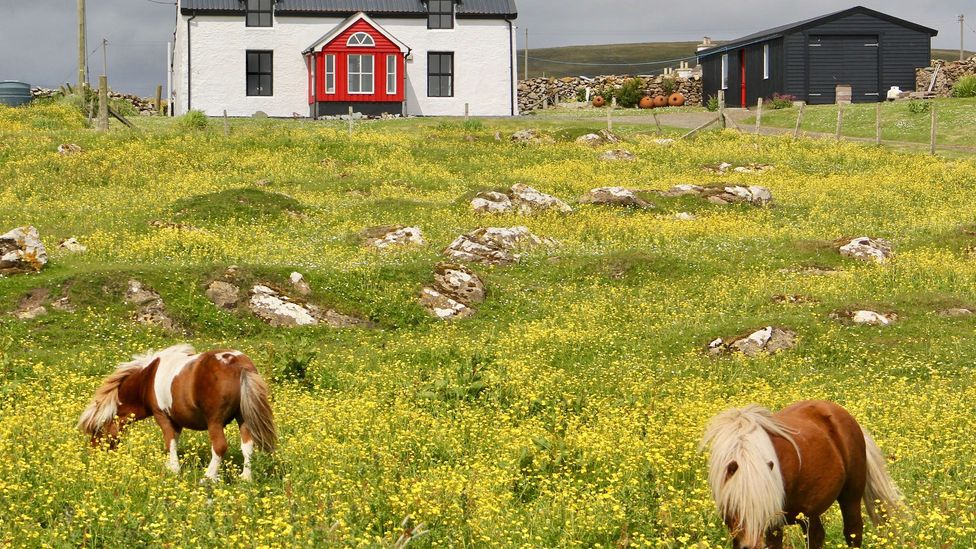 Small Shetland ponies graze in meadows and gardens across Unst (Credit: Karen Gardiner)
Everywhere I went on Unst, various businesses proclaimed themselves "Britain's most northerly": tea rooms, post office, distillery. But I began to feel that nowhere needed these qualifications. The island, I thought, is full of treasures in its own right, all packed into an area of just 12 miles long and five miles wide – not far off Treasure Island's "nine miles long and five across".
A treasure of an island, then, but is Unst really Treasure Island?
While Robert Louis never followed his family into lighthouse engineering, it's likely that their work lighting up the Scottish coast, surrounded by maps, nurtured a love of cartography in him. "I am told there are people who do not care for maps", he wrote in his 1893 essay My First Book, "and I find it hard to believe."
I asked Paula Williams, curator of the Maps, Mountaineering and Polar Collections at the National Library of Scotland, to compare the two maps. The outline of Stevenson's Treasure Island from the novel does resemble that of Unst, she agreed, "as if viewed from the south, complete with corresponding inlets and [the] small islet Skeleton Island, [as it is called in the novel], or Uya [its real name]". The outline, Williams told me, is "no less accurate than on some early sea charts", such as this map from 1787. She added that Unst also has small hills on its headlands that could easily translate into the book's Mizzen-mast and Foremast Hills, notable features of Treasure Island that Captain Smollett points out as the expedition schooner, the Hispianola, approaches in search of treasure.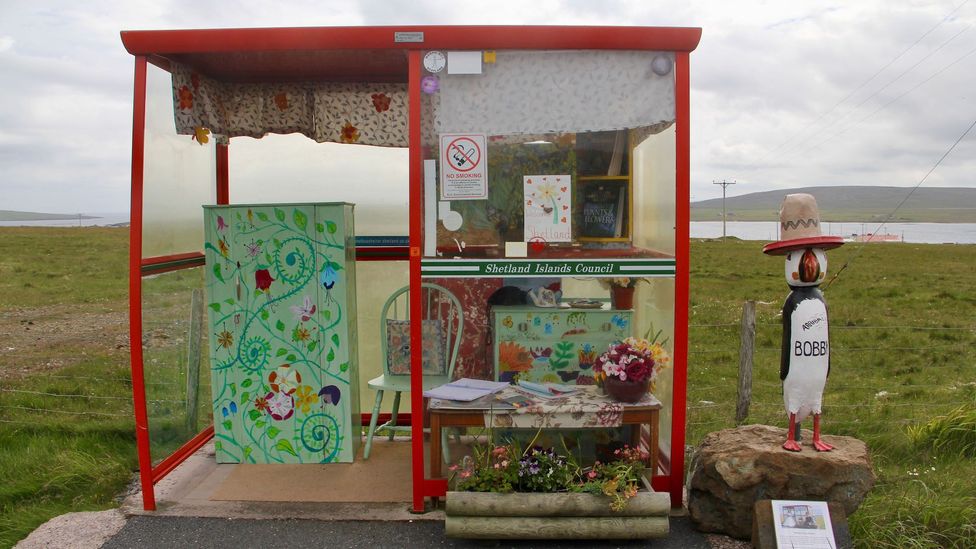 Bobby's Bus Shelter takes on a new theme each year and has become an unlikely tourist attraction (Credit: Karen Gardiner)
"It is easy to imagine how something similar could have been sketched, perhaps, from memory,' she said. 
Later charts, such as this 1833 map of the Shetland Islands, however, tell a different story, showing that the sea around Unst is significantly deeper than that of Treasure Island. Stevenson had taken the care to detail the depth of water around Treasure Island, Williams said, describing it to me as "less than five fathoms until further out from the island where it deepens to 12 or so". But on Unst charts, "it can be as deep as 26 in the bays and more than 40 fathoms deep off shore". Finally, Williams added that "Unst is also narrower on the east-west axis than Treasure Island and longer north-south."
Nevertheless, the legend persists. Much like the local businesses making the most of their "most northerly" selling point, the island seems keen to emphasise Unst's resemblance to Treasure Island and the Stevenson connection, with it mentioned everywhere from the official Unst website to the National Trust for Scotland.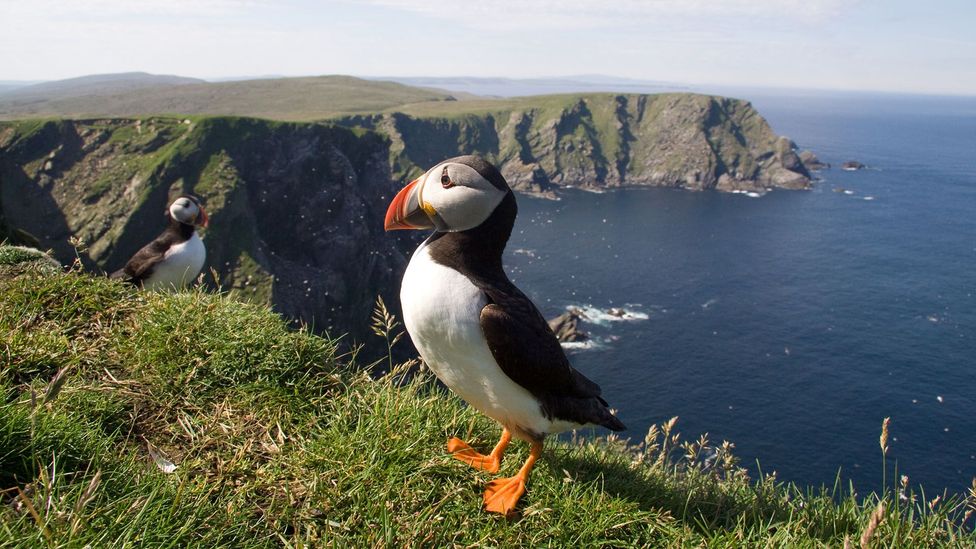 Legend has it that Unst inspired Stevenson's famous book Treasure Island – but the author was coy about the fabled land's true setting (Credit: lisland/Getty Images)
As for the island's setting in the book, the author in 1893 told the Sydney Morning Herald newspaper: "I only wish myself that I knew where it was". Possibly anticipating the coming challenge of global "overtourism", he said that he was "careful to give no indication as to its whereabouts for fear that there might be an undue rush towards it", before adding that "it is generally supposed to be in the West Indies".
After leaving Unst, I realised that I'd neglected to make the most important Stevenson connection: to visit Unst's equivalent spot marked by an "X" on the map of Treasure Island to indicate the buried treasure hidden by the infamous pirate Captain Flint. I made a rough approximation on Google Maps – taking Unst's Clay Burn as the stream marked running inland from the bay containing Skeleton Island on the Stevenson map – and asked Williams if this seemed a likely place to stash treasure.
This spot's lack of notable features, she said, deems it unlikely. "You would imagine that a pirate would use some form of triangulation or dead-reckoning to remember the spot". But, she added, "if it's just daubed on an imaginary landscape that wouldn't matter."
My question, of course, was absurd. An attempt to force an association onto something Stevenson had left deliberately opaque. Better, instead, to let treasures reveal themselves on their own terms. Like a mysterious map, by chance, falling out of an old sea captain's chest, or the idiosyncratic attractions of the island of Unst.
Join more than three million BBC Travel fans by liking us on Facebook, or follow us on Twitter and Instagram.
If you liked this story, sign up for the weekly bbc.com features newsletter called "The Essential List". A handpicked selection of stories from BBC Future, Culture, Worklife and Travel, delivered to your inbox every Friday.