Only by the late '90s, long after the Khmer Rouge lost power, did local farmers – many with generations' of peppercorn farming running through their veins – return to their roots.
A
A recent re-emergence of a flowering vine that grows on poles in south-east Cambodia is the product of a local strategy paved with the best of intentions. But the road to reach the farms is not paved at all.
It wakes the palate and enhances the taste of other foods
I learned this in a tunnel of dust, as I rode a motorbike around tuk-tuks on red-dirt roads. Once I stopped for a mask to fend off the dust, the scene was stunning: water buffaloes wading through flooded rice fields by lush hills home to bat-filled caves housing ruins older than Angkor Wat. Ahead, outside the city of Kampot, loomed local farms where the quartz-rich soil produces the world's premier organic peppercorns.
At least eight centuries ago, locals began growing this peppercorn vine, which is native to Kerala, India, and had spread to Southeast Asia. But the "Kampot pepper" – as it's now christened – only became a global product after French colonials got their taste buds on it. In the late 1800s, the French set up plantations, growing the peppercorns on 10-foot bamboo poles and then exported vast amounts of them back home where they became – as the late Anthony Bourdain cooed on his TV show No Reservations – "the tabletop standard for all of France."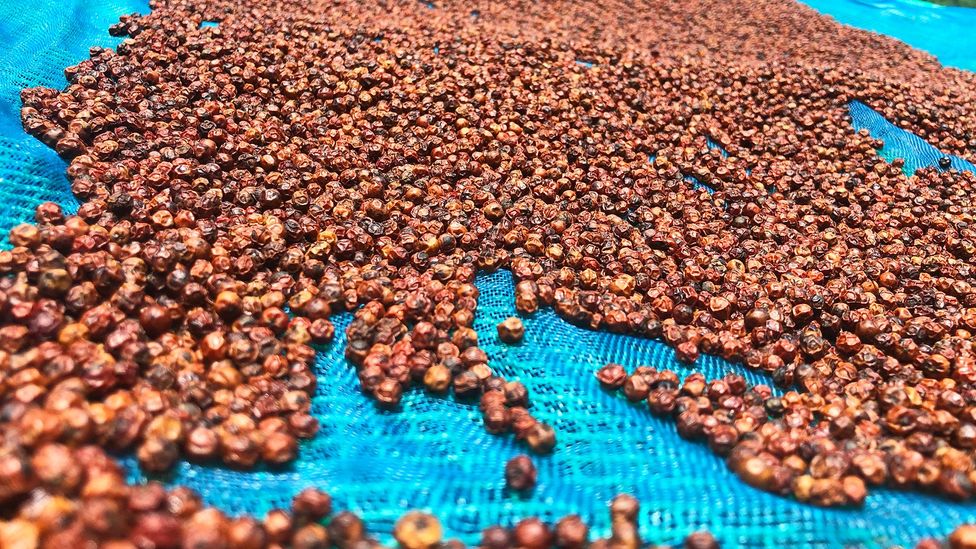 Kampot pepper has earned Protected Geographical Indication (PGI) status from the World Trade Organization (Credit: Robert Reid)
In the 1970s, however, the brutal Khmer Rouge regime viewed the peppercorns as a symbol of colonialism and forced farmers to grow rice instead. Only by the late '90s, long after the Khmer Rouge lost power, did local farmers – many with generations' of peppercorn farming running through their veins – return to their roots. At the time, farmers were impoverished, so they turned back to what they knew: the same farming practices that had run in their families for generations – and nearly all did it on small plots of land.
You may also be interested in:
• A national cuisine defined by breakfast
• Cambodia's hidden jungle temple
• Vietnam's vast underground world
Although Kampot pepper prices peaked when red pepper sold for $25 per kilogram in 2014 and have dropped off slightly since – particularly as cheaper Vietnamese pepper has taken over the world market in recent years – farmers here bank on the lasting appeal of Kampot pepper's superior quality as a selling point, primarily for European buyers. It's all produced organically, as the locally run Kampot Pepper Promotion Association mandates, with the perfect amount of sun and fertile soil to make it a pepper worth paying extra for.
In 2010, this "comeback" pepper earned Protected Geographical Indication (PGI) status from the World Trade Organization, becoming to pepper what Champagne is to sparkling wine or Prosciutto di Parma is to ham.
But is it really that good?
Confession: I'm not a "foodie". I can say I prefer pepper to salt, but my knowledge of the seasoning pretty much stops there. I only found my way to the fabled Kampot pepper because I was looking for a low-key destination as a break from the nonstop hectic pace of my home in Ho Chi Minh City, Vietnam.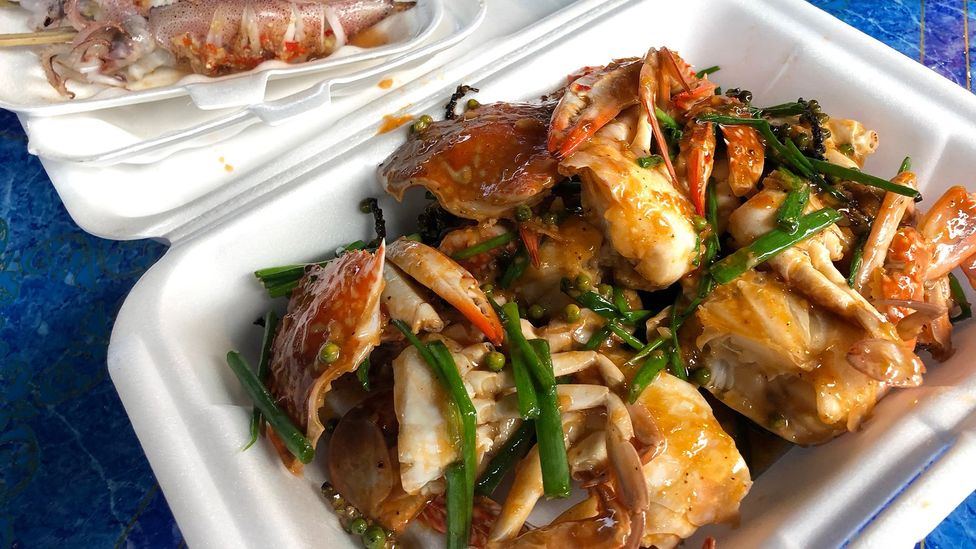 One of the region's most famed dishes is Kampot pepper crab (Credit: Robert Reid)
Kampot, a city of nearly 50,000 people a few miles inland from the Gulf of Thailand, is the kind of place with enough buzz not to be a "backwater", yet is quiet enough to cross the street without fear of busy traffic. It's easy to see why several hundred expats call it home.
Low-rise French-colonial buildings and Chinese-style shophouses face a breezy riverside esplanade backed by the meandering mountains of Bokor National Park. Every day, sunset cruises ride up the river, while day-trippers hike past monkeys, abseil down limestone cliffs, kayak or ride stand-up paddleboards in the river, or visit the nearby coastal town of Kep's modest brown-sand beach and iconic crab market.
After arriving by bus via the Cambodian capital Phnom Penh, I stopped for a midday pick-me-up at a sidewalk stand called Street Coffee run by So Sokha, a 60-something retiree who moved here from Phnom Penh and makes coffee chiefly for the conversation that comes with it.
To get a local's perspective, I asked him if he could tell the difference from cheap pepper and the good stuff. He gushed about Kampot's quality, saying how easy it is to tell the difference between it and lower-grade pepper.
"When you try Kampot pepper, it's hot at first. Then it calms down, down, down – like flowers on the back of your tongue," he said, pointing into his mouth. "That's when you know you have the real one."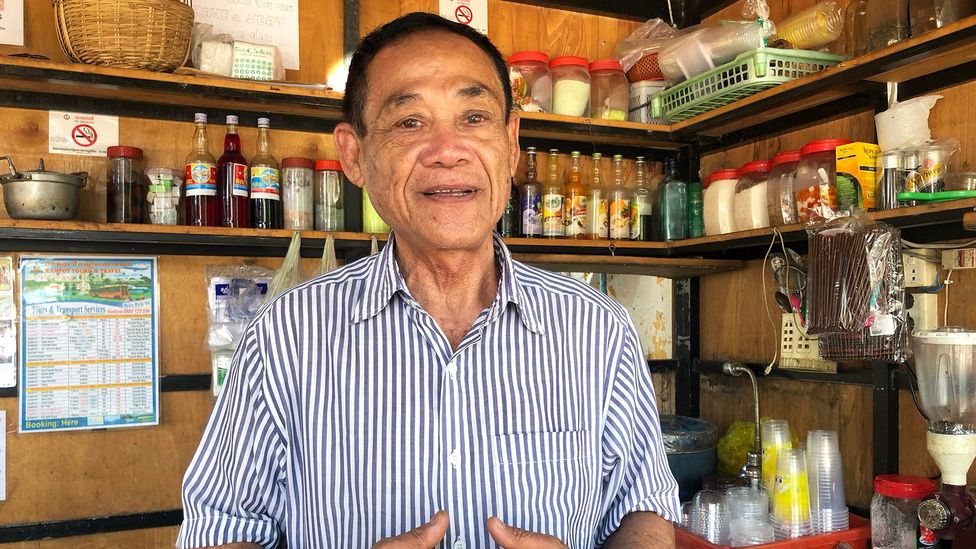 So Sokha makes coffee chiefly for the conversation that comes with it (Credit: Robert Reid)
Harvested from February through May, Kampot pepper comes in several types: black pepper is typically used for red meats; red pepper for desserts; and white pepper for fish, salads and sauces. Green peppercorns have a subtler taste than black and are used for some seafood and chicken dishes.
Recently, several foreign-run pepper farms offering tours and pepper-spiced meals have appeared in the countryside (locally-run plots do not typically offer tours).
Bo Tree, a farm with a shop, is run by a Scottish-Khmer family and began as a beautiful accident. The pair was looking for a place to build a countryside home and became so inspired by the local product that they began farming peppercorns on their land, employing a dozen workers to farm the three hectares of vines.
It's amazing how it captivates people
"Anybody who tries Kampot pepper wants to know more," Christopher Gow, co-owner of Bo Tree, told me while we were seated in the front of the shophouse as his young son ambled around us. "It's amazing how it captivates people."
Bo Tree's pepper tasting played out with a winery-like panache. I took a whiff of a low-grade pepper, then dropped a bit on my tongue. It tingled slightly, its effect disappearing after about 40 seconds. Then I tried Bo Tree's black Kampot pepper. Right away, it was a new sensation, settling onto my tongue then spreading into a tingly dance that filled my mouth for a few minutes.
"It's not just for the pepper's taste," Gow explained. "It wakes the palate and enhances the taste of other foods."
Pepper here is used in a variety of dishes, from savoury to sweet, and simple to sophisticated. The Kampot Pie and Ice Cream Palace sells a single scoop of creamy red pepper ice cream for 75 cents (locals use both the Cambodian riel and the US dollar). Up the river, Green House, a riverside complex of thatch bungalows and a fine restaurant, offers freshly baked chocolate-chip pepper cookies and a full "pepper discovery" menu.
Kampot pepper plantations produce 70 to 100 tonnes of pepper a year (Credit: Robert Reid)
And it's not just used for food. A women's-only spa, Banteay Srey Project – named for a Khmer temple dedicated to the Hindu god, Shiva – provides a pepper scrub treatment, although manager Channy Oucki explained that it's not exactly a new idea as locals would traditionally use the pepper as a skin-rub treatment to help women gain strength after childbirth.
"It's like the feeling after you put Tiger Balm on," Oucki said. "It feels good. Maybe makes you sweat a little. But you feel very, very fresh."
Nevertheless, one of the region's most famed dishes is Kampot pepper crab. At the fish market in Kep, visitors can pick out their own freshly caught soft-shell crab, and then take it to cooks who cut it up; sauté it in a giant wok with garlic, onion, and (of course) local peppercorns; and serve it back to them on a platter. It's quite the lunch for about $5.
How does world-class pepper grow?
Peppercorn vines grow up poles laid out in neatly lined plots. Green peppercorns first appear by September, then ripen into the new year. Farmers hand-pick peppercorns and dry some of them in the sun for a couple days, which turns them black. White peppercorns are black peppercorns that have been soaked in water and stripped of their skins. Two months later, it's time for the red peppercorns, which are peppercorns left to fully ripen on the vine until they turn a vibrant crimson colour.
My dusty drive took me to a few farms, starting with the biggest – and best-advertised – the French-Belgian-run La Plantation, which employs 150 local farmers (more during harvest).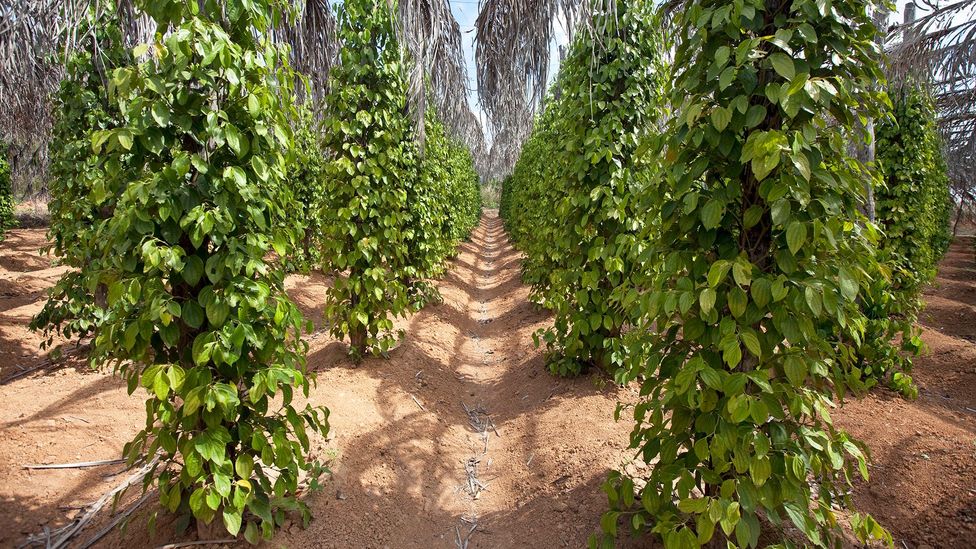 Peppercorn vines grow up poles laid out in neatly lined plots (Credit: Andia/Getty Images)
Limestone steps pass lemongrass waving in the breeze and restored, traditional Khmer-style buildings looking over the hill-backed Secret Lake. The plantation's restaurant serves French dishes and a Khmer-style lok lak beef speciality seasoned with the farm's black, red and white pepper. Free tours and tastings are offered from an 80-year pillared dining hall once used at a nearby monastery. (A ride on a water buffalo cart is extra.)
Owners Nathalie Chaboche and her husband Guy also didn't plan to be pepper farmers when they first visited the area in 2013.
"We were using Kampot pepper in Europe, but had no idea how it was growing," she explained. "When we first visited a pepper plantation, we decided right away to find land where we can grow it."
Last year, their plantation produced 10 tonnes of peppercorns; this spring 23 – about a quarter of the whole region's yield.
Looking forward
All this might sound encouraging for the success of this bounce-back cottage industry, but one question remains: after surviving the Khmer Rouge, can small-scale farms survive big farming?
So far, the economic impact of Cambodia's revived pepper industry hasn't been a total game-changer, as the relative amount of Kampot pepper grown pales in comparison to other types of pepper around the world. For example, Kampot produces 70 to 100 tonnes of pepper a year compared to four tonnes a couple decades ago (and there's already a surplus), while Vietnam's lower-grade, non-organic pepper industry churns out 150,000 tons a year.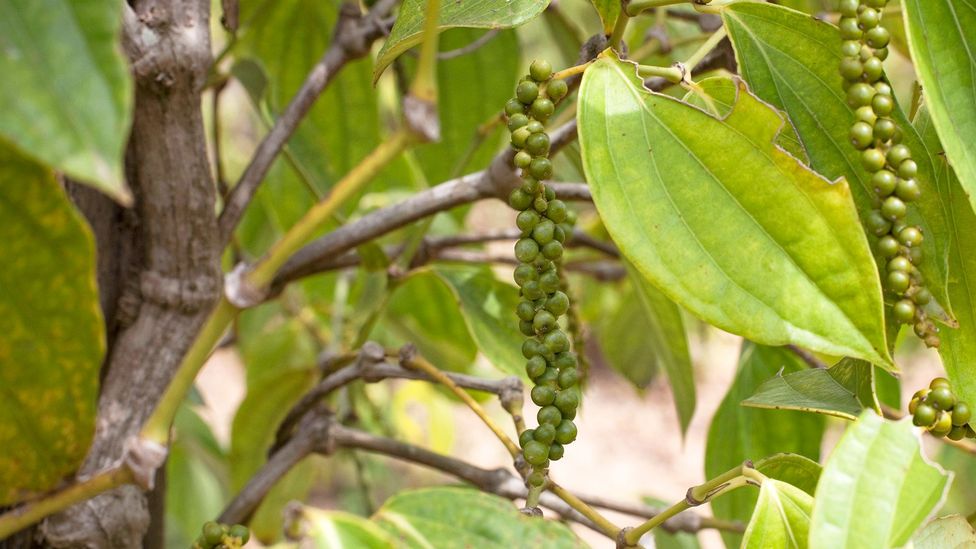 Green peppercorns have a subtler taste than black (Credit: Andia/Getty Images)
To help local farmers with one- or two-hectare plots distribute their harvest to the world, Farmlink was created in 2006 to bring farmers together to maximize profits and market their goods to Europe, which still buys half the annual product. Its general manager, Sebastien Lesieur, took me on a drive to meet one of these farmers to better understand the generations of hand's-on experience that go into making this organic seasoning that has so bewitched food lovers.
"Lots of cool farms out here," Lesieur noted as he drove. "This is where all the PGI farms started."
Passing other farms, he slowed by vine-covered poles to look for any effects of a mould that appeared in the soil after a monsoon a couple years ago.
"Could be a problem in two or three years," he said.
We pulled into a small plot with an open thatch building and a couple plastic chairs. Here we meet Chan Deng, a 60-year-old farmer with a black dog he calls "Mr Black". Hands folded before him, Deng led us over a small plank bridge into the muddy walkway between rows of vines, with green buds starting to appear.
Each of his 500 poles must be watered with seven or eight litres a day – which he does with another farmer, carrying the water from his pond by hand. His farm produced 200 kilos last year, making it a "very good year."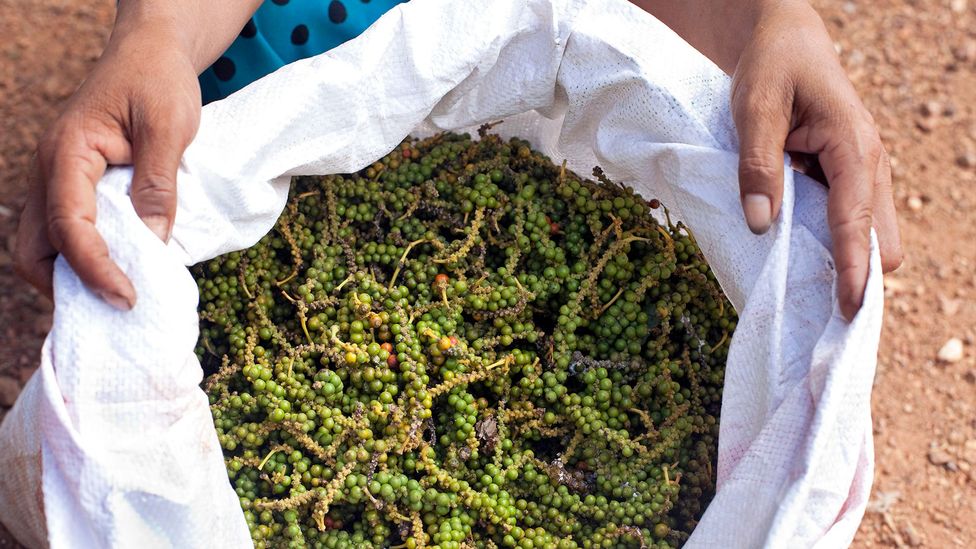 Kampot pepper has made a comeback after the Khmer Rouge lost power (Credit: Andia/Getty Images)
"I studied this from my father when I was young," said Deng, who uses pepper in his meals daily. "Now my son plants nearby. And my grandson is beginning to learn.
And in such a way, the tradition moves onto the next generation.
Every box of Kadode's black pepper is carefully packaged from a single farmer, then coded so you can go online to see the name and photo of the farmer who grew this organic seasoning for you. (Mine is from Srey Samon and his family of four.)
Now, whenever I grind my Kampot pepper back home, I'll think of Samon, and of all the Kampot farmers reviving their traditions – and how to truly savour the taste of the world's best pepper.
That was worth more than a little dust.
Join more than three million BBC Travel fans by liking us on Facebook, or follow us on Twitter and Instagram.
If you liked this story, sign up for the weekly bbc.com features newsletter called "The Essential List". A handpicked selection of stories from BBC Future, Culture, Worklife and Travel, delivered to your inbox every Friday.