Since 2014, the Sonoma and Mendocino coast has lost 90% of its bull kelp forest due to climate change. Interestingly, the solution to the crisis may involve eating purple sea urchin.
T
The Mendocino coast is a rugged stretch of Northern California. Redwood trees tower above fern understories with streams running through them, pouring down waterfalls into ocean coves filled with wave-worn boulders. The glorious views from Highway 1, a two-lane road that serpentines along this roiling coast, tell little of the environmental disaster occurring underwater.
Since 2014, the Sonoma and Mendocino coast has lost more than 90% of its bull kelp forest due to warming waters caused by climate change, according to a 2019 study. These kelp forests shelter and feed a whole host of other marine life; losing them could mean an ecosystem cascade that would devastate many species and local economies.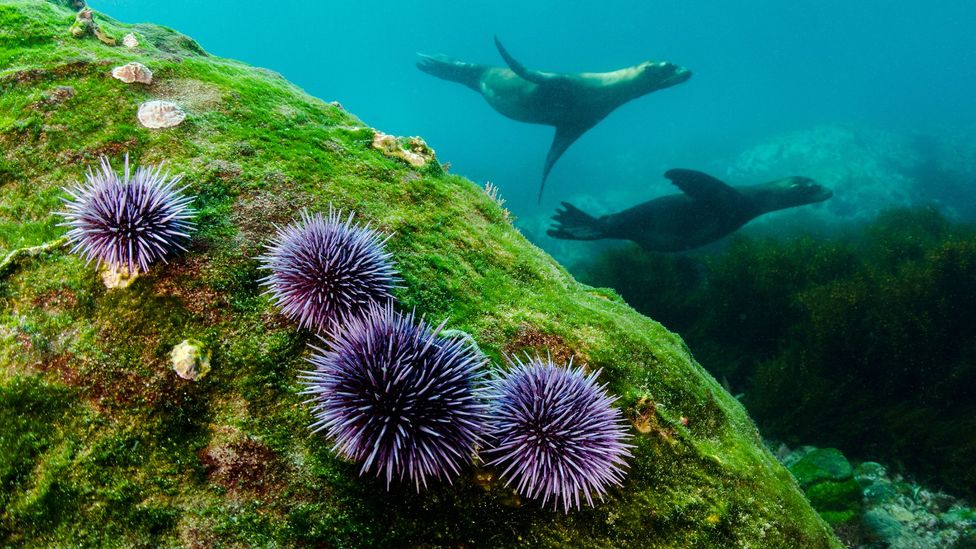 California's North Coast has seen an explosion in purple sea urchin numbers over the past few years (Credit: Michael Zeigler/Getty Images)
One of the earliest causalities are abalone, whose primary diets are bull kelp. Until recently, scores of recreational abalone divers convened during the summer in Mendocino, until the catastrophic die-off of these large sea snails prompted Fish and Wildlife to cancel abalone harvesting until at least 2021. More sinister is the rapid expansion of the purple sea urchin, which also feeds on bull kelp but can adapt to starvation conditions and has formed ravenous feeding fronts, or urchin barrens.
Laura Rogers-Bennett, a scientist with California Department of Fish and Wildlife (CDFW), is working on the issue. "The scale of these urchin barrens is staggering," she said. "On the North Coast, we currently have 250km of sea urchins, who not only survive in starvation conditions but also reproduce."
You may also be interested in:
• The world's ultimate milkshake
• The California land where no one can live
• How climate change poisons our food
One solution to restoring the bull kelp forests is to eat the purple sea urchin. Groups of recreational and professions divers gather monthly, weather permitting, to harvest purple sea urchin in certain coves that still have kelp. Bull kelp releases spores in late summer and autumn, then it's ripped out by winter storms. The spores usually grow rapidly in the nutrient-rich cold waters along the Northern California coast, but now they are being eaten by purple sea urchin. If these spores don't set three years in a row, it's possible for the kelp to disappear entirely.
The creamy gold roe from sea urchin, uni, is highly prized in Japanese restaurants. Traditionally, red sea urchin, not purple, are harvested as they are larger, so there hasn't been much demand for the smaller purple urchin in sushi restaurants, and virtually none in the US culinary mainstream. To remedy this, environmental groups are reaching out to influential chefs to convince people to give it a try.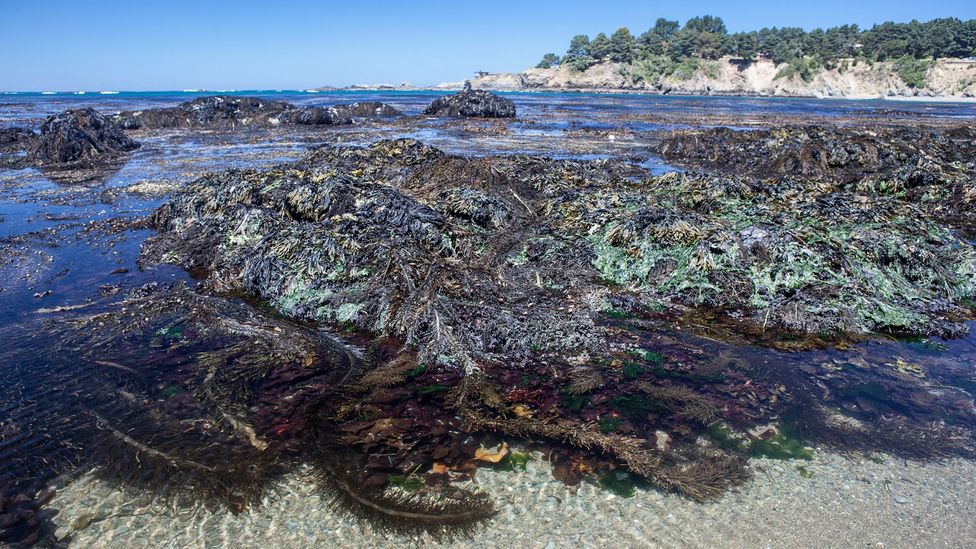 More than 90% of bull kelp has been lost along the Sonoma and Mendocino coast due to warming waters (Credit: Velvetfish/Getty Images)
On a summer morning, I joined chef Matthew Kammerer at low tide to forage in a small cove in Mendocino. The modest, softly spoken 30-year-old earned Mendocino County's first and only Michelin star in 2019 and runs the food programme at the newly renovated Harbor House Inn, which was originally built 101 years ago by logging barons. The hotel sits on a stunningly beautiful cove near the tiny town of Elk, population: 208.
Kammerer carried a waterproof backpack and pulled a wagon out to the intertidal zone, explaining that he grows his produce in a terraced garden in front of the hotel and forages in the nearby coves. He has a favourite spot, out on a cliff, to haul up water that he dehydrates for salt.
The scale of these urchin barrens is staggering
Hiking across the beach, Kammerer told me that storms had been fierce that winter and seaweed season was late. But the two weeks prior had been sunny, meaning we were welcomed by fields of seaweed. "This is the best I've ever seen," he marvelled. He cut wakame seaweed for ice cream, while the sea lettuce was reserved for infusing cream to make cultured butter and baking into sourdough. He snipped a few leaves of nori, which grew in thin fan-like shapes over boulders.
I asked him if he'd seen many changes in local coves since he started working here in January 2018. "I used to use bull kelp to infuse oils," Kammerer said. "But now I don't touch it, since there's hardly any left."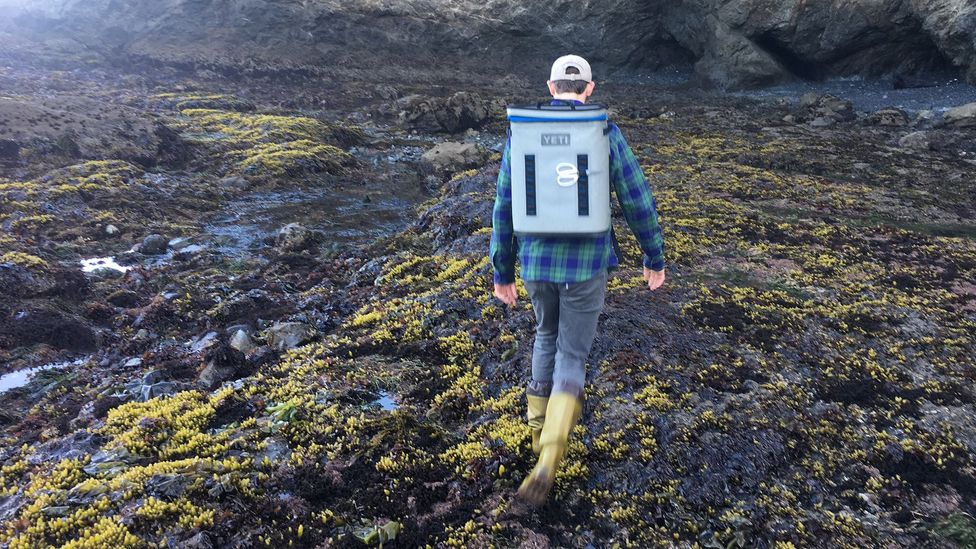 Chef Matthew Kammerer forages for seaweed and urchin in local coves (Credit: Maria Finn)
We hopped from rock to rock, past the seaweed, which, unlike the kelp, is still plentiful in Mendocino, and looked down into a shallow pool left by the outgoing tide. A red abalone clung to the rock, surrounded by purple sea urchin.
Scientists have attributed the kelp decimation to a "perfect storm" of environmental stressors that have reverberated through the entire ecosystem.
The first signs of trouble along this stretch occurred in 2011, when there was a toxic algal bloom just south of here, along the Sonoma coast, that killed off many invertebrates that live in shallow waters, including huge numbers of abalone along with sea stars and urchin. Then in 2013, sea star wasting disease broke out, which impacted North America's West Coast from Baja to Alaska.
Since sea stars live in kelp forests and eat urchin, their die off resulted in an explosive growth of urchin. Next, a marine heat wave hit in 2014, then the strong El Niño of 2015 ushered in warmer waters, which have fewer nutrients than cold upwellings normal for coastal California – and are required for kelp growth. All this resulted in less kelp and more ravenous urchin to eat it.
"Here's a change since last week," Kammerer said. He pointed down to a massive colony of purple sea urchin. "These just recently moved from one cove over to chase the seaweed." I looked down at a constellation of lavender pin cushions, tucked into rocks and spread out over tide pools. We cracked one open and found it empty of roe. But then closer to the seaweed, we tried again. These had yellow, custardy uni that tasted sweet, briny and creamy. We pulled some from the rocks and tucked them into his backpack with the seaweed.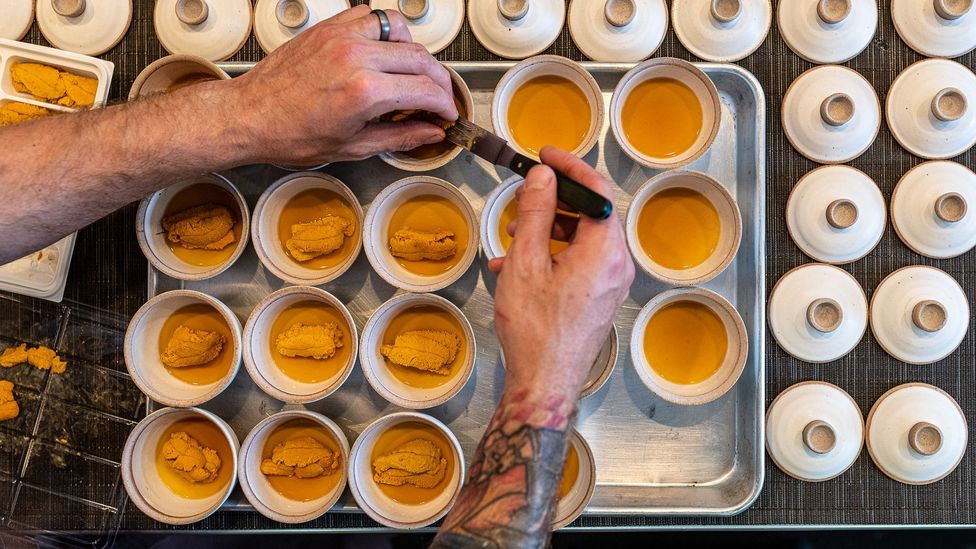 Uni chawanmushi, a Japanese-inspired egg custard, is one of the ways chef Matthew Kammerer is innovating with purple sea urchin (Credit: Joseph Weaver)
But one chef taking a dozen sea urchin from the rocks isn't going to have much of an impact.
That's why a coalition has formed to try to keep the kelp from vanishing completely. KELPRR (Kelp Ecosystem and Landscape Partnership for Research on Resilience), made up of various groups including the Watermen's Alliance, Noyo Center for Marine Science, Reef Check California, Urchinomics and others, have come together to try and clear some coves of purple sea urchin so the bull kelp can reproduce. At organised harvests, recreational divers gather them near shore, and commercial divers are hired to go out into deeper waters. They've cleared millions of sea urchin, but still, as Sheila Semans, executive director of The Noyo Center for Marine Science in Fort Bragg said, "This is a drop in the bucket."
Urchinomics, a Norway-based company, has been responding to urchin explosions worldwide. According to Denise MacDonald, director of global brand marketing, "A combination of overfishing and warmer oceans has created urchin barrens in places like Norway, Australia, Japan – and the West Coast of the United States."
In response, they are setting up pens on land with re-circulating sea water so that urchin can be removed from the ocean and fattened up using algal feed. "We had to make pellets that wouldn't dissolve instantly in water," she explained. "Feeding them wild kelp defeats the purpose of bringing the kelp back and balancing the coastal ecosystem. So, we use off-cuts of sustainably harvested kombu kelp from places like Japan."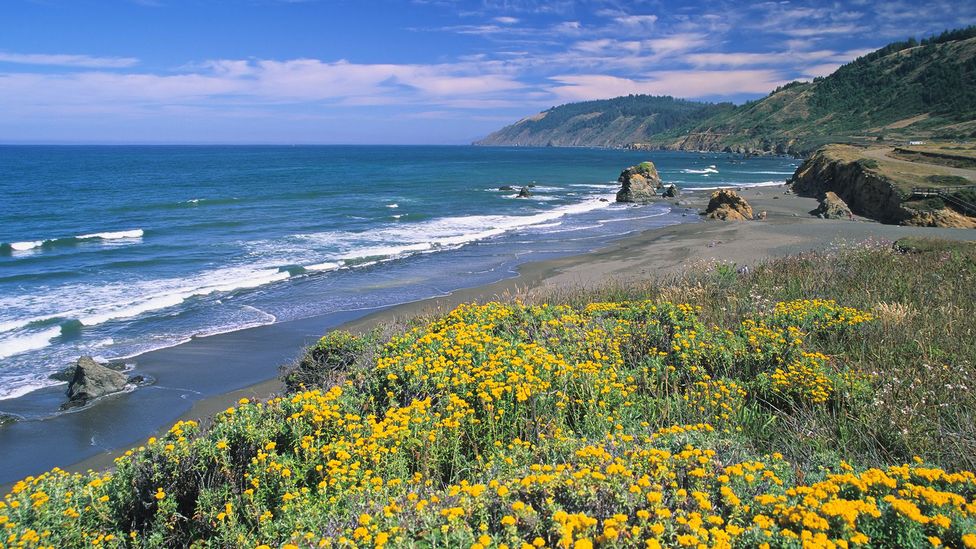 Northern California's nutrient-rich cold waters are facing a potential ecosystem cascade (Credit: S Greg Panosian/Getty Images)
Urchinomics has a robust market for the sea urchin in Japan, and potential partners in China to sell it. But they are hoping for markets here, in the region where the urchin come from. "This is regenerative seafood. Our dream is that just like you'd go into an oyster bar and get live oysters, you could order a live sea urchin and eat the uni lobes straight from it," MacDonald said.
According to Semans, getting local chefs to serve uni is important as it helps Americans develop a taste for it and it raises awareness of what's happening on the coast. "Everyone can see the forest fires and the impact of climate change on land," she said. "But nobody sees what's happening underwater. And we want local chefs to get onboard. We need a local demand to supply."
This is regenerative seafood
That's where Kammerer comes in. Semans explained to me why she reached out to him: "He has a leather book that he puts on each table that tells where they get their food and the story behind it. So, he can educate customers. As well, Matt can help give other chefs ideas on ways to use it, and the chance to learn how great it can taste."
Out on the beach, Kammerer filled his backpack cooler with sea water to haul back to the restaurant, where he will filter out the debris and use it to wash the seaweed so it retains its salty essence. He packed up his wagon of seaweed and sea urchin, and we hiked back across the sand and up the hill. I noticed him panting a little from the effort. "You sure earned your Michelin star the hard way," I said. He nodded.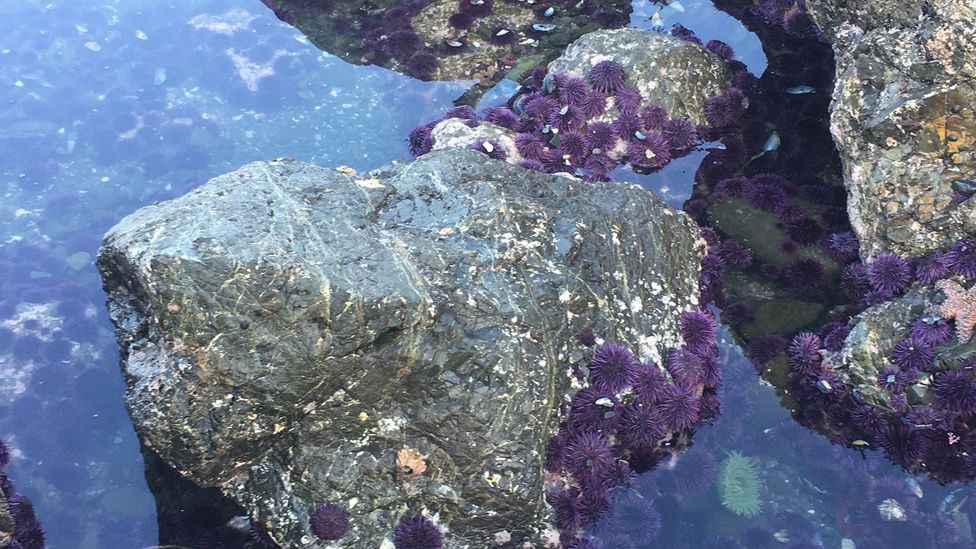 The purple sea urchin move from cove to cove to feed on the remaining bull kelp (Credit: Maria Finn)
Later, back in the kitchen, his flaky salt from the local seawater was evaporating under a fan, seaweed was drying on a laundry rack outside and sea cucumbers were coming out of a dehydrator. His team gathered and discussed the evening menu based on what was growing in their garden or found at local farms, or had been caught by local commercial fishermen.
Their tasting menu started coming together like an adventure tale of Mendocino's land and sea. When Kammerer came to the dish using sea urchin uni, he said it would have, "poached nori, sea cucumber chicharron, wakame glass and uni."
It's a tidepool on a plate, I remarked.
He nodded: "It will look like what we saw today during low tide."
He's also used uni in the Japanese egg custard, chawanmushi; he's blended it into butter sauce; and served with barbecued parsnips and with poached celery root and ham. "It always finds its way onto the menu," he said.
The fattened up, ranched sea urchin is still in beta testing by Urchinomics, but Kammerer is looking forward to getting this sea urchin and telling its story. "I'm ready to help in any way I can," he said.
Join more than three million BBC Travel fans by liking us on Facebook, or follow us on Twitter and Instagram.
If you liked this story, sign up for the weekly bbc.com features newsletter called "The Essential List". A handpicked selection of stories from BBC Future, Culture, Worklife and Travel, delivered to your inbox every Friday.