Balconies have always been designed to captivate and inspire the masses. But amid the coronavirus pandemic, they've taken on a newfound importance.
F
Federico Sirianni, a singer-songwriter from Turin, Italy, was used to playing small gigs in his neighbourhood. But when he recently joined fellow musician Federica Magliano to play a live concert on the balconies of their building for their quarantined neighbours, things felt different.
"You could really feel a sense of wonder among those who were watching us from balconies," Sirianni said. "A lot of people thanked us for making them feel less lonely."
Amid the coronavirus pandemic, people around the world have been holding impromptu balcony concerts for their quarantined neighbours (Credit: Nicolo Campo/Getty Images)
Like millions of Italians, Sirianni has been confined to his home since the country issued a nationwide lockdown on 9 March to slow the spread of coronavirus. And, like millions of people in urban centres around the world whose governments have imposed similar measures, Sirianni is rediscovering his balcony as a link to the outside world and a source of hope and connection at a time of forced isolation.
Balconies are reminding people of the importance to look outside and connect with something bigger than themselves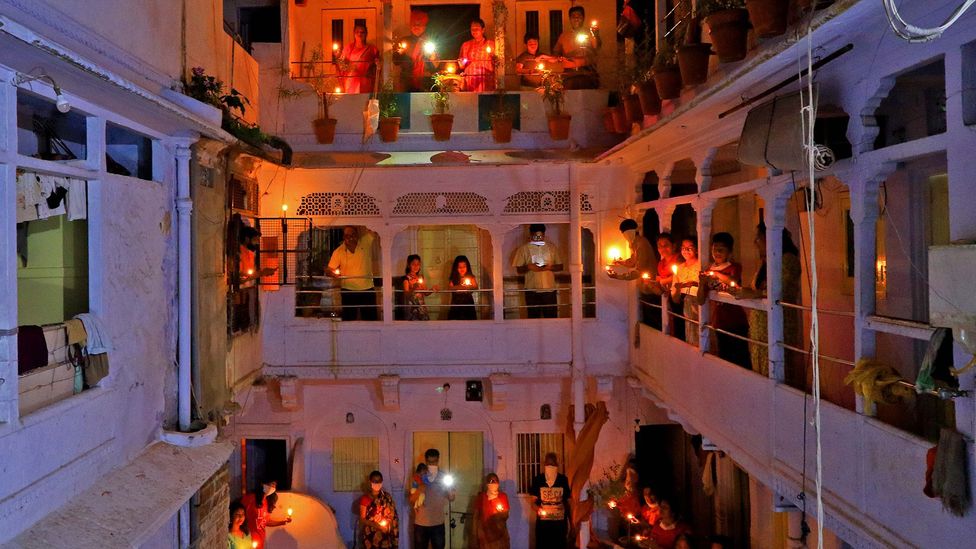 Across the world, balconies and terraces are serving as a source of hope and connection at a time of forced isolation (Credit: NurPhoto/Getty Images)
Yet, despite balconies' seemingly newfound cultural importance, these ancient platforms have long been used to captivate, unify and inspire the masses. After all, one of the most famous and romantic scenes in Western literature, from Shakespeare's Romeo and Juliet, is played out on a balcony. It was on a balcony in Cape Town where a newly freed Nelson Mandela looked out upon the masses and promised a new chapter in South African history. And it is from a balcony in the Vatican where the Pope still blesses millions of believers each Sunday.
Balconies have been an architectural staple for thousands of years and their roles have evolved to adapt to local cultures and customs over the centuries.
In her book Sunlight and Shade in the First Cities, urban archaeologist Mary Shepperson suggests that balconies may date back to 3000BC in Iran, where ancient Mesopotamians built overhanging parapets to shade the street from the scorching sun. Yet, by 1400BC, many historians believe that the Myceneans had started building balconies in what is now Greece for the opposite purpose: to increase natural light and air ventilation.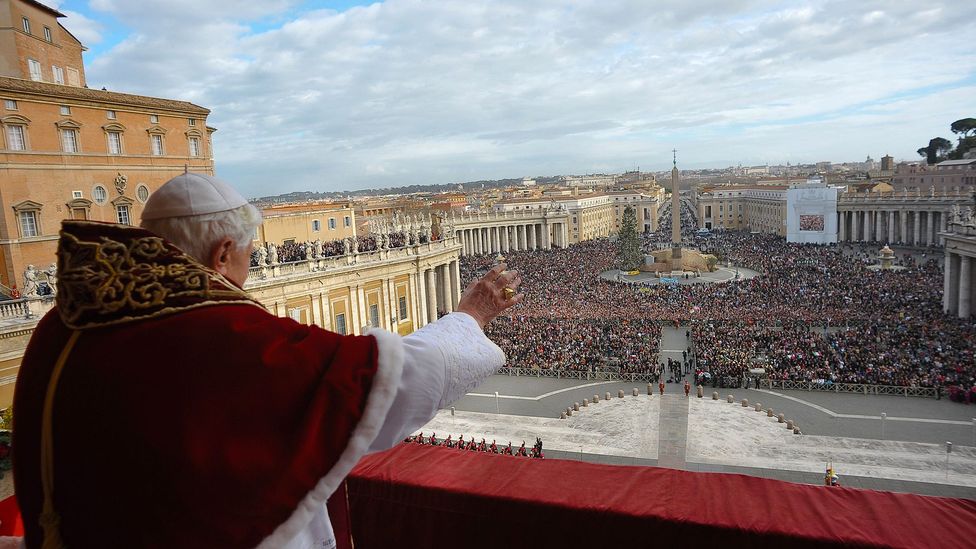 Balconies have long been used to captivate, unify and inspire the masses (Credit: Osservatore Romano/Getty Images)
In Ancient Egypt: Anatomy of a Civilization, British archaeologist Barry Kemp outlines how "palace-balconies" were designed as a "theatrical setting" for leaders to appear before their subjects. This practice has since echoed countless times throughout history. In ancient Rome, one of the earliest balconies, the maenianum, was an open-air platform for emperors and senators to both watch gladiators compete at the Colosseum and be seen by the public. Just before the start of World War Two, Adolf Hitler announced the annexation of Austria from the Imperial Palace balcony in Vienna. And seven years later, Winston Churchill famously joined the British royal family on the balcony at Buckingham Palace to celebrate the war's end.
As balconies evolved, their designs became more elaborate. Beginning in the Middle Ages, enclosed mashrabiya balconies with ornate latticework were built across much of the Arab world to allow residents to enjoy the fresh breeze while adhering to Islamic laws of privacy. In the Renaissance, balustraded balconies became a fixture of many Italian buildings after architect Donato Bramante unveiled the design of his bannister-bound Palazzo Caprini in Rome.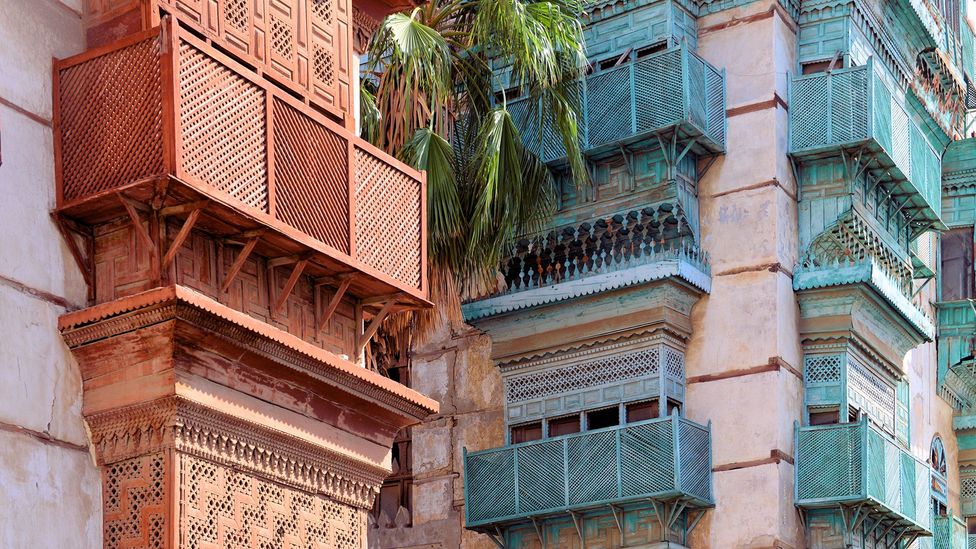 Across the Arab world, enclosed mashrabiya balconies were designed to adhere to Islamic laws of privacy (Credit: mtcurado/Getty Images)
Venice was particularly famous for its many balconies, as architects looked for ways to offer access to fresh air in a cramped city. To visitors from northern Europe, such framed platforms often looked like exotic oddities: in his 1611 travelogue, Coryat's Crudities, British traveller Thomas Coryat explains that only in Italy had he observed the existence of "little terraces" whose purpose is to let people "contemplate and view the parts of the City round about them in the coole [sic] evening."
To visitors from northern Europe, such framed platforms often looked like exotic oddities
Colonisation eventually took balconies around the world. Today, Malta's iconic closed-box balconies and the similarly enclosed balconies of Andalucia, Spain, are likely influenced by the territories' former Moorish landlords. In turn, the wrought-iron balconies found from Hanoi to New Orleans are flourishes from their former French rulers.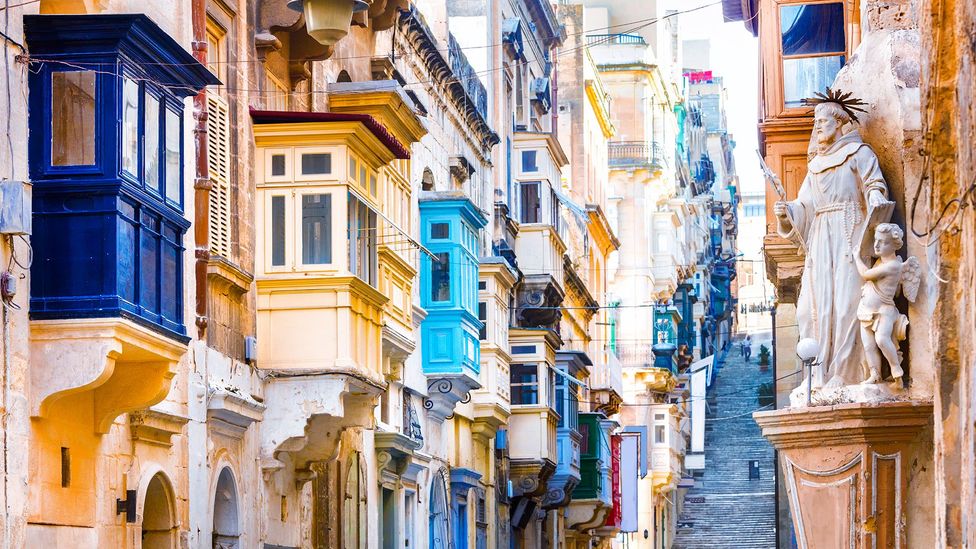 Today, many places' balconies bare the architectural influences of their former landlords, such as in Malta (Credit: Freeartist/Getty Images)
In the 19th Century, Europe underwent a period of intense urbanisation and balconies subsequently became symbols of a modern metropolitan lifestyle, inspiring many writers, poets and artists. French painter Eduard Manet scandalised with his 1869 work The Balcony, with his portrait of urbanites looking at street life from a balcony causing one critic to proclaim, "Close the shutters!". Italian painter Umberto Boccioni depicted the intensity of 20th-Century urban life in his 1911 work The Street Enters The House, where street noises and chaos seem to enter the private space of a home through the balcony.
Balconies act as liminal spaces that bridge public and private life
According to Sheila Crane, chair of the Architectural History Department at the University of Virginia, part of our collective fascination with balconies lies in their unique position as gateways. "Balconies act as liminal spaces that bridge public and private life," she said, citing a line from French sociologist Henri Lefebvre's 1992 book Rhythmanalysis,where he honours the "marvellous invention of the balcony" as the place where one can best grasp the "fleeting rhythms of urban life".
In cities across the Mediterranean, these "fleeting rhythms" inspired by balconies were often immortalised in 20th-Century art. In the 1960 film From a Roman Balcony, a conversation on a balcony leads to an epic love affair. In an ode to Tel Aviv, the refrain of the 1961 Israeli hit song Mirspot (Balconies), goes: "balcony facing balcony… this is a city of balconies". And in Elena Ferrante's Neapolitan Novels set in the 1950s, balconies often serve as stages that blur the lines between public and private life.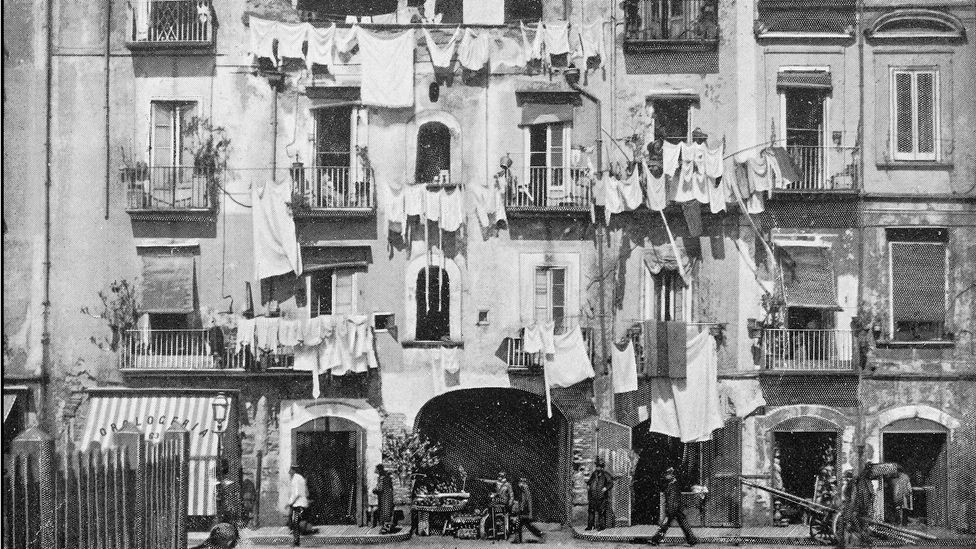 Many cities' historical balcony cultures have been immortalised in art and literature, such as in Elena Ferrante's Neapolitan Novels (Credit: ilbusca/Getty Images)
Yet, in addition to their cultural importance, balconies have often served as spaces to launch political change. During Algeria's war of independence with France in the 1950s and '60s, balconies became the set for independent mass protests after the government banned public gatherings. As Crane explains, pro-independence women would go out on balconies and sing ululations– a series of high-pitch sounds used to express collective mourning – while those in favour of France would perform concerts des casseroles, concerts using pots and pans as instruments.
Until the advent of TV, people-watching from balconies was a prominent evening pastime
These coordinated performances are reminiscent of the social and theatrical roles that balconies have historically played. "Until the advent of TV, people-watching from balconies was a prominent evening pastime," said Carolin Aronis, a scholar and lecturer at the University of Colorado Boulder, who has spent years researching the balconies of Tel Aviv and the Mediterranean. "But technologies such as the telephone, TV and air conditioning gradually drove people indoors." According to Aronis, in the past 50 years, balconies across the world have lost part of the role they once played in urban life.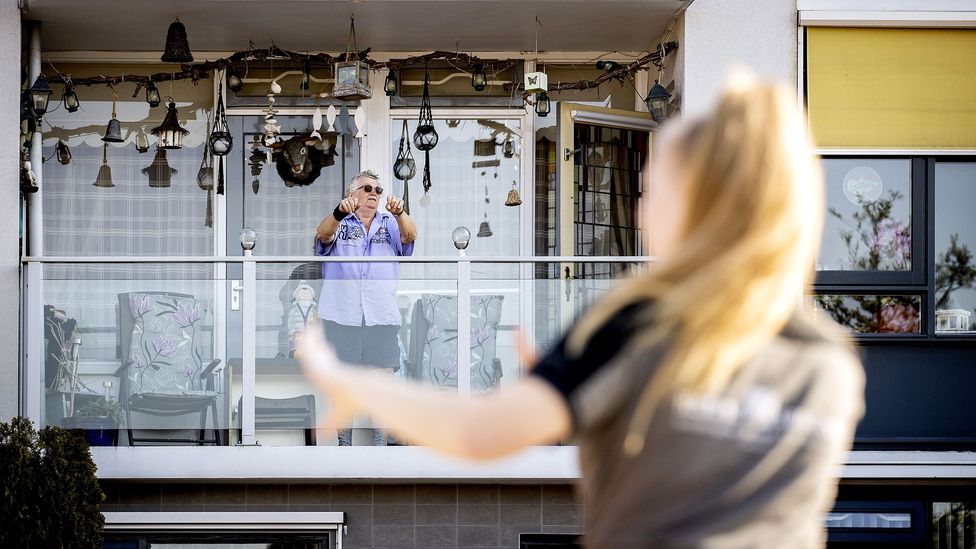 Balconies have again become platforms to connect and, in the case of these quarantined neighbours in the Netherlands, dance together (Credit: Koen Van Weel/Getty Images)
But today, the forced isolation of the coronavirus pandemic is, in a way, creating a new unifying experience. As much of the world quarantines at home, there are countless examples of balcony culture bringing people together and offering a source of connection.
The forced isolation of the coronavirus pandemic is, in a way, creating a new unifying experience
"I have been living in this apartment for three years and never really interacted with my neighbours," said Antonia De Zarlo, a 28-year-old medical student in Florence. Since Italy's lockdown started, De Zarlo said she's spent many afternoons sipping coffee and chatting with neighbours from her balcony. On 23 March, the day of her university graduation, her neighbours surprised her by passing a laurel crown and gift bag over using the stick of a broom. De Zarlo's Facebook post describing her surprise ceremony soon went viral.
"Today, technology is no longer driving people away from balconies," Aronis said. "It's helping people to re-discover them as social spaces."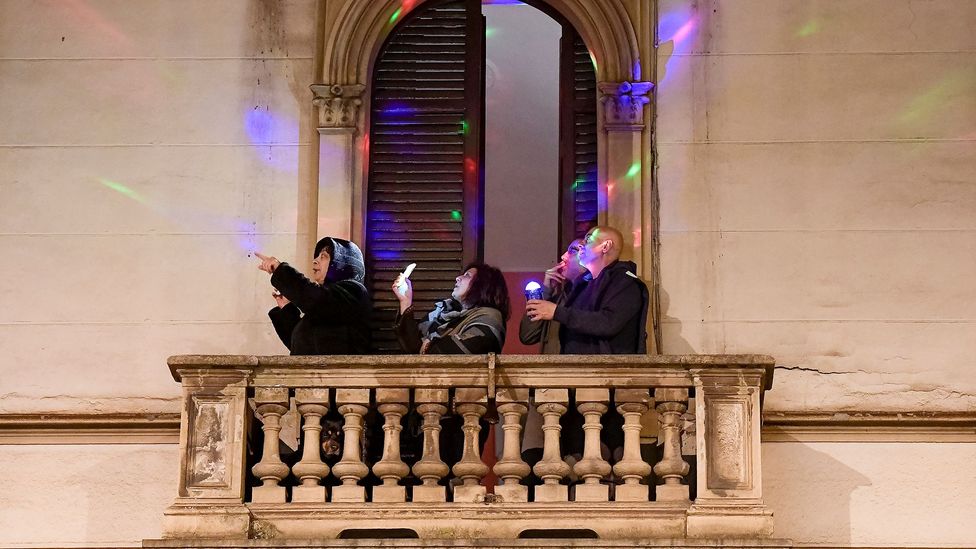 Community-organised balcony events are helping to offer people hope during an uncertain period (Credit: Nicolo Campo/Getty Images)
Indeed, thanks to social media, balcony performers can now count on both physical and virtual spectators. When Siranni played his first quarantine gig on 16 March, an estimated 3,000 people joined via Facebook Live from all over the world. "We had virtual neighbours sending us messages on social media, and physical ones clapping from their balconies," he said.
Quarantine will be over and everything is going to be okay again, but we should not forget this sense of community
Rosalba Durante, a pensioner from Turin, is working on a pulley system to allow food to be passed to her neighbours. "The idea started when one neighbour texted our building's WhatsApp group saying she wanted to share a cake baked by her daughter," she explained. "We realised we would all benefit from sharing food and other items directly across balconies." Durante's pulley project currently involves five other neighbours. "We are all struggling right now" she said. "It's important to find ways to have fun together."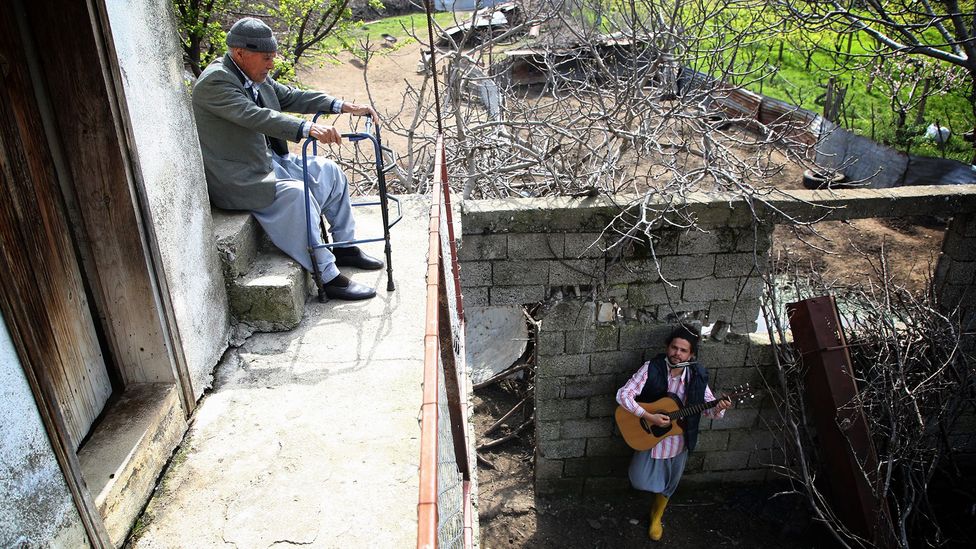 During the pandemic, balconies have reminded us of the importance of looking outside of ourselves and looking out for one another (Credit: Anadolu Agency/Getty Images)
Similar scenes have started playing out in cities across the world. Beth Poe and her husband of 38 years, Joe, have been living under quarantine in different areas of the same retirement home in New Orleans. The two now connect via a balcony in a quarantine version of Romeo and Juliet: Beth stands in the car park, while Joe sits in his wheelchair on a third-floor balcony. In Madrid residents of the Hotaleza neighbourhood are organising bingo tournaments on balconies. People across Indian cities are hosting balcony concerts using pan and pots – much like the women of Algeria did more than 50 years ago.
Aronis hopes that these moments of connection will lead us to reappreciate balconies as social spaces well after quarantine is over. "Balconies provide something that digital technologies cannot: a sense of community and an authentic feeling of standing for each other," she said.
De Zarlo echoes this sentiment. "Quarantine will be over and everything is going to be okay again," she said, "but we should not forget this sense of community."
Join more than three million BBC Travel fans by liking us on Facebook, or follow us on Twitter and Instagram.
If you liked this story, sign up for the weekly bbc.com features newsletter called "The Essential List". A handpicked selection of stories from BBC Future, Culture, Worklife and Travel, delivered to your inbox every Friday.