For centuries, these bathhouses have been a place to connect and to heal – and are even considered sacred by many Russians.
S
Snowflakes had just begun tumbling, tiny little flecks that felt like cold cotton balls when they landed on bare patches of my exposed skin. It was springtime, but here in Yekaterinburg, Russia, the snow was still thigh deep. I knew this because I'd fallen in once or twice already.
I was watching as Edik and Irina, two distant relatives of mine, were preparing the banya (wet-steam sauna): sawing wood; making broom-like veniki from birch branches; feeding the fire; and loading water into the tank for steam-making. They'd been lauding this traditional Russian bathhouse experience for days, telling my husband and I how wonderful they feel after a session. Seeing as today was Saturday and they were not at work, it was finally time for us to experience this famous custom for ourselves.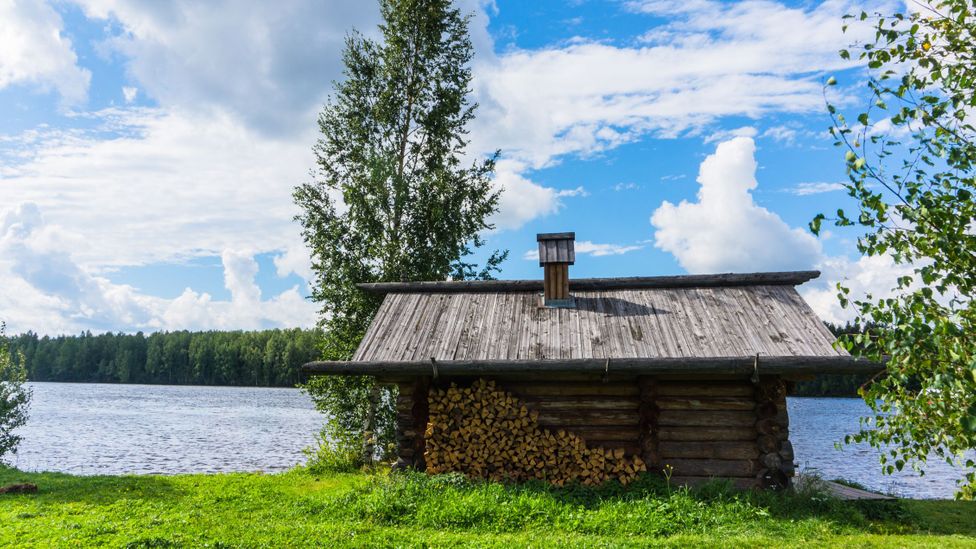 The banya, or wet-steam sauna, is an important weekly activity for many Russians (Credit: Vermontaim/Getty Images)
A few hours later we were all naked, perched on the aspen log seats inside the parilka (steam room), ready for what would no doubt be a memorable afternoon. Traditionally there are three rooms in a Russian banya: parilka; moyka (wash room); and predbannik (relaxation room), and you could spend hours moving around between the different spaces.
There was no thermostat in this one, but Edik estimated the temperature to be nearing 90°C, which is about average for a Russian banya. The heat is balanced with moisture in the air and, when the air becomes too humid, the steam becomes uncomfortable. This signals that it is time to cool off.
You may also be interested in:
• Japan's naked art of body positivity
• Russia's strange bread-sniffing ritual
• A Slovenian pilgrimage for wellness
After about 20 minutes, Edik leapt from his seat and ran into the snow, diving into the white mass and emerging seconds later looking as red as a beetroot. Irina soon followed. They could easily have sat in the banya for longer, but they recognised that my husband and I needed a reprieve. They were right, and although I would never, in normal circumstances, run naked into the snow, right then it was exactly what I needed to do.
Inside the predbannik we all sipped on kvass (a traditional fermented drink usually made from rye bread) and tea, and soon moved back into the parilka for the venik platza, which is essentially a soft beating with a bundle of twigs (birch and oak are the two most frequently used, but spruce, juniper, eucalyptus and maple are some other relatively common varieties). In Russia, it's believed that the soft beating process aids in muscle and joint pain relief, cleanses the skin and stimulates blood flow. Some even theorise that it helps with ventilation by removing phlegm.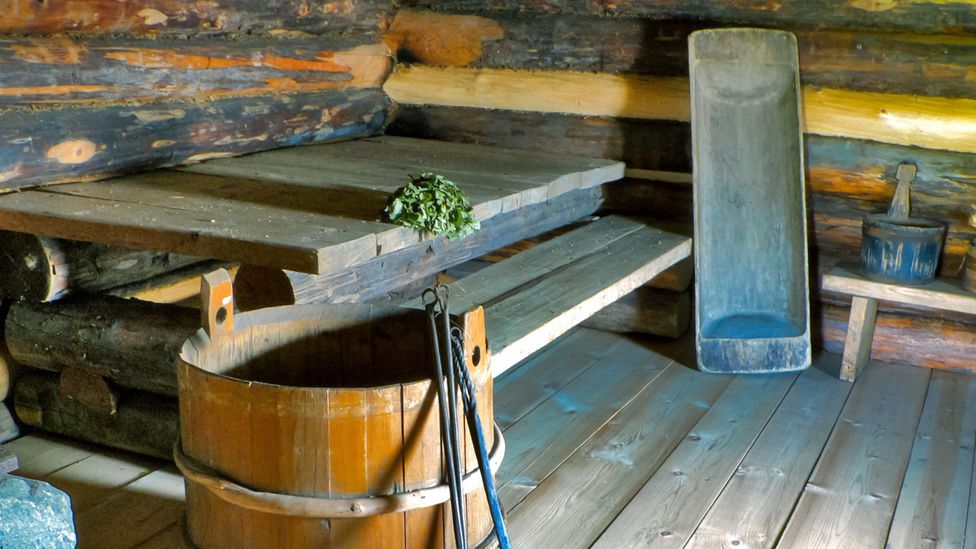 Many Russians have a private banya in their dacha (holiday home), while public banyas can be found in cities (Credit: Avstraliavasin/Getty Images)
Maria Vasekha, associate researcher at the Institute of Ethnology and Anthropology of Russian Academy of Science, explained that venik platza is an art form. "Many learn it from parents or grandparents, or perhaps an expert in a public steam room. There are even competitions for serious enthusiasts," she said.
The banya is a huge part of Russian folklore
Edik and Irina were our teachers that day, and we learned through demonstration. My attempt at massaging my husband was not very well received, but I figured it was only because I was a novice. Following the venik platza, sweat was pouring off everyone, which signalled that it was time to dive back into the snow. It's believed that the rapid temperature change triggers the body into thinking it has a fever, which in turn stimulates the production of white blood cells. The ritual of a massage followed by a snow run or dip in an ice-water pool is generally repeated many times in a session and is one of the key features of the Russian banya experience.
Banyas have been around longer than Russia itself and are an integral part of Russian life. In populated cities, urbanites tend to visit public banyas as both a means to get clean and an experience. In countryside homes and dachas (holiday homes), it's more commonplace for owners to have their own banya premises.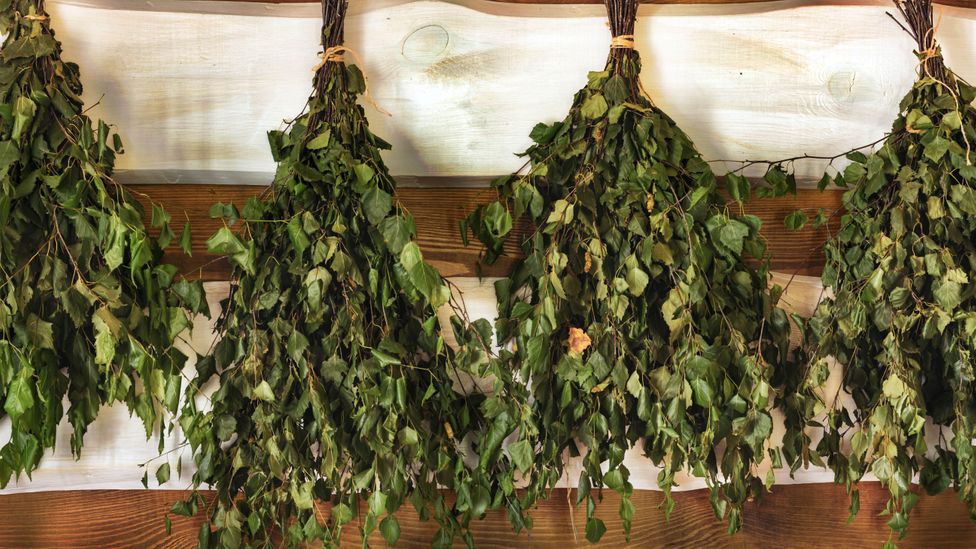 A soft beating with a bundle of twigs and leaves is part of the banya experience (Credit: Olena Butivshchenko/Getty Images)
Banya etiquette
If it's a mixed-sex banya, ensure you bring a swimsuit. If visiting a same-sex banya, be prepared to get nude.
You'll be able to rent a cap, towel, blanket and slippers; bring your own shampoo, washcloth and fresh underwear.
The venik platza is an important part of the experience, but note that you must shower first and soak your venik in hot water.
You can usually purchase or rent a venik at the front desk when you arrive. Veniks are not communal, so don't mix yours up with anyone else's.
Be considerate of others – always close the steam room door when entering or leaving, and refrain from using body products inside the parilka.
If unsure about anything, just ask.
Ethan Pollock, Professor of History and Slavic Studies at Brown University in Providence, is the author of the only English-language book on the history of banyas. In Without the Banya We Would Perish, he references ancient Greek writer Herodotus, who lived around 440BC and who, in his book Histories, described people north of the Black Sea (an area later to become Russia) enjoying a banya. There are countless other mentions of banyas throughout history, in written form and in art.
"The banya is a huge part of Russian folklore, with songs, proverbs, aphorisms, poems and applied artworks all dedicated to it," Vasekha said.
The cultural importance of the banya goes beyond the day-to-day, with key events linked to the banyaritual. In the past, women gave birth in banyas, with midwives trained to deliver babies inside. Couples visited abanya when they married; and it was customary for Russian grooms to carry their new bride over the banya threshold to avoid birth complications.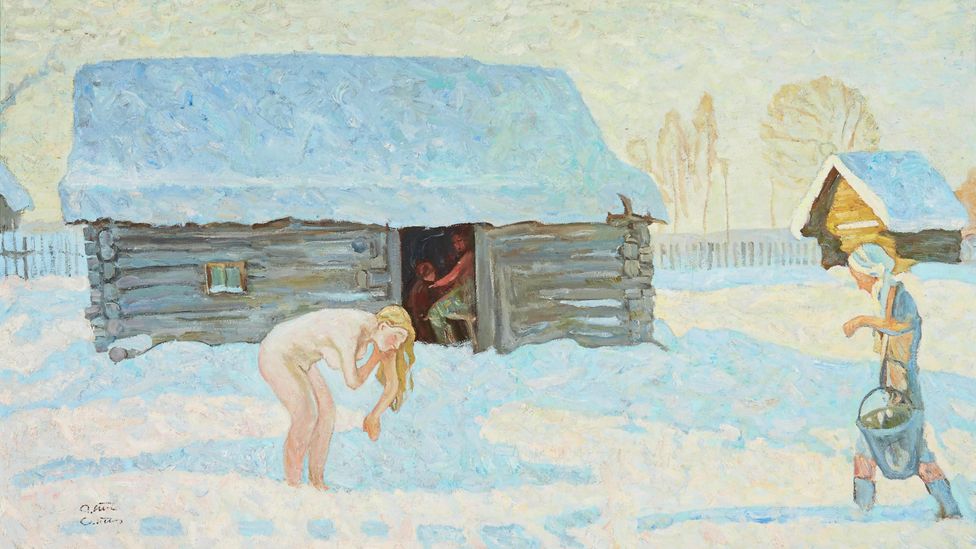 The banya is an essential element of Russian culture and has long been depicted in art, songs and poems (Credit: Album/Alamy)
Even in death, banyas brought people together, with mourners gathering together in the banya after the funeral to ensure their loved ones were warm enough for their journey to the afterlife. Although these traditions are not followed so much today, many Russians continue to gather regularly in the banya for that sense of community; to simply be together, to celebrate and to mourn.
Although banyas have been around for centuries, their health benefits only became a focus towards the end of the 18th Century. "One of Catherine the Great's medical advisers declared that visiting a banya was more beneficial than going to the doctor, and even said that the ritual could replace medicine in two-thirds of cases," Pollock said. Imperial-era doctors became the empire's experts when it came to such matters, and they began running studies looking at thebanya and its health benefits.
In Konstantin Kashin's and Ethan Pollock's paper Public Health and Bathing in Late Imperial Russia: A Statistical Approach, they write: "By the second half of the 19th Century, dozens of medical researchers attempted to give scientific backing to claims about the importance of the banya for health and hygiene. Books and articles… reported on the use of banyasin treating a full range of medical conditions. Chronic muscle pain, dysentery, hemorrhoids, influenza, emphysema, obesity, rheumatism, scabies, scrofula, syphilis, typhus and typhoid fever were just a few of the diseases that doctors believed could be treated or prevented by visiting the banya."
Realistically, however, many of the studies from that era lacked rigour, and it's not possible to definitively state that banyas can successfully treat such diseases. In fact, some communal banyas during the Imperial era and afterwards were often dirty, overcrowded and poorly ventilated, likely leading to the spread of diseases. Nevertheless, the positive mental health effects of going to a banyacan't be dismissed, and many worldwide studies suggest that a healthy mind and healthy body go hand in hand.
Groups of friends will often visit a communal banya each week (Credit: Vladamir Zapletin/Getty Images)
There's a saying in Russia: "Pomylsya – budto zanovo rodilsya", which translates to "Washed – born again". Edik and Irina told me that they feel reborn after a banya session, and it's a ritual they are happy to partake in weekly in their home banya.
Vasekha, too, enjoys regular outings to the banya. "I'm a frequent attender of various city banyas in Moscow. Together with my husband and some of my friends, we try to go every Saturday," she said.
In a way, all three are following traditions, as it was once customary for families to wash weekly on Saturdays, usually in the second half of the day in preparation for church on Sunday. Modern-day banya attendees, however, might enjoy a banya weekly (whether commercial or at home) due to work commitments, or because of the time associated with preparing and maintaining a home banya. Even now, though, weekly banya sessions are more common on a Saturday, both in public and at home banyas.
"Although essentially the foundation is the same, when you compare home and commercial banyas, there are many differences," Vasekha said. "The steam-making procedure and venik platza are the core key components that apply to both, but at home there are no limits on time, and with a small steam room it's possible for one person to manage the steam-making. At large-scale banyas, three to seven workers are usually present for steam-making and the steam room is large, so in normal circumstances 60 to 80 people can wash together."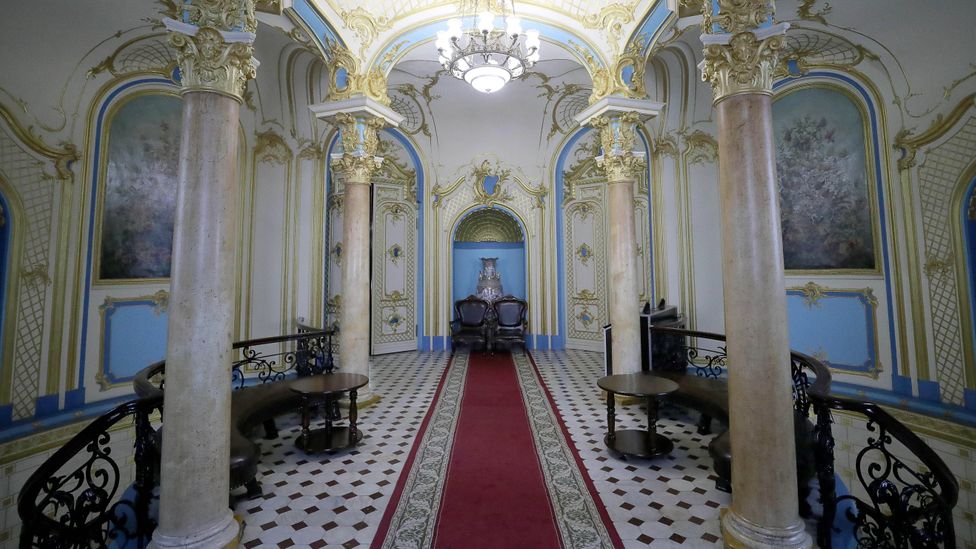 Sanduny is Moscow's oldest functioning and most spectacular bathhouse (Credit: ITAR-TASS News Agency/Alamy)

In Moscow, Sanduny is one of the most popular and oldest public bathhouses, with separate bathing areas for men and women. For those seeking a more rustic experience, Banya Zhivica is a Siberian-style banya with many bathing programmes available (which can be useful for those who need some guidance). When in St Petersburg, Yamskie Bani (one of the oldest bathhouses in the city) and Degtyarnie Bani are both good options, the latter especially so for first timers because of the friendly English-speaking front desk staff.

Having experienced both commercial and home-style banyas, for me one of the most important aspects is the crowd you are with. Often, groups of friends will visit a communal banya each week, and family members who have their own banya will ensure the whole clan uses it routinely and, where possible, together.

Maybe this is, in fact, Russia's real secret to a long life. Many tout the health benefits associated with going to the banya, but perhaps the most important one of all is that those attending regularly are spending quality time with those they love.

BBC Travel's Well World is a global take on wellness that explores different ways that cultures the world over strive for a healthy lifestyle.

Join more than three million BBC Travel fans by liking us on Facebook, or follow us on Twitter and Instagram.

If you liked this story, sign up for the weekly bbc.com features newsletter called "The Essential List". A handpicked selection of stories from BBC Future, Culture, Worklife and Travel, delivered to your inbox every Friday.

;