Created in the 1920s under the shade of a castle in Italy's Apulia region, burrata was born out of a need to minimise food waste and is a delicious example of human ingenuity.
T
The first time you see a burrata sitting on a plate, tilted, you might be perplexed. Burrata is as white as mozzarella but comes with a strange narrowing at the top, like a giant dumpling. With a knife and fork, you poke the pouch, knowing something hides below that initial cheese layer. With a firm stroke, you cut the sachet in two, and the filling made of cream and mozzarella strips spills out and spreads across the plate. You roll the mozzarella strips with your fork like spaghetti, and with cream dripping, you have the first bite: an explosion of milk mixed with sweet cream and mozzarella.
An explosion of milk mixed with sweet cream and mozzarella
You can find burrata around the world, predominantly in high-end food stores and restaurants. According to the Italian dairy association Assolatte, $56m worth of burrata was produced in Italy in 2018, then distributed to Rome cafes, Tokyo markets and New York restaurants. Italian immigrants exported the recipe around the world, and today, burrata is produced in places from Estonia to Argentina. The cheese is used to top Neapolitan pizza, on the side of shrimps or as an accompaniment to spaghetti al pomodoro.
Burrata has become a global cheese, but its story originated in the 1920s in the southern Italian Murgia territory (part of the Apulia region), in the outskirts of the city of Andria, under the shade of a castle. It was born out of a need to minimise food waste and is a delicious example of human ingenuity.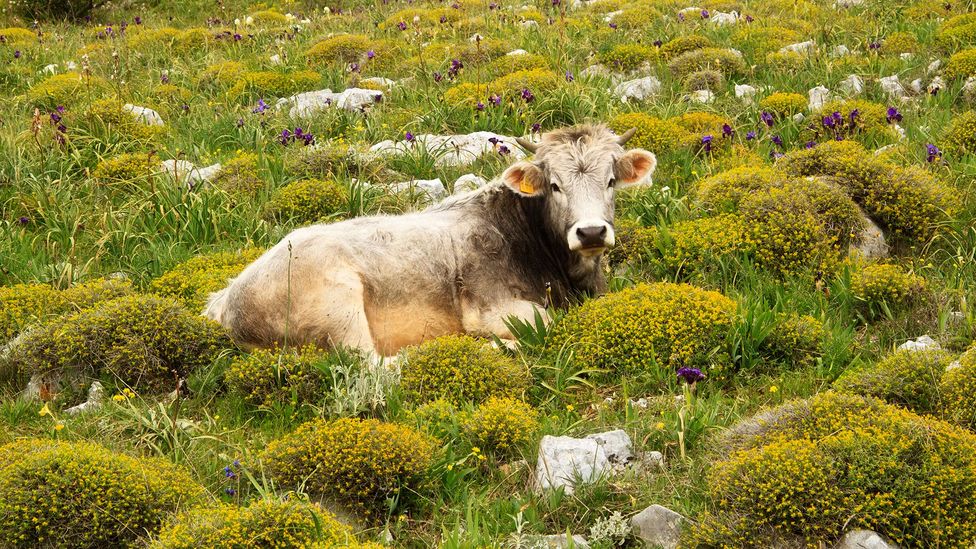 Milk from Apulian cows has the right chemistry for burrata (Credit: maureen bracewell/Getty Images)
Murgia, which in Pugliese dialect means "stone", is the tail of the Apennines, the mountain chain that crosses Italy like a spine. Majestic oaks, wild olives and almond trees cover the hills that are now part of the Parco Nazionale dell'Alta Murgia. At the centre of the park, overlooking the Apulian flatlands and the Adriatic sea, stands Castel del Monte, a majestic castle built in the 13th Century by Federico II di Svevia, emperor of the Holy Roman Empire. In the valleys around the castle, hidden under oak shadows for protection from the summer heat, grazing cows provide the milk that contributed to the birth of burrata. 
You may also be interested in:
• Italy's beloved 3-ingredient pasta dish
• How to make pizza like a Neapolitan master
• Massimo Bottura: The world's best chef
According to a study done at the beginning of the 20th Century by Michele Sinisi, professor at Istituto Agrario di Andria, when burrata was created, there were only a few hundred cows in the area. Nevertheless, their milk, delicate and less fatty than sheep's milk, had the right chemistry to create the beloved cheese.
Riccardo Campanile, a Pugliese historian who has dedicated a significant part of his life to studying Murgia's history, said that burrata was officially born in the 1920s in a masseria (farmhouse) close to Castel del Monte called Masseria Bianchini. According to Campanile, who held numerous interviews with Andria's elderly population, it was local cheesemaker Lorenzo Bianchino Chieppa who invented burrata. However, there is no written trace of the claim, which led to tension among major Andria burrata makers who also claimed the invention. The word burrata first appears on the Guida Gastronomica D'Italia (an inventory of Italian regional recipes) published in 1931 by the Italian Touring Club, which listed burrata as a typical local product of Andria.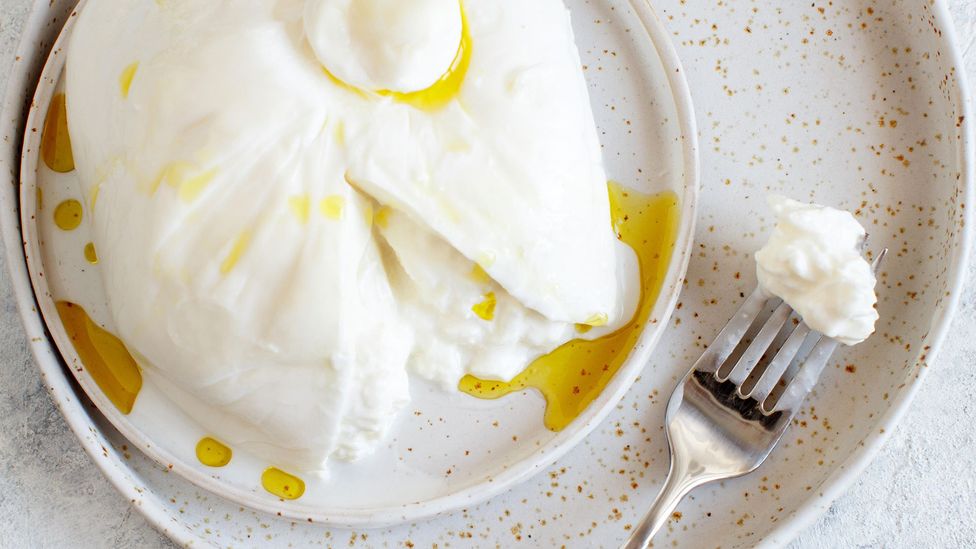 Burrata has become a global cheese, but it originated in Italy's Apulia region (Credit: Katrinshine/Alamy)
According to Campanile, who years ago interviewed the son of Chieppa, burrata was born as a way of making use of leftovers from the cheesemaking process. "The cream came from the dense layer formed on top of the morning milking," said Campanile. At the same time, the cheesemonger would make the stretched curd mozzarella and have some left over. Those mozzarella pieces were stripped with fingers, mixed inside the cream and used as filling for the burrata.
"Back then, the pouch was made by blowing inside the mozzarella," said Campanile. The cheesemonger blew with energy on a piece of warm and malleable fresh mozzarella to make an inflatable balloon – a technique long abandoned for air compressors for the sake of food safety.
Back then, there was no refrigeration to keep the cheese fresh on the trip to the market, and they had to travel by horse, which could take a day. According to Campanile, Chieppa's invention overcame some chemical and logistic challenges: the cream would act as a preservative, preventing the leftover mozzarella strips from becoming acidic; and a leaf casing protected the burrata from the heat of the scorching sun.
Angela Asseliti, 75, was born and raised with her grandfather Michele in another masseria a few hundred metres from Castel del Monte, where she lived until she turned 30. While her brother Domenico Asseliti now runs the family dairy Caseificio Asseliti e De Fato with her son and nephews, she was an essential part of making burrata famous. In the 1980s, she invented the burratina: a smaller version that you could eat in one bite.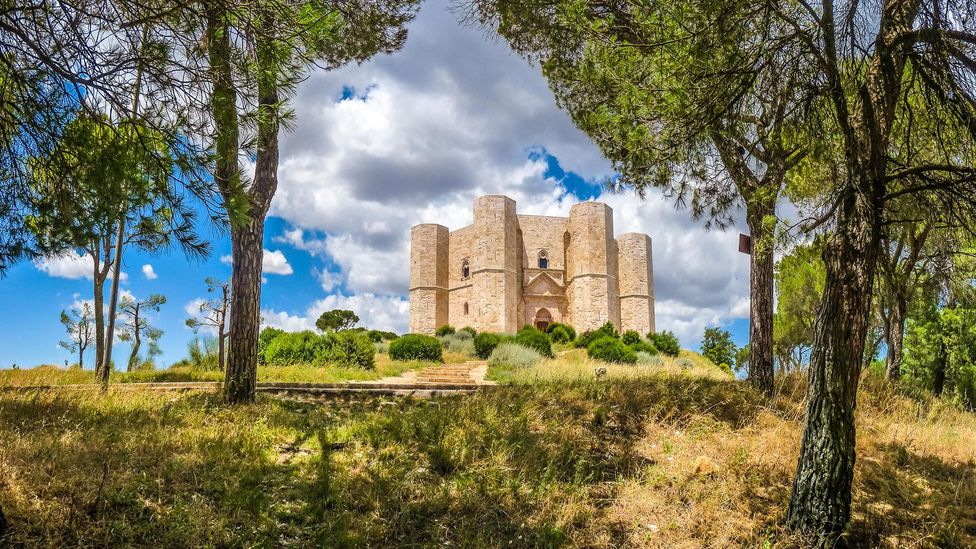 Burrata was created under the shade of Castel del Monte in Italy's Apulia region (Credit: MacEaton/Alamy)
"I used to sleep in the stable with my grandfather and the cows," said Angela. "We woke up at four to milk the cows, and at sunrise, I took them to graze in Murgia."
Angela recalls how they would dip the freshly made burrata in brine to toughen the outer layer of mozzarella, before dressing it with leaves of the asphodel – which the Greeks believed was the plant of the Elysium, the place in the afterlife where the souls of those loved by the Gods rested – to keep the burrata moist and preserve its freshness for the 18km trip to town.
"We carried it on a horse, to lawyers and aristocrats that could afford it," said Angela.
A complex cheese to make, with a short shelf life, burrata has always been perceived as a high-end cheese.
Nowadays, cheesemongers make burrata using modern machines and wrap it with plastic, which, because of EU hygiene regulations, substitutes the asphodel leaves. Instead of transporting it on a horse, the cheese reaches every corner of the world via aeroplane.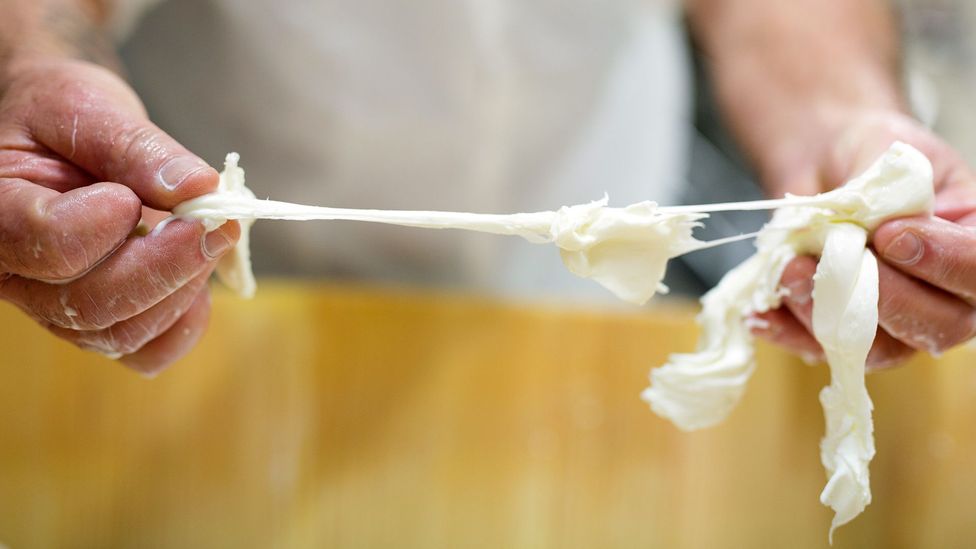 Burrata is complex to make and has always been perceived as a high-end cheese (Credit: Riccardo Bruni/EyeEm/Getty Images)
"The process starts at 03:00 in the morning," said Maria Teresa Santovito, who is in charge of quality control at Caseificio Olanda, another dairy in Andria. With her husband Riccardo and the rest of the family, she counts on burrata as a major revenue source. Fifty percent of their burrata production leaves in the morning to places like Germany, Tokyo and Hong Kong.
"We buy part of our milk from a masseria in Murgia," said Santovito. Today, Murgia farms provide just a fraction of their dairies' milk quota, and most of the milk used to produce burrata comes from other Italian regions or EU countries. To protect the authentic burrata-making process from imitation, Caseifico Olanda, together with Caseificio Asseliti e De Fato and six other dairies, got together in 2018 to create an Indication of Geographic Protection (IGP), naming it Burrata di Andria IGP. Any Apulia dairy that complies with the consortium's regulations can join: milk can come from outside the region, but production has to be done in Apulia following a precise recipe and method.
Felice Sgarra, a Michelin-star chef and co-owner of Casa Sgarra restaurant in the nearby town of Trani, has long been using burrata in his dishes, from antipasti to desserts – including a parmigiana (a dish typically made with fried eggplant, tomato sauce, basil and mozzarella) with burrata and tomato ice cream.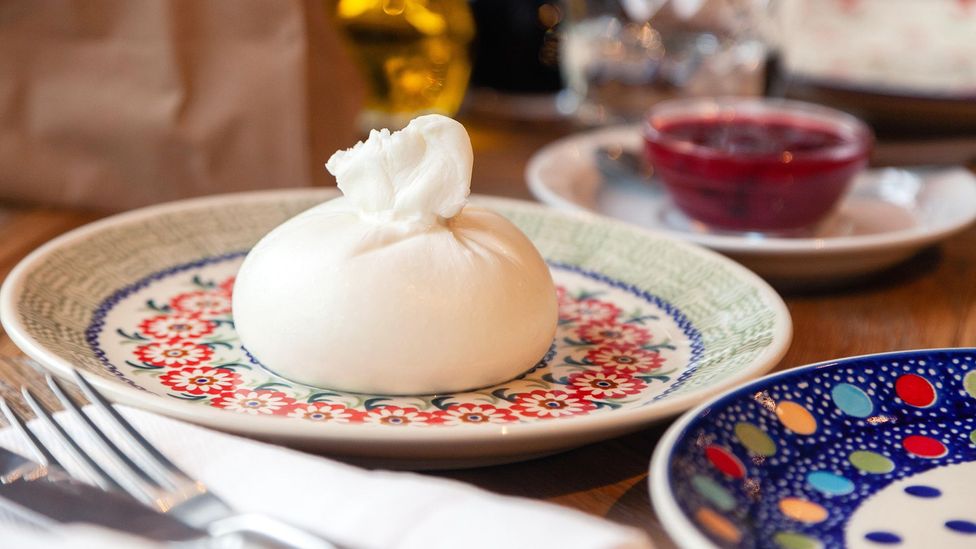 Chef Felice Sgarra: "You can use burrata for everything, but it doesn't need anything" (Credit: MikroKon/Alamy)
"Burrata represents Andria," said Sgarra. "The fatty cream is its secret, that together with the mellowness of the mozzarella and sweetness of the milk, make it a unique food."
You close your eyes, and it takes you right back to childhood
According to Sgarra, the world's most loved foods have a fatty component. And burrata has that.
"You can use burrata for everything, but it doesn't need anything. You only have to open it and eat," said Sgarra. "You close your eyes, and it takes you right back to childhood."
While burrata can now be found all over the world, one must head to Apulia for the truest experience. Enter a caseificio, buy some freshly made burrata and drive to Castel del Monte. In the shadow of the castle, open the wrapping and bite into the burrata. Let it spill onto your hands. And as you eat it, be transported back a century to when human ingenuity created the most delightful, creamy treat. 
Culinary Roots is a series from BBC Travel connecting to the rare and local foods woven into a place's heritage.
Join more than three million BBC Travel fans by liking us on Facebook, or follow us on Twitter and Instagram.
If you liked this story, sign up for the weekly bbc.com features newsletter called "The Essential List". A handpicked selection of stories from BBC Future, Culture, Worklife and Travel, delivered to your inbox every Friday.