As searches for quilting patterns surge and Covid quilt-alongs explode online, newcomers to the hobby are channelling a centuries-old Irish tradition: quilting for human connection.
W
When Sarah Harris moved from her home of 20 years in Ireland back to her native Colorado, she brought the quilting business she'd started in County Wicklow with her, making commissions of "memory quilts", patchwork designs composed of baby blankets, graduation gowns or old clothes from deceased loved ones. Before she'd turned it into a business, quilting was something she did for herself – a way of connecting with her mother and grandmother, both quilters in the US, in spirit and in practice.
"My mom and I would make two of the same quilt," Harris said. "We would start it together [in Colorado] when I would visit, and then continue to make them separately when I went back to Ireland, working on them at the same time, so we would each have one – the same, but separate."
Quilting with her mother over FaceTime or quilting alone and knowing that her mother was working on the very same project, Harris was participating in a centuries-long tradition, using quilts to connect with family across time and distance.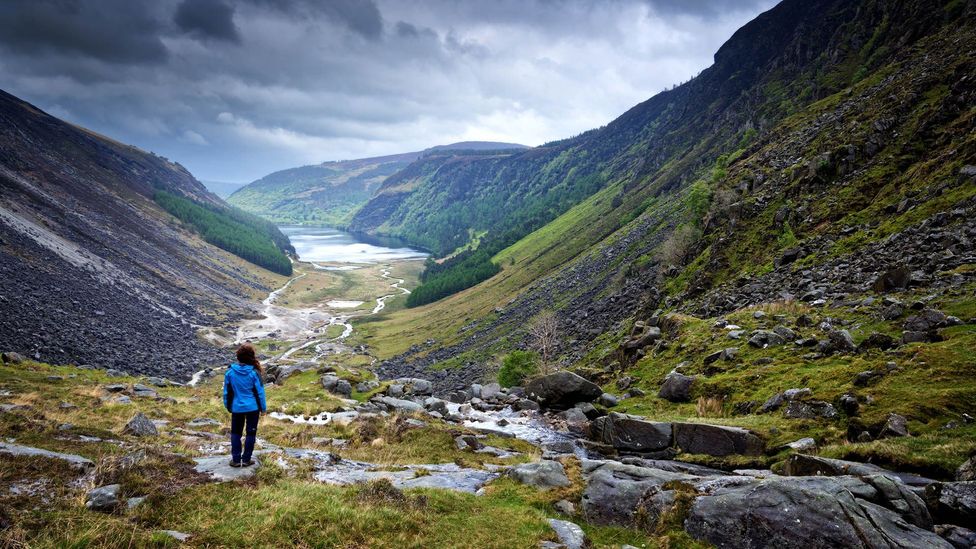 Harris used quilting as a way to connect with her distant family from her home in Ireland's County Wicklow (Credit: Anna Gorin/Getty Images)
In the past year of pandemic lockdowns, Harris has been in increasingly robust company as she and others have turned to the internet – and Instagram, in particular – to take up the craft as their "pandemic hobby" of choice. Many people have found that quilting offers a meditative departure from anxiety or grief, an outlet for pent-up creative energy or "an act of cultural reclamation and narrative-building", as one quilter in Toronto, inspired by her great-grandmother's patchwork practice, put it in a recent essay about how the pastime is getting her through the pandemic.
According to Valerie Wilson, curator of textiles at the National Museums Northern Ireland, Irish and American quilting culture is deeply interwoven. Together, they reveal a rich cultural narrative about scarcity, hardship, resourcefulness, perseverance and – especially pertinent to the hobby's pandemic rise – human connection.
You may also be interested in:
• The last surviving sea silk seamstress
• The legend of Ireland's 'Highwaymen'
• A war-time hobby that's back in fashion   
In the 19th Century, Wilson explains, Irish immigrants to the US took their customs with them, bringing quilts to wrap up and carry their belongings, to use for warmth and comfort on their journey and to remind them of home. Putting names and personal stories to this history, Roselind Shaw, a quilt ethnographer in Belfast, has documented accounts by Northern Irish families of quilts being washed and laid to dry on beach rocks when immigrants' boats reached American shores, or of sending quilts from Derry as wedding presents to young immigrants who were making their way in the New World.
In turn, Irish settlers in the US would send patterns, fabrics and finished quilts to their families at home – or use them to wrap gifts perhaps more precious than the quilts themselves.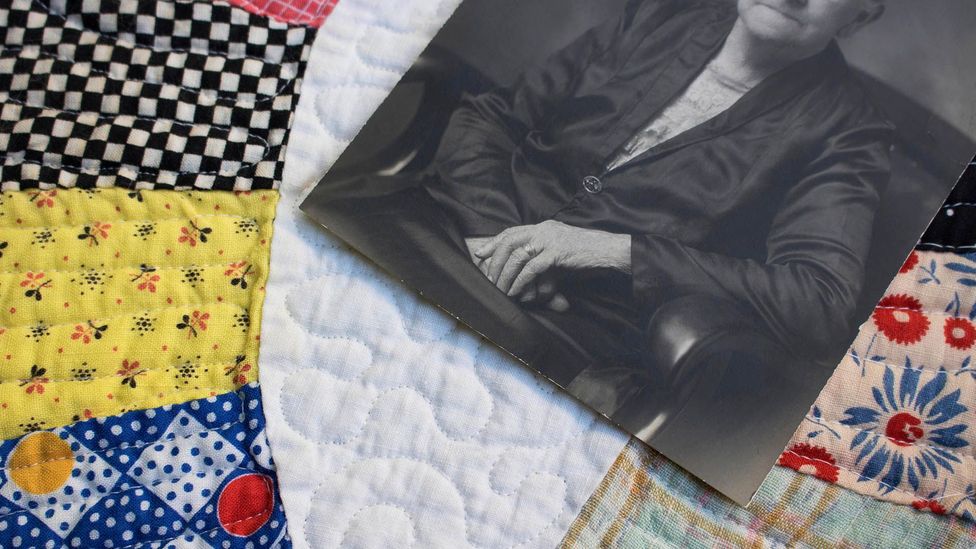 Irish settlers in the US would send their family members quilts and patterns back in Ireland as a way to communicate (Credit: Erin Donalson/Alamy)
According to Wilson, who oversees the historical collection of quilts at NMNI's Ulster Folk Museum just outside of Belfast, new styles began to emerge in Irish patchwork in the 1870s that showed this American influence – among them, Log Cabin, Kaleidoscope and Irish Chain patterns, the last of which may or may not have originated in Ireland. In this exchange, Irish and Irish American families created a transatlantic correspondence of culture, design and tradition that carried on for generations, blurring the lines between Irish and American patterns and styles, and reinforcing the importance of the quilt in both cultures.
Quilting was a 19th-Century take on a bachelorette and hen party
As key as the quilt was in tying together families in Ireland and the US, Wilson added, it united local communities too. As immigration to the US increased and the quilt exchange continued, quilts became much more than just a utility for warmth or decorative items to dress up a room: with "quilting parties", the very act of quilting took a central role in the social life of rural Irish communities – as important a reason to gather as a wake, but on much happier terms.
"The social aspect of quilting has been very important here in Ireland in the past and still is," Wilson said. For example, Ireland's 19th-Century take on the bachelorette or hen party was entirely quilt-centric: quilting frames were loaned between households; women gathered to make a quilt together for the bride; the host would put on food and drink as a thank you; and once the quilt was completed, it became the centrepiece of a number of customs. For example, Wilson said attendees would gather around holding onto a quilt's edges, and the household cat – every rural house had a cat, she noted – would be thrown into the middle of the quilt.
"The cat would obviously jump up and run out the door," she said, "and the nearest unmarried girl to the cat would be the next person to be married."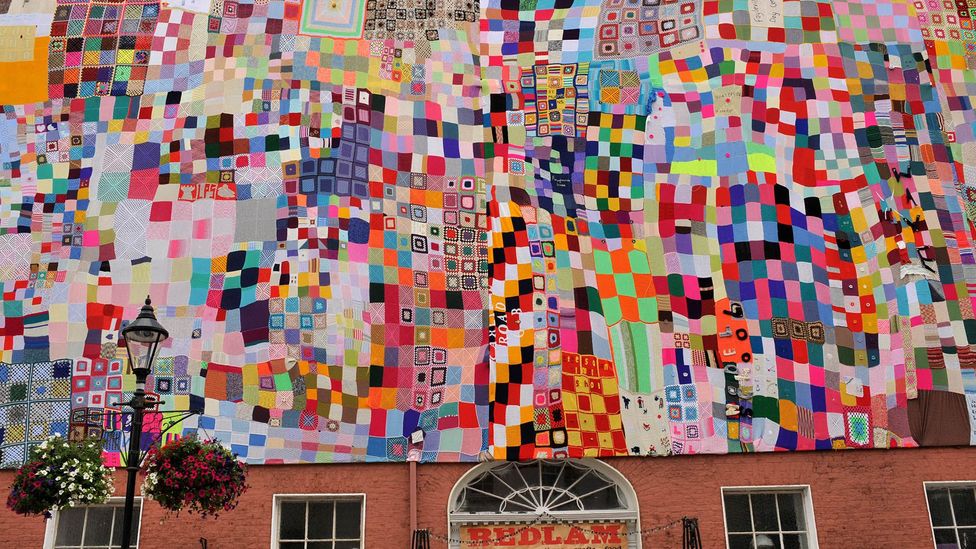 A 15x6m quilt made by hundreds of locals and international families with origins in Londonderry, Northern Ireland, is displayed in the city centre (Credit: George Sweeney/Alamy)
In the past 100 years, tossing cats onto quilts of brides-to-be has gradually given way to other types of gathering. Before the pandemic, the communal culture around quilting was on the rise, both in the US and in Ireland, where local guilds for patchwork and quilting grow and where quilting exhibitions are among folk museums' best-attended events. Especially in Northern Ireland, the practice thrives. For a look to the past, the NMNI are home to the country's largest quilt and patchwork collection. For a look at the present, independent quilt shops across the country offer classes with local character (and, in some cases, local threads, from Bangor to Ballymena to the annual Quilt Fayre in Belfast.
And now during the pandemic, a growing number of quilters around the world – both expert and inexperienced alike – are finding community in virtual circles.
In "quilt-alongs" or "sew-alongs" on Instagram, a group of quilters commits to making the same project together over a designated period of time, using an event-specific hashtag to share their progress as they go.
"Instagram has been an amazing community," said Sarah Steiner, a self-described "pandemic quilter" in Northern Indiana who picked up the hobby for the first time last July and says it has helped her find calm, focus and relief. "I had no idea that so many creative people have accounts and post their quilts. My mom, aunt and I did a sew-along together and it gave us something to talk about other than Covid."
This digital take on the quilting bee is also what drew Amari Thomsen in San Francisco to the craft. "It's like a book club, but instead you have a finished quilt at the end," Thomsen said of quilt-alongs. "I thought this community-building activity was so clever, so I joined one and instantly became hooked."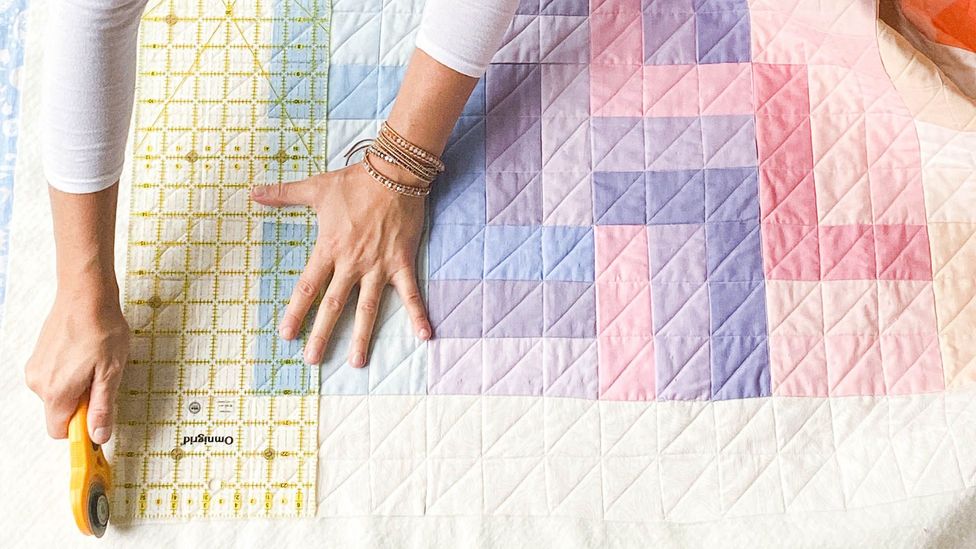 During the pandemic, the rise of "quilt-alongs" has seen groups of quilters come together virtually (Credit: Amari Thomsen/Next Gen Quilting)
Thomsen's connections in the quilt world grew quickly. "The online quilting community has no demographic or geographic boundaries, and you can learn something new from every single quilter out there," she said.
Pinterest recently reported a 100% year-over-year increase in searches for 'Irish quilt patterns'
Some of these virtual quilt-alongs are intimate – a group of friends gathering virtually instead of in person – while others offer a glimpse of the large scale of participants. The month-long Instagram Quilt Festival (held each March in celebration of National Quilting Month) had 10 times the number of posts by the close of March 2020 as it did in March 2019, and in the first 10 days of the 2021 edition, it had nearly as many posts – more than 10,000 – as were shared in all of March 2020's #IGquiltfest combined.
Meanwhile, Pinterest recently reported a 100% year-over-year increase in searches for "Irish quilt patterns", like the Celtic Twist and the Connemara Star – many of which are more popular with Americans crafting to connect with Irish culture than with the Irish themselves.
While quilting in a strictly virtual world brings new opportunities for human connection, the age-old tug towards engaging face-to-face beckons even the newcomers.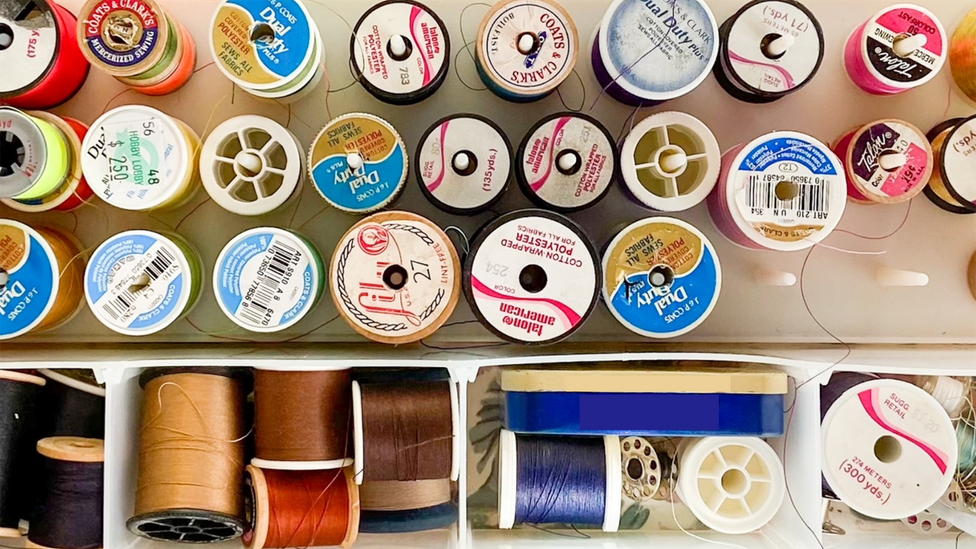 This month, quilters around the world are participating in the #IGquiltfest on Instagram (Credit: Amari Thomsen/Next Gen Quilting)
"Buying supplies online and learning new techniques via virtual video tutorials is all I really know," Thomsen said, as she put the last touches on her 10th project in seven months – a half-square-triangle-pattern quilt she created from upcycled chambray shirts she excavated from her wardrobe during quarantine spring cleaning – and posted her progress to her Instagram account, nextgenquilting. "I can't wait for the day when I can set foot in a local fabric shop or join a local quilt guild and interact with my peers in person."
Some come for the community and stay for the stress relief, others vice versa – but for most quilters, those benefits are closely intertwined.
"Fifty percent of the reason for quilting get-togethers is having a cup of tea and a piece of cake and chatting and solving the problems of the world," said Stephanie Green, who left her career in nursing a little more than a decade ago to open the Green Acres Quilts shop, which operates out of her home County Donegal, Ireland. "It's probably just 20 minutes or half an hour that we break over the course of three to four hours of sewing, but it's just vital." At Green's shop, classes have recently resumed with masks and social distancing measures in place, and tutorials have moved to local television broadcasts.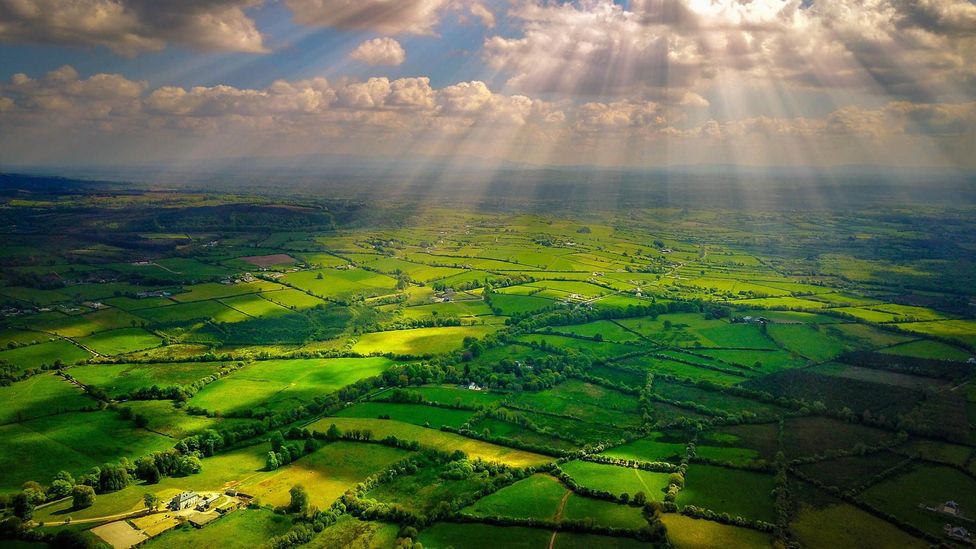 Perhaps fittingly, so much of Ireland's lush landscape resembles a patchwork quilt (Credit: Frank Cosgrove/Getty Images)

Back in Colorado, Harris still misses her local patchwork society in Ireland as well as her local quilting shop, owned by a mother and her two daughters a couple towns away from her old home in County Wicklow. But she quilts every day, especially this year, turning to hashtags and comments for a virtual quilting community to stand in, for now, for the real-life one she once had.

"I've incorporated a lot more Irish design into my quilts, which I never would have done in Ireland – they would've laughed at me, [saying] 'That's so American!'," she said. "Funny, when I was in Ireland, I didn't want to be associated with America at all. But now, I do a lot of Irish writing on my quilts. I think I'm homesick. So, I see things a little differently – and I reflect that in my quilts."

Join more than three million BBC Travel fans by liking us on Facebook, or follow us on Twitter and Instagram.

If you liked this story, sign up for the weekly bbc.com features newsletter called "The Essential List". A handpicked selection of stories from BBC Future, Culture, Worklife and Travel, delivered to your inbox every Friday.

;