To this day, the recipe for Angostura Aromatic Bitters remains a secret, and perhaps nowhere is the legend and lore surrounding it more robust than on the island where it is produced.
[It's] not just something to drink but is also a source of national pride
Take a tour down the drinks aisles of many supermarkets worldwide. Depending on local laws, there may be soda, beer or other alcohol. There will also likely be mixers for everything from a Bloody Mary to a Tom Collins. But no matter where you are, one little bottle quietly takes its place of importance among them all: Angostura Aromatic Bitters.
Produced since the 19th Century, Angostura Bitters is as important to the bartender as salt is to the chef. Without it, there would be no Manhattan or Old Fashioned or Whisky Sour. The cocktails that require a dash of Angostura Bitters number in the hundreds if not thousands.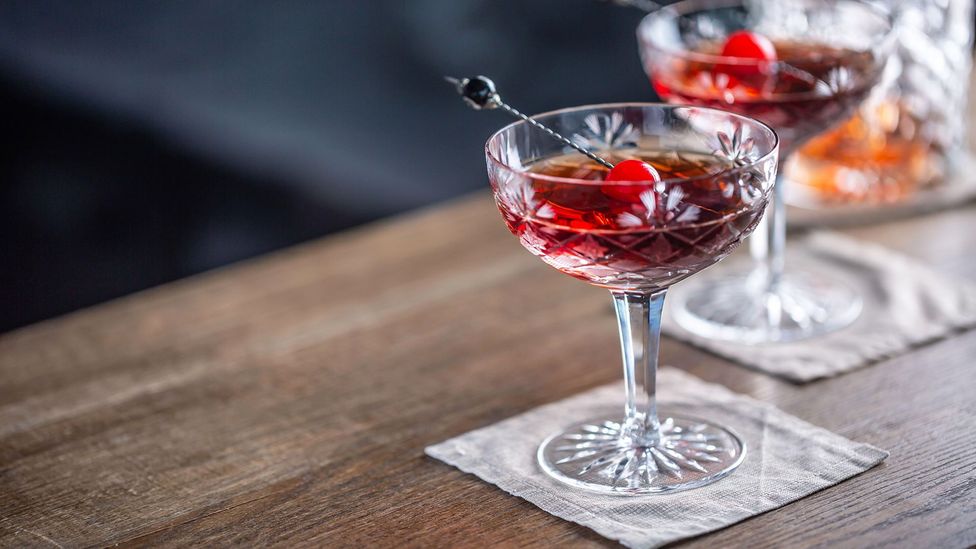 Angostura Bitters is a premier ingredient in sophisticated cocktails like the Manhattan invented in the 1870s (Credit: Weyo/Alamy)
However, Bitters, as we simply call it, is not just something to drink but is also a source of national pride in the tiny Caribbean twin-island nation of Trinidad & Tobago where it is now made. Visitors would be hard pressed not to feel its presence everywhere from hotel bars to restaurants to country "rum shops" reminiscent of the watering holes of old. Those exploring the nation's diverse cuisine will soon learn that Bitters provide a unique taste that marks everything from baked goods to traditional dishes and haute cuisine. So popular are Bitters in Trinidadian cooking that The House of Angostura in the capital city of Port of Spain hosted a 2018 competition between professional chefs and home cooks featuring recipes using the aromatic Bitters.
In Trinidadian families, like mine, Angostura Bitters serve as a flavour in everything from stews to desserts. "It's second nature to Trinis," said Gerard Besson, a Trinidadian historian and writer who curated The Museum at the House of Angostura. "Without even realising it, you grab the Bitters bottle and pass it over the pot."
Even in Trinidad's alcohol-abstaining religious communities – including Muslims, Hindus and Seventh-day Adventist Christians – there is usually a bottle of Bitters in the cupboard for medicinal use, most notably for ailments of the tummy.
The recipe for Angostura Bitters is one of the world's longest held culinary mysteries (Credit: Zuma Press Inc/Alamy)
It's a use that hews closely to the original purpose for this secret recipe created by Johann Gottlieb Benjamin Siegert, a German army surgeon and officer under Simon Bolivar. Seigert created Bitters while he was stationed in Venezuela in the town of Angostura (now Ciudad Bolivar) specifically as a stomach tonic for ailing soldiers. That was in 1824, and even after the family migrated to Trinidad in the mid-19th Century, his recipe was kept secret. Nearly 200 years later, it remains one of the world's longest held culinary mysteries.
Perhaps nowhere is the legend and lore of Angostura Bitters more robust than on the island where it is produced. Nearly every Trinidadian I know has a theory not only about what's in the Bitters but how the recipe has managed to remain a mystery all of these years. Only a few facts are known for sure: that Seigert' original recipe, a suspension of herbs, barks and spices, remains unchanged; and that the alcohol base is close to 50%. 
As meagre as this information is, the stories around the small bottles with their oversized labels – the result of a printing error that became a branding boon – is well documented and a key part of the distillery tours offered at The House of Angostura, which end with the opportunity to sample Bitters in local rum punch and other cocktails.
You may also be interested in:
• Jamaica's breakfast of champions
• A melting pot made of cheese
• The tree that changed the world map
A common story that I've been told by locals is that the recipe is held by only five individuals at any time – one of whom is always the English monarch – and that all five must agree to when Bitters are made, thereby limiting over-production. Another story is that each of the five only have a portion of the recipe and that they must come together in order to produce Bitters, and that ingredients for Angostura Bitters arrive in Trinidad in unmarked containers, loaded onto unmarked trucks bound for the plant. 
Brigid Washington, a North Carolina-based chef, food writer and author of Coconut. Ginger. Shrimp. Rum.: Caribbean Flavors for Every Season, who is originally from Trinidad, recalls her mother seasoning freshly caught kingfish with salt, lime juice and Angostura Bitters. Her mother would also give her a dash of Bitters over coconut ice cream. Of course, Washington has her own childhood story about how the Bitters are made. "Growing up I was told that two halves of the original family each had part of the recipe and neither side knew what was on the other's list," she said. "Each family would have to bring their bags of ingredients and dump them into the vat when it was time to make the Bitters."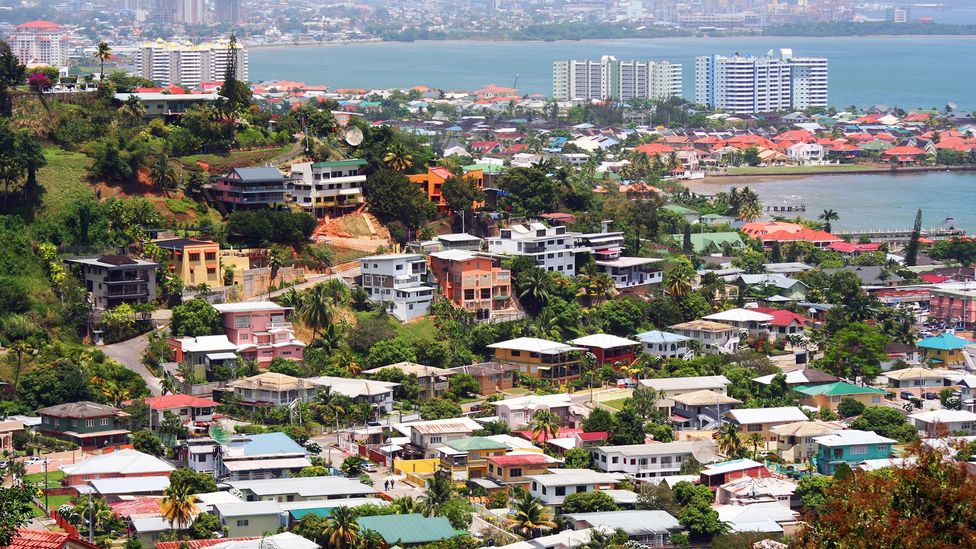 The House of Angostura set up its distillery in Port of Spain in the mid-19th Century (Credit: Jaysunlp/Getty Images)
As romantic as these tales may be, the reality is more prosaic. Distilled and bottled singularly at The House of Angostura in Trinidad, a team of chemists work to produce Angostura Bitters and the firm's other products, including rum, orange bitters and cocoa bitters.
Still, the company will not confirm or deny rumours or lore about Bitters production or, of course, what's in the recipe. In fact, The House of Angostura won't even say how much Bitters is shipped worldwide or the value of the business. Given that you would be hard-pressed to find a bar anywhere on the globe without a bottle of the brew, the number must surely be staggering.
While those at the House of Angostura are famously close-lipped, the company does offer some interesting facts relating to its most famous product, including that it functions as a mosquito repellent and that the product stains porous surfaces so thoroughly that a Seattle bar owner used the Bitters to stain the wood fixtures of his bar. It took three cases.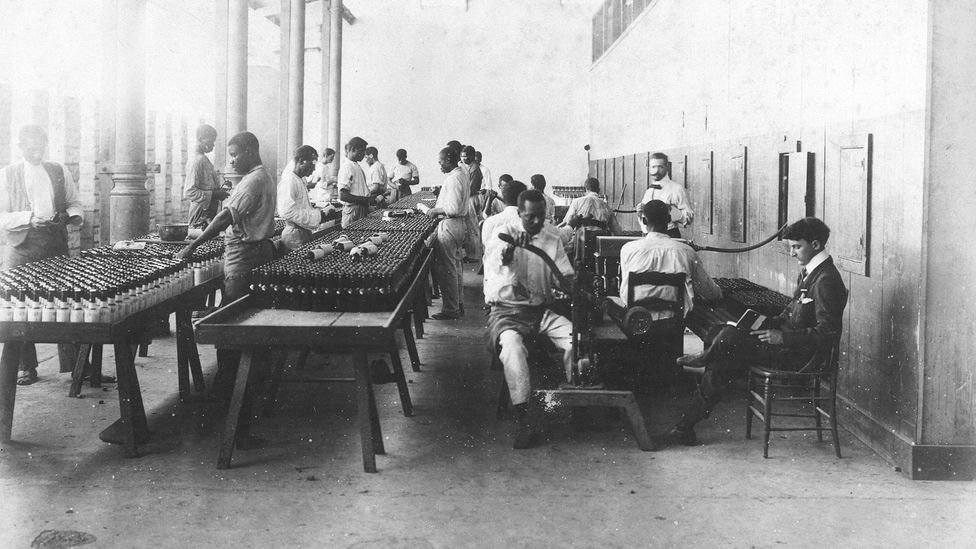 Bitters have been distilled and bottled singularly at The House of Angostura in Trinidad & Tobago (Credit: House of Angostura)
An oversized label of success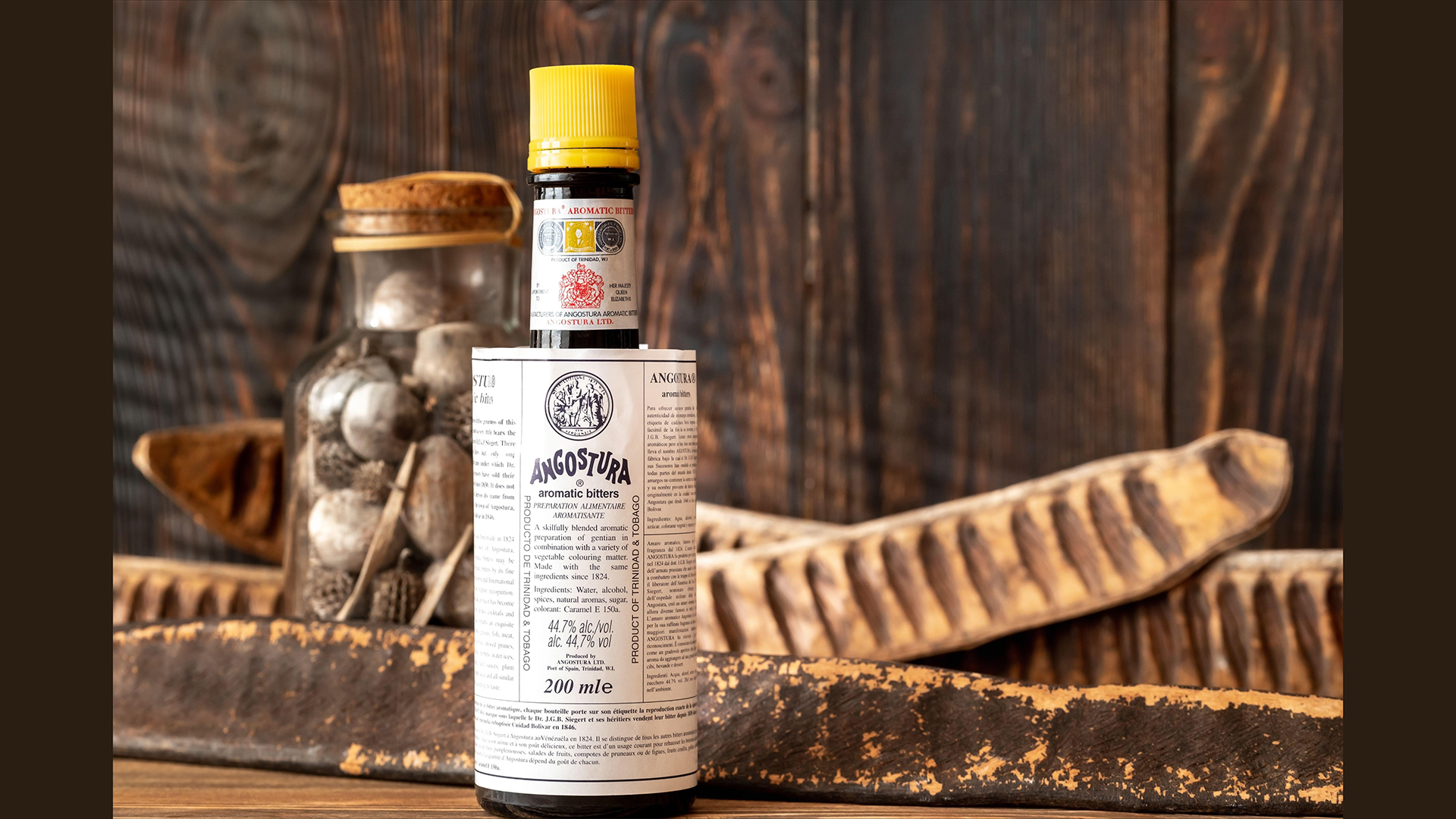 During the second half of the 19th Century, expositions worldwide introduced attendees to unique and unusual products, and the Siegert brothers quickly capitalised on the opportunity. Preparing for one such exposition, one brother was in charge of creating the bottle for the Bitters and the other the label. In what can only be called the luckiest error in liquor branding history, neither brother consulted with the other.
With time running short, the Siegerts were forced to present their Bitters with its oversized label to the judges. Although they lost the competition, the bottle was forever seared into memory as the most unique in the industry at the time – a distinction it arguably still holds today.
Perhaps more remarkable than either the secret recipe or its quirky uses is the way that Angostura Bitters overtook the market.
According to Besson, Angostura Bitters first made its way around the world in little wooden casks that ship's captains bought directly from Seigert as medicine for their crew. After Seigert's death, political upheaval in Venezuela pushed Seigert's sons Don Carlos, Luis and Alfredo to relocate to Trinidad, just eight miles off the Venezuelan coast, in the mid-19th Century. The firm set up a distillery – The House of Angostura – in Port of Spain.
By mid-1800s, Angostura Bitters had been making the world rounds for some decades, exported around the Caribbean, to the United States and to England where the military carried it across the expansive empire. By 1873, Angostura Bitters won a silver medal at the Vienna Exposition, and The House of Angostura had gained warrants to be exclusive purveyors of bitters to the royal houses of Prussia, Spain and England.
Others soon attempted to make copies of the product, but it was the Siegert sons' aggressive enforcement of their patent that shot-putted the little bottle to fame.
"News of their lawsuits to protect their product made it to the financial papers, and in those days, financial papers were really only read by bankers and stockbrokers," said Besson, who found a bill of lading for Bitters to the Titanic while doing his research. "It was a time when officers' and gentlemen's clubs were very popular, and it was these men's interest in the story that brought the Bitters into their social sphere."
Bitters' boost into the upper echelons of society would seal its fate as the premier ingredient for sophisticated cocktail culture, with drinks being developed around its flavours, including the Manhattan at the Manhattan Club in New York City in the 1870s.
Angostura Bitters continued to grip the world's imagination and work itself into culinary history in other ways too. During American Prohibition, Tom Nelsen, the owner of a tavern on tiny Washington Island in Wisconsin, circumvented the law by applying for a pharmacist's license in order to dispense Angostura Bitters, which had retained its medicinal status. Bitters are still considered a medicinal tonic today, which is why, despite being more than 90 proof, it can be sold in grocery stores in the US.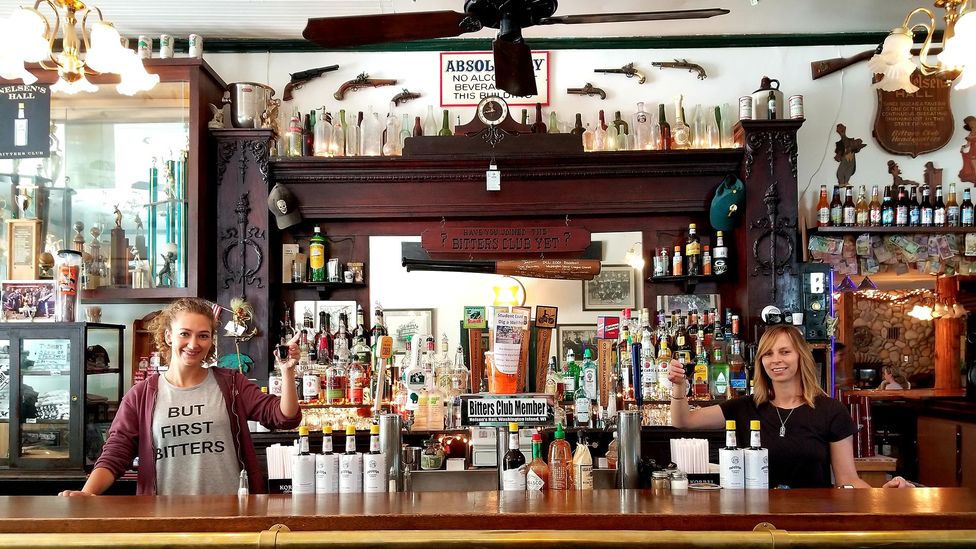 Nelsen's Bitters Club has card-carrying members who regularly consume Bitters shots (Credit: Nelsen's Bitters Club)
After being shut down by Federal agents, Nelsen reopened after successfully arguing that he was dispensing medicine. Today, called Nelsen's Bitters Club, the tavern has card-carrying members who regularly consume Bitters shots, going through 80 cases of Angostura Bitters in its six-month season. The House of Angostura confirms that Nelsen's Bitters Club is the largest seller of Angostura Bitters in the world. So dependent is the bar on the Bitters, that current owner Sarah Jaworski recalls the Angostura Bitters scarcity of 2009 – attributed to a shortage of the iconic brown bottles – as "scary".
"Luckily we never ran out. At one point we were only receiving the smaller bottles of Angostura," she said.
Himself a great believer in the tonic that is Angostura Bitters, Tom Nelsen was said to have drunk a pint of Bitters a day living into his 90s.
Shot glasses of Angostura Bitters are also the main ingredient in the Trinidad Sour, an iconic drink made with Angostura Bitters, orgeat, lemon juice and rye whisky that was created in 2009 for a bartending competition by Brooklyn's Clover Club bartender Giuseppe Gonzalez.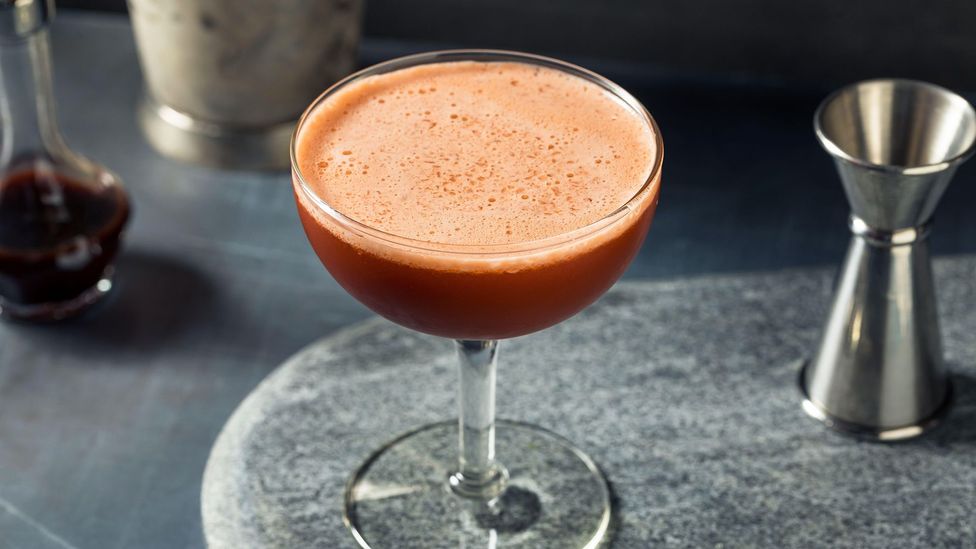 The Trinidad Sour is an iconic drink made with Angostura Bitters, orgeat, lemon juice and rye whisky (Credit: Brent Hofacker/Alamy)
"That competition was the first one I had ever lost up to that point because although they loved it, the judges thought it might be dangerous to drink that much Angostura Bitters along with other alcohol," said Gonzales, who now lives and works in Las Vegas. "What's most amazing about the bitters is that if you shake it, it gets this oily rich foam, like egg white, and you see that in the drink."
The foamy head on the Trinidad Sour – and other Angostura Bitters-heavy drinks – is yet another part of the mystery that two centuries later still entices drinkers to ask: what's in it?
The only listed ingredient on the label is gentian, a bitter-tasting root that has long been used in herbal tonics. And while the bark of the Angostura tree, an evergreen native to South America, has medicinal uses, the company has said there is no Angostura bark in its famous Bitters. 
Washington believes she can taste Mauby, the bark that is used in the Caribbean for a brewed drink with a liquorice flavour. Jaworski at Nelsen's Bitters Club said that members and staff at the bar have guessed cloves, cinnamon and black liquorice.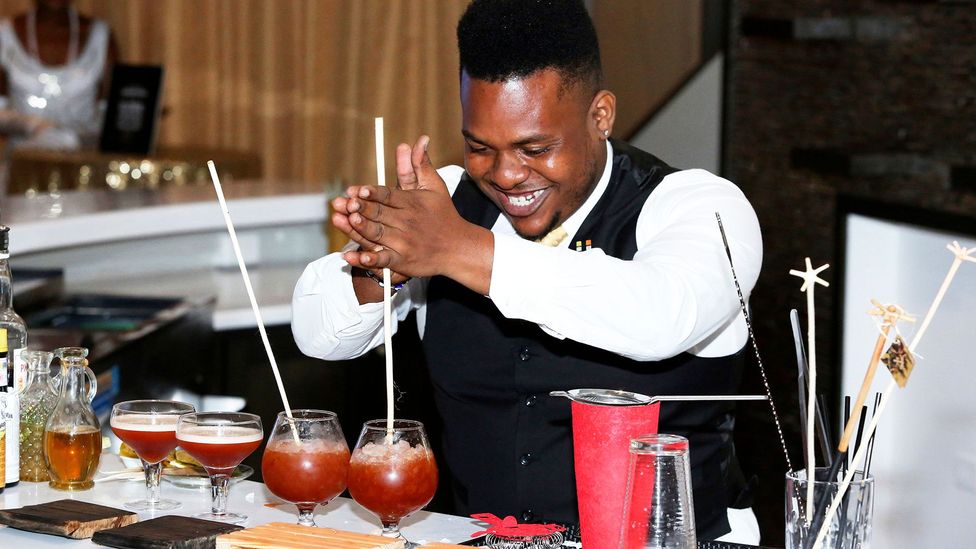 Bartender Kishion Guillaume of Trinidad & Tobago creates original cocktails at the Angostura Global Cocktail Challenge (Credit: Sean Drakes/Getty Images)
When I taste Angostura Bitters, the key ingredient in my Trinidad Black Cake, I taste oak, allspice and star anise.
They are unbeatable. Everything else is a copy
While he's thought about it, Gonzalez says it ultimately doesn't matter what's in Angostura Bitters. He is quick to dismiss those trying to replicate the recipe on their own, which some bartenders attempted to do during the 2009 shortage.

"Ango has already won the game," he said, noting that the company does little or no marketing for its unreproducible product. "Someone could make something better and no one will drink it. They are unbeatable. Everything else is a copy."

Ramin Ganeshram is a journalist, historian and author of the book The General's Cook about Hercules Posey, the chef enslaved by George Washington.

Join more than three million BBC Travel fans by liking us on Facebook, or follow us on Twitter and Instagram.

If you liked this story, sign up for the weekly bbc.com features newsletter called "The Essential List". A handpicked selection of stories from BBC Future, Culture, Worklife and Travel, delivered to your inbox every Friday.

;