An antidote to pandemic loneliness, outdoor swimming groups shine the light on the pastime's potential mental and physical health benefits.
I
In between lockdowns, on a miserable, cold January day, I took myself off to Clevedon, a coastal town near me on the Bristol Channel. I wrapped myself in warm clothing and walked to Marine Lake, a seawater pool built onto the natural coastline. To my surprise, I saw a group of giggling women emerging from the ice-cold water. Spluttering and chatting away, they awkwardly changed into their clothes under their towels. I stood and looked on in disbelief: it was freezing, but they were jubilant, defying the weather by going for a swim.
During the pandemic, the hobby of outdoor swimming has been rediscovered
Swimming has always been a popular sport in the UK, with accounts of 16th-Century knights struggling to paddle in full armour and Victorians embracing dips in the sea. But during the pandemic, the hobby of outdoor swimming has been rediscovered. Public swimming pools closed, and people could not travel, so they looked closer to home for opportunities to swim, creating a spike in interest and soaring club memberships.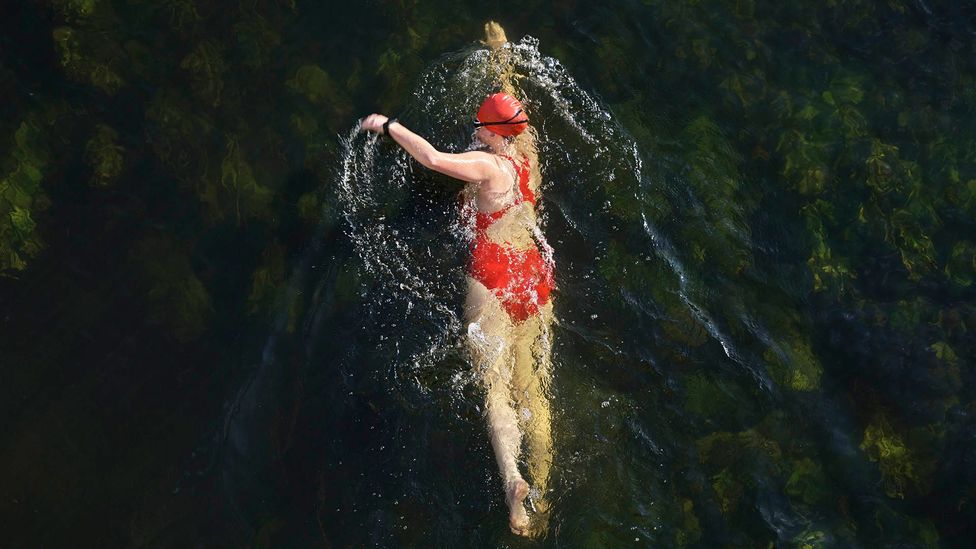 Across Britain, there's been a spike in wild swimming in seas, lakes, lochs and rivers (Credit: Gary Yeowell/Getty Images)
From Scotland to Cornwall, people have been taking to the seas, lakes, lochs and rivers in greater numbers than ever before. Be it floating past a stately home by the river Derwent (afternoon tea at Chatsworth, anyone?), dodging monsters at Loch Ness or dipping into Wales' very own Blue Lagoon in Pembrokeshire, the UK's wild swimming sites are as varied as they are beautiful –­ even if the water temperature requires a certain level of bravery.
It seems that swimming and being outdoors is not just beneficial for your physical health, but it may also be beneficial for your mental wellbeing.
My brother-in-law, Mark Woolfrey, is a dedicated outdoor swimmer who goes out with like-minded friends no matter the season or weather. "We swim all year in Gloucestershire's marvellous Cromhall Quarry, but for adventure we head to the coast," he said. "Most memorably to Watcombe Beach (between Torquay and Shaldon) with its Jade Cave and Bell Rock and much more within easy distance. The coast here has the beautiful but vulnerable red sandstone cliffs strewn with breccia boulders below."
It's a simple, low-cost hobby with minimal gear needs. Getting involved can be as easy as downloading the map of the best wild swimming places in the UK, grabbing a cossie and heading off. Many new and veteran open swimmers joined open-water swimming groups, and there are even organised trips to favourite swimming spots along the UK's extensive coastline
According to Outdoor Swimmer magazine's annual report, searches for the term "wild swimming" – which refers to "swimming (or dipping) in rivers, lakes, pools, the sea etc; typically in more out-of-the-way locations with no lifeguard supervision," according to magazine founder Simon Griffith – increased 94% between 2019 and 2020. Wild swimming presented an opportunity to get some exercise, explore the local countryside and even visit new places in search of different waters.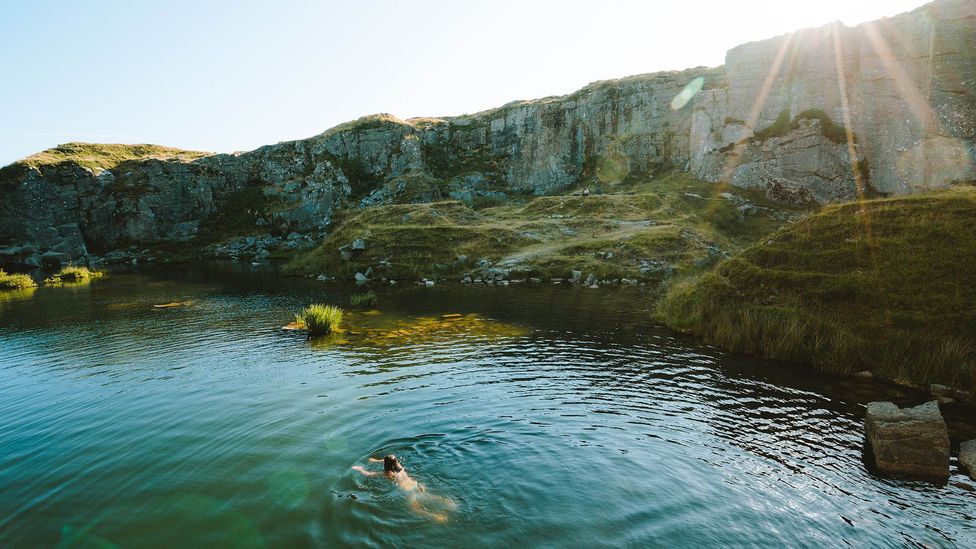 Aside from its health benefits, wild swimming is a great way to explore new sides of the British countryside (Credit: Sam Spicer/Getty Images)
Though wild swimming requires no memberships, clubs and swimming groups around the UK also saw a surge in interest during the pandemic. The Outdoor Swimming Society's membership grew by 36% in 2020. North Pembrokeshire-based Bluetits Chill Swimmers gained 8,000 new Facebook followers over the last year. And, according to Outdoor Swimmer magazine's annual report, more than half of new swimmers enjoyed the experience more than they expected.
It was a life-changing moment
But fun is not the only reason people are taking up the hobby. It seems that swimming and being outdoors is not just beneficial for your physical health, but it may also be beneficial for your mental wellbeing. A study published in British Medical Journal Case Reports provided the first case report that cold water swimming may be an effective treatment for depression. The theory behind this is that one form of stress – ie the shock of cold water – adapts the body for another, in this case the stress response associated with depression and anxiety.
While more evidence is needed to support the hypothesis, some people have formed their own swimming groups based on their own experiences. In summer 2020, Chris Reeves founded Win the Morning, Win the Day, a group that organises morning walks on the beach followed by a swim in the sea, all the while breaking the stigma surrounding mental health by talking openly about it. The group started in the town of Gosport and has seen sister groups spring up around the UK, in cities including Leeds and Manchester, and even abroad, in Bahrain.
You may also be interested in:
• An Icelandic ritual for wellbeing
• The birthplace of Alpine hay bathing
• Why Germans love getting naked in public
Rachel Ashe, founder and director of Mental Health Swims, who has mental health conditions stemming from childhood trauma, came upon the benefits of cold-water swimming by chance. On a whim, she joined a New Year's Day dip near her home, on Portobello Beach near Edinburgh. "I ran into the sea with 100 others and afterwards felt this incredible calm I hadn't felt in years," she told me. "It was a life-changing moment. I now know that the calm I was feeling was my natural pain killers kicking in because getting into cold water is incredibly stressful for your body."
Inspired to share her experience, Ashe invited others to join her at the first Mental Health Swims meet-up at Caswell Bay in September 2019. As mental health challenges surged during the pandemic, so too did interest in the group. "We started the pandemic with one swim and now have more than 80 swim meet-ups across the UK and beyond," said Ashe.
However, while outdoor swimming may help your physical and mental health, Ashe warns that it should not see seen as a cure-all: "I think the idea that cold water is the miracle cure for mental illness is a dangerous narrative and another way to make stigmatised people feel like they're not doing enough." And, she added, the outdoor swimming movement has a way to go before it reaches everyone who could benefit from its effects. "I believe we should empower everyone – people of all skin colours, ages, genders, sexualities, backgrounds and abilities – to find solace in the outdoors."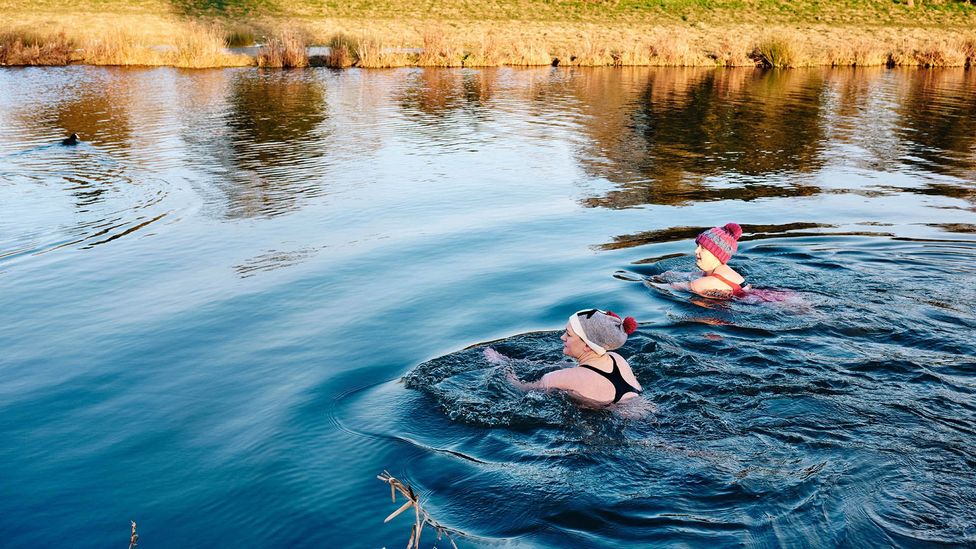 Researchers are continuing to learn about the many mental health benefits of cold-water swimming (Credit: Gary Yeowell/Getty Images)
Groups are generally open to anybody who want to swim, but according to Swim England, 95% of black adults and 80% of black children in the UK do not swim. British swimmer Alice Dearing, who specialises in open-water events and co-founded the Black Swimming Association, is trying to address the issue by raising awareness. In a March 2020 article, she told the BBC: "I am a big believer in representation. I don't think you can be something that you can't see. People won't naturally take up swimming if they can't see someone who naturally looks like them."
As more diverse groups of people discover outdoor swimming, the results from ongoing research about its mental health benefits will become more comprehensive. Currently, a team at the University of Portsmouth is closely monitoring cold-water swimmers and gathering testimonies from members of the Outdoor Swimming Society about the benefits of cold-water swimming for conditions that include depression, anxiety, arthritis, menopausal symptoms, MS and migraines.
With more Brits than ever taking up outdoor swimming for health reasons, they are also enjoying the sense of community the hobby brings with it. As Simon Griffiths said: "Swimming is not just something you do. Being a swimmer is something that you are."
And with so many struggling with mental issues, pandemic-related or other, there's never been a better time to take a dip outdoors.
BBC Travel's Well World is a global take on wellness that explores different ways that cultures the world over strive for a healthy lifestyle.
Join more than three million BBC Travel fans by liking us on Facebook, or follow us on Twitter and Instagram.
If you liked this story, sign up for the weekly bbc.com features newsletter called "The Essential List". A handpicked selection of stories from BBC Future, Culture, Worklife and Travel, delivered to your inbox every Friday.