In an ever-louder world, Gordon Hempton has spent more than 40 years speaking out about the importance of saving silence. Is the world finally ready to listen?
B
Before you read any further, close your eyes and listen for a moment.
Did you hear the faint hum of a nearby appliance? Or the distant rumble of a plane overhead? Or the passing woosh, screeching brakes or grumbling exhaust from the road outside?
50 Reasons to Love the World - 2021
Why do you love the world?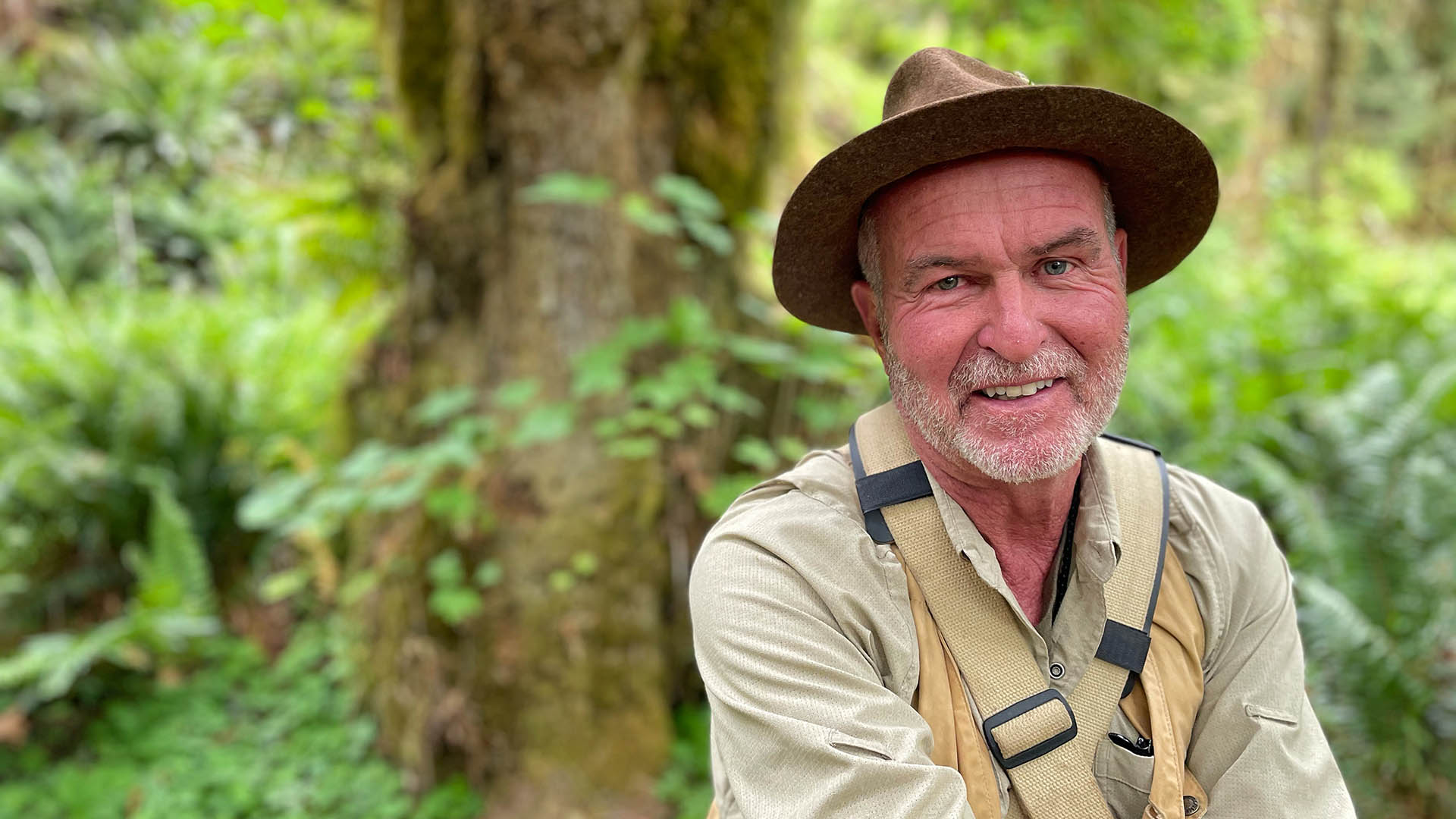 "Because I know that over the course of my career, every animal that I've ever recorded may have died, but that the place still has its voice." – Gordon Hempton, acoustic ecologist
What you likely didn't hear is silence, and if you ask Gordon Hempton, that's a problem.
An acoustic ecologist, Hempton has circled the globe three times in the last 41 years searching for and documenting the planet's "solar-powered jukebox" of disappearing natural soundscapes. He's huddled inside a hollowed-out Sitka spruce log in the Pacific Northwest to record "the world's largest violin"; floated down the Amazon River in a dugout canoe to track the melodic trill of rare, migrating songbirds; and won an Emmy for his documentary, The Vanishing Dawn Chorus, which captures the cacophony of dawn breaking across six continents.
Yet, the sound Hempton is most concerned about preserving is the most endangered of all: quiet.
"Why save quiet?" Hempton whispered, holding a decibel reader and peering up at the moss-draped masts of 500-year-old Douglas firs in the Hoh Rainforest of Washington's Olympic National Park. "Isn't global warming more important, and toxic waste clean-up and habitat restoration and endangered species? Well, when you save quiet, you actually wind up saving everything else, too."
When you save quiet, you actually wind up saving everything else, too
To Hempton, quiet isn't the absence of sound, but the quieting of the ringing, revving and jackhammering of man-made noise pollution that has blanketed the planet. In an ever-louder world, the 68-year-old has spent most of his life speaking up on silence's behalf. Most recently, he launched Quiet Parks International (QPI), a first-of-its-kind non-profit that aims to certify and preserve the Earth's last natural soundscapes from humanity's racket through "quiet tourism". By inspiring travellers to awaken to the planet's sonic – and not just scenic – wonders, Hempton is hoping to change how we "see" the world, and to "save quiet for the benefit of all life".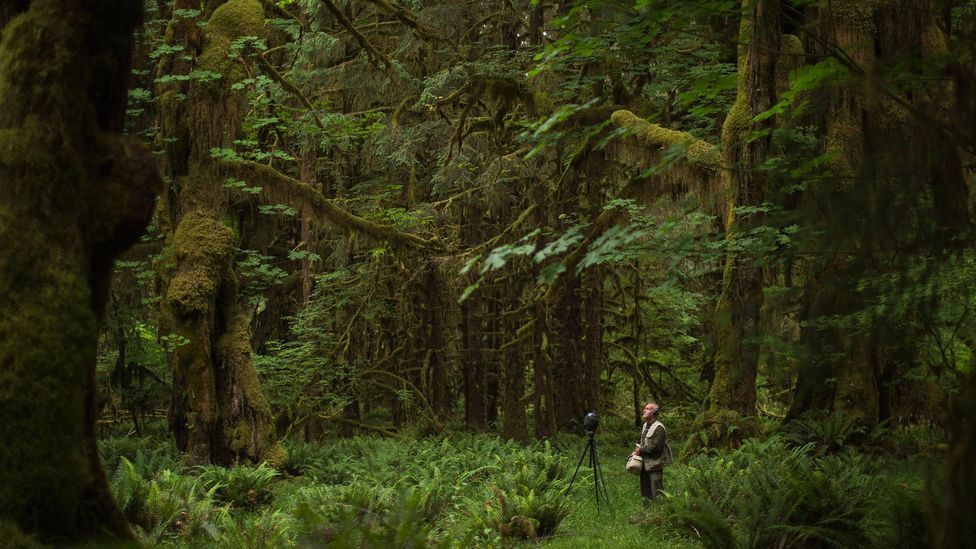 Hempton has circled the globe three times searching for and documenting the planet's vanishing natural soundscapes (Credit: Shawn Parkin)
As environmental crusades go, noise pollution hardly gets a murmur – and that's partially because it's so elusive. We can see pieces of trash on the ground and smell toxins in the air and water. Noise, on the other hand, is a more insidious threat. It's invisible, it vanishes without a trace, and it leaves nothing for us to clean up. But just as we humans have littered the Earth with our rubbish and the seas with our runoff, we are also polluting the planet with sustained exposure to man-made sounds like construction work and road and air traffic. And while noise is often treated more as a fist-shaking nuisance, it turns it isn't just annoying, there's a growing body of evidence to suggest that it could be harming our health too. 
According to a study by the World Health Organization, the effects of long-term environmental noise pollution exposure – which include heart attacks, higher blood pressure, strokes, diabetes, dementia and depression, among other things – could be responsible for the loss of more than 1 million years of full health among Western Europeans. Likewise, the European Environment Agency has found that environmental noise pollution contributes to 48,000 cases of heart disease and 12,000 premature deaths across the continent each year.
BBC Travel · Gordon Hempton: The Dawn Chorus
Our acoustic assault is also devastating the natural world. In fact, a report published in The Royal Society's Biology Letters journal found that noise pollution threatens the survival of more than 100 different animal species. Since animals rely on sound for everything from finding a mate to migrating to hunting to avoiding predators, study after study is revealing how man-made noise is making life far more miserable for everyone else than we previously thought.
When we look at the healthiest ecosystems that exist today on our planet, we're finding they're also the quietest places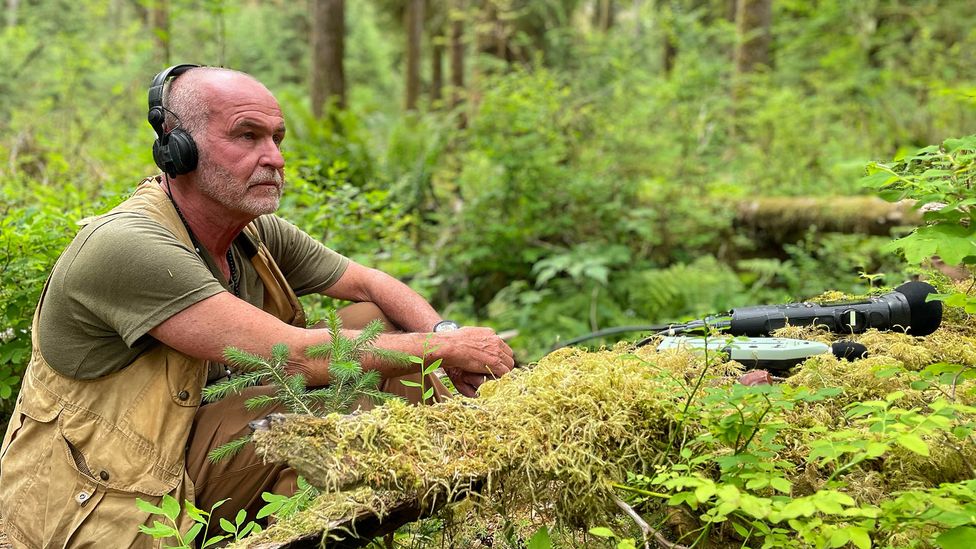 Hempton says that for far too long, we have been looking for answers to the world's biggest problems instead of listening for them (Credit: Eliot Stein)
"When we look at the healthiest ecosystems that exist today on our planet, we're finding they're also the quietest places," Hempton said. "They are the places taking carbon out of the environment, producing oxygen for us to breathe and where endangered species aren't endangered." When Hempton says that by saving quiet, you wind up saving everything else, this is exactly what he means – healthy soundscapes sustain healthy environments, and if we were to start treating noise as the soundtrack of climate change and noise pollution as pollution, it would have resounding effects on every living thing, including ourselves.
Quiet has long helped humans find their voice. Like nature, it calms us, grounds and even heals us. But despite evidence indicating that quiet makes us healthier and nature makes us happier, Hempton warns that the number of naturally quiet places are "on the road to extinction that far exceeds the extinction of species". Consider this: In the last 50 years, the global population has more than doubled, air traffic increased nearly sixfold between 1980 and 2019, the rise in shipping has effectively drowned out the ocean's regular soundscape and it's estimated there will be more than 2 billion cars on the road by 2030.
BBC Travel · Gordon Hempton: Sinharaja Forest Reserve, Sri Lanka
"In 1900, you had a good chance of finding peace and quiet in roughly 75% of the continental US. By 2010, that number was 2%, and it's a similar phenomenon almost everywhere," said Les Blomberg, the executive director of the Noise Pollution Clearinghouse, a Vermont-based organisation that studies and raises awareness about the negative effects of environmental noise. "What I really worry is that, in the 21st Century we're going to do to the air what we did the land in the 20th Century and turn every neighbourhood into an airport and every street into a runway for our drones. The noise threat is coming from above us, and it's not God."
Were it not for an act of God, Hempton says he may never have learned how to listen. While driving from his Seattle home back to his university in Wisconsin one summer, the then-27-year-old graduate school student pulled over in a rural road somewhere in Iowa. Too broke to afford a motel, Hempton parked the car, walked into a corn field and laid down to rest. As a thunderstorm rolled in, Hempton stayed put and listened – really listened – for the first time in his life. "I could hear the crickets chirping away in rhythm, and as each thunderclap echoed, it revealed a clear image of the entire valley to me," he said. "I was so floored by that experience that I got up, drove on to grad school and dropped out."
Video: The quest for quiet
Back in Seattle, Hempton took a job as a bike messenger, earning $1 per delivery by day and recording anything he could at night with a cassette recorder: the distorted chords of punk concerts; the clickety-clack of trains as they chugged up the Washington coast; and the "car horns, distant droning and cauldron of activity" of the city. What Hempton found most appealing, however, was nature. But whenever he went to nearby parks to record it, all he heard on the playback was noise pollution.
After 10,000 bike deliveries, Hempton, invested in a Neumann KU-81 (a high-powered human head-shaped microphone that replicates how we hear) and set out into Olympic National Park to record the melody of melting snow atop Hurricane Ridge and the drumming of waves on Rialto Beach.
BBC Travel · Snow Melting Into Music
"At that time, there was no-one recording natural ambiences. Even scientists were just recording one animal species at a time," Hempton said. "But I wanted to hear the whole concert, not just individual soloists." It was the beginning of what would become a lifelong quest for quiet.
In 2005, after decades of scientific acoustic measurements, Hempton identified what he believed to be the single quietest, most noise pollution-free spot in the United States: a one-square-inch sliver of a fallen, fern-carpeted log in the Hoh sheltered by towering hemlocks. As he followed an elk trail through a gaping hole in the trunk of a 300-ft-tall Sitka spruce, Hempton explained what makes the Hoh so singularly silent.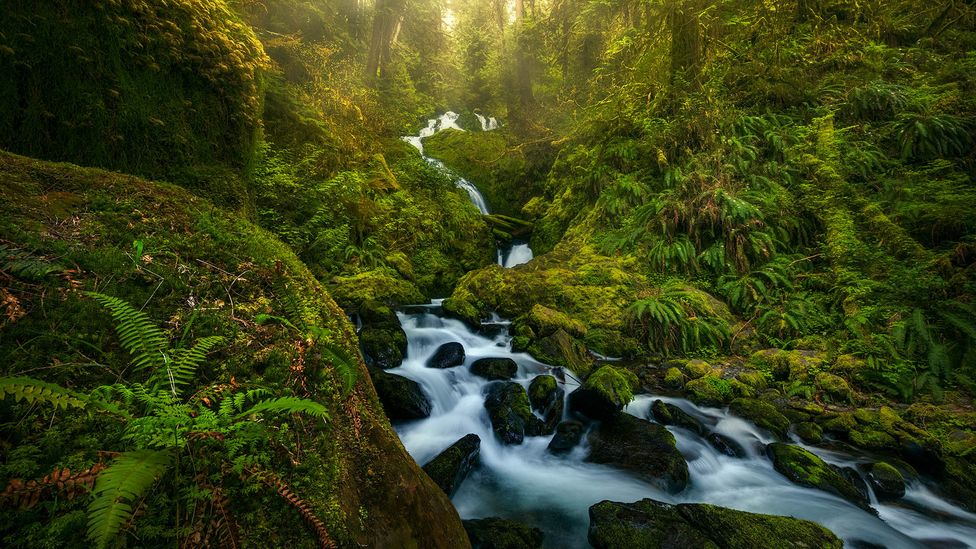 The Hoh's unique climate and geography have combined to create what Hempton calls "the listener's Yosemite" (Credit: Chris Moore/Getty Images)
"For starters, we're in the farthest, most north-western corner of the country, so there are no major commercial fly-over routes," he said. "To the west is the longest stretch of wilderness coast on the West Coast of the US. There is only one highway and it's 18 miles away, and we have roughly 240 overcast days a year, which provides an additional noise buffer from anything that flies over it. Then, there's the rainforest itself. The tallest trees are in Sequoia, but the Hoh Valley comprises the tallest forest in the entire world, creating an elastic, cathedral-like quality for sound. Finally, the fact that everything is moist and covered by moss drapes creates a padded, sound-absorption quality to it. It's the perfect recording studio. I call it 'the listener's Yosemite'."
Hempton marked the exact spot of his pristine acoustic microclimate by placing a salmon-coloured stone on the log's green fleece and promised to protect it by declaring it One Square Inch of Silence. If the noise from a passing jet engine can be heard for 1,000 miles, Hempton reasoned, then by defending even a postage stamp-sized sanctuary of silence, it would have a quiet ripple effect of 1,000sq miles.
BBC Travel · Gordon Hempton: One Square Inch Of Silence
For years, Hempton's symbolic stand worked. He listened carefully for any sonic intrusions, identified their sources and wrote letters to those causing the noise. He even persuaded Alaska, Hawaiian and American airlines to reroute their training and maintenance flights away from the park. But by 2018, as the nearby Whidbey naval base ramped up its Growler jet flights over the Hoh as part of its electronic warfare programme, what was once the quietest place in the US became a playground for simulated Navy dogfights.
Previously, Hempton could sit at One Square Inch for hours without hearing any man-made interference. Now, each of the Navy's six daily flyovers can produce an adrenaline-inducing roar registering 70 decibels – as loud as your vacuum cleaner and loud and enough to shake the forest floor.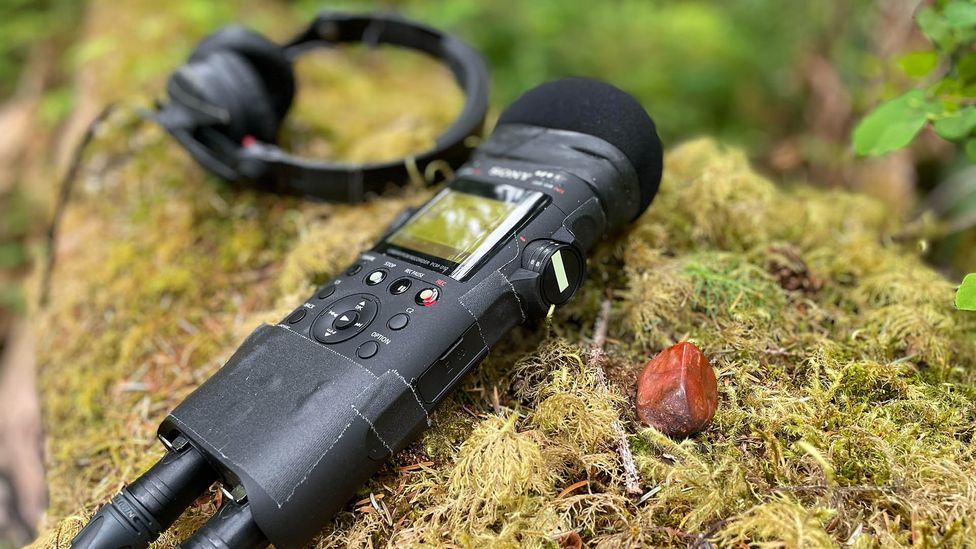 After years of searching for silence, Hempton found what he believed was the quietest place in the US and marked it with a red stone (Credit: Eliot Stein)
Hempton had failed to protect his tiny bastion of silence, but during a quiet moment back in the Hoh, he had an epiphany. "I realised, it's not about this one corner of the world, but the whole world," he said. "With that, QPI was born." 
Started in 2018, QPI is essentially hoping to be the Unesco of quiet – a global body that identifies the most remarkable, acoustically unblemished soundscapes around the world and lures tourists to them to add economic leverage to its preservation efforts. As the thinking goes, if people go to national parks to see untouched landscapes, Blue Flag beaches to swim in clear seas and International Dark-Sky areas to gaze up at constellations, why wouldn't they go to quiet parks to hear the rhythm of the natural world?
You may also be interested in:
• One of the US' last frontiers
• The indigenous recipe for living well
• Bolivia's little-known tribal kingdom
To date, Hempton and his team of international acoustic ecologists have located more than 250 spots around the world that have the potential to be QPI "Quiet Places", and it aims to certify more than 50 locations by 2030.
To look for quiet, QPI members study light pollution and flight paths. When they locate an area that they believe has quiet potential, they'll scrutinise the surrounding area on Google Earth to check for things like power lines, mining operations, railroads, farms and other tell-tale signs of noise pollution. Then, with the cooperation of local communities and governments, they send QPI engineers to test each potential site for a minimum of three consecutive days, measuring decibel levels from an hour before sunrise until two hours after sunset. If no noise pollution is detected for several hours at a time, there are no "disqualifying events" (say, a gunshot or a Growler) and the soundscape offers "exceptional sonic beauty", QPI will offer its designation.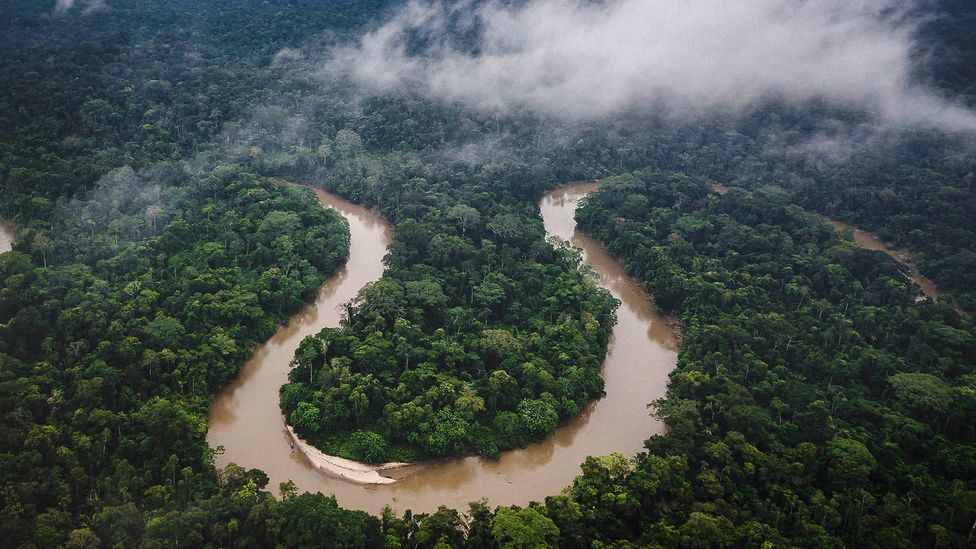 The world's first "Wilderness Quiet Park" is located in Ecuador's Amazon Rainforest (Credit: Mark Fox/Getty Images)
In 2019, the organisation certified the world's first "Wilderness Quiet Park": a million-acre tangle of the Amazon Rainforest straddling the Zabalo River in north-east Ecuador that's bursting with so much biodiversity and so little human activity that Hempton called it "nature's masterpiece". Home to the 1,200-person Cofán Nation, the area has increasingly come under threat from companies looking to extract oil, but local leaders hope the QPI's designation will help the Indigenous nation defend its homeland by encouraging those seeking quiet, contemplative eco-tourism to venture deep into the rainforest.
"As Cofáns, we value deeply our relationship with a living forest (Tsampi). It is what makes us Cofáns: a people of rivers, mountains and forest," said Randy Borman, a chief of the Cofán Nation. "A correct relationship with our Tsampi means that both the Tsampi and we, as its temporary stewards, retain dignity and integrity. To us, quiet is part of that dignity and integrity. We need quiet as we need oxygen."
BBC Travel · Gordon Hempton: Morning Mist
In addition to its largely noise pollution-free Wilderness Quiet Parks, QPI also designates parks in and around the world's major cities. While no city is free from noise pollution, Hempton said QPI is looking for locations with an average decibel reading of 40-50 (roughly the hush of a library) and where "the sense of nature dominates". Last June, the organisation named Taiwan's Yangmingshan National Park – an 11,338sq km aural wonderland of hissing fumaroles, old-growth forests and rolling grass hills just outside Taipei – as its first Urban Quiet Park. A sign now asks visitors to "take a deep breath, pause, and feel yourself existing in the forest" as they climb a 1.5km Silent Trail that snakes up a dormant volcano to reach the mist-shrouded Menghuan Pond.
"In Eastern cultures, 'silence' is a state of 'oneness with all things', the highest state of wisdom," said Laila Chin-Hui Fan, the founder of the Soundscape Association of Taiwan, who advocated for the park's designation. "At the same time, it is also deeply transformative."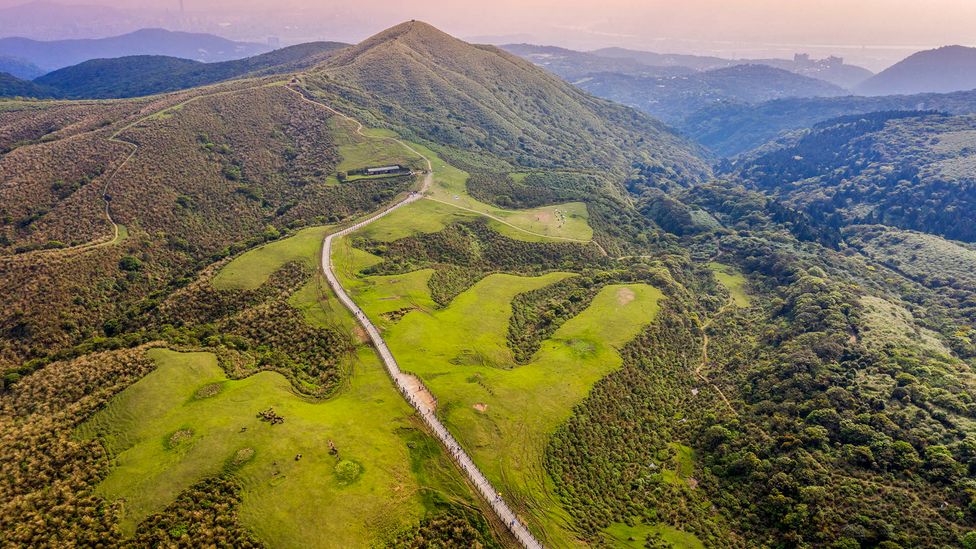 Last Year, Taiwan's Yangmingshan National Park outside Taipei became the world's first Urban Quiet Park (Credit: kecl/Getty Image)
Ironically, it took a global pandemic for the world to realise this.
In September 2020, the journal Science published a report concluding that the coronavirus lockdown produced "the longest and most coherent global seismic noise reduction in recorded history" – a months-long reduction in seismic noise of up to 50% across 77 countries, according to the study. All of a sudden, people from New York to New Delhi began to notice the lilt of birds, the rustling of leaves and what Hempton called, "the soundtrack of the planet [and] the think tank of the soul." 
"Before Covid, the most common question we got at QPI was, 'Why is quiet important?'," he said. "Now, land managers, local communities and governments are asking how they can be next."
On 18 July, QPI will announce London's Hampstead Heath as its second Urban Quiet Park, followed by five nature reserves in and around Stockholm on 21 July (Judarskogen, Hansta, Älvsjöskogen, Kyrkhamn and Sätraskogen). In August, The Ramble, Central Park's 36-acre woodland landscape, will be the first QPI-designated park in the US, followed shortly after by Houston's Armand Bayou Nature Reserve. Before the end of the year, there will also be Urban Quiet Parks in Caen, France; Brussels, Belgium; and Villach, Austria.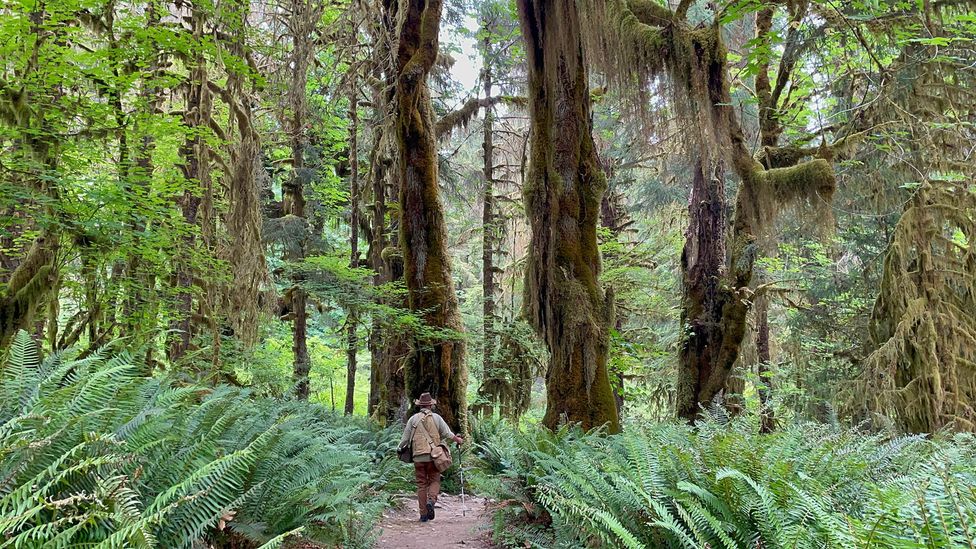 Hempton is aiming to usher in a new age of "quiet travel" that is good for both people and the planet (Credit: Eliot Stein)
But why stop there? QPI is also developing Quiet Marine Parks and Quiet Trails. It recently launched a series of online Quiet Experiences, certified its first Quiet Stay in the Italian Dolomites and named its first Quiet Community in western North Carolina. It's envisioning a world of quiet restaurants and quiet flights – effectively ushering in a new age of quiet travel that Hempton hopes will help people reconnect with the planet and with themselves.
"We're so busy trying to see the world, but listening is what tells the real story of a place," Hempton said. "When you're listening, truly listening, a whole new universe is revealed."
BBC Travel celebrates 50 Reasons to Love the World in 2021, through the inspiration of well-known voices as well as unsung heroes in local communities around the globe.
---
Join more than three million BBC Travel fans by liking us on Facebook, or follow us on Twitter and Instagram.
If you liked this story, sign up for the weekly bbc.com features newsletter called "The Essential List". A handpicked selection of stories from BBC Future, Culture, Worklife and Travel, delivered to your inbox every Friday.