For years, the Moravia neighbourhood of Medellín was the city's rubbish dump. But in recent years, this former landfill has blossomed into a thriving arts and cultural centre.
S
Stroll through Medellín's working-class Moravia neighbourhood on any given morning and you'll see a hawker belting out "aguacates!" through a small loudspeaker while dragging a wooden wagon of gigantic avocados behind him. Scents of deep-fried cheese-and-dough fritters swirl from heated buñuelo displays. Glancing up amid the winding sea of humble brick-and-cement abodes, a grandma hangs her clothes out to dry on a thin wire on her balcony. Amid it all, motorcycles, delivery trucks and stray dogs do a delicate dance while navigating the narrow roads.
This multisensory experience may not seem entirely out of place elsewhere in Colombia, but it was unfathomable here just years ago. That's because, not only was Medellín dogged by its reputation as the world's unofficial "murder capital" for years, but Moravia once had a particularly undesirable reputation within the city: it was its rubbish dump.
Medellín is just three decades removed from its designation as "The Most Dangerous City" in the world by Timemagazine. In 1991, the homicide rate peaked at a world-high of 380 per 100,000 people as the country's drug war oozed into the streets and facets of everyday life. Today, those years appear to be long gone. The homicide rate is roughly one-fifteenth of what it once was, there's a genuine sense of revitalisation in the air and public projects are breathing new life into the city.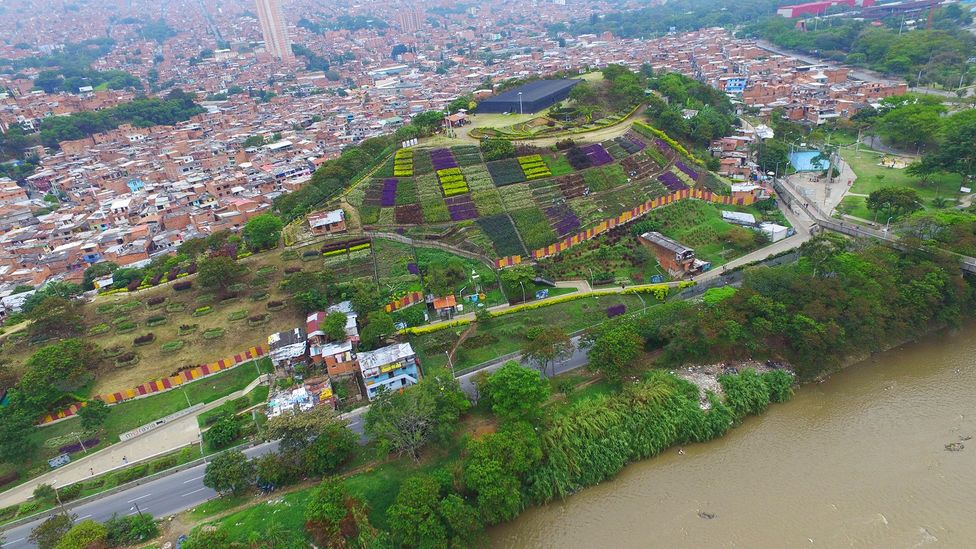 The Morro de Moravia (Moravia Hill) enlivens the urban landscape of Medellin (Credit: Alcadía de Medellín)
A squeaky-clean Metro system now whizzes above ground, cable cars string into hillside barrios, and public escalators wind through the once-unnavigable Comuna 13 neighbourhood. Each of these is not only a picturesque way for visitors to take in the city's skyline and sky-high Andes Mountains vistas, but they also connect those in some of Medellín's poorest and hardest-to-navigate neighbourhoods with the centre city and job opportunities. 
Medellín's central 'mountain'
When viewed from above, beige-and-brick structures dot Medellín's landscape. The northern half of the city is enclosed by mountains, but there is one noticeable green heap in the centre of town just north of the Parque Norte amusement park: the Morro de Moravia (Moravia Hill), which is blanketed in grass, walking paths and gardens and is punctuated with a large greenhouse on top. Yet, walking up the mountain, you're greeted with large signs and historical photos showing what life was once like on this now-serene hill: black-and-white images reveal a vast landscape of dirt, hand-made shanties built from rubbish and locals picking through the city's dumped debris. 
When the Ferrocarril de Antioquia regional railroad connected Moravia with the surrounding countryside in the 1960s, it brought displaced families forced to relocate to the safer confines of the city. Their once-quiet lives outside Medellín had been made dangerous by right- and left-wing militarists engaging in a partisan war over land and goods. Settling in Moravia – which formed in the early 1900s as a linear settlement bordering the railroad and slowly expanded out from it – was a safer bet. 
In the 1970s, the city authorised the area to be used as a municipal landfill, which led this slowly new barrio to explode into a mountain of garbage. As a result, a number of the previously displaced families were relocated to the western hills of Medellín. Other families resisted further relocation as the trash began piling up all around them. Of the families that resisted and remained, many operated recycling operations out of their homes to make a living.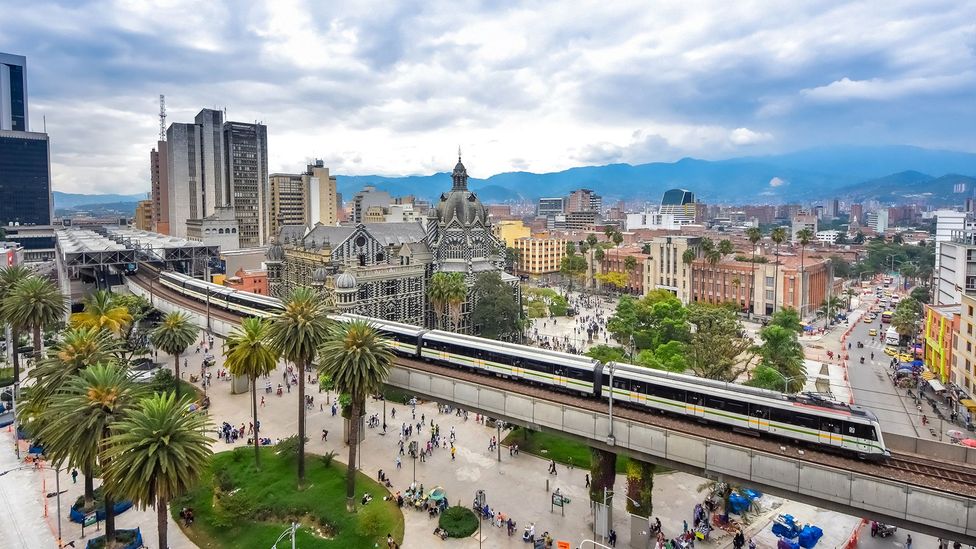 Medellin's modern network of trains, cable cars and public escalators connect the city and its people (Credit: Smartshots International/Getty Images)
During the 1980s and 1990s, Moravia – like so much of the broader "City of the Eternal Spring", as Medellín is known – was marred by violence and drug trafficking. In the 2000s with the peak of its conflict behind, hope began to emerge. The Integral Improvement Plan of Moravia was implemented in Moravia and, among other things, it allowed those still residing adjacent to the trash pile to pay for and legally acquire their land and homes.
The landfill was transformed into a garden for the city
In 2004, approximately 15,000 people lived among the rubbish at the Morro de Moravia. In 2006, the area was declared a public disaster, and a mix of Moravia's residents, local government, universities and international agencies planned and implemented a way forward, leading the landfill-dominated landscape to not only evolve but blossom.
"The landfill was transformed into a garden for the city, giving way to two icons: the Moravia hillock and the cultural centre," said Cielo Maria Holguín Ramírez, co-founder of Moravia Tours. "These are two places with great tourist potential because they show the transformation of the territory thanks to community empowerment and state interventions... a joint effort driven by social urbanism."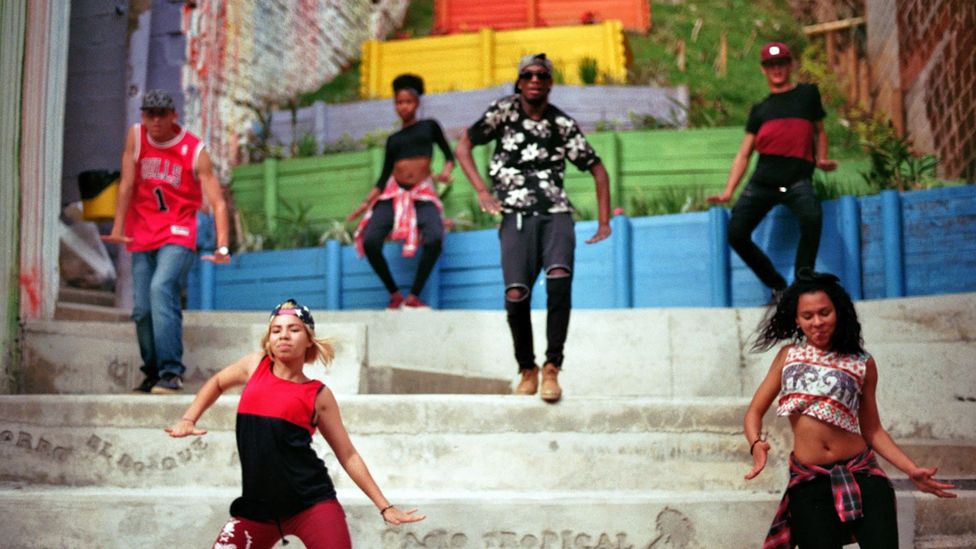 The heavily trafficked but rundown Escaleras Oasis Tropical staircase was transformed into an open-air street art gallery (Credit: Maximilian Becker, Oasis Urbano)
Today, Ramírez proudly walks locals from elsewhere in Medellín and tourists alike through Moravia. Along the journey, she stops at the Centro de Desarrollo Cultural (Cultural Development Centre), Moravia's central gathering and communal space that opened in 2008, which is typically bustling with creatives, artists and cultural programming. In addition to the must-see 30,000sq m park that was once a trash pile and looms over the neighbourhood's western edge, Ramírez pauses at colourful murals depicting community heroes as well as some of her favourite local restaurants. Among these is El Mezzón De La 55 – where locals bring their own soup bowls and load up on sancocho (a brothy Colombian soup with chicken, a small piece of corn on the cob and vegetables) – and an unbranded almojabanas (Colombian cheese bread) bakery operating out of a small residence.
Moravia has a deep-rooted history and identity
"Moravia has a deep-rooted history and identity," Ramírez said. "[Residents] have closely seen and participated in the transformation processes through struggles in defence of the territory."
What's next for Moravia?
Moravia continues to evolve while paying homage to its unique past.
Ana Cristina Vélez Bunzl is a Medellín-based tour guide who regularly takes guests to Moravia, the Comuna 13 barrio and the Museo Casa de La Memoria (The House of Memory Museum) – a solemn and powerful museum focusing on those displaced by Colombia's conflicts through the years, including so many within Moravia.
"These places are important because we get to understand the real issues that a city like Medellín has had," said Bunzl. "We can leave the myth of 'drugs are the only problem in Colombia' behind and deeply understand the internal conflict of the country and how it affects this unique city. Neighbourhoods like Moravia have gone through a lot dealing with that conflict and have found in music, art and culture a way of telling their stories and resisting."
You may also be interested in:
• Colombia's buzzing comeback city
• A shipwreck worth billions off the coast of Cartagena
• Colombia's philosophy for good living
One of the neighbourhood's biggest drivers for improved infrastructure and cultural development is the Urban Lab Medellín Berlin, self-described as a "think and do tank that brings together inhabitants, students, architects, local authorities and other urban actors". The organisation, in part, was inspired by co-founder Maximilian Becker's first trip to Medellín in 2013.
"We were deeply inspired by the fight of the community to stay in the neighbourhood they have built with their own hands," said Becker. "This first encounter with Moravia had a deep impact on all of us, and ever since, we had the dream to come back some day with a project."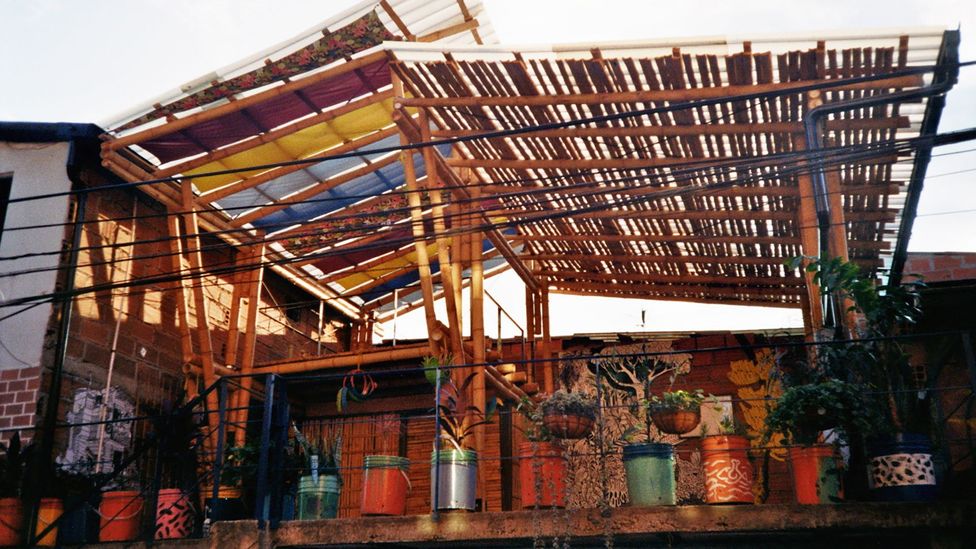 The Taller Tropica Moravia open-air workshop hosts events and classes (Credit: Maximilian Becker, Oasis Urbano)
Since forming in 2016, the organisation has driven a handful of improvements in the barrio. Perhaps its most notable project has been the Escaleras Oasis Tropical, in which a run-down and heavily trafficked staircase between the centre of Moravia and the neighbourhood's Oasis Tropical sector was revitalised into a public open-air street art gallery, complete with solar-powered lights and a community garden. Additionally, the organisation spearheaded the Taller Tropical Moravia, an open workshop built from bamboo that has hosted more than 10,000 people for lectures, cooking classes, dance events and more. 
The organisation's most recent project, Mapa de Moravia, was finished this spring and is a mosaic art piece depicting residents' vision for the barrio. Much of this vision and a detailed strategy forward is captured in the book, Moravia Manifesto. It offers an alternative to what Becker and many local community leaders feel is an overly gentrified vision proposed in current urban planning for the neighbourhood.
The main promoters of the transformation of Moravia have always been its people
"The main promoters of the transformation of Moravia have always been its people, since they arrived," said Orley Mazo Giraldo, a 35-year resident of Moravia and a leader within the Centro de Desarrollo Cultural. "This started as a piece of land and the community turned it into a territory. The community itself built the roads, the aqueduct, the sewers, the social and sport spaces. All transformation is a community approach."
Michel Pualo Recuero, an urban graphic artist better known as JEFA, has called Moravia home for 24 years. She has painted a number of large-scale murals throughout the barrio and continues to liven Moravia's streets hoping to "change the perspective of how people see us from the outside." Much of her work carries themes of transformation and resistance in which she wants to "motivate and unite residents" as well. 
"Moravia has always been a cheerful neighbourhood in the slum," she said. "After the urban renewal, it [has become] like a small town, where everything and everyone is very close. It is one of the few places where children can be children, taking to the streets and climbing to the highest peak of the hill to play and raise their kites. It is a place that continues to resist disappearing, and to not be separated from the place that we built." 
Comeback Cities is a BBC Travel series that showcases under-the-radar capitals, champions the urban underdogs and revels in the success stories of cities that have turned their fortunes around.