Over time, the Orang Laut have been assimilated into Malay culture and have lost their language. But descendants of the seafaring nomads are reviving their culture through food.
V
Visits to Asnida Daud's late grand-aunt's flat always promised a mouth-watering spread, with the family sitting cross-legged on the floor and eating with their hands in the customary way. Years after her grand-aunt had been resettled into a one-bedroom flat in Clementi, a residential estate in the south-western part of mainland Singapore that's a far cry from the stilted village on the shores of Pulau Sudong island where she used to live, she continued to make food the only way she knew, evoking a nostalgic longing for the island's white sandy beach and carefree way of life.
The highlight of the meal was usually a fiery red asam pedas (sour and spicy fish stew) made with ikan pari (stingray), the perfect accompaniment to plates of fluffy white rice.
"It's so spicy your sweat drips onto your rice as you eat, yet you can't stop eating," enthused Asnida.
Now an off-limits military training area, Pulau Sudong, an island off mainland Singapore's southern coast, was once home to the Orang Laut (Malay for "sea people"), who are indigenous to Singapore and are believed to be Singapore's first inhabitants.
The earliest mention of these seafaring nomads comes from a book by a Chinese traveller to Singapore in the 14th Century, hundreds of years before the arrival of the British in 1819. Singapore's Orang Laut tribes include the Orang Seletar who lived in the mangroves near the Seletar River; the Orang Biduanda Kallang from the Kallang River; the Orang Gelam at the mouth of the Singapore River; and the Orang Selat from the Southern Islands. There are also other Orang Laut communities living on houseboats at sea in southern Peninsular Malaysia and Indonesia's Riau Islands.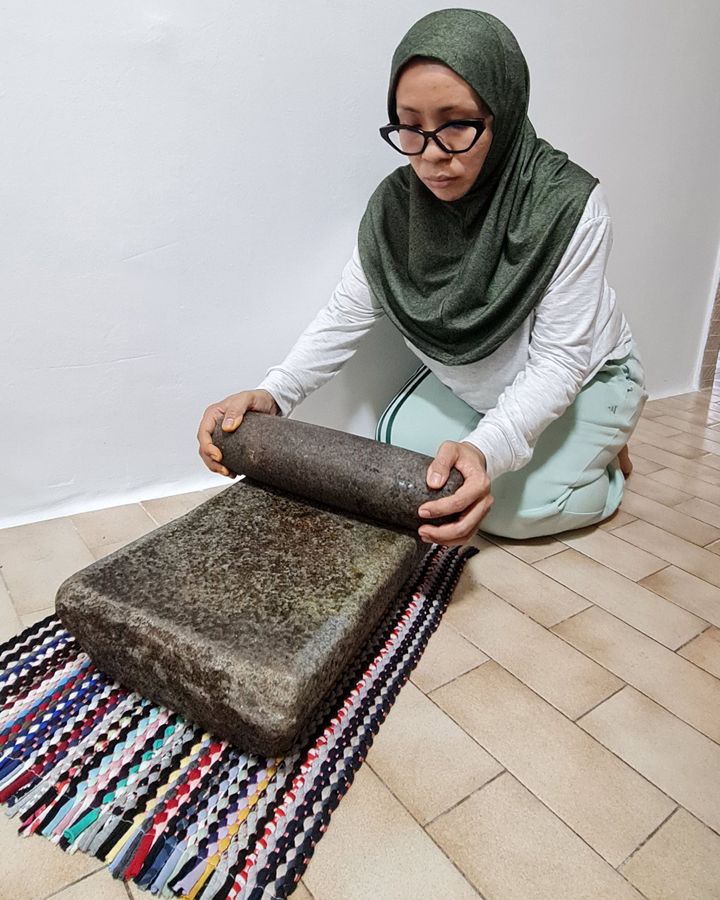 Asnida Daud's late grandmother's batu giling (mealing stone) is now a prized family heirloom (Credit: Asnida Daud)
Asnida's mother is Orang Laut, by way of the Orang Galang tribe in Indonesia, once famed as rowers for the Sultan of Palembang. When I spoke with Asnida, who is now an educator and advocate for the preservation of Orang Laut heritage, I could sense her excitement as she recalled fond memories of eating asam pedas as a teenager. She told me that it stood out from asam pedas on the mainland because it was generously flavoured with black peppercorn crushed using a traditional batu giling (mealing stone). Her grand-aunt's asam pedas was well-known among residents of Pulau Sudong, she said.
The Orang Laut traditionally lived off the sea. They foraged and hunted in the mangroves, fished in the rivers and ocean, and turned to plants and seafood when treating illnesses and injuries. They had to think on their feet, knowing what to look for when it was high or low tide. Food was more than just sustenance but a way of life.
You may also be interested in:
• Singapore's endless pursuit of cleanliness
• Japan's forgotten indigenous people
• Singapore's last surviving village
But over time, with the demolition of their villages and resettlement into public housing from the 1960s to the '90s due to Singapore's industrialisation, the Orang Laut have become urbanised and mostly identify as Malay – an ethnic group in Singapore that includes indigenous communities as well as peoples from the Indonesian Archipelago – and converted to Islam.
Likewise, Orang Laut cuisine, which is characterised by fresh seafood obtained using traditional fishing and foraging methods and cooked simply in spices, is now lost in the broader umbrella of Malay food, sometimes even unknown to descendants of the Orang Laut themselves. While flavourful dishes like sotong hitam (squid in squid ink), siput sedut lemak (sea snails in coconut gravy) and asam pedas are easily found at nasi padang (rice with precooked dishes) stalls in Singapore, mainstream Malay food culture tends to not account for variations in the dishes that exist throughout the Malay Archipelago – including those of the Orang Laut – thus leaving their origins unquestioned and stories left untold.
My quest is to shed light on Orang Laut cuisine, helping it find its place on Singapore's food map
It was a fear of this rich heritage being lost that led fourth-generation Orang Laut Firdaus Sani to open Orang Laut Singapore last year, a home-based food delivery business that doubles as an initiative to share his culture and honour his community's traditional ways of life. "A lot of our food has been lost in time or is not perceived to be unique," he said. "My quest is to shed light on Orang Laut cuisine, helping it find its place on Singapore's food map."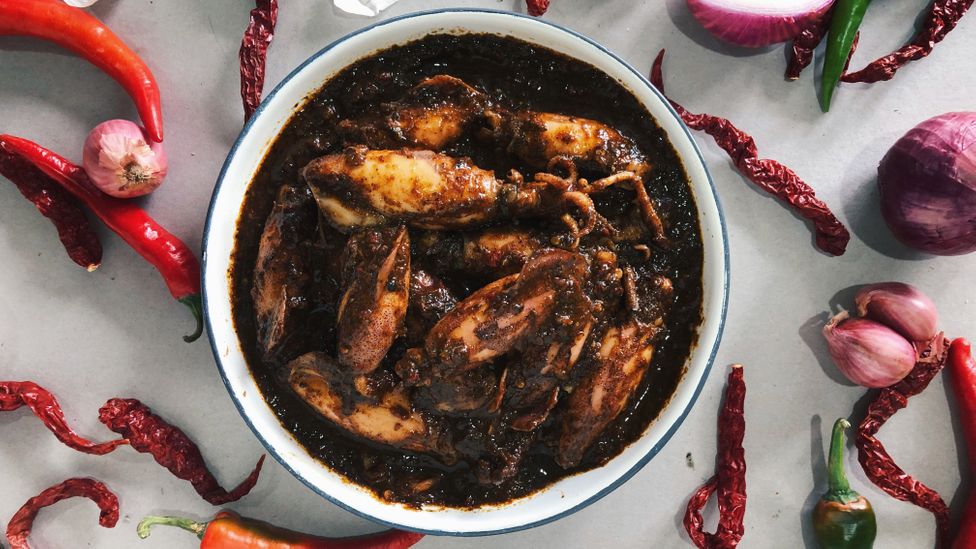 Firdaus Sani serves up traditional dishes like sotong hitam (squid in squid ink) in his food delivery business (Credit: Orang Laut Singapore)
Growing up, Firdaus did not understand why his family's sotong hitam tasted different from the ones sold at Malay food stalls. Eventually he learnt that his family uses nos, a type of squid wider and longer than the typical squid that produces the most amount of ink, which they know from when they lived on Pulau Semakau, an island not far from Pulau Sudong, before the government transformed it into a landfill.
"Though we have little access to fishing or foraging today, we recognise the unique food that shapes our cuisine such as ikan buntal (pufferfish) and siput ranga (spider conch), a mollusc that can only be foraged at low tide," Firdaus explained. "We are trying to retain our cuisine by using traditional cooking methods as well as respecting the choice of ingredients in our recipes, how food should be prepared for cooking and why some seafood should be cooked a certain way."
For example, in Firdaus' family, ikan buntal is cooked "kerabu" style, the boiled fish mixed with water spinach and lemongrass before stir-frying in a thick paste of dried chilli, garlic, belacan (shrimp paste), onion and black peppercorn. Preparation takes about a day, starting with skinning the fish, segmenting the edible parts and removing the poison. Every part can be consumed except the skin. The intestines are cleaned thoroughly then braided to prevent them from breaking during the hours-long boiling process. Once boiled, the bones are removed and parts like innards and gills are sliced thinly for cooking.
While Singapore's stringent food safety standards mean it is near impossible for Firdaus to sell locally caught pufferfish, he offers other traditional dishes such as sotong hitam and gulai nenas (pineapple in prawn broth) cooked by his mother and aunt. Their food is available only in set menus of five or six dishes meant to be shared. Each order comes with postcards of old family photos and a note explaining the dishes and detailing anecdotes of life on Pulau Semakau, thus providing context to Orang Laut cuisine.
With resettlement and assimilation leading to deculturisation, there are no physical places left nor language to define the Orang Laut cultural identity. It seems that their food might be one of the few things left to pass on.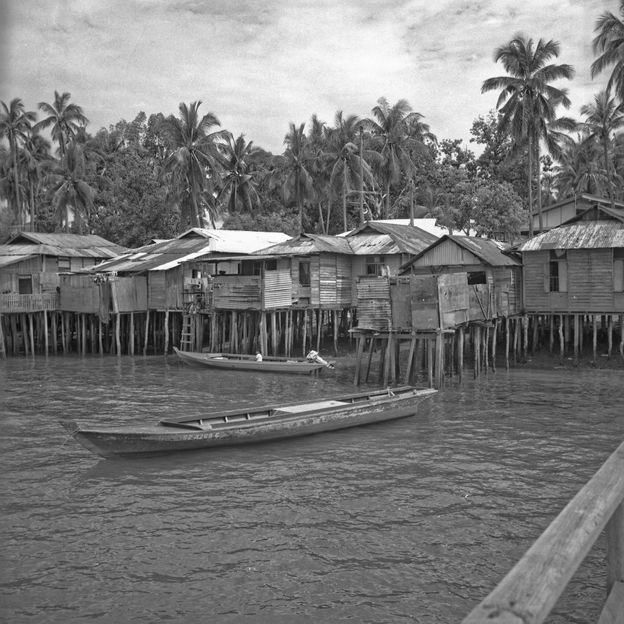 Singapore's last Orang Laut settlement, on Pulau Seking, was demolished in 1993 and the island merged with Pulau Semakau to become a landfill (Credit: Geoffrey Benjamin)
"There are only descendants of the Orang Laut left in Singapore today," said anthropologist Vivienne Wee, who has done extensive field research on indigenous communities in Singapore and the Riau Islands. "There is no more tribal context. The younger generations only have the memories of the older generations."
That's true for Asnida, who remembers seeing her late grandmother crush spices with a batu giling when she was just four. Today the same batu giling sits in her mother's home as a prized family heirloom. She has memories of eating boiled belangkas (horseshoe crab) eggs – creamy with a texture and taste similar to salted egg yolk – and siput ranga, blanched with hot water poured into the shell, on her visits to Pulau Sudong.
She also recalls learning the Orang Laut dishes that are perceived to have health benefits. Asnida's aunt, for example, would prepare a nourishing sea cucumber rice porridge to eat after she gave birth; while Firdaus' late great-grandmother, a midwife, used to make a raw sea cucumber salad with buah cermai (Malay gooseberry), asam (tamarind), dried chilli, belacan and fried coconut.
"Orang Laut food is not just about survival but one of the tangible means of expressing our identity," Asnida said. "Our dishes reflect the knowledge and experience of our people. For instance, the use of asam in asam pedas is not a coincidence. Asam has antibacterial properties, and its sweet and sour taste complements the flavour of fish, the Orang Laut's main source of protein."
To Mohamed Shahrom Bin Mohd Taha, the Orang Laut way of life hints at how we can live more sustainably, too. "Food is a gift from the sea. Respect the sea and don't overfish," said the history teacher, whose paternal grandparents were Orang Laut, from the Orang Biduanda Kallang and Bintan Penaung tribes. "Today we are very disconnected from our food chain. I don't fish but I bring my kids on intertidal walks, and our holidays are spent at the sea."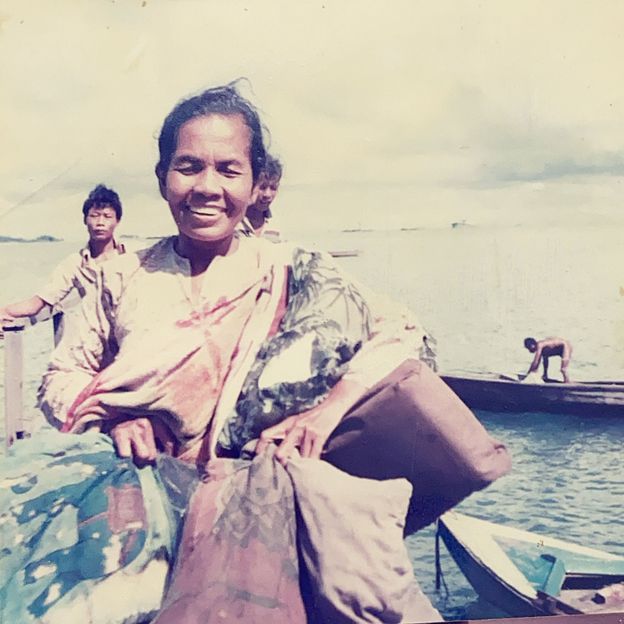 Firdaus remembers foraging trips to Pulau Semakau, when his grandmother (pictured) would transform the collected spider conch into a sambal dish (Credit: Orang Laut Singapore)
Exploring Orang Laut knowledge through food is not only a way for descendants of the Orang Laut to reconnect with the past. It can also be a vehicle for Singaporeans to learn more about the role of the Orang Laut in history, beyond the national narrative that emphasises Singapore's colonial past.
Given that the Orang Laut are the original inhabitants of Singapore, their story, including that of their cuisine, is an even more important one to tell
"Singaporean food is not just about the broad categories of Chinese, Malay and Indian food," said Singaporean cookbook author Pamelia Chia. "We need to celebrate the diversity of our cuisine, and the small variations that the same dish can have when cooked by different communities. Given that the Orang Laut are the original inhabitants of Singapore, their story, including that of their cuisine, is an even more important one to tell because it captures a moment in time in Singaporean history."

And it seems as though Singaporeans are eager to learn more. Since Orang Laut Singapore was launched in August 2020, weekly orders have more than tripled, partly on the back of Singapore's on-off dine-in ban. The Estonian Embassy in Singapore recently placed an order for the Estonian president who was in Singapore for the first time.

In his efforts to popularise Orang Laut cuisine, Firdaus has also become an outspoken voice on issues facing Singapore's indigenous communities, most recently in potential marine foraging restrictions. He is now devoting himself full-time to Orang Laut Singapore, with dreams of publishing a book and opening a space that will not only serve Orang Laut food but share stories and traditions, too.

It is a timely addition to the local food scene, encouraging communal eating with loved ones when many are feeling the effects of social isolation as the pandemic wears on – and starting a long-overdue conversation about Singapore's Orang Laut, one meal at a time.

--

Join more than three million BBC Travel fans by liking us on Facebook, or follow us on Twitter and Instagram.

If you liked this story, sign up for the weekly bbc.com features newsletter called "The Essential List". A handpicked selection of stories from BBC Future, Culture, Worklife and Travel, delivered to your inbox every Friday.

;