In traditional Maasai society, killing lions was a rite of passage. But thanks to an innovative conservation programme in Kenya, lions and Maasai can safely share this land again.
F
For as long as he could remember, Meiteranga Kamunu Saitoti dreamed of killing lions.
When he was a young boy growing up in the Maasai heartland of southern Kenya, lions were everywhere. Amboseli National Park, famous for its elephants, lions and views of Mount Kilimanjaro, was not far away to the south. Lions and other animals moved freely between the unfenced park and the Maasai communal lands where Saitoti lived.
50 Reasons to Love the World - 2021
Why do you love the world?
"Because there's nowhere I can compare with Maasailand, with the sound of cattle bells as they return home and the different sounds of predators at night." – Meiteranga Kamunu Saitoti, lion protector
The Maasai communal lands, also called group ranches, are geographically close, yet a world away from the national park. Inside Amboseli, elephants wallow in deep-green swamps and big cats and hyenas stalk wildebeest and buffalo. In the lands that lie beyond, furtive lions play hide-and-seek with Maasai herders and their livestock on hardscrabble plains that turn to dust in times of drought and to muddy quagmires after rains.
This is still the case in much of rural Africa. Lions and other predators live alongside people, not behind fences, and life is hard-won for both.
The Maasai and lions have shared this land for centuries. The Maasai see themselves as they see lions – as noble, superior and formidable. More than that, lions have always been the ultimate measure of a Maasai warrior's courage. In a rite of passage known in the Maa language as olamaiyo, when a young man reached the age of maturity, he proved his readiness to become a warrior by killing a lion.
When Saitoti was still a young child, family members told him picaresque tales of lion hunts and close encounters with the predators. Much was expected of him: in his family alone, his father and uncles had killed 15 lions between them.
Saitoti killed his first lion when he was 19, stalking the lioness through the bush in a posse of would-be warriors, then spearing it at close range. The lioness's two cubs escaped into the bush.
There was nothing gratuitous about killings such as these. Maasai lion hunts were a battle to the death between two worthy adversaries. This was not trophy hunting, which, too often, involves so-called sports hunters waiting in a safely concealed position for a lion to come to a bait, then shooting it with a high-powered weapon. Killing a lion with a spear in hand-to-hand combat requires great courage. Maasai lion hunts were also relatively rare, and these rite-of-passage killings had little impact upon overall lion numbers.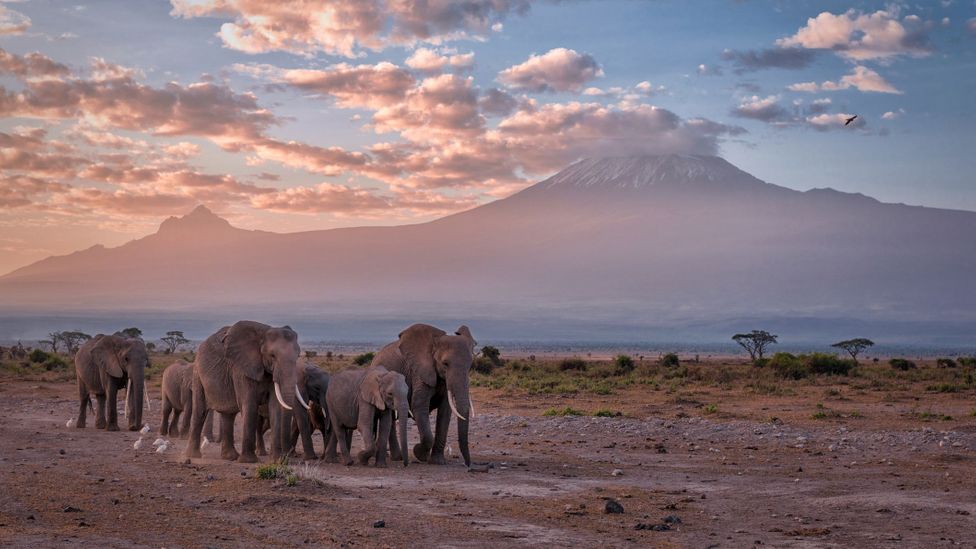 Amboseli is known for its majestic herds of elephant and views of Mount Kilimanjaro in neighbouring Tanzania (Credit: Diana Robinson Photography/Getty Images)
Over the years that followed his first kill, Saitoti killed four more lions. He was one of the best lion killers of his generation, a hero to his people. The Maasai simply couldn't imagine living in a world without lions, nor would they want to.
"If there were no lions in Maasailand, it would mean something bad," said Saitoti. "A lion's roar is a sign of happiness in the wild, and of good fortune."
But then everything changed.
You may also be interested in:
• The keeper of Saharan secrets
• The couscous meal built on generosity
• The Kenyan word that birthed a nation
The human population in the Amboseli Basin had been growing rapidly for decades, and in 2006 it reached a tipping point when Amboseli's 100 lions found themselves living alongside 35,000 Maasai and two million head of livestock.
With little room left for lions and their wild prey, lions began killing livestock like never before, and the Maasai began killing lions, not as a rite of passage, but in retaliation. In 2006, the Maasai speared or poisoned 42 lions. It was a fundamental cultural shift that threatened to wipe out the lions of Amboseli.
"There used to be so many lions when I was younger," Saitoti would say, years later. "We almost wiped them out."
At the time, however, Saitoti had no inkling of the bigger picture.
After killing his fourth lion in 2006, Saitoti was arrested, briefly imprisoned and fined 70,000 Kenyan shillings (around £465); although widespread, lion-killing has, like all hunting, been illegal in Kenya since 1977. Not long after Saitoti was released from prison, some of his cows went missing. Convinced that a lion had taken them, he set off in pursuit, tracking two lions through the bush. Hours later, he crept up to within a metre or two of a sleeping male lion and speared it through the chest.
The Lion Guardian programme is dedicated to finding ways for Maasai and lions to coexist (Credit: Phillip J Briggs/Lion Guardians)
Seeking proof that the lion had killed his cows, Saitoti cut open the animal's stomach. It was empty.
Suddenly struck by the futility of killing an innocent lion, Saitoti told the other young Maasai men who were with him that there were to be no celebrations. Although the lion's mane and tail were important trophies and carried great prestige for Maasai lion killers, he threw the lion carcass into the bushes and trudged home in silence.
The months that followed were tough on Saitoti. He kept to himself. When other young warriors set off on lion hunts, he stayed home. His refusal to join them soon became conspicuous. The others began to taunt him. They called him a coward. It stung him, but he held firm: he knew that he had killed his last lion.
It was during this time that Saitoti heard about a conservation programme that had begun operating in the area. Called the Lion Guardians, its premise was simple: young Maasai warriors who once killed lions became the protectors both of lions and of Maasai communities. He went for an interview.
As part of the programme, the local Maasai worked with two American conservationists, Dr Leela Hazzah and Dr Stephanie Dolrenry. Years later, Dolrenry remembered their first meeting with Saitoti: "We were new to the area when we first came and then we did Meiteranga's interview. He came in and he was just so serious. Leela was quite excited – '[He's] a killer, [he's] a killer', she whispered," referring to his steely gaze and demeanour.
They both knew that the success of the programme would depend on getting a celebrated warrior and lion-killer like Saitoti to lead the line. He didn't need convincing, and he was soon out tracking lions as a Lion Guardian.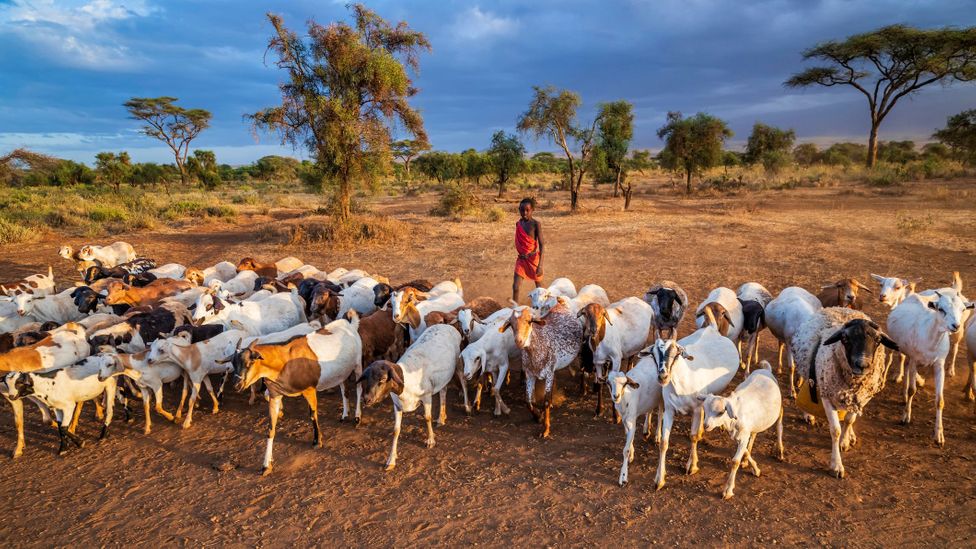 Maasai boys herd cattle and goats from an early age and ownership is associated with wealth and status (Credit: Hadynyah/Getty Images)
Warriors like Saitoti had once shown their expertise in tracking lions so that they could kill them. As Lion Guardians they tracked lost cows and even young herders who had become disoriented in the bush, and warned others to avoid areas where lions were present. Where once warriors killed lions to prove their readiness to protect their communities, they now did the same by helping to keep livestock and their herders away from lions. And where young Maasai men previously showed their courage by killing lions, they now did so by stopping their fellow Maasai from setting out on lion hunts.
"Preventing a lion hunt is much more difficult than facing the lion itself," Saitoti said, when he had experience of doing both.
On his first foray as a Lion Guardian in the Selenkay Conservancy, a Maasai group ranch north of Amboseli National Park, Saitoti began tracking a particular lioness. At first, no-one understood why this lioness had to be the first lion he tracked. One night, he and Dolrenry darted the lioness, put a radio collar on her then set her free.
Now we actually see Maasai communities mourning lions, because each lion now has a name and a story
"Traditionally when a warrior kills their first lion, they are given a lion name that they will have forever," Hazzah explained. Saitoti's lion name was Meiteranga, which means "The one who was first", and it was given to him when he killed his first lion. "Now they track a lion and it becomes theirs. They name the lion. Naming has been far more important than we ever imagined. Now we actually see Maasai communities mourning lions, because each lion now has a name and a story."
Saitoti named the lioness Nosieki after the area where the collaring took place. Nosieki, Saitoti later told them, was the cub who had fled the scene of Saitoti's first-ever lion killing, back when he was 19. He had killed Nosieki's mother. Now he swore to protect her daughter.
"Before, I killed for traditional reasons, to prove that I was a warrior," Saitoti said when asked about his transition from lion killer to protector. "It gave me great prestige. That was the way it was back then. Now I also get the same satisfaction when I save the lions as when I used to kill them."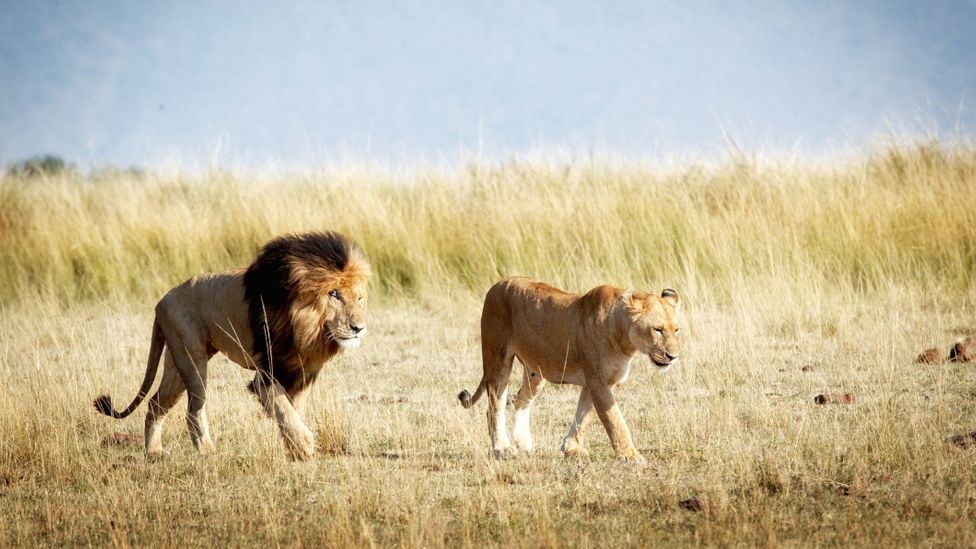 The Maasai see themselves as they see lions – as noble, superior and formidable (Credit: Adogslifephoto/Getty Images)

The impact of Lion Guardians like Saitoti was instant. The program began in 2007 with just five Lion Guardians. In areas where the Lion Guardians operated alongside other conservation partners, lion killings all but ceased. Everywhere else, lion killings continued unabated. In 2018, for example, not a single lion was killed in Lion Guardian areas, compared to 15 in similar areas nearby.

Lion densities have increased sixfold in the years since the Lion Guardians programme began, overall lion numbers have tripled and more than 40 Guardians now patrol across nearly 4,000sq km.

A decade and a half after he began working as a Lion Guardian, Saitoti is now in semi-retirement, tending to his cattle and passing on his knowledge to a new generation of warriors. Such knowledge, he says, includes "important cultural practices such as respect, the sharing of meals with peers and the conservation of nature".

As one-time killers of lions, he and his fellow Lion Guardians leave behind a remarkable legacy, transformed into the saviours both of lions and of the livestock that are so central to Maasai life. In the process, they have breathed new life into the traditions of an ancient culture that remains very much alive.

Anthony Ham is the author of The Last Lions of Africa: Stories from the Frontline in the Battle to Save a Species.

 --

BBC Travel celebrates 50 Reasons to Love the World in 2021, through the inspiration of well-known voices as well as unsung heroes in local communities around the globe.

Join more than three million BBC Travel fans by liking us on Facebook, or follow us on Twitter and Instagram.

If you liked this story, sign up for the weekly bbc.com features newsletter called "The Essential List". A handpicked selection of stories from BBC Future, Culture, Worklife and Travel, delivered to your inbox every Friday.

;