Settlements that float on water have been touted as a potential solution to Earth's rising sea levels and increasing extreme weather events.
T
There was a faint drizzle in the afternoon air as I stepped onto the wide, white jetty that marks the boundary of Waterbuurt, Amsterdam's floating neighbourhood.
Despite the threat of rain, residents, who live in compact, three-storey houses bobbing on a small lake on the Dutch capital's eastern edge, were busy enjoying the afternoon. A mother and daughter dangled fishing rods from their kitchen window while two young boys splashed in the water, taking turns on a swing strung from a bridge. Benches, bikes and barbecues lined the jetty's railings, interspersed every 10m or so by a bright orange life ring.
I was led on my tour of this unique semi-aquatic community by Ton van Namen, whose company, Monteflore, masterminded the project. But rather than waxing lyrical about the success of this envelope-pushing development, which now incorporates 100 floating homes, van Namen was more interested in discussing the seemingly endless string of problems that went into creating it. Issues that were once surely a cause of great frustration were now apparently a source of great amusement.
"Oh, and then there was the issue with the zoning plan," van Namen said as we walked the jetty, the afternoon breeze ruffling the sleeves of his blue shirt and tips of his long grey hair. "Someone wrote all the homes would be a certain height above street level. But of course, here, the homes are going up and down." He let out such a roar of laughter that the mother and daughter glanced up from their rods, displeased by this disruption to their watery serenity.
It makes sense that the Netherlands is the nation testing the waters when it comes to floating homes, given the country's green ethos and history of innovative design. The country is also the lowest lying in Europe, making sea level rise a very real threat. But it isn't just floating houses the Dutch are experimenting with.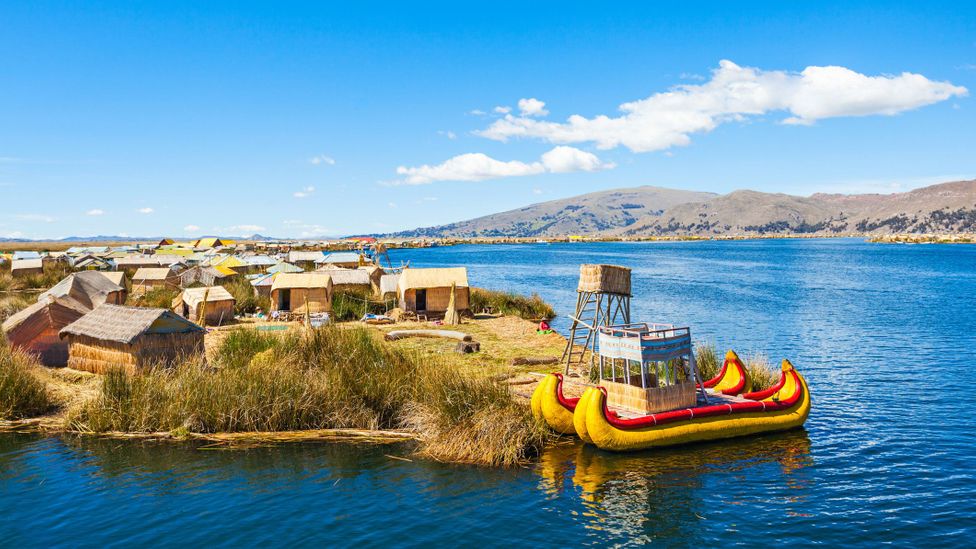 Lake Titicaca on the border of Bolivia and Peru is home to the cultivated reed islands of the Uru people (Credit: Saiko3p/Getty Images)
Fifty-five kilometres to the south of Amsterdam, Minke Van Wingerden was leading her herd of dairy cows up a gangway and into their state-of-the-art stables, which sidles up to giant tankers and freight ships in the waters of Rotterdam Dock.
"The night before [the cows] came, I didn't sleep all night long," she said, holding out a palm-full of hay for one of the sepia-splodged dairy cows to munch on, "but it went so smoothly. They got their sea legs straight away."
You may also be interested in:
• A nation built on shape-shifting land
• The Dutch war against water
• The nation being swallowed by the sea
The idea for a floating farm was born after Van Wingerden's partner, Peter, witnessed the disruption Hurricane Sandy caused to New York's transport links and food supplies in 2012, noting how supermarket shelves in Manhattan remained empty days after the disaster. Upon returning to the Netherlands, he and Van Wingerden set out to create a farm that would be climate adaptive.
Their farm, which opened in 2019, is home to 40 cows, who roam between a dock-side meadow and the floating facility – the first of its kind in the world. The farm produces milk, cheese and yoghurt (as well as manure), which travel the short distance to customers via bike or electric van; while waste products from the city supplement the cows' feed, ranging from leftover foodstuff from restaurants to surplus turf from the stadium of local football team, Feyenoord.
"Our location allows us to produce and sell healthy food right here in the city in a very circular, sustainable way," said Van Wingerden, who also has ideas for a floating vegetable farm and even a chicken farm. "I think there's a big future for floating farms."
Our location allows us to produce and sell healthy food right here in the city, in a very circular, sustainable way
Witnessing the success people in the Netherlands are having both living and farming on the water, it begs the question of whether we'll soon be visiting entire cities that float.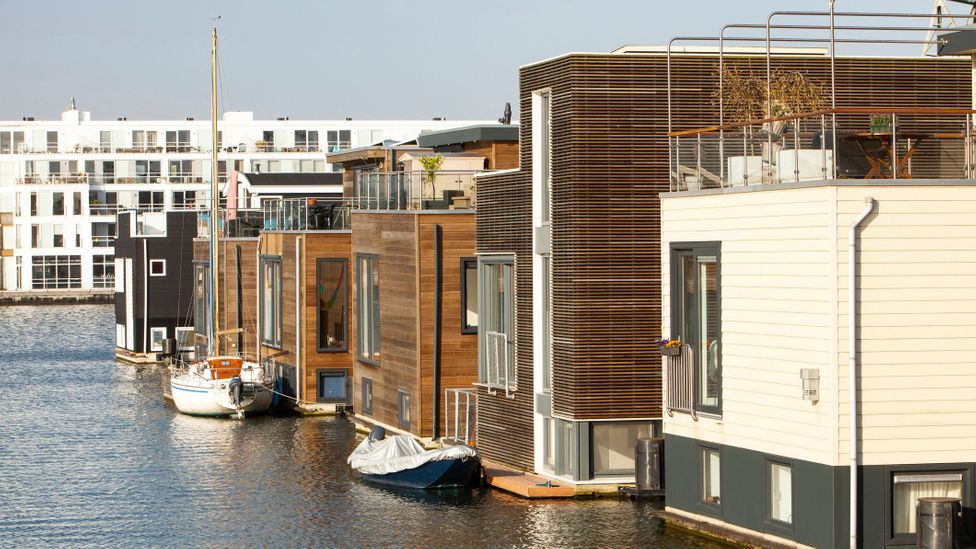 Ijburg, a suburb of Amsterdam, is the floating house capital, with increasing numbers of floating houses being constructed (Credit: Ashley Cooper/Getty Images)
Backed by the UN, US-company Oceanix is leading the charge on large-scale floating human habitations, currently developing what it describes as the "world's first resilient and sustainable floating community for 10,000 residents on 75 hectares".
"When it comes to sea levels rising, coastal city decision makers basically have two options," said CEO of Oceanix, Marc Collins Chen. "Build a big wall, which will likely never be tall enough; or look at the latest in engineering, which is floating in place."
We are building infrastructure that is able to cope with extreme climate events, as well as being highly sustainable
Though labelled as a "floating city", what Oceanix is proposing – initially, at least – is more akin to large floating districts; aquatic expansions to overcrowded coastal megacities that are already struggling with rising sea levels, such as Jakarta or Shanghai. These new "cities" will be made up of two hectare-wide, buoyant, triangular platforms, each of which is envisioned to be home to 300 people, with additional space for farming and recreation. They can be fastened together to form increasingly expansive settlements.
"We are building infrastructure that is able to cope with extreme climate events, as well as being highly sustainable," said Chen. "We want these settlements to use no fossil fuels. It's all renewable energy, and we're trying to grow 100% of our protein requirements on board."
It all sounds very impressive, but could these floating city expansions become a reality in our lifetimes?
"Oh, it's happening," said Chen. "We will see a floating prototype in the next few years. I'm very confident of that."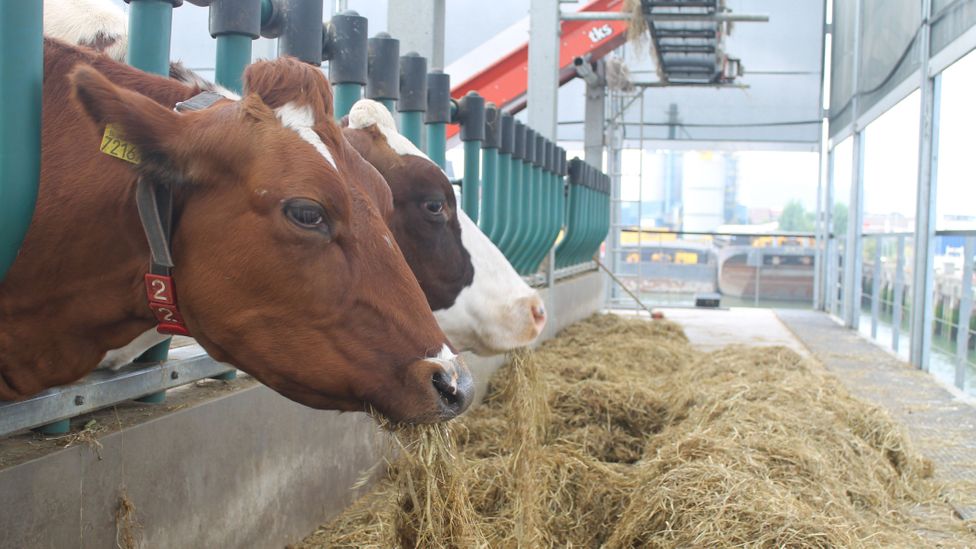 The Netherlands is home to a climate adaptive farm– and the floating facility is the first of its kind in the world (Credit: Jack Palfrey)
Floating cities might appear like something straight from the pages of science fiction, but in truth, humans have been living, and farming, on floating habitats for centuries.
"We have compiled a list of 64 case studies of floating indigenous communities around the world," said Julia Watson, a lecturer in design at Harvard University and author of LO-TEK. Design by Radical Indigenism, a book exploring design lessons we can learn from indigenous cultures. "What's more, these indigenous systems have always been inherently sustainable, something our cities currently are not."
Examples of floating communities can still be found today, such as the cultivated reed islands of the Uru people on Lake Titicaca, on the border of Bolivia and Peru. Floating gardens are more common still, notably in Bangladesh, where farmers sow seeds on "rafts" made out of buoyant weeds, which rise and fall with flood waters following the annual monsoons.
Somewhat ironically, it was the construction of large cities that led to the disappearance of many of these aquatic habitations and practices, which are now being touted as the future of urban living.
"In Europe and China, the development of cities and the filling of wetlands and lakes sadly erased a lot of these technologies," said Watson.
Back in Amsterdam, van Namen was rattling through yet another problem as we stood at the end of Waterbuurt's main jetty, watching one of the residents guide a paddleboard between two floating homes.
"The floating doubles [semi-detached houses] gave us a real headache. Especially in the beginning, when was one was occupied and the other was not," he said, a grin already flickering across his face. "Now, a normal household has approximately a couple of tonnes of stuff being brought in, so you can imagine there was a lot of these doubles that looked a little... imbalanced." Van Namen held his arm at a 45-degree angle to illustrate his point, before slapping his knee at the memory.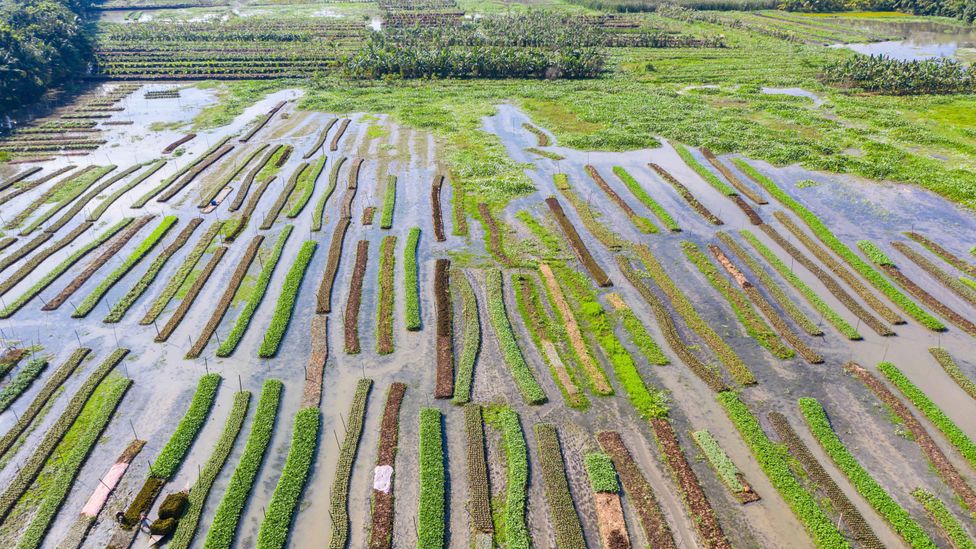 Bangladesh's remarkable floating gardens rise and fall with the swelling waters (Credit: Bengal Pix/Alamy)

As we made our way back along the jetty to the mainland, I was keen to find out if van Namen, who has experienced the – apparently manifold – pitfalls of working with floating architecture, thinks structures that float on water are destined to become an everyday sight.

"It's possible; there are a lot of cities in the world with harbours and ports where you can realise a project more or less like this," he said, noting how popular the houses here have proven with residents, and the interest shown in the development by city officials and architect firms around the world. "And, of course, with all the problems we have with rising water levels it could be a solution," he added.

Then he paused.

"It's not the solution of course," he said, an uncharacteristic sternness falling over his features, "The solution is to stop sea levels rising any higher."

Unfortunately, that's one problem not even van Namen can solve.

Future of Travel is a series from BBC Travel that investigates what the world might look like to travellers in the coming years and meets the people living on the frontlines of change.

--

Join more than three million BBC Travel fans by liking us on Facebook, or follow us on Twitter and Instagram.

If you liked this story, sign up for the weekly bbc.com features newsletter called "The Essential List". A handpicked selection of stories from BBC Future, Culture, Worklife and Travel, delivered to your inbox every Friday.

;