On the small island of Heimaey, chef Gísli Matthías Auðunsson is at the helm of a food movement that honours Iceland's history while coaxing it into a new era of innovation.
M
Much of what chef Gísli Matthías Auðunsson serves at his restaurant, Slippurinn, comes from outside his door. Only instead of a backyard garden with haricots vert and artichokes, there are meandering hills that look like green dragons dusted in fairytale-pink arctic thyme; cliffs perched dramatically over untamed fields of lemony sorrel; beaches dotted with briny oyster leaf and deep craters full of yellow-topped pineapple weed growing in volcanic soil as black as night. These, plus dozens of other wild-harvested ingredients like yarrow, sea beans, spruce and rowanberries, are pureed, dried, pickled and fermented in Auðunsson's kitchen apothecary. 
Slippurinn, which means "boat slip" in Icelandic, draws inspiration from its location on Heimaey's harbour, as well as the former shipyard machine workshop in which it's housed. Many original parts of the workshop were restored, and reclaimed ship parts and tools are tucked into the bright, modern and minimalist decor, resulting in a space deeply connected to its roots.
Auðunsson has roots here, too. He was born on Heimaey – the oldest, largest and only inhabited of the Westman Islands archipelago located off Iceland's southern coast – but moved to Reykjavík when he was six. Despite being just 6km long, Heimaey is home to the largest Atlantic puffin breeding colony in the world, the windiest point in all of Europe and the world's first open water beluga whale sanctuary. It was evacuated in 1973 when the Eldfell volcano erupted, and though most of the island's residents returned to rebuild, the agriculture that existed previously was destroyed, and hasn't flourished since. But despite the loss and devastation, magic still flourishes in this tiny paradise.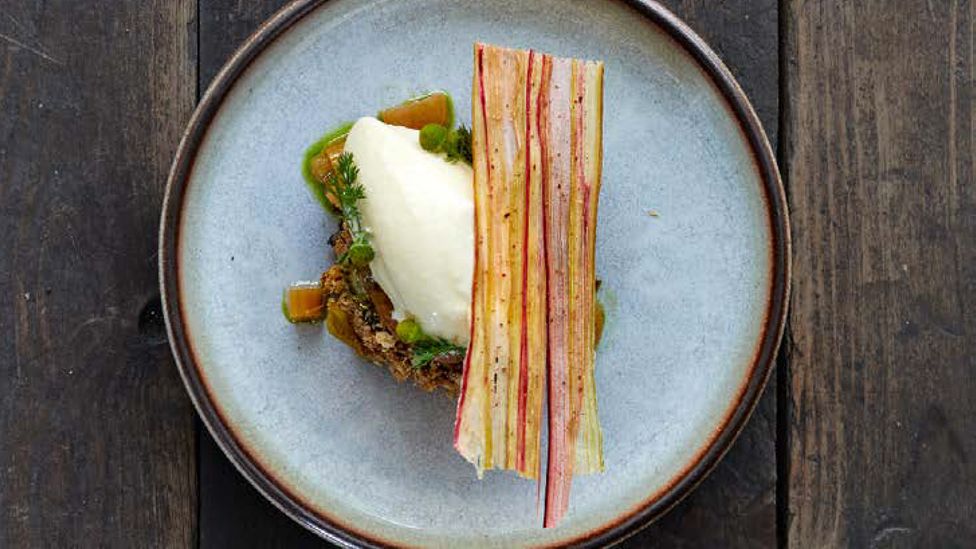 Rhubarb cake with spent beer grains and pineapple weed ice cream (Credit: Slippurinn/Phaidon)
Auðunsson, who has a gift for seeing the magic in the natural world, had long been questioning why the abundant resources he grew up with weren't being utilised. He got a job at his uncle's now-shuttered Reykjavík restaurant, Turninn, as a banquet cook and, later, a pastry chef, not long before the 2008 financial crash profoundly impacted the country's economy. His family was struggling to find work in Reykjavík, so they moved back to Heimaey. They knew he wanted to do something meaningful after he finished culinary school in 2011, so when his mother brought up the idea of creating a restaurant on their home island, the answer was simple.
"It was a dream to open a restaurant that would celebrate local cuisine," he recalls. "But we didn't have carpenters, and had no money. We were working every morning until 11 at night for seven months to rehab the space, which hadn't been used in over 40 years."
It was a dream to open a restaurant that would celebrate local cuisine
Slippurinn opened in 2012, and was the chef's first restaurant – though he's now on his third (he was chef and co-owner of Matur og Drykkur in Reykjavik's harbour district, and currently co-owns cocktail bar Skal! in Reykjavík's Hlemmur Food Hall). He has taken advantage of the eight months each year Slippurinn isn't open to learn new skills in restaurants across the world, and has done pop-ups in London, Hong Kong, Greenland, Switzerland and Italy. Through it all, his family has been by his side. 
Auðunsson's mother, Katrín Gísladóttir, who started out working front of house at Slippurinn and now handles bookkeeping and floral design, admits there were occasional differences here and there.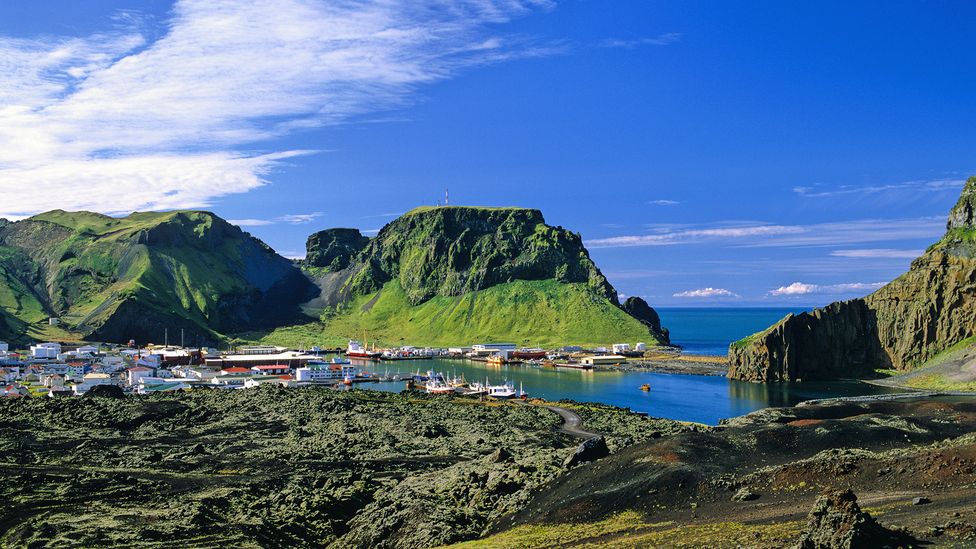 Heimaey is the oldest, largest and only inhabited island of the Westman Islands archipelago (Credit: Vinchel Budihardjo/Getty)
"Every family has them," she admits. "In some ways [the experience] brought us closer, and we have learned more about each other."
One thing Auðunsson was surprised to learn, however, involved his island's greatest industry: fishing. As it turned out, getting fresh fish from the boats into his restaurant wouldn't be as seamless as he initially expected.
"In Iceland, restaurant owners have to buy fish from an online auction, or order directly from the larger companies," he shares, "so you can't just go up to your local fishermen and get something straight from their boats – even if that makes perfect sense since they're right there."
Thankfully, after a promise from his father, Auðunn Stefnisson – Slippurinn's handyman and a fisherman himself – that their fish would go to feed locals, not only tourists, the fishermen changed their practices to contribute to their town's newest restaurant. In the 2021 season alone, Slippurinn served up 19 kinds of local fish and six shellfish varieties, totalling 3.8 tons.
All that seafood serves as a rich palette for the many seaweed varieties Auðunsson forages, such as the delicate, hair-like strands of sea truffle, which he dries, ferments and purees, then serves alongside sweet langoustine in a rich beurre blanc with an apple, kohlrabi and wild sorrel salad.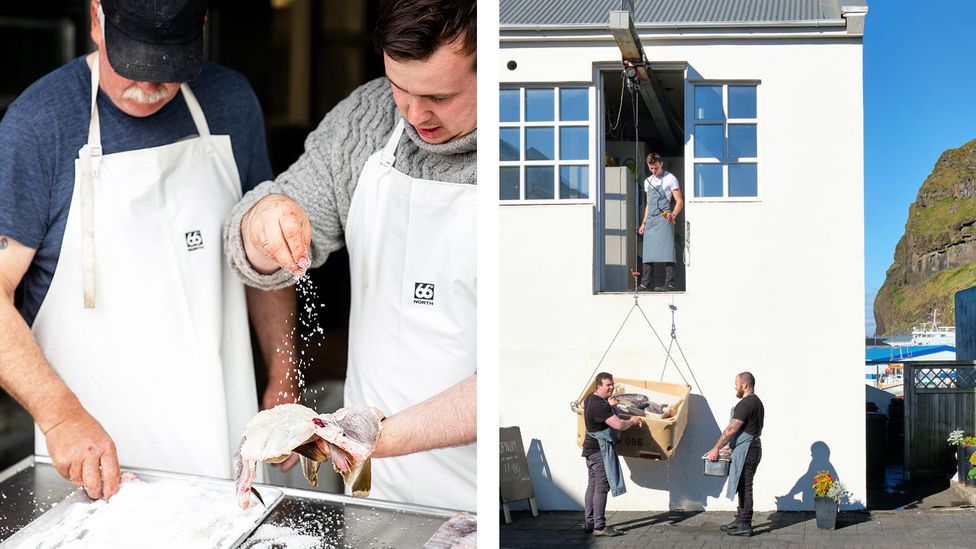 Chef Gísli Matthías Auðunsson serves local Icelandic fish at his restaurant (Credit: Slippurinn)
The kelp he pulls off giant rocks jutting from the Atlantic are longer than a firehose, and as thick and wide as Thor's belt. In his kitchen, it becomes part of an elegant chicken stock that serves as a bath for a cod head the size of a deflated basketball. Once cooked, the head is doused in Birkir (birch liqueur) and bruleed, creating a sticky-crunchy-sweet umami bomb that's as addictive as it is Instagram-worthy.
Though it may seem novel, cod head plays a pivotal role when it comes to preserving Iceland's culinary past. Iceland has been a long-time exporter of dried cod, as early as the 13th Century, to many places in Europe – particularly Portugal, Spain and Italy. Referred to as stockfish because the head was not traditionally part of the export, cod heads remained in Iceland where locals used to eat it boiled with a bit of salt. Today, Icelandic cod is exported all over the world, and both stockfish and dried cod heads are exported to Italy as well as Nigeria – the largest market for dried fish in the world – but Auðunsson feels strongly that Icelanders should still be eating those cod heads.
"There are a lot of Icelanders who don't know about Icelandic food anymore," he says, "and it's important that we don't forget how things were done. We need to preserve our history."
By putting his own stamp on old traditions, he's moving Icelandic cuisine into new gastronomic territory. He even dips cod throat in beer batter, deep fries it and serves it with herbed aioli.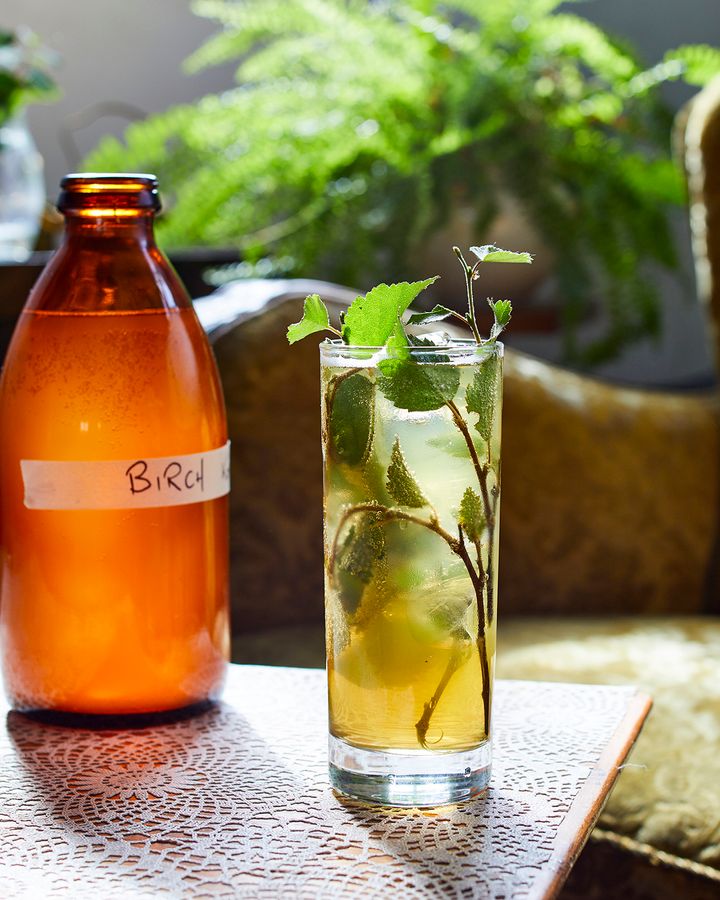 Slippurinn incorporates Birkir (birch liqueur) onto its dishes and drinks (Credit: Karl Petersson)
Auðunsson also turns cod into perfectly salty discs topped with browned butter and pickled seaweed in an Icelandic take on sour cream and onion crisps, and dresses dried kelp crisps – so light and delicate, they crunch-melt on your tongue – with homemade sour cream and lumpfish roe as pink as a rose petal.
His commitment to using local resources has always been strong, but it was his experiences in restaurant kitchens across the world that opened his eyes to just how rich some of his native resources really were.
"When I was staging in New York, they were importing oyster leaf from Alaska, and I was sure I had seen these leaves before," he says. "I realised that these leaves they were paying a dollar per piece for grew on the beaches back home!"
At Slippurinn, you can find oyster leaf on top of radishes stuffed with homemade mayonnaise. There may also be grilled broccoli slathered in garlic mayonnaise and crusted in panko and dried fish flakes, which is like crunchy, battered fish without most of the fish or grease; angelica-cured halibut so thin and translucent that the tiny pops of pink arctic thyme dusted on top turn it into art; pineapple weed ice cream with the fragrance and flavour of its namesake fruit – despite actually being chamomile – topped with a tart-sweet wild rhubarb compote; and skyr, an Icelandic cheese similar to yogurt, with wild sorrel granita and toasted oats.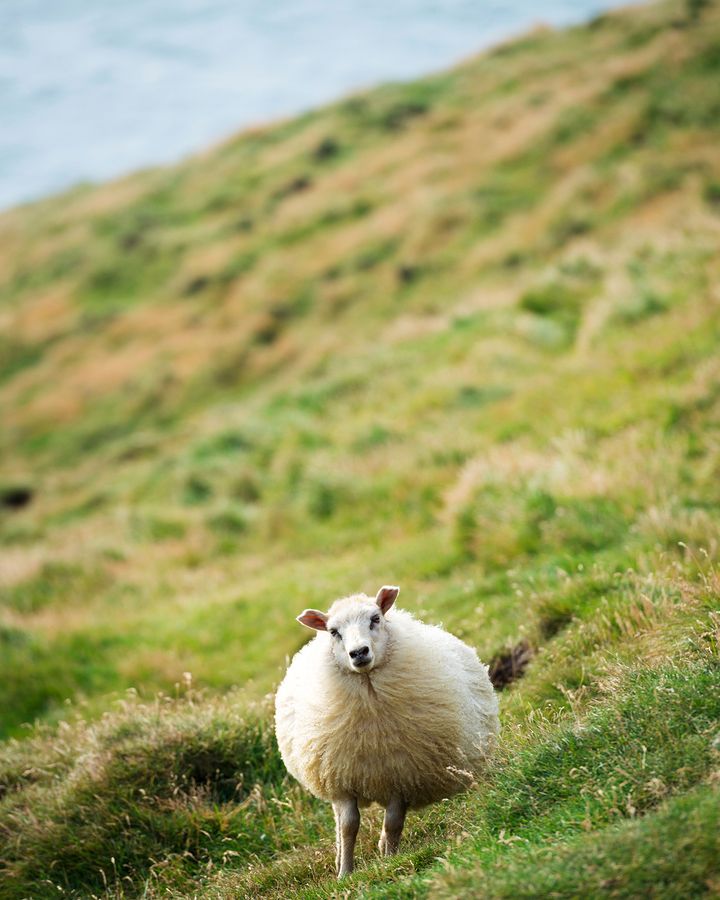 Sheep roam Iceland's island of Heimaey (Credit: Robert Harding/Alamy)
Auðunsson's sister, Indíana Auðunsdóttir, designed Slippurinn, and was largely responsible for the evolution of the cocktail programme, which is informed by what grows on Heimaey. What started as a popular wild rhubarb mojito with rhubarb from neighbours' yards led to a mojito made of white rum, raw sugar, sorrel syrup, lime, lemon bitters and sparkling water; a cocktail made of arctic thyme simple syrup, pear cider, lemon and Reyka vodka; and an Icelandic riff on a piña colada, with angelica liqueur, cream and pineapple weed vodka.
There are also honeyed dandelion and licorice-y chervil syrups, homemade kombuchas, teas and tinctures.
A flavourful weed
Tastes like pineapple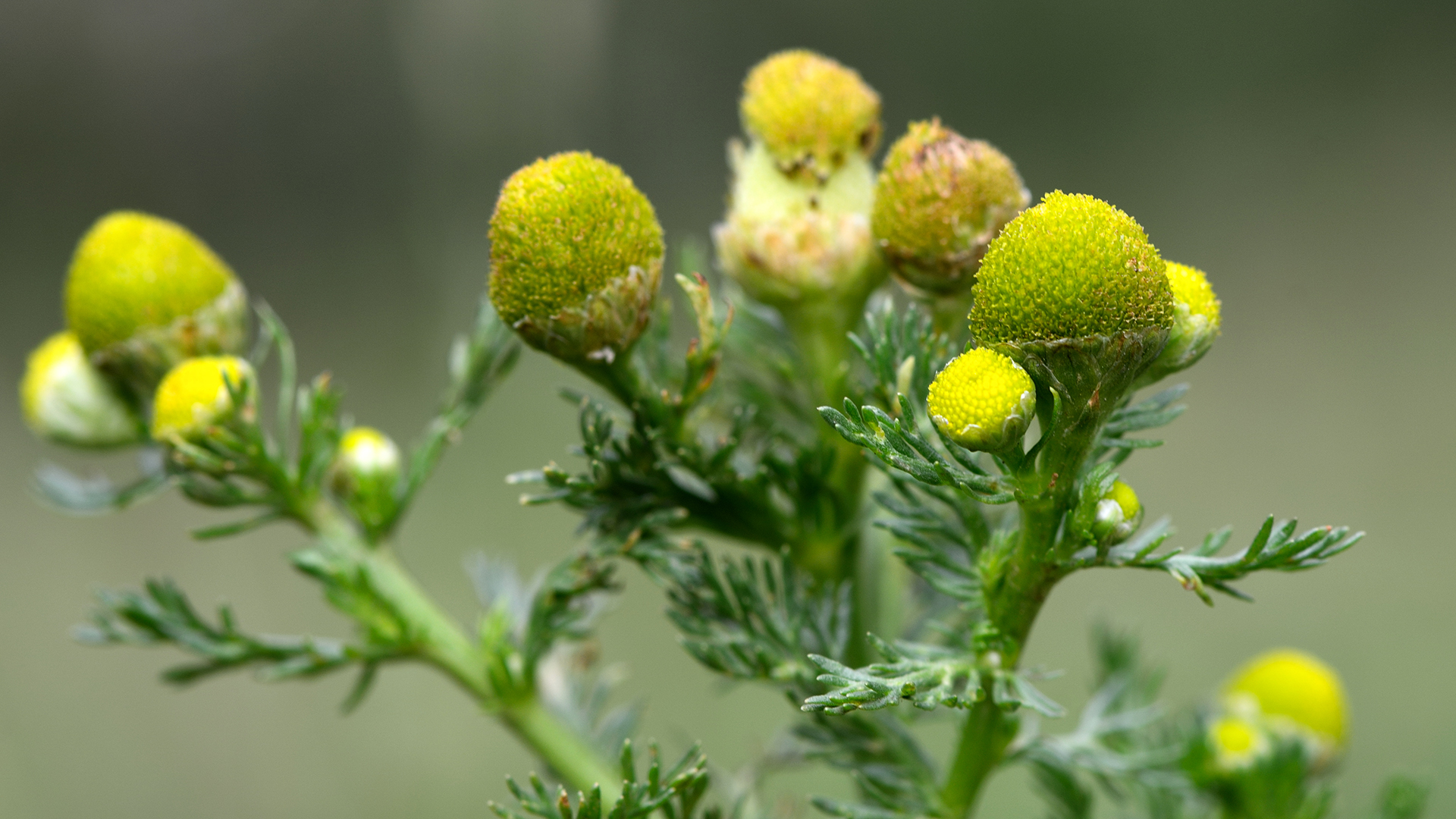 In Slippurinn's illustrated cocktail guide, which is placed on every table, pineapple weed (called Hlaðkolla in Icelandic) is described as "the most exotic flavour of any herb in Iceland, which tastes quite like sweet pineapple and grows in the lava fields." Auðunsson elevates the weed to star status in his Icelandic Piña Colada, which relies on a base of homemade pineapple weed vodka, cream and angelica seed liqueur. He also uses the yellow tops, or buds, of the weed in an intensely creamy, deeply aromatic ice cream, the recipe for which can be found in his cookbook. 
Often referred to as false or wild chamomile, pineapple weed (Matricaria discoidea) can be found in different parts of the world, growing in sidewalk cracks, parks, driveways, walking paths and places where dry soil is abundant – such as the lava fields where Auðunsson forages for his. The fact that the conical-shaped, yellowish-green buds have no petals will give it away.
Though many of his ingredients may be unrecognisable, his food is comforting and approachable. Whether you call his style New Nordic, New Icelandic or even Modern Icelandic Comfort, the most accurate descriptor isn't an official culinary classification: transformative.
American chef and TV host Ming Tsai had Auðunsson on his show, Simply Ming, in 2018, and was blown away by his signature bruleed cod head. Tsai, known for his East-West fusion cuisine, grew up cooking in his family's Chinese restaurant and admitted to eating his share of fish heads. Yet, in the span of 30 seconds, Tsai said, "oh my God" five times, followed by "unbelievable", "incredible", "this is freaking delicious" and "seriously, one of the best ever", with a grand finale of, "my grandma is so jealous right now."
Tsai's reaction shows how Auðunsson's reimagining of Icelandic cuisine is so unique that even those familiar with what he's serving are moved by their experience of it.
One can only imagine what Tsai might have said had he tried Auðunsson's simple, yet remarkably rich appetiser of trout on burnt flatbread with horseradish cream and red onion. Auðunsson smokes the trout over sheep's dung, fusing modern preparation with a cooking tradition created when alternate fuel sources were necessary, not optional. He supports local farmers who compress dung and hay, then semi dry it, just as it was done hundreds of years ago.
"The dung never touches the food, but gives it a special kind of smokiness," he says. "It's unlike anything you've ever tasted."
You may also be interested in:
• In Iceland, food is a challenge, not a meal
• The Swedish chef who cooks solely with fire
• Ana Roš: The chef who put Slovenia on the map
Guillemot eggs as blue as the sky are also unlike anything most people have tasted – or seen. Foraged by rope on the edge of cliffs throughout the Westman Islands, the speckled turquoise eggs are emptied out and used as serving dishes for a custard Auðunsson serves with rye bread, lovage and pickled onions.
Slippurinn is not easy to get to, does no advertising and is only open four months every year. Yet an old shipyard machine factory on an island with less than 5,000 people has become a destination dining spot. 
"We all had a big ambition to have something different from other restaurants, but I never dreamed Slippurinn would be as famous and good as it is," Gísladóttir says. "I am really happy about how it turned out."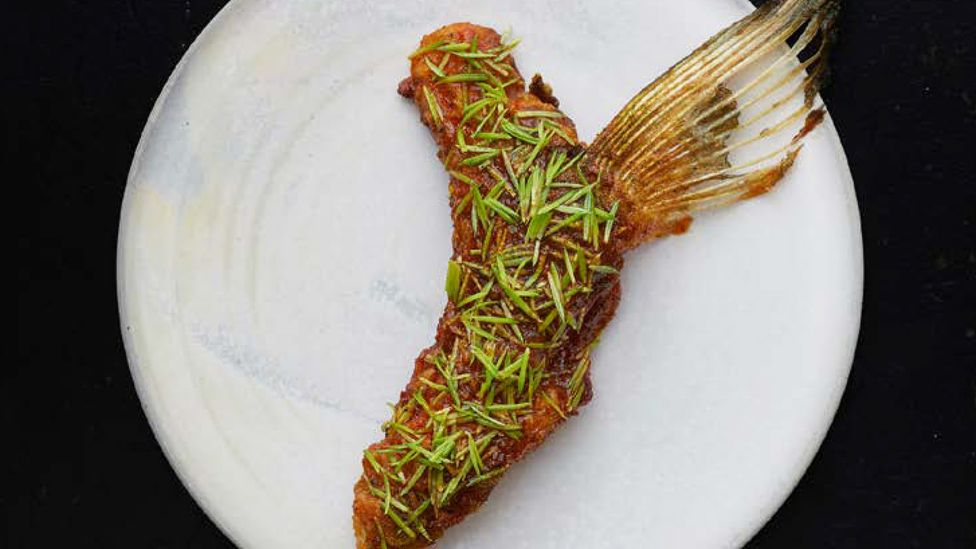 Cod wing with young spruce hot sauce (Credit: Slippurinn/Phaidon)
Auðunsson shares his mother's pride – especially when it comes to the way Slippurinn has been received in his own country. 
"Using the things around you when they're in season wasn't done by many in Iceland," he says, "but it has been changing for the better the last few years, and I think we've influenced others in that way. I also think both the general public and those in the industry really appreciate Icelandic food instead of looking down on it as they did years ago."
With the cookbook, Slippurinn: Recipes and Stories from Iceland, coming out on 13 October, a Michelin Bib Gourmand recognition for his cocktail bar, Skal!, and a spot on the Slow Food Chefs' Alliance, where his voice impacts Iceland's food heritage and agricultural landscape, the future looks bright for Auðunsson.
"I don't have a specific passion for fine dining or selling groceries," he says. "My vision is bigger: I want to put Icelandic food on the map. Fifteen years ago, I don't think this would have worked, but people are definitely ready for a change. You can feel it. I think there are really exciting times ahead for Iceland."
---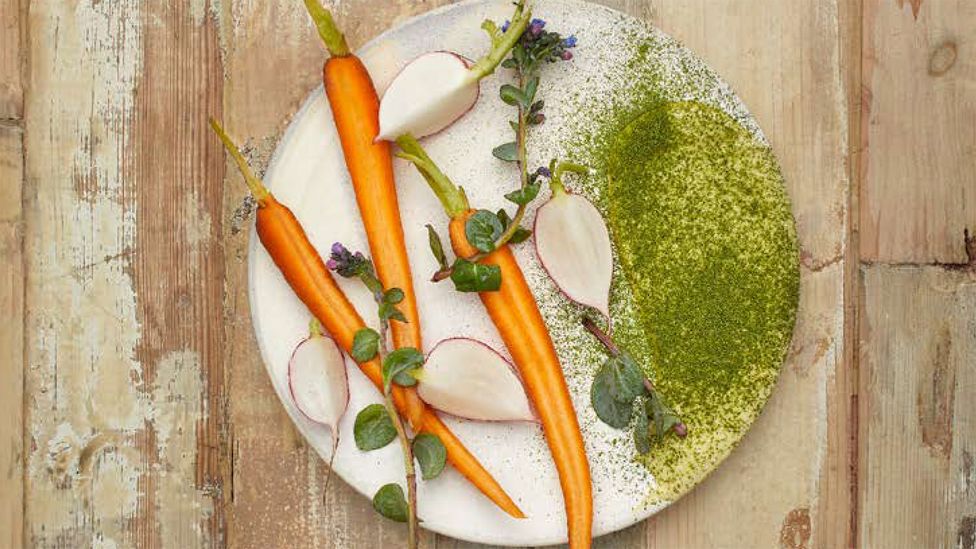 Raw vegetables and oyster leaf emulsion (Credit: Slippurinn/Phaidon)
Raw vegetables and oyster leaf emulsion
Serves 4
There's nothing better than crunchy raw vegetables or a newly cleaned salad right after harvest. With a little bit of seasoning here and there, the right amount of acidity, salt and fat, you can create something extraordinary from just simple raw vegetables.
For the dehydrated lovage powder:
40g lovage
Dehydrate the lovage on a baking sheet in an oven on the lowest setting or in a dehydrator at 55C (130F) for about 10 hours or until completely dry. Blend in a blender until it's a fine powder.
For the oyster leaf emulsion:
40g oyster leaves
200g parsley
300ml vegetable oil
1 clove garlic
1 shallot
4 egg yolks
40g Dijon mustard
10ml apple cider vinegar sea salt
lemon juice
Put the oyster leaves, parsley, vegetable oil, garlic and shallot in a blender and blend for about 8 minutes or until the oil reaches 75C (167F). Strain and let cool. Put the egg yolks, mustard and vinegar into the clean blender and blend. With the blender running, add the green oyster leaf oil and continue blending until the mixture is completely emulsified. Season to taste with salt and lemon juice.
For the raw vegetables:
4 carrots, cleaned
10 radishes, cleaned
Cut the vegetables into bite-size pieces.
To plate:
oyster leaves, for garnish
On the side of each plate smear the emulsion and dust over the dehydrated lovage powder. Place the raw vegetables on the other side of the plate and garnish with the extra oyster leaves.
(Credit: Gísli Matthías Auðunsson, Slippurinn)
---
BBC.com's World's Table "smashes the kitchen ceiling" by changing the way the world thinks about food, through the past, present and future.
--- 
Join more than three million BBC Travel fans by liking us on Facebook, or follow us on Twitter and Instagram.
If you liked this story, sign up for the weekly bbc.com features newsletter called "The Essential List". A handpicked selection of stories from BBC Future, Culture, Worklife and Travel, delivered to your inbox every Friday.