Decades after a civil war littered its landscape and scarred its national psyche, Lebanon is using hiking to teach tourists about the country, and its people more about themselves.
P
Pushing past the urban sprawl of Beirut, our bus made its way along the gently rolling hills of Lebanon's coastal highway, with the Mediterranean glimmering on one side and craggy peaks rising in the distance on the other. We then turned inland and climbed a narrow road into the mountains of the country's northern Koura District, overlooking terraced hillsides and the red-tiled rooftops of villages below.
As we wound through Koura's olive and fruit groves and past roadside shrines of local saints, our guide, Michel Moufarege, who has memorised the landscape and history of nearly every pocket in the country, pointed out scenes of historical or social interest to a group of about a dozen hikers onboard: a Roman temple, a grotto dedicated to a saint who disguised herself as a man to join her father in a monastery, and mountainsides eaten away by mining to feed the country's ravenous cement production industry.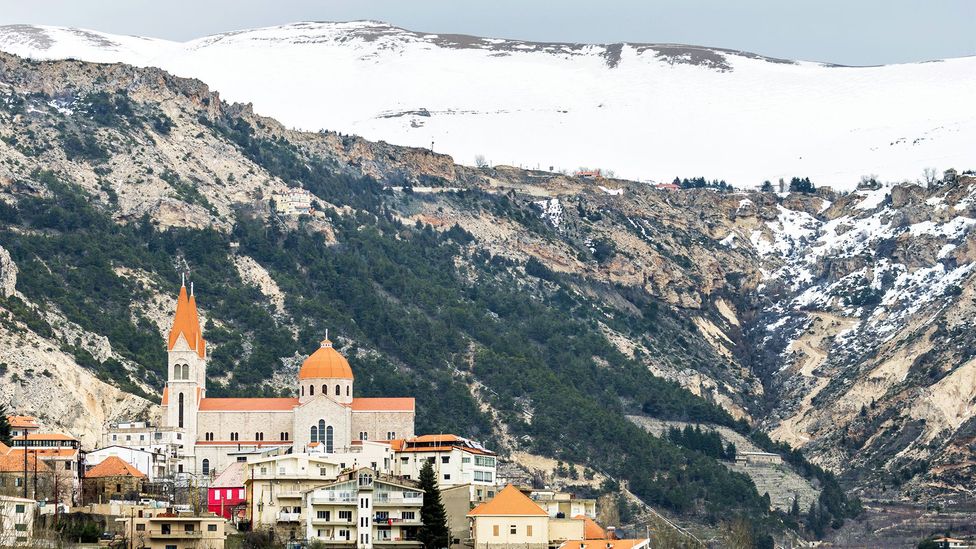 The town of Bsharri is surrounded by ancient cedar forests and snowcapped mountains (Credit: JossK/Getty Images)
After passing through the ancient cedar forests of Bsharri and stopping in the village of Arz to meet local women preparing manakeesh – a typical Lebanese dish of flatbread topped with cheese or thyme-and sesame za'atar – we arrived at our final destination: a trail leading up towards the dramatic 3,000m bald peak of Dahr al Qadib, one of the highest mountains in Lebanon. 
As we ascended the steep limestone ridge, some of the younger hikers were left gasping for breath, but not Moufarege. At 77, the veritable elder statesman of Lebanon's hiking scene seemed unfazed as he steadily climbed upward at a deliberate pace. Born with a condition that left his arms disabled, he relies on his incredibly sure footing for balance.
For a country that's half the size of Wales, Lebanon is tremendously diverse
At the peak, the fog that had enveloped the mountain at the beginning of the trek had cleared away, revealing a panoramic view of the plains and lakes of the Beqaa Valley below. Moufarege refuses to name a favourite hike in Lebanon, but he spoke with a certain reverence about this one.
"The area over the cedars, the highest chain of mountains, is very special to me because of the purity of the air, because of the colour of the soil, because of the expanses that open in front of you," he said. "That is a great, great place."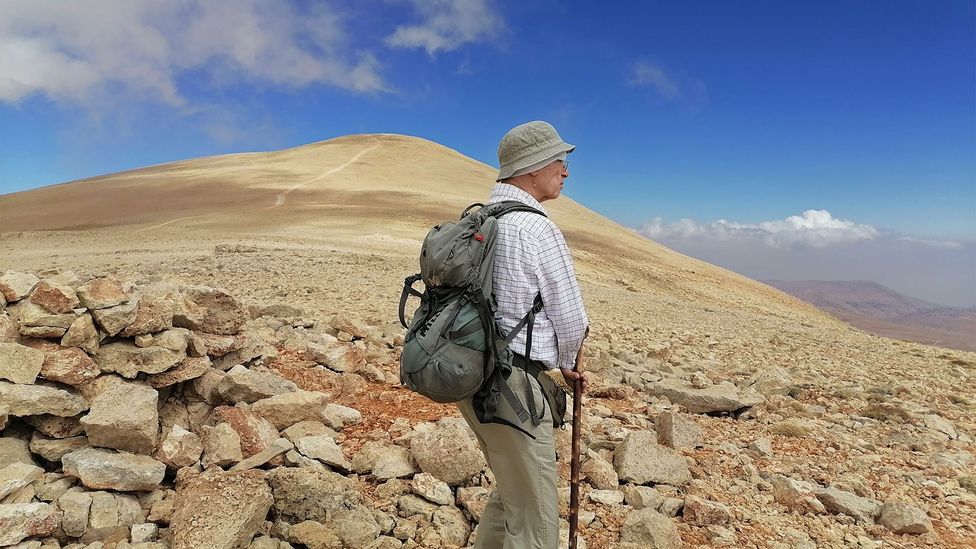 Moufarege has been working to create a national hiking culture that unifies Lebanon's diverse sects (Credit: Abby Sewell)
Moufarege has been leading groups of hikers to the Lebanese mountains for nearly a quarter century since he founded the nation's first ecotourism company, Liban Trek, in 1997. While informal hiking groups existed in Lebanon previously, the country's 15-year civil war (1975-1990) kept people from moving freely about the country, and its aftermath left many hikers seeking the safety of experienced guides to help navigate the poorly marked trails and undetonated landmines that still litter the landscape. 
Eight years after launching Liban Trek, Moufarege played a key role in the creation of the Lebanon Mountain Trail (LMT), a 470-km path spanning the country from north to south and connecting more than 75 ethnically diverse towns and villages. Inspired by the US' Appalachian Trail, the route "showcases the natural beauty and cultural wealth of Lebanon's mountains", and has helped to put the small Mediterranean country on the international hiking map. 
You may also be interested in:
• A new hiking route between Europe and Asia
• The plan to connect every British town
• A new hiking trail uniting Italy
Using his encyclopaedic knowledge of the country's terrain and old Lebanese Army maps, Moufarege took the lead in delineating the trail's initial route. He became the first president of the LMT Association when the route opened in 2007.
Through Liban Trek and the LMT, Moufarege is working to create a new national hiking culture that aims to teach Lebanese and international hikers about the country's diverse landscapes – from the wild oak and pine forests of the northern Akkar District to the lakes and vineyards of the Beqaa basin to the monasteries and chapels set into the mountainsides of the Qadisha Valley – while also to teaching Lebanon's often-fragmented sects more about each other.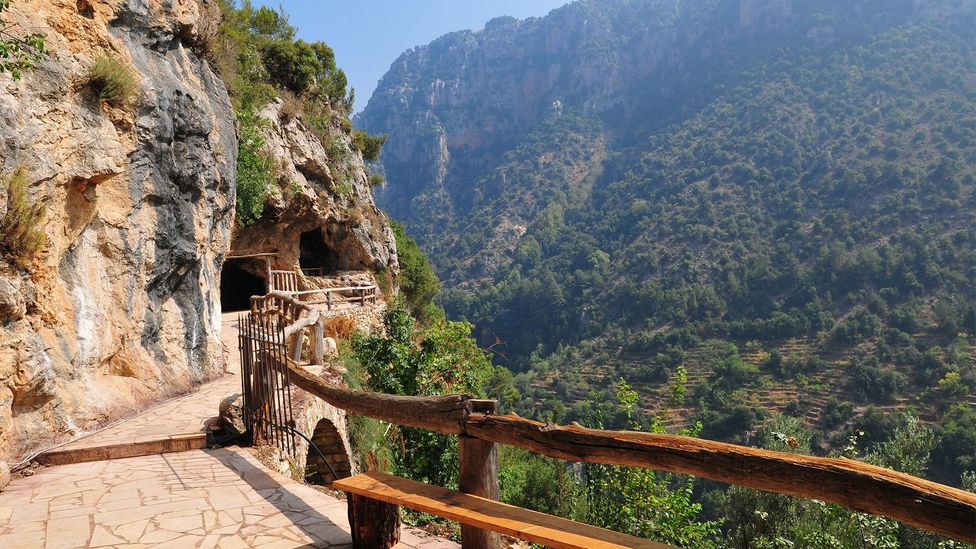 Moufarege regularly leads hikers through the stunning Qadisha Valley (Credit: Joel Carillet/Getty Images)
"One of the things [Moufarege] did is to link hiking to local communities," said Omar Sakr, the current president of the LMT Association. "He actually was behind the idea of identifying guest houses on the way to sleep in when people were hiking. It was not common before." 
Today, the LMT Association follows Moufarege's immersive, slow travel approach in the annual through-hikes it organises on the trail, with hikers spending each night in local accommodations and eating home-cooked meals with local residents. 
Rafic Saliba, who first joined Moufarege's hiking excursions some 20 years ago, grew up in the primarily Christian district of Matn in the mountains east of Beirut. In his village, an evening meal would typically be accompanied by a glass of wine or the anise-flavoured spirit arak. With Liban Trek, he fell in love with the dramatic peaks and valleys of the northern Akkar District – and in his stays in the Sunni villages there, where alcohol is off-limits, he found that he could talk and laugh just as easily over a cup of tea or coffee after a hearty meal.
Through exchanges like this, Moufarege is not only introducing international travellers to Lebanon, but also reintroducing the country's divergent communities to each other after years of sectarian violence.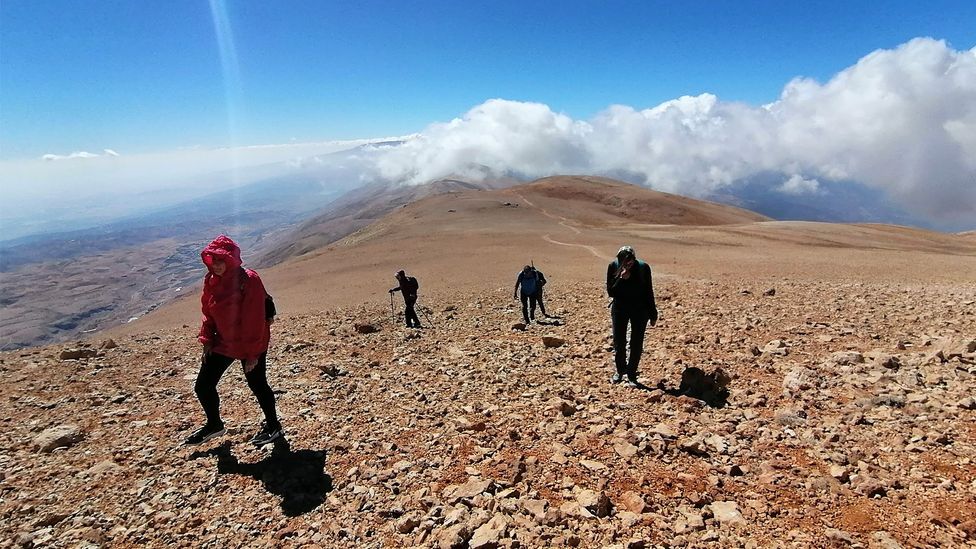 Through hiking, Moufarege is teaching visitors more about Lebanon, and Lebanese more about each other (Credit: Abby Sewell)
"When you live with [different kinds of people], you have your own experience, you don't need to listen [to] what people tell you about them," Saliba said.
For a country that's half the size of Wales, Lebanon is tremendously diverse. The country's population is split roughly evenly between Sunni Muslims, Shia Muslims and Christians, and the state officially recognises 18 different sects. Sectarian divisions played a role in the country's bloody civil war, and more than 30 years after the war ended, many of these divisions remain. 
Joelle Rizk, a regular hiker with Liban Trek, recalled that as a girl, she was confined to her own neighbourhood in East Beirut. 
"There was the war – we couldn't even pass to West Beirut," she said. Now, on her weekly outings with Moufarege, she finds herself sitting on hillsides in areas that once would have been off-limits, chatting with shepherds about the weather and the local landscape. The experience has inspired in her a new love of her country, Rizk said.
"I was always sad that I was born Lebanese, you know, we had the war and hardship," she said. "And every time I travelled, I was so sad when I came back to Lebanon. Now, I'm so happy that I'm Lebanese. This is all because of the hiking."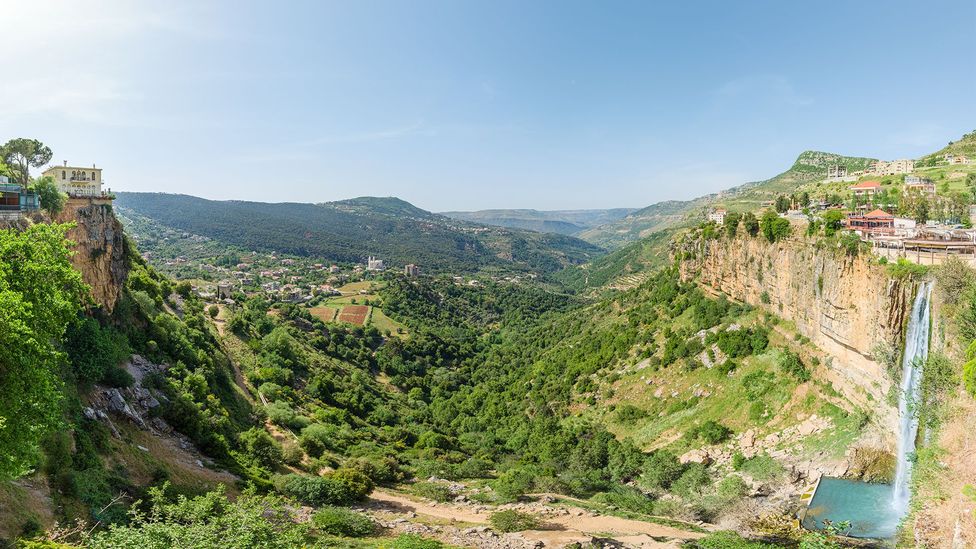 Moufarege is working to show travellers and many Lebanese themselves a side of the country they haven't seen (Credit: Em Campos/Getty Images)
Moufarege's own passion for hiking began when he was a boy, spending summers in the northern mountain villages of Ehden and Hasroun with his family. "Since my childhood, I was attracted by those peaks and high mountains, before even being able to hike," he said.
His formal introduction to hiking began in the early 1970s when he joined a hiking group called Le Club des Vieux Sentiers ("The Club of Old Footpaths") that hiked along ancient trade routes. Even the outbreak of Lebanon's civil war in 1975 did not deter the club members' enthusiasm for hiking. 
"During the war, we went where we could go," Moufarege recalled. "During the day, we used to go up in the mountains and we would come back. There would be a lot of bombing and shelling in Beirut that we did not even notice. It kept us in good spirits, and we never stopped." 
In 1997, seven years after the war ended, Moufarege chose to leave his job at an insurance company to pursue hiking full time. "I finally decided that I had devoted so much of my time [to hiking] that I would give up my ordinary work and start Liban Trek."
Beyond Beirut, Lebanon is filled with lush lagoons, dense forests and crashing waterfalls (Credit: Anna_Om/Getty Images)
The company's weekly guided group hiking trips quickly became popular for both social and practical reasons. Before the creation of the LMT, many of the Lebanon's trails were unmarked paths worn by shepherds and other locals trekking between villages. Moufarege and the other guides would keep hikers on course, while also keeping them safe from the unexploded remnants of the war. 
Norbert Schiller started joining the Liban Trek hikes in the early 2000s after a close call in which he and a friend unwittingly hiked onto a field full of undetonated landmines before being alerted to the danger by a group of nearby goat herders. Although other hiking groups have since sprung up in Lebanon catering to a younger, more social media-savvy trekkers, Schiller noted that Moufarege "has got this incredible loyal following like myself. People say to me, 'Why don't you hike with somebody else?' I say, 'Well, I can't. I feel kind of indebted to him.'" 
Beyond Moufarege's impressive knowledge of the terrain, Schiller explained that he has an uncanny ability to connect with anyone, on any trail in the country. While some hiking guides prefer to stick to areas where their own sect is present, Schiller said, Moufarege "looks at Lebanon as being one" and is never afraid to talk to the local people. 
"He's always the first one to go and introduce himself to a shepherd, or a militia man or a UN soldier," Schiller said. "I feel very safe with him in the mountains. He knows everything and everybody."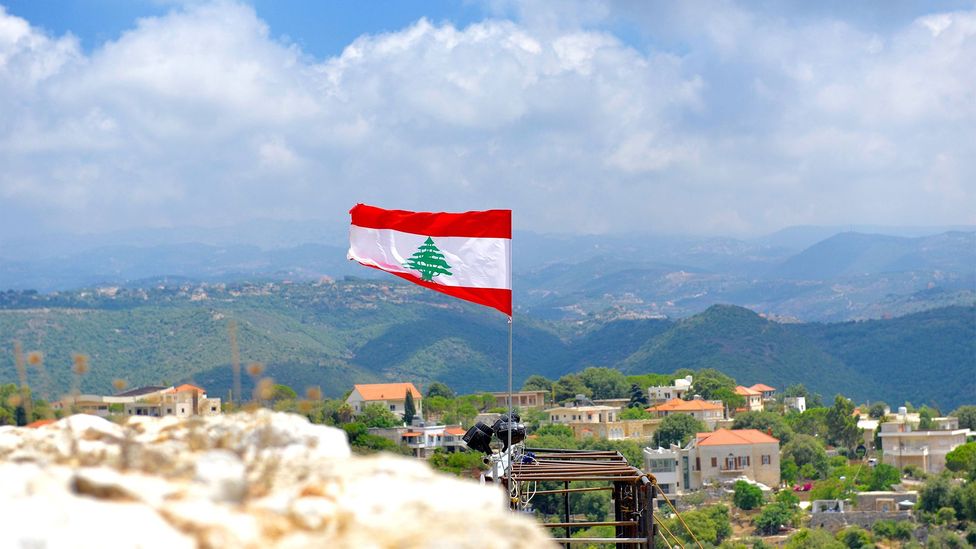 Moufarege's goal is to make Lebanon an international hiking destination (Credit: Ghady Gebrayel/Eye Em/Getty Images)
According to LMT Association officials, before the mass protests and economic crisis that began in late 2019, and the pandemic and Beirut port explosion in 2020, Lebanon had become an increasingly popular destination for international hikers. While foreign tour groups have not been coming over the past two years, Moufarege said he has been pleasantly surprised to see how many international visitors continue to travel to Lebanon on their own. 
When asked why international hikers should explore Lebanon, Moufarege ticked off a long list: the varied terrain and flora in a small geographic area, the historical sites and the cuisine and hospitality of the Lebanese people, among other things. 
"Lebanon is a very nice destination for hiking, a fantastic one I would say, and this is my personal aim: to make it a worldwide destination," he said.
Slowcomotion is a BBC Travel series that celebrates slow, self-propelled travel and invites readers to get outside and reconnect with the world in a safe and sustainable way.
---
Join more than three million BBC Travel fans by liking us on Facebook, or follow us on Twitter and Instagram.
If you liked this story, sign up for the weekly bbc.com features newsletter called "The Essential List". A handpicked selection of stories from BBC Future, Culture, Worklife and Travel, delivered to your inbox every Friday.