With 8 November seeing the US reopen to many fully vaccinated travellers, cities across the country are working on a slew of exciting, new initiatives to welcome them back.
A
American skies are about to become a lot friendlier to fully vaccinated travellers. On 8 November, the United States will implement a new air travel policy that removes the ban on international travel from 33 countries (including the EU, UK and India) and changes the country-by-country approach in favour of a requirement for all fliers to be fully vaccinated. This marks the first time in 18 months that vaccinated visitors from many countries have been able to travel to the US.
Bookings are already booming, with international airfare from the UK to the US up 108% following the announcement, according to travel marketplace Travelport. With international tourism to the US down 75% since 2019, cities across the country are just as eagerly awaiting the return of international visitors, and many have made substantial strides in safety and sustainability since the start of the pandemic, including adapting new restaurant setups and safer outdoor and indoor activities.
We've picked four US cities that are eager to welcome back travellers safely, where there's high vaccination rates among the local population and a slew of exciting, new initiatives unveiled since international visitors last touched down.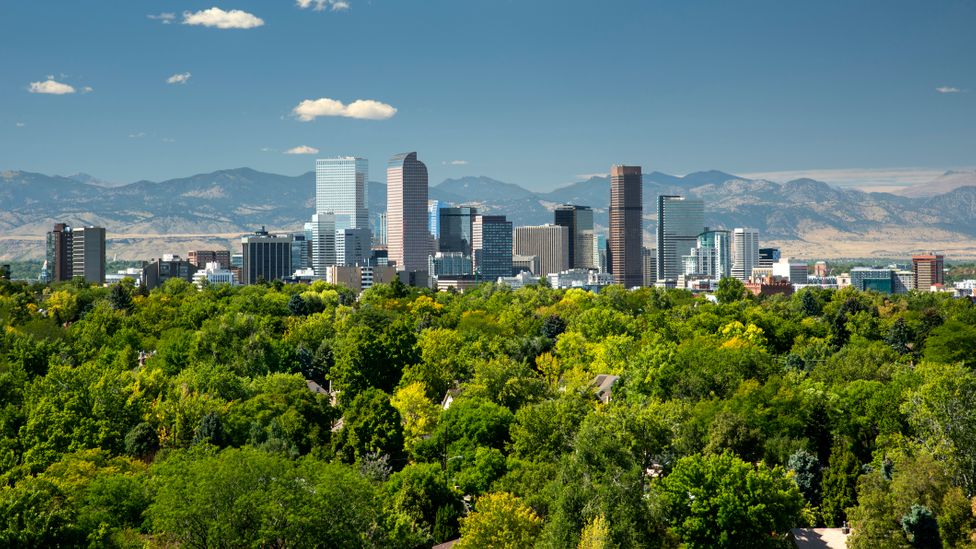 Denver is known as the "Mile-High City" due to its lofty location 5,280ft above sea level (Credit: John Coletti/Getty Images)
Denver, Colorado
With a vaccination rate of more than 72% and an abundance of outdoor activities from skiing to hiking, Denver has long offered a safe jumping off point to explore the great outdoors. But a 20% boost in the population over the past decade has also transformed this railway city into a hip urban centre, with more activities than ever for those who are more the glamping-than-camping type.
One of those is the permanent installation of Meow Wolf, the third such installation (after Santa Fe and Las Vegas) in the US, which guides visitors through a psychedelic, surreal narrative that features more than 110 Colorado-based artists across four floors, bursting with colour and creativity. The Denver Art Museum also reopened following a renovation in celebration of its 50th anniversary, with updated galleries and two new dining spots.
You may also be interested in:
• The world's safest cities in 2021
• Countries with the most resilient economies
• The world's next superpowers
Denver's restaurant scene has benefited from the additional outdoor dining space offered by the closure of city streets, many of which may remain permanent post-pandemic, like upscale food hub Larimer Square. Though Colorado may be best known for its famous craft beer scene, the city's newest bar, Awake Denver, is completely alcohol-free, featuring non-alcoholic beer, wine and specialty cocktails and encouraging sober socialisation. Denver guests can stay at the new Rally Hotel, which features a rooftop plunge pool with sprawling skyline views and is attached to food hall McGregor Square – all of which have helped spur the LoDo (Lower Downtown Denver) neighbourhood's recent transformation.
Denver has also been making big infrastructure improvements to accommodate more international travellers, including adding 39 new gates at Denver International Airport, which will house additional international carriers by the time construction is complete at the end of 2021.
Visitors definitely need to be prepared for Denver's high altitude, famously known as the "Mile-High City" for being 5,280ft above sea level. "Drink plenty of water before and during your trip, and talk to strangers as much as you're comfortable," advises resident Kara Patterson, founder of travel blog Destination: Live Life. "We are all pretty helpful around here!"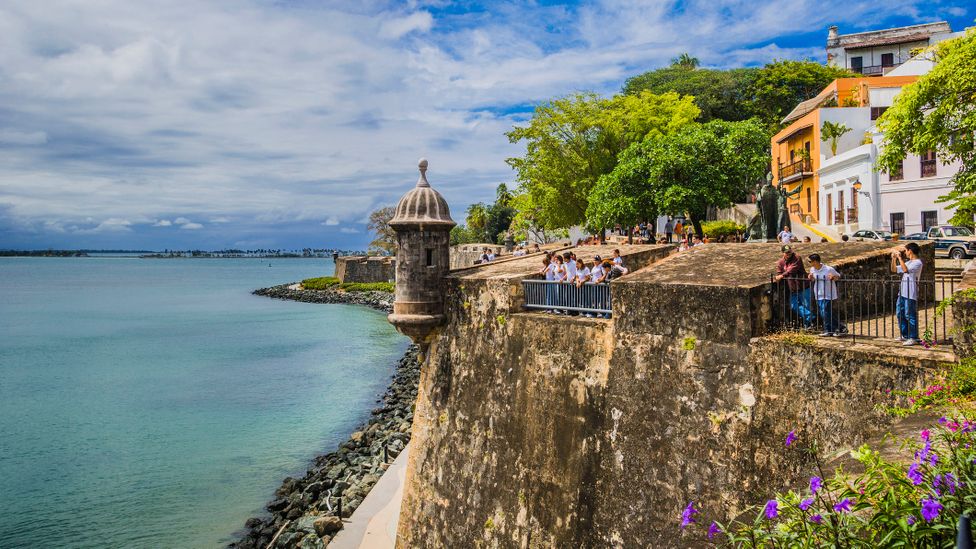 Puerto Rico is celebrating the 500th anniversary of the founding of Old San Juan (Credit: Maremagnum/Getty Images)
San Juan, Puerto Rico
The Caribbean island-territory of Puerto Rico currently has the highest vaccine rate of any US state or territory, with more than 80% of residents fully vaccinated. Residents credit the high rate to the resilience and health awareness of locals after experiencing hurricane flooding, earthquakes and other disasters in recent years.
But the island and its capital city of San Juan are more than ready to bounce back – especially as San Juan celebrates its 500th anniversary, a celebration set to run between now and June 2022. As part of the event, The Museum of San Juan has two exhibits following the art of the city over time, and a new 2.5-hour walking tour of Old San Juan stops by the many forts and castles that make up an integral part of Puerto Rico's history.
Many residents say the island feels nearly back to normal, and Puerto Ricans have been considerate and respectful of masking and social distancing measures. "We're super ready to welcome visitors that are as considerate and respectful as ourselves with the pandemic measures," said Crystal Diaz, owner and creator of culinary farm and lodge El Pretexto, located 50km south of San Juan. "We are eager to show our beautiful island and all the great food we enjoy with the whole world!"
Her women-led business showcases local ingredients grown on-site and by local farms. "Eighty five percent of all of our food is imported, and I have committed my life to change this reality," said Diaz. "I want people to experience our real Puerto Rico, with what we grow and how we live, and change Puerto Rico's food system to be more sustainable, nutritious and fair." As part of that, the farm offers regular pop-ups showcasing ingredients like locally caught lobster and locally grown yucca, pumpkin and breadfruit.
Planning a trip to the US?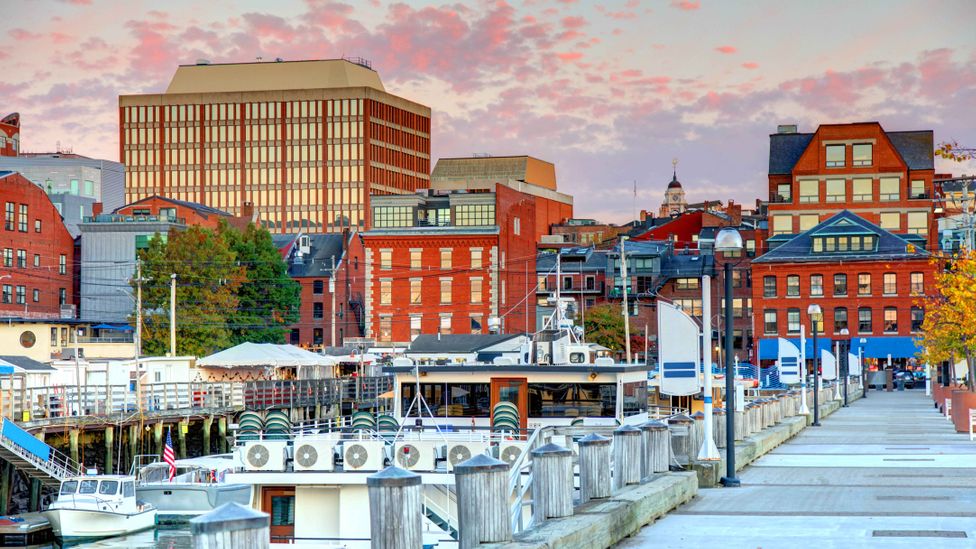 Portland is known for its fishing piers, vibrant Arts District and sustainable seafood (Credit: DenisTangneyJr/Getty Images)
Portland, Maine
Among US counties of 200,000 people or more, Maine's Cumberland County has the nation's fifth-highest vaccination rate, at more than 80%. Its largest city (and the largest in Maine), Portland, has built a thriving restaurant scene focused around one of the world's most successful sustainable seafood programmes – one that survived the pandemic by creating outdoor igloos and seafood shacks to keep business booming.
One of those was Luke's Lobster, a Maine B-Corp and seafood brand dedicated to serving up sustainable lobster across the world. The 100% renewable energy-powered company opened its flagship restaurant on the Portland Pier in 2019 right next to its lobster-buying station and dock, so visitors can see exactly where their seafood comes from.
Sustainable style is also easy to come by here. Sea Bags, with a new flagship location on Commercial Street, creates trendy totes out of recycled sails; while Ramblers Way on Market Street makes its all-American-made clothes with sustainably sourced wool and cotton.
The pandemic has only strengthened support for Maine-made goods. "With the current supply chain crisis, our state wants to encourage folks to shop local and shop for products that are being crafted in our backyards," said Portland resident Kristan Vermeulen, who hosts the podcast Makers of the USA. She recommends a new store called The Maker's Galley, opening off Commercial Street, that will offer Maine-made products, maker workshops and culinary demos by local chefs.
For those looking to escape the city's crowds, the Inn by the Sea located on Crescent State Beach just seven miles from downtown Portland, offers oceanfront accommodations on Crescent Beach State Park and works regularly with the park to restore and maintain the native habitat. Their latest programme hired a herd of goats to eat invasive Japanese knotweed taking over beach land, and let guests mingle with baby goats during cocktail hour – a delightful programme that will return in summer 2022.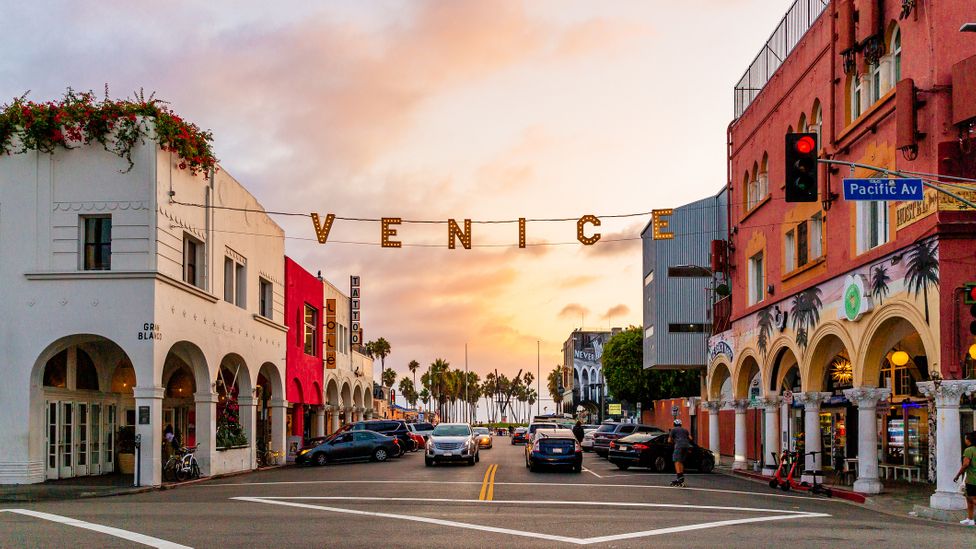 LA's year-round warm weather means that visitors can enjoy outdoor activities and al fresco dining (Credit: Alexander Spatari/Getty Images)

Los Angeles, California

As more than 71% of LA locals are fully vaccinated and 79% have one shot, a sense of normalcy has finally returned to the City of Angels, say residents. That said, many events and restaurants here require proof of vaccination and matching photo ID for indoor entry, so visitors should always have those on hand. But outdoor dining and activities still reign supreme here, thanks to Southern California's year-round sunny skies and warm weather.

Visitors should know that infection spikes can happen quicker here than in more rural places, said resident Dr Jenny Grant Rankin, a Fulbright Specialist for the US Department of State, so be prepared with masks and appropriate caution. But that shouldn't stop anyone from enjoying the latest LA has to offer. Her favourite new restaurant is the "refined yet relaxing" Girl & The Goat, opened in the city's Arts District in 2021 and run by Top Chef winner Stephanie Izard, featuring fresh California produce. Rankin's vegan-friendly choices include grilled corn with spiced coconut caramel, and roasted beet salad with party nuts.

Those looking to stay close to the Pacific coast can book the newly opened Hilton Santa Monica Hotel and Suites, a short walk from the beach and home to farm-to-table restaurant Monica's, which serves up West Coast fish and produce. In the heart of LA, the just-opened Downtown LA Proper Hotel donates 1% of its time, hotel space and management fees to local LA organisations like the Midnight Mission and features a rooftop pool as well as two restaurants run by James Beard-winning chefs: Portuguese-inspired Caldo Verde and rooftop California cuisine spot Cara Cara.

--

Join more than three million BBC Travel fans by liking us on Facebook, or follow us on Twitter and Instagram.

If you liked this story, sign up for the weekly bbc.com features newsletter called "The Essential List". A handpicked selection of stories from BBC Future, Culture, Worklife and Travel, delivered to your inbox every Friday.

;