Indigenous Australians have been looking after the Great Barrier Reef for millennia – and are now inviting travellers to gain insight into their ancestral knowledge.
"Only a few hundred people have seen this place," said our Aboriginal guide, Balngarrawarra man Vince Harrigan, as we gazed at a sandstone rock shelter plastered with plump barramundi, cross-hatched crocodiles and eerie spirit figures painted by his ancestors long ago.
The ancient rock art galleries we'd hiked to is one of hundreds – perhaps even thousands – of Aboriginal cultural sites hidden in the wild, tropical savannah of Normanby Station, a sprawling cattle farm near Cooktown on Queensland's Cape York Peninsula, Australia's closest mainland port to the Great Barrier Reef.
By sharing this one with tourists as a guide with Culture Connect, Harrigan doesn't only provide his family with a sustainable income stream. With half of the full-day Rock Art & Ranger Tour dedicated to visiting Balngarrawarra ranger projects, it's also an opportunity to showcase how traditional knowledge is being used to prevent sediment runoff from being flushed down the Normanby River and onto the World Heritage-listed reef – where it's thought to create the ideal environment for coral-eating crown-of-thorns starfish to thrive.
"After more than 100 years of cattle and feral animals roaming this country, the erosion gullies have been getting bigger and bigger," explained Harrigan, who has been working alongside erosion experts from Queensland's Griffith University to remediate them. "We've been using traditional land management techniques like burning to get native grasses growing back to stabilise the soil."
The Balngarrawarra rangers are supported by the Queensland Government's Indigenous Land and Sea Ranger Program, which provides jobs and training to bolster stewardship activities that have been conducted by the 70-odd traditional custodian groups living alongside the 2,300km-long Great Barrier Reef for tens of thousands of years. An increasing number of these custodians are now inviting travellers to gain insight into their ancestral knowledge through tourism, showcasing the importance of reef protection for cultural as well environmental reasons.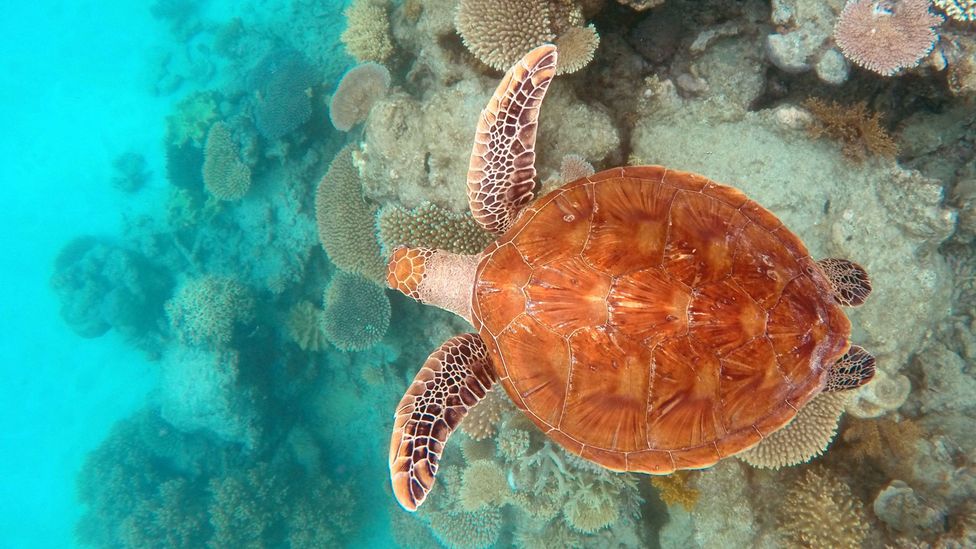 Turtles on the reef are threatened by fibropapillomatosis, a turtle-specific herpes virus (Credit: Sarah Reid)
Among them are the Gudjuda Land and Sea Rangers from the Burdekin region, 650km south of Cooktown, who are also working alongside scientists to combat another threat to the world's largest coral reef system in the form of fibropapillomatosis, a turtle-specific herpes virus first observed in the Great Barrier Reef's turtles in the 1970s.
"Our ancestors never knew about this disease, so it's important for us to understand it so we can help educate our people about it," said Eddie Smallwood, elder and chairperson of the Gudjuda Reference Group based in Home Hill, which works in partnership with Queensland's James Cook University and the World Wildlife Fund, amongst other environmental action groups.
You may also be interested in:
• Australia's forgotten other 'Great Reef'
• A new way to see the Great Barrier Reef
• Who were the world's first bakers?
Thought to be caused by marine pollution, fibropapillomatosis isn't only a threat to turtles, resulting in tumours that can blind them, but also to the reef's cultural heritage. "Turtle has been a food source for our people for thousands of years, but after what I've seen, I don't eat it anymore," rued Smallwood.
As part of their extensive turtle monitoring program, Gudjuda rangers conduct periodic turtle rescue and tagging excursions called "turtle rodeos". And in the coming months, visitors will be able to join these lively catch-and-release data collection events with Gudjuda Tours.
"The tours will give us a chance to show people how we look after turtles, and the important role of turtles in the ecosystem, and in our culture," said Smallwood.
Just a short hop north, in the Townsville region, the Museum of Underwater Art (MOUA) also showcases indigenous conservation themes in its series of aquatic installations released in several stages.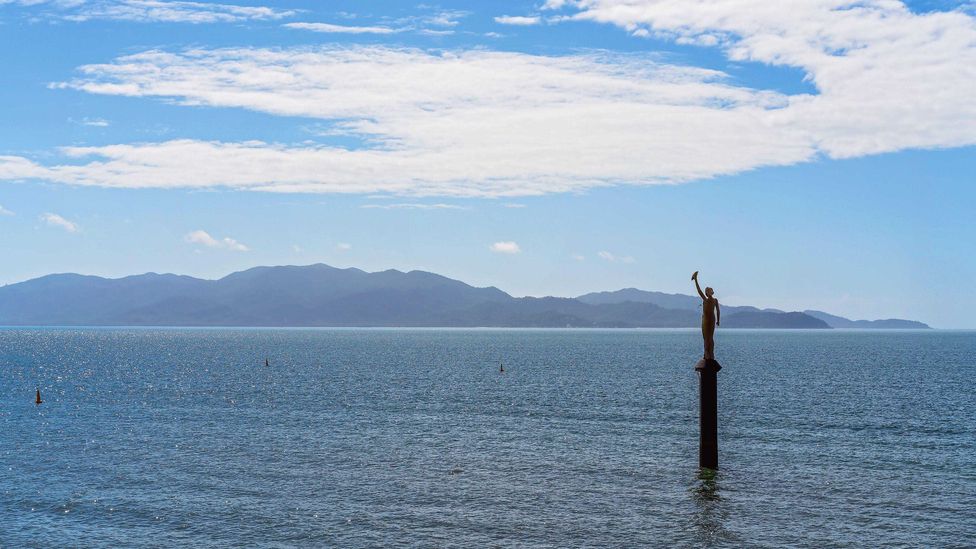 Unveiled in 2019, the Ocean Siren sculpture reacts to live water temperature data on the reef (Credit: Michelle Jackson/Alamy)
Rising out of the water 30m from Townsville's foreshore, Ocean Siren, the first stage of MOUA unveiled in 2019, features a sculpture modelled on then-12-year-old Wulgurukaba girl Takoda Johnson that changes colour to reflect real-time ocean temperatures on the Great Barrier Reef. Facing outward towards the reef, the sculpture hints that climate change doesn't only threaten the reef, which has lost half its coral since 1995, but also the indigenous culture and spirituality tied to it for generations.
Now, in the lead-up to the installation of the third stage of MOUA at Palm Island, currently scheduled for 2022, an indigenous guides training programme has been launched to equip local indigenous people with the skills to lead tours of MOUA and their ancestral lands beyond.
From experience, having been left wanting for personalised cultural context following my own recent dive at the Coral Greenhouse (the second and largest stage of MOUA that opened in mid-2020 at John Brewer Reef off Townsville), the indigenous guides will no doubt also help visitors connect to MOUA on a deeper level.
By experiencing MOUA – and the wider Great Barrier Reef – with indigenous guides, said Manbarra woman, MOUA board member and indigenous guides mentor Vicki Saylor, travellers have an opportunity to conserve the reef by supporting the preservation of indigenous culture,  which centres on the concept of caring for country (ancestral lands).
On a tour with an indigenous guide, everybody learns how to have more respect for the land and sea, as well as each other
"Back in the day, we weren't allowed to practice our culture, so the guides programme is an amazing opportunity for our people to rediscover their culture and share that proudly with visitors," said Saylor when we caught up via Zoom during the new recruits' scuba diving training. "On a tour with an indigenous guide, everybody learns how to have more respect for the land and sea, as well as each other."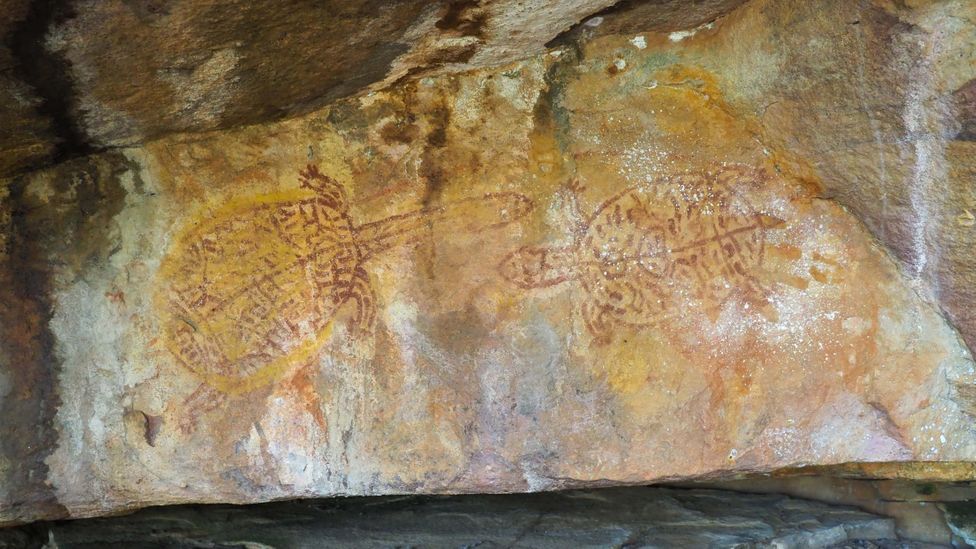 Normanby Station cattle farm is home to ancient rock art galleries and other Aboriginal cultural sites (Credit: Sarah Reid)
Among the eight new recruits, Saylor added, are two grandchildren of the late indigenous land rights pioneer Eddie Kioki Mabo, who moved to Townsville as a young man in 1959 after growing up on Mer (Murray) Island in the Torres Strait. "Koiki went through a lot for our people, and now his grandchildren are going to bring more to the table," Saylor said proudly.
Further up the coast, in the main reef tourism hub of Cairns, visitors can also learn how the Great Barrier Reef's traditional custodians have lived in harmony with the natural icon for millennia on a day trip with Dreamtime Dive & Snorkel. Recruited from four indigenous groups, its sea rangers share lessons from their ancestors via evocative storytelling sessions and traditional dance and music performances after welcoming guests on board with a cultural smoking ceremony.
Launched in 2018, Cairns' first indigenous-led reef operator is also involved in various reef protection initiatives, including the Australian Government Reef Trust Partnership Kul-Bul ("Spirit of Sea Country" in the Yirrgay dialect of the Yirrigungji people), which aims to combine Western biological knowledge with traditional indigenous ecological knowledge to create a holistic approach for stewardship in Yirrganydji sea country.
Dreamtime harnesses this approach on its snorkelling tours, said Mandingalbay Yidinji woman Reggie Morey, a Dreamtime sea ranger and newly qualified scuba diver. "If we see a mushroom coral, for example, our marine biologist will talk about how it works; why it gets slimy when it gets flipped over," she said. "Then we'll talk about how we traditionally used it – as a sunscreen!"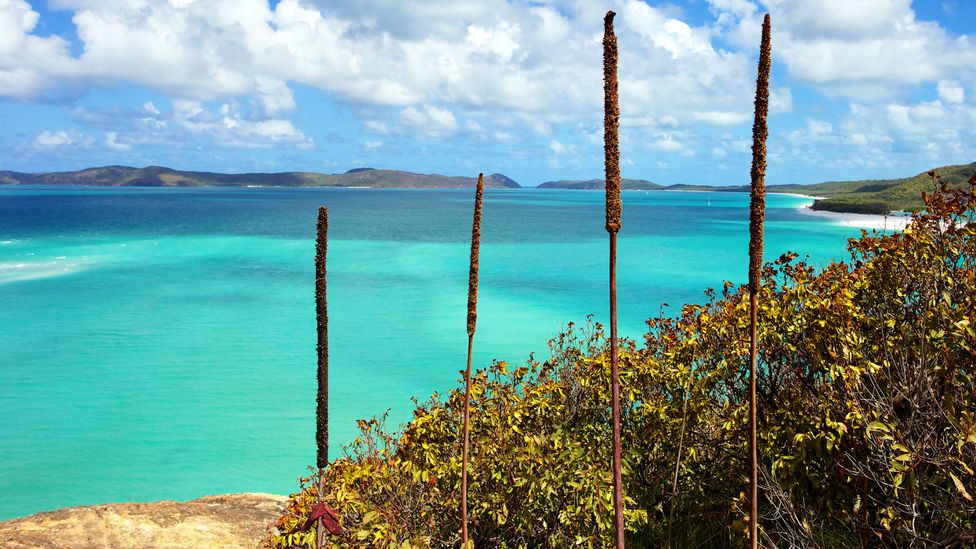 Around 70 traditional custodian groups have lived alongside the Great Barrier Reef for tens of thousands of years (Credit: Hypergurl/Getty Images)

Visitors can also learn about Aboriginal culture and reef conservation projects led by Gidarjil Sea Rangers from the Bundaberg region on a brand-new pontoon near Lady Musgrave Island at the southern end of the Great Barrier Reef. Opened in September 2021, the Lady Musgrave HQ features an underwater observatory that morphs into a bunkhouse sleeping 20 by night. While the Sea Rangers already join reef trips on a regular basis and share their traditional stories as part of the on-board reef presentations and island walks, they'll now be able to stay overnight and add to the traditional owner experience.

Despite the Great Barrier Reef narrowly avoiding an "in danger" diagnosis by Unesco in 2021, scientists claim its conservation requires action well beyond the remit of the reef's traditional custodians. But with more opportunities than ever for visitors to connect with the reef's indigenous conservation story, and actively participate in it, it doesn't only offer new hope for the reef, but a transformative way to experience it, too.

Travel Journeys is a BBC Travel series that transports you to some of the most breathtaking landscapes, far-flung locations and fascinating cultures on Earth.

--

Join more than three million BBC Travel fans by liking us on Facebook, or follow us on Twitter and Instagram.

If you liked this story, sign up for the weekly bbc.com features newsletter called "The Essential List". A handpicked selection of stories from BBC Future, Culture, Worklife and Travel, delivered to your inbox every Friday.

;