Cumberland on Vancouver Island has evolved from a grubby coal town to a mountain biking mecca, all thanks to passionate locals who claimed control of their landscape.
I
It was a crisp and unusually sunny November morning and I'd just cycled up a steep switch-backing trail outside the village of Cumberland on Canada's Vancouver Island in the muddy slipstream of local mountain biker, Jeremy Grasby.
We stopped for a breather where the dense trees gave way to recently planted saplings and took in the expansive view: the muscular ramparts of the Beaufort Mountains behind us; a lush green forest canopy backed by the glittering Strait of Georgia below. The indigenous K'ómoks people call this place "the land of plenty" and it's not hard to see why. I could have stood there all day absorbing the autumn sun, but Grasby had other plans. He'd promised to take me back down to the village on a web of twisting mountain bike trails built and maintained by a local non-profit called the United Riders of Cumberland (UROC)
"Each trail reflects the personality and riding style of its builder," Grasby explained as we crested a final hill and got ready for our first descent. "There's raw, unrefined trails like Roughneck, and smooth, flowing ones like Vanilla."
We were poised at the top of a winding root-covered trail called Blueprint, whose bone-rattling course seemed to have been designed by someone with a sadistic streak. After a brief pause for water, Grasby took off, catapulting fearlessly through the trees. I brought up the rear, descending clumsily in stops and starts like a baby learning to walk. I found him waiting for me charitably on a logging road several hundred metres below, a satisfied grin on his face.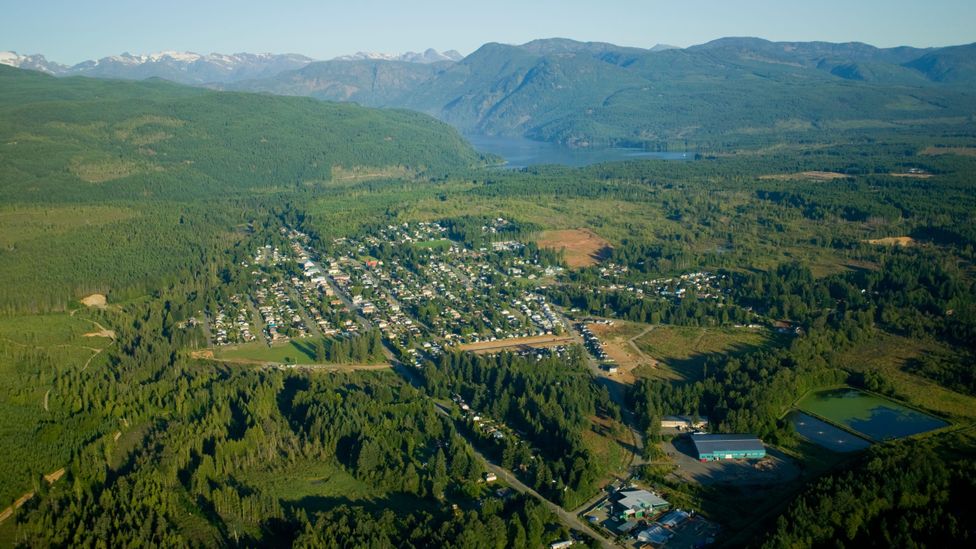 Cumberland is nestled in the foothills of the Beaufort Mountains on Vancouver Island (Credit: All Canada Photos/Alamy)
The forests around Cumberland are riddled with bike trails. Developed over the last 20 years, they make up a network that, placed end to end, would extend for 200km. The burgeoning cycling hub hasn't gone unnoticed. Half a dozen prestigious annual races are now held on its web of serpentine paths and, in 2020, the network saw a record number of users, despite the pandemic.
"The original trails were built on private land owned by timber companies," said Grasby. "They were tolerated, but not strictly legal."
You may also be interested in:
• Canada's secret beach with purple sand
• A new way to travel across the US
• The Swiss village lost in Canada
The arrangement wasn't sustainable. To solve the problem, Grasby and other local bikers founded the UROC in 2008 with the intention of reaching an understanding with the timber companies over trail-building and forest access.
"Mountain biking has always attracted non-conformists and strong personalities," Grasby told me as we headed back to The Riding Fool, a hostel he's owned in the village since the early 2000s. "Cumberland is no different; but in order to ensure continued access to the trails we built, we had to organise. The bikers turned politicians. Building trails is one thing, advocating for them is another."
A formal land-use agreement was signed between the UROC and the timber companies in 2015. It marked a huge step forward for the community and its mountains bikers who had long seen themselves as unofficial custodians of the forest.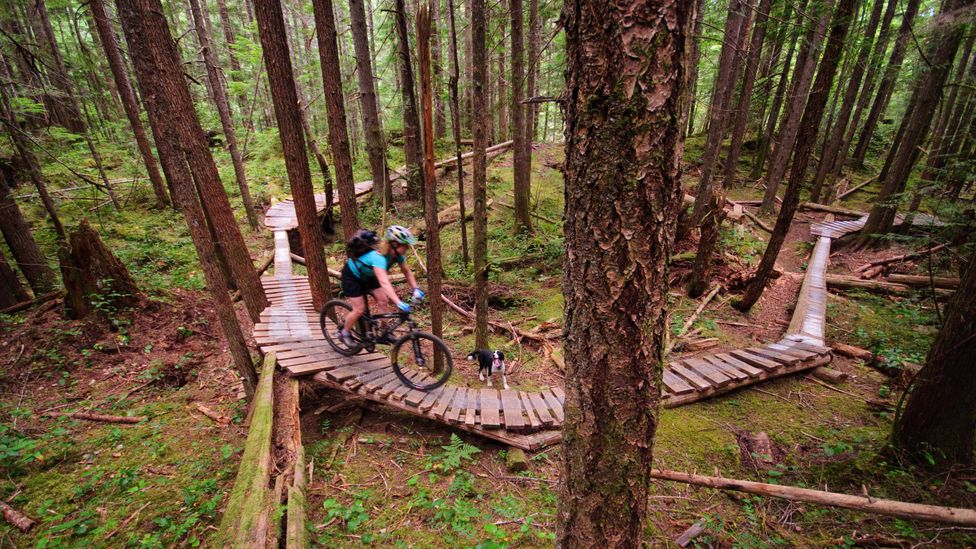 Most of Cumberland's vast trail network is located in a privately owned forest (Credit: All Canada Photos/Alamy)
They weren't Cumberland's only environmental advocates. Perched on the cusp of the Comox Valley and the lofty Beaufort Mountains in east-central Vancouver Island, this diminutive community of around 4,300 people has long styled itself as a "village in the forest". In 2000, a group of concerned residents, worried that extensive logging was threatening their green paradise, banded together and formed the Cumberland Community Forest Society (CCFS). Rather than negotiate for land access with the timber companies like the OROC, the CCFS concluded that the most effective way to protect the forest from logging was to buy part of it. It was an ambitious plan but, in 2005, after five years of vigorous fundraising, the society accumulated sufficient money to purchase a 72-hectare parcel of pristine forest close to the village for C$1.2 million. They promptly eco-gifted the land back to Cumberland as a "Community Forest".
Inspired by their initial success, the CCFS pushed forward with more land purchases. In 2016, they bought a 40-hectare parcel called Space Nugget; and in 2020 they acquired 91 hectares around a salmon-bearing stream called Perseverance Creek. Today, while the lumber industry continues to harvest timber in the area, the 200-plus hectares purchased by the CCFS have created a protected ring of biodiverse woodland around the village that has been left to mature naturally.
The emergence of two complementary grassroots organisations in Cumberland at the same time wasn't coincidental.
We shared a love for the edgy, raw, working-class character of this place
"The village had a pre-existing character of grit and guts," explained Meaghan Cursons, the CCFS's executive director. "The folks who were drawn to the community in the '80s and '90s had some of those same character traits. We didn't come to gentrify; we came to amplify. We shared a love for the edgy, raw, working-class character of this place."
The grit and guts stem from Cumberland's history as a coal town. Coal was first discovered in the area in the 1850s, but it took three decades and a canny Scottish industrialist called Robert Dunsmuir to bring the black gold to the surface. In 1898, Cumberland was incorporated as a city and, for the next quarter century, "king coal" ruled. At its peak in 1910, Cumberland produced millions of tonnes of coal a year and the city supported a population of 13,000, including the second largest Chinatown on North America's west coast.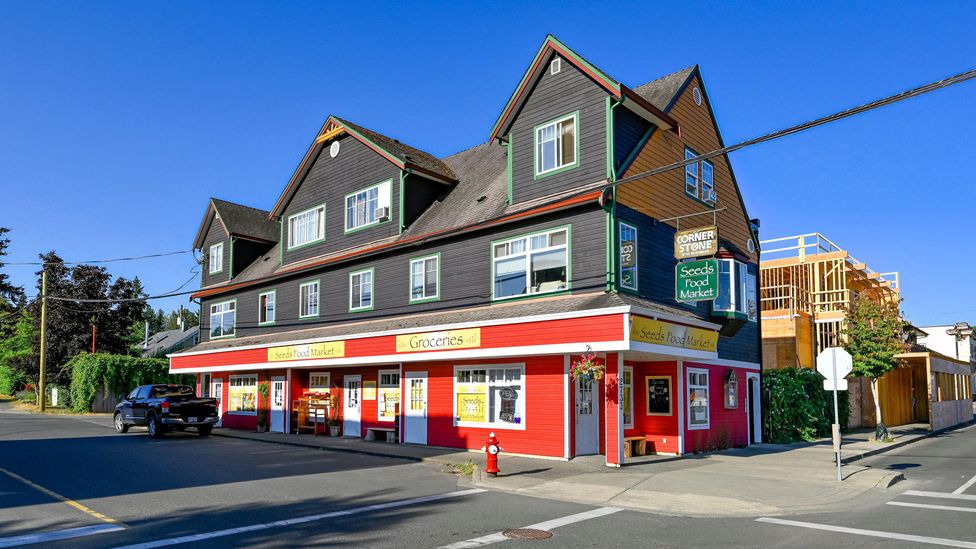 The once downbeat main street has transformed into a vibrant hub in recent years (Credit: Michael Wheatley/Alamy)
But, ridden with union strife, Vancouver Island's mining industry was dirty and dangerous. Hundreds were killed in gas explosions and in 1912, safety issues and lack of union recognition provoked a bitter two-year strike. Coal production declined after the Great Depression and by the 1940s, it had slowed to a trickle. Bereft of economic clout, Cumberland reincorporated as a village and the last mine closed in 1966.
In the 1970s and '80s, the village stuttered along barely surviving, as economic development shifted east to the growing hubs of Courtenay and Comox. Real estate agents shunned the place and locals were written off as whimsical or just plain weird. But Cumberland's small nucleus of artists, hippies and bikers weren't throwing in the towel.
"We felt the need to prove our worth as a community because we had been treated like an underdog, located on the wrong side of the tracks," said Cursons of Cumberland's 21st-Century renaissance. "We wanted neighbouring communities and visitors to know that we had a story to tell."
While the village might have ditched coal for nature, it still proudly extols its industrial past. A fact-packed local museum contains a mock-up of an old mineshaft, and various information boards around the village detail the history of erstwhile mining operations.
Notwithstanding, the biggest lure these days is mountain biking.
Tap a cyclist in these parts and they'll likely tell you that Vancouver Island is one of the best places in the world for cyclists. The secret's in the dirt; the consistency of the damp, moist soil on the forest floor that makes it good for riding.
Since the historical land-use agreement legitimised the network in 2015, Cumberland has become a destination village for cyclists from all over the world. One pedal turn from the main drag and you're flying through rich temperate rainforest. The trails logged around 70,000 users in 2020, and it's not just bikers. The UROC network overlaps with Community Forest land and the trails are multi-use. Some have historical signage relating to the area's industrial past. As well as cyclists, they attract naturalists, school groups, families and hikers.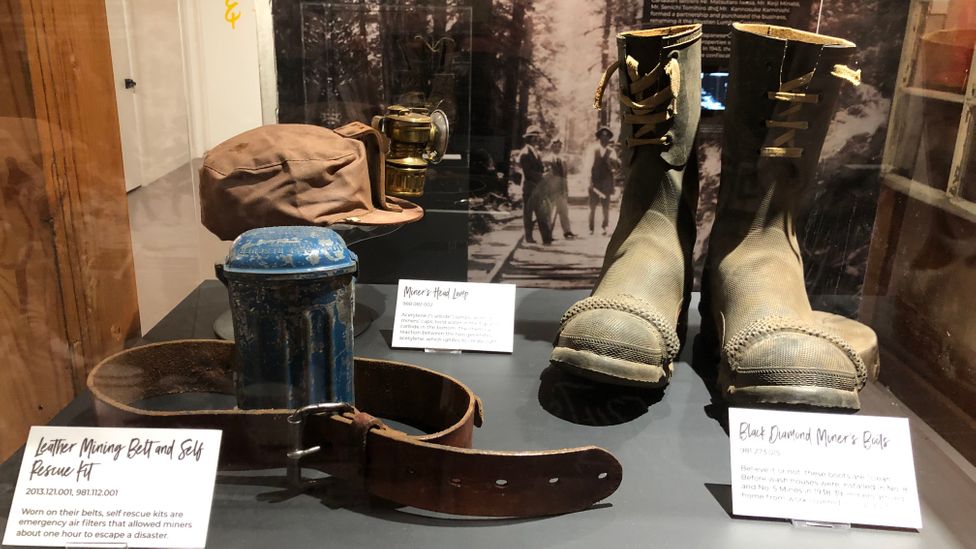 Cumberland's history as a coal town can be seen at the fact-packed local museum (Credit: Brendan Sainsbury)
The growing popularity of Cumberland as a recreational hub has had a knock-on effect for the local economy. Despite its small size, the village now has a microbrewery, several clothing boutiques, a chocolate shop and an island-wide reputation for live music. On the flip side, property prices have quadrupled in less than a decade and the blue-collar demographic is changing. Some locals fear creeping gentrification; others suggest that Cumberland should veer away from the mainstream and continue to embrace its weirdness.
"Like so many other communities, the pace of growth in Cumberland has outpaced our ability to plan as a community," admitted Cursons. "But as we've grown in size and reputation, we have also come to realise that strong community needs the protection of the things we value like heritage, nature, water and that gritty underdog character that underpins our collective identity."
Notwithstanding, during my short stay in Cumberland, every resident I spoke to professed a deep love for the place.
I love Cumberland because I feel like we still have a meaningful opportunity to shape our collective story
"I love Cumberland because I feel like we still have a meaningful opportunity to shape our collective story," said Cursons, who has lived in the village for 26 years. "Our actions, our volunteer efforts, our creativity and our passions still make a difference in how the community is changing and developing."

It's hard to disagree. As I took my rental bike back to the shop and dipped into a casual taco restaurant for dinner, I couldn't help feeling a sneaking admiration for this city-turned-village that swapped coal mining for mountain biking, and raised millions of dollars to buy a forest. It shows that small communities can still claim control of their landscape, and that grassroots volunteer action can replace dirty industry with something that's more sustainable and fun.

--

Join more than three million BBC Travel fans by liking us on Facebook, or follow us on Twitter and Instagram.

If you liked this story, sign up for the weekly bbc.com features newsletter called "The Essential List". A handpicked selection of stories from BBC Future, Culture, Worklife and Travel, delivered to your inbox every Friday.

;