Sierra Leone recently got its first traditional fine-dining restaurant: a buzzing oasis where West African history and culture meet haute cuisine.
C
Cooking, as well as intergenerational storytelling, is a deeply rooted part of Sierra Leone's rich heritage. Preparing food and sharing family recipes forges a connection to ancestors, friends and community. But it's something that's usually only celebrated at home, with loved ones. If you don't have a generous auntie to cook you a spicy krain-krain (leaf stew) with smoked fish or foofoo (sticky dough made from fermented, pounded cassava), then good luck trying to get a taste of this intriguing cuisine.
Local favourites include jollof rice with tender beef stew, sweet plantain and binch (black-eyed beans), and groundnut soup, but as younger generations leave the rural provinces for city life and fast food, many of the punchy and complex flavours of the country's traditional dishes have quietly faded from public view or been forgotten entirely – until now.
Since November 2021, a new restaurant, The Cole Street Guest House, has put Sierra Leone's ancestral flavours front and centre, creating a buzzing oasis where history and culture meet haute cuisine. It's the country's first gourmet restaurant to be dedicated entirely to the nation's traditional dishes, celebrating the legacy of the country's 16 ethnic groups (or tribes). But there's also a special sort of magic at the Cole Street Guest House, where intricate family recipes passed down through generations of mothers and grandmothers are taking the spotlight.
In a small, tiled courtyard in the capital city of Freetown, Chef Miatta Marke skilfully gathers chillies, patmingi (a Sierra Leonean basil) and collard greens for her chopping board from a colourful kitchen garden. She opened Cole Street determined to capture the spirit of her childhood community of Murray Town, which had been led and fed by powerful women who had endured wars, raised families and made history.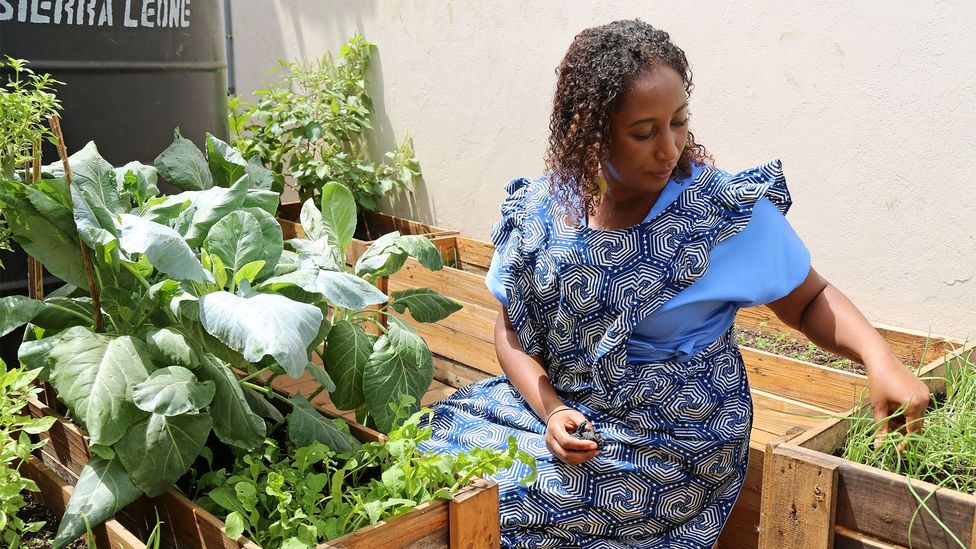 Chef Miatta Marke's culinary mission is to serve Sierra Leone its own food (Credit: Amelia Martyn-Hemphill)
The women in Marke's family are part of this legacy. Cole Street's mid-20th-Century building, with its outdoor courtyard and kitchen garden, originally belonged to Marke's grandmother, Lati Hyde-Forster MBE, who was the first woman in Sierra Leone to graduate from university. She was hazed for being the only woman there, but went on to become the first female African school principal in the country. Marke and her cousins were born and raised in their grandmother's house, planting the sprawling java apple tree that now shades restaurant diners.
As a young teenager, Marke moved to England and settled in rainy Brighton with her mother, who was a paediatric doctor. Marke became a human rights lawyer, working for the UN and later specialising in women's rights cases. But over the years, her daydreams of Sierra Leonean sunshine mingled with thoughts of the spiced red snapper and tangy ogiri (fermented oil seed) soup her grandmother used to make, leaving her pining for home. Despite her legal career in the UK, she decided to return in 2021 to her late grandmother's home.
Marke started cooking at age eight, learning from her grandmother and later developing her skills further on her own. Travelling extensively with her mother through Sierra Leone's rural provinces, she would note down unique ingredients and cooking techniques, garnering knowledge from everyone she could. She would then spend hours testing recipes, recreating local specialities and adding her own flair. Marke's mission was a simple one: to serve Sierra Leone its own food, something that was missing from Freetown's restaurants.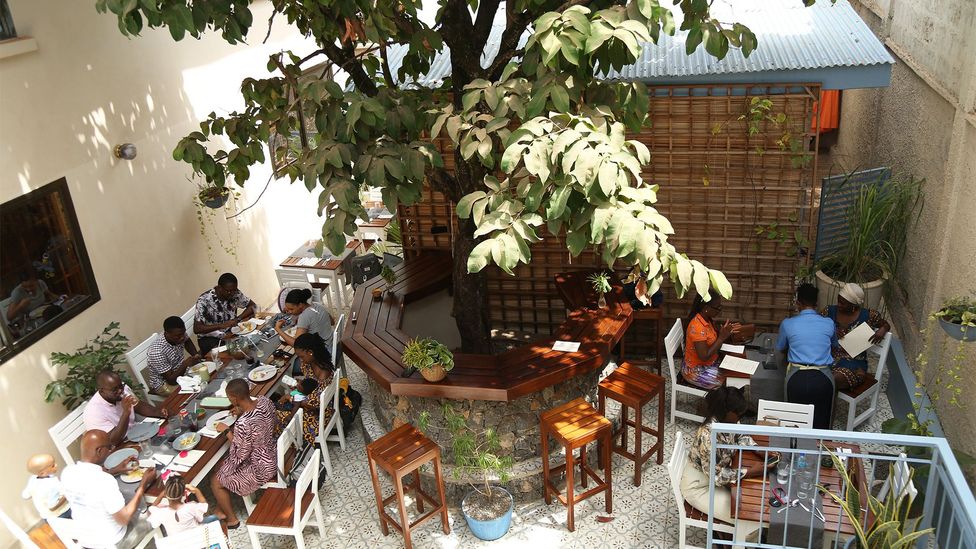 The Cole Street Guest House is the first gourmet restaurant to be dedicated entirely to Sierra Leone traditional dishes (Credit: Amelia Martyn-Hemphill)
Before Cole Street, the city offered only a range of higher-end eateries, but the overwhelming majority were foreign-owned or attached to international hotels, serving intercontinental dishes. While some local favourites like cassava bread or plasas (green leaf stews) could be found at informal street stalls known as kukry, you'd be lucky to find one traditional dish on most restaurant menus.
My soul died a little bit every time I'd go into what was considered a fancy restaurant in Freetown
"My soul died a little bit every time I'd go into what was considered a fancy restaurant in Freetown, and there would be little or no Sierra Leonean food on the menu," Marke said. "I think on a subliminal level, that messaging really destroys the self-esteem of Sierra Leoneans around their food culture."
In contrast, ancestral stories infuse Cole Street's walls and recipes. A regal portrait of Marke's grandmother watches over the guesthouse diners. And the restaurant's huntu recipe (see below) is a nod to the Fulani tribal heritage of her great-great-grandmother, Aminata Bah, who, as a young girl, escaped from a slave ship and settled in Ghana, before uprooting her life and moving to Sierra Leone when she met her husband. The steamed cornmeal dumplings made of spring onions – with a parsley-chilli, prawn-and-lobster stuffing – are a warming mouthful that tastes both decadent and fresh.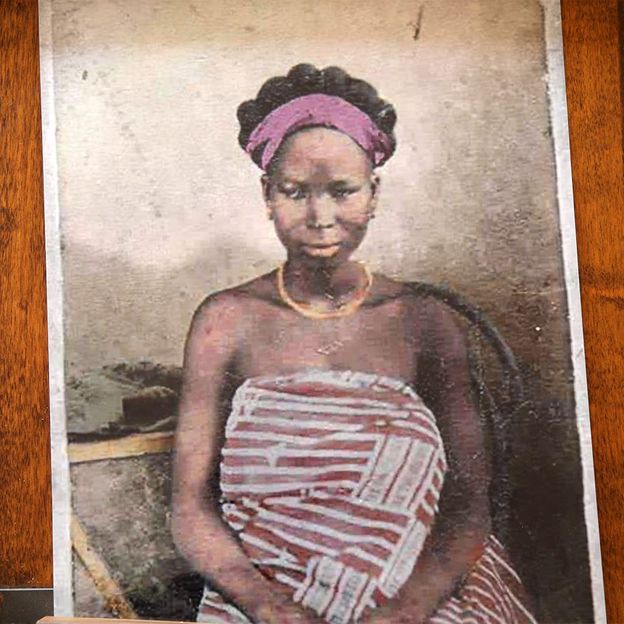 Marke's great-great-grandmother, Aminata Bah, escaped from a slave ship as a young girl (Credit: Amelia Martyn-Hemphill)
According to Marke, eating at Cole Street should feel like coming home to your mother's kitchen. "The ethos is about just being really generous – generosity in terms of portions, generosity in terms of that feeling that you want the guests to leave the restaurant with," she said.
The powerful influence of her ancestors is interwoven with playful modern flavour pairings. Foorah is a sweet treat traditionally prepared at ceremonies to honour the dead 40 days after their passing. Cole Street's version of the delicate, steamed rice-flour dumplings, akin to the Japanese mochi, are laid around a small ceramic bowl of tamarind-caramel dipping sauce and sprinkled with an ethereal sugar dusting. The sweet sharpness of the sauce cuts through the soft texture of the dessert, which has amassed a loyal following.
Then there's the acheke, a hearty main course with a base of garri (a coarse granular flour) that's topped with red snapper, tempura oysters, grilled tiger prawns, fried plantains and scotch bonnet chillies. Cole Street's intricate soups – a blending of steamed leaves, herbs, spices and smoked creatures of the sky, land and sea – are boiled for days to reach the richest texture possible.
"I describe [Sierra Leonean food] as having complex layers of flavour," Marke said. "It surprises you in the same mouthful several times. It's pungent, it's strong, it's punchy, but it also can evoke memories, I think. It always says something."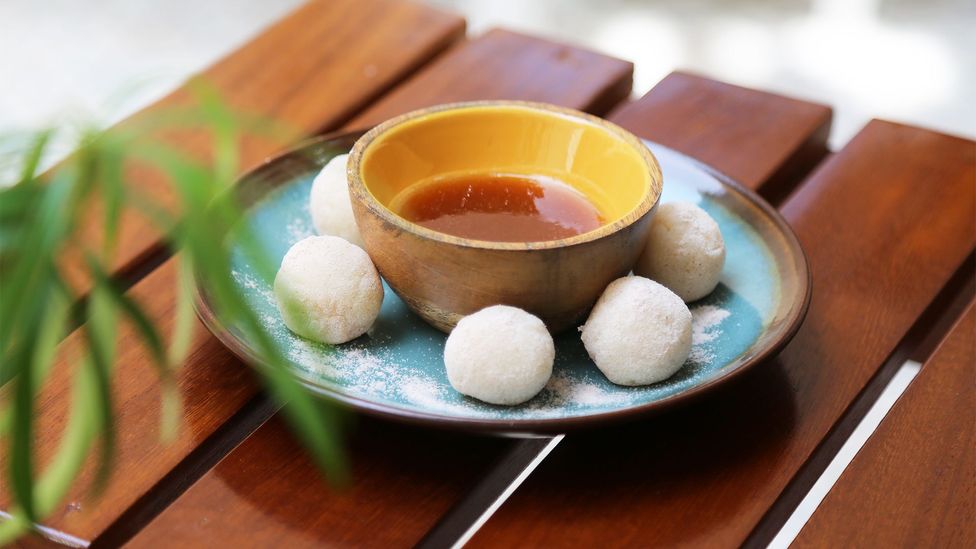 Foorah: steamed rice-flour dumplings with a tamarind-caramel dipping sauce (Credit: Amelia Martyn-Hemphill)
An old provincial ritual of toasting slices of smoky cassava over an open fire before slathering them with melted butter and wild honey most recently captured Marke's imagination. Her tribute was a crumbly, sweet cassava drop scone adorned with malted-milk ice cream. The humble cassava gets a starring role on the menu elsewhere too, elevated from a simple starch to Cole Street's now locally famous "cassava bread" tortillas, filled with grilled mackerel, crispy minnows, mango and ground chilli.
Marke is one of several trailblazing female chefs from Sierra Leone grabbing attention for their bold flavours. Fatmata Binta's Fulani Kitchen "dine on a mat" experience started off in Accra, Ghana, and has now been recreated in top restaurants around the world. Her creations pay tribute to West Africa's most well-known and financially prosperous nomadic herdsmen, the Fulani people, and won her the prestigious Rising Star accolade at the 2021 Global Best Chef Awards.
Maria Bradford is enchanting the UK market with her high-end, fine dining experience Shwen Shwen, which means "fancy" or "gourmet" in the Krio language. "My mission was to connect people through food and construct a platform on which others can build," explained Bradford. "It's great to see others rising up, following their dreams and amplifying our culture with their passion." Bradford's debut cookbook Sweet Salone will be launched in September 2022. 
Honouring the country's 16 tribes is an important part of Cole Street's mission. Like the majority of Sierra Leoneans, Marke herself hails from a mixture of tribes. Her great-great-grandmother was Fulani, her parents are Krio and she was named after her mother's Mende best friend.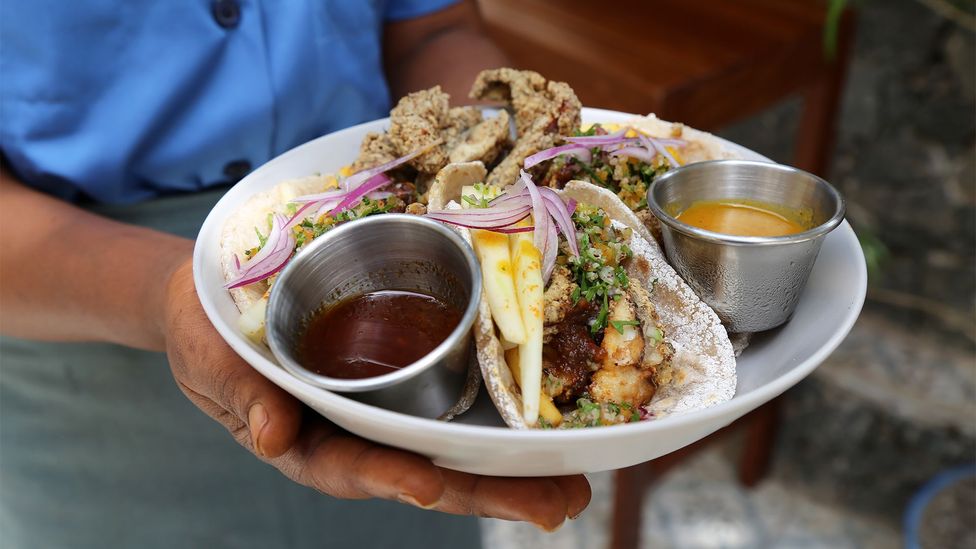 Cassava bread tortillas with grilled mackerel and crispy minnows, mango and ground chilli (Credit: Amelia Martyn-Hemphill)
"I find it remarkable that for a country with so many tribes – each with their distinct languages and practices – not only has Sierra Leone never had any tribal-related conflicts, but we also intermarry and get along very well. Our food also celebrates that," Marke said.
Cole Street's most popular dish is the jerk goat, a 35-year-old family recipe preserved as it was originally written. The lightly spiced meat is impossibly tender, served with a generous portion of rice and black-eyed peas. It has the feel of a joyful wedding feast, dressed up with sweet plantain and a pawpaw-and-cucumber salsa.
"My dad's family are the Contons [a historical Sierra Leonean family] who hail from the West Indies," Marke explained. "It seems like an anomaly in the menu, but it's also part of our Creole food story." These are recipes of resilience – each one acknowledging a complex history of mixing, adapting and surviving that has passed down through generations.
I really want to bring a sense of pride to the neighbourhood, and to bring a sense of pride to our Sierra Leonean cuisine
Now a mother to her own daughter, who is studying at university, Marke is determined to continue the history of female empowerment and voracious learning that her ancestors began. The restaurant is closed on Mondays and Tuesdays for the mostly female staff to attend further education and vocational training.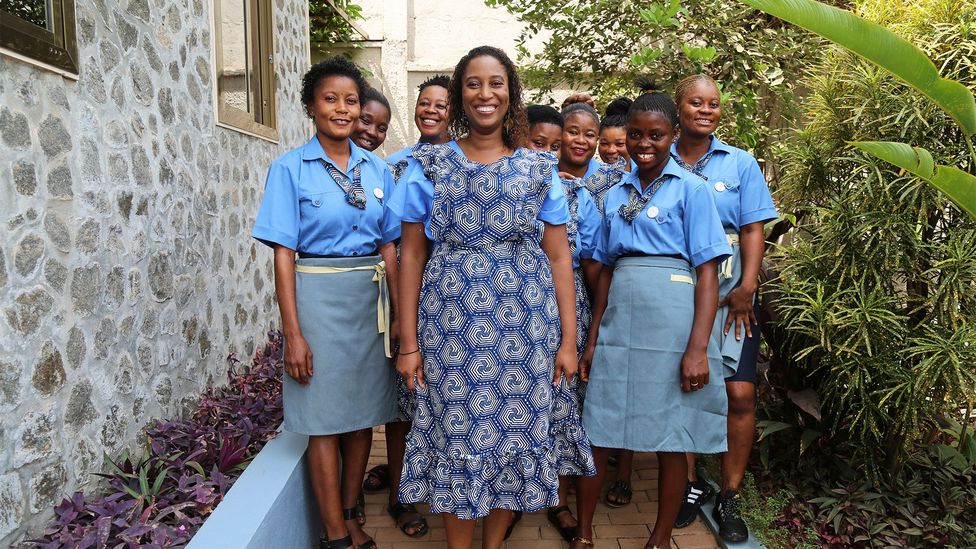 Marke employs local women who either face challenges or have overcome adversity (Credit: Amelia Martyn-Hemphill)
"I wanted to employ women who are local, and who either face challenges or have managed to overcome adversity," she explained. "This is the Sierra Leonean family way that is not just in our menu but our ethos too."
Cole Street is also committed to local food sovereignty, despite the logistical challenges of Sierra Leone's patchy infrastructure, water shortages and frequent power outages. Marke granted usage of 27 acres of farmland upcountry to an association of women and children at risk, who now sell their farming produce to the restaurant. For Marke, success is about staying connected to community and honouring the sustainable food practices of the generations that came before. 
"I really want to bring a sense of pride to the neighbourhood," she concluded, "and to bring a sense of pride to our Sierra Leonean cuisine."
Cole Street has been fully booked since its opening, drawing in crowds of young professionals, families, tourists, expats and older couples hungry for Sierra Leonean nostalgia.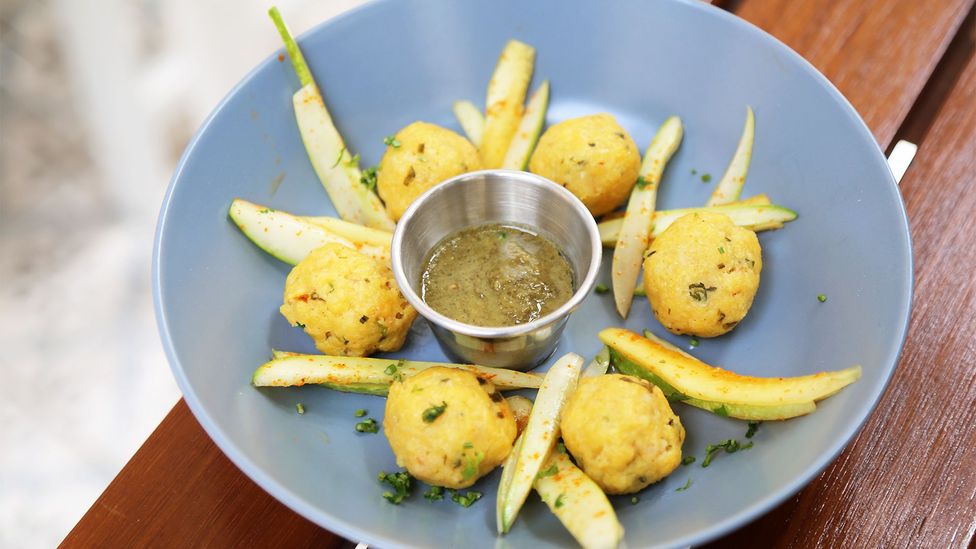 Huntu: steamed cornmeal dumplings, with a parsley-chilli, prawn-and-lobster stuffing (Credit: Amelia Martyn-Hemphill)

Huntu recipe (serves 4-6)
By Chef Miatta Marke (adapted for BBC's World's Table)

Prawn stock

Ingredients:

Discarded prawn heads (from dumpling prep below)
3 tbsp vegetable oil
1 medium white onion, roughly chopped
2 garlic cloves
2 bay leaves
1 tsp peppercorns
2 tsp salt
4 cups water

Instructions:

Peel and de-vein prawns (set aside for dumplings). Sauté prawn heads and chopped white onion in vegetable oil over high heat, crushing and breaking apart the prawn heads, until the onion starts to caramelise. 

Add garlic cloves, bay leaves, peppercorns, salt and water. Lower to medium heat and simmer for 20 minutes. Sieve and set aside the resulting stock.

Dumplings

Ingredients:

2 cups medium cornmeal
2 medium white onions, either minced or finely chopped
2 red habanero chillies, deseeded and either minced or finely chopped
½ cup of vegetable oil
1 kg peeled and de-veined prawns
1 cup sliced spring onions
1 lobster tail, medium diced
Prawn stock (reserved from above)
Salt and pepper

Instructions: 

Toast cornmeal on medium heat, stirring briskly, until warmed through and giving off a slightly toasted aroma. The colour of the cornmeal should not darken beyond one shade, if at all.

Sauté chopped white onions and chillies in vegetable oil over medium heat until onions are translucent, starting to caramelise and have lost their "raw" smell. Set aside.

Finely chop prawns until they start to stick together but are not completely smooth. Combine cooked onions and chillies with chopped spring onions, chopped prawns, cornmeal and stock, and mix thoroughly. Season with salt and pepper to taste.

Take a tablespoon of the mixture and slightly flatten into an oval in the palm of your hand. Place a dice of lobster in the centre then form the mixture into a circle, ensuring the lobster is in the middle.

When all the dumplings are formed, chill for up to 12 hours until ready to steam.

Dipping sauce

Ingredients:

1 large bunch of parsley
½ cup water
2-3 garlic cloves
4 green chillies
¼ cup vegetable oil
½ cup lime juice
Salt

Instructions:

Place parsley, water, garlic cloves and chillies in a saucepan. Cover over medium heat and simmer for 15 mins. Remove from heat, add oil, and blend at high speed for 1 minute until smooth and glossy. You may want to add a little more water to loosen up the sauce as you blend. Add lime juice and season with salt to taste.

To assemble:

Bring water to a boil and steam dumplings for 8-10 minutes until cornmeal is cooked throughout and the lobster is opaque but tender. Serve dumplings with dipping sauce.

BBC.com's World's Table "smashes the kitchen ceiling" by changing the way the world thinks about food, through the past, present and future.

--- 

Join more than three million BBC Travel fans by liking us on Facebook, or follow us on Twitter and Instagram.

If you liked this story, sign up for the weekly bbc.com features newsletter called "The Essential List". A handpicked selection of stories from BBC Future, Culture, Worklife and Travel, delivered to your inbox every Friday.

;