For more than 70 years, this tiny restaurant has been dishing out its signature meal – Kethel's fried chicken – Kerala's spicy, finger-licking food.
A
As rain lashed Thiruvananthapuram, the capital of the Indian state of Kerala, I hurried past one of its most famous landmarks, the Padmanabhaswamy temple, towards the bustling Chalai marketplace. Wading through ankle-deep water, I entered a narrow alley and finally spotted the unobtrusive signboard for the other landmark I was seeking: Hotel Rahmaniya, home to the best fried chicken in the state. Relief – and the spicy aroma of masala – wafted over me.
For more than 70 years, this tiny restaurant (not a hotel, as its name implies) has been dishing out the perfect finger-licking food to generations of diners, from top government officials, film stars and celebrities to locals and college students. Keralites playfully call it Kethel's fried chicken (KFC), but that's where any similarities end. This is a definitively Kerala dish, with a distinctly Kerala story that dates back long before the global fast-food chain arrived here. It's even been trademarked as Kethel's Chicken™ Fry, to avoid any confusion.
Fried chicken is a popular dish in Kerala – where it's called "chicken fry" – and is almost always spicy and fiery. Many variations are offered in thattukadas (street stalls), toddy shops (spots selling an alcoholic drink made from coconut palm) and restaurants. It comes roasted, broasted (broiled and roasted), grilled or deep-fried, and everyone has a personal favourite version.
But Kethel's is different. Whereas most restaurants use a mature bird, Kethel's uses only spring chickens, not older than 45 days and weighing between 400g and 450g, for their leaner meat and more tender bones. Only the legs and wings, the meatiest pieces of the otherwise small bird, are taken for the fry. The rest is chopped to make a gravy. A fiery masala is hand-pounded then hand ground, and then the chicken pieces are marinated in this special spice mix and deep-fried in coconut oil on a wood-fired stove. The leftover masala is also deep-fried, and when the chicken is served, the delectable bits, called the podi, are placed on top. They're tiny flavour bombs with fried specks of chilli flakes that have absorbed the coconut oil and other spices.
"Kethel's as a brand is synonymous with the tender chicken fry," said food blogger Anjana Gopakumar, a food and beverage consultant who is also an admin of the popular Facebook group Eat at Trivandrum. "For Thiruvananthapuram folks, it is an iconic name, and people come from far and wide to eat it."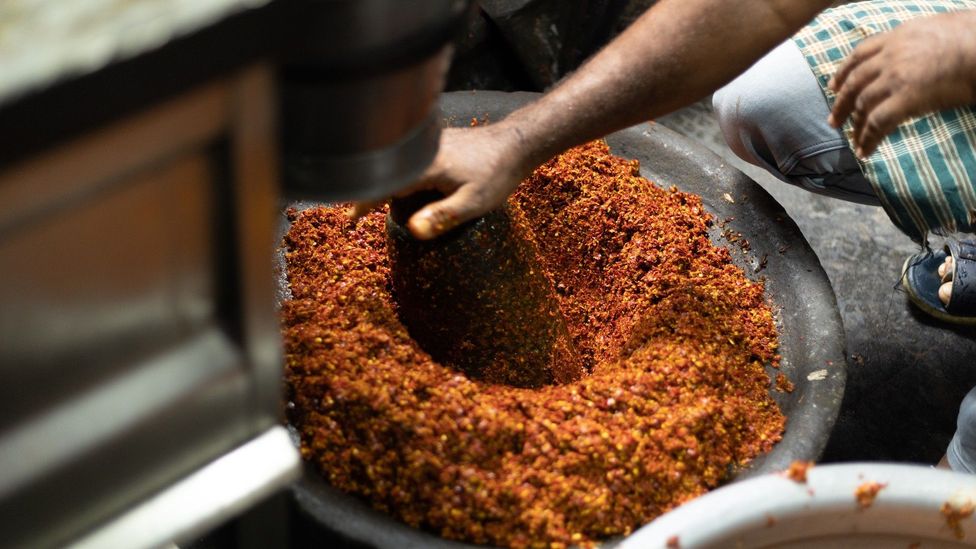 Dried red chillies, chilli flakes, rock salt, fennel seeds and other spices are ground coarsely (Credit: Hari Prasad)
Hotel Rahmaniya was founded by Muhammed Abdul Khader more than seven decades ago. In the 1940s, when political protesters and activists were gathering in the city's Putharikandam Maithanam grounds, demanding that the Princely State of Travancore join the Indian Union, Khader started serving tea at these rallies. He became so popular that he was nicknamed "Kettle Sahib" ("Kettle Sir") because he was always spotted with his kettle, and that morphed into Kethel Sahib. In the following decade, Khader cashed in on his acclaim and opened Hotel Rahmaniya.
His soon-to-be-famous chicken evolved in the mid-1970s. Khader's son Maheen said they first experimented with country chicken (free-range chicken), but that didn't give them the desired consistency when deep-fried. That's when they struck upon the idea of using a spring chicken. To this day, Maheen – who has been running the restaurant since his father passed away in 1993 – has spring chickens brought in daily from their trusted source in Namakkal, Tamil Nadu, the poultry capital of India. All the ingredients are fresh, and the chickens are slaughtered on the day they are served – there are no freezers, nor a fridge to store any leftovers either.
The day starts early in the restaurant. One of the workers, Basheer, pounds spices in a huge stone mortar with an ulakka (long pestle). Dried red chillies, chilli flakes, rock salt, fennel seeds and other spices are ground coarsely, the rhythmic beat calming in the busy kitchen. Once he gets the right consistency, he adds hot water, and grinds it to a thick paste using a shorter, heavier pestle. The masala is then rubbed into the chicken pieces, which marinate for half an hour.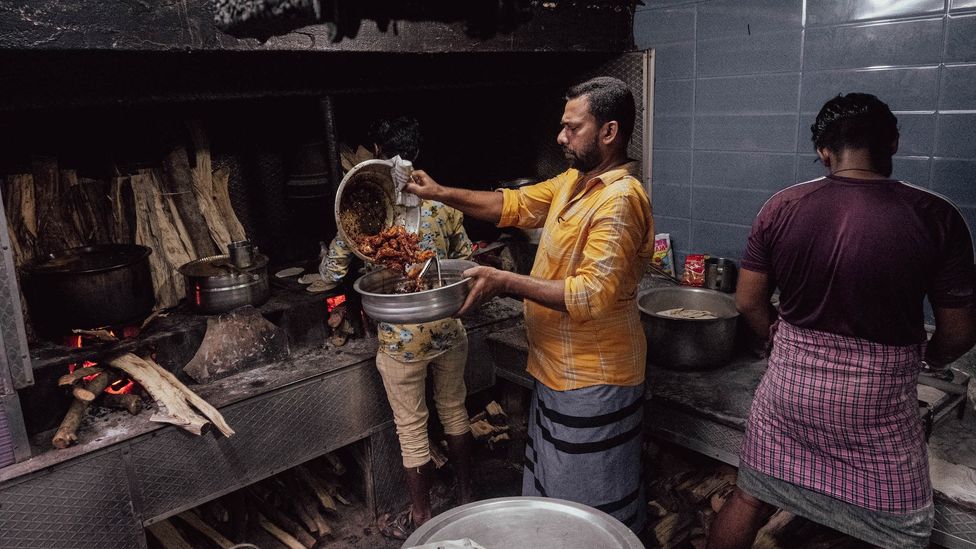 The chicken pieces are marinated in a special masala and deep-fried in coconut oil on a wood-fired stove (Credit: Hari Prasad)
The restaurant is small and basic, with just enough space to accommodate five communal tables and benches. When I arrived, smells from the kitchen wafted through the room, and I sat down to share a bench with strangers – all focussed on enjoying the food, hardly interacting.
I was ready to eat too, and another worker, Siddique, laid out the restaurant's eco-friendly plate – a freshly washed banana leaf – in front of me. Since the 1980s, the restaurant serves only chicken fry and a single alternative of chicken-liver fry. Siddique placed lime pickle (a relish of limes, chillies, garlic and salt) and a saucer of chicken gravy on my leaf. Next came hand-squeezed lime juice and small, oil-free chapatis. Siddique then served the chicken fry, carefully choosing pieces from a large stainless steel bowl he carries to each diner: two legs, two thighs, two drumettes and two wingettes. He then scooped some of the podi and served it on top of the chicken. I asked for more.
I dug into the chicken first, picking up a piece with my fingers and savouring the juicy meat, the hit of spice, and the bones that are so soft you can chew through them. I followed it up with a sip of cooling lime juice. After that, I turned to the chapati, breaking off a piece, dunking it in the gravy and lightly touching the lime pickle. Then it was back to the chicken.
"[Kethel's chicken fry] stands out as their own signature dish which no one can imitate," said Lekshmi Nair, celebrity culinary expert and host of popular TV shows including Magic Oven and Flavours of India. Though many have tried: There are dozens of YouTube videos by home cooks and professional chefs claiming to have perfected the dish.
"Even if the recipe of the masala is known, many other factors come into play: the time the bird is rested after it is slaughtered, the duration of the marination process and the frying (under-fried but not under-cooked) process," said Maheen, confident that no one can re-create the original.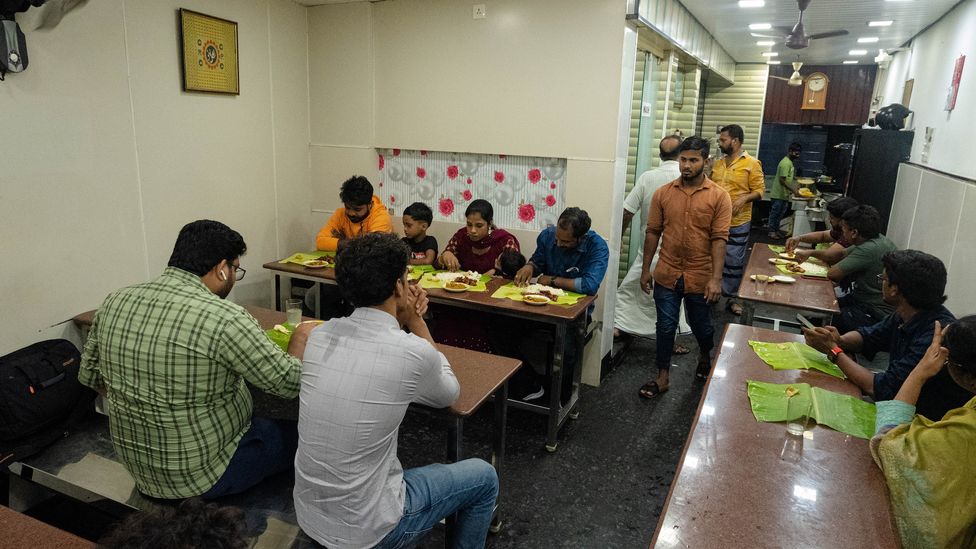 The restaurant is small and basic, with just enough space to accommodate five communal tables and benches (Credit: Hari Prasad)
According to Nair, the difference in Kethel's version is the spring chicken, and the special masala that is coarsely ground, which adds depths of flavour and texture to the dish. "Another thing I noticed is that they followed the traditional style of using firewood stoves for frying the chicken," she added.
As I finished the last piece of chicken, I remembered a tale I'd heard about Kethel Sahib supposedly giving a discount to those who ate more. When I asked Maheen about it, he replied with a twinkle in his eye: "There is no billing system here. The waiter tells us the amount, and we collect the money. Some days it is so crowded and mistakes happen. So maybe the person who ate more got to pay lesser!"
He then added with a smile "My father didn't like anyone who ate little. He would curtly tell them not to come back here again."
Despite Maheen's anecdote, it's well known that Khader was all heart. Renowned for his generosity and benevolence, he gave free meals to those who couldn't afford to pay.
Renowned for his generosity and benevolence, he gave free meals to those who couldn't afford to pay
B Jeyamohan, a popular contemporary author and literary critic, immortalised Kethel Sahib in Aram (Stories of the True), a 2011 collection of short stories about people who inspire others through acts of kindness. In the story Sottru Kannakku (The Meal Tally), he portrays Kethel Sahib as a jinn (a spirit) who feeds the hungry without expecting any payment in return.
Khader's great-grandson Abdul Rawoof confirmed that people still tell him stories about how his great-grandfather helped them in so many ways.
Maheen carries that benevolent baton forward. There is even a little charity box at the entrance where customers can drop any contribution."Maheen helps so many people. He does it quietly. If a poor person comes seeking help with wedding expenses, he helps them, sometimes even giving gold. He helps with hospital bills, too," said Bijus Sailabdeen, content creator and food blogger, who is a regular customer.
He added, "His employees respect him. He takes care of them well. Many of them have worked here for decades."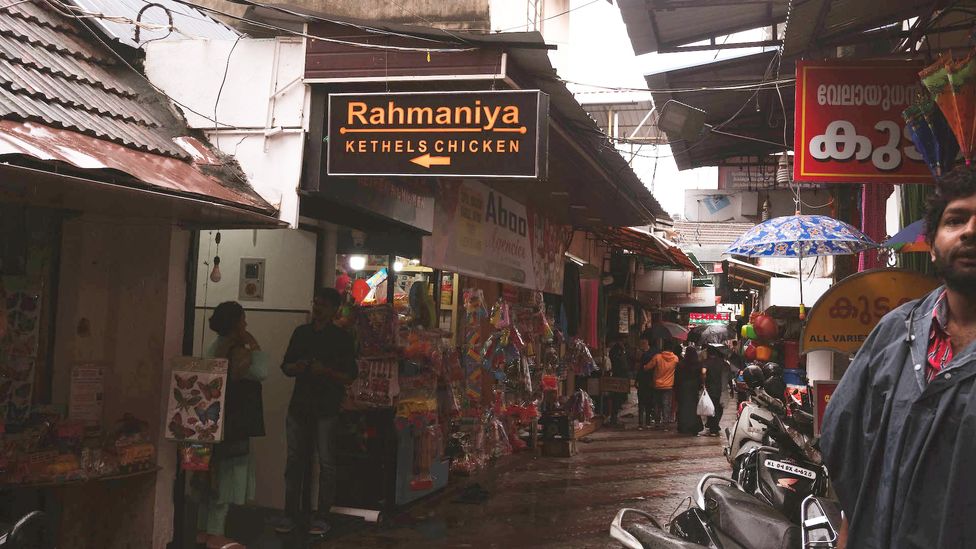 Hotel Rahmaniya is home to the famed Kethel's Chicken™, or as locals call it, Kethel's fried chicken (KFC) (Credit: Hari Prasad)
Many patrons have eaten here for years, too. Even those who move away carry the memory with them as they relocate to different parts of the world, and when they come home to Kerala, they visit Hotel Rahmaniya with their family and friends.
Nina Cherian, an expat living in Dubai said, "Kethel's fried chicken stands testament to the fact that simple ingredients make the best dish – a delicious spice rub on tender chicken fried in coconut oil – heaven on a plate."
Today, there are five branches across the state, and the newer outposts are as busy as the flagship. Kethel's Chicken has been trademarked, but that doesn't deter copycat restaurants from springing up in Kerala and the Middle East, which has a large expat Keralite population, and affixing "Kethel" to their name.
But as Beethoven said, "Only the pure in heart can make a good soup." The same applies to a good chicken fry. And Kethel's fried chicken is the real deal: fresh, tender chicken pieces marinated with honest ingredients, fried to perfection and served with a pure heart.
BBC Travel's Asia Fast Food shines a light on beloved family recipes and favourite street food stalls, where dishes are imbued with cultural significance and flavoured with a sprinkling of stories.
--- 
Join more than three million BBC Travel fans by liking us on Facebook, or follow us on Twitter and Instagram.
If you liked this story, sign up for the weekly bbc.com features newsletter called "The Essential List". A handpicked selection of stories from BBC Future, Culture, Worklife and Travel, delivered to your inbox every Friday.