Life in Târnava Mare has barely changed in centuries, offering a precious insight into the age-old traditions that are still going strong in its Saxon villages.
I
I heard them before I saw them, the soft jangle of metal bells carrying on the warm evening air. Weary hooves scuffed up clouds of dust as the herd trudged up Viscri's dirt-road high street, stopping to gulp water from a trough beneath a gnarled walnut tree. Routine kicked in, and they peeled away through arched gateways and into their own cobbled courtyards, where they'd be milked and fed for the night.
This was the evening procession of cows, when residents gather outside their pastel-coloured Saxon homes to watch the herds return from pasture – a daily ritual that's been signalling the end of the working day in Viscri, Criț, Biertan and the other medieval villages of south-eastern Transylvania's Târnava Mare region for hundreds of years.
Occupying a rural triangle in central Romania between the historical cities of Sighişoara, Braşov and Sibiu, Târnava Mare is one of Europe's most intriguing cultural landscapes. The region was settled in the 12th Century by Saxons from what are now parts of Germany, France, Belgium, Luxembourg and the Netherlands, invited here by King Géza II of Hungary under the auspices of establishing their own economy – but with the real objective of defending the far reaches of his kingdom from raiding Turks. They colonised a ribbon of fertile land just north of the Carpathian Mountains, built fortified churches for sanctuary in times of siege, and formed robust small-scale farming communities.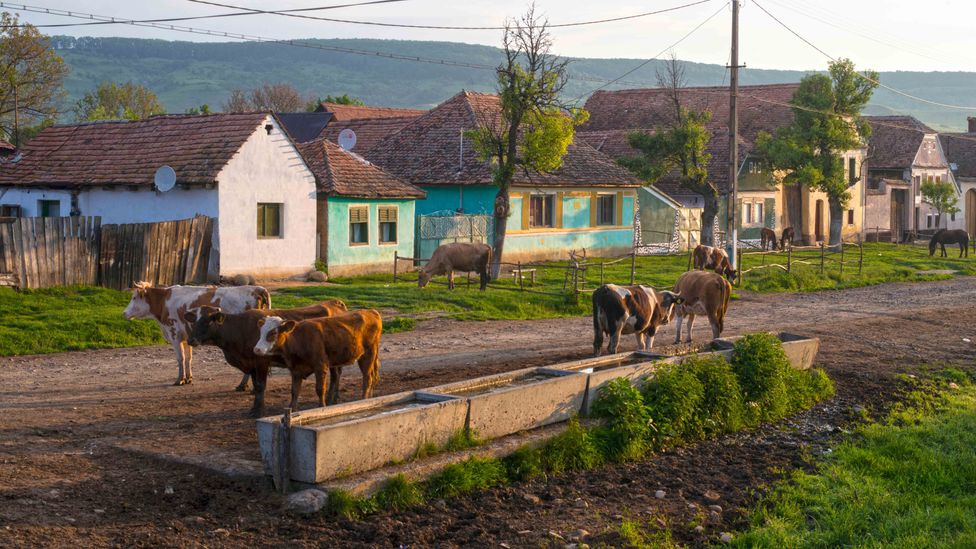 Viscri and other Saxon villages in Târnava Mare have barely changed in centuries (Credit: Hans-Joachim Aubert/Alamy)
The Saxons prospered for more than 800 years, but having survived World War Two (when many were conscripted to fight in the German Army) and the years just after (when even more were deported by the Soviets to work in Siberian labour camps), they virtually disappeared from Transylvania during the final decades of the 20th Century. Under Romania's communist dictator Nicolae Ceaușescu, many emigrated to Germany, and following the fall of the regime in 1989, almost half a million more upped sticks for Western Europe.
It is an almost ancient way of living [and] it offers visitors a glimpse into a world that no longer exists in other parts of the globe
Today, just 10 Saxons still live in Viscri, out of a population of less than 500, and there aren't that many more in Meșendorf, Criț or the other surrounding villages. But their churches and their houses remain, and the area has a fascinating barely-changed-in-centuries feel to it; horse-drawn carts are the main method of transport and residents eke out a sustainable existence from smallholdings or shepherding.
"The architecture of the houses, the traditions and the villagers' connection to nature has remained locked in time," said Ursula Radu-Fernolend, who was born and raised in Viscri and is now project manager at the Mihai Eminescu Trust (MET), a foundation dedicated to preserving the heritage of Transylvania's villages. "It is an almost ancient way of living [and] it offers visitors a glimpse into a world that no longer exists in other parts of the globe."
I'd come to Târnava Mare for exactly that reason, basing myself in an old Saxon guesthouse on Viscri's main street. An attractive cornflower-blue building, with high walls and a gateway large enough to allow a loaded haycart through, the house once belonged to the wealthiest family in the village but was on the verge of falling down when MET stepped in. It's one of 20 or so traditional guesthouses in Târnava Mare that the foundation has restored – employing local craftsmen and using original techniques and materials like yellow clay, slaked lime, handmade bricks, pine and oak – as a way of showing local residents that their heritage can be a source of growth for the community.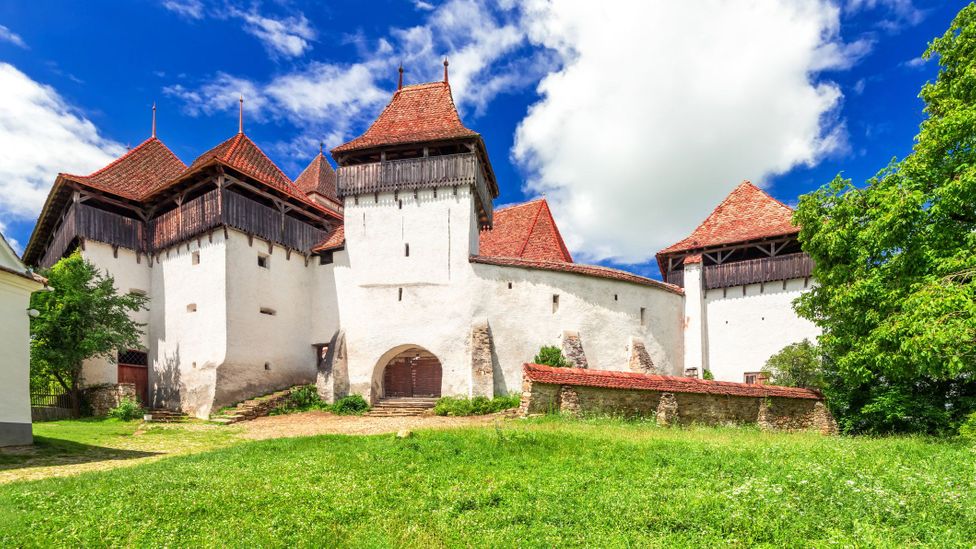 Viscri's main attraction is its fortified church, which was built for sanctuary in times of siege (Credit: Emicristea/Getty Images)
The guesthouses are operated by Experience Transylvania, MET's social-business side arm, and the house I was staying in was decorated with objects that were once used by the villagers themselves, such as tall Saxon trundle beds (that slide open like a chest of drawers) and a terracotta-tiled heater. It was sparse but comfortable, and an appropriate base from which to explore the region.
How to live the life
Stay in a Saxon house
Experience Transylvania has a network of Saxon guesthouses in Viscri, Criț and a number of other villages in the area, which have been faithfully restored and decorated with original furnishings. Most of the houses are managed by local families trained by the Mihai Eminescu Trust.
Meet the artisans
Learn the techniques involved in making Saschiz pottery at a workshop with the Atelier de Ceramică Saschiz, bookable through Fundația ADEPT. You can arrange visits to blacksmiths, slipper-makers and charcoal-burners, and to the shepherds in the hills around Viscri, Criț and Saschiz via Experience Transylvania and Fundația ADEPT.
Explore the villages by bike
Transylvania Bike Trails is a network of 100km of tracks through the meadows and forests of Târnava Mare. A popular circuit links Viscri, Bunești, Criț and Meșendorf. Bikes are available to rent from Viscri 125, Bike Check Inn in Bunești, Casa Kraus in Criț, and Tei in Saschiz.
Viscri's main attraction is its fortified church, which gives the village its German (Deutsch-Weißkirch, or German White Church) and Hungarian (Szászfehéregyháza, or Saxon White Church) names. One of seven fortified churches in Târnava Mare that have been inscribed on Unesco's World Heritage list, it was built in the 12th Century, fortified in the 15th and then further strengthened over the next 200 years with an outer wall and defensive towers. Storerooms were fashioned out of the thick walls, and when Viscri was under attack, its villagers would retreat with their livestock into the church and sit out the siege. The rest of the time, the rooms were used to keep dried hams and bacon fat; the church's so-called "Lard Tower" was opened every Sunday so that each household could take a single piece of fat or ham to last them the week, a tradition that only ended in the early 1990s.
On the laneways running down from the church and in the surrounding streets, I came across little stalls outside some of the houses, each one draped with woollen socks and gloves and colourful slippers, the fruits of an initiative that helps local women earn an income. Cristina Vasilche, who has been making two pairs of slippers a day for the last 10 years, showed me the process, scrubbing each alternate layer of wool and linen mesh with soap and water until the supple shoes took shape.
It's just one of several such enterprises. The Prince of Wales, who has a house in Viscri and has been a regular visitor to Transylvania for more than 25 years, has set up a training centre at the bottom of the village that provides apprenticeships for locals in the preservation of architectural heritage and traditional handicrafts. MET, too, has helped several of the region's weavers, carpenters and blacksmiths launch their own businesses in recent years and were instrumental in re-establishing the lost art of brick- and tile-making in Viscri, part of a wider renewal of ancient crafts and trades across Târnava Mare.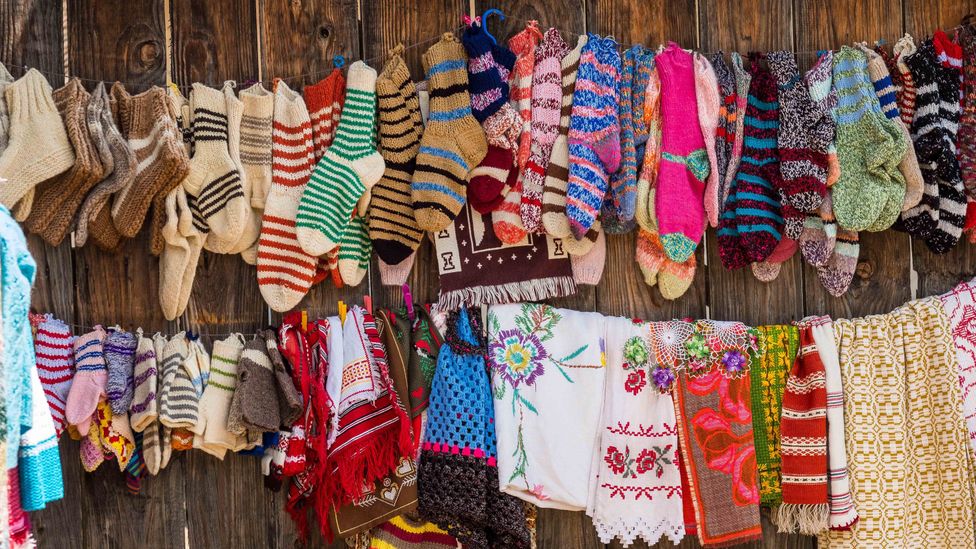 Local women earn an income making socks, slippers and other handicrafts (Credit: Hemis/Alamy)
One of the most interesting of these artisans is Marinel Györfi, who, with the help of Fundația ADEPT, has revived traditional Saschiz blue pottery in the Saxon village of the same name, 20km north of Viscri. In a workshop at his Atelier de Ceramică Saschiz, at the end of a narrow lane opposite the village's towering fortified church, I watched him pound and deftly spin the clay into pots and plates that were then glazed with a rich cobalt blue. He scratched the motifs into the glaze, rather than painting them on, a sgraffito technique that the previous potter of Saschiz used before him in the late 18th Century. What Marinel makes depends on the weight of the clay – and how he's feeling on the day. "Making a pot is about the journey, rather than the destination," he told me. "It is all about the emotions you feel along the way."
Saschiz, like Viscri and all the other villages in Târnava Mare, has remained relatively unchanged since the Saxons first settled here: it consists of two parallel rows of pastel-hued houses, built in a line on either side of a stream. The villages were originally organised into different neighbourhoods, or Nachbarschaften; supportive communities who worked together to carry out communal tasks, a practice that continues today. Livestock owners, for example, are still required to spend a certain amount of time (depending on how many cattle or sheep they own) clearing the pastures and meadows of scrub.
It was a creaking ride by horse and cart up to the scrub-cleared pastures between Viscri and Criț. Liviu Damian, the man chosen to look after the village flock this season, was spending the entire summer at the sheepfold here, his only company a couple of local shepherds and the fierce sheep dogs that (mostly) keep the area's wolves and bears at bay. His temporary home was a bare-floored shack, where he cooks, eats, sleeps and – in the room next door – makes cheeses using an assortment of wooden troughs and trays. There were about 180 sheep under his watch, which his shepherds milked by hand each evening; most households own between 10 and 20 sheep, and they all receive a few kilograms of cheese from Damian each week.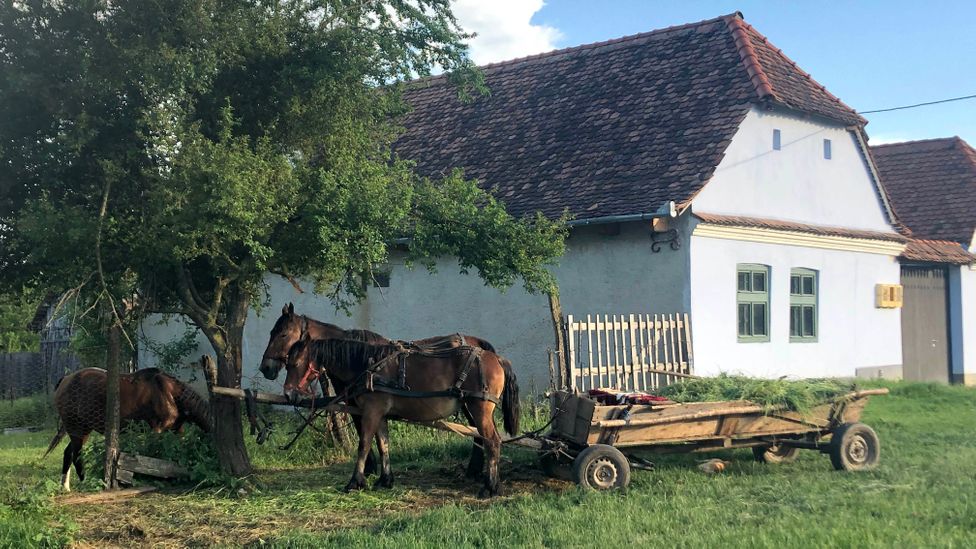 Horse-drawn carts are still the main method of transport in Târnava Mare's Saxon villages (Credit: Keith Drew)

He thumped a slab of caș, a giant spongey loaf of squeaky white cheese, onto the table in front of me. It was so fresh it tasted slightly acidic. Next came feta-like telemea. Then brânză de burduf, strong, salty and with a texture that looked like cake mix; it's kept in the sewn-up stomach of a sheep or wrapped in pine bark for a resinous flavour. I tried them all, watched the shepherds corral their sheep and milk them, and then climbed onto the cart for the lurching ride down the hills in the half-light.

I wanted to get back to Viscri in time to see the cows come home.

Country Rambles is a BBC Travel series that embraces rural life, helping travellers to reconnect with nature, learn a handcrafted skill and live more sustainably – all while experiencing local culture.

--

Join more than three million BBC Travel fans by liking us on Facebook, or follow us on Twitter and Instagram.

If you liked this story, sign up for the weekly bbc.com features newsletter called "The Essential List". A handpicked selection of stories from BBC Future, Culture, Worklife and Travel, delivered to your inbox every Friday.

;