One of the US' newest national parks has put West Virginia in the spotlight, but there's a deeper history to discover in the remnants of its African American coal communities.
T
The story of West Virginia's past often goes something like this: in the late 1800s, blue-collar workers came from Wales, Eastern Europe and other far-flung corners of the world to mine coal that ultimately built the cities that fired America to global superpower status. But that story leaves out an important element: the vibrant and sometimes tragic experiences of the region's African American communities, which were integral to the industry and to a burgeoning Appalachian culture. 
Fleeing white-led violence and racial segregation laws (known as Jim Crow laws) in Southern states after the end of the US Civil War and the abolition of slavery in 1865, African Americans streamed north into the coal fields of West Virginia in search of jobs and a modicum of security.
In the decades that followed, entire communities emerged in coal camps – and thrived, thanks to demand for the much sought-after fuel source. By 1930, around 80,000 African Americans were living in southern West Virginia, a figure that had doubled in just 20 years.
Now, one of the US' newest national parks, the New River Gorge National Park and Preserve, has put this area in the travel spotlight. And although most visitors are coming for the stunning canyons, white-water rapids and outdoor recreation, they also have an opportunity to learn about this area's lesser-known strand of history: the black communities that moved here to work in local mines and railways more than a century ago.
To mark the contributions of these residents, the National Park Service has developed an African American Heritage Auto Tour. Best experienced over a couple of days, the tour takes visitors around the New River Gorge region in southern West Virginia and beyond, highlighting important destinations and events experienced by African Americans at a time when coal was king.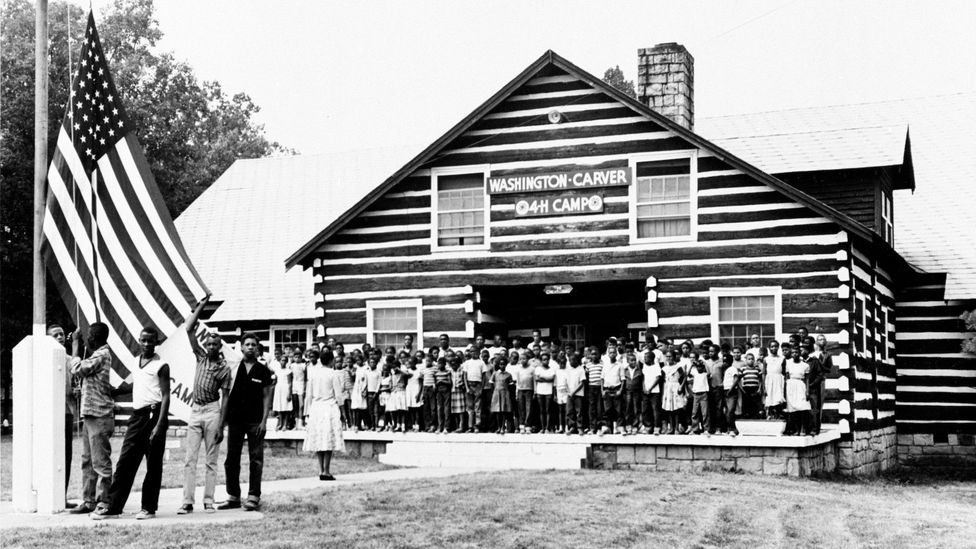 Camp Washington Carver, opened in 1942, was the first African American 4-H camp in the US (Credit: National Park Service)
"Places such as Camp Washington Carver [the first African-American 4-H camp in the US] are a must-visit," said Eve West, chief of interpretation, visitor services and cultural resources at the New River Gorge park.
Artist Doris Fields, a blues singer who performs under the name Lady D, grew up in Kayford, one of the area's coal camps, in the 1960s. "I loved it," she said. "A creek ran behind our house and the railroad tracks were right in front of the house. My father worked just down the road. It was just a good way to grow up." 
One of the tour's 17 stops is a similar coal camp, Slab Fork, today a nondescript community 12 miles south-west of the city of Beckley.
It wasn't always like this. 
Sitting atop the Winding Gulf Coal Field, Slab Fork in the first half of the 20th Century was a smorgasbord of languages, cultures and, to break the monotony of everyday labour, diverse musical activities. 
Once the day's mining or railway track laying was over, Irish immigrants would take out their fiddles and sing ballads. African Americans would play the banjo and sing harmonies; miners from Eastern Europe sang folk songs and played brass instruments.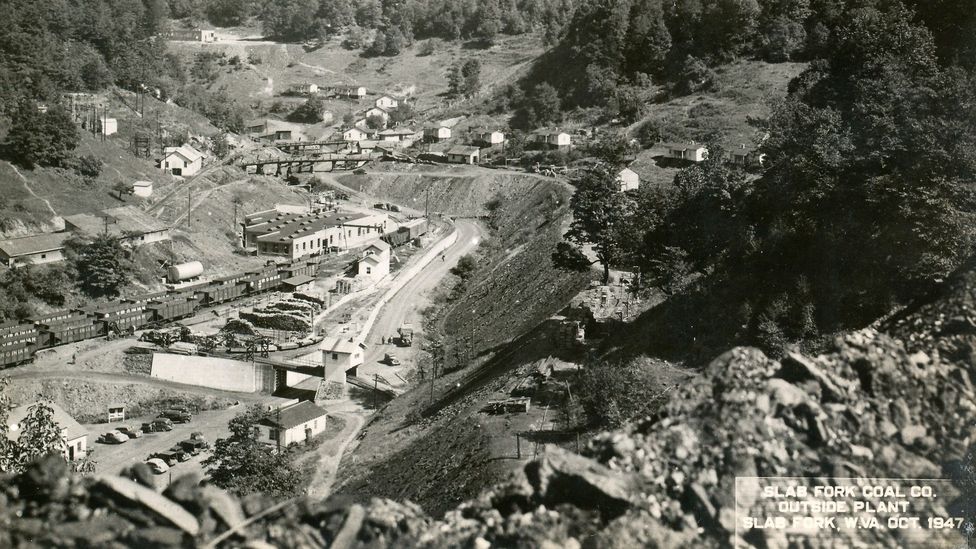 Bill Withers's hit song Lean On Me was inspired by his early days in Slab Fork coal mining town (Credit: National Park Service)
It was into this dynamic environment that music icon Bill Withers was born in 1938. Withers' contribution to the world of music is legendary. The multi-Grammy-winning artist's songs Ain't No Sunshine, Just The Two Of Us and Lean On Me – inspired by his early days in Slab Fork and nearby Beckley – are world-renowned.
Withers may have emerged as Slab Fork's best-known musician, but a host of musical artists contributed to a unique African American culture in this region, said Fields. She recalls that even though her own coal-mining father wasn't involved in the local music scene – politics, she says, was his forte – the wider musical environment that flourished in and around the coal camps quickly drew her in. Miners not only played music in the camps, but frequented venues in nearby villages where the Appalachian sound was seeping into popular music. 
"I would spend afternoons with my grandmother watching musicians on TV. On Saturday nights, we [Fields and her friends] would walk over to Freddy's [a music venue in the village of Chesapeake] and peek in the door to see who was playing," she said. "We were much too young to be allowed in, of course, but you could hear the music from outside."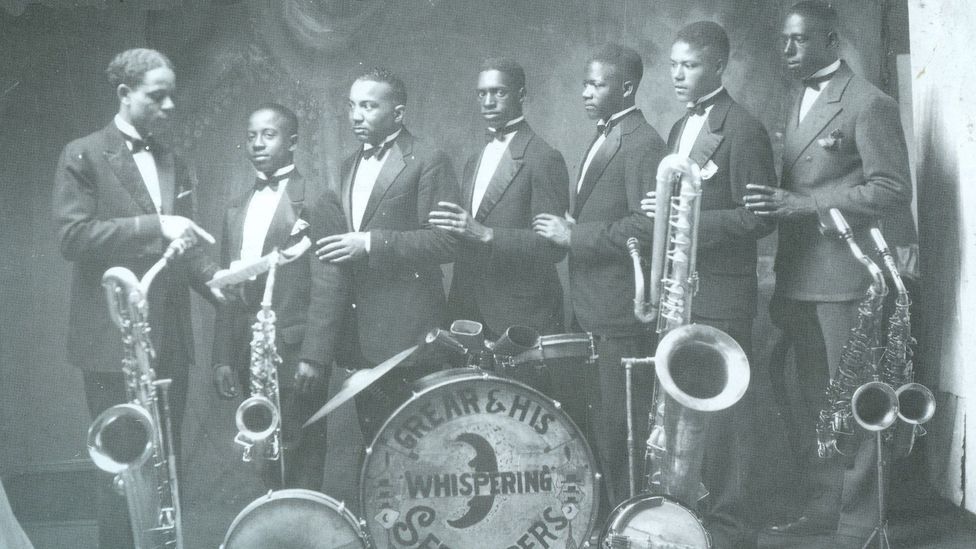 The Whispering Serenaders were one of many bands that played in Slab Fork, a coal mining town, in the early 1900s (Credit: National Park Service)
A bustling musical ecosystem emerged. Nationally recognised jazz musicians were booked to play in or close to coal camp communities to meet the demand.
"They would play a set in Charleston on a Saturday night, then get together with the local musicians – the miners – and jam all through the night at the venue or in the coal camps," said Fields, who is currently developing a project that charts black culture in West Virginia's coal camps. "The next morning in church, the musicians would play these new styles."
"They would get together with the local musicians – the miners – and jam all through the night at the venue or in the coal camps"
Communities were thriving in other ways too. By the 1940s, the neighbourhood of Harlem Heights in the town of Oak Hill, West Virginia (one of the auto tour's destinations) started to develop into an upscale African American district. Home to black ministers, teachers, inspectors and other professionals during the mid-20th Century, the enclave was first established by five families who built their homes on an open field. Many African Americans had come to West Virginia because the schools available to them were better than in many Southern states, and by 1947, a school was built in Harlem Heights to teach segregated kids. 
"When African Americans came here from Virginia and other states, they found that they could vote [in local politics], unlike in those other places," said West. "And it was said that segregation existed above ground, but underground, in the mines, workers were equal."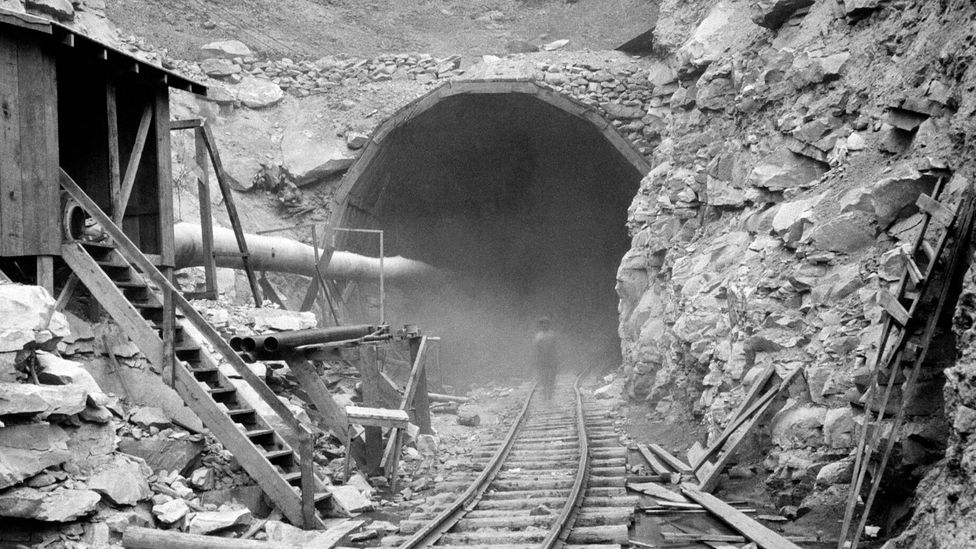 Hundreds of African American miners died from the Hawk's Nest Tunnel Disaster; the site is marked with a memorial and burial ground (Credit: National Park Service)

Nevertheless, racism and tragedy were also prominent, and the auto tour takes travellers through those events too. For instance, it talks about the McKendree Miner's Hospital, where African Americans injured in mining accidents were treated in segregated hospital wards.

And there's a stop at the Hawk's Nest Tunnel Disaster: starting in 1930, teams of predominantly African American men dug a three-mile tunnel that resulted in at least 724 of them dying of silicosis, a lung disease caused by inhaling deadly silica dust. Today the tragedy is marked with a memorial and burial ground.

"Like all miners, they faced extremely dangerous working conditions, but it was exacerbated by the fact that the managers tended to put black miners in the worst sections of the mines," said Lou Martin, an assistant professor of history at Chatham University in Pittsburgh, Pennsylvania, who specialises in Appalachian history. 

What's more, the Ku Klux Klan was active in local coal fields. Some towns in the area were off-limits to African Americans or had sundown laws in place, which meant that they couldn't visit such towns after dark. In December 1919, two black coal miners were lynched.

A century on, the coal fields have largely fallen silent. But for Fields, West and others, the contribution made by West Virginia's African American miners to the history of Appalachia is undeniable, and the opening of the new national park provides an opportunity to share it. "This is an important story to tell," said West. "It's opening the doors – and our eyes – to a deeper understanding of those around us."

Rediscovering America is a BBC Travel series that tells the inspiring stories of forgotten, overlooked or misunderstood aspects of the US, flipping the script on familiar history, cultures and communities.

--- 

Join more than three million BBC Travel fans by liking us on Facebook, or follow us on Twitter and Instagram.

If you liked this story, sign up for the weekly bbc.com features newsletter called "The Essential List". A handpicked selection of stories from BBC Future, Culture, Worklife and Travel, delivered to your inbox every Friday.

;