More than 70 years after the teenager moved a nation to end school segregation, her statue will replace Civil War Confederate commander Robert E Lee's inside the US Capitol.
I
In 1951, Barbara Johns stepped onto the stage of Robert Russa Moton High School, her segregated school in Prince Edward County, Virginia. The 16-year-old, who had tricked the student body into attending an unauthorised school assembly, spoke with confidence. "There wasn't any fear," she would later write. "I just thought this is your moment – seize it!" 
Johns urged her fellow black classmates to join her in protesting conditions at their overcrowded school, which had been built for 180 students but now held more than 475. She called for a student strike to demand a new building. But when she led the parade of teens out of the school's front door, it set off a series of actions that would soon change US history. 
The protest prompted a lawsuit culminating in the US Supreme Court's 1954 Brown v the Board of Education decision that outlawed racial segregation in public schools. It also had a catastrophic impact at the local level. Prince Edward County decided to close its public schools for several years rather than let black and white children attend classes together.
Johns led a student strike in Prince Edward County that paved the way for the Brown v the Board of Education Supreme Court decision (Credit: Larry Bleiberg)
Johns herself received death threats, forcing her to finish high school out of state. Later, her family's house was burned to the ground.
Surprisingly, few people today know Johns' name. The teen never reached the prominence of the civil rights pioneers that followed her, like Rosa Parks, whose refusal to give up her bus seat four years later led to the Montgomery, Alabama, Bus Boycott; or John Lewis, who led protesters across the Edmund Pettus Bridge in the Selma-Montgomery march for voting rights.
I truly believe this is the birthplace of the modern civil rights movement
But history is beginning to recognise the student leader who died in 1991 at the age of 56. The US Capitol building in Washington DC will soon install a statue of Johns to represent her home state of Virginia. She will replace Robert E Lee, the Civil War commander of the Confederacy. 
Johns has already been recognised by the state she once challenged. In the capital of Richmond, a sketch of her hangs in the governor's mansion; a statue anchors a civil rights memorial on the Capitol grounds; and the building housing Virginia's Attorney General's offices bears her name.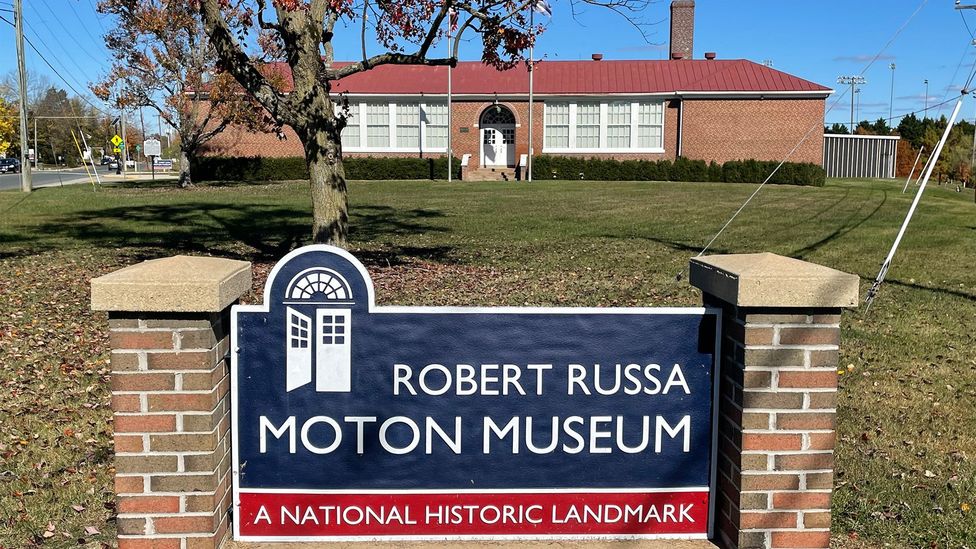 The high school Johns attended is now a museum and a National Historic Landmark (Credit: Larry Bleiberg)
In Johns' hometown of Farmville, the high school she attended now operates as a museum, and is recognised as a National Historic Landmark. Today, visitors can watch a film about Johns in the auditorium where she urged her classmates to action. It has been restored to its original condition, displaying a 48-star US flag, representing the number of states in the nation in 1951. Other exhibits document the substandard conditions students faced, the walkout, the court cases that challenged segregation and the local decision to close the schools. 
"I truly believe this is the birthplace of the modern civil rights movement," said Cameron Patterson, the museum's executive director. 
He said that most people's understanding of the era centres around Dr Martin Luther King Jr. "I don't think there's anything wrong with that, but now we're starting to elevate new stories." And Johns' tale is particularly worthy, he said. 
The story centres on the 7,000-person town of Farmville, a historical tobacco port on the Appomattox River in south-central Virginia.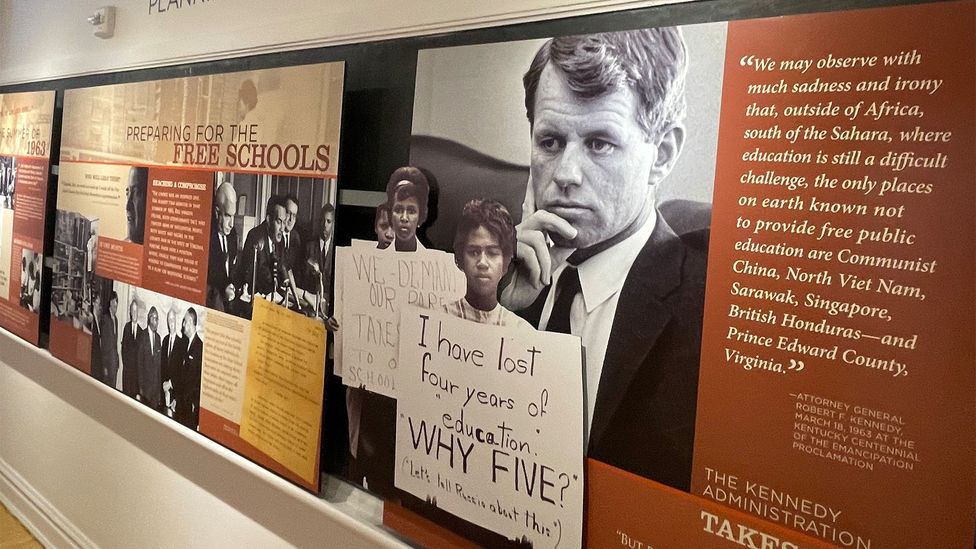 Exhibits inside the former school highlight the unequal education standards of the day (Credit: Larry Bleiberg)
The conditions at Johns' segregated school were stark, but hardly unique. Due to overcrowding, some classes met in three tar-paper shacks outside the main building. The rooms were poorly heated by potbellied stoves, and the roofs leaked. The school lacked a gymnasium, science labs and a cafeteria. The textbooks were tattered castoffs from the white high school. Court documents later showed the school board was spending just more than $300 per student at Moton, compared to almost $1,700 per student at the county's all-white high school. 
"Barbara was upset about the condition of our school, and we all were," her younger sister, Joan Johns Cobbs, who was 12 at the time, told me. Still, she knew nothing about plans for a protest until her sister took the stage of her school on 23 April 1951. 
"I was seated in the third row, and I was so shocked that I slid down in my seat," recalled Cobbs, now 84. "I was petrified. I knew there would be consequences." 
Working with a few other students, Johns had lured the principal off campus with a false report of students causing trouble in town. Meanwhile, she distributed a note calling for a schoolwide assembly and requesting that teachers remain in their classrooms. The note was signed "BJ", which happened to be both Johns' initials and those of the principal, Boyd Jones.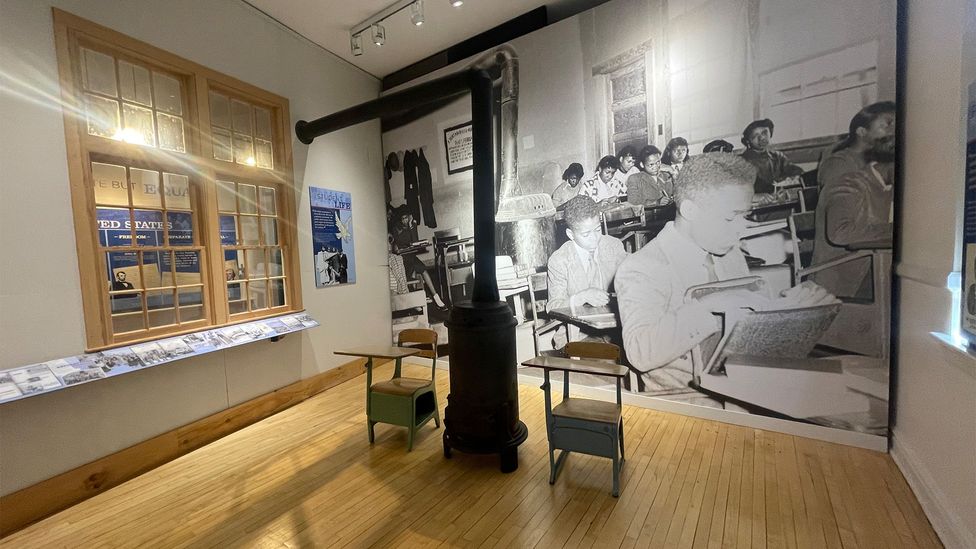 Rooms in Moton were heated by primitive stoves (Credit: Larry Bleiberg)
In the days following the walkout, black residents packed churches for community meetings, and Johns contacted the state chapter of the national civil rights organisation, the Naacp. But the group's attorneys said they weren't interested in pushing for a new segregated school. They convinced the Johns family and others to sign up for a much bigger fight: a federal lawsuit to end school segregation. "It seemed like reaching for the Moon," Johns later wrote. 
Eventually, the Prince Edward County lawsuit was combined with similar lawsuits from Delaware, South Carolina, Washington DC and Kansas. Because the cases were listed alphabetically, the federal filing was named Brown v Board of Education after the Brown family of Topeka, Kansas. 
Three years later, the US Supreme Court delivered its bombshell decision outlawing school segregation, stating that the concept of "separate but equal" schools was inherently unequal. 
The ruling sent shockwaves across the country. But in Prince Edward County, it was devastating. Rather than integrate, white leaders pushed for "massive resistance" against integration for five years before finally choosing to close its schools altogether in 1959.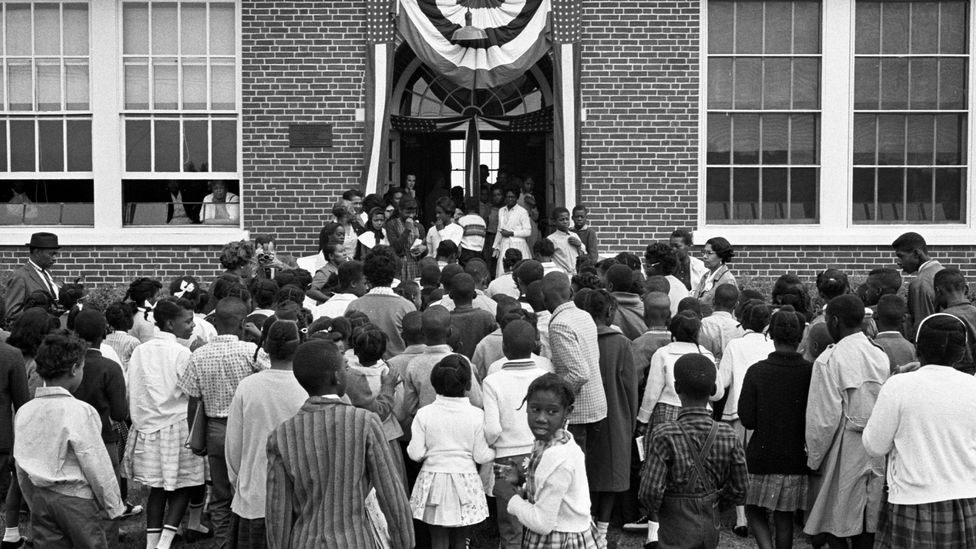 Prince Edward County resisted school integration for five years (Credit: Science History Images/Alamy)
"I couldn't make any sense of it," recalled Dorothy Lockett Holcomb, a black student who was about to enter fourth grade at the time. "I loved school. It was a traumatic experience." 
While many white students attended newly formed private schools that received some state funding, the county's 1,800 black students had to scramble. Some parents sent their older children out of town to continue their education. Holcomb joined a handful of other black children in a hastily organised class that met in a church basement miles from her home. 
Two years later, Holcomb's family rented and pretended to live in a dilapidated shack in a neighbouring county, a subterfuge that let her to attend classes there and eventually graduate high school as salutatorian. 
But many children, both black and white, fell through the cracks. "I had a fourth-grade classmate who never went back. She never got the opportunity to get an education," said Holcomb. A searchable digital kiosk at the Moton Museum lists the names of the thousands of students affected by the closure.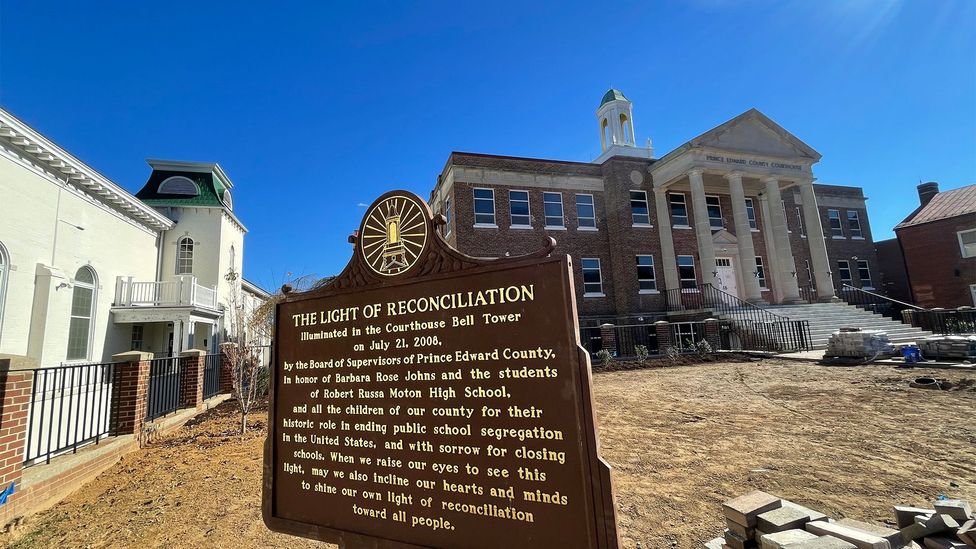 A "light of reconciliation" now glows from Farmville's courthouse bell tower every evening (Credit: Larry Bleiberg)
The stalemate drew national attention. As US Attorney General Robert F Kennedy noted in 1963: "Outside of Africa, south of the Sahara, where education is still a difficult challenge, the only places on Earth known not to provide free public education are Communist China; North Vietnam; Sarawak, Singapore; British Honduras – and Prince Edward County, Virginia."
Visit these sites to connect with Barbara Johns' story
The Robert Russa Moton Museum in Farmville, Virginia, preserves the school where the protest took place. A two-mile Civil Rights Walking Tour of Farmville visits sites tied to the student walkout, and to other city civil rights protests, including sit-ins to desegregate stores. A statue of Johns stands at the centre of the Virginia Civil Rights Memorial in Richmond's Capitol Square. In the near future, the US Capitol in Washington will feature Johns in its Statuary Hall collection. The Brown v. Board of Education National Historical Park in Topeka, Kansas explores the national struggle to end school segregation, including the Farmville student walkout.
A year later in 1964, another Supreme Court decision forced the schools to reopen. It would take 44 more years for the county to formally apologise for its actions. 
In 2008, the county supervisors dedicated a "light of reconciliation" that glows from the courthouse's bell tower every evening. "We grieve for the way lives were forever changed," reads a marker on the lawn, "for the pain that was caused, and for how those locked doors shuttered opportunities and barricaded the dreams our children had for their own lifetimes." 
Millions more will learn about Johns when her statue is placed in the US Capitol, which is expected in 2023. She'll join the National Statuary Hall Collection, which contains two statues provided by every state. Virginia was represented by George Washington and Lee, until a state-appointed commission of citizens, scholars and historians decided in 2020 to remove the Confederate general and replace him with Johns. The action came after the murder of George Floyd in 2020, when protesters across the country toppled statues honouring the Confederacy. The racial reckoning was pronounced in Virginia, which removed dozens of monuments and memorials, including several towering effigies of generals on horseback. 
The new statue of a teenage Barbara Johns will send a different message. 
"She's an appropriate historical figure," said one of the commission members, Colita Fairfax. "She pushed the boundaries of segregation to uncover the horror of racial hatred and indifference."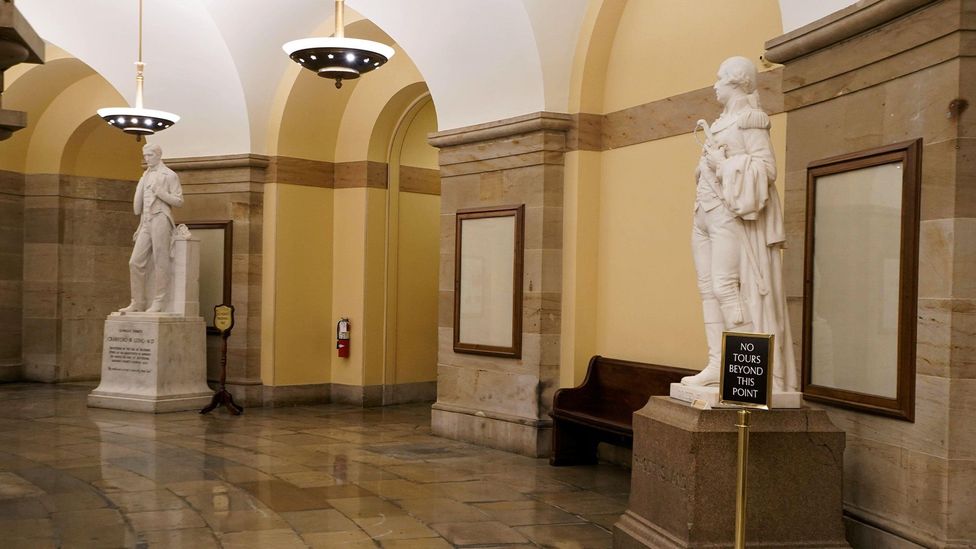 There's now a bare spot in the US Capitol where Lee's statue once stood and where Johns' likeness will soon stand (Credit: Reuters/Alamy)

For Johns, the protest was her one moment in the spotlight. She finished her last year of high school living with her uncle in Montgomery, Alabama, and eventually went on to become a school librarian and raise a family in Philadelphia.

Cobbs said that although her sister was proud of her actions, she never let the walkout define her life. Barbara, she said, felt inspired by a higher power. "She thought the plan, so to speak, was given to her by God. She pretty much felt it was her duty."

Rediscovering America is a BBC Travel series that tells the inspiring stories of forgotten, overlooked or misunderstood aspects of the US, flipping the script on familiar history, cultures and communities.

--- 

Join more than three million BBC Travel fans by liking us on Facebook, or follow us on Twitter and Instagram.

If you liked this story, sign up for the weekly bbc.com features newsletter called "The Essential List". A handpicked selection of stories from BBC Future, Culture, Worklife and Travel, delivered to your inbox every Friday.

;