Cookbook author Bricia Lopez's smoky marinated chicken gets flavour from chillies, citrus and spices and pairs perfectly with a spicy beer-based michelada cocktail.
C
Carne asada, as many people know it, is grilled marinated steak, often eaten in a taco or burrito. But in Mexico and Los Angeles, carne asada is also a social event. The asada is in essence a barbecue, where a smoking grill serves as the focal point for anywhere from six to 60 people gathered on a warm night in a back garden or at the local park. The meal includes sizzling marinated meats, seafood, rice, beans, salsas and ice-cold beer cocktails.
For the Mexican communities living in Los Angeles, asadas are a joyful nod to their heritage and a time to gather. "Asadas are about love, friendship, family and community," said Bricia Lopez, author of the new cookbook Asada: The Art of Mexican Grilling. "Every Mexican household has a big asada. It's a moment for us to get together with family."
Lopez was born in Oaxaca but moved to Los Angeles when she was 10. In 1994, her family opened a Oaxacan restaurant called Guelaguetza, which she currently runs with her three siblings. In 2019, Lopez wrote her first book, Oaxaca: Home Cooking from the Heart of Mexico, celebrating her family history and the vibrant food of the region.
Her inspiration for the second book stemmed from an article on Bloomberg that featured the components of her asada. "I saw the pictures in the article, and I realised how much I missed doing the asadas in 2020 and 2021 [during the pandemic]," she said. "I realised there are plenty of Mexican cookbooks, but not one about the meaning of asada." The book offers dozens of recipes for anyone looking for asada cooking guidance.
According to Lopez in her book, the Mexican tradition of carne asada (as a dish) stems to the 16th Century, when Spanish Jesuit colonisers settled in northern and north-eastern Mexico, developing the cattle industry and making beef a mainstay of the local diet.
It was in the early 20th Century when asadas first started smoking in American backyards and parks. "When immigrants from Mexico started to come to the US in the 1900s, they brought along with them their love of grilled carne asada," Lopez wrote in her book. "The earliest mention of a carniceria (markets that sell marinated meats) in the US in print publications goes back to 1930."
The most common meat at an asada is ranchera (flap steak, also known as bavette steak or sirloin butt), but other meats like chorizo, lamb, pork and chicken are typically in rotation. For the poultry eaters in her group, Lopez makes pollo in guajillo: crispy chilli-marinated chicken thighs. The cinnamon and guajillo chilli ("a very safe, well-balanced chilli that's a pantry staple in Mexico," she noted) are reminiscent of Oaxaca, but the vinegar in the marinade is an LA touch, inspired by the vinegary-marinated meats common in barbacoa cuisine, which is popular in LA. "The chicken is a perfect combo of smoky and sweet," she said.
It's not a proper asada without beer, and Lopez is a very big proponent of the michelada (she sells a premade mix in retail stores), a drink made with cold beer, lime juice, hot sauce, Worcestershire and spices. It's sometimes made with tomato juice as well. "It is one of the most delicious drinks that Mexico ever gave the world, but it's never a Bloody Mary'' Lopez emphasised. "It's a drink in its own right. The goal is to uplift the beer and make it spicy, tangy and salty, so you want to have three, four, five beers."
The morita chilli in the michelada is a unique touch. "Because this is a grilling book," she said, "I wanted to bring a smoky flavour to the drink".
Lopez said that any grill can be used for an asada, but the most common one is a simple charcoal grill because it provides the requisite smoky flavour.
No matter what grill you use, what meat you cook, or where you are, Lopez reminds us: "Throwing a carne asada is an act of love."
Bricia Lopez's Pollo in Guajillo (Credit: Quentin Bacon)
Ingredients
12 guajillo chillies (50g/1¾oz), stems and seeds removed
½ large white onion (150g/5¼oz), roughly chopped
8 cloves garlic, peeled
¼ tsp black peppercorns (about 12 peppercorns)
1 whole clove
1 tbsp dried Mexican oregano
2 tbsp grapeseed oil
¼ cup (60ml) orange juice
2 tbsp seasoned rice vinegar
2 tbsp fresh lime juice
¼ tsp ground cinnamon
1½ tbsp sea salt
910g (2lb) bone-in chicken thighs
Method 
Step 1
In a cast-iron skillet over medium heat, lightly toast the chillies, about 2 to 3 minutes on each side. Remove from the skillet and set aside.
Step 2
In the same skillet, add the onion and garlic, turning once or twice until they are lightly charred, about 10 minutes. Remove from the skillet and set aside.
Step 3
Add the peppercorns, clove, and dried oregano to the pan and lightly toast until they are aromatic, about 2 minutes. Transfer the toasted spices and oregano to a molcajete or spice grinder and grind until finely ground.
Step 4
In a high-performance blender or food processor, add the toasted chillies, onion, garlic, ground spices and oregano, oil, orange juice, rice vinegar, lime juice, cinnamon, and salt. Blend until most of the chillies have come apart.
Step 5
Pat the chicken dry with paper towels. Using a gallon-size resealable bag, add the marinade and the chicken. Seal and let sit in the refrigerator for at least 30 minutes or overnight.
Step 6
Remove the chicken thighs in their marinade from the fridge to allow them to reach room temperature before grilling.
Step 7
Start a charcoal or gas grill. The gas should be set to high. If using a pellet grill, preheat your grill to 230C (450F) for at least 15 minutes. If using charcoal, the coals should be red but entirely covered with grey ash.
Step 8
Remove the chicken from the marinade and put them on the grill directly over the medium fire, skin side up. Close the lid and cook, turning once, about 15 minutes on each side. The chicken is cooked when its internal temperature reaches 79C (175F) on a meat thermometer. Transfer the meat to a cutting board and let rest for 5 minutes.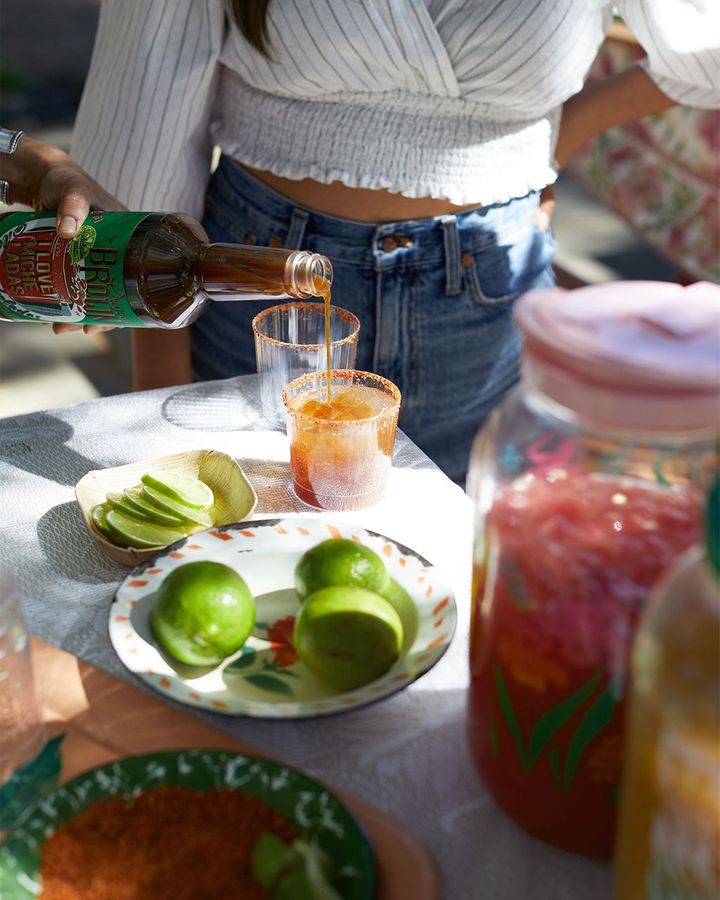 Bricia Lopez's Morita Michelada (Credit: Quentin Bacon)
Ingredients
2 dried morita chillies
180ml (6oz) tomato juice
120ml (4oz) orange juice, preferably freshly squeezed
60ml (2oz) fresh lime juice
1¼ tbsp sugar
1 tbsp sea salt
½ tsp freshly ground black pepper
3 tbsp Worcestershire sauce
chile-lime salt, for rimming glasses
cold Mexican lager (can substitute lime- or grapefruit-flavoured sparkling water for a non-alcoholic version)

Method 

Step 1
Fill a small saucepan with enough water to cover the chillies and bring the water to a boil over high heat. Remove the pan from the heat. Add the chillies to the hot water and allow them to soften and get tender, about 20 minutes.

Step 2
Remove the chillies from the water and allow them to cool to room temperature. Put the chillies in a blender and add the tomato juice, orange juice, lime juice, sugar, salt, pepper, and Worcestershire sauce. Blend everything until smooth, then strain through a fine mesh sieve into a cup with a pouring spout.

Step 3
Rim a cold beer glass with the chilli-lime salt. Pour about 85 ml (3 oz) of the michelada mix into a beer glass, add 350ml (12oz) cold lager, and stir to combine. Serve cold. 

(Reprinted from Asada: The Art of Mexican-Style Grilling by Bricia Lopez with Javier Cabral [Abrams].)

BBC.com's World's Table "smashes the kitchen ceiling" by changing the way the world thinks about food, through the past, present and future.

---  

Join more than three million BBC Travel fans by liking us on Facebook, or follow us on Twitter and Instagram.


If you liked this story, sign up for the weekly bbc.com features newsletter called "The Essential List". A handpicked selection of stories from BBC Future, Culture, Worklife and Travel, delivered to your inbox every Friday.

;