Camden's Cecil Sharp House has been questioning the very notion of what traditional British music means in the multicultural 21st Century.
"Hip-hop is the folk dance of today," said Natasha Khamjani, breathing heavily. They're both social dances created for crowd participation, both also existing on the fringes of the mainstream, she added. Khamjani was taking a quick break during a rehearsal of a high-energy performance blending Bollywood moves and English country dancing with the unmistakable bounce of hip-hop moves.
In an unexpected twist, Khamjani and her troupe were also dancing under a rainbow of swirling maypole ribbons – a sight more commonly associated with English village fetes rather than a basement in inner-city London. Nearby, the hum of Camden's traffic competed with the soundtrack of fiddle, banjo and beatboxing pumping from the speakers.
At first glance, this veritable mash-up of genres and cultures seemed an unlikely marriage. But for Khamjani, artistic director of Folk Dance Remixed, a collective putting a global spin on old-time English dances, a natural synergy exists. These are the dances of the people, bubbling up from the streets, pubs, village greens, dance halls and international communities that birthed them, Khamjani explained. An easy fit between age-old English country dances and house music exists, she pointed out. "It sounds weird but the steps are basically the same," she laughed, overlooked by imposing stag antlers mounted to the wall at the Cecil Sharp House.
Remixing maypole dancing is just one of the myriad ways that English folk culture is currently having a reboot, thanks to a new wave of switched-on folkies diversifying the scene. At the heart of this progressive movement is the Cecil Sharp House, a music venue and folk arts centre that's home to the English Folk Dance and Song Society (EFDSS) and where Folk Dance Remixed perform regularly.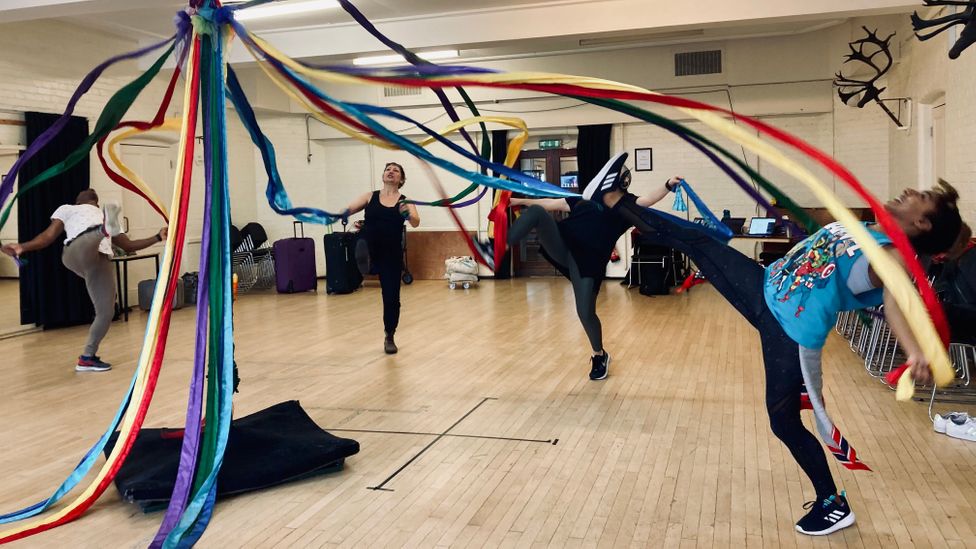 Folk Dance Remixed combines folk music with contemporary street dance styles (Credit: Zoey Goto)
Named after Cecil Sharp, a folk music enthusiast who roamed the countryside of England and the US South collecting folk music and dances in the early 20th Century, this temple to vernacular culture threw open its Arts and Crafts-style doors in 1930. Nowadays, it competes with the colourful street theatre of neighbouring Camden Market, making it easy to pass this non-descript building without realising the hotbed of cultural boundary-pushing that lurks behind its terracotta brick facade.
Over the last few years, the EFDSS has ramped up its outreach efforts to engage new audiences, mixing diverse cultural traditions to create new interpretations of "Englishness". Projects have included teaming up with musician Kuljit Bhamra, pioneer of the British Bhangra sound, an upbeat musical style that mixes traditional Punjabi beats with Western pop, to uncover similarities between 18th-Century traditional Kentish jigs and Bhangra music. There have been sea shanty lessons with rap verses taught to schoolchildren; and feminist-themed pop-up events, including a recording of the podcast Thank Folk for Feminism at the house.
It's really powerful to see these parallels in songs from hundreds of years ago
Certain projects have undeniably chimed easier than others. Take for example Queer Folk's Queer Ceilidh parties hosted at Cecil Sharp House, where evenings of LGBTQ ceilidh dancing and drag acts have proved a sell-out success. Musicians Sophie Crawford and George Sansome of Queer Folk also teamed up with the EFDSS to delve into the institution's song archives. They found a wealth of examples of "queer sex, romance and gender non-conformity, as well as signs of the mistreatment and persecution of trans and gender-non-conforming people", Sansome noted. "It's really powerful to see these parallels in songs from hundreds of years ago."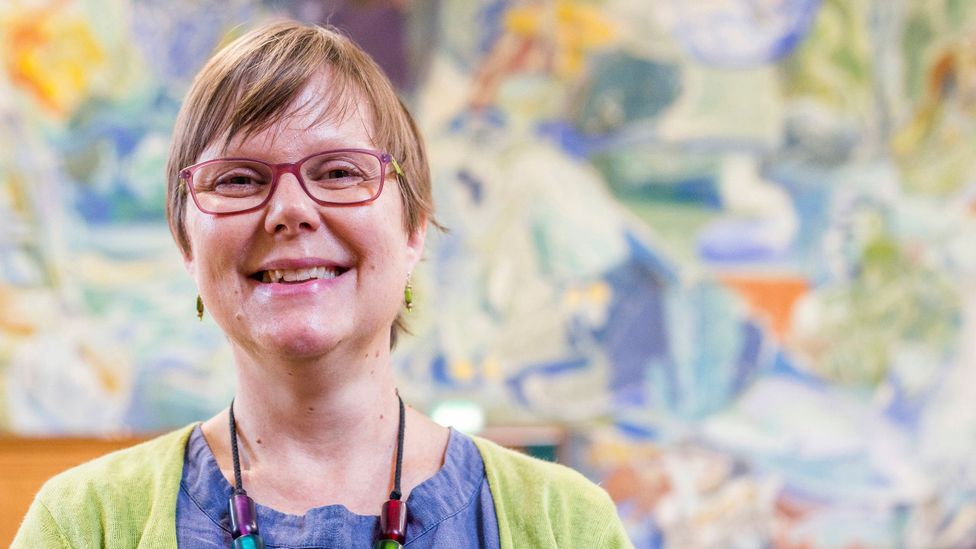 Katy Spicer, chief executive and artistic director at EFDSS, is looking to make the English folk scene more inclusive (Credit: Rosie Reed-Gold/EFDSS)
Joining me in the main hall at the Cecil Sharp House beneath a whimsical mural of folkloric creatures and abstract dancing figures, Katy Spicer, the chief executive and artistic director at EFDSS, pointed out that it is, however, a work in progress making the English folk scene truly inclusive. "In terms of diversity, ethnicity has been the hardest challenge" she said.
Somewhat ironically, it's possible to trace the roots of this reluctance back to the late 19th- and early 20th-Century folk music collectors, including Cecil Sharp himself. Their cannon of work focussed on the white, rural working-class dances and ballads, marking the genre out as a white heritage space and overlooking the cross-cultural exchanges that have always existed.
"There was perhaps a tunnel vision back then and histories not recorded, which no one questioned until recently. We're working to set the record straight," Spicer said, as a group of teenagers, part of the National Youth Folk Ensemble, shuffled onstage to tune violins ready for the evening's show. "Particularly when you have English in your title, you have to address what it means to be English and whose England is it?" she added, as the audience started to file into the hall, spanning in age from toddlers to grandparents.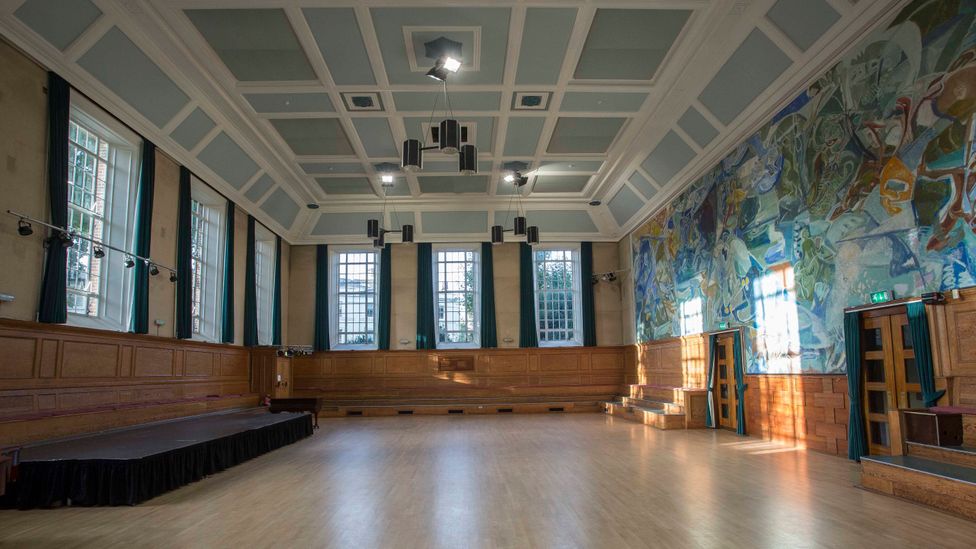 Cecil Sharp House is at the heart of progressive British folk culture (Credit: Rosie Reed-Gold/EFDSS)
Exploring some of these overlooked histories and racial crosscurrents is Cohen Braithwaite-Kilcoyne, a singer, musician and rising star of the folk scene, who in 2021 collaborated with the EFDSS on the Black Singers and Folk Ballads project. The work explored links between English folk and music-making among enslaved people in former British colonies in the US Southern states and the Caribbean.
These songs started life in Britain and migrated with the people to the Americas. It seemed that there was a certain amount of cultural exchange between the white colonisers and Black enslaved people
"I'd always been aware that there are songs and ballads that crop up across English folk music traditions and the music of Black America and the Caribbean, but perhaps hadn't quite realised the extent of the shared repertoire," he told me. "These songs started life in Britain and migrated with the people to the Americas. It seemed that there was a certain amount of cultural exchange between the white colonisers and Black enslaved people," he said of his research, which unearthed examples of similar storytelling and melodies across the three traditions. "But the very nature of folk song means that as it's passed along orally, you get an evolution."
Often still viewed as a relic from a dusty, bygone era, folk has also long struggled to attract a younger, hipper crowd. But things look set to change, thanks in part to folk pioneer and artist Alex Merry, an EFDSS alumnus. Having learnt to Morris dance (a choreographed group dance dating to the European courts of the 15th Century) on the fabled floorboards at the Cecil Sharp House 15 years ago, Merry has since formed the all-female "prog-morris" dance group Boss Morris.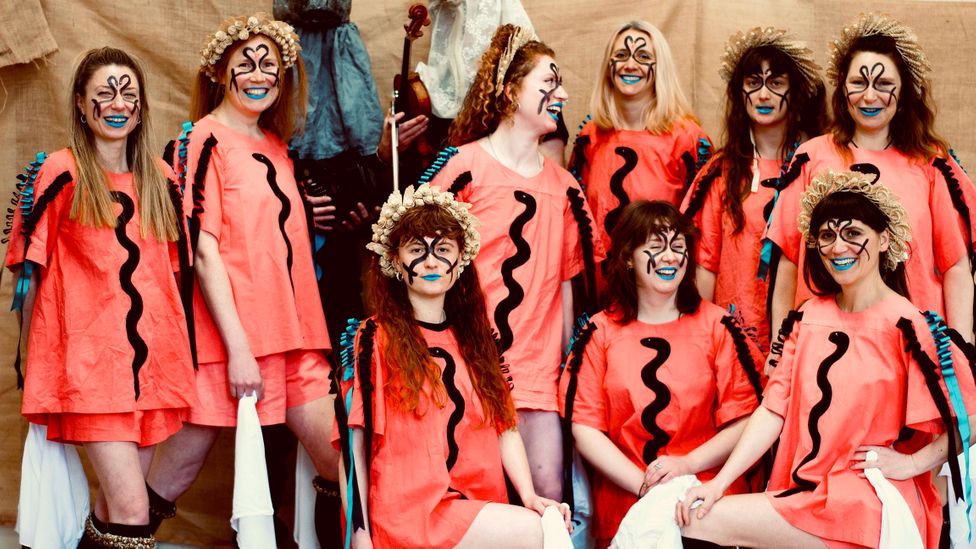 All-female dance group Boss Morris is bringing an inclusive and fresh approach to folk dance (Credit: Zoey Goto)
Bringing Morris dancing high-stepping into the mainstream, Boss Morris performed onstage with the indie rock group Wet Leg at the BRIT Awards in February 2023. Sparking more than half a million YouTube views to date, the performance was a riot of fluttering hankies, folk-meets-clubwear costumes and mythical beast mascots, causing a flurry of online comments from curious viewers.
In search of this new wave of folksters, I headed to the market town of Stroud to catch Boss Morris preparing to rehearse in a draughty village hall. Wearing jangling bells at their legs and crowns of golden corn, Merry and her dance side were keen to point out that although it's still perceived as a male-dominated pastime, women have always Morris danced, even if only on the fringes of the limelight.
People are looking for a sense of place and identity. And it's about redefining what being British can be
"We're not doing anything brand new," Merry said, sitting on the gnarly wooden floorboards with a steaming cup of tea. "And nowadays, there's actually more women taking up Morris dancing than men, so the pendulum has swung," she added, wearing a kit emblazoned with a geometric sun to represent the upcoming summer solstice.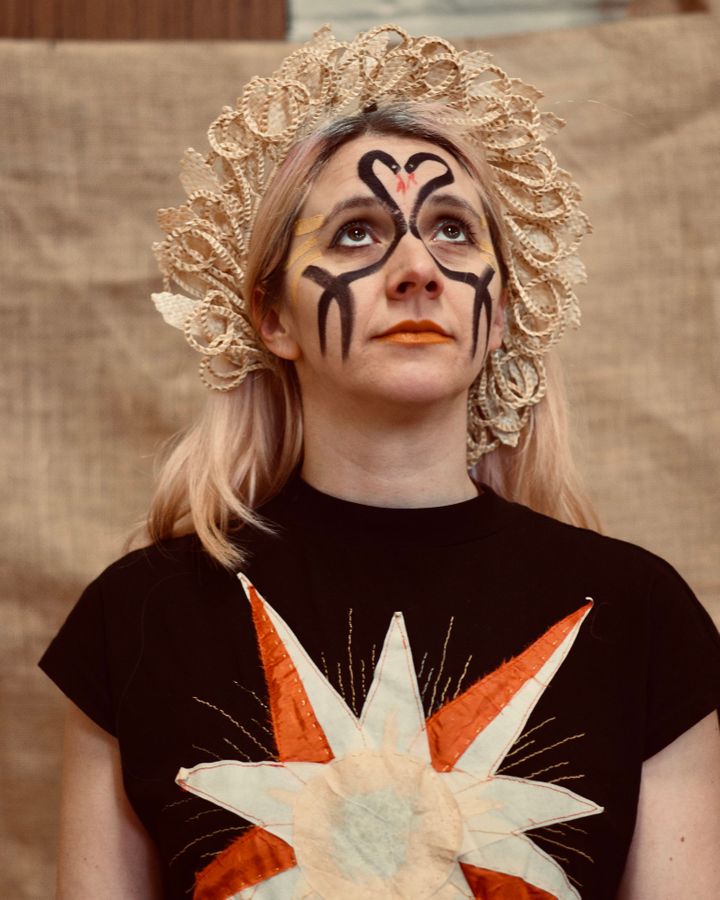 According to Boss Morris dancer Lily Cheetham, trad-folk arts have become more popular since the pandemic (Credit: Zoey Goto)

The recent wave of enthusiasm for trad-folk arts has been driven by a need to get back to basics in the digital era, plus a desire to reconnect with the land following the pandemic, said fellow dancer Lily Cheetham, her face decorated with curling black snakes and a flash of bright lipstick. "People are looking for a sense of place and identity. And it's about redefining what being British can be."

In a unison of tidy lines and rhythmic leaps, Boss Morris started to practice the routines that they'll be passing onto others at festival workshops and street parties across England this summer. Turning to leave, it occurred to me that if hip-hop is the folk dance of today, I'd come full circle and witnessed England's original street dance: Morris dancing. Reassuringly, it wasn't stuck in the past but was keeping up with the times, as all good art forms must do to survive.

--- 

Join more than three million BBC Travel fans by liking us on Facebook, or follow us on Twitter and Instagram.


If you liked this story, sign up for the weekly bbc.com features newsletter called "The Essential List". A handpicked selection of stories from BBC Future, Culture, Worklife and Travel, delivered to your inbox every Friday.

;